Blueberry Lemon Sweet Rolls are an amazing breakfast or brunch recipe made with love! The popular berry and citrus flavor combination is perfect for warm weather and holidays like Easter. Inspired by a cinnamon roll with a creamy filling layered with blueberries.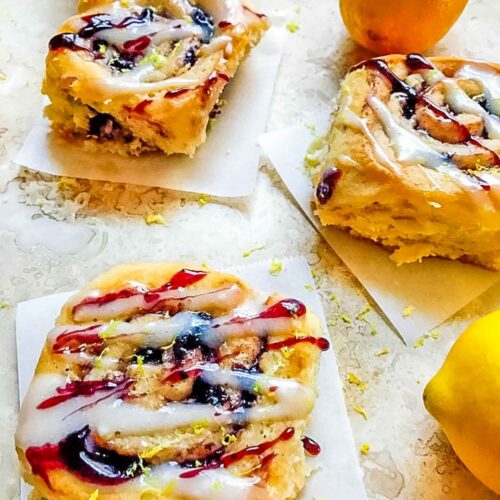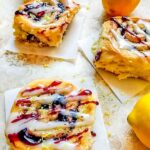 These Blueberry Lemon Sweet Rolls are an amazing homemade breakfast or brunch recipe perfect for a holiday and warm weather. Inspired by our classic cinnamon rolls, these homemade sweet rolls are worth the time and effort for something truly special.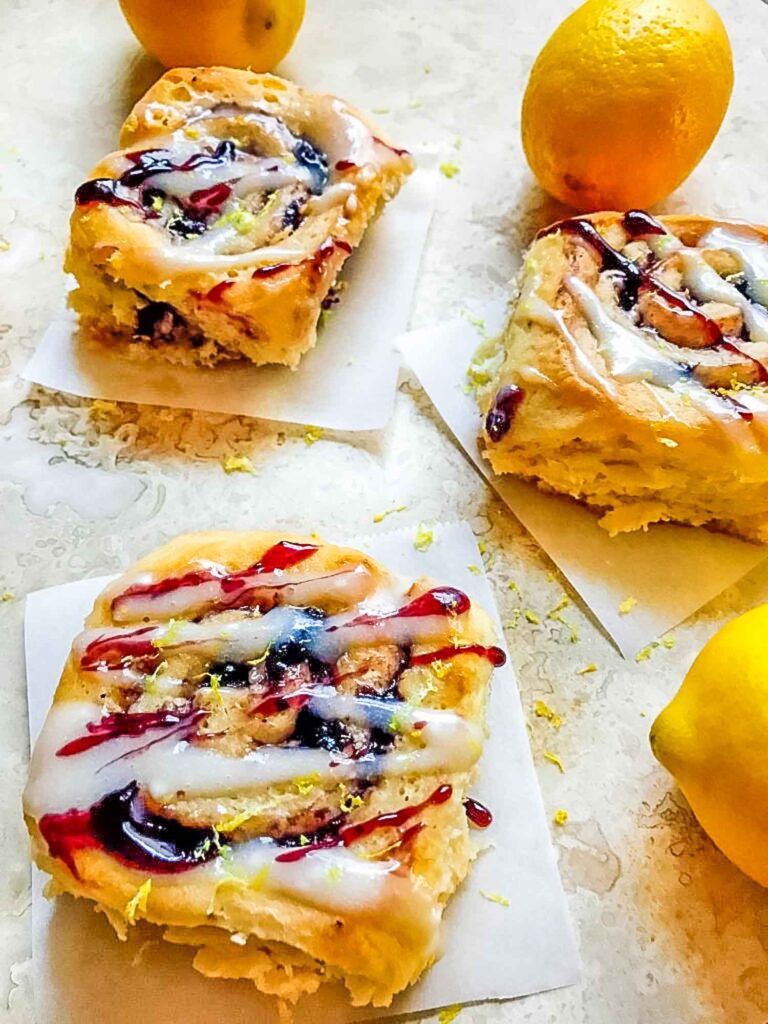 Why You Will Love This Recipe
Making homemade breakfast rolls are a tradition in our family.  
These flavors are a classic combination and a great way to make new memories with the family.
Every holiday, I make a variety for everyone to start the day off on a positive and exciting note.  Blueberry Lemon Sweet Rolls are one of my favorites to make at breakfast and brunch because of the tart flavors.
You might also love some of our other homemade sweet rolls and cinnamon roll recipes. Find them below the recipe card!
Ingredients
These are the ingredients you need to make this recipe:
Flour
Butter
Active Yeast
Milk
Sugar
Blueberry Jam
Lemon
Cream Cheese
Egg
Powdered Sugar
Water
Salt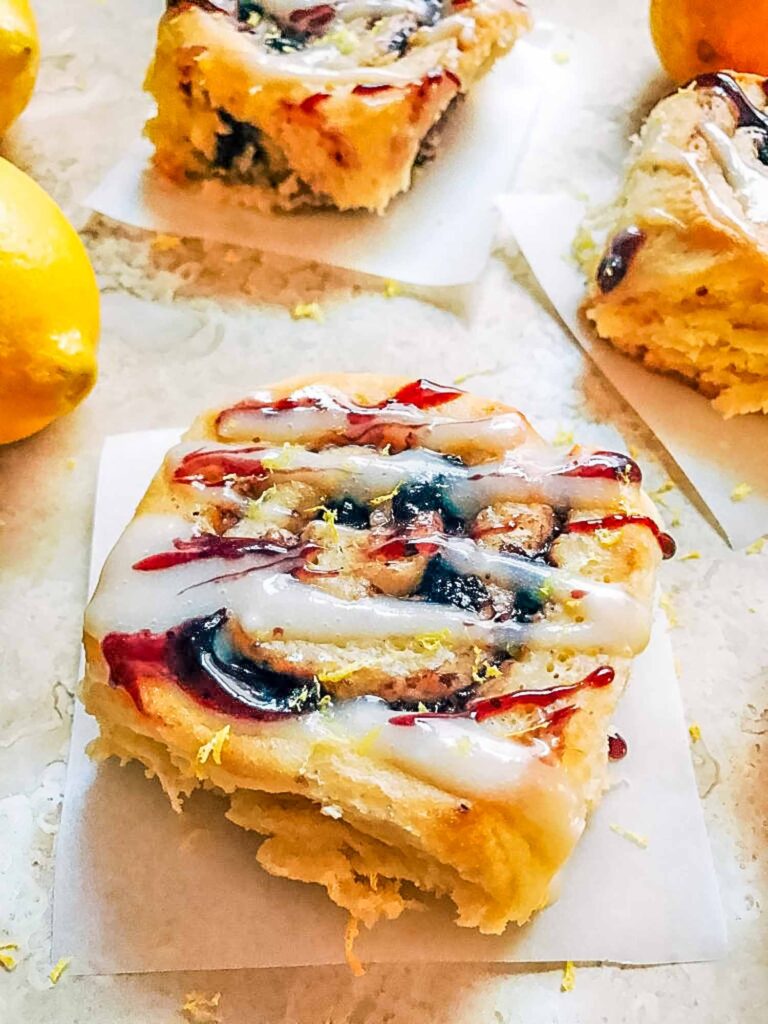 Instruction Overview
To make the Blueberry Lemon Sweet Rolls, get the dough mixed, kneaded, and let it rise. Then it is time to assemble!
Roll out the dough until it is approximately 15 x 9 inches.  Make your filling by mixing the cream cheese, butter, and lemon zest.  Mix to combine.  Spread it out over the dough.  
Then take the jam and spread it across the cream cheese mixture.  You can use more to taste if you wish.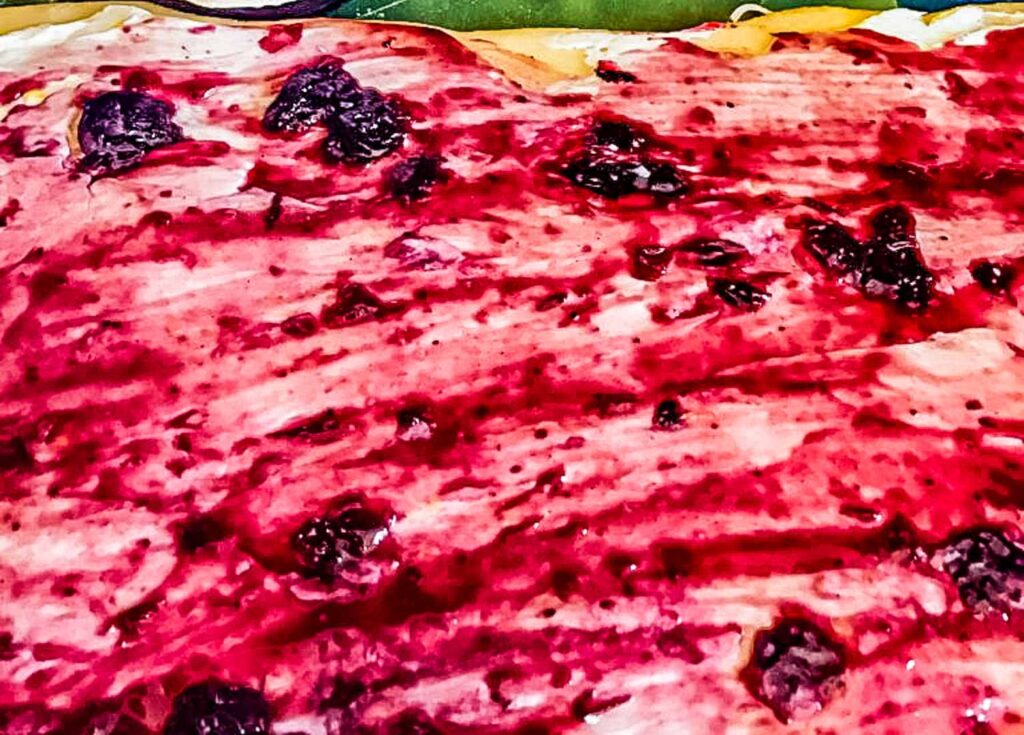 Then roll up the dough from the longer edge to make a long log.  
Cut it in half, then each piece in half again, so you have four log pieces.  Each piece can then be cut into three rolls, for a total of twelve.  Line your baking dish with some melted butter and sprinkle with some sugar.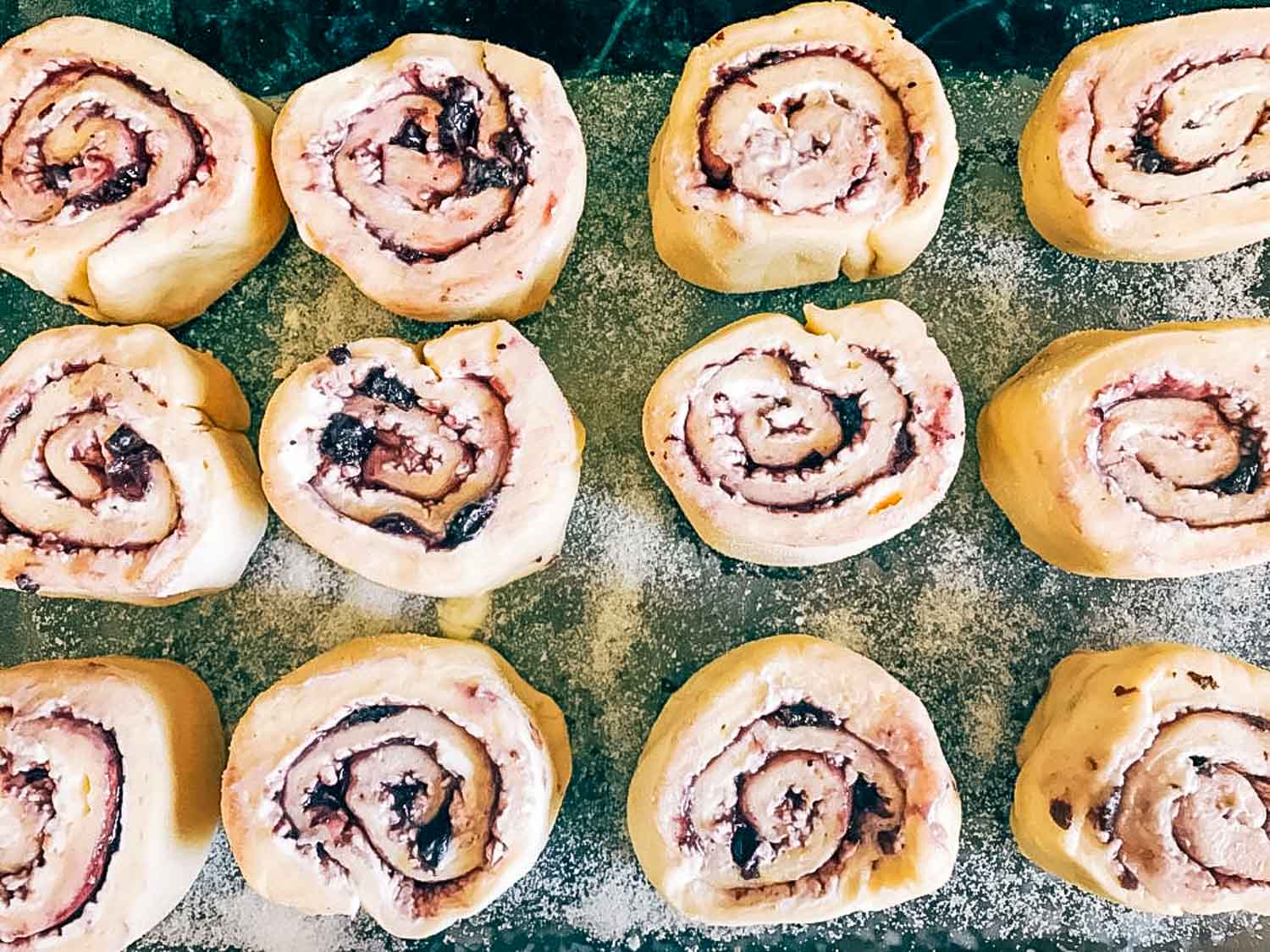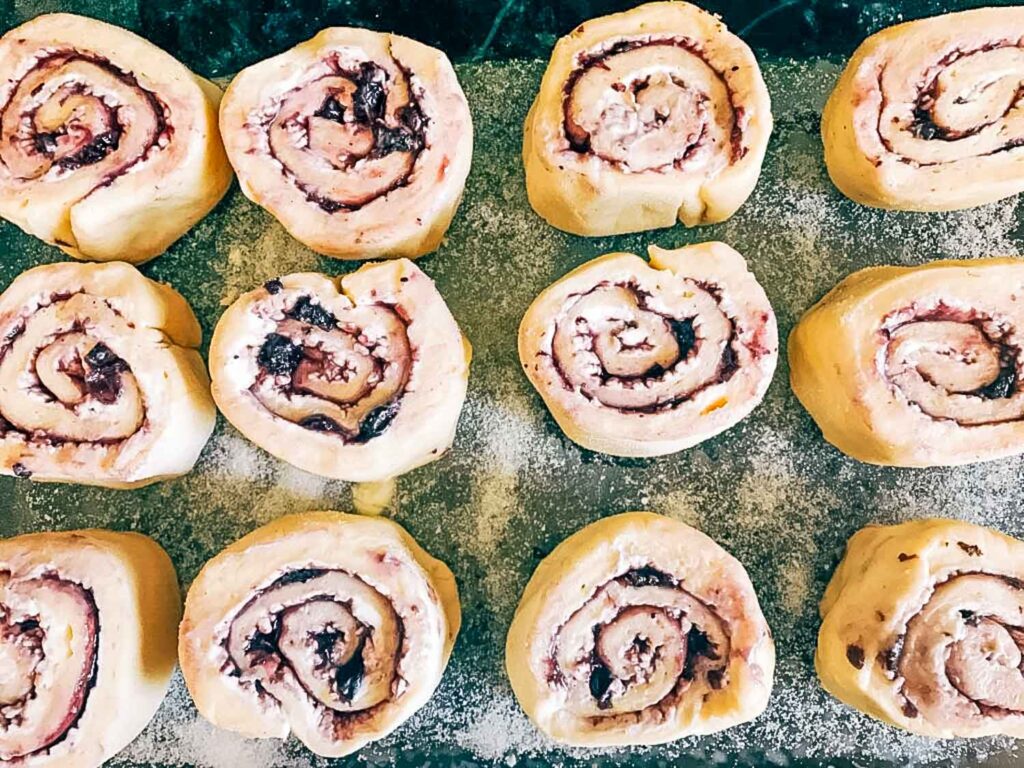 Then line up your rolls, 3×4.  Cover with plastic wrap and let them rise until doubled in size, approximately 45 minutes.  
This is the point where you can stop and leave them overnight for a fast breakfast!  Just pop them in the refrigerator after the rolls have risen the second time.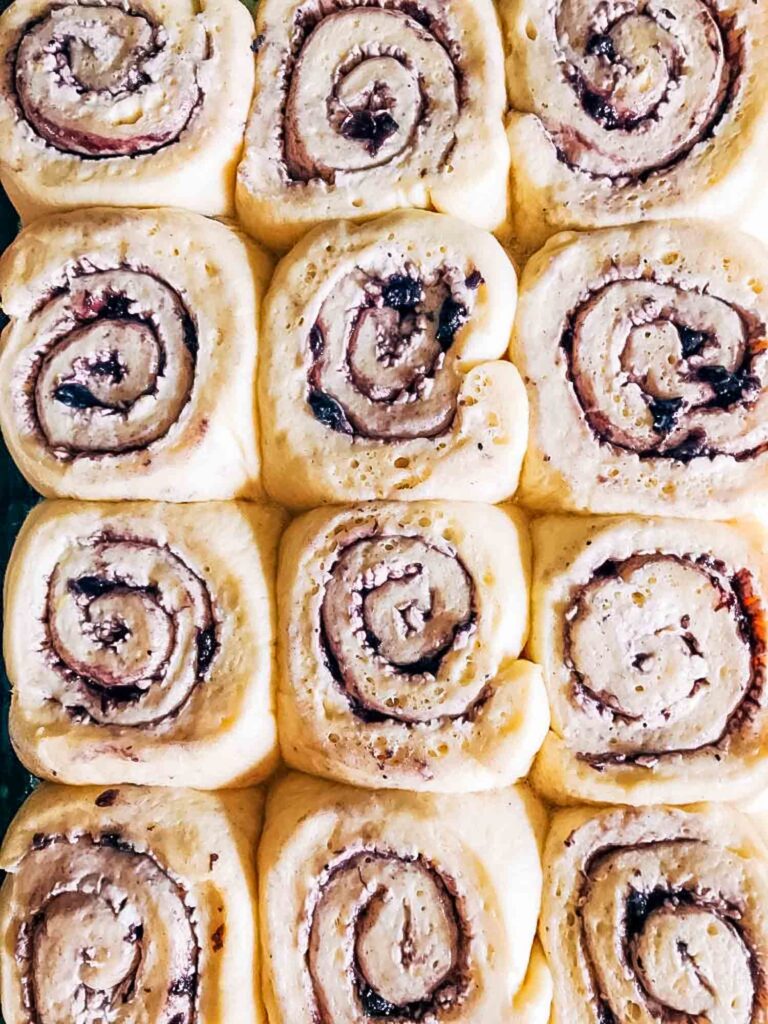 When you are ready to bake the rolls, preheat the oven to 350F and bake the rolls for approximately 30 minutes or until they are starting to brown.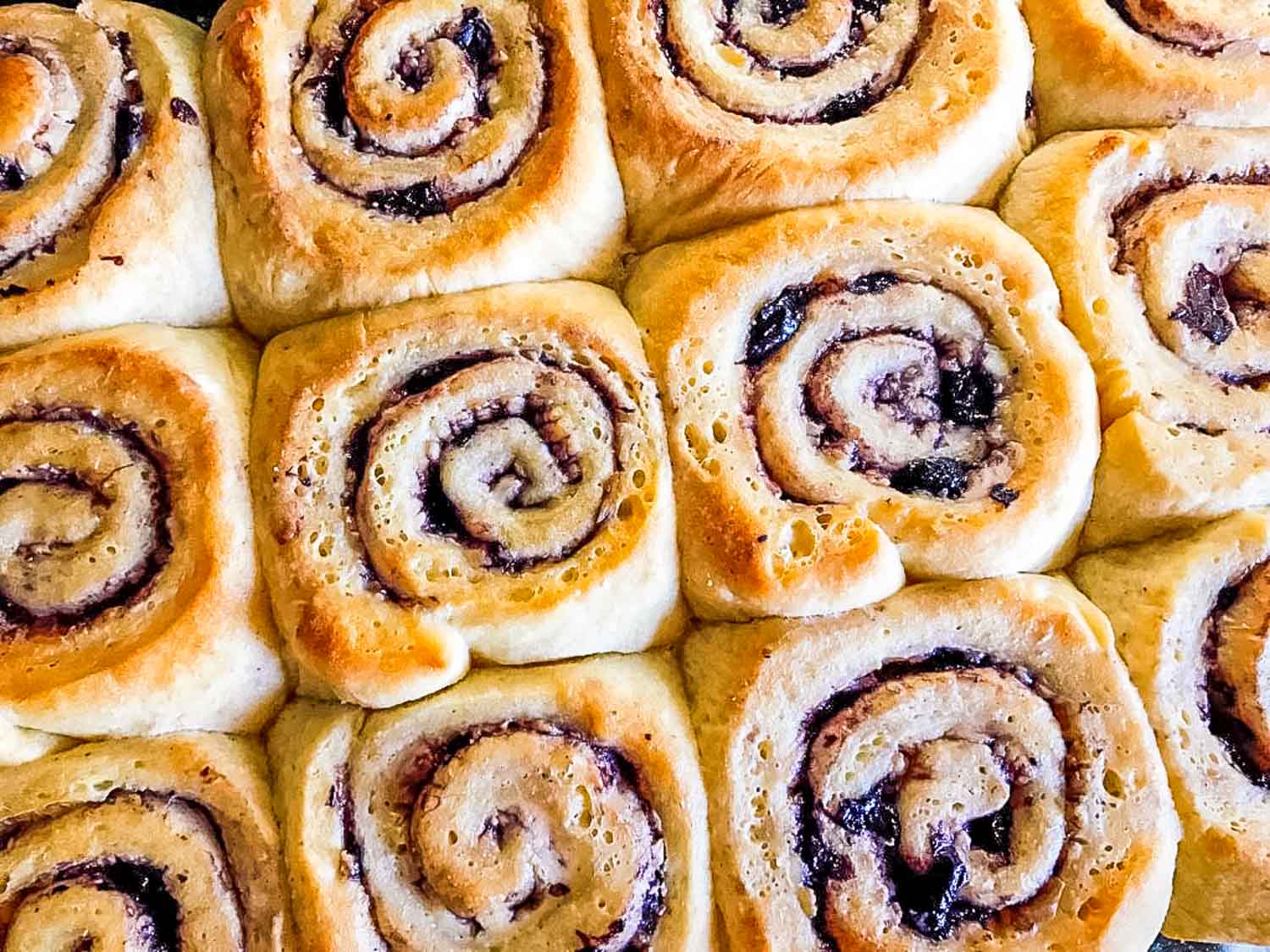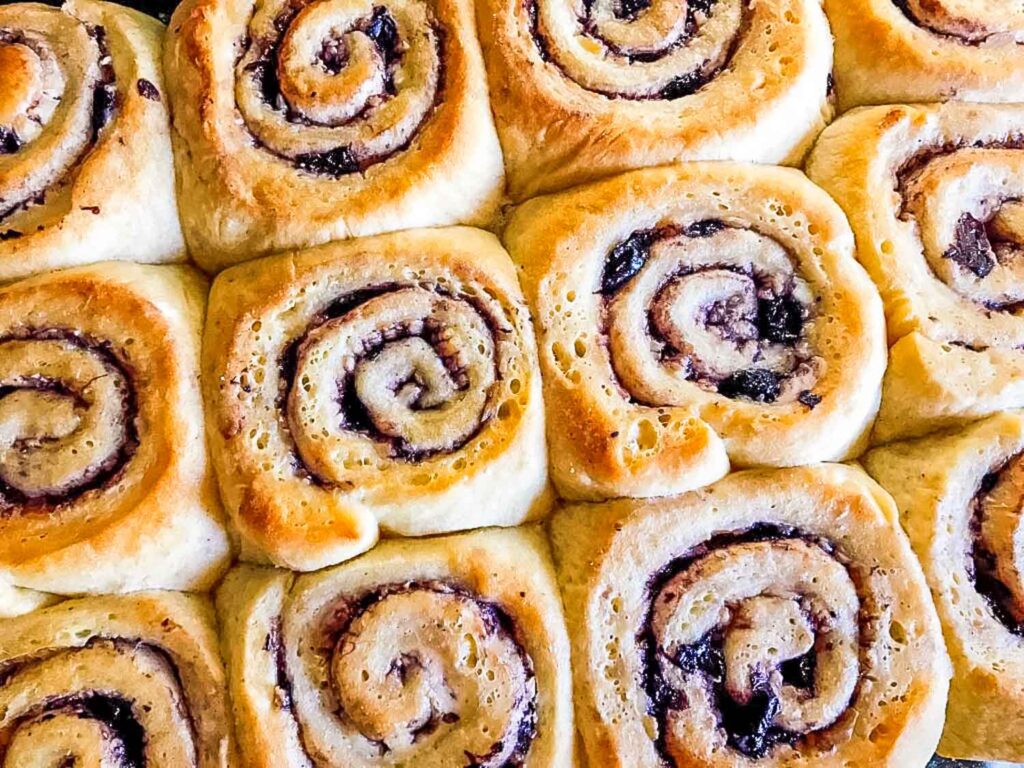 While the rolls are baking, make your cream cheese glaze by whipping the cream cheese and then adding the milk, lemon juice, and powdered sugar.
After the rolls are done, top them with the glaze, some additional lemon zest, and a drizzle of jam or even fresh berries.
Serve and enjoy!
These Blueberry Lemon Sweet Rolls are perfect because they have a balance of sweet and tartness from the fruit spread and lemon.  A great way to start the morning!
Kim's Tips
I love to make these rolls because they can be made the day before for an easy morning!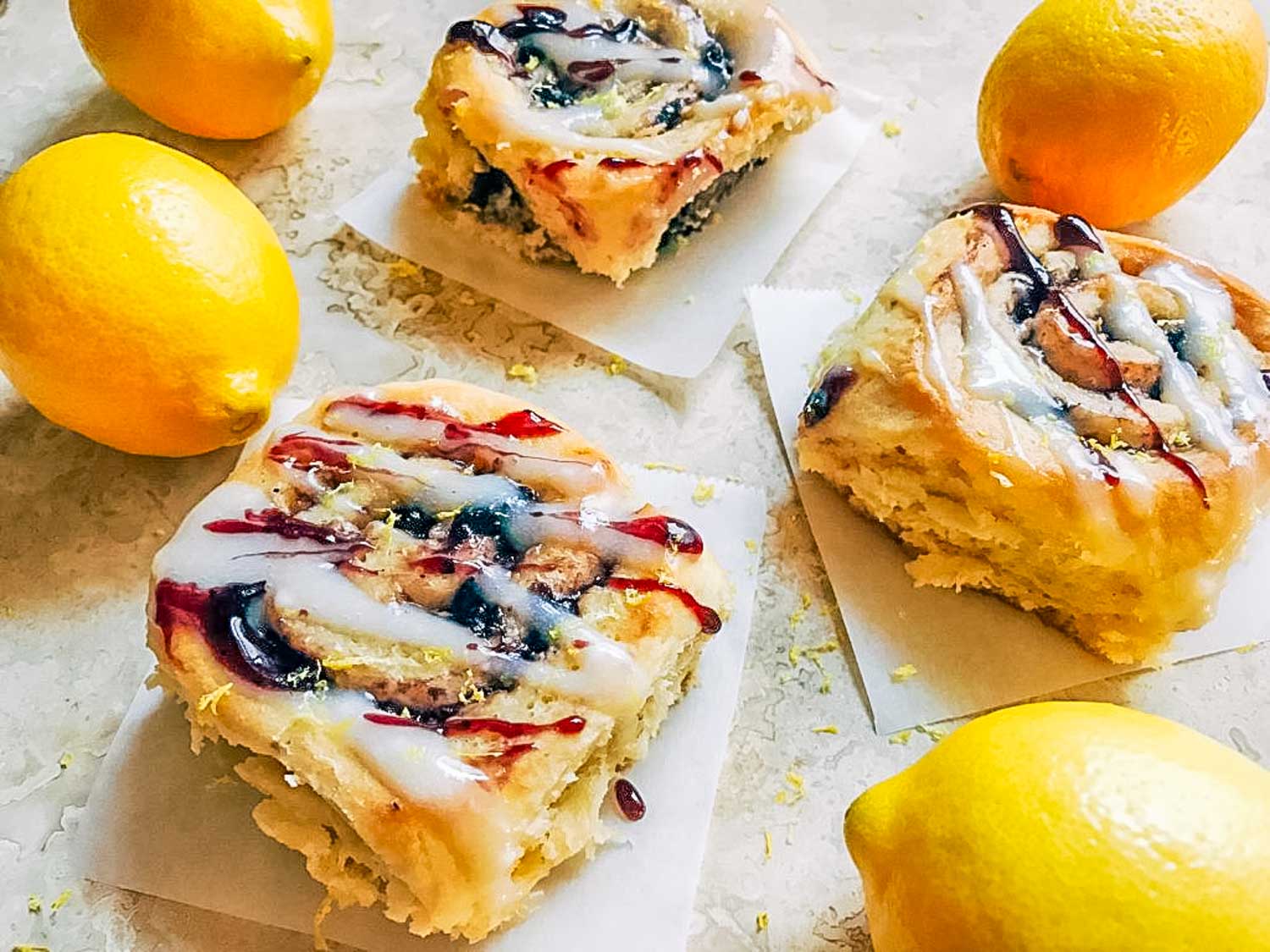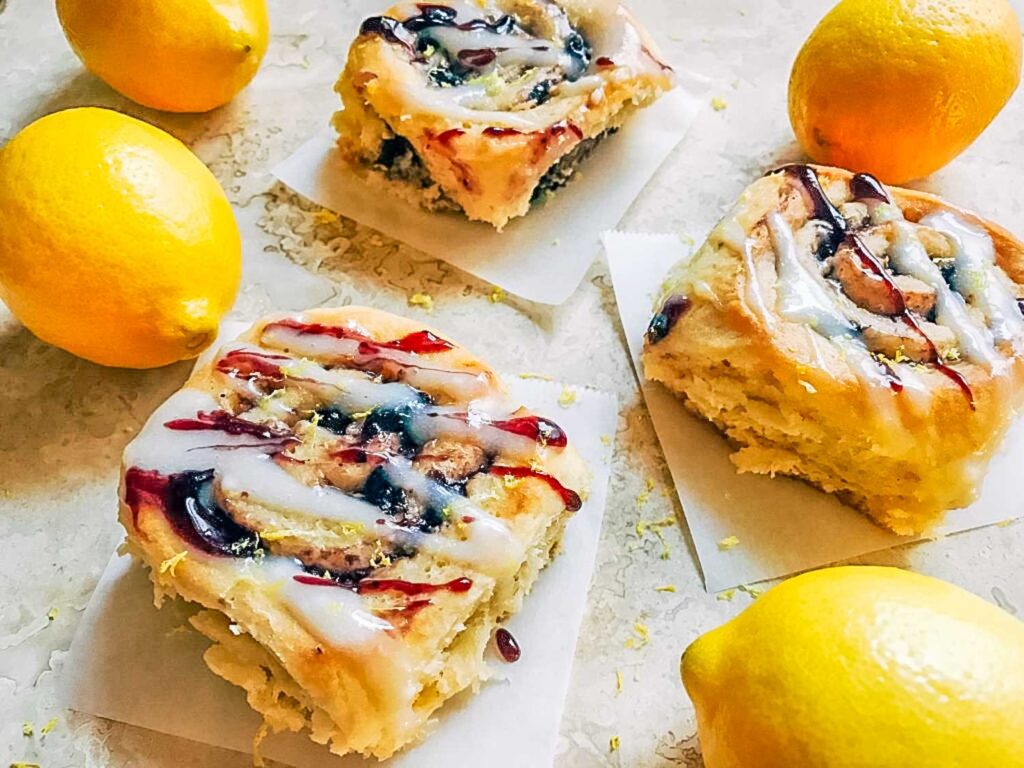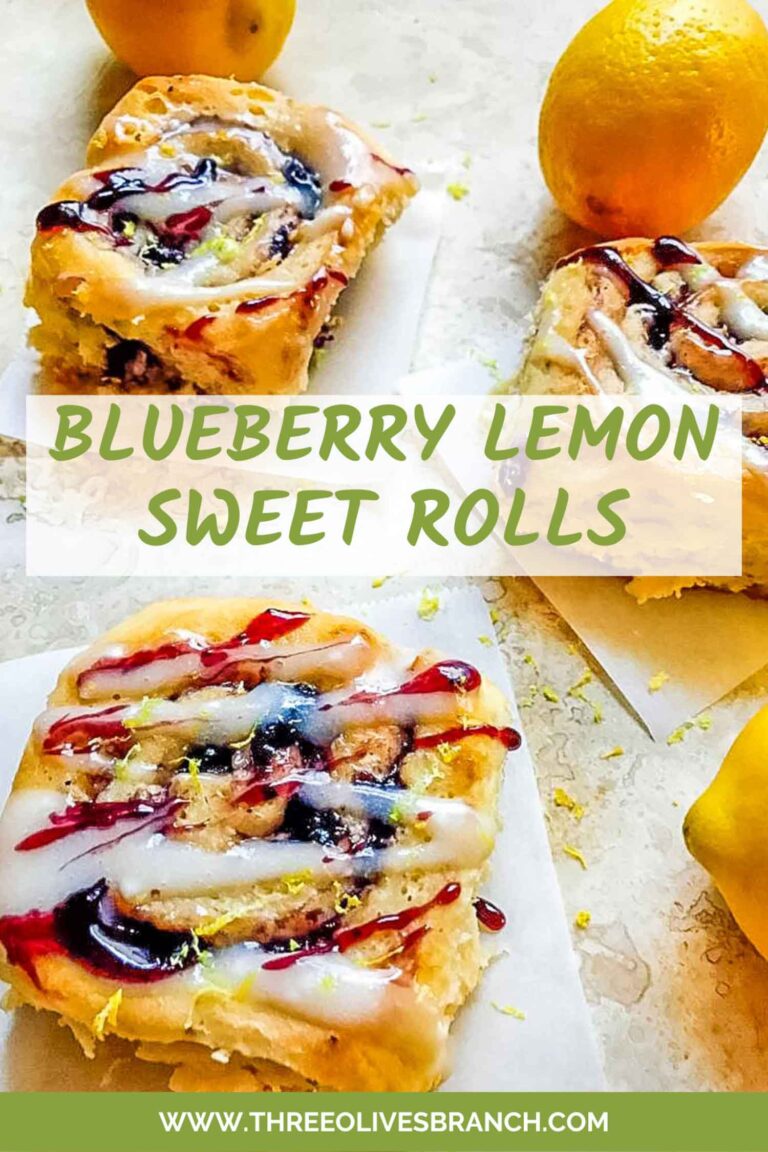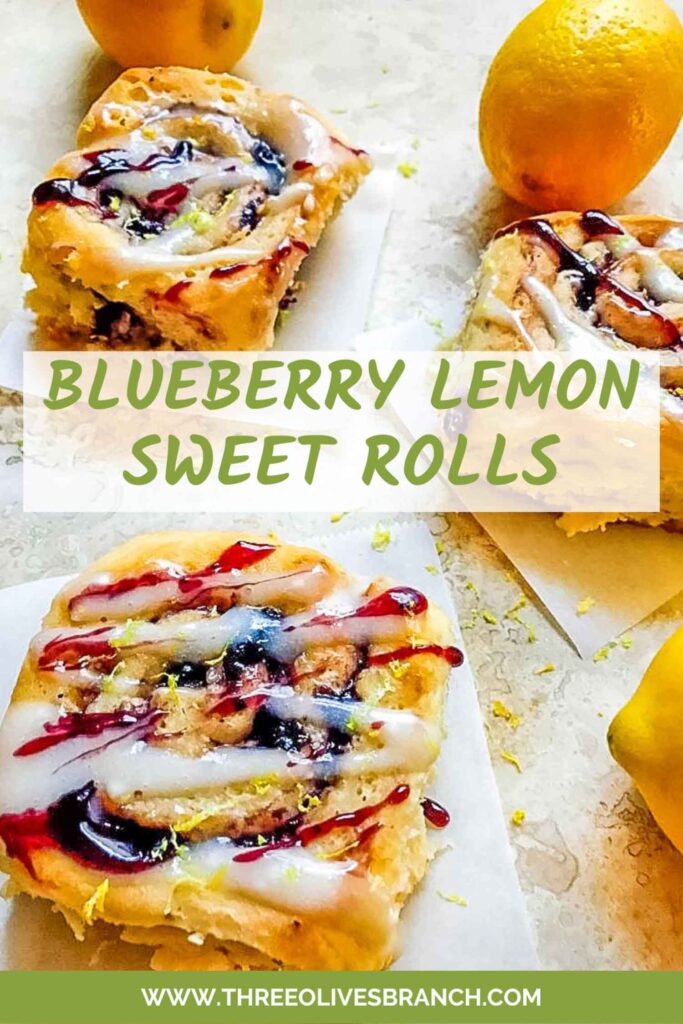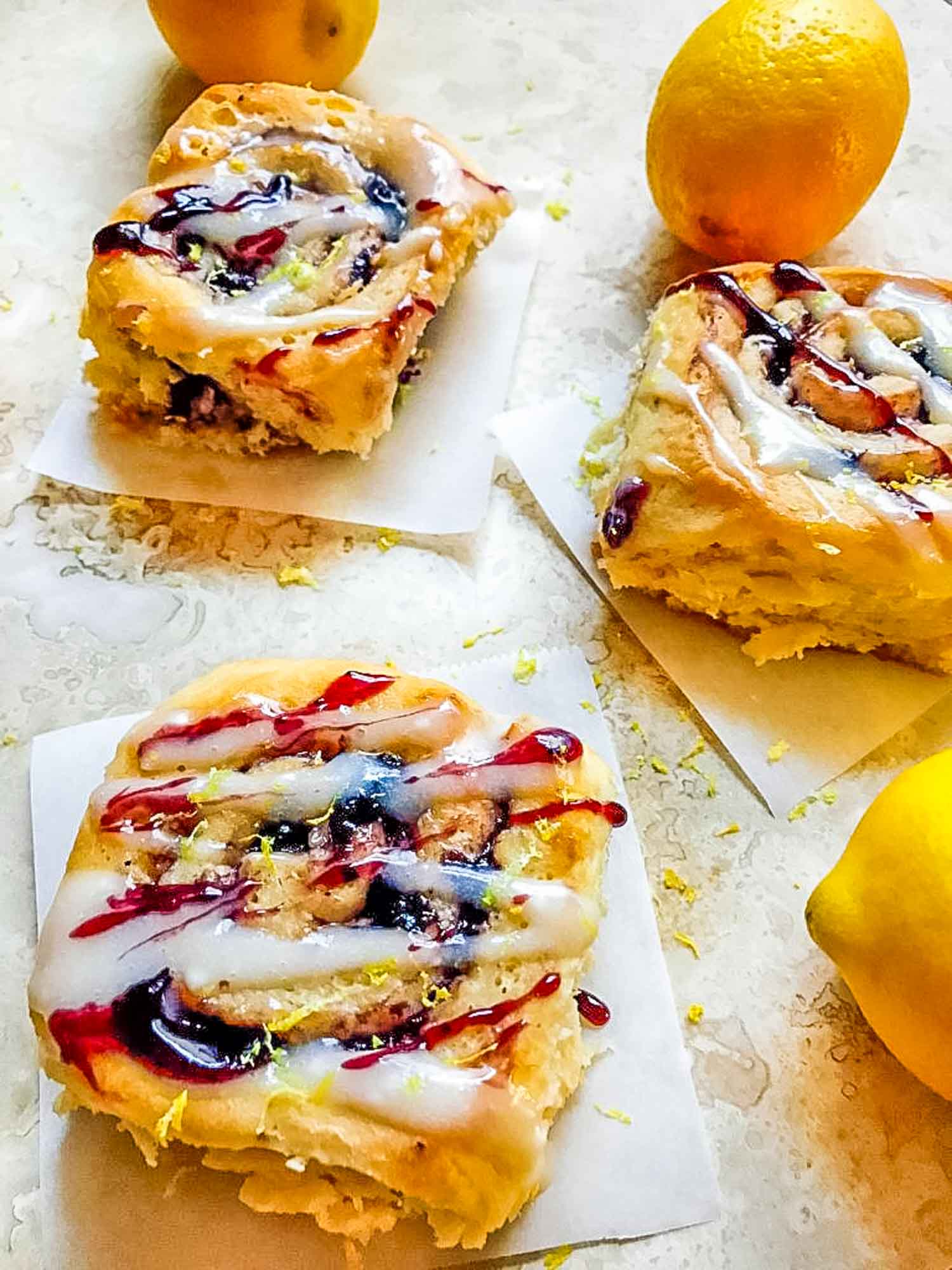 Ingredients
Dough
1

package

active dry yeast

(1/4 oz, not instant yeast)

1/2

cup

warm water

(as per yeast package directions, typically 100-110F)

½

cup

milk

1/4

cup

sugar

(plus more for pan)

1/3

cup

unsalted butter

melted (plus 1 Tablespoon, separated, for pan)

1

teaspoon

salt

1

large

egg

4

cups

flour
Instructions
In a small bowl, dissolve yeast in 1/2 cup warm water as per package directions for the correct temperature to ensure that you keep your yeast alive (typically between 100-110F).

1 package active dry yeast,

1/2 cup warm water

In a large bowl, mix the milk, sugar, melted butter, salt, and egg. Let it sit if the temperature of this mixture is over 110F otherwise it will kill the yeast. Once at 110F or below, add the yeast mixture and mix to combine.

½ cup milk,

1/4 cup sugar,

1/3 cup unsalted butter,

1 teaspoon salt,

1 large egg

Add in 2 cups of flour and mix until smooth. Add additional flour, 1/2 cup at a time, until the dough is easy to handle (the amount of flour that you need will vary).

Roll the dough out onto a lightly floured surface and knead for 5 to 10 minutes. Place the dough into a greased bowl (you can use 1-2 tsp of vegetable oil to coat the bowl you mixed everything in). Cover bowl with saran wrap and then a kitchen towel. Let sit until the dough has doubled in size, approximately 60-90 minutes.

When dough has doubled in size, punch it down. Then put it back on a floured surface and using a rolling pin, roll the dough into a rectangle approximately 15×9 inches.

Mix the filling of cream cheese, butter, and lemon zest together in a medium bowl. Spread the mixture over the dough in a thin layer. Depending on the exact size of your dough, you may need a little more to coat it all.

8 ounces cream cheese,

1 Tablespoon unsalted butter,

1 large lemon

Spread the blueberry jam across the cream cheese mixture. Add more if desired.

From the long edge, tightly roll the dough all the way to the other long edge and pinch dough together to seal.

Using a serrated knife, cut the log in half. Then cut each half into half again so that you have four equal pieces. Lining up two pieces at a time, cut each into three rolls so that you have a total of 12 rolls.

Coat the bottom of your 9×13″ baking dish with some additional melted butter (approximately 1 Tbsp) and sugar to coat. Place the cinnamon roll slices close together (four rows of three) in the dish and let them rise until the dough has doubled again, approximately 45 minutes. (If you are making these the night before, once the rolls have doubled in size, cover them in plastic wrap and place them in the refrigerator. In the morning, pull them out to warm to room temperature before baking).

Preheat the oven to 350°F. Once the rolls have doubled in size, place them in the oven and bake for about 30 minutes or until they are starting to brown.

While the rolls are baking, prepare the icing. Whisk the cream cheese in a medium bowl until creamy. Add the milk and lemon juice, and whisk in until combined. Add in the powdered sugar and whisk until smooth.

If the cream cheese is lumpy, you can heat this mixture at any point in a microwave safe bowl for 10 seconds at a time until smooth again.

2 ounces cream cheese,

2 Tablespoons milk,

1 Tablespoon lemon juice,

1 1/2 cups powdered sugar

When the rolls are done, let them cool slightly and then top with the icing. Garnish with additional jam, fresh berries, and lemon zest as desired. Serve warm.
Notes
If you love the glaze like I do, double the glaze recipe.
No blueberry jam? You can use our blueberry compote recipe!
The rolls can be made all the way up to the point before they go in the oven and then left overnight in the refrigerator to save time in the morning.  Just bring your dish to room temperature as the oven is heating so that it is not ice cold going in the oven.  I have had a cold dish explode on me before from the change in temperature 🙂
Easily make the dough all in a stand mixer with the dough hook attachment instead of mixing and kneading by hand. I do find it takes longer for the dough to be ready, but is easier.
Nutrition
Serving:
1
roll
|
Calories:
400
kcal
|
Carbohydrates:
59
g
|
Protein:
7
g
|
Fat:
15
g
|
Saturated Fat:
9
g
|
Polyunsaturated Fat:
1
g
|
Monounsaturated Fat:
4
g
|
Trans Fat:
0.2
g
|
Cholesterol:
57
mg
|
Sodium:
284
mg
|
Potassium:
127
mg
|
Fiber:
2
g
|
Sugar:
24
g
|
Vitamin A:
549
IU
|
Vitamin C:
6
mg
|
Calcium:
53
mg
|
Iron:
2
mg
More Cinnamon Roll Recipes
By