A wonderful treat for the holidays! Make them the day before for a fast and easy morning.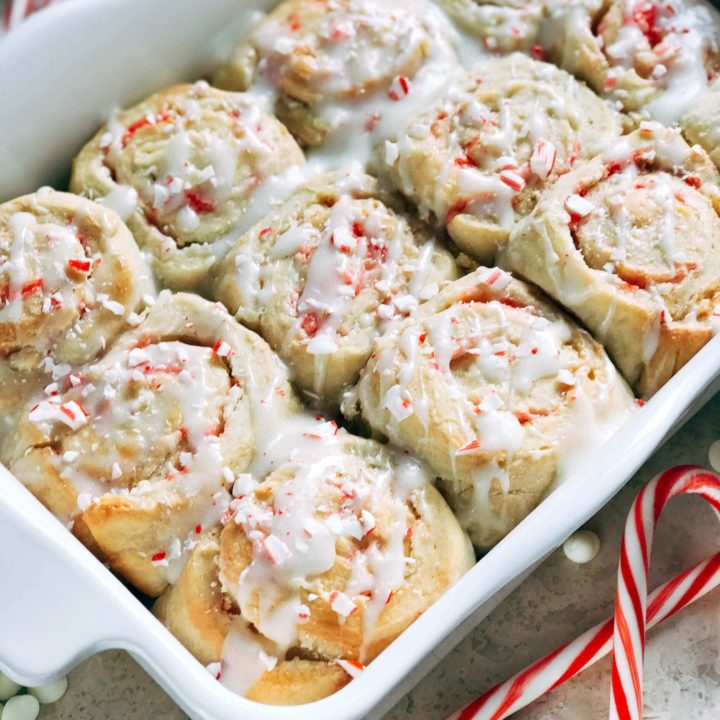 The holidays are here! I love to cook and bake things that are representative of the season, and these Peppermint White Chocolate Sweet Rolls are a perfect treat for your holiday breakfast or brunch!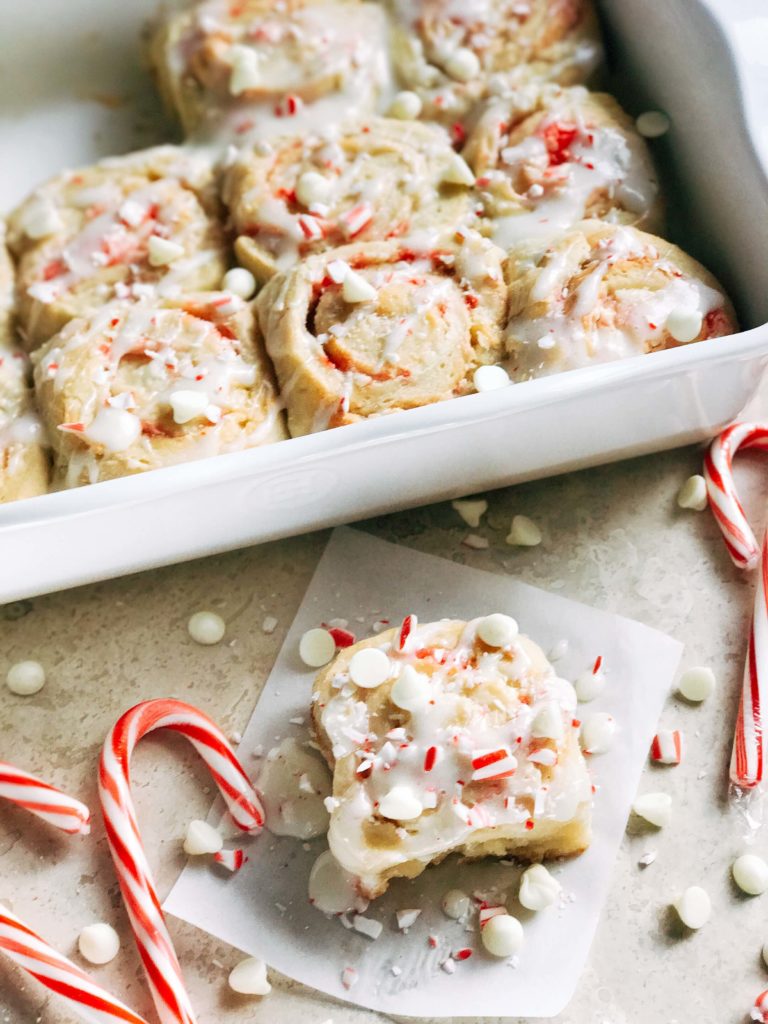 This post contains affiliate links.
My various cinnamon and sweet rolls are extremely popular in the family and are requested often!
I always make them for the holidays and typically make two different kinds.
These Peppermint White Chocolate Sweet Rolls are technically not holiday cinnamon rolls because there is no cinnamon, but everything else is the same!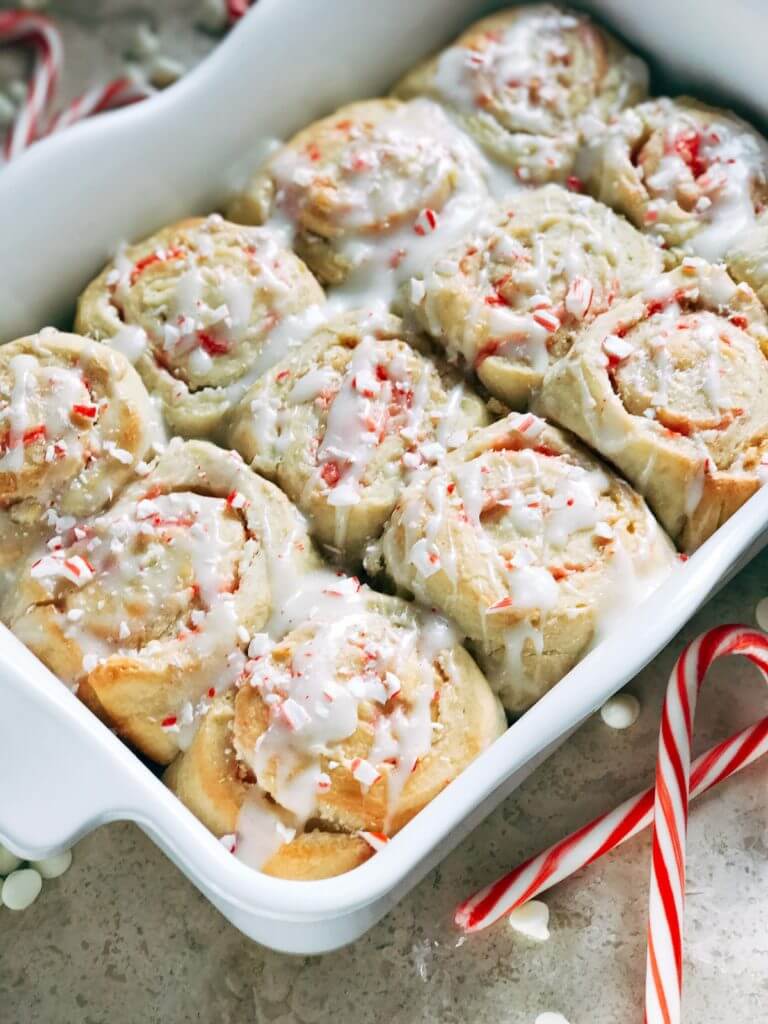 Homemade cinnamon rolls are the perfect special treat to start a holiday off with. And these one specifically as a Christmas morning recipe!
And what I love best is that these work wonderfully when you make them the day before. This means you don't have to get up insanely early to make the rolls plus breakfast is easy.
There is enough going on that day, so prepping what you can in advance like overnight cinnamon rolls is the way to go!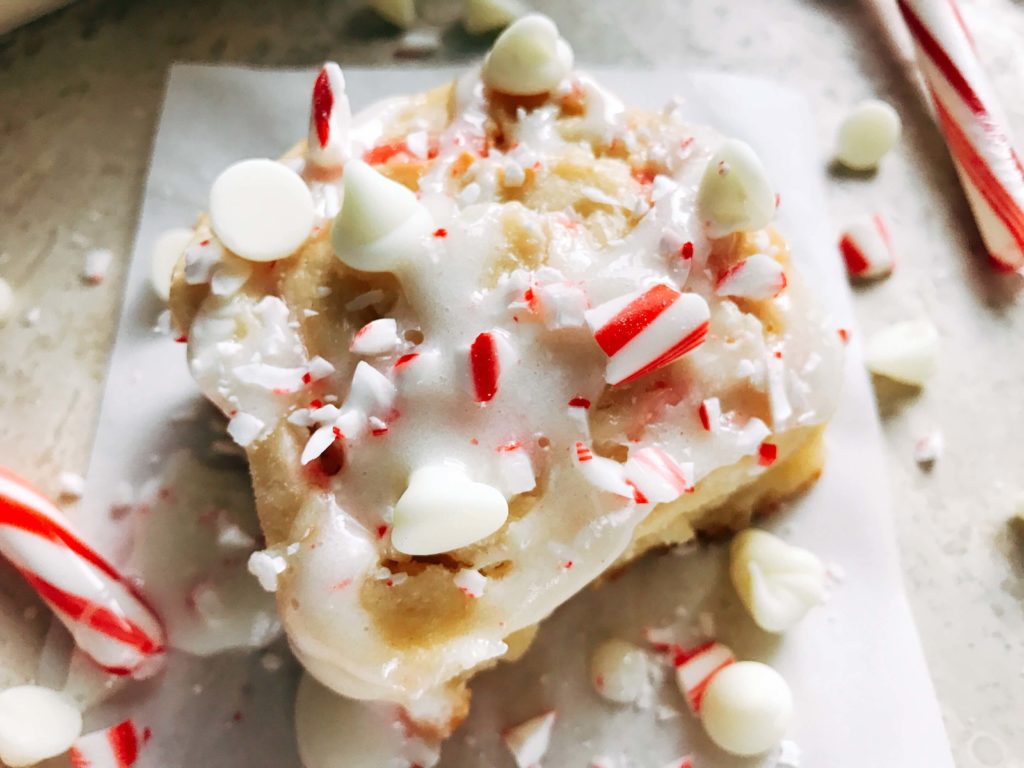 My husband is completely obsessed with peppermint anything so he loves this time of year.
These overnight cinnamon rolls have a good punch of peppermint, and he was still asking for more!
The filling ingredients of the Peppermint White Chocolate Sweet Rolls tend to melt in the baking process, however their flavors are left behind.
There is a wonderful hint of white chocolate and sweetness balanced with the sharp and strong peppermint.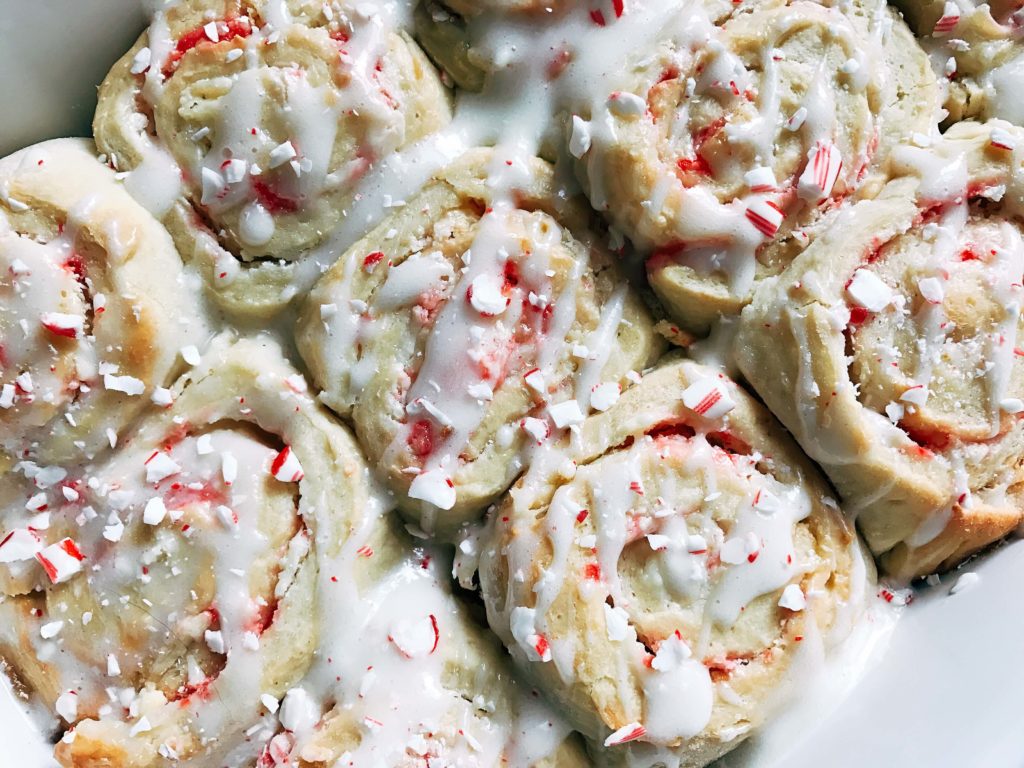 If you have never made cinnamon or sweet rolls before, it can be a little intimidating.
I hesitated for the longest time before jumping in and trying them out. How I wish I had tried them earlier!
They really are not too difficult to make and they taste absolutely amazing!
Now I make them all the time for events, birthdays, and holidays.
Our family is also a little obsessed with the glaze, so I tend to increase the glaze to 1.5 or 2 times the size.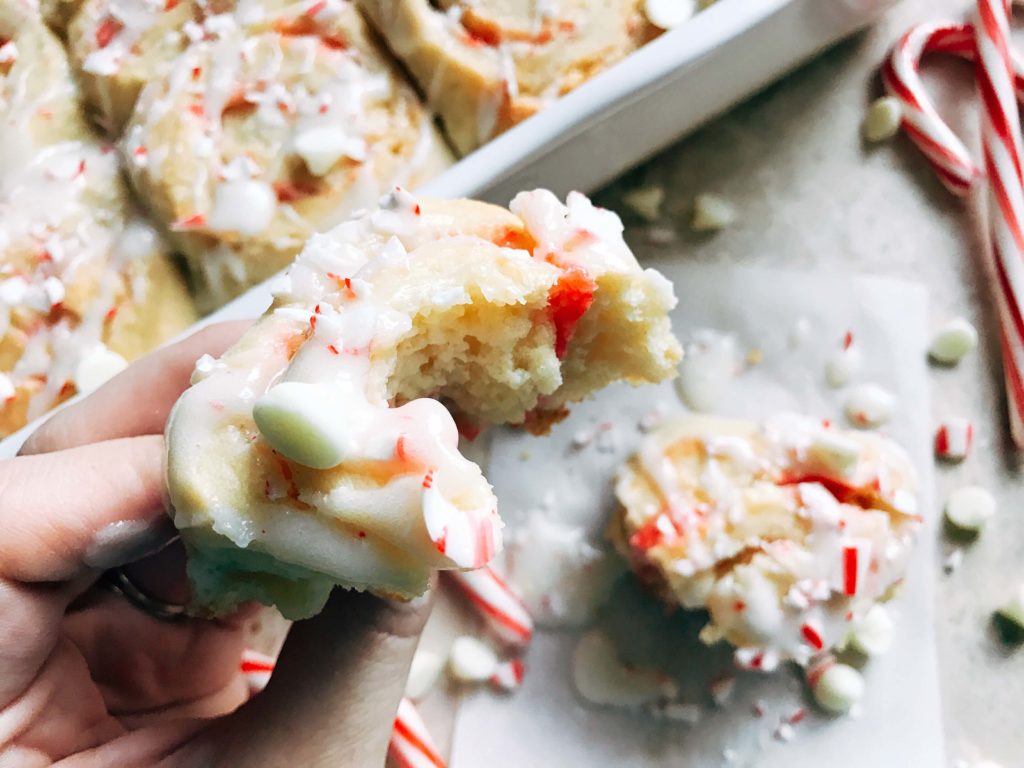 Baking with Yeast
Baking with yeast can be a little intimidating as well if you are not used to it. I have made MANY batches of cinnamon rolls, and have used both instant and regular yeast.
Here are my tips!
Yes, you can use instant yeast instead of the

regular yeast

.


Instant yeast

means you do not need to knead and proof the dough. Just skip steps 1, 6, and 13 in the instructions. The rolls will come out a little denser, a little smaller, and with sharper, less rounded edges, but still taste great and cuts down on the time you need to make these!
A thermometer is best to read the temperature of the water if using

regular active yeast

, but is not necessary.
If you do not have a thermometer, make the water warm but not hot (hot will kill the yeast and it will never rise).
When kneading the dough, you are done when it is a little tacky but not sticky. If you press your finger in it, it will slowly bounce back. And when you stretch it out thinly, you will be able to see light through it with little breaking.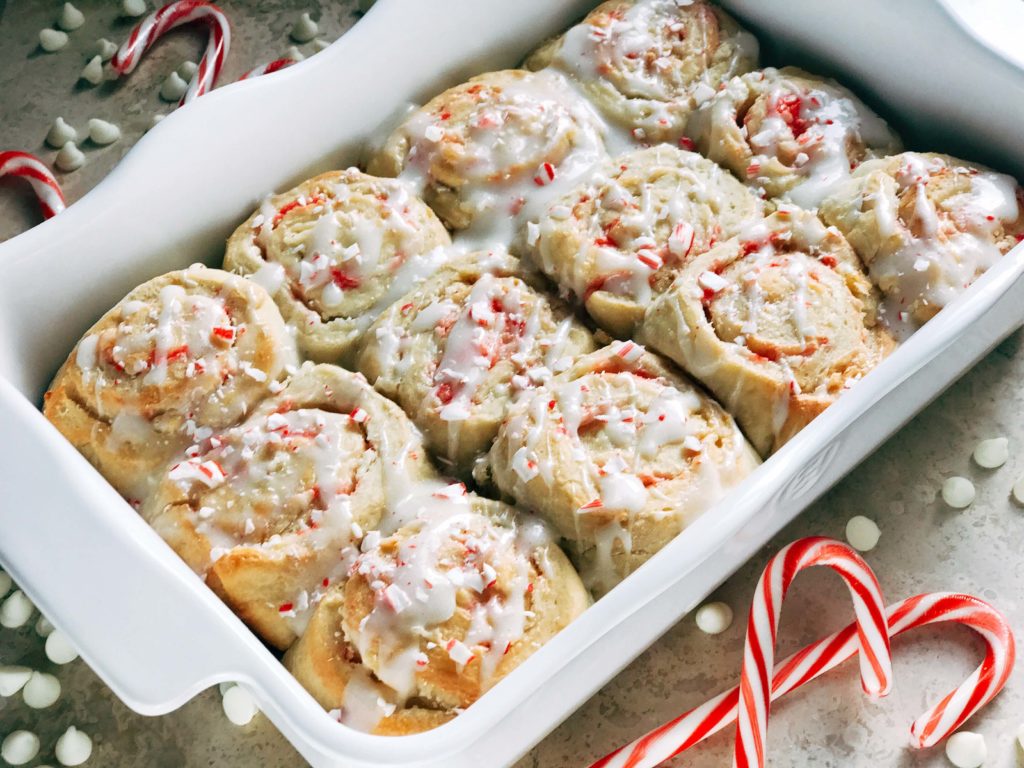 Love cinnamon and sweet rolls? Check out our other flavors and the complete list here!
Blackberry Toasted Coconut Sweet Rolls
Chocolate Hazelnut Coffee Rolls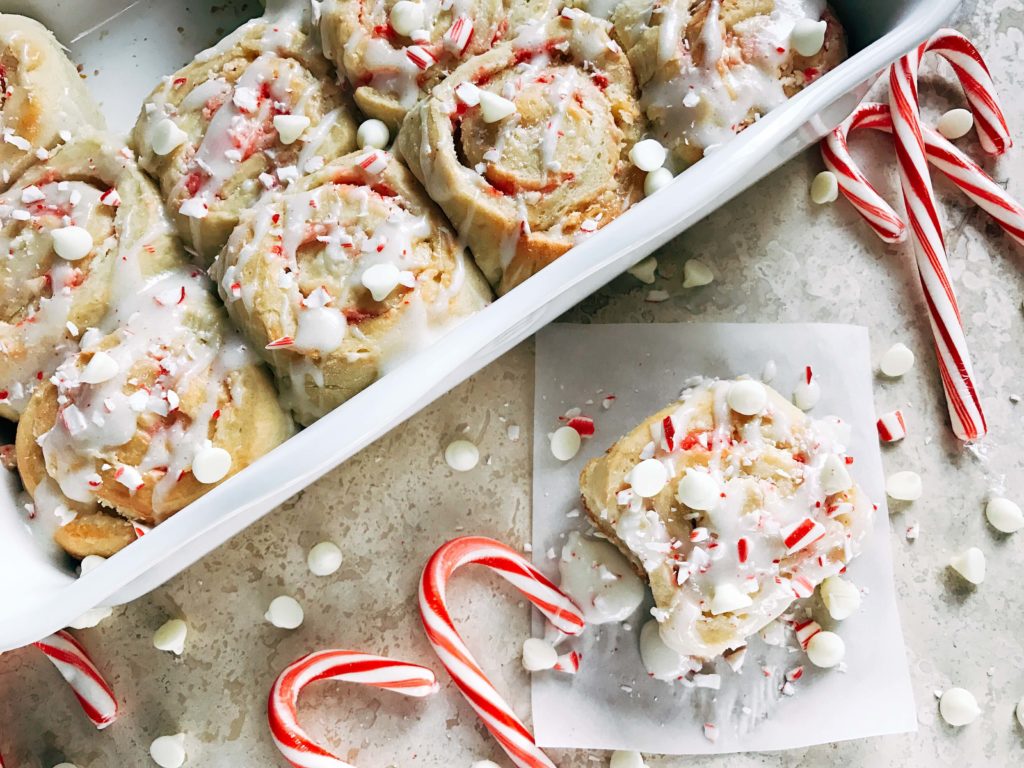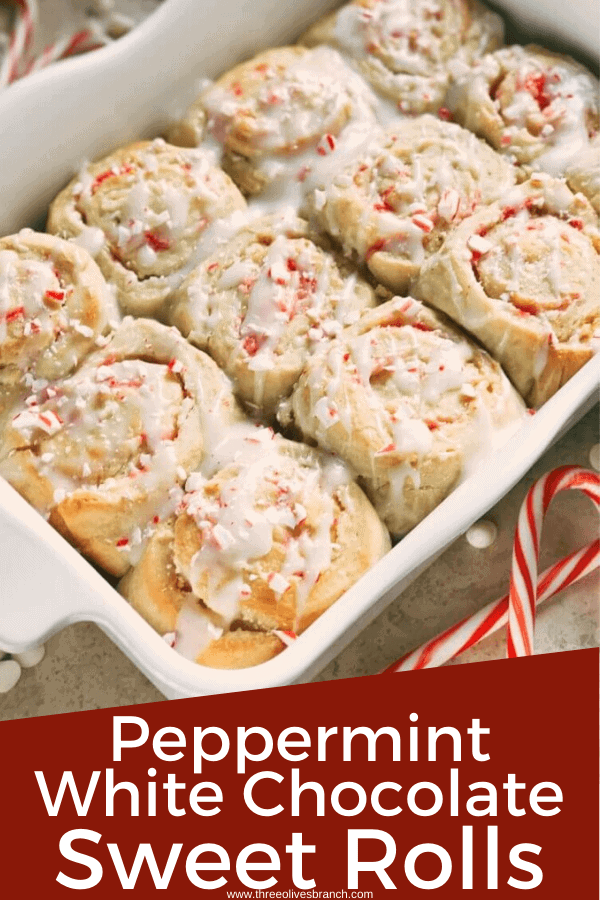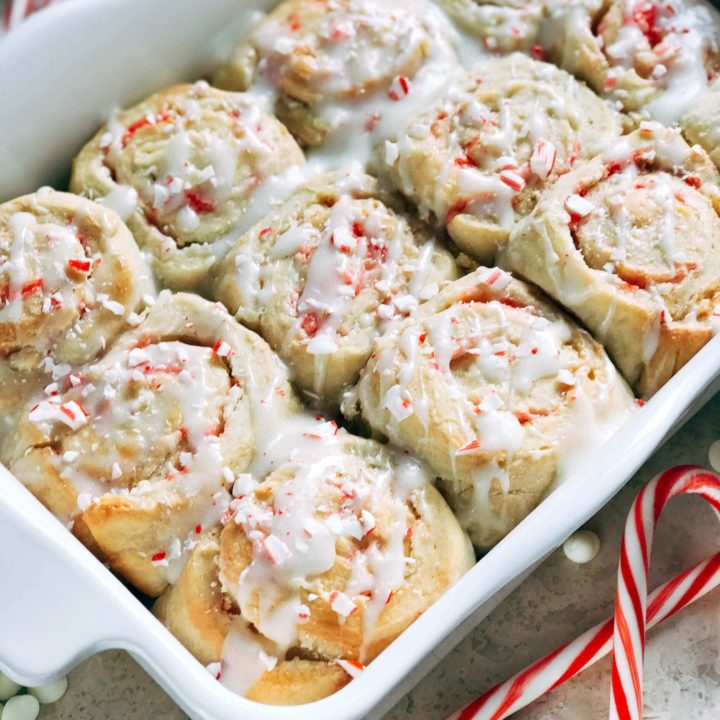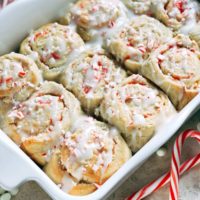 Peppermint White Chocolate Sweet Rolls
A wonderful treat for the holidays! Make them the day before for a fast and easy morning.
Print
Pin
Rate
Instructions
In a small bowl, dissolve yeast in 1/2 cup warm water as per package directions for the correct temperature to ensure that you keep your yeast alive (typically between 100-110F).

In a large bowl, mix the milk, sugar, melted butter, salt, and egg.

Add in 2 cups of flour and mix until smooth. Then add the yeast mixture. Add another 1/2 cup of flour and stir to combine.

Continue to add additional flour, 1/2 cup at a time, until the dough is easy to handle (the amount of flour that you need will vary). It is best to err on adding too little flour rather than too much to avoid a tough dough. I stop when the dough is not sticky but a little tacky. As you knead the dough, it will absorb more flour.

Roll the dough out onto a lightly floured surface and knead for 5 to 10 minutes. (You can also do this in a stand mixer with the dough hook on speed 1 or 2, however it does take longer). The dough is ready when you can stretch it out and see through it without it breaking, and it bounces back when you press your finger into it.

Place the dough into a greased bowl (you can use 1-2 tsp of vegetable oil to coat the bowl you mixed everything in). Cover bowl with saran wrap and then a kitchen towel. Let sit until the dough has doubled in size, approximately 60-90 minutes.

When dough has doubled in size, punch it down. Then put it back on a floured surface and using a rolling pin, roll the dough into a rectangle approximately 15×9 inches.

Combine the filling's cream cheese, sugar, and peppermint extract in a small bowl. Spread the mixture over the dough in a thin layer. Depending on the exact size of your dough, you may need a little more to coat it all.

Unwrap the candy canes and place them in a plastic bag. Smash the bag using something heavy like a small pot, metal measuring cup, or rolling pin until the candy canes are crushed with relatively small pieces. You will have approximately 1/3 cup of candy cane pieces.

Sprinkle the chocolate chips and candy cane pieces over the cream cheese filling. Use more or less as needed to cover your dough to your preference.

From the long edge, tightly roll the dough all the way to the other long edge and pinch dough together to seal.

Using a serrated knife, cut the log in half. Then cut each half into half again so that you have four equal pieces. Lining up two pieces at a time, cut each into three rolls so that you have a total of 12 rolls.

Coat the bottom of your 9×13" baking dish with some additional melted butter (approximately 1-2 Tablespoons) and sugar to coat. Place the cinnamon roll slices close together (four rows of three) in the dish and let them rise until the dough has doubled again, approximately 45 minutes.

Preheat the oven to 350F. Once the rolls have doubled in size, place them in the oven and bake for about 30 minutes or until they are starting to brown.

While the rolls are baking, prepare the icing. Whisk the cream cheese in a stand mixer until creamy. Add the milk and whisk in until combined. Add in the powdered sugar and whisk until smooth. If you would like to add some peppermint extract in the glaze for a stronger flavor, do so now and combine. If the cream cheese is lumpy, you can heat this mixture at any point in a microwave safe bowl for 10 seconds at a time until smooth again.

When the rolls are done, let them cool slightly and then top with the icing. Finish with sprinkling additional white chocolate chips and another crushed candy cane as desired. Serve warm.
Notes
This recipe will result in a good punch of peppermint taste.  For a lighter peppermint flavor, skip the extract in the glaze and reduce the extract in the filling by half.  For a strong peppermint flavor, increase the amount in the glaze to 1/4 teaspoon and add additional candy canes to the filling and top.
I use the regular, large candy canes for this recipe.  You can use any size since they are crushed, approximate measurement is listed in recipe.
I love making these the day before for a quick and easy breakfast.  It is best if they are cooked through in advance.  If you leave them raw (uncooked) overnight, they sometimes collapse, making them flat and tough.
I have made these with instant yeast. They are a little more dense but still delicious. Simply mix everything, skip the proofing times in steps 6 and 13, as well as skip the yeast soaking in water in step 1. The rolls will come out a little smaller, denser, and with sharper edges.
Nutrition
Serving:

1

roll

|

Calories:

443

kcal

|

Carbohydrates:

65

g

|

Protein:

8

g

|

Fat:

17

g

|

Saturated Fat:

10

g

|

Cholesterol:

61

mg

|

Sodium:

294

mg

|

Potassium:

136

mg

|

Fiber:

1

g

|

Sugar:

32

g

|

Vitamin A:

531

IU

|

Calcium:

70

mg

|

Iron:

2

mg

By