A delicious and creamy risotto with butternut squash two ways. Perfect for fall and cold weather meals, including Thanksgiving!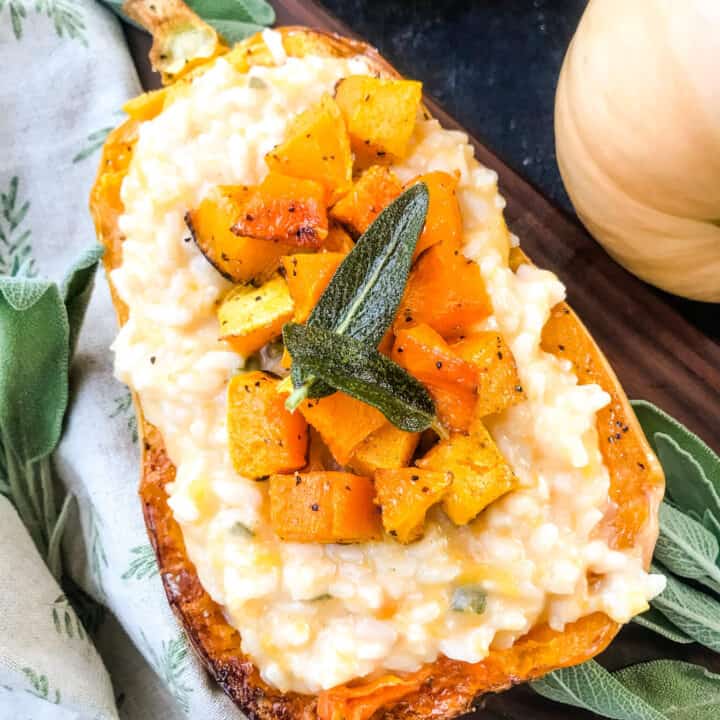 Butternut Squash Sage Risotto is filled with roasted butternut squash flavor. A great side dish or main course!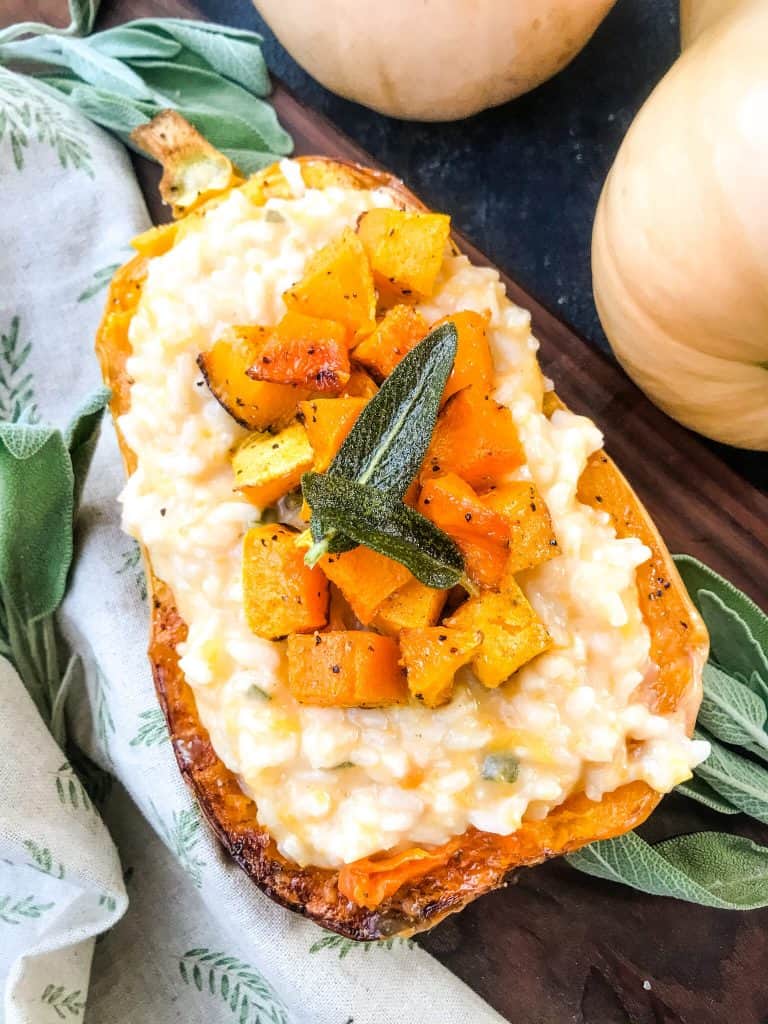 This post contains affiliate links.
This Butternut Squash Sage Risotto makes a fantastic fall or cold weather meal whether as a side dish or as the main course.
I am a HUGE fan of risotto recipes and love to make new and interesting flavors.
Gluten free and vegetarian, it is also a great option as a Thanksgiving side dish recipe that can also sub as a main course for vegetarians at the meal.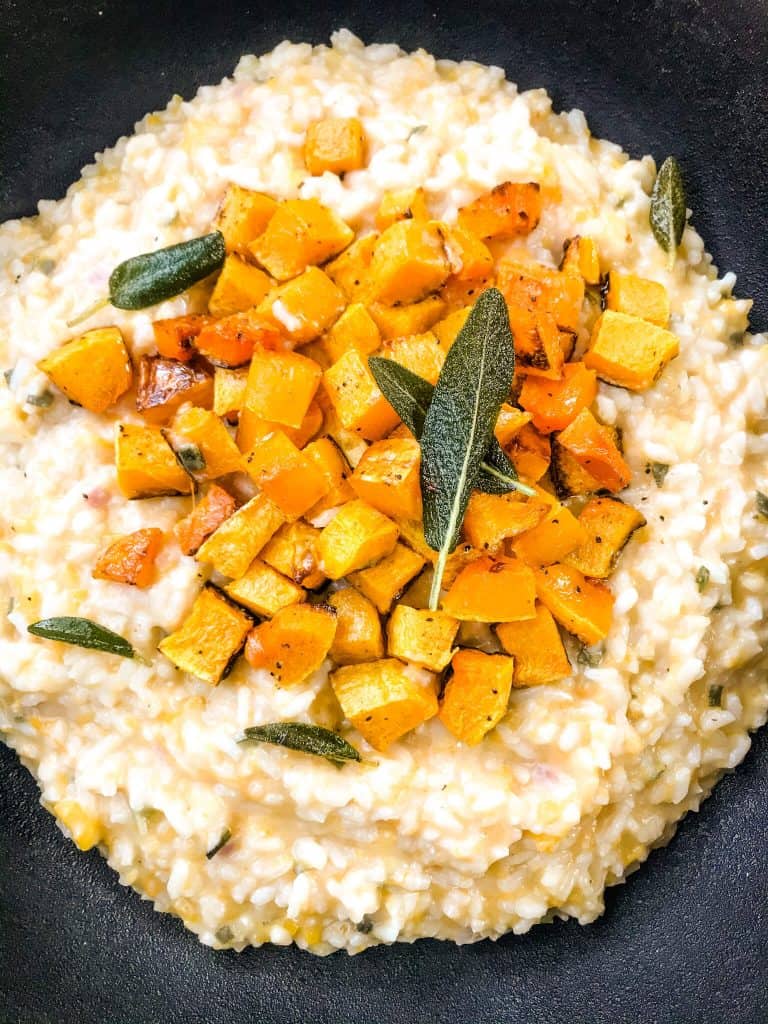 Does the rice type really matter?
Yes! Arborio rice is high in starch and as this starch is released in the cooking process, it gives risotto the creamy texture.
Arborio is also a short grain which means it stays a little firm and chewy.  You want risotto to have just a little bite or texture to it and not be soggy or too soft.
You can find Arborio rice at most grocery stores or online in bulk.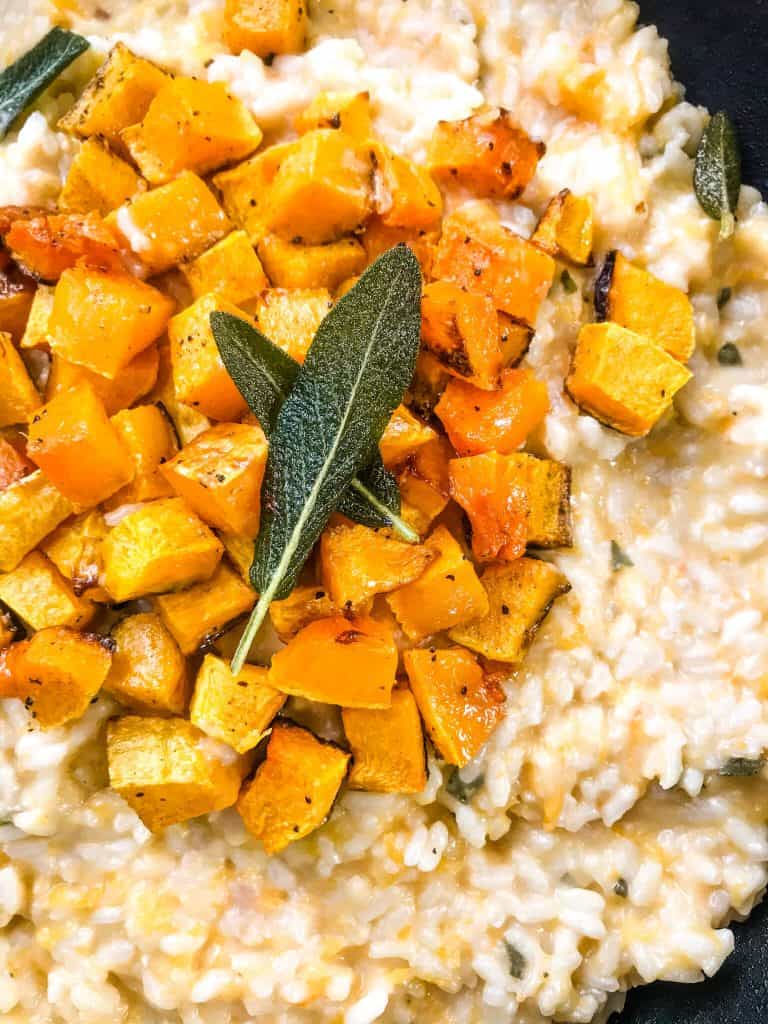 Do I really need to stir it that much?
In my opinion, yes.  Some people say that they do not notice a difference and just let the rice sit there and cook in all of the liquid at once.  But I DO notice a difference.
The stirring and gradually adding of the liquid definitely makes the risotto creamier.
Grab a glass of wine or a friend and hang out with your risotto for a bit, stirring as it cooks.  Yes, you can go back and forth to the pot stirring every few minutes, but the best ever risotto I made was when I was constantly stirring.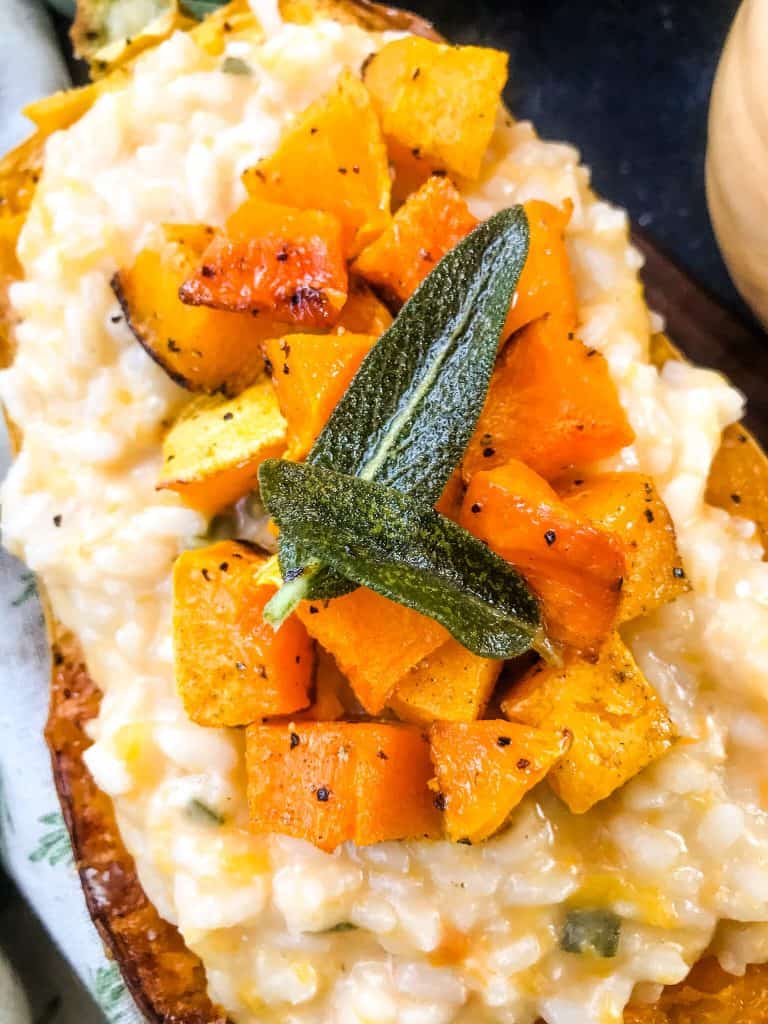 This Butternut Squash Sage Risotto uses the squash in two ways: half as a puree mixed into the risotto itself, and half chopped and roasted to put on top.
Cutting Butternut Squash
Trying to cut hard squash like butternut can be intimidating and difficult.
To easily peel, use a vegetable peeler to take off the outside of the squash just like you would a potato. This will also make it slightly easier to cut into since the tough skin is removed.
Also, use a sharp knife. It will be much easier to get into the squash.
So to prepare the squash for this Butternut Squash Sage Risotto, first peel the squash.
Then cut it in half lengthwise. Remove the seeds with a spoon.
Cut into bite sized chunks. Half of them will be smashed later. If desired, you can leave one half whole to cut down on prep time.
Roast the squash until tender. The cubes will cook faster than the large half and therefore will likely need to be removed earlier if using both methods.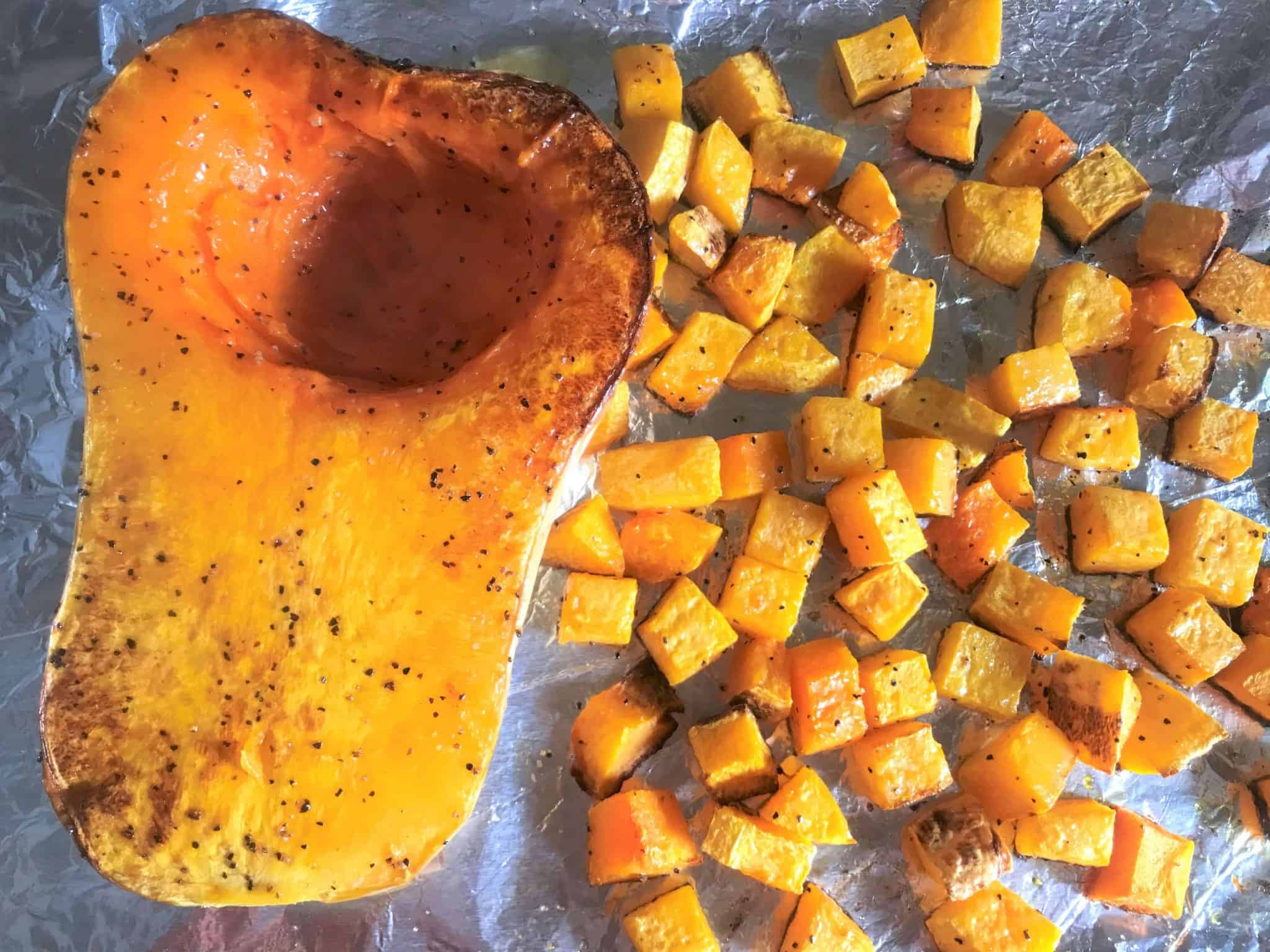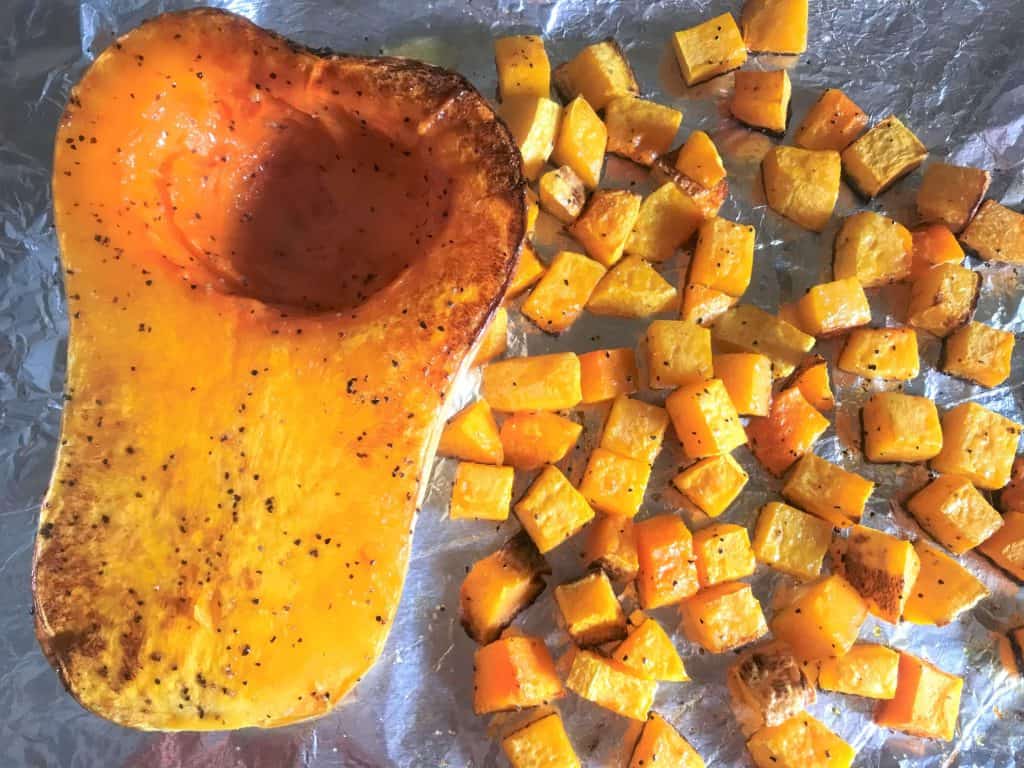 Frying Sage
I think fresh sage is gorgeous, but it is not the most pleasant thing to eat.
So frying the sage will make it crispy and a delicious addition to the Butternut Squash Sage Risotto.
Simply heat a little oil in a small skillet and when hot, add the sage leaves.
Let them cook a minute or two. You will see them start to get a little darker, a little smaller, and start to firm up.
Pull them out when the edges feel crispy and firm, but the middle is not hard yet. This will prevent them from overcooking and will be fully crisp once removed.
Then serve them on top of your risotto for a fun crunch and pockets of additional flavor! Plus they are so pretty.
Risotto Recipes
Delicious Italian risotto recipes with unique flavors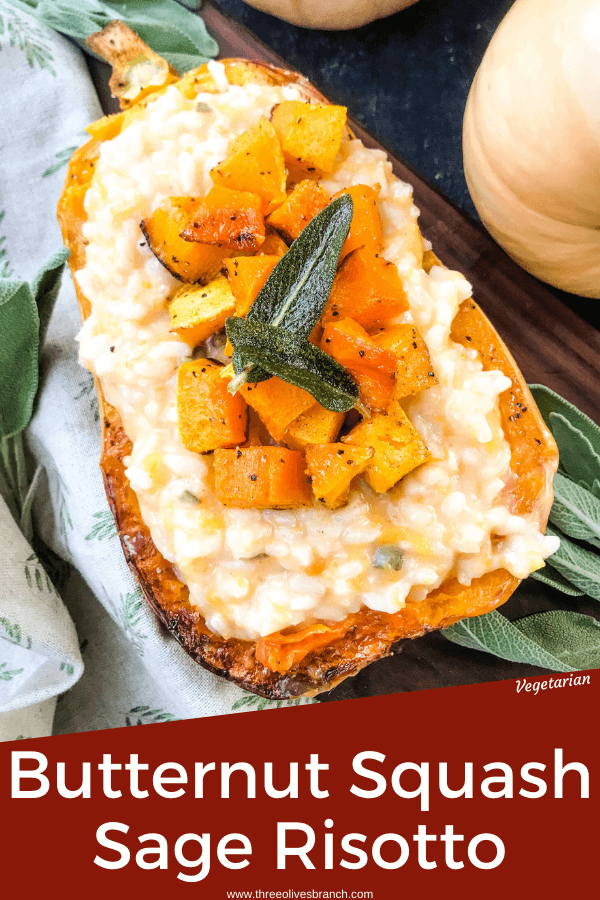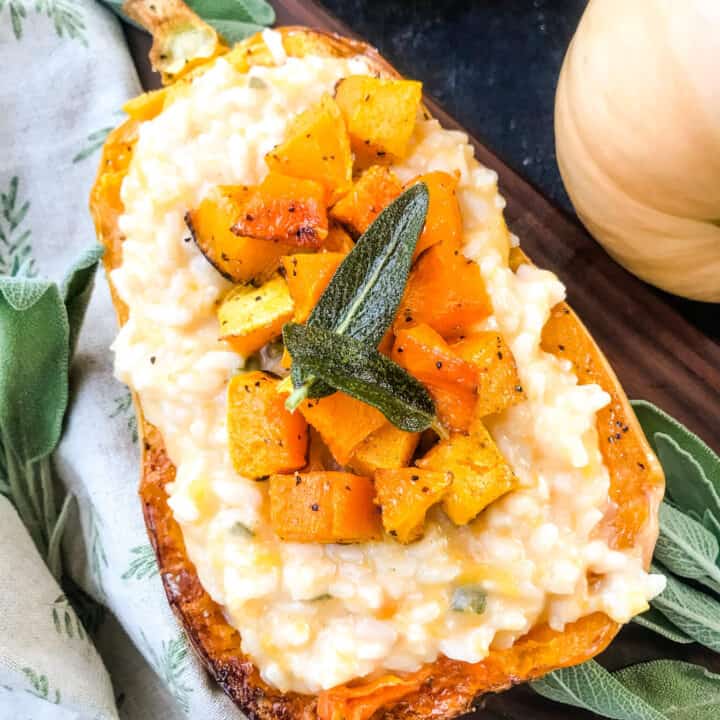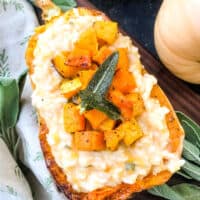 Butternut Squash Sage Risotto
A delicious and creamy risotto with butternut squash two ways. Perfect for fall and cold weather meals, including Thanksgiving!
Print
Pin
Rate
Instructions
Prepare the Squash
Peel the squash using a vegetable peeler. Cut it in half lengthwise and remove the seeds using a spoon.

Chop the squash into bite sized pieces. Spread them out on a baking sheet lined with foil or a silicone baking mat.

Drizzle the squash with some oil and a sprinkle of salt and pepper. Toast to coat.

Roast the squash until it is fork tender, approximately 30-40 minutes.
Make the Risotto
While the squash is cooking, start the risotto. Place the stock in a small pot and heat over medium low. You want the stock to be warm when adding it to the risotto so that the temperature change does not affect the rice.

In a large pot, melt 3 Tablespoons of the butter over medium heat. When melted, add the red onion. Cook until the onion is translucent but not yet browning, approximately 3-5 minutes.

Add 2 Tablespoons of chopped fresh sage to the onion. Stir and cook until just fragrant, approximately 30 seconds.

Add the rice and stir. Continue cooking to slightly toast the rice until it is just starting to show a little brown color, approximately 3-5 minutes.

Add the white wine to the pot. Cook until the rice is almost dry, where most of the wine has been absorbed.

Add one cup of stock to the rice. Stir continuously until most of the stock has been absorbed. Repeat this process 1/2 cup of stock at a time until the rice is cooked thoroughly. You want the rice to have just a little bit of bite left so that it is not completely mushy. Depending on your rice, you may need more or less stock for the right consistency so start tasting the rice after 4 cups for firmness.
Assembly
When your squash is cooked through, remove from oven. Mash approximately half of the cubes to make a puree. Keep the other half of the squash as cubes.

Fry the sage by heating 3 Tablespoons of oil in a small skillet or pot and heat over medium heat. When hot, add the remaining fresh sage leaves. (Work in batches if needed, or use more oil to cook at once). Tilt the pot or skillet to submerge the leaves and remove when the edges are just crisp. Set aside.

When your rice is cooked, remove the pot from the heat. Add the rest of the butter, the Parmesan cheese, and the mashed butternut squash. It is important to do this before adding salt and pepper because the cheese is salty. Stir to combine.

Taste the risotto and season with additional salt and pepper as desired. Garnish with the remaining roasted butternut squash cubes and the fried sage. Serve immediately.
Notes
Get arborio rice online or in the rice section of your grocery store.
Use any white wine that you enjoy drinking. I advise staying away from sweet wines as it will make the risotto very sweet as well. Chardonnay or sauvignon blanc are the ones I tend to use.
The fried sage is completely optional but brings pockets of flavor and texture to the dish.
A squash close to 3 pounds is best to get a good yield of mash and cubes, but anything in the 2-3 pound range works based on your preference.
Nutrition
Serving:

1

serving

|

Calories:

752

kcal

|

Carbohydrates:

107

g

|

Protein:

18

g

|

Fat:

25

g

|

Saturated Fat:

15

g

|

Cholesterol:

67

mg

|

Sodium:

1960

mg

|

Potassium:

1339

mg

|

Fiber:

9

g

|

Sugar:

12

g

|

Vitamin A:

37655

IU

|

Vitamin C:

72

mg

|

Calcium:

468

mg

|

Iron:

6

mg

By