Roasted Leek and Brie Risotto is a delicious creamy vegetarian Italian dinner idea! This rice recipe is full of creamy cheese and roasted vegetables to use as a side dish or main course.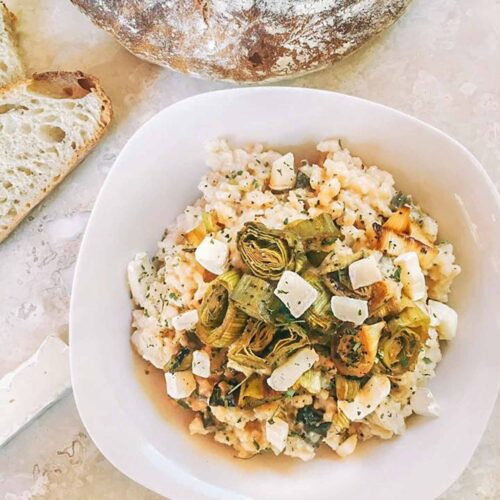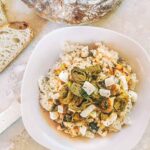 I made this Roasted Leek and Brie Risotto for some friends that came over for dinner and it was an absolute hit! We had already gorged ourselves on appetizers and homemade bread, but this risotto was SO GOOD that it was disappearing as if we had not eaten all day.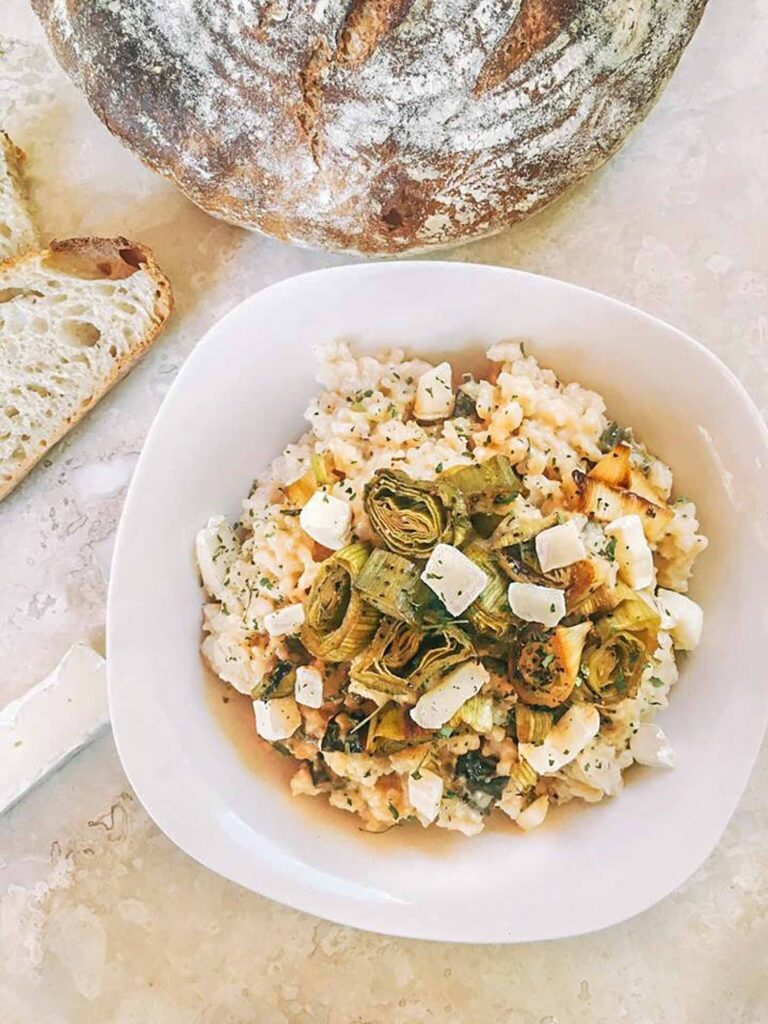 Why You Will Love This Recipe
Risotto is one of my absolute favorite things to make, and my all time favorite food!
Just like my Creamy Mushroom Risotto, this Italian rice dish is always a hit for a dinner party idea.
It can be served up as a side dish or a main course in itself! I love to include some No Knead Rustic Rosemary Bread with it on the side!
Ingredients
These are the ingredients you need for this leek and brie risotto:
Arborio Rice – This type of rice is a must to make risotto properly
Brie Cheese
Leeks
Parmesan Cheese
Vegetable Stock – or chicken stock
White Wine – Something dry or crisp is best, such as sauvignon blanc or chardonnay. Avoid sweet wines.
Butter
Red Onion
Salt
Black Pepper
Arborio rice is a very specific type of rice that is used for risotto.  You can find it at most grocery stores in the rice section, but I prefer to get mine online.
The brie makes this one of the creamiest risottos to date. The mozzarella in our Balsamic Caprese Risotto stays a little stretchy, but this brie melts right in. I love to use a little of the brie to throw on top when serving so that there are some chunks of delicious cheese that have not melted in.
There is magic in roasting vegetables.  Roasting pulls out a sweetness and depth of flavor that transforms the vegetables and makes them one of my favorite ways to eat vegetables.  
Leeks are in the onion family, but you would never know that when you eat a roasted leek.  If you do not have time to roast, you can sauté the leeks over medium heat.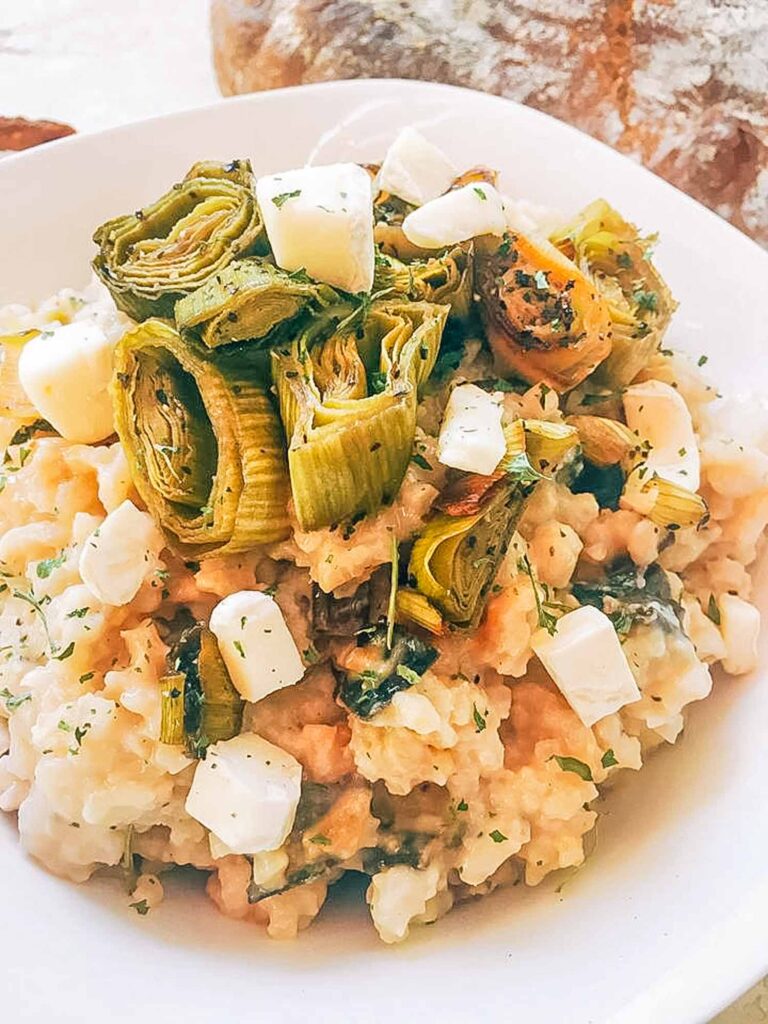 Tips for Making Risotto
Risotto, the beloved Italian rice dish, is known for its creamy consistency and ability to showcase a wide range of flavors. We will provide you with a step-by-step guide on how to create a velvety risotto base with great texture.
Risotto can be intimidating! But just follow the instructions in the full recipe below to ensure you get a great risotto. Here are some of my top tips!
Lots and lots of stirring is key to getting the creamy consistency! Stirring moves the starches around and without this, you will get something that is more like rice.
Finding the perfect tenderness of the rice will be partially based on your preference. It should still be somewhat firm and have a bite to it (more so than normal rice) but not too much either where it will start to feel undercooked.
Don't season with salt until after you get the cheese and butter ratios correct. That way you are not oversalting! Since cheese is also salty.
Modifications and Substitutions
If you are wanting to make sure this dish is vegetarian, make sure your cheeses are!
Any type of roasted onions could work great in place of leeks.
Do NOT use low fat brie cheese! It does NOT melt well! I have learned from experience.
You cannot use any other type of rice. It will not work the same, and just be a rice dish.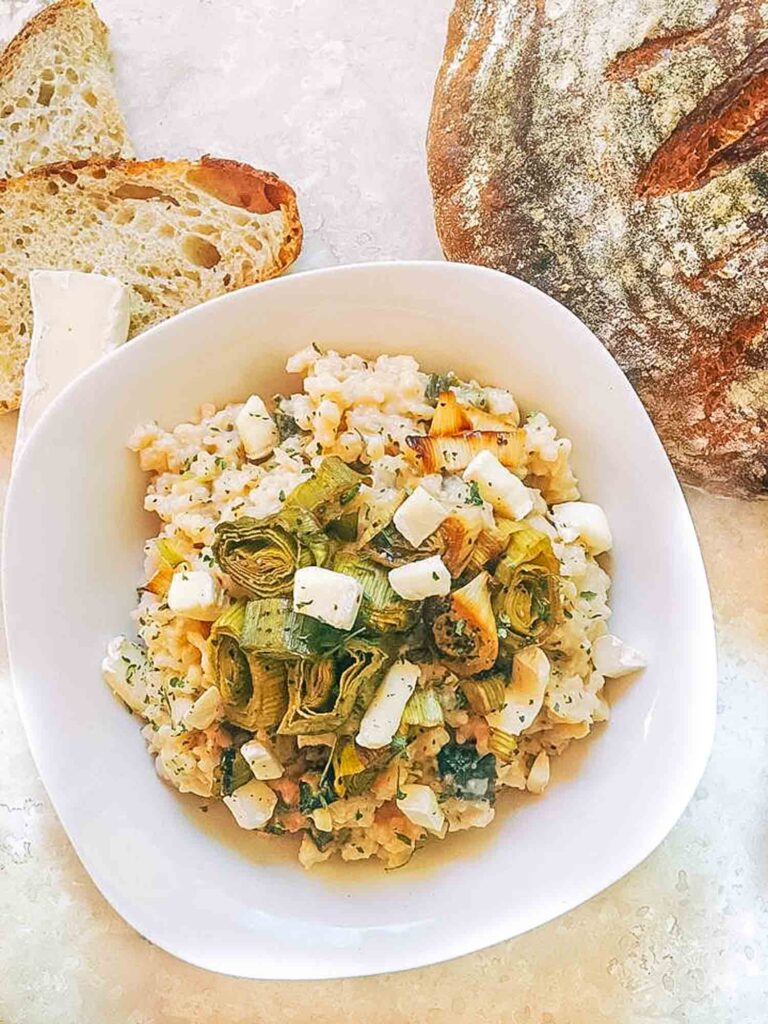 Kim's Tips
Risotto was always somewhat intimidating to me.  I would hear about how difficult it is to cook. Lots of stirring and the gradual adding of liquid sounded complicated so I avoided it for a long time.  
But it is really not that difficult, it just takes a little time and attention with the stirring.  
Just get comfortable, grab a glass of wine, and settle in for some one-on-one personal time with your risotto.  
You can do it, too!  It is definitely worth the effort and this Roasted Leek and Brie Risotto will likely become a family favorite!
Love risotto?  Try out our Creamy Mushroom Risotto, Balsamic Caprese Risotto or Roasted Asparagus and Sweet Corn Risotto.
FAQs
Is brie rind edible?
Yes! The brie edges (rind) are edible. It is also likely to melt into the risotto.
But if desired, you can trim it off before using.
Is risotto a rice or pasta?
It is a rice! A creamy rice dish.
What is risotto traditionally made with?
The basic risotto is made with stock, butter, shallots, white wine, and Parmesan cheese.
There are so many ways you can elevate a basic risotto! See our list of risotto flavors below for some ideas.
What do Italians eat risotto with?
It is traditionally served with a meat, fish or seafood, or vegetable, but it can also be served as a main course.
Is risotto the same as orzo?
No! Risotto is made with arborio rice. Orzo is a pasta that is shaped like rice. Very different things!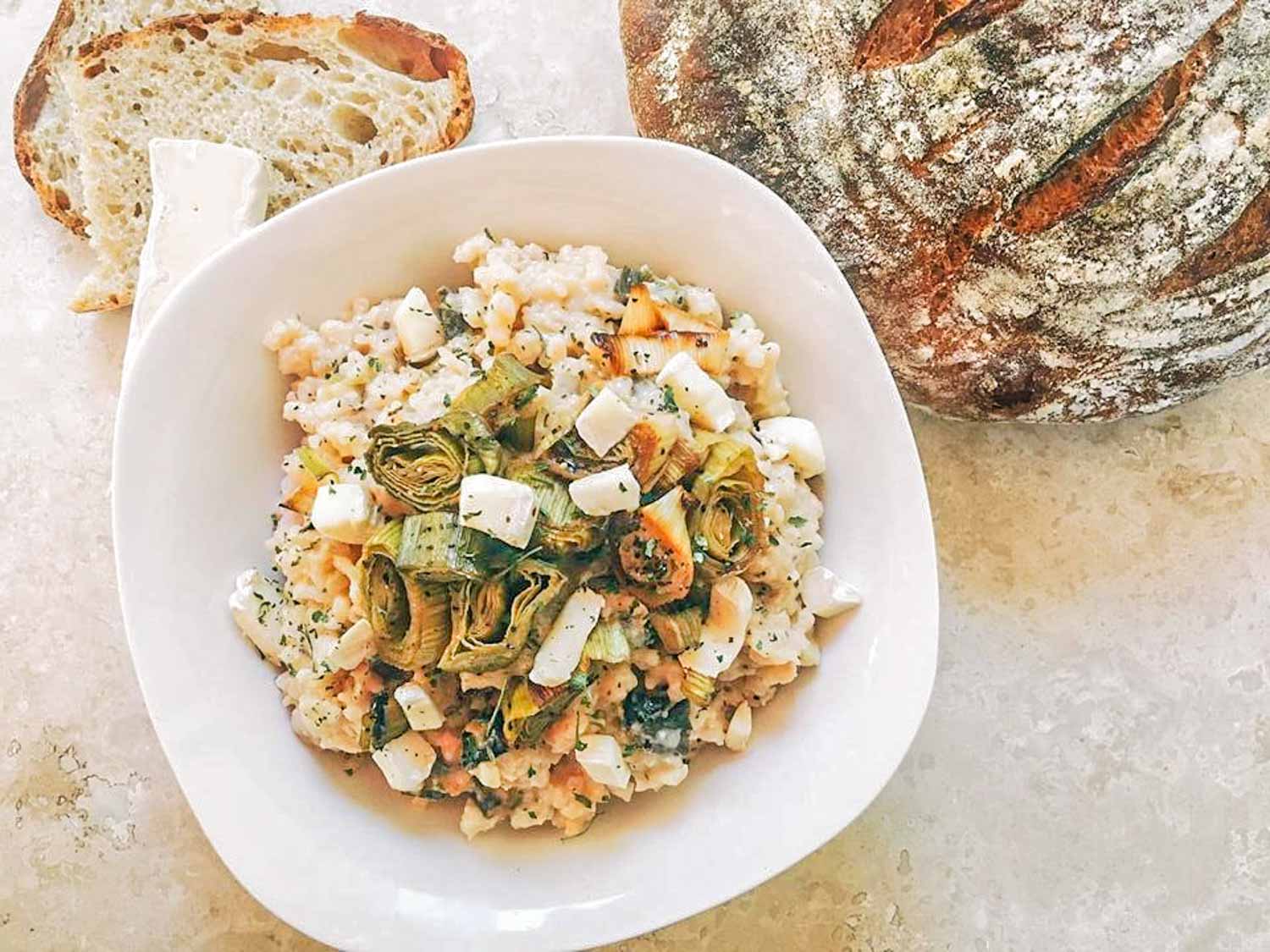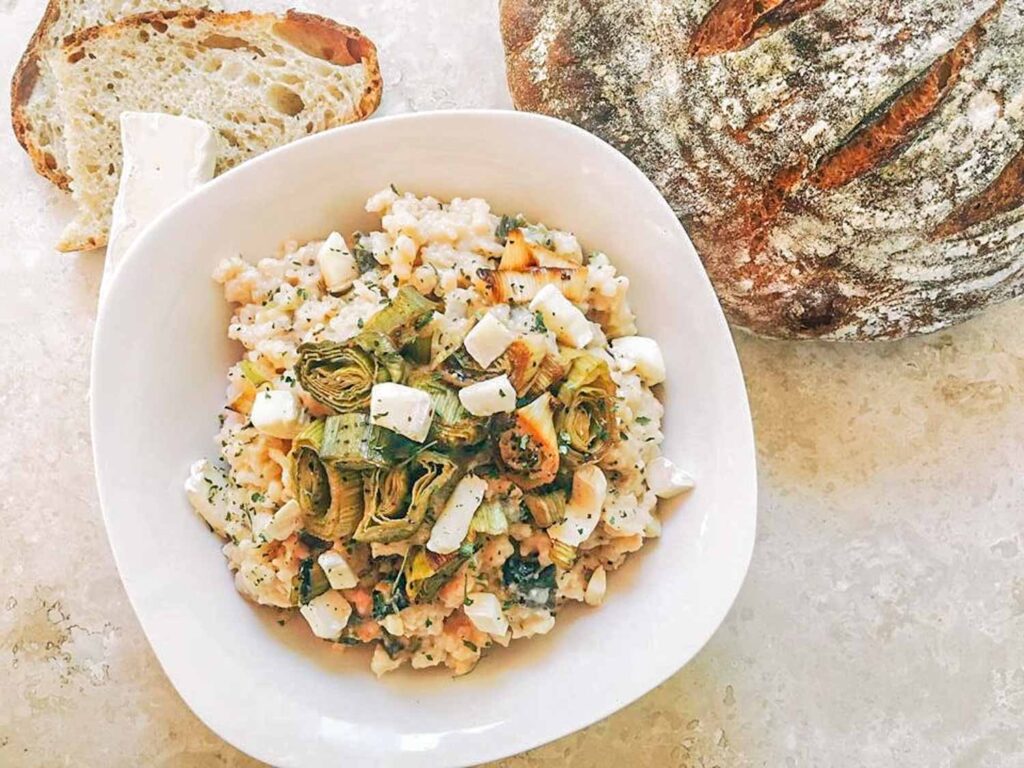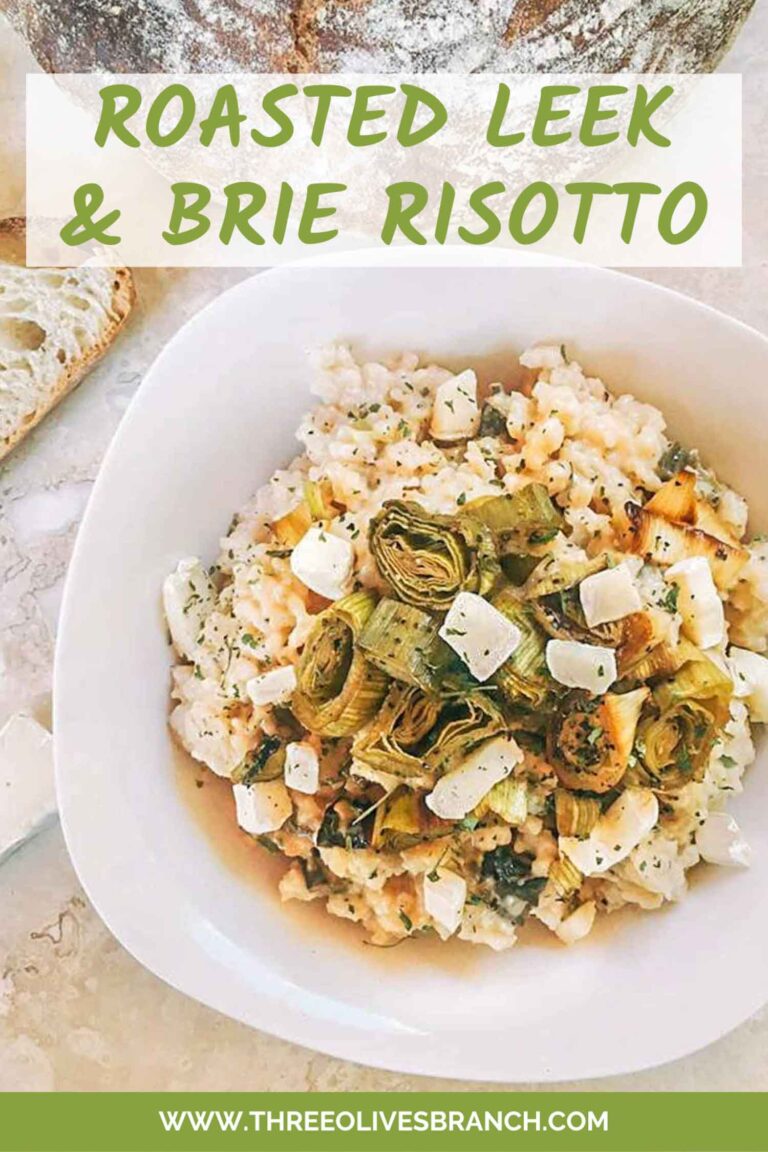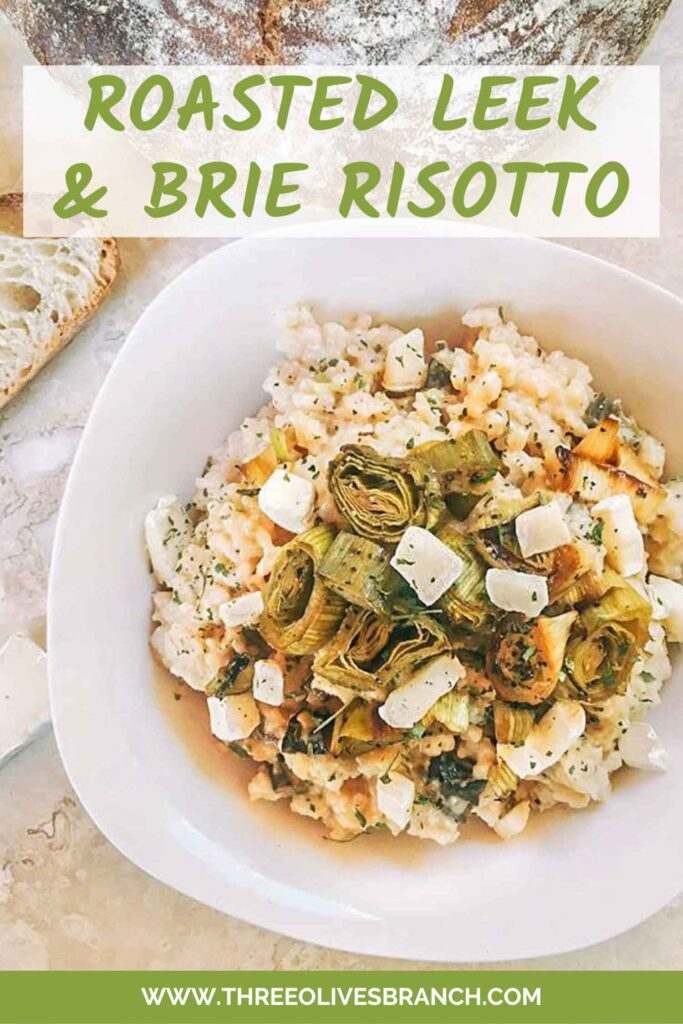 More Risotto Recipes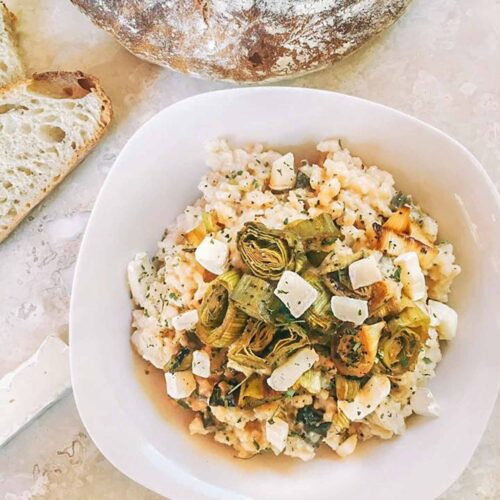 Roasted Leek and Brie Risotto
Roasted Leek and Brie Risotto is a delicious creamy vegetarian Italian dinner idea! This rice recipe is full of creamy cheese and roasted vegetables to use as a side dish or main course.
Print
Pin
Rate
Instructions
Slice leek into 3/4" rings. Place the leeks into a medium bowl filled with water. Gently swish the leeks around in the water to dislodge any dirt or sand that is stuck in the leek layers.

Remove leeks from the water and spread out on a baking sheet lined with a silicone pad or tin foil. Drizzle with olive oil and sprinkle with salt and pepper. Toss to coat.

olive oil,

salt,

black pepper

Place the leeks on the middle rack of the oven to roast while the risotto is cooking.

Place the stock in a pot and heat over medium low. You want the stock to be warm when adding it to the risotto so that the temperature change does not affect the rice.

In a large pot over medium heat, melt 3 Tablespoons of the butter.

6 Tablespoons unsalted butter

When melted, add the red onion. Cook until the onion is translucent but not yet browning, approximately 3-5 minutes.

Add the rice and stir. Continue cooking to slightly toast the rice until it is just starting to show a little brown color, approximately 3-4 minutes.

Add the white wine to the pot. Cook until the rice is almost dry, where most of the wine has been absorbed.

Add approximately one cup of stock to the rice. Stir continuously until most of the stock has been absorbed. Repeat this process one cup of stock at a time until the rice is cooked thoroughly.

You want the rice to have just a little bit of bite left so that it is not completely mushy. Depending on your rice, you may need more or less stock for the right consistency so start tasting the rice after 4 cups have been added.

When your rice is cooked through, remove the pot from the heat.

Add the rest of the butter, the Parmesan cheese, roasted leeks, and brie.

It is important to do this before adding salt and pepper because the cheese is salty and the leeks have salt and pepper on it. Stir to combine.

1 cup Parmesan cheese,

4 ounces brie cheese

Taste the risotto and season with salt and pepper as desired.

Garnish with some of the leeks and brie if desired.
Notes
You can leave the rind on the brie cheese.  It is edible and it does melt into the risotto very well.
Arborio rice is available at most grocery stores in the rice section, but you can also use this affiliate link to find arborio rice online!
Nutrition
Serving:

1

serving

|

Calories:

694

kcal

|

Carbohydrates:

70

g

|

Protein:

20

g

|

Fat:

32

g

|

Saturated Fat:

20

g

|

Polyunsaturated Fat:

1

g

|

Monounsaturated Fat:

9

g

|

Trans Fat:

1

g

|

Cholesterol:

91

mg

|

Sodium:

2000

mg

|

Potassium:

218

mg

|

Fiber:

3

g

|

Sugar:

5

g

|

Vitamin A:

2010

IU

|

Vitamin C:

3

mg

|

Calcium:

375

mg

|

Iron:

4

mg

By