Steak Gorgonzola Alfredo Risotto recipe is a Copycat Olive Garden Italian dish in risotto form. Beef, blue cheese, spinach, and sundried tomatoes. #steakrisotto #steakgorgonzolaalfredo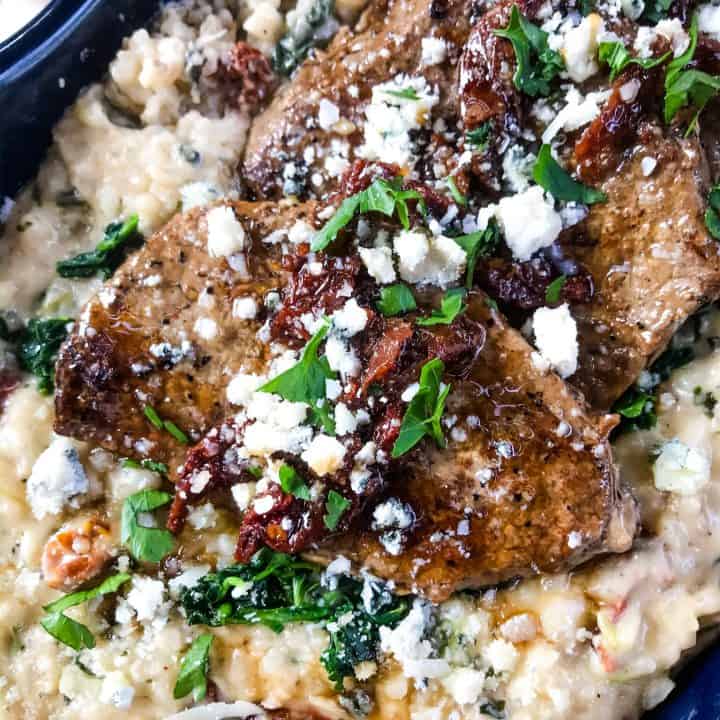 Steak Gorgonzola Alfredo Risotto is inspired by the copycat Olive Garden restaurant pasta recipe. The risotto is filled with spinach, sun-dried tomatoes, Parmesan cheese, cream, and Gorgonzola (blue cheese) and then topped with steak.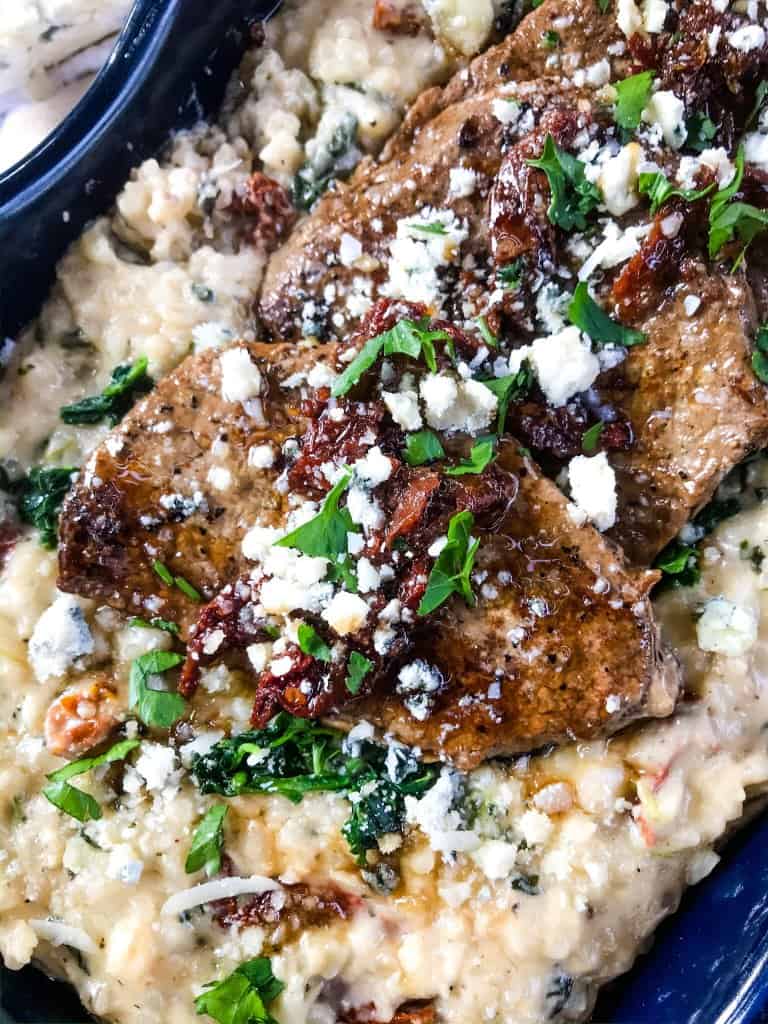 This post contains affiliate links.
If you are looking for an authentic risotto, you might want to leave now. I am all about combining new flavors and dishes together for something delicious. And this risotto definitely is delicious, but there are also a few things that happen that are definitely NOT authentic to risotto. Like cream for the alfredo sauce.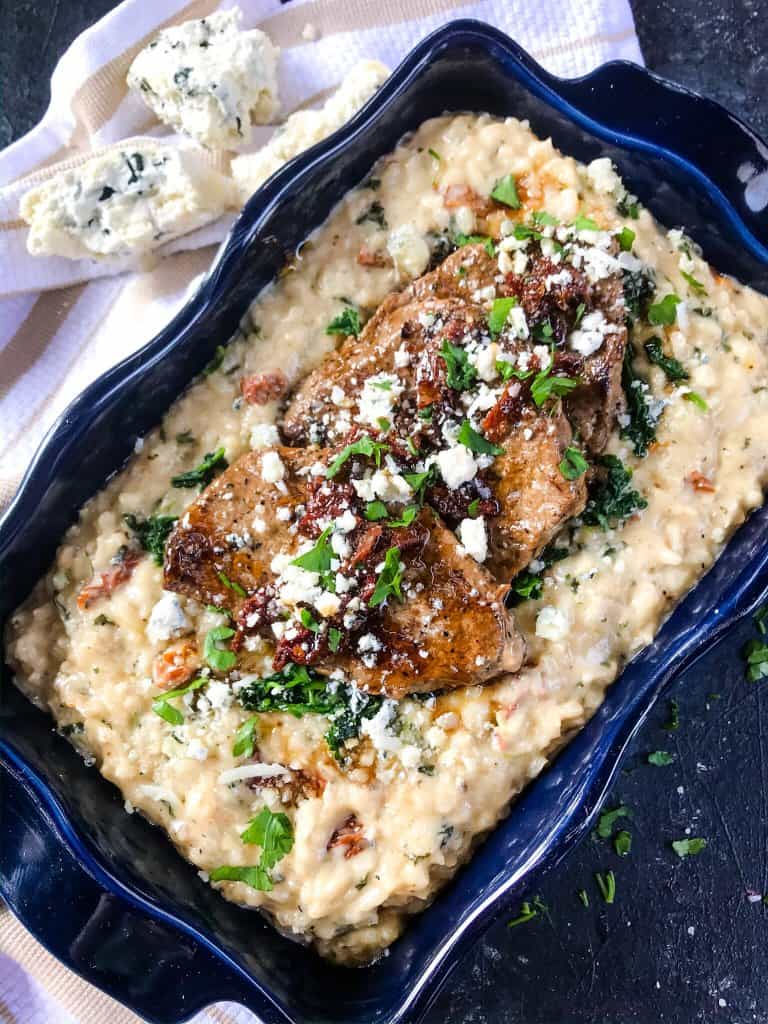 I am OBSESSED with risotto and once I figured out a great base recipe, watch out! I have been on a risotto kick ever since, making as many fun flavors as possible. This alfredo risotto is inspired with one of the all-time most popular recipes on this site, Copycat Olive Garden Steak Gorgonzola Alfredo. This pasta dish was something I loved to eat and they have since discontinued it, so I am glad that I can bring the dish to your homes! And this Steak Gorgonzola Alfredo Risotto is a great way to use the same flavors in a new recipe. Find more of our risotto recipes here! And find more steak gorgonzola recipes here!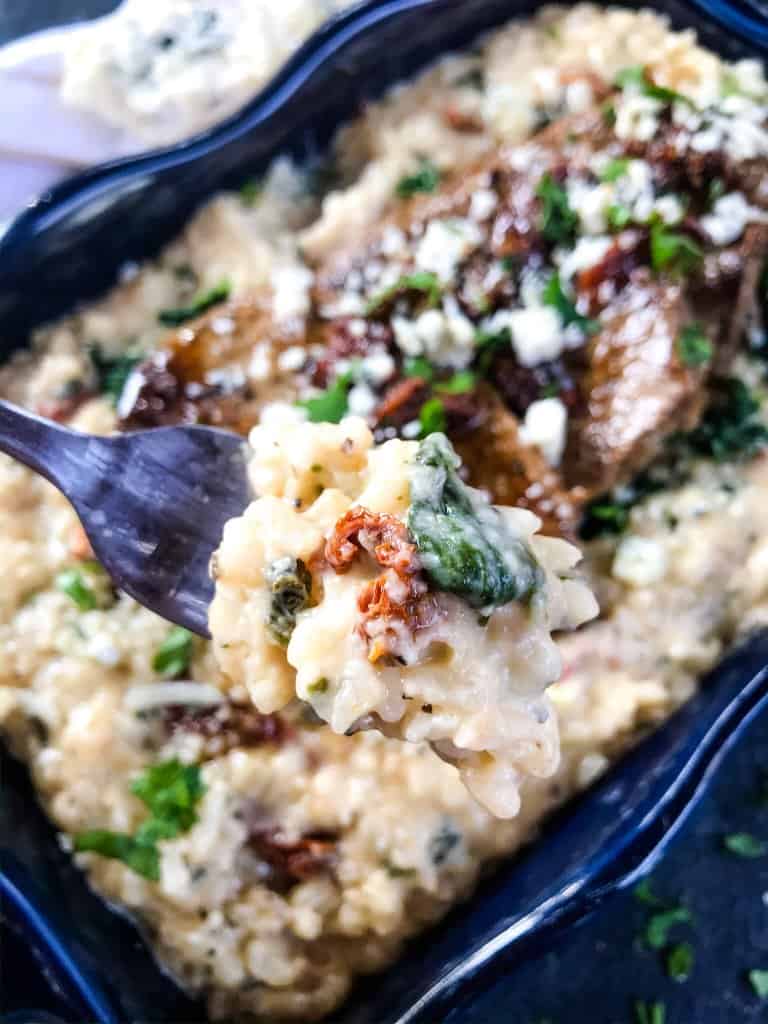 Does the rice type really matter?
Yes! Arborio rice is high in starch and as this starch is released in the cooking process, it gives risotto the creamy texture. Arborio is also a short grain which means it stays a little firm and chewy. You want risotto to have just a little bite or texture to it and not be soggy or too soft. You can find arborio rice at most grocery stores. I like to get mine online in bulk here.
Do I really need to stir it that much?
In my opinion, yes. Some people say that they do not notice a difference and just let the rice sit there and cook in all of the liquid at once. But I DO notice a difference. The stirring and gradually adding of the liquid definitely makes the risotto creamier. Grab a glass of wine or a friend and hang out with your risotto for a bit, stirring as it cooks. Yes, you can go back and forth to the pot stirring every few minutes, but the best ever risotto I made was when I was constantly stirring.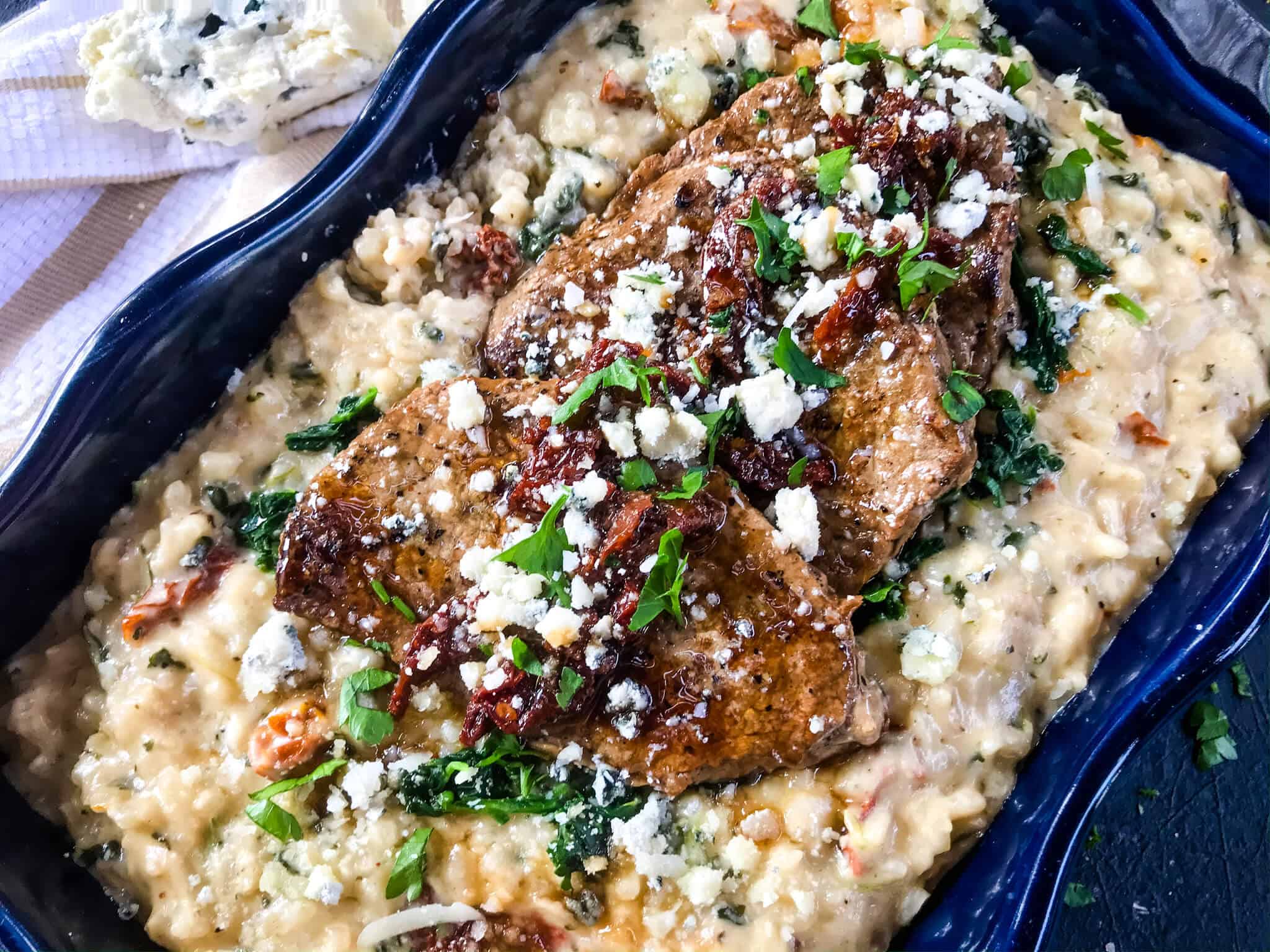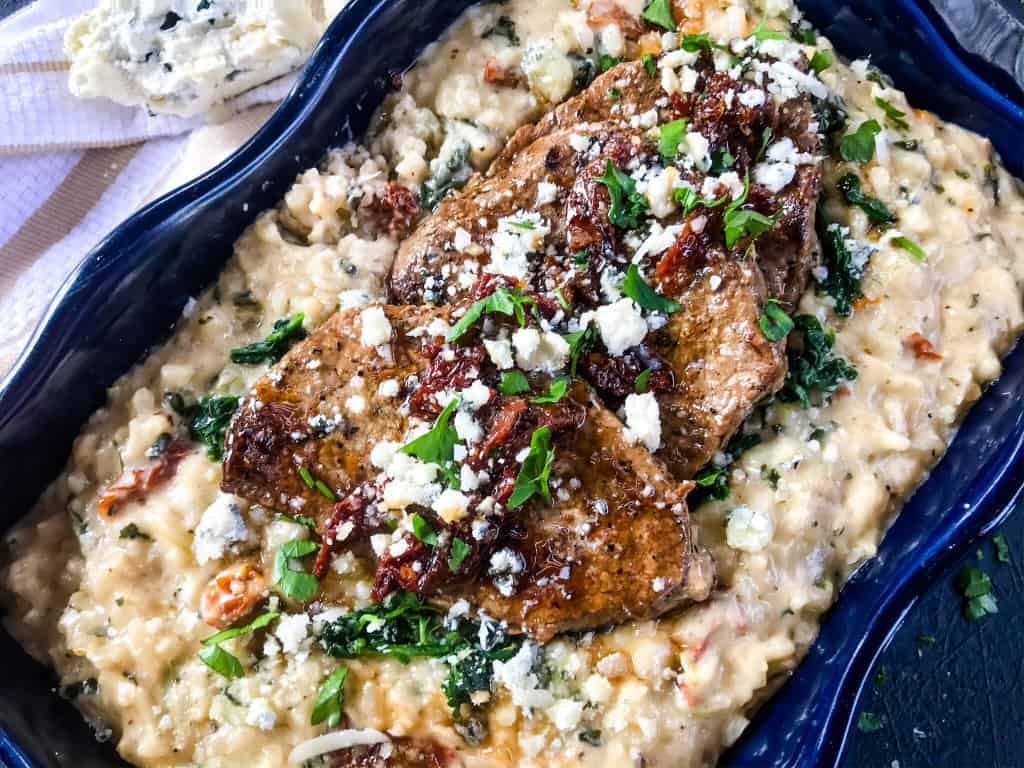 Can I just use my canned Parmesan instead?
The quality of Parmesan in this dish is extremely important. The cheese is a primary flavor and so you want to use ingredients that taste good as it will just make the dish better. If you use that pre-ground, cheese in a can stuff, it will not taste as good. You get out of it what you put into it! I love to buy wedges of Parmesan Reggiano cheese and use one of my favorite tools, a food processor, to shred the brick and then I keep it in my refrigerator in plastic bags so that I always have fresh, quality cheese shredded on hand. If you make healthier and higher-quality foods easier to access, you will use them more often.
This risotto is filled with the same add-ins as the pasta, with spinach, sun-dried tomatoes, and gorgonzola crumbles. You can easily sub the gorgonzola for blue cheese. Add as much or as little of each as you want! The restaurant version has balsamic vinegar on the steak, and the vinegar acid cuts the richness of everything (just like the tomatoes do). I also like to drizzle the risotto with a little balsamic glaze!
Risotto Recipes
Delicious Italian risotto recipes with unique flavors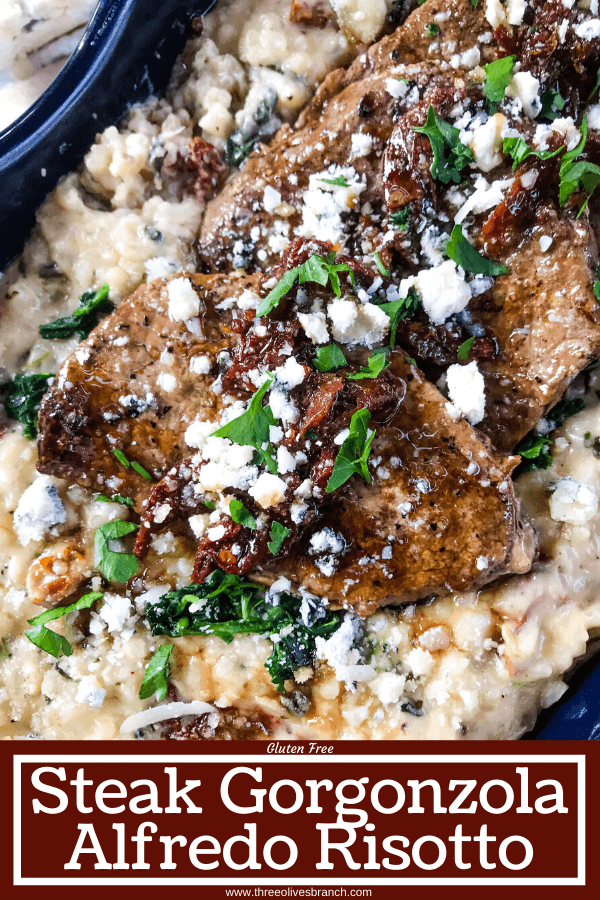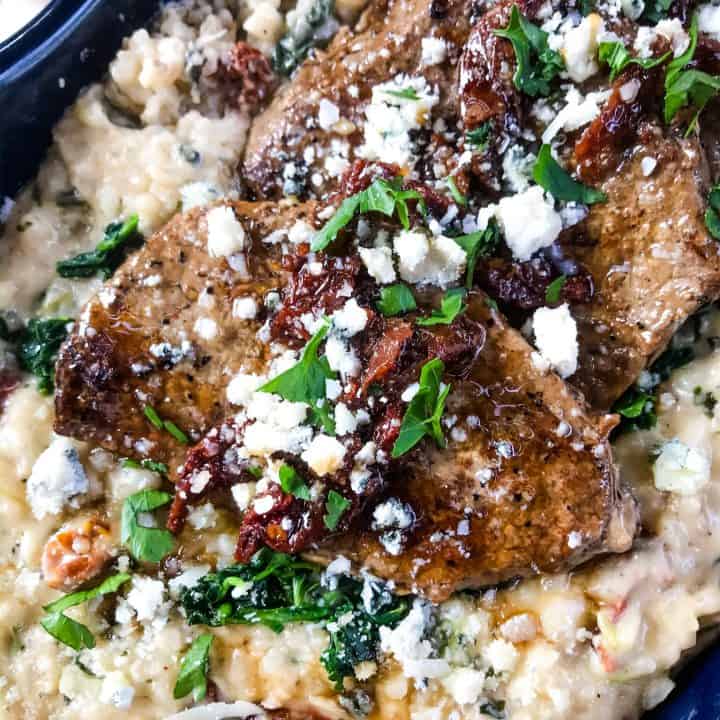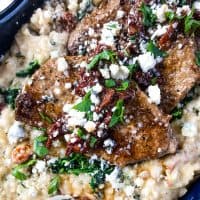 Steak Gorgonzola Alfredo Risotto
Steak Gorgonzola Alfredo Risotto recipe is a Copycat Olive Garden Italian dish in risotto form. Beef, blue cheese, spinach, and sundried tomatoes. #steakrisotto #steakgorgonzolaalfredo
Print
Pin
Rate
Instructions
Season the steak with salt and pepper on both sides.

Heat a large skillet over medium high heat.

When the pan is hot, add the steak and cook on both sides until you reach your desired doneness. The exact time you need to cook the steak will vary with how well done you want it in addition to how thick it is.

Transfer the steak to a plate. Brush the steak with balsamic vinegar if desired. Cover and set aside to rest.

While the steak is cooking, start the risotto. Place the stock in a small pot and heat over medium low. You want the stock to be warm when adding it to the risotto so that the temperature change does not affect the rice.

In a large pot, melt 3 Tablespoons of the butter over medium heat. When melted, add the red onion. Cook until the onion is translucent but not yet browning, approximately 3-5 minutes.

Add the rice and stir. Continue cooking to slightly toast the rice until it is just starting to show a little brown color, approximately 3-5 minutes.

Add the white wine to the pot. Cook until the rice is almost dry, where most of the wine has been absorbed.

Add one cup of stock to the rice. Stir continuously until most of the stock has been absorbed. Repeat this process 1/2 cup of stock at a time until the rice is cooked thoroughly. You want the rice to have just a little bit of bite left so that it is not completely mushy. Depending on your rice, you may need more or less stock for the right consistency so start tasting the rice after 4 cups.

When your rice is cooked, remove the pot from the heat. Add the rest of the butter, the Parmesan cheese, gorgonzola, frozen spinach, and sun-dried tomatoes (the spinach will warm up in the risotto). It is important to do this before adding salt and pepper because the cheese is salty. Stir to combine.

Taste the risotto and season with additional spinach, gorgonzola, tomatoes, salt, and pepper as desired. Garnish with toasted pine nuts if desired for an extra crunch. Slice or chop the steak and serve on top, or mix in. Serve immediately. Drizzle with balsamic glaze if desired.
Notes
Get arborio rice online here.
Use any white wine that you enjoy drinking. I advise staying away from sweet wines as it will make the risotto very sweet as well. Chardonnay or sauvignon blanc are the ones I tend to use.
Use more or less of the spinach, tomatoes, and blue cheese as desired.
Nutrition
Calories:

1052

kcal

|

Carbohydrates:

83

g

|

Protein:

53

g

|

Fat:

52

g

|

Saturated Fat:

28

g

|

Cholesterol:

163

mg

|

Sodium:

1455

mg

|

Potassium:

1293

mg

|

Fiber:

4

g

|

Sugar:

11

g

|

Vitamin A:

4430

IU

|

Vitamin C:

6

mg

|

Calcium:

435

mg

|

Iron:

8

mg

By