This Chicken and Leek Risotto is a delicious and creamy Italian dinner idea! A creamy Parmesan cheese rice makes this perfect as a main course recipe or side. Perfect for leftover chicken or rotisserie chicken. Gluten free.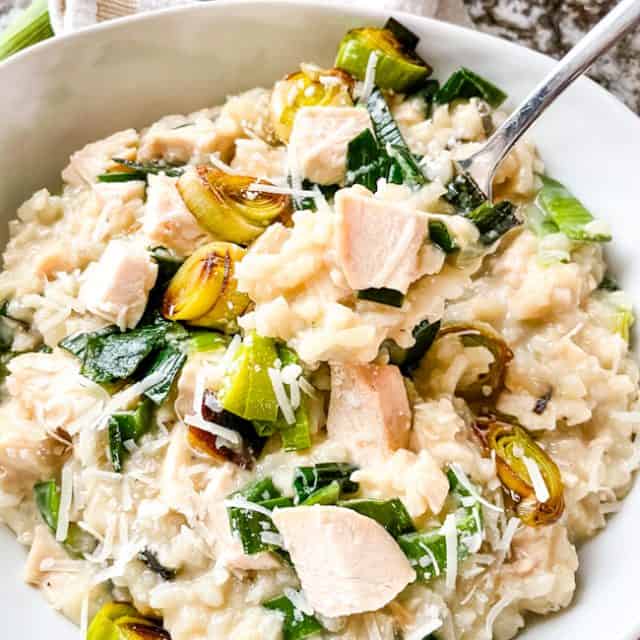 This Chicken and Leek Risotto is a delicious variation of the Italian classic and a perfect recipe for leftover chicken or rotisserie chicken.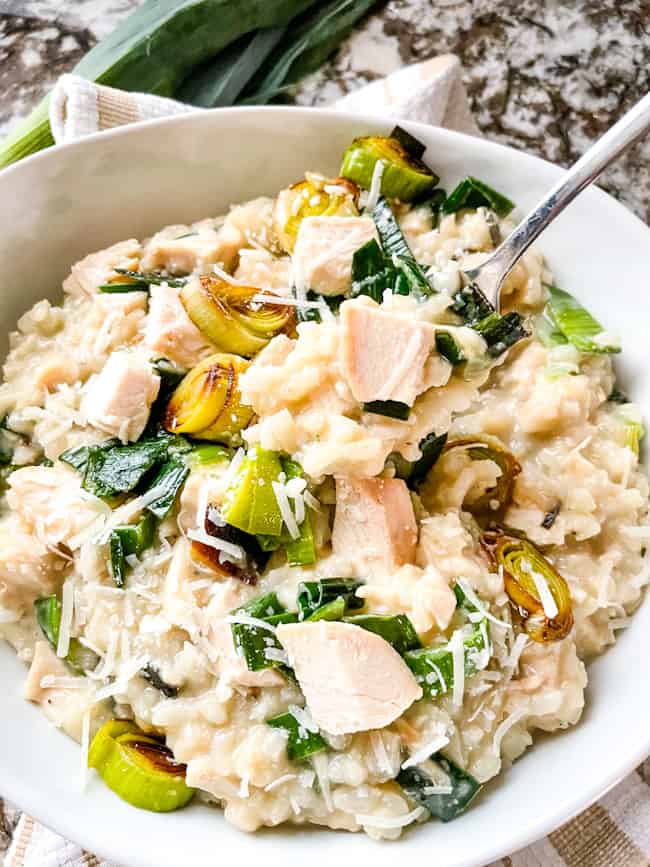 Why You Will Love This Recipe
This girl right here is obsessed with risotto. And few dishes can rival the creamy goodness of a well-made risotto.
Enjoy the amazing combination of tender chicken, earthy leeks, and perfectly cooked risotto rice in our Chicken Leek Risotto recipe. This homestyle classic is sure to warm your heart, making it an ideal choice for a cozy family dinner or a gathering with friends.
Whether you're a seasoned home cook or an aspiring culinary adventurer, this recipe will provide you with the skills and knowledge needed to create a restaurant-worthy meal in the comfort of your own kitchen.
I hunt down good risotto any time I am in Italy, or at a great Italian restaurant here in the States.
It is my absolute favorite food, and ever since I learned how to make it, I have been going wild with so many risotto flavors. One of the most popular on this site is my Creamy Mushroom Risotto!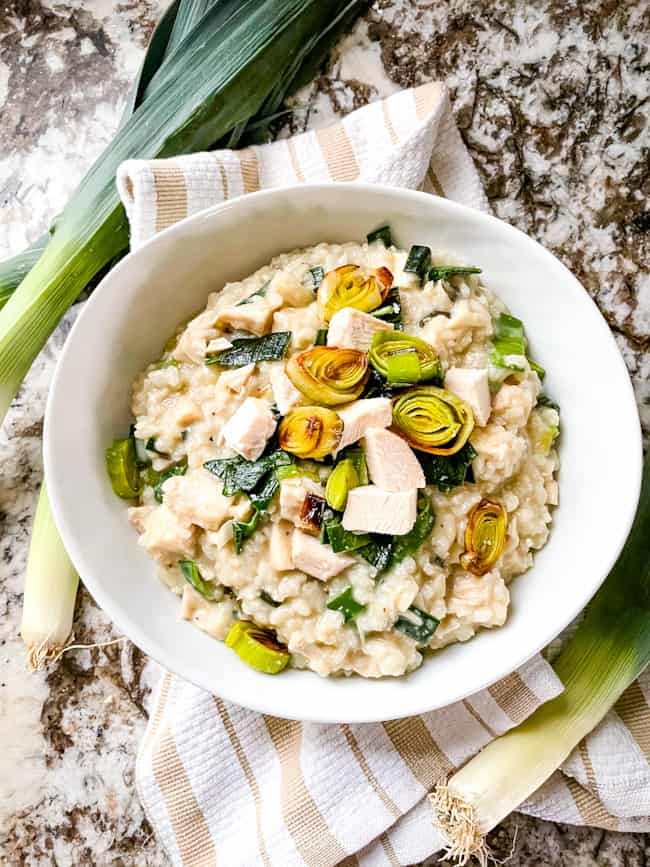 Ingredients
These are the ingredients you need to make this chicken risotto recipe:
Chicken – leftover or rotisserie chicken is perfect! Just use something already cooked
Arborio Rice – rice type matters!
Leeks
Butter
Red Onion – or shallot, which is more traditional but also more expensive
Chicken Stock – or broth, or vegetable
White Wine – use something dry like a sauvignon blanc or chardonnay. Avoid sweet wines
Parmesan Cheese – fresh is best!
Salt
Black Pepper
If desired, you can also roast the leeks instead of sauteing them in the butter. Follow instructions for this in our Roasted Leek and Brie Risotto recipe!
Wine Substitutions
Want to make a risotto without wine? Not a problem!
You can easily omit the wine and instead add the juice of a lemon instead to bring the same acidity.
You can save the lemon until the end and start with just a little, adding as much as you want.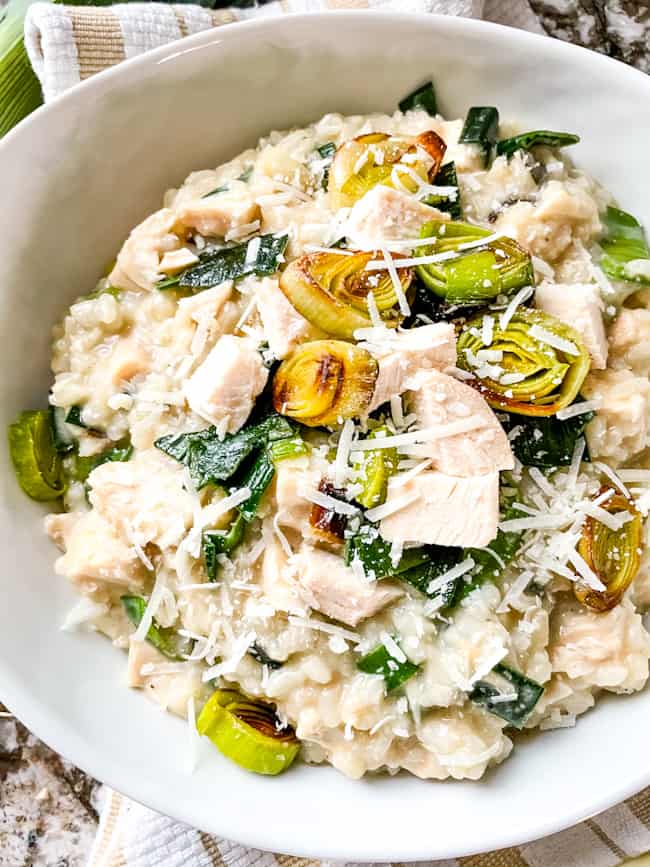 Does the Rice Type Really Matter?
Yes! Arborio rice is high in starch and as this starch is released in the cooking process, it gives risotto the creamy texture.
Arborio is also a short grain rice which means it stays a little firm and chewy. You want risotto to have just a little bite or texture to it and not be soggy or too soft.
You can find Arborio rice at most grocery stores or online in bulk.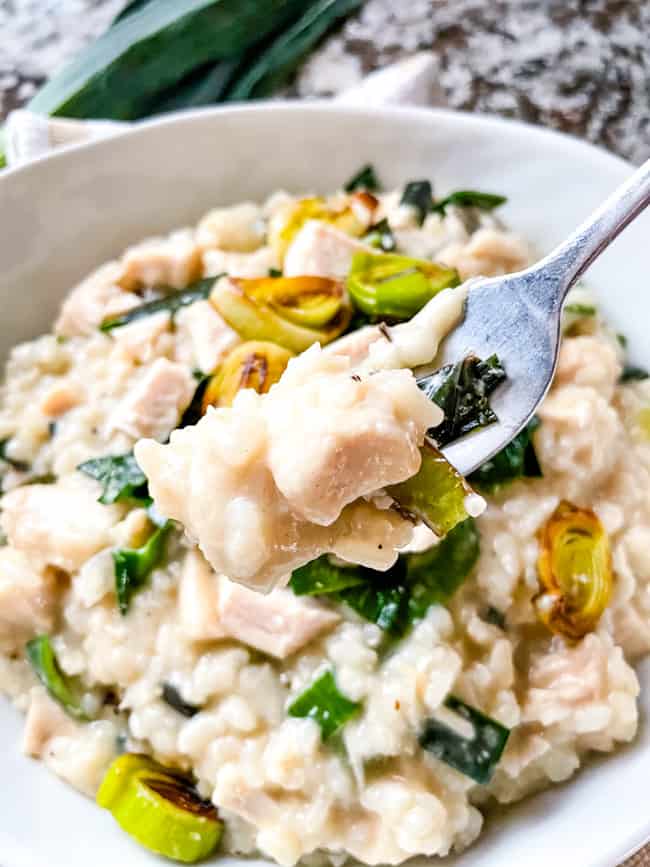 Tips to Make Risotto
Risotto is renowned for its creamy texture and velvety consistency, which requires a specific cooking technique. We'll walk you through the step-by-step process of creating a perfectly cooked risotto base, emphasizing the importance of patience and gradual additions of flavorful broth. You'll learn the secrets to achieving a creamy, al dente rice texture that complements the chicken and leeks beautifully.
Making risotto can be intimidating! But if you follow the recipe and my tips, you can make it!
Stirring is key! This is what releases the starches and gives you a creamy risotto. Do not let it just sit there cooking.
Season with salt AFTER you add all the cheese. Cheese is salty so you do not want to oversalt.
Knowing when the rice is done is partially a preference, so keep tasting! It should be somewhat more firm than normal rice, with a bite to it. But not mushy and soft. When tasting, just remember you are tasting for tenderness and not flavor since not all of the ingredients have been added yet!
Stirring Risotto
Do you really need to stir the chicken risotto so much?
Leeks are a member of the onion family. They have a very mild onion flavor.
Many times you will see recipes call for just the white and light green parts of the leek, but I like to use the whole thing!
Just trim up your leeks by cutting off the top edges and the root.
Slice them into rounds, where the white parts will stay intact as rings and the dark green parts will cut as strips.
The most important thing about cooking leeks is making sure that you rinse them well!
Leeks grow with a lot of sand and dirt in them, so you want to swish the leeks around in a large bowl of water before cooking.
You will be surprised at how much sand and dirt comes off of some leeks!
In my opinion, yes.
Some people say that they do not notice a difference and just let the rice sit there and cook in all of the liquid at once. But I DO notice a difference.
The stirring and gradually adding of the liquid definitely makes the risotto creamier.
Grab a glass of wine or a friend and hang out with your Chicken and Leek Risotto for a bit, stirring as it cooks.
Yes, you can go back and forth to the pot stirring every few minutes, but the best ever risotto I made was when I was constantly stirring.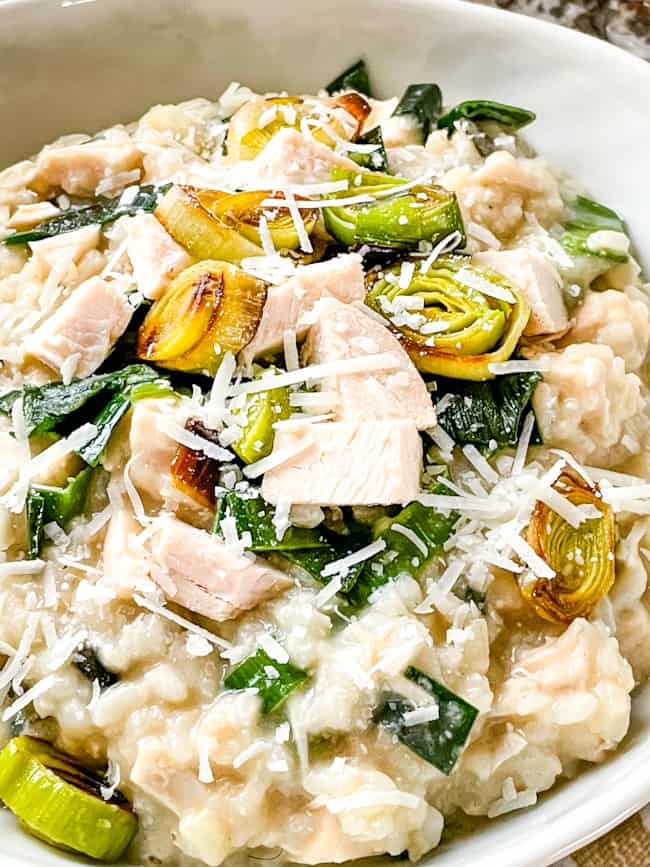 Modifications and Substitutions
Use any leftover chicken that is neutral in flavor or Italian. I love to use rotisserie chicken for this recipe!
Other onions can be used in place of leeks if desired. Leeks have a great mild flavor, so something similar is ideal.
FAQs
What is chicken risotto made of?
Chicken risotto is made of arborio rice, chicken, chicken stock, butter, shallots (or red onion), white wine, Parmesan cheese, salt, and black pepper.
Here we also add leeks!

Is risotto basically rice?
Yes, risotto is rice. But it is made with a specific type of rice (arborio) and cooked in a specific way in order to make what we know as risotto.
What does risotto mean in cooking?
Risotto is actually a name for a cooking method that has also been given to a specific dish.
Risotto means that the rice is cooked slowly, with gradual moisture added, and with a lot of stirring to make it creamy.
What makes risotto creamy?
The creaminess comes from stirring and gradually adding the stock to release the starches!
Why isn't my risotto creamy?
Most likely you did not stir enough as this is what releases the creamy starches.
Should you stir risotto as it cooks?
Yes! This is absolutely necessary to make a great risotto. Stirring releases the starches that makes the rice creamy in texture.
What to serve with leek risotto?
This risotto can be served on its own, but it would also be great with a vegetable side, a salad, or some bread!
How do I reheat risotto?
Reheating risotto is not ideal because if it is not fresh, the texture changes somewhat drastically.
But if you do reheat it (which I do!), just add a small bit of water to it to help loosen it back up a little. You might also need to add some more salt, but taste after heating before you do this.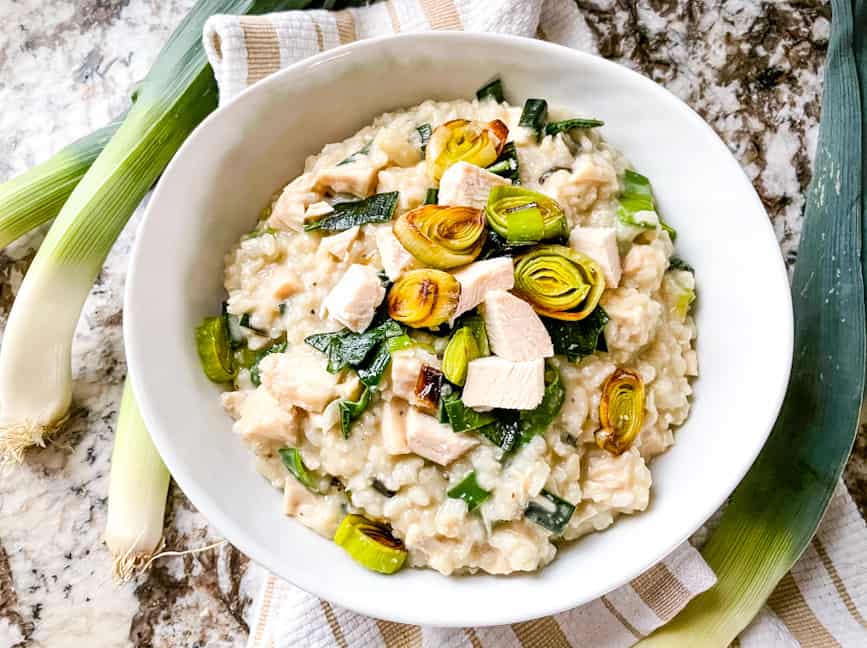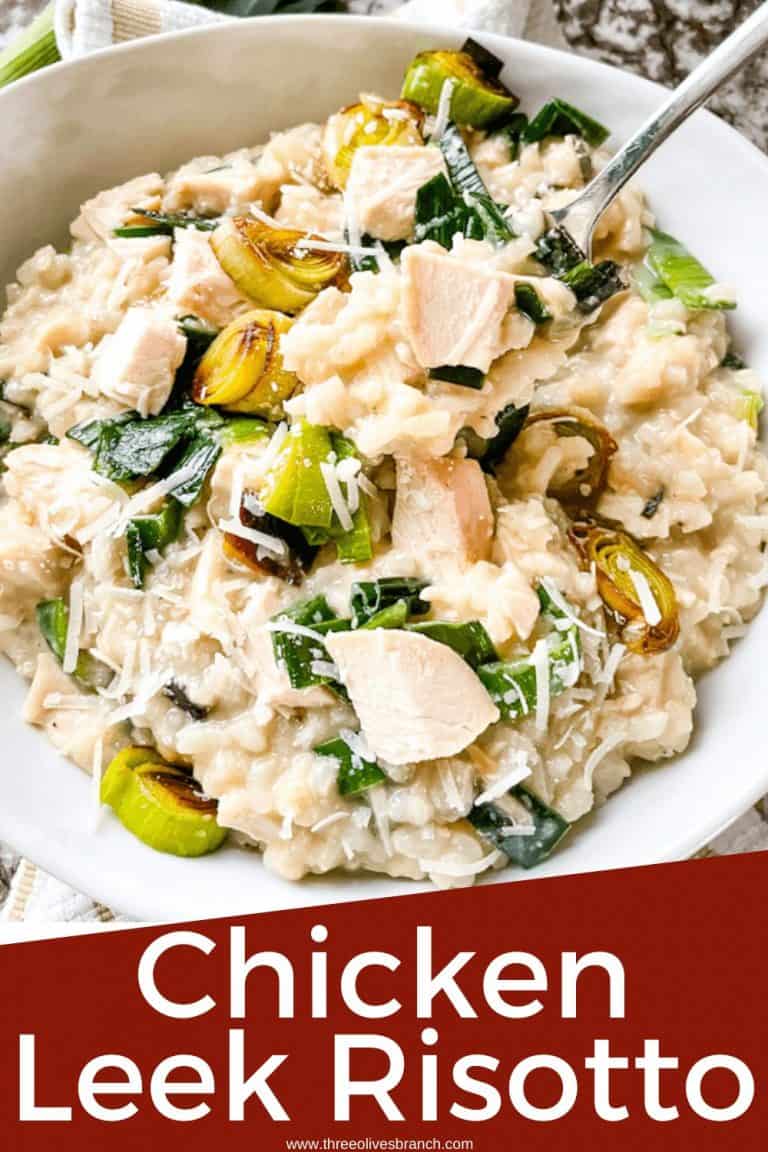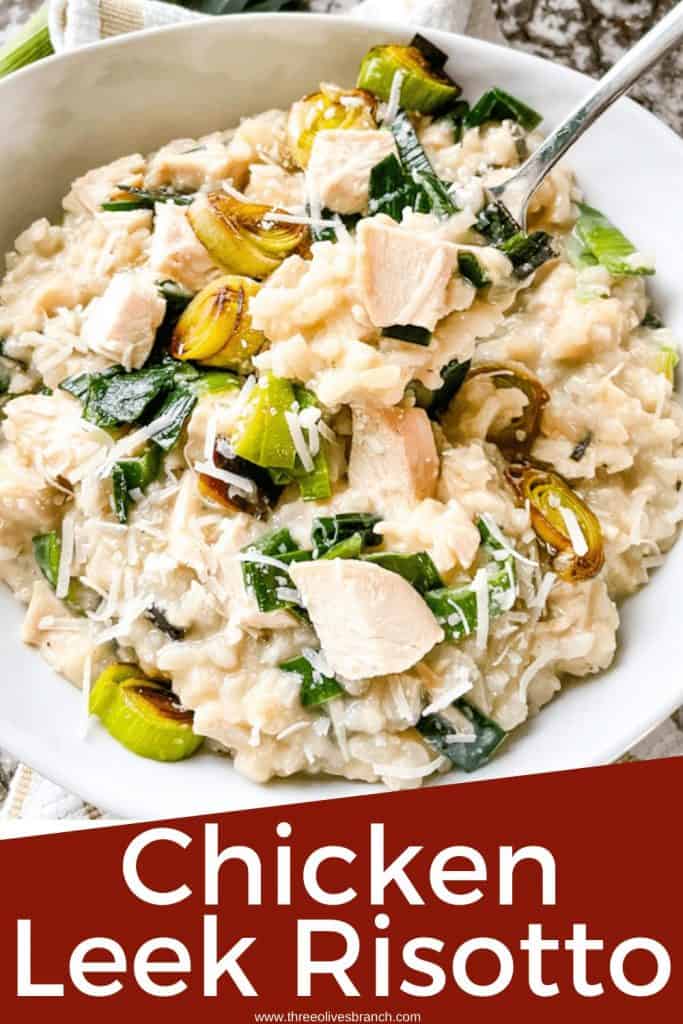 More Risotto Recipes with Meat
Risottos with Meat
Selections from our popular risotto collection all featuring a meat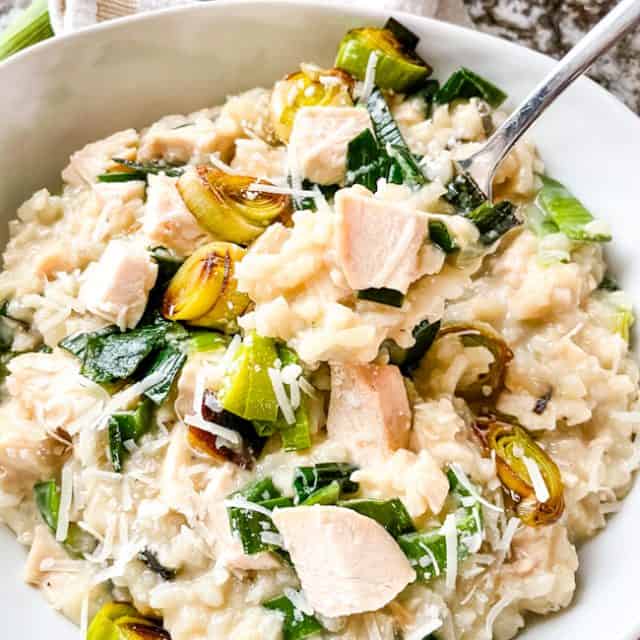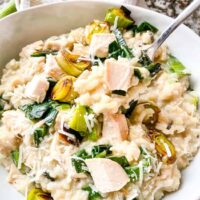 Chicken and Leek Risotto
This Chicken and Leek Risotto is a delicious and creamy Italian dinner idea! A creamy Parmesan cheese rice makes this perfect as a main course recipe or side. Perfect for leftover chicken or rotisserie chicken. Gluten free.
Print
Pin
Rate
Ingredients
6

cups

vegetable stock

(or chicken stock)

6

ounces

leeks

(approximately one medium/large leek)

6

Tablespoons

unsalted butter

1 1/2

cups

arborio rice

1

cup

white wine

(something dry like sauvignon blanc or chardonnay)

1/2

teaspoon

dried thyme

2

cups

chopped chicken

(leftover or rotisserie chicken is perfect, anything cooked)

salt

black pepper
Instructions
Place the stock in a small pot and heat over medium low. You want the stock to be warm when adding it to the risotto so that the temperature change does not affect the rice.

Cut your leeks, including the dark green leaves, into slices. The whites will come out in rounds and the dark green parts as strips. Place all of the sliced leeks in a bowl of water. Swish around in the water (this will help clean out the sand and dirt that is often trapped in leeks).

In a large pot, melt 2 Tablespoons of the butter over medium heat. When melted, remove the leeks from the water and add the leeks to the pot. Toss out the dirty leek water.

6 Tablespoons unsalted butter

Cook the leeks until they are just starting to brown. Remove the leeks from the pot, leaving any remaining butter, and set aside.

Add another 2 Tablespoons butter to the pot. When the butter is melted, add the rice and stir. Continue cooking to slightly toast the rice until it is just starting to show a little brown color, approximately 3-5 minutes.`

1 1/2 cups arborio rice,

6 Tablespoons unsalted butter

Add the white wine to the pot. Cook until the rice is almost dry, where most of the wine has been absorbed.

Add the thyme and one cup of stock to the rice. Stir continuously until most of the stock has been absorbed.

Repeat this process 1/2 cup of stock at a time until the rice is cooked thoroughly. You want the rice to have just a little bit of bite left so that it is not completely mushy.

Depending on your rice, you may need more or less stock for the right consistency so start tasting the rice after 4 cups.

When your rice is cooked through, remove the pot from the heat. Add the remaining butter, chopped chicken, leeks, and Parmesan cheese. It is important to do this before adding salt and pepper because the cheese is salty. Stir to combine and until the cheese and butter have melted into the risotto.

6 Tablespoons unsalted butter,

2 cups chopped chicken,

1 cup freshly grated Parmesan cheese

Taste the risotto and season with additional Parmesan, salt, and pepper as desired.

Depending on your cheese, you may need no salt, or a couple teaspoons. Serve immediately.
Notes
Get arborio rice online or in your local grocery store in the rice section.
Use any white wine that you enjoy drinking. I advise staying away from sweet wines as it will make the risotto very sweet as well. Chardonnay or sauvignon blanc are the ones I tend to use.
Leftover chicken or rotisserie chicken is perfect for this risotto. If you prefer to cook the chicken, you can cook it in the risotto pot before starting the rest of the recipe. Simply season with salt and pepper and cook through.
Nutrition
Serving:

1

serving

|

Calories:

741

kcal

|

Carbohydrates:

73

g

|

Protein:

26

g

|

Fat:

33

g

|

Saturated Fat:

18

g

|

Trans Fat:

1

g

|

Cholesterol:

110

mg

|

Sodium:

1994

mg

|

Potassium:

320

mg

|

Fiber:

3

g

|

Sugar:

5

g

|

Vitamin A:

2285

IU

|

Vitamin C:

6

mg

|

Calcium:

324

mg

|

Iron:

5

mg

By