Chipotle Orange Glazed Shrimp is a fast and easy seafood recipe full of sweet and spicy flavor. Serve on noodles, rice, tacos, or plain. #shrimp #seafood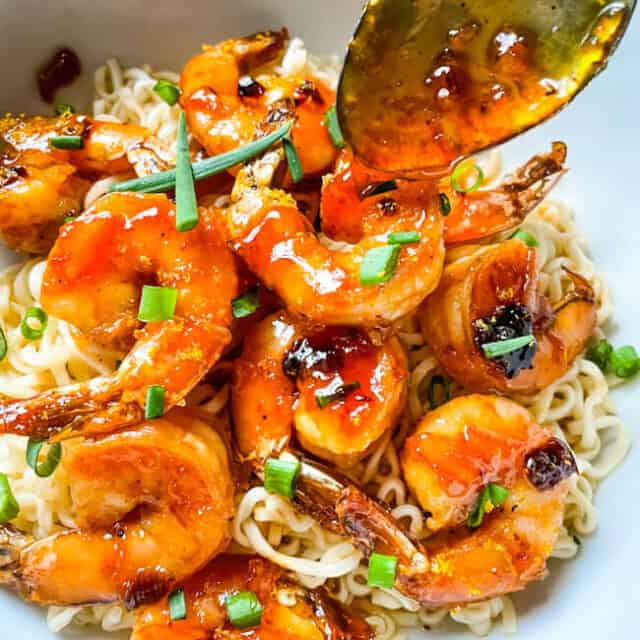 Whip up something different with this easy Chipotle Orange Glazed Shrimp! A sticky, sweet and spicy sauce that pairs perfectly with seafood.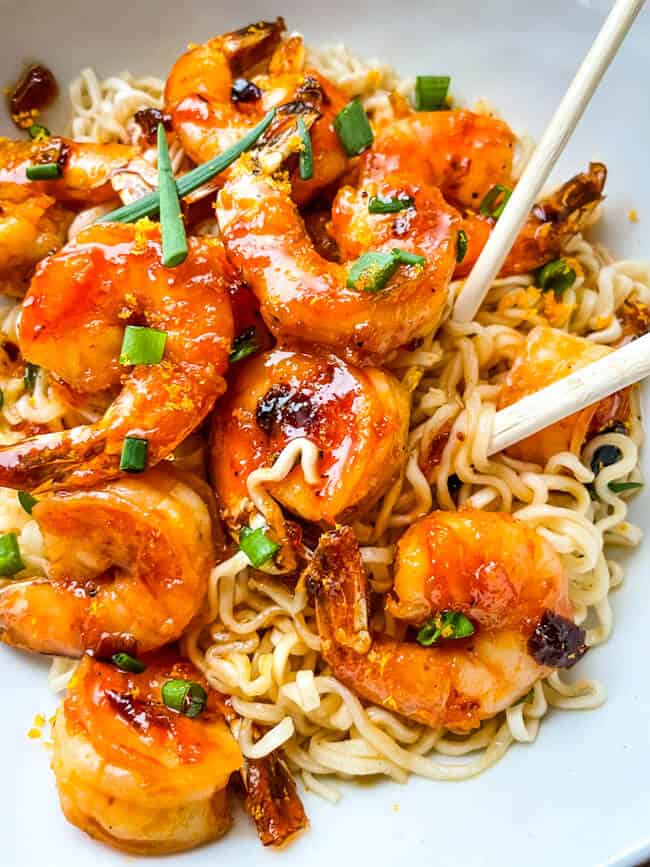 Oh myyyyyyyyy these Chipotle Orange Glazed Shrimp are something special!
One of my favorite things about cooking shrimp is how fast they cook which means easy dinners!
And they pair just perfectly with this sticky, sweet and spicy sauce.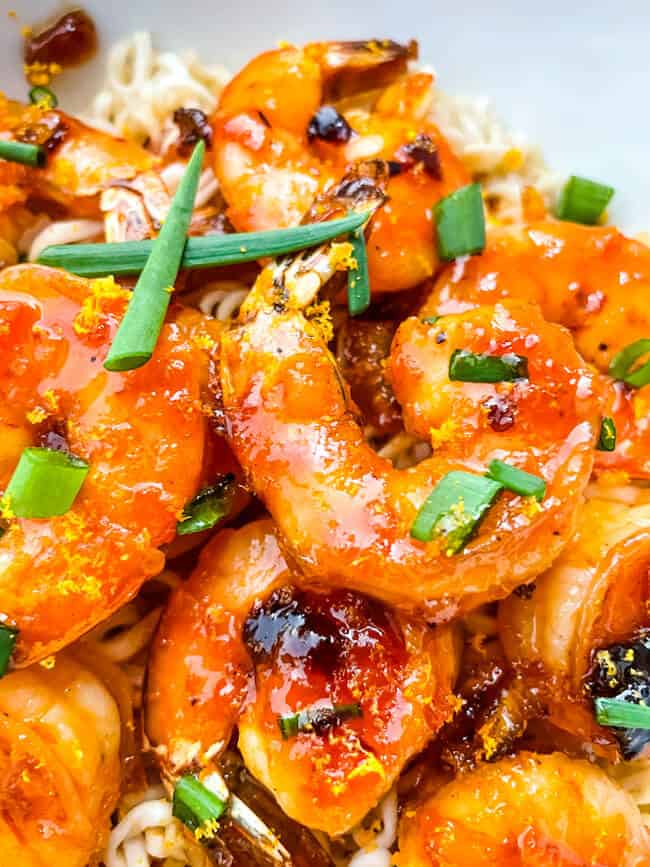 What are Chipotle Peppers?
Chipotle peppers are jalapeno peppers that have been smoked and dried.
They have a wonderful, deep smoky flavor with a mild heat.
I like to buy my chipotle in adobo in a small jar, already diced, instead of the little cans with whole peppers.
I never go through those little cans quickly, and then you have to figure out how to store them. With the little jar, it is waiting and ready to go in your refrigerator!
This recipe results in a medium heat level, with the spice on the back end of the flavor (sweet, then spicy). Adjust the chipotle amount up or down to fit your preference.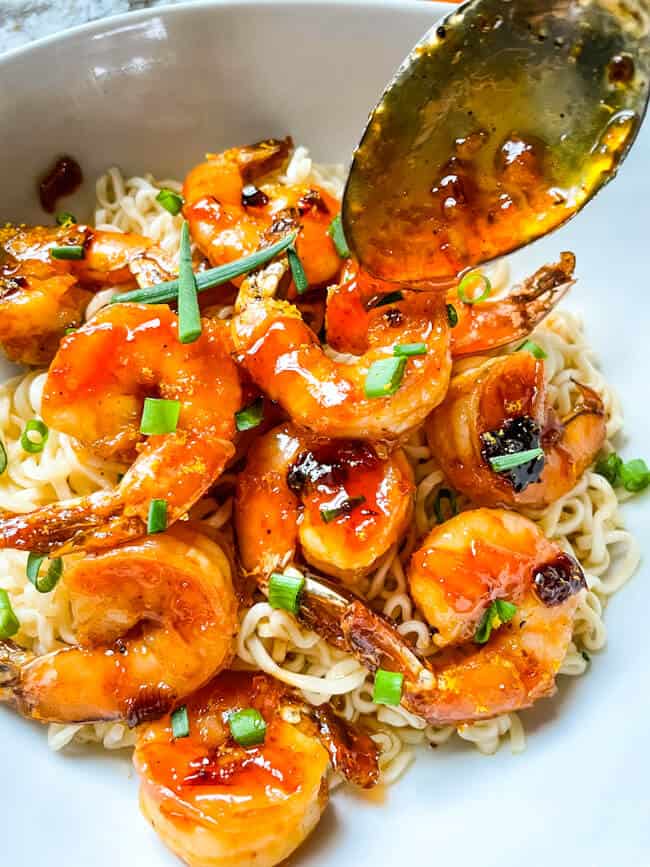 Cleaning and Preparing Shrimp
You can use any size of shrimp that you want for this recipe.
There are a few things you want to keep in mind any time you are cooking with shrimp.
Shells – I prefer to buy shrimp that have already had their shells removed, as I do not cook shrimp with them on. And it is one less thing for me to do.
Deveining – What does this mean? Well, if a shrimp is de-veined, it has been cut down the outer edge of the shrimp and the black "vein" has been removed.
The "vein" is really the digestive track of the shrimp. So if you are eating shrimp that still have the "vein," you are essentially eating shrimp poop.
Tails – Leaving the tails on looks very pretty, and I find them commonly sold with tails on. But you do have to remove the tails before eating. So it is easier to have the tails removed prior to cooking, unless you don't mind pulling them off as you eat.
Pre-Cooked vs Raw – I almost never buy pre-cooked shrimp because I like to cook them in sauces and recipes directly. Pre-cooked is handy for things like shrimp cocktail.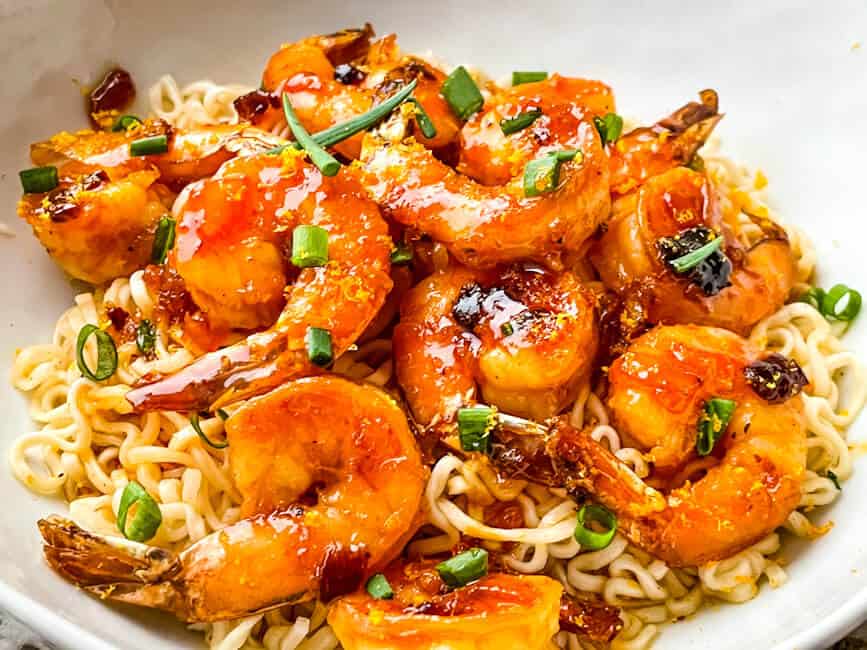 Glaze or Sauce
This shrimp recipe has a delicious sweet and spicy flavor with a thick and sticky texture.
But in order to get a glaze that is sticky, it requires sugar.
If you want to reduce your sugar intake, or just have a lighter sauce, you can make this shrimp with a sauce instead of a glaze.
To do this, simply skip the step about making the sugar water mixture in the pot. Whisk together the chipotle orange sauce ingredients, and you can cook it for a few minutes to thicken slightly.
If you end up wanting it a little thicker, you can continue to reduce the sauce (although you will end up with less sauce) or add some cornstarch to thicken it up.
A tablespoon of cornstarch mixed with a little water before adding to the sauce should do the trick. Then cook for a couple minutes to activate the cornstarch and thicken the sauce.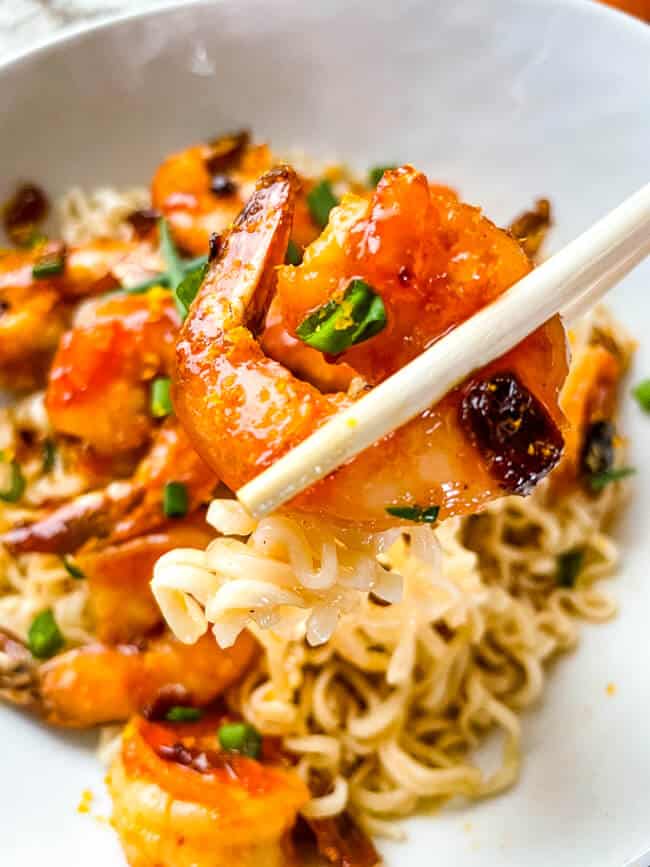 Cooking Options
I love cooking these shrimp right in the sauce to get them nice and coated while absorbing some flavor.
Using pre-cooked shrimp? Toss with the sauce but do not keep cooking the shrimp to prevent them from being rubbery.
You can also cook this recipe on the grill. Simply grill the shrimp on skewers and brush the glaze on them for the last minute or so (or even after cooking). If you put the glaze on too early, it will burn due to the sugar content.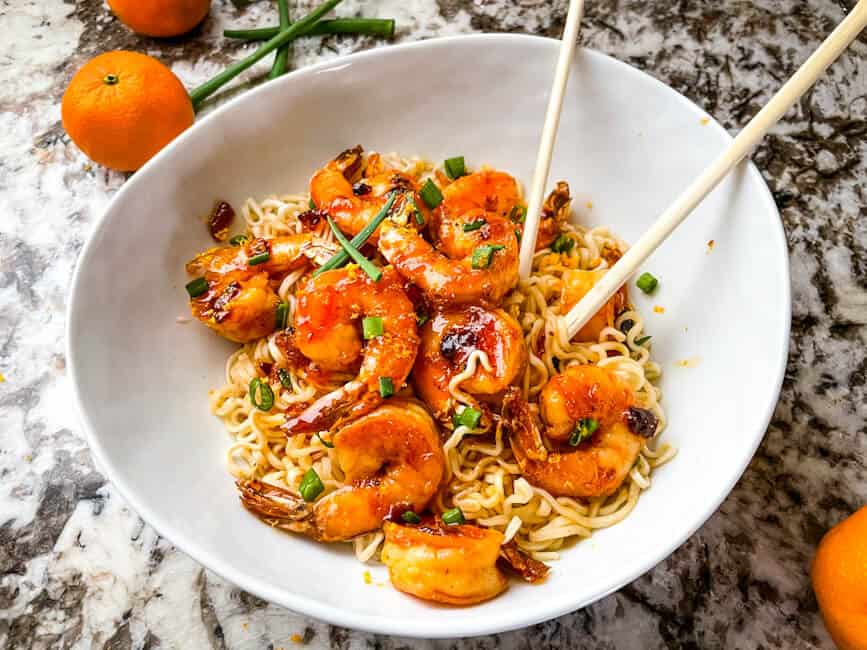 Serving Options
You can serve up these Chipotle Orange Glazed Shrimp in many different ways.
They are a great topper to a fried rice, or even plain rice.
A house favorite is serving them over ramen noodles, minimal to no broth, and using the shrimp sauce to sauce the noodles.
They would also make amazing shrimp tacos since the flavors work well with Mexican ingredients.
And of course, you can just pile them up on a plate next to your favorite vegetables or starches. I like to use a basmati rice and asparagus.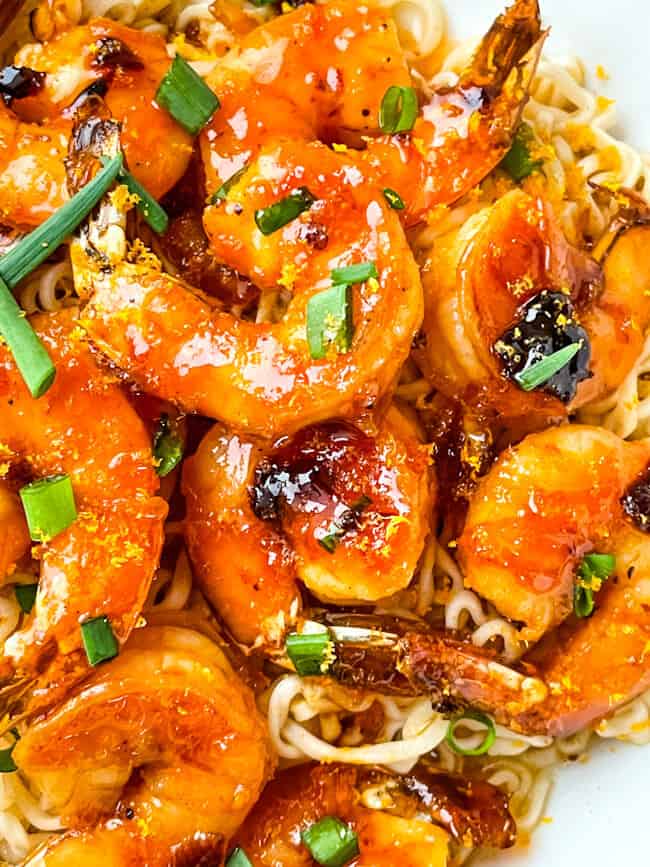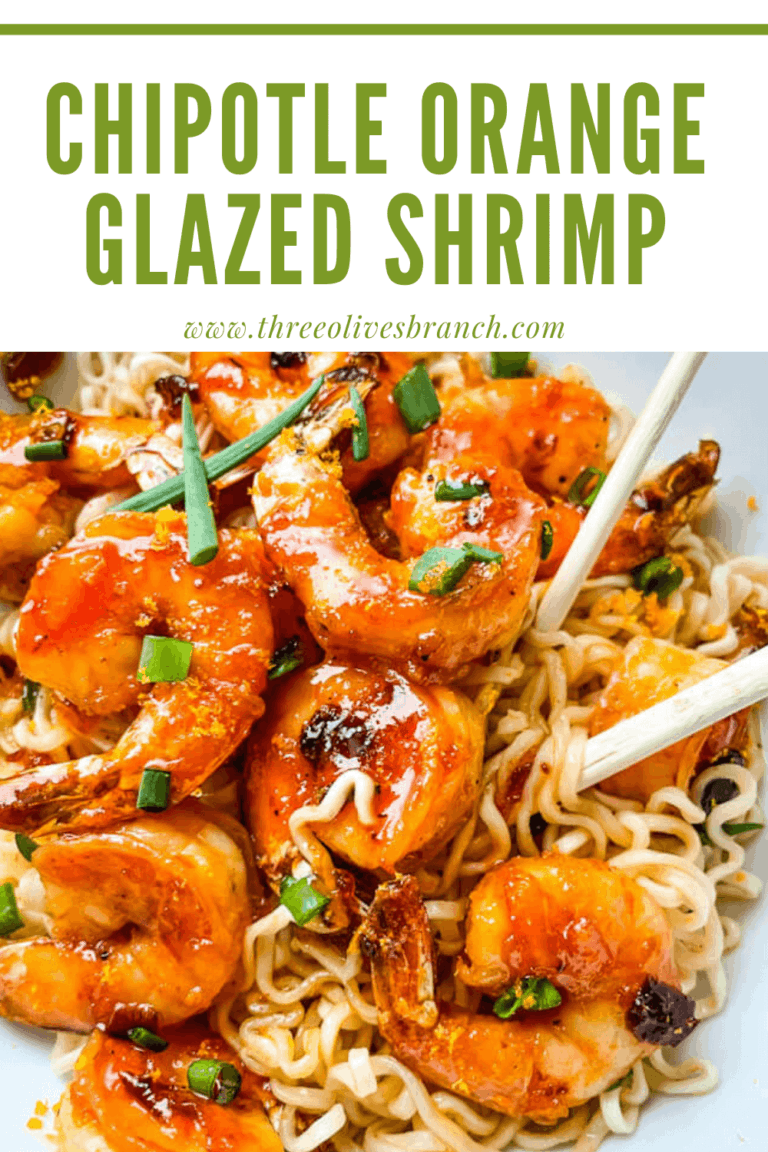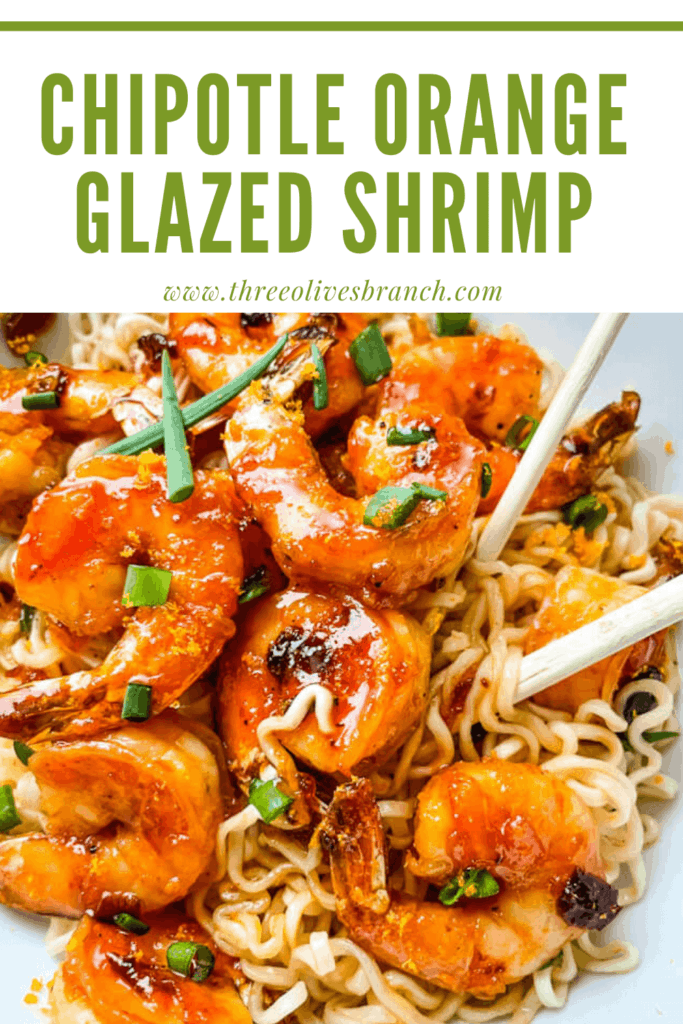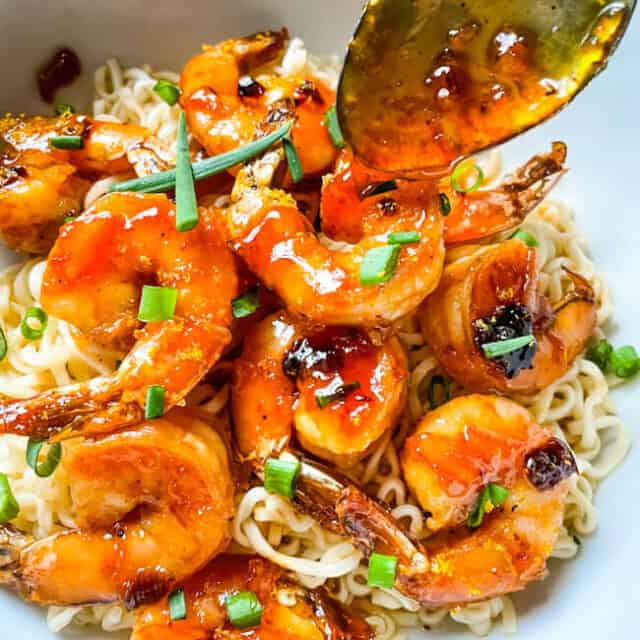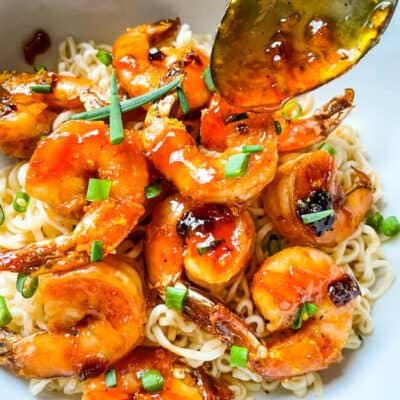 Chipotle Orange Glazed Shrimp
Chipotle Orange Glazed Shrimp is a fast and easy seafood recipe full of sweet and spicy flavor. Serve on noodles, rice, tacos, or plain. #shrimp #seafood
Print
Pin
Rate
Instructions
Whisk the orange marmalade, orange zest, orange juice vinegar, diced chipotles in adobo, and salt together in a small bowl. Set aside.

Put the water and sugar in a medium pot over medium high heat. Cook, without stirring, until the sugar is dissolved and the mixture is a light straw color. Approximately 5 minutes.

Reduce heat to low and continue cooking the syrup until it is an amber color, approximately 1-2 minutes more. Swirl the pot occasionally. (If you have a thermometer, the sugar will read between 360 and 370°F).

Remove the pot from the heat and whisk in the orange mixture. It will bubble and steam, and the sugar will harden.

Put the pot back on the heat, change the heat to medium, and cook, whisking constantly, until the hard sugar has dissolved and the sauce is thicker, approximately 2-4 minutes.

As soon as the sugar is dissolved, add the shrimp to cook in the sauce as the sauce is thickening.

Once the shrimp are cooked through, remove from heat and serve.
Notes
Want to cut back on the sugar? You can easily turn this into a sauce instead of a glaze. Simply skip the sugar water in step 2 and just thicken the chipotle orange sauce mixture slightly over medium heat. It will be thin, so if you want it thicker, add a tablespoon of cornstarch.
A serving of shrimp is considered around 3-4 ounces, which is approximately 6 jumbo shrimp. Depending on how you serve these shrimp, and with what other foods, you may get more or less portions out of one pound.
use any size shrimp you like depending on how you are going to eat them. I like to use large or extra large/jumbo.
Nutrition
Serving:

1

serving

|

Calories:

202

kcal

|

Carbohydrates:

23

g

|

Protein:

23

g

|

Fat:

2

g

|

Saturated Fat:

1

g

|

Cholesterol:

286

mg

|

Sodium:

1062

mg

|

Potassium:

130

mg

|

Fiber:

1

g

|

Sugar:

21

g

|

Vitamin A:

138

IU

|

Vitamin C:

14

mg

|

Calcium:

175

mg

|

Iron:

3

mg

By