Lemon Pepper Shrimp is a fast and easy seafood recipe ready in just 20 minutes for dinner! Gluten free and keto low carb, the shrimp and citrus sauce are a family hit. #shrimp #lemonshrimp #seafood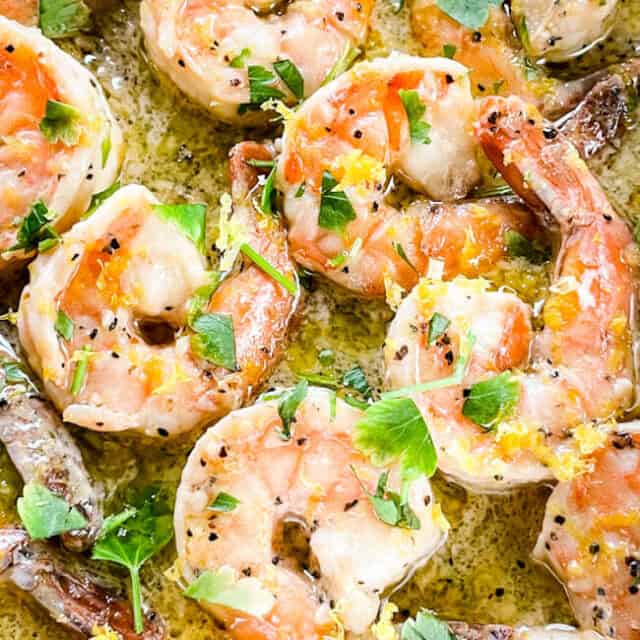 Lemon Pepper Shrimp are a perfect fast and easy dinner recipe with a lot of flavor!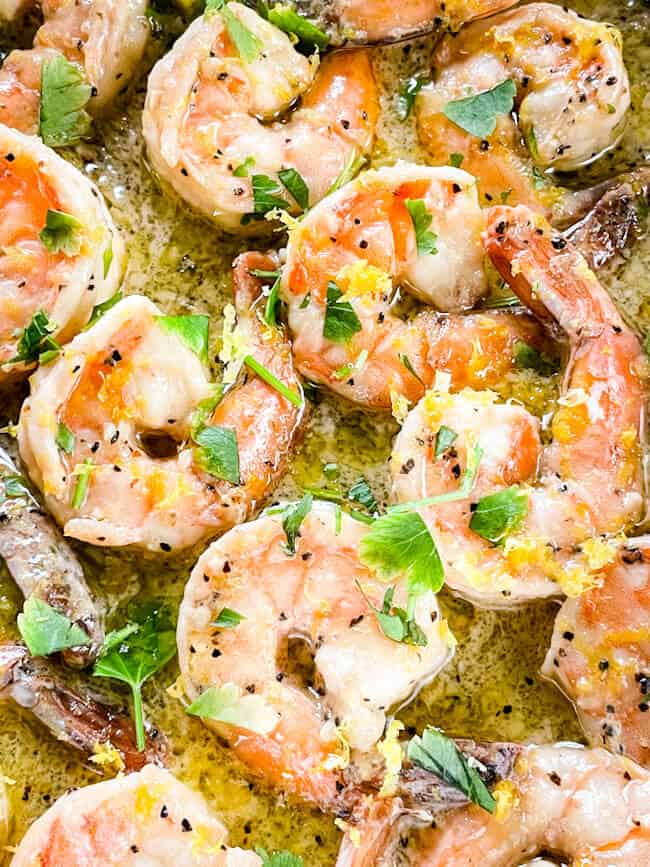 These Lemon Pepper Shrimp were inspired by my Air Fryer Lemon Pepper Chicken Wings.
The sauce was just SO good and SO easy that I knew it would be amazing with shrimp as well!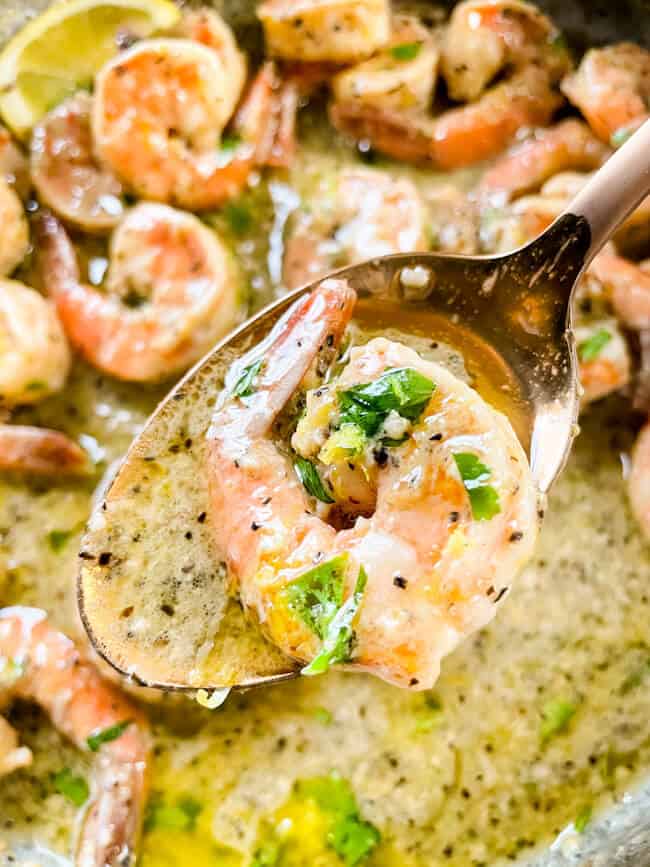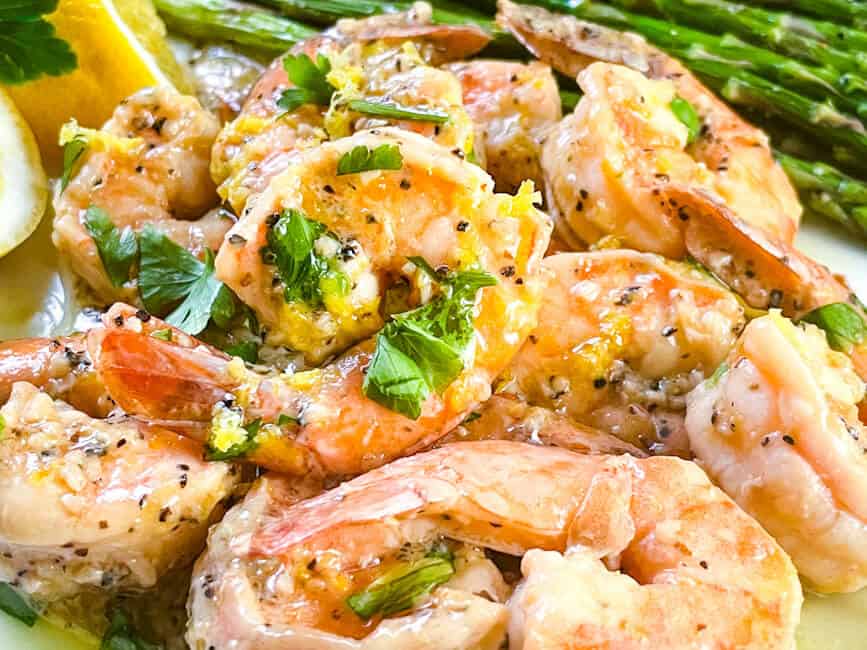 Cleaning and Preparing Shrimp
You can use any size of shrimp that you want for this recipe. I prefer something in the large to jumbo range.
There are a few things you want to keep in mind any time you are cooking with shrimp.
Shells – I prefer to buy shrimp that have already had their shells removed, as I do not cook shrimp with them on. And it is one less thing for me to do.
Deveining – What does this mean? Well, if a shrimp is de-veined, it has been cut down the outer edge of the shrimp and the black "vein" has been removed.
The "vein" is really the digestive track of the shrimp. So if you are eating shrimp that still have the "vein," you are essentially eating shrimp poop.
Tails – Leaving the tails on looks very pretty, and I find them commonly sold with tails on. But you do have to remove the tails before eating. So it is easier to have the tails removed prior to cooking, unless you don't mind pulling them off as you eat.
Pre-Cooked vs Raw – I almost never buy pre-cooked shrimp because I like to cook them in sauces and recipes directly. Pre-cooked is handy for things like shrimp cocktail.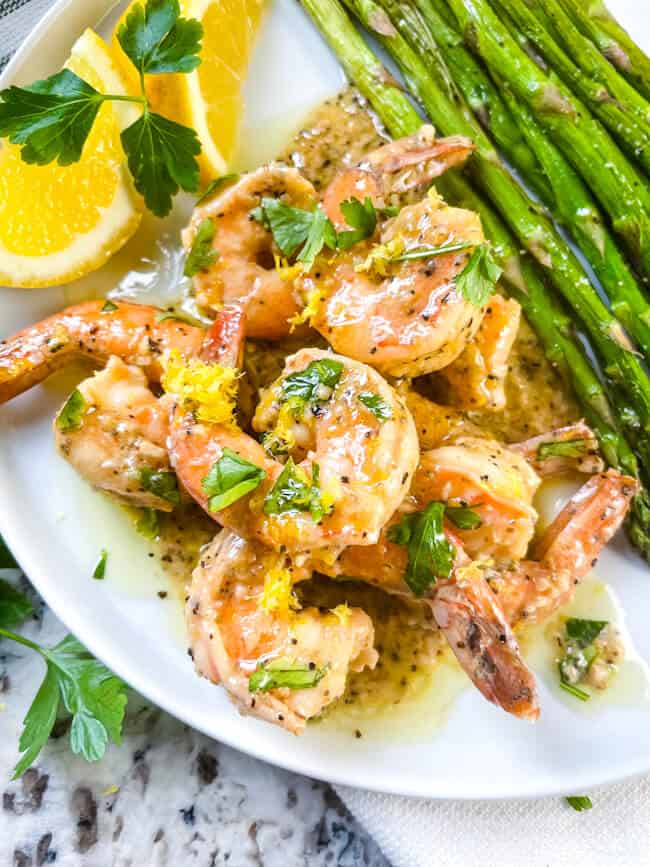 Balancing the Lemon and Pepper
This seafood recipe is lemon-forward with the taste of black pepper at the back end.
If you want it to have some heat, add more black pepper, cayenne pepper, or hot sauce as desired.
While there is a strong lemon flavor, it is not as sour as you would think because the other flavors tame the sour.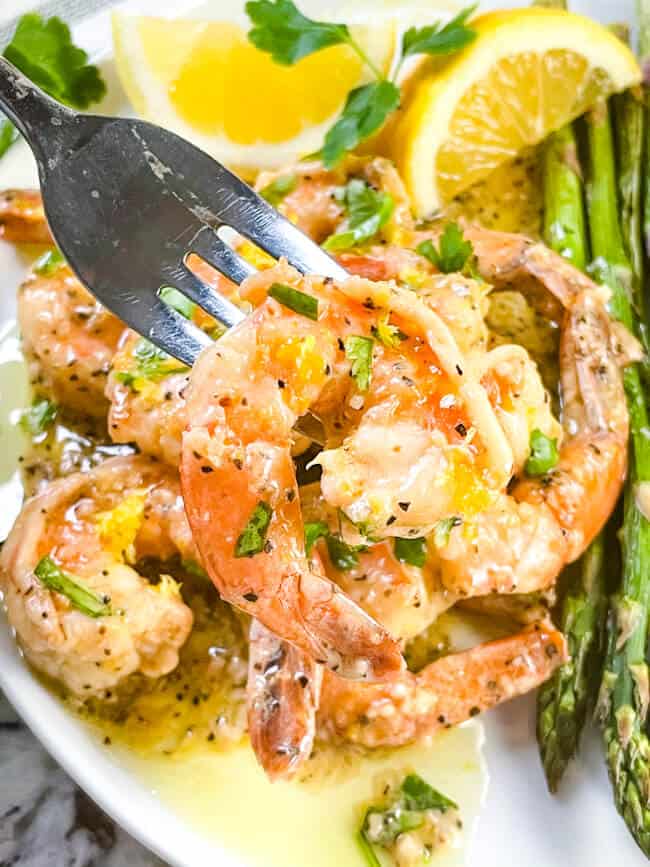 How to Know When Shrimp is Cooked
Shrimp cooks FAST and can easily become overcooked.
When shrimp is overcooked, the texture is very rubbery.
When I cook shrimp I watch for color changes.
First, watch for the bottom half of the shrimp on the pan to start turning white instead of the clear, grayish color of raw shrimp.
When I see it get up almost halfway, close to where the shrimp is split down the back from the de-veining process, I flip the shrimp.
Then continue cooking and watch that crevice down the back of the shrimp. As soon as the very bottom of that valley or cut in the shrimp is white and no longer gray, I remove them from the heat.
Don't leave the shrimp in the pan too long, as it will keep cooking. If you need them to sit for a moment, remove from the pan and put in a bowl to get away from the hot metal.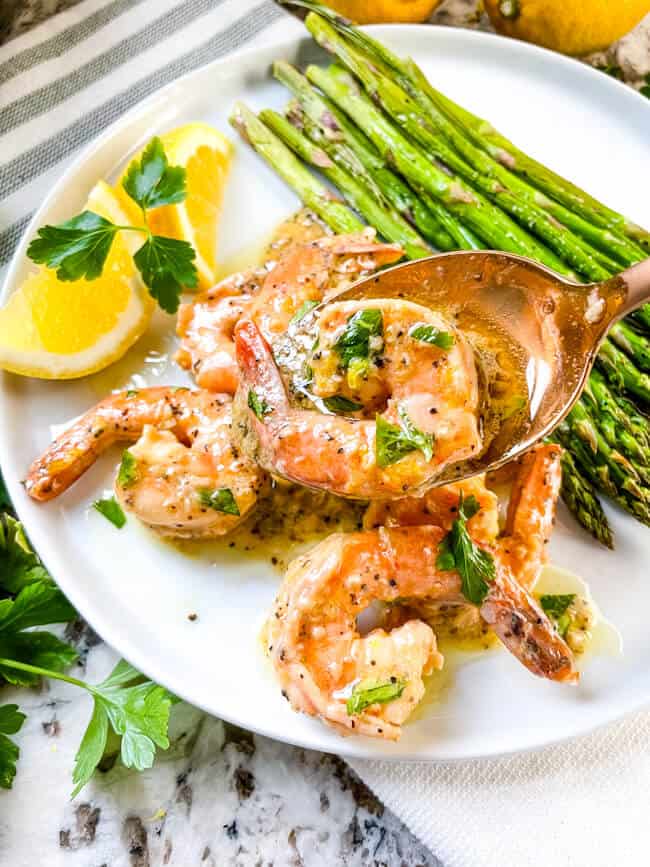 What to Serve with Lemon Pepper Shrimp
The lemon sauce is just screaming to be poured over anything and everything on your plate!
Looking for some inspiration of sides and other recipes that will go well with the shrimp? Here are some of our favorites!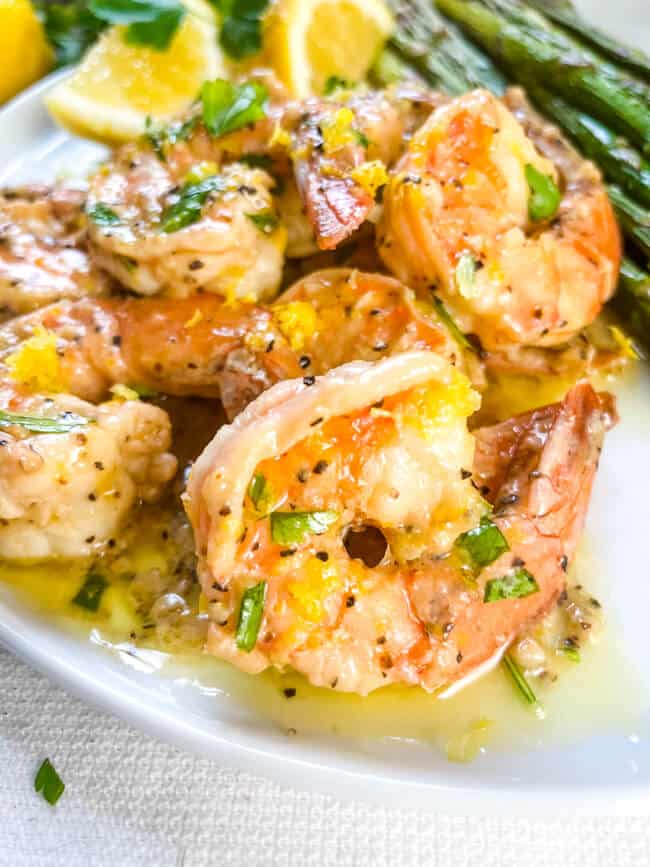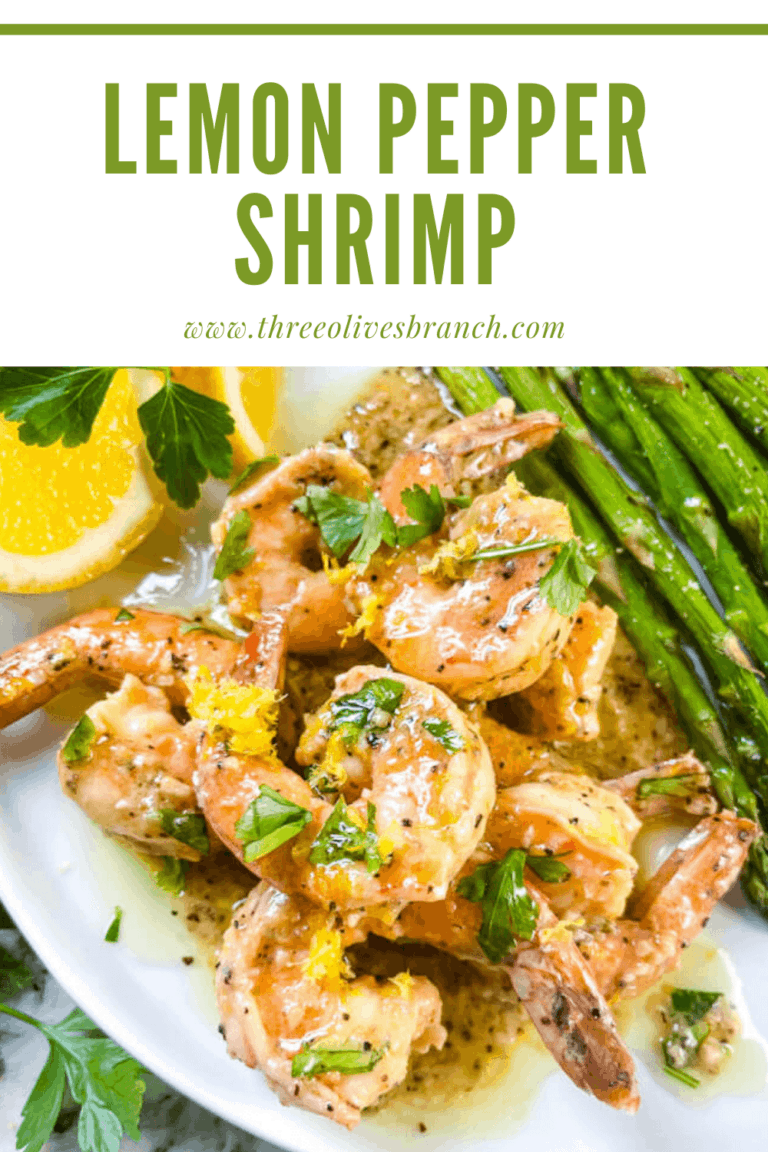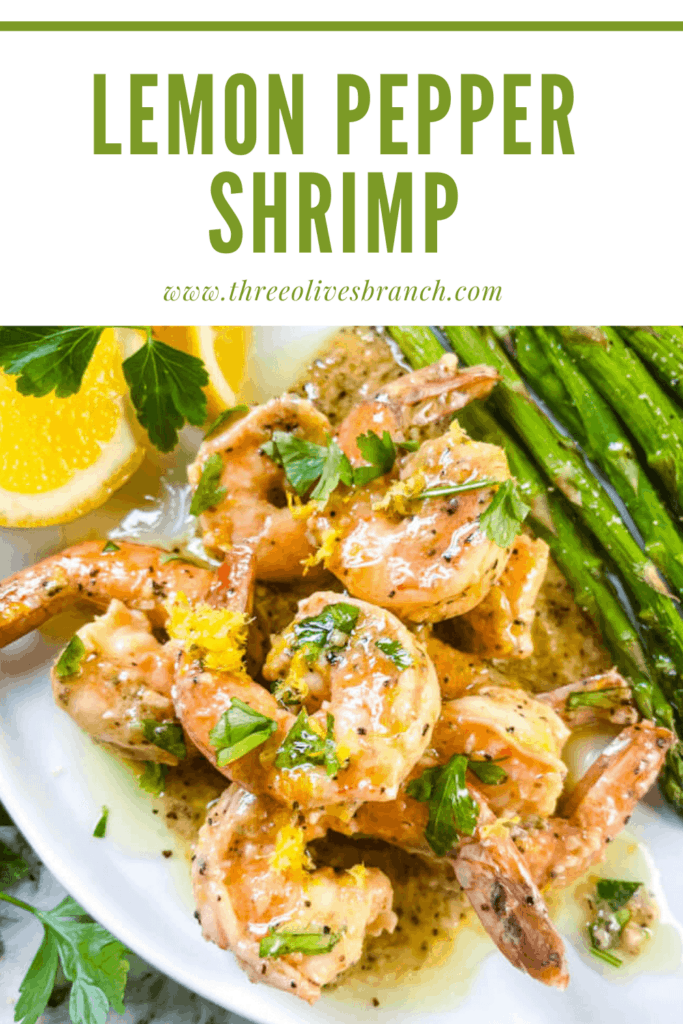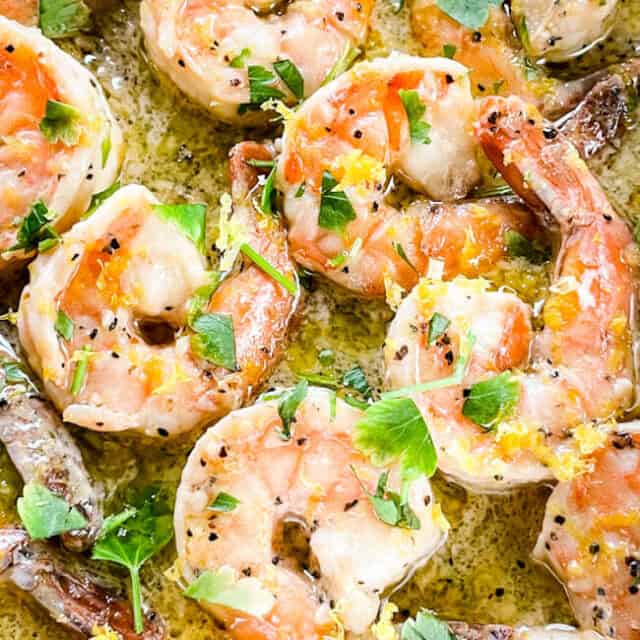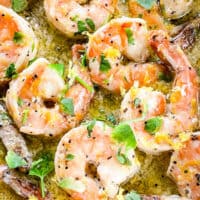 Lemon Pepper Shrimp
Lemon Pepper Shrimp is a fast and easy seafood recipe ready in just 20 minutes for dinner! Gluten free and keto low carb, the shrimp and citrus sauce are a family hit. #shrimp #lemonshrimp #seafood
Print
Pin
Rate
Ingredients
1

pound

shrimp

(large or extra large recommended, deveined and no shells)

1/4

cup

unsalted butter

1

Tablespoon

minced garlic

1 1/2

Tablespoons

lemon zest

(approximately 1.5 lemons)

1/4

cup

lemon juice

(approximately 2 lemons)

2

teaspoons

coarse ground black pepper

1/2

teaspoon

salt
Instructions
Heat a small pot over medium heat. Add the butter.

When the butter is melted, add the garlic, lemon zest, lemon juice, salt, and black pepper.

Bring to a simmer. Add the shrimp and arrange in a single layer in the sauce.

Cook the shrimp for 2-3 minutes until the side touching the pan is turning pink and the bottom half of the shrimp toward the pan is white instead of clear.

Flip the shrimp and continue cooking until the shrimp is cooked through, approximately 2-3 minutes more. The middle crevice down the back of the shrimp will be white instead of clear. Remove from heat and serve immediately.
Notes
Fresh lemon juice is best.
The shrimp cooks very fast so have everything else ready before starting the shrimp.
If you want a thicker sauce, combine 1 Tablespoon of flour or 1/2 Tablespoon of cornstarch with a little water or sauce and add to the skillet before adding the shrimp.
Nutrition
Serving:

1

serving

|

Calories:

225

kcal

|

Carbohydrates:

3

g

|

Protein:

24

g

|

Fat:

13

g

|

Saturated Fat:

8

g

|

Trans Fat:

1

g

|

Cholesterol:

316

mg

|

Sodium:

1274

mg

|

Potassium:

135

mg

|

Fiber:

1

g

|

Sugar:

1

g

|

Vitamin A:

362

IU

|

Vitamin C:

14

mg

|

Calcium:

180

mg

|

Iron:

3

mg

By