Corn Casserole is a delicious, fast, and easy side dish recipe. A southern food classic perfect for the holiday table. Soft cornbread casserole, or corn pudding, made with 6 ingredients.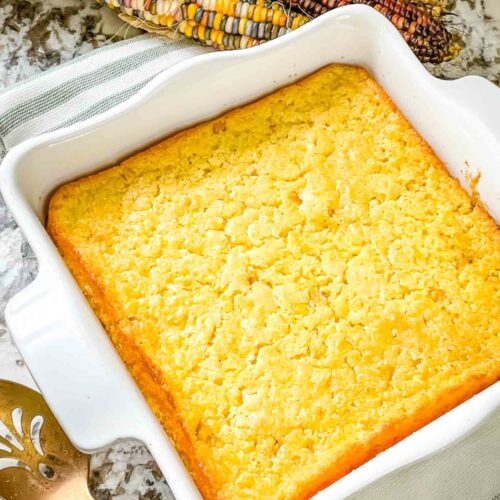 A southern classic! This Corn Casserole is made with just 6 ingredients and is a perfect fast and easy recipe for a holiday or Southern meal.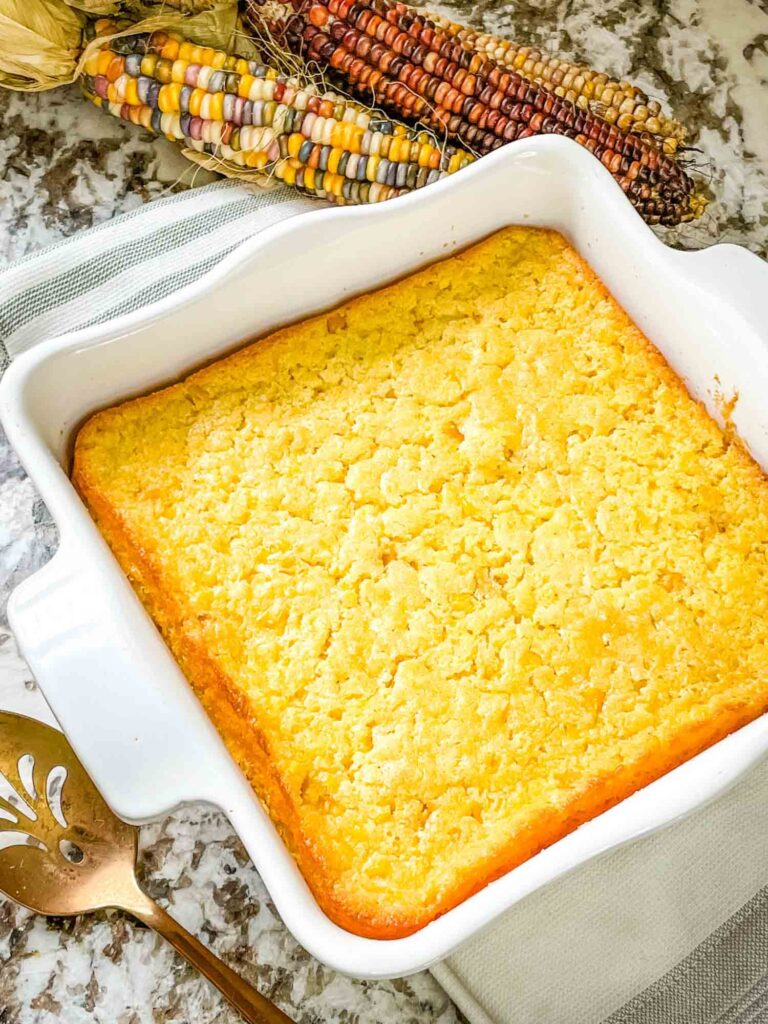 Corn Pudding
You may see recipes for corn casserole, cornbread casserole, and corn pudding. They are all the same!
This soft and creamy side dish recipe is packed with three different types of corn.
I also LOVE to make a Green Chile Cheddar Cornbread Casserole version for extra flavor!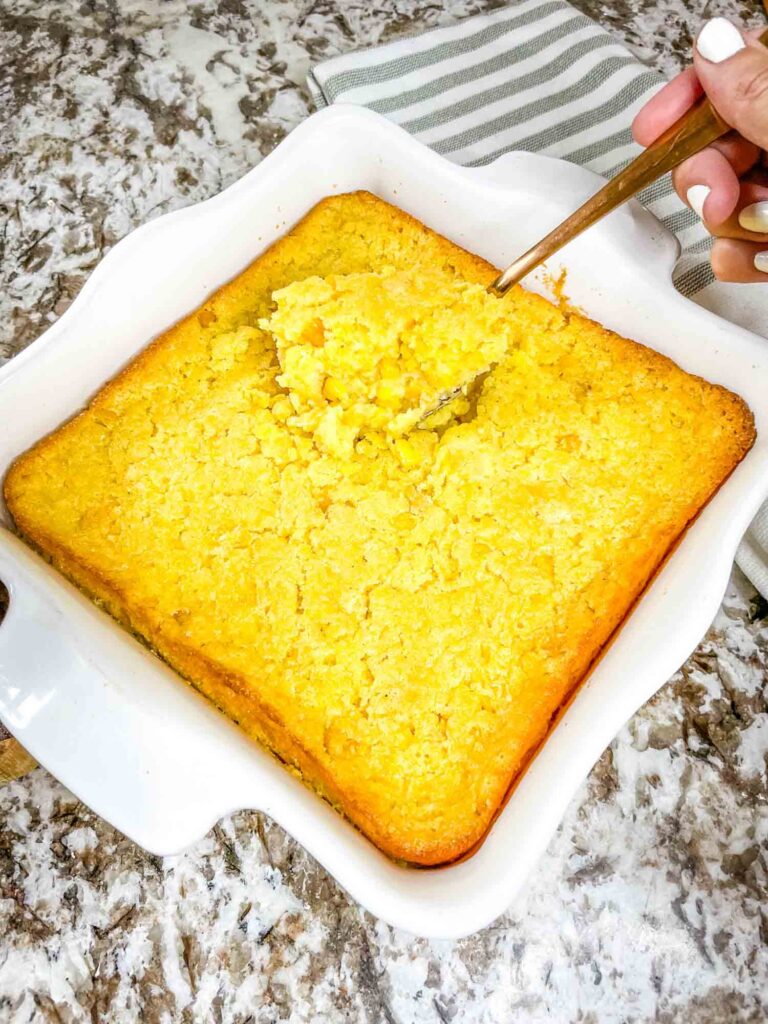 Ingredients Needed
Here is what you need to make corn pudding:
Can of Corn
Can of Creamed Corn
Melted Butter
Sour Cream
Garlic Powder
Garlic powder is not a common ingredient for this recipe, but I like to use it as my secret weapon!
I find that adding garlic powder to things gives it that little something that elevates the recipe.
Don't worry, it will not be overly garlicy! You will not taste garlic. But you can increase the garlic if you do want it to be noticeable.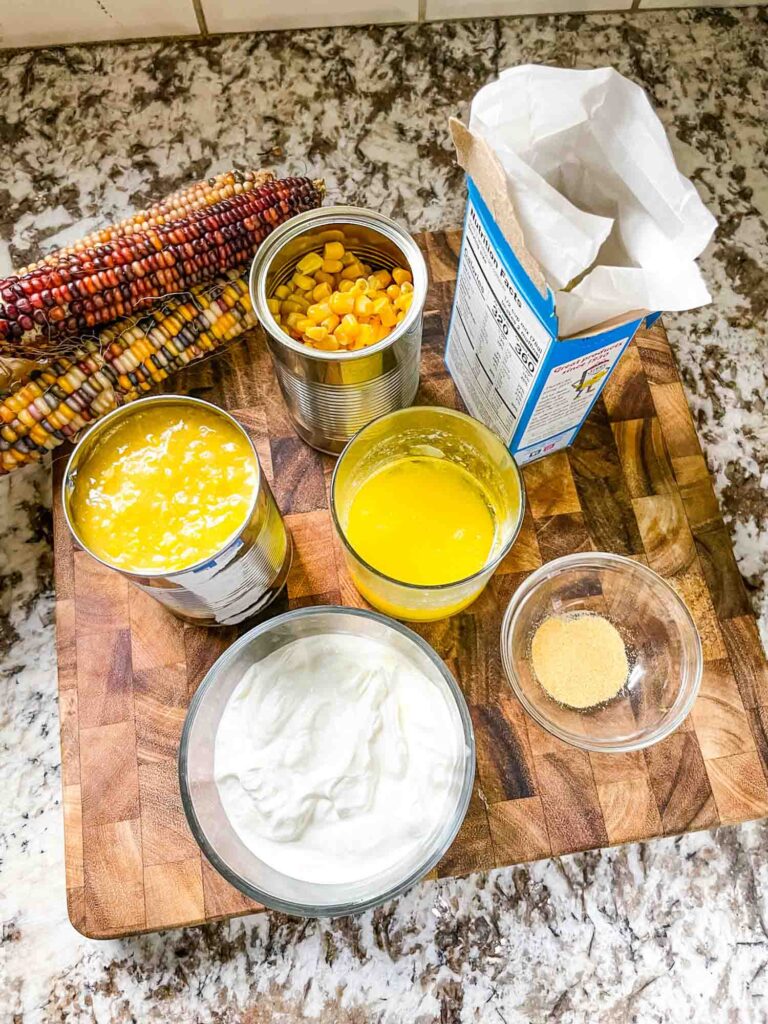 Instruction Summary
It is incredibly easy to make this side dish!
Simply mix all of the ingredients together in a large bowl.
Pour it into a baking dish and bake until golden brown but still soft, about 45 minutes. Cook more or less as desired for the consistency that you want! Less will make it thinner and more will make it more like cornbread.
That's it!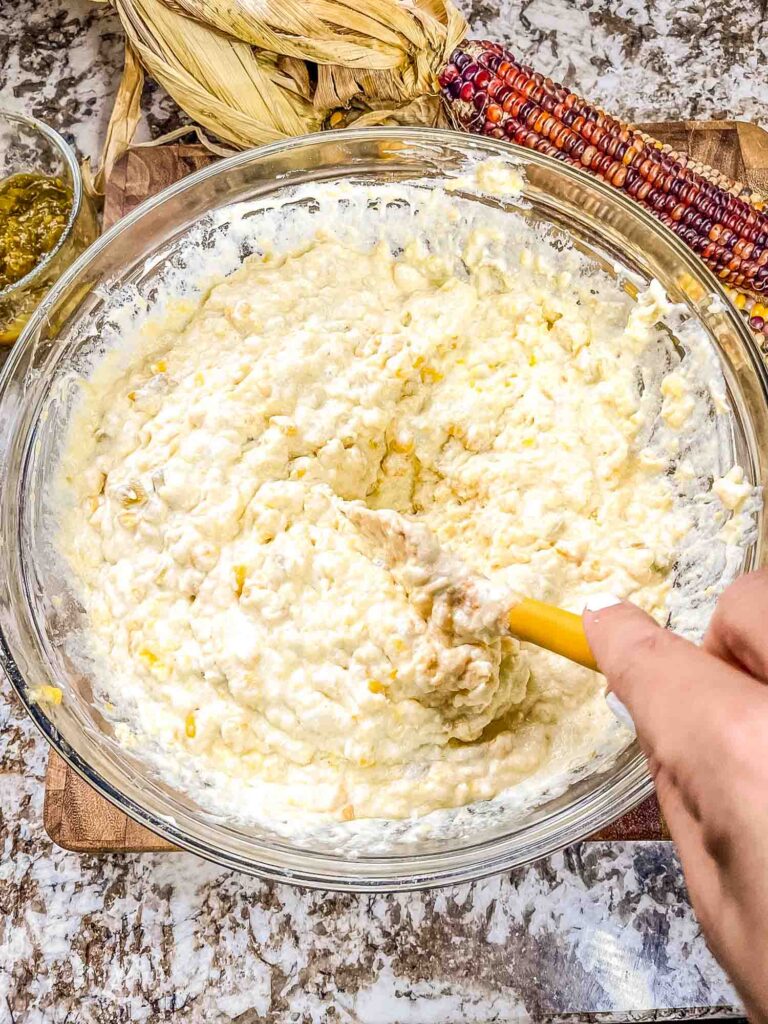 Instruction YouTube Video
Watch me make the corn casserole in the video below, with extra comments!
Why is my corn casserole runny?
Most likely it was not cooked quite long enough.
Remember, it is going to be softer and a thinner texture than a cornbread.
You can fix this by popping it back in the oven for 5 minutes more and then check again.
Where did corn casserole originate?
This dish is incredibly popular in the south. And it is believed that its roots come from Native Americans that would cook corn and water together.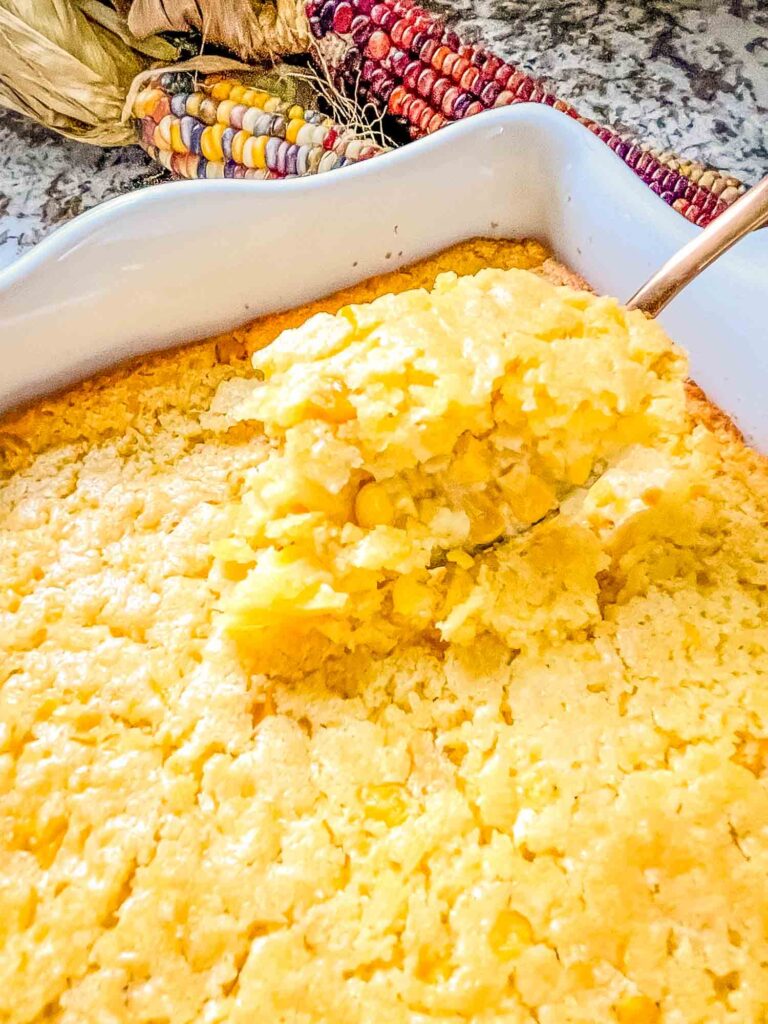 What's the difference between corn pudding and cornbread?
Cornbread is a soft bread texture. Similar to a bread pudding.
A corn pudding has more dairy in it to make it much softer. It also has a lot more moisture in it.
How long is corn casserole good for in the fridge?
Store the casserole in an airtight container in the refrigerator, and it should last 5-7 days.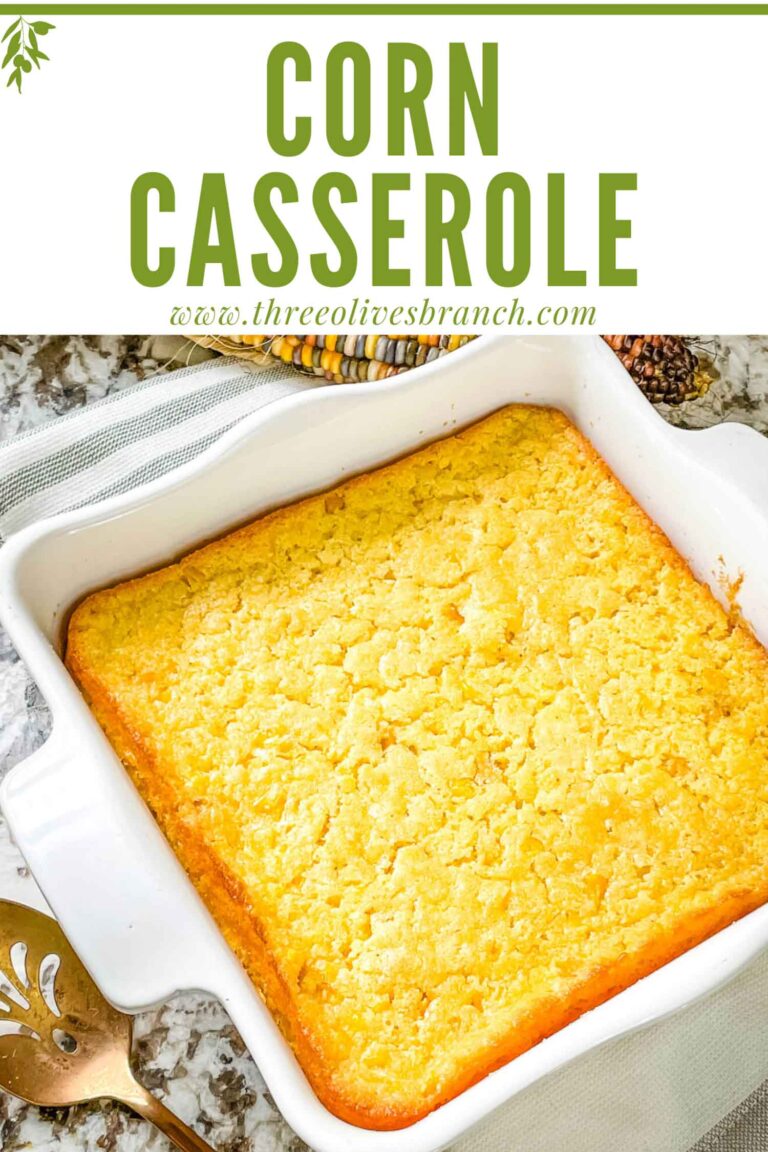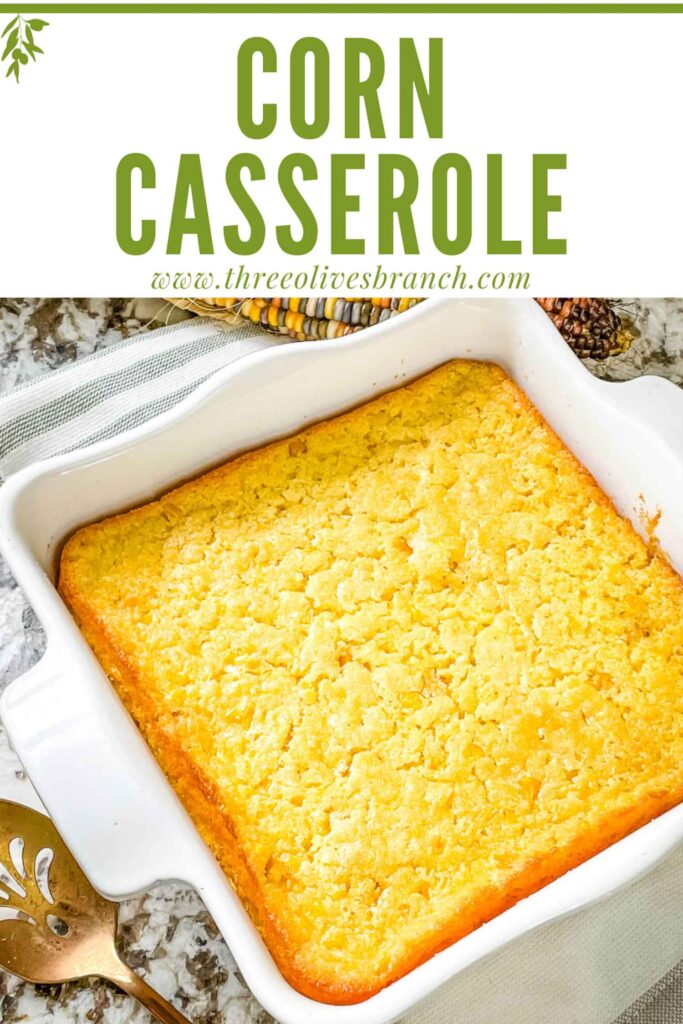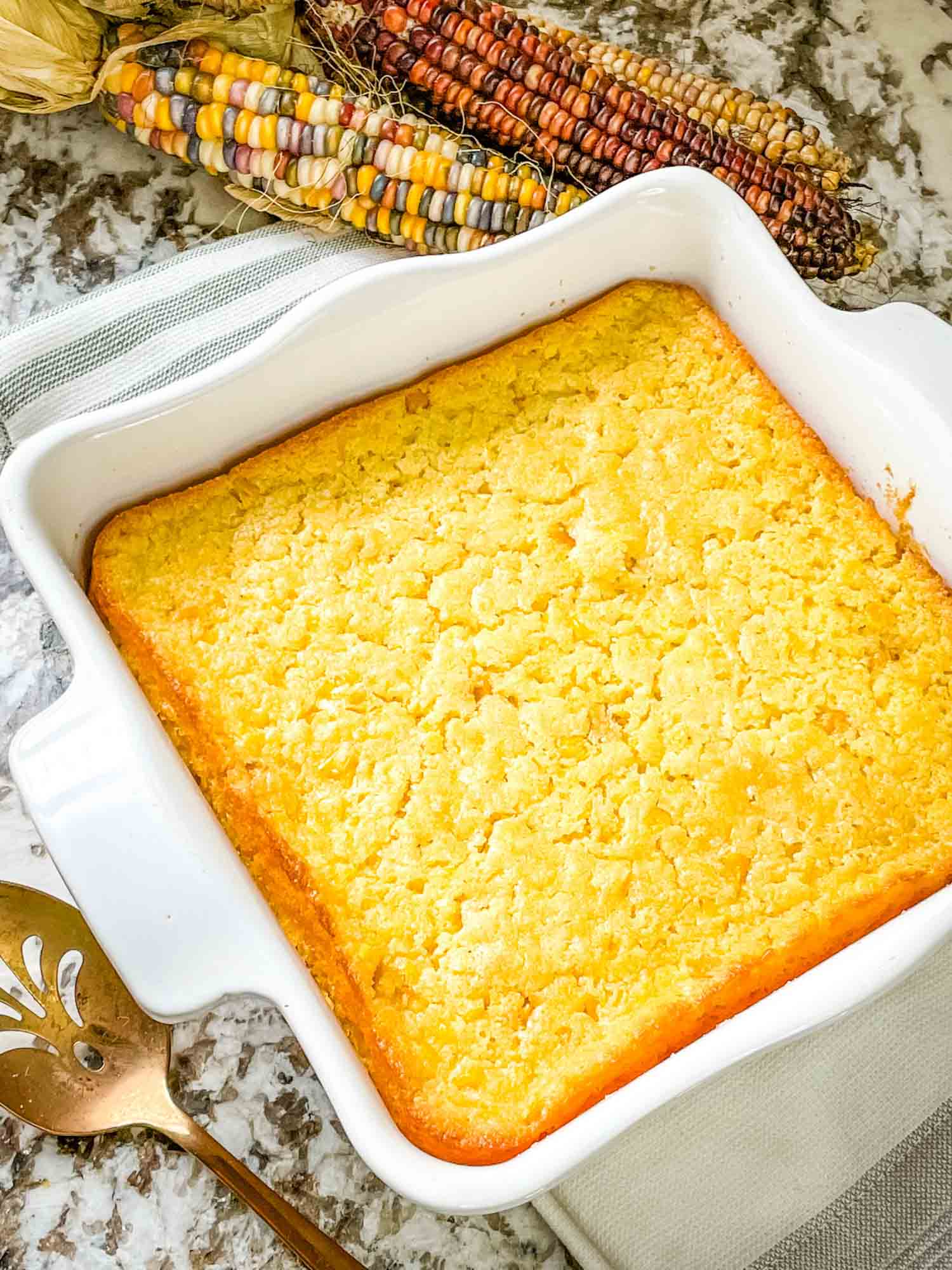 Instructions
Mix all of the ingredients together in a large mixing bowl.

Pour the batter into an 8×8 inch baking dish.

Bake until golden brown with the center still soft, approximately 45 minutes. Cook more or less as desired for consistency that is preferred.
Video
Notes
The exact weight/volume of the canned products will vary slightly. It does not have to be exact, just close.
Nutrition
Serving:
1
serving
|
Calories:
481
kcal
|
Carbohydrates:
51
g
|
Protein:
7
g
|
Fat:
29
g
|
Saturated Fat:
16
g
|
Polyunsaturated Fat:
2
g
|
Monounsaturated Fat:
9
g
|
Trans Fat:
1
g
|
Cholesterol:
61
mg
|
Sodium:
675
mg
|
Potassium:
283
mg
|
Fiber:
3
g
|
Sugar:
12
g
|
Vitamin A:
809
IU
|
Vitamin C:
5
mg
|
Calcium:
73
mg
|
Iron:
2
mg
Southern Inspired Recipes
By