Hatch Green Chile Creamed Corn is a simple homemade creamed corn recipe perfect for a BBQ or Southern soul food meal and Thanksgiving side. Corn is cooked with green chile peppers, milk, and butter for a simple side dish.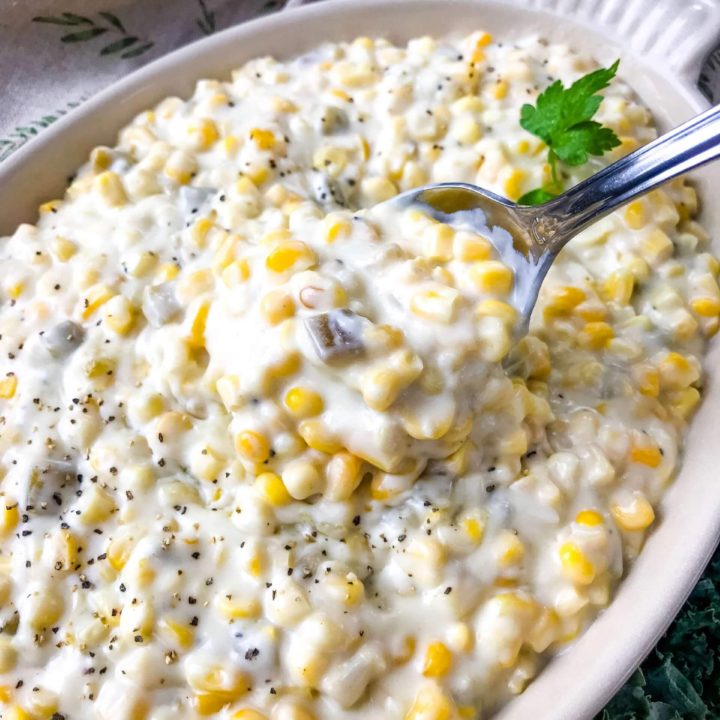 Hatch Green Chile Creamed Corn is a simple homemade creamed corn with some extra flavor from green chile peppers!
Why You Will Love This Recipe
I love my Hatch green chile recipes and I use the peppers in as many things as I can beyond a classic Hatch Green Chili!
By this point, it has probably become one of my staple ingredients that I always have on hand and think of incorporating into dishes often. 
This is one of the most popular recipes on the blog, along with my Escabeche (Mexican Pickled Vegetables).
So when I first thought about making creamed corn from scratch for the first time, I knew it had to be with the green chile peppers in it. And it was a great decision! Join my obsession and find more green chile recipes here!
This Hatch Green Chile Creamed Corn is a perfect side dish for a Southern soul food meal or at a BBQ.
This southern inspired side dish has all the creamy, corn centric flavors that you love with the hint of flavor and a little heat from delicious roasted peppers.
Very easy to make and a perfect side dish dinner idea or for Thanksgiving!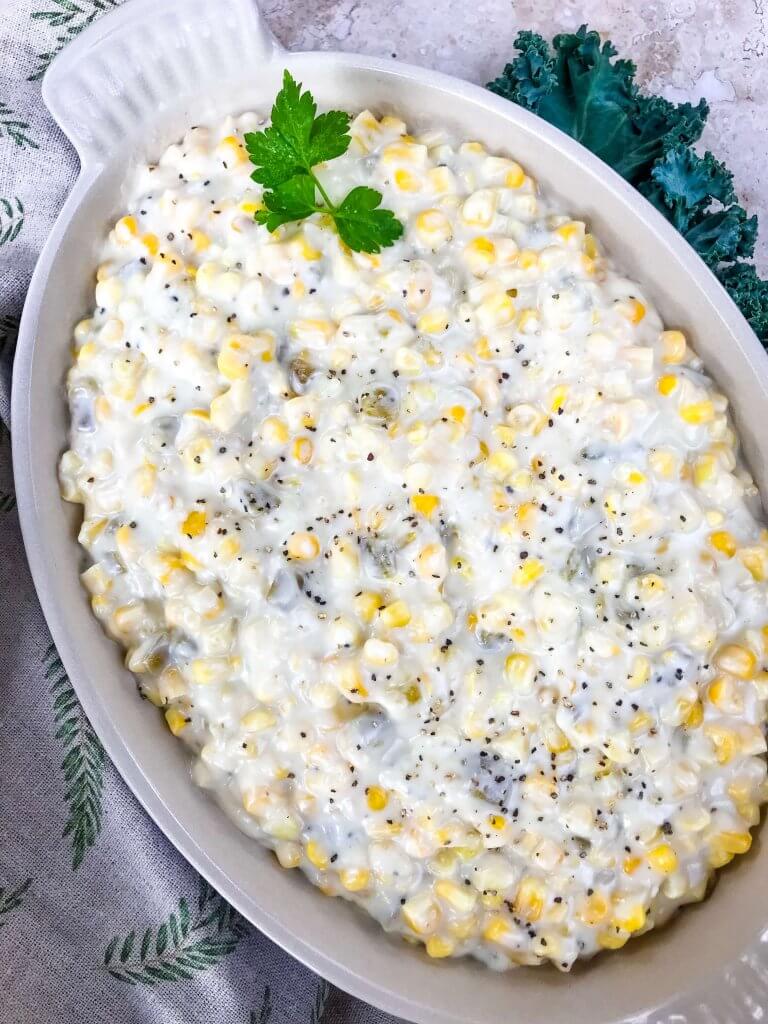 Ingredients
Here is what you need to make this recipe:
Corn
Hatch Green Chiles
Butter
Heavy Cream
Sugar
Salt
Black Pepper
Ground Red Pepper (Cayenne)
Whole Milk
Cornstarch
Hatch Green Chiles – You can find diced Hatch green chiles online! They come in different heat levels, so pick what you prefer. The Hatch chile peppers add enough flavor without overpowering the dish, so it still tastes and feels like a creamed corn, not creamed peppers.
About Hatch Green Chiles
Hatch chile peppers are popular and from the town of Hatch, New Mexico. You can typically find various heat levels of the pepper, with the hottest available earliest in the season.
I love to use the fresh peppers, since I am lucky to have them in this area. If you do not see them in the produce section, I have found that frozen packs of roasted and diced green chiles are the closest substitution. And I have found the frozen ones in most grocery stores including Walmart.
And of course there are always canned diced green chiles easily accessible.
Another option is to buy Anaheim peppers fresh and roast them yourself. The Anaheim pepper is actually a variety of Hatch peppers that were grown in California. The main difference is they are very, very mild. So to get heat, you will want to add hot sauce.
Pick the heat level of diced Hatch green chiles that you prefer. Think of their heat similar to a salsa. I like to go with mild or medium as I can always make it more spicy but do not want anyone to be uncomfortable with it being too hot!
Equipment
This is the equipment you need to make the creamed corn:
Medium Pot
Spatula
Measuring Spoons
Measuring Cups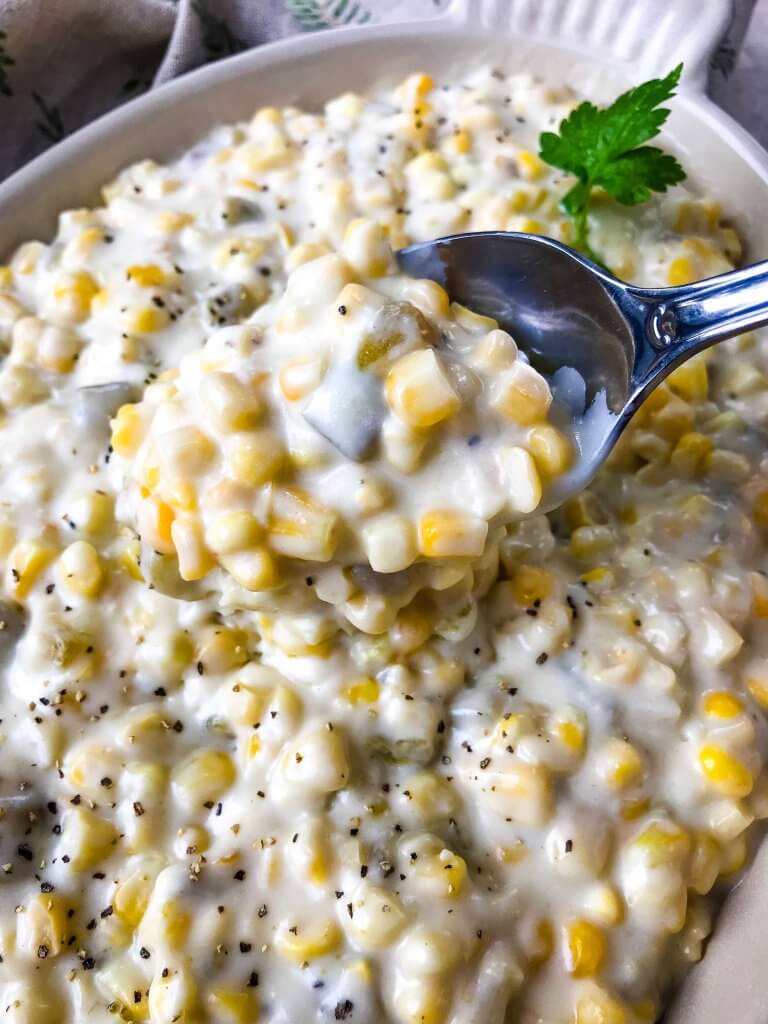 Instruction Overview
It is amazing how fast this homemade creamed corn dish comes together. Just a few minutes simmering on the stove and that's it!
First combine everything except the cornstarch and milk and start heating it on the stove.
Whisk the cornstarch and milk together and add to the pot.
Let it simmer for everything to heat through and the cornstarch to thicken the sauce.
Modifications and Substitutions
While the taste of fresh corn is ideal, I use frozen corn and it turns out great.
Canned corn is also an option, but it will have an extra flavor from the juice it is packed in, so it is not as ideal.
If using flour instead of cornstarch for the thickener, increase to 2 Tablespoons.
Kim's Tips
No need to defrost frozen corn, just add it all into the pot while still frozen and it will thaw out as it comes up to a simmer. Find more creamed corn recipes here!
FAQs
How is creamed corn made?
It is simmered with heavy cream and seasonings. Find full instructions below!
What do you eat creamed corn with?
Creamed corn is a great southern recipe and pairs great with other southern foods like chicken, potatoes, meatloaf, and more.
It is also incredibly popular for holiday meals, especially Thanksgiving!
What is the liquid in creamed corn?
It is a combination of some heavy cream, butter, and milk.
What is the difference between creamed corn and corn kernels?
Corn kernels are the individual pieces of corn from a corn cob.
Creamed corn takes these corn kernels and cooks them in a creamy sauce.
Do you eat creamed corn hot or cold?
It can be served either way but most prefer it hot alongside the rest of a warm meal.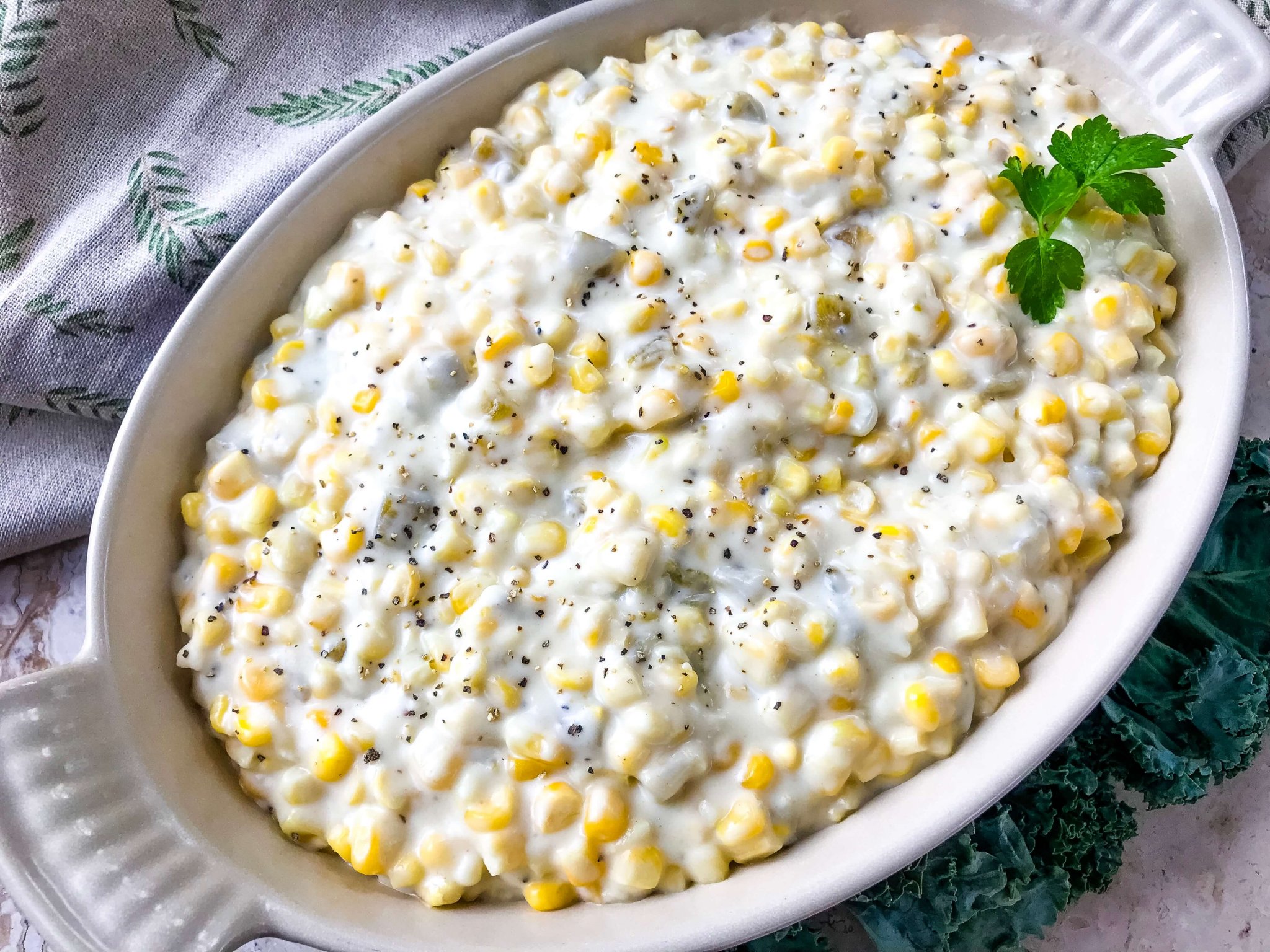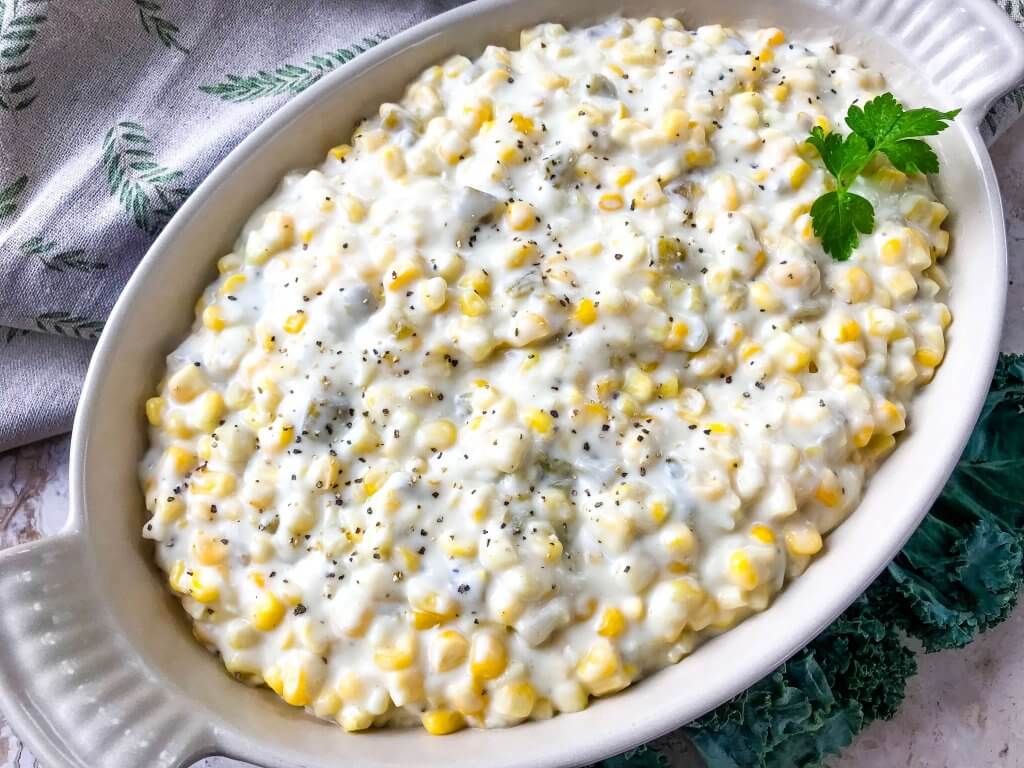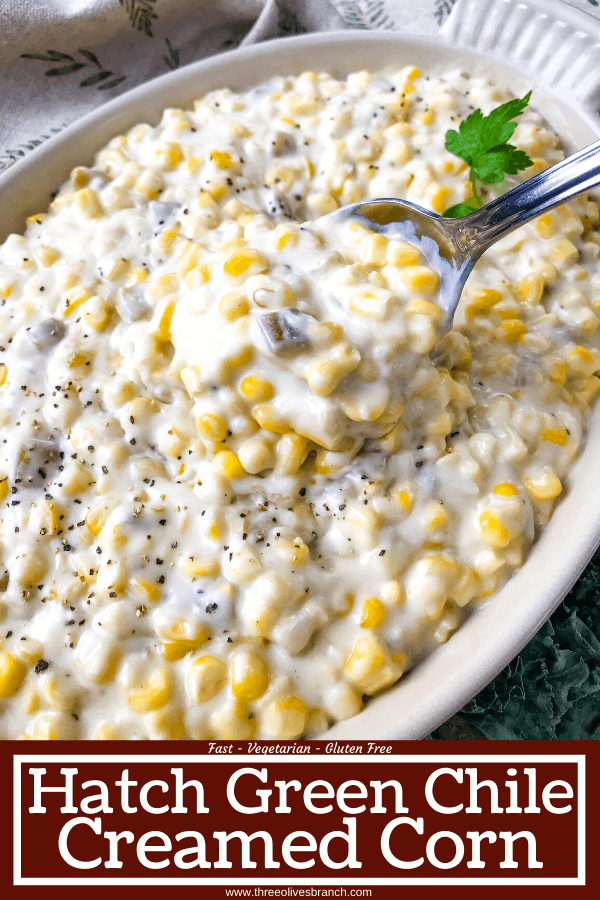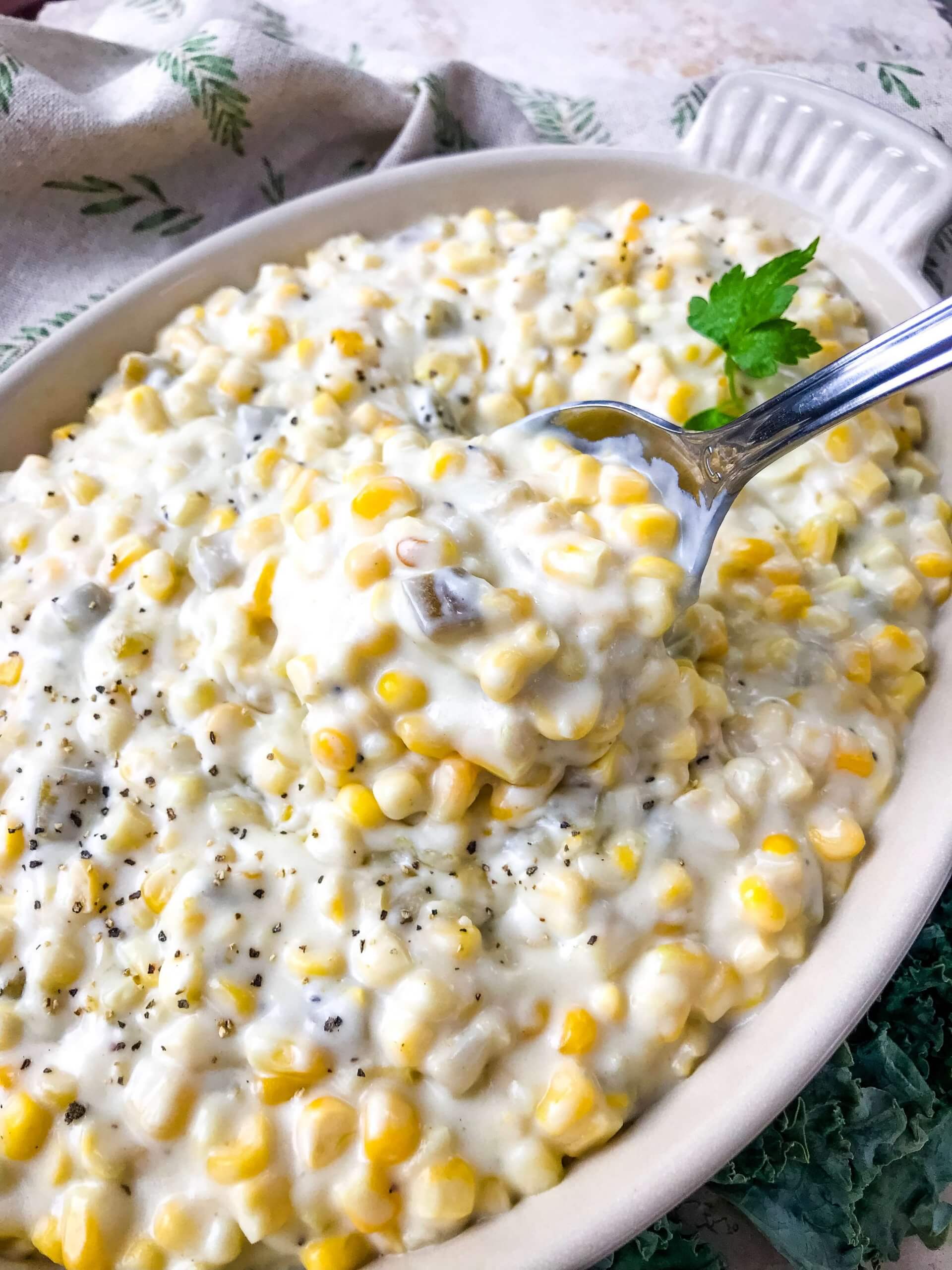 Instructions
In a medium saucepan over medium heat, combine the corn, green chiles, heavy cream, butter, sugar, salt, black pepper, and ground red pepper.

In a small bowl, whisk the milk and cornstarch together to make a slurry. Pour into the corn mixture.

Stir and bring to a simmer over medium heat and cook until the sauce thickens, approximately 15 minutes. Season to taste with salt, black pepper, and ground red pepper for spice. Serve warm.
Notes
To make the corn less saucy, reduce milk to 1/2 cup.
You can use a thinner milk such as 2% in place of whole milk, but use less as it is thinner.
This is a mild heat recipe.  For a spicy dish, add hotter Hatch peppers or more ground red pepper.  You can get diced Hatch green chiles online here! Pick the heat level you prefer.
Nutrition
Serving:
1
serving
|
Calories:
305
kcal
|
Carbohydrates:
29
g
|
Protein:
5
g
|
Fat:
21
g
|
Saturated Fat:
12
g
|
Cholesterol:
68
mg
|
Sodium:
659
mg
|
Potassium:
270
mg
|
Fiber:
2
g
|
Sugar:
10
g
|
Vitamin A:
837
IU
|
Vitamin C:
4
mg
|
Calcium:
82
mg
|
Iron:
1
mg
More Hatch Green Chile Recipes
More Hatch Green Chile Recipes
By