Green Chile Cornbread Casserole makes a perfect side dish recipe for your Thanksgiving meal! A great holiday recipe idea that is fast and easy to make. A fun Mexican twist on a Southern corn casserole recipe with chile peppers and cheese.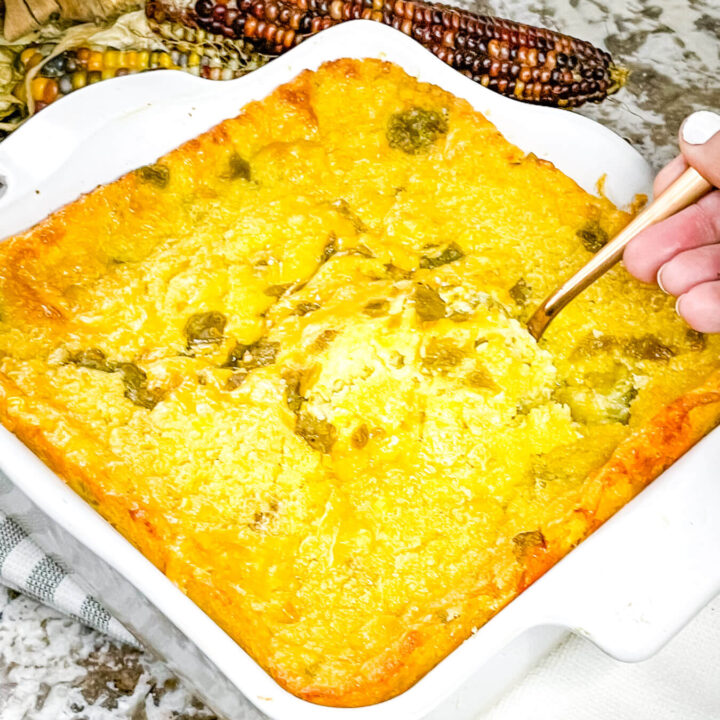 Kick up your corn casserole by making this Green Chile Cornbread Casserole! A perfect side dish for any holiday that takes just minutes to assemble.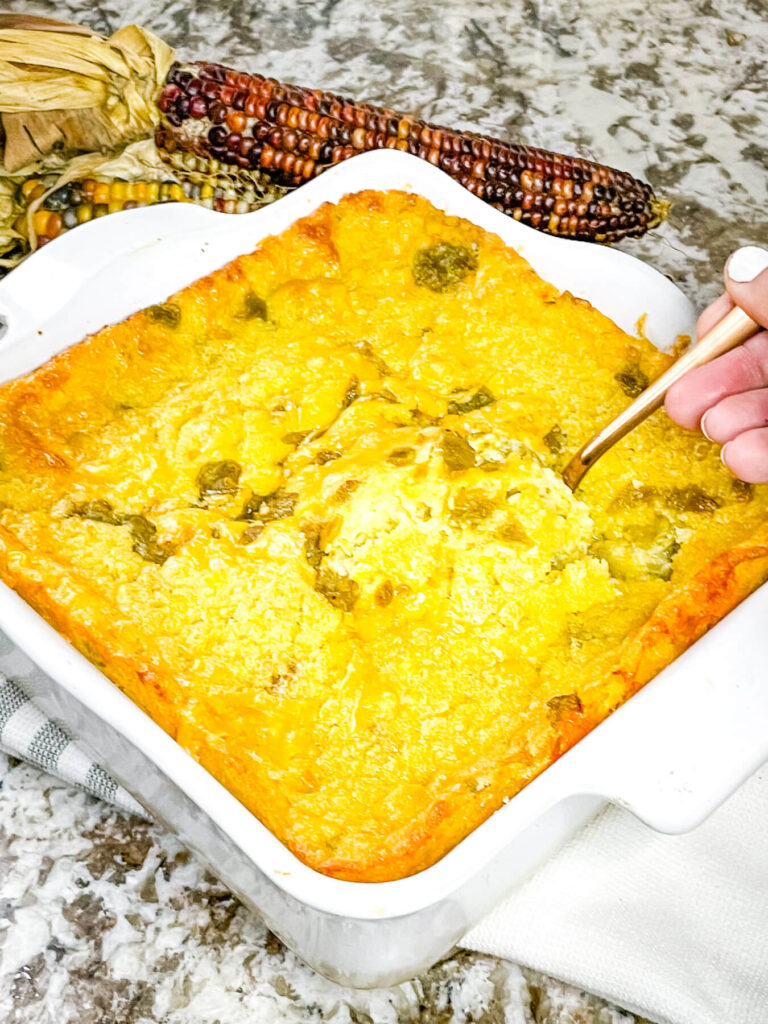 Mexican Corn Casserole
So my Green Chile Creamed Corn was a surprisingly huge hit when I posted it, especially around the holidays!
So when I ventured into corn casseroles, I knew I needed to make a version that used the same flavors.
This corn recipe highlights three different kinds of corn while incorporating roasted chile peppers and cheddar cheese. What is not to love?!?
What is Corn Casserole?
I did not grow up eating corn casserole but I LOVE corn, so I did a bunch of research about what the difference was with corn casserole, pudding, etc.
The best way I can describe corn casserole is that it is like an soft, saucy cornbread. Almost like undercooked cornbread with a lot of moisture.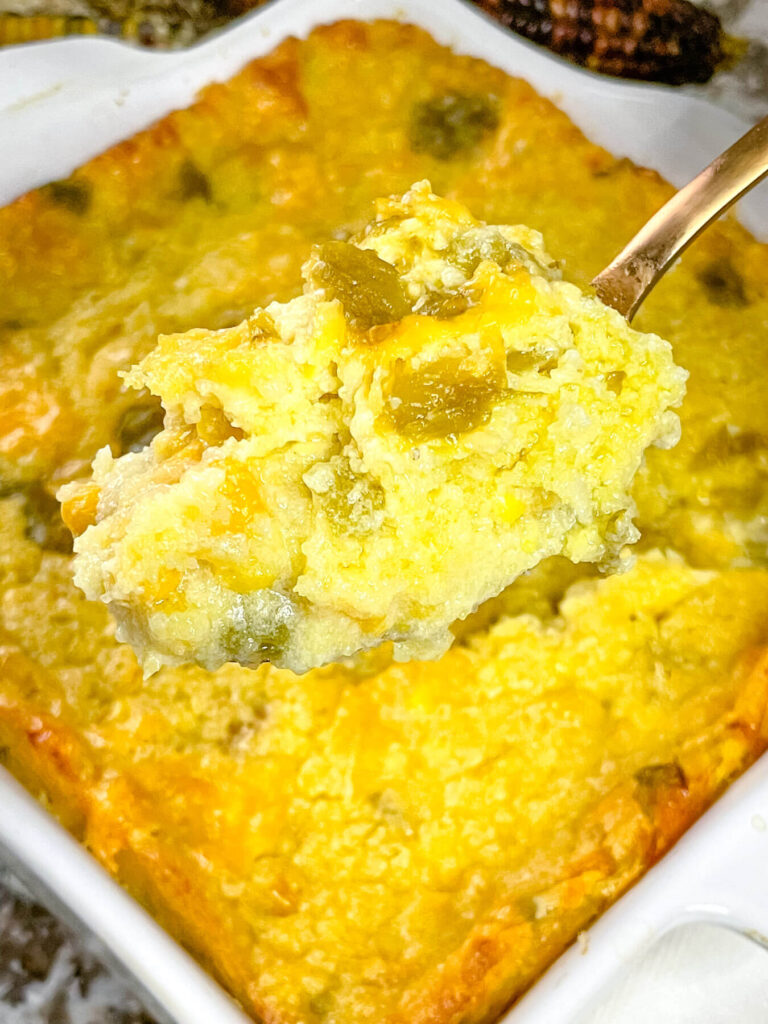 Ingredients
Here is what you need to make the cornbread casserole:
Canned Corn
Creamed Corn
Sour Cream (or plain Greek yogurt)
Butter
Garlic Powder
Diced Green Chiles
Cheddar Cheese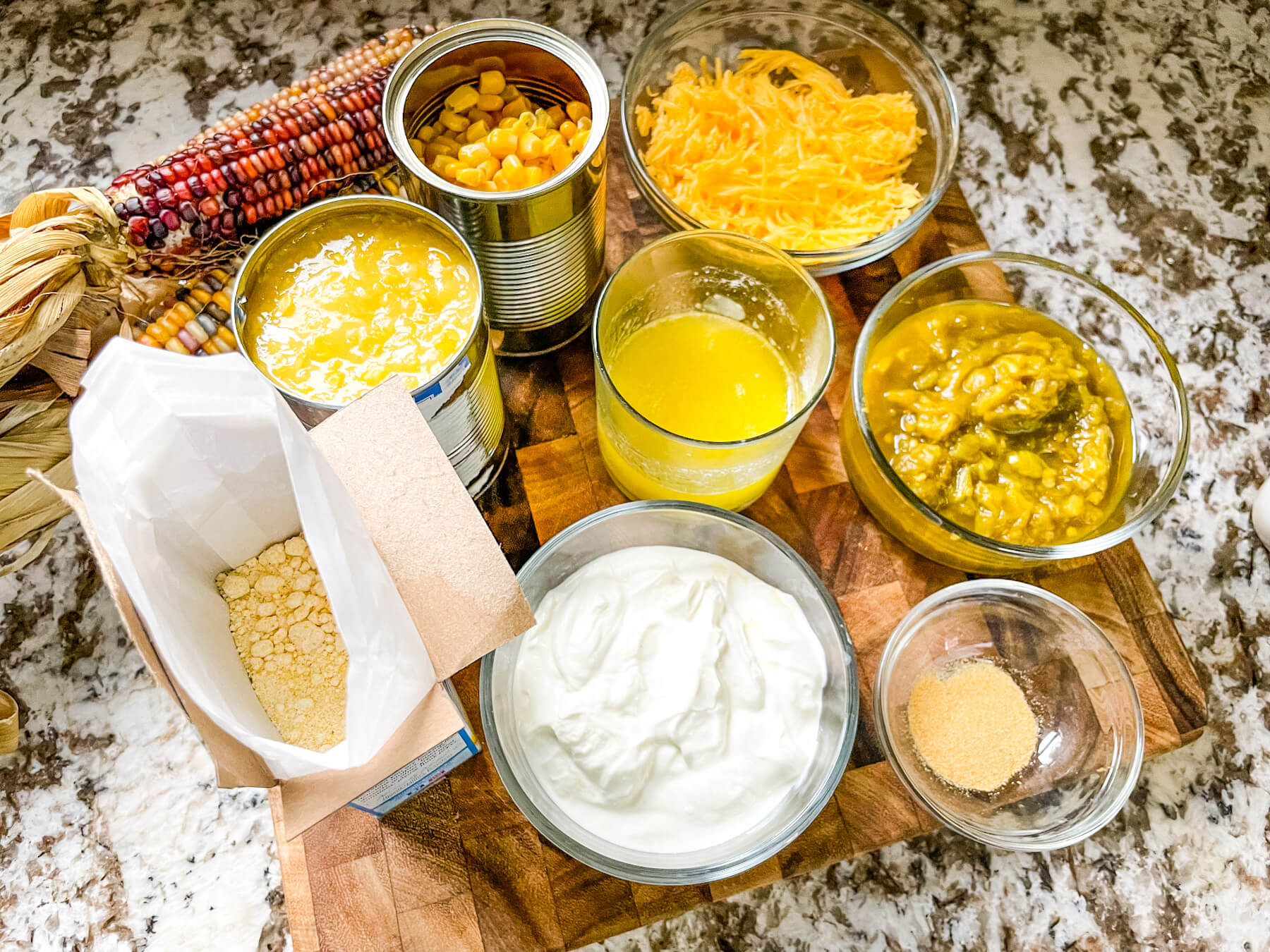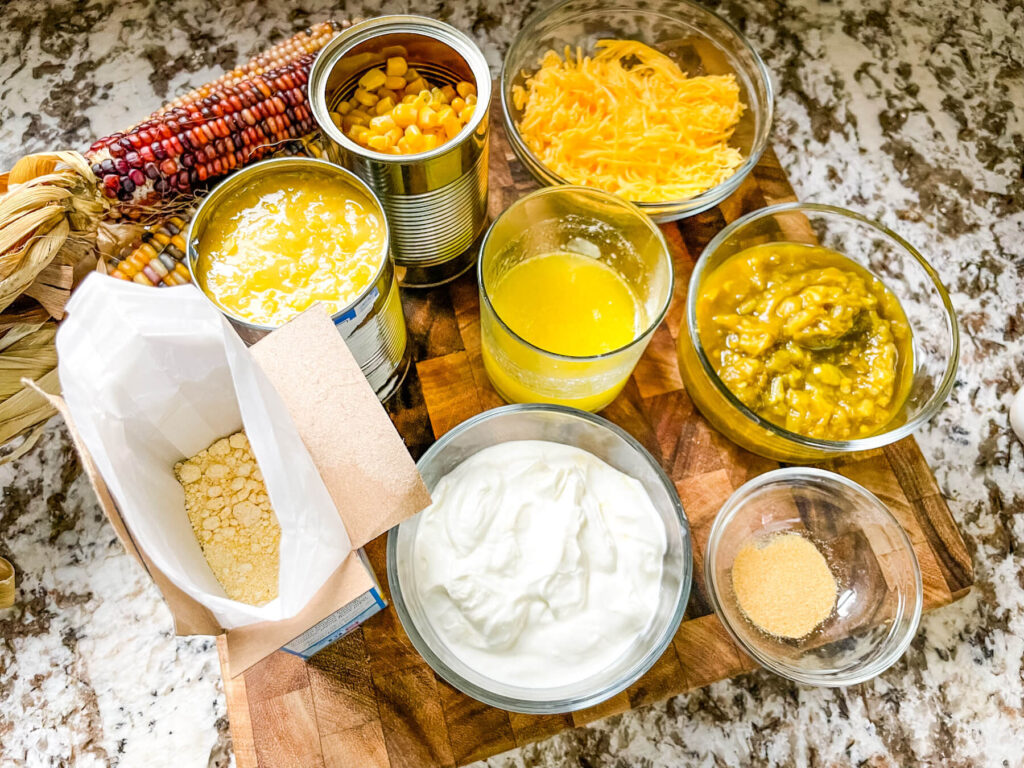 What are Hatch chile peppers?
These peppers are named after the town they originated in: Hatch, New Mexico.
They are long, somewhat thin, light green peppers.
If you are familiar with Anaheim peppers, they actually are very similar! Anaheim peppers were taken from Hatch to Anaheim, California and grown to be incredibly mild with very little heat.
What is so special about Hatch chiles?
These peppers have an amazing balance of sweetness, heat, and flavor. When you eat something with these peppers, it is special!
Are Hatch peppers hot?
They can be. I prefer to stick with mild peppers because you get amazing flavor, and can use a lot of it, without the heat being too high.
But you can use any heat level you prefer.
I also found that using 8 ounces of the peppers in this casserole made a really strong pepper flavor, but also made it hotter. So if you really need to go for mild, use just one 4 ounce can of mild peppers to be safe.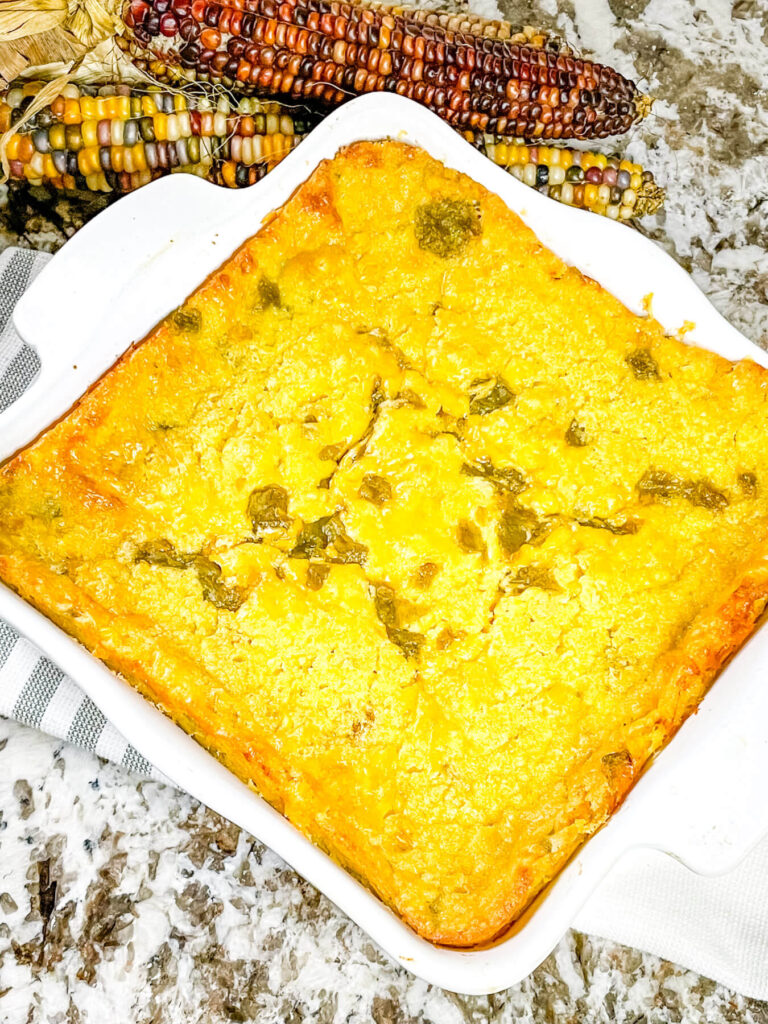 Instruction Overview
Preheat your oven because this comes together in no time!
Mix all of the ingredients together in a large bowl until just blended.
Then pour into an 8×8 baking dish. I like to spray with nonstick spray first to prevent it from getting stuck.
If desired, you can top it with more cheese. Bake it until it is the consistency you want. Traditionally, like an undercooked cornbread.
I find that this version takes about 5-10 minutes longer than one without peppers and cheese, since they are bringing added moisture. So it takes around 55 minutes.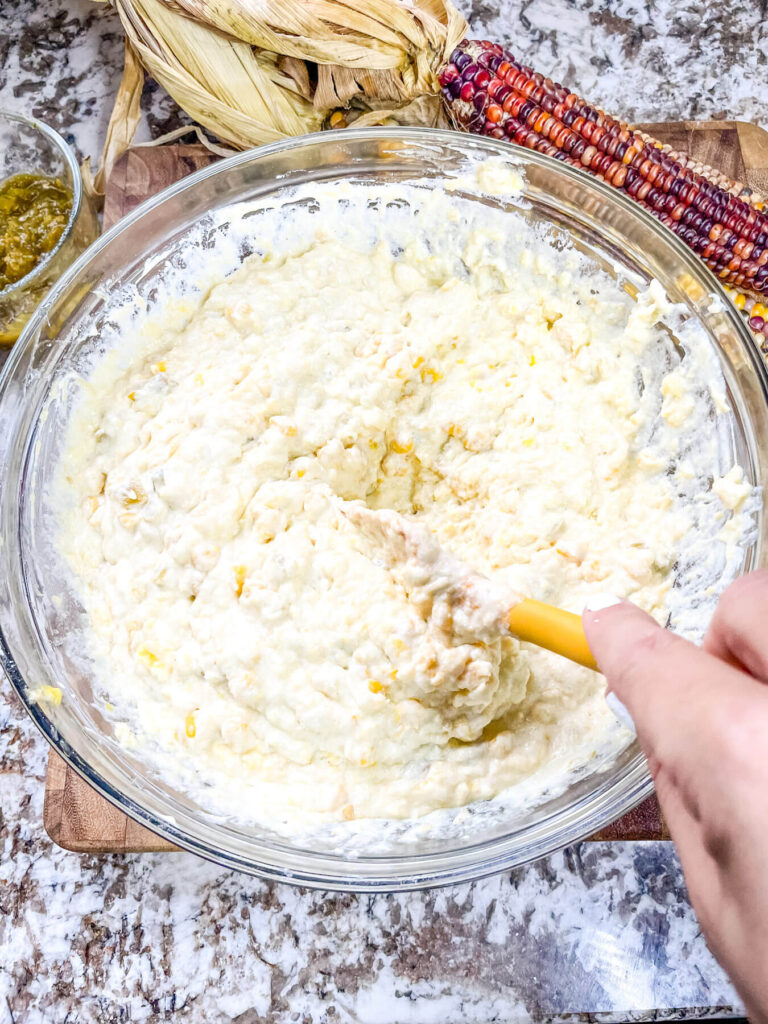 Recipe Video – YouTube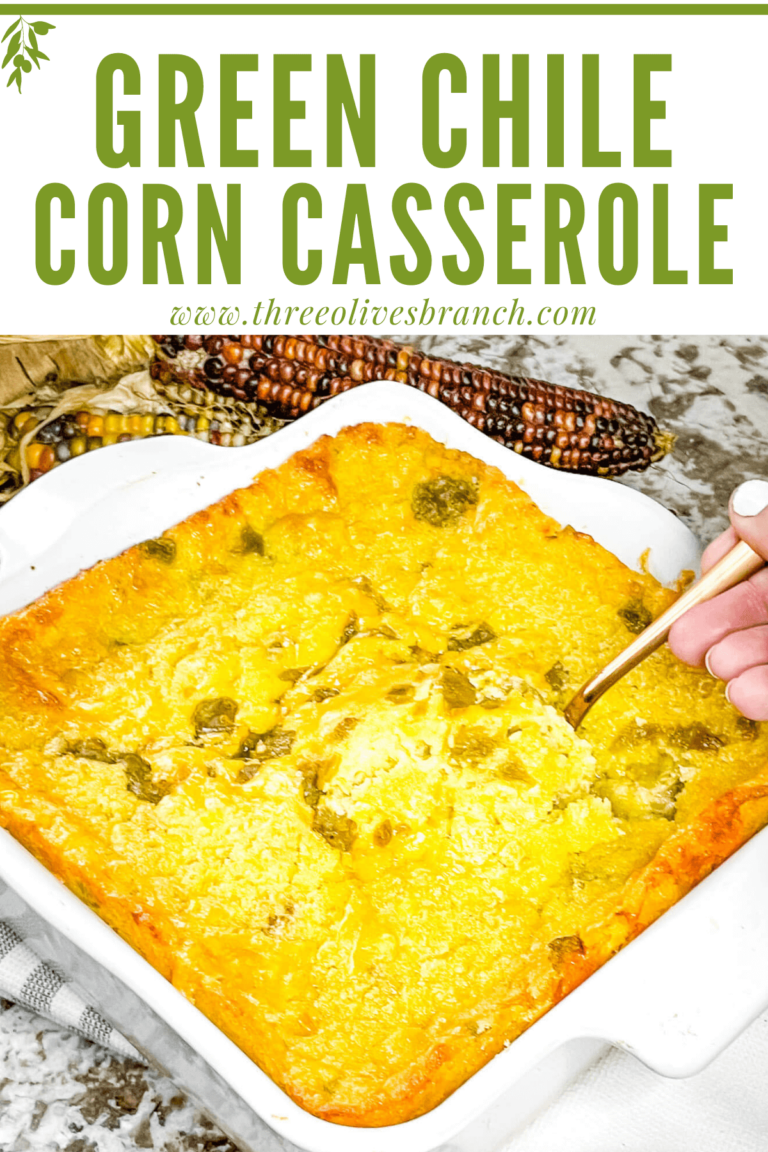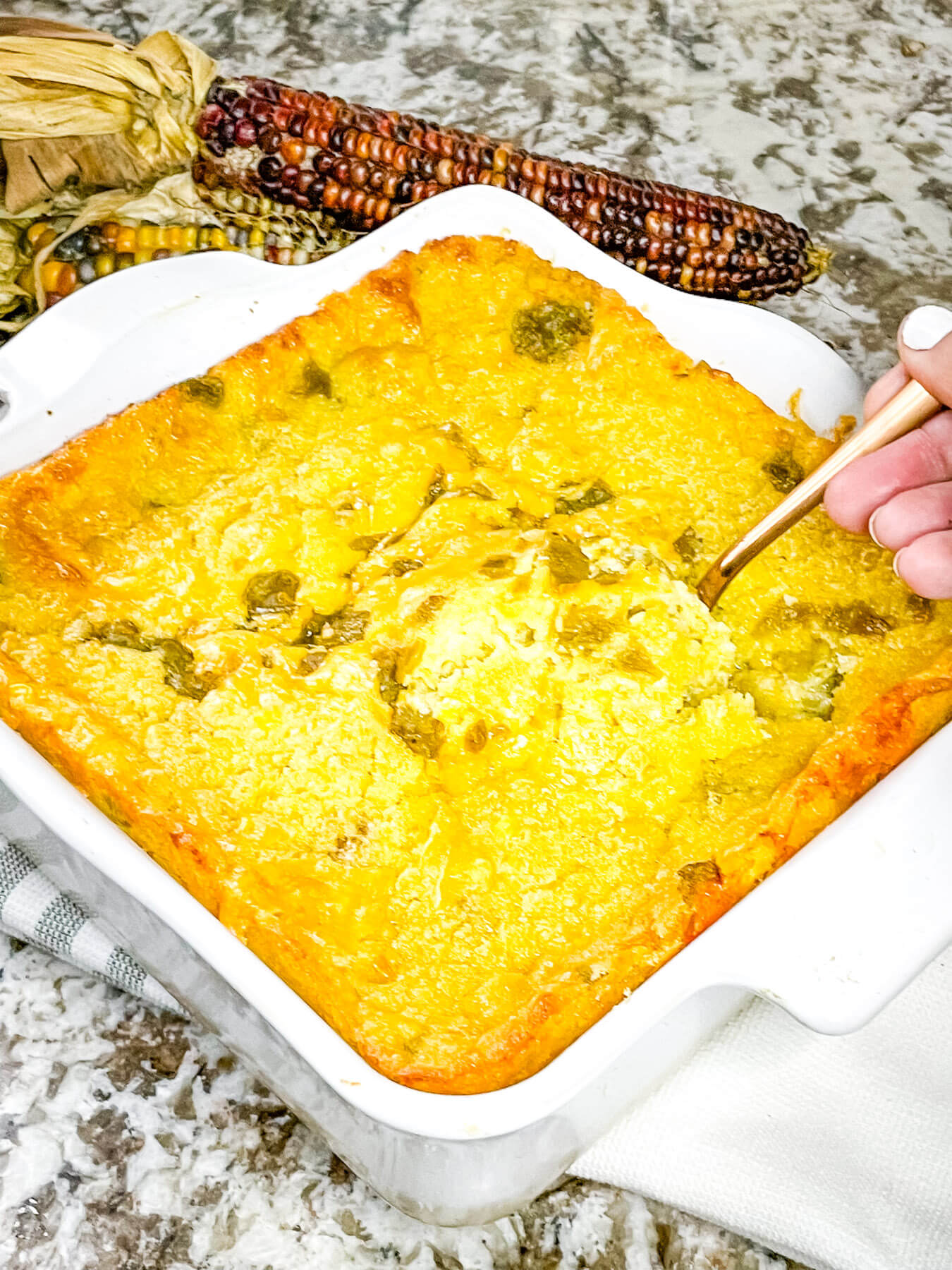 Instructions
Mix all of the ingredients together in a large bowl.

Pour the batter into an 8×8 inch baking dish.

Bake until golden brown with the center still soft, approximately 45 minutes. Cook more or less as desired for consistency that is preferred.
Video
Notes
The exact weight/volume of the canned products will vary slightly. It does not have to be exact, just close.
Nutrition
Serving:
1
serving
|
Calories:
564
kcal
|
Carbohydrates:
53
g
|
Protein:
12
g
|
Fat:
35
g
|
Saturated Fat:
20
g
|
Polyunsaturated Fat:
2
g
|
Monounsaturated Fat:
11
g
|
Trans Fat:
1
g
|
Cholesterol:
81
mg
|
Sodium:
929
mg
|
Potassium:
375
mg
|
Fiber:
4
g
|
Sugar:
13
g
|
Vitamin A:
1042
IU
|
Vitamin C:
8
mg
|
Calcium:
221
mg
|
Iron:
2
mg
Thanksgiving Side Dishes
Delicious side dish recipes for Thanksgiving!

By