A fast and easy appetizer recipe ready in 20 minutes, Horseradish Roast Beef Pinwheels combine classic flavors in a party finger food. Roast beef is layered with a horseradish cream cheese mixture and rolled in flour tortillas. #gamedayrecipes #partyappetizers #holidayappetizers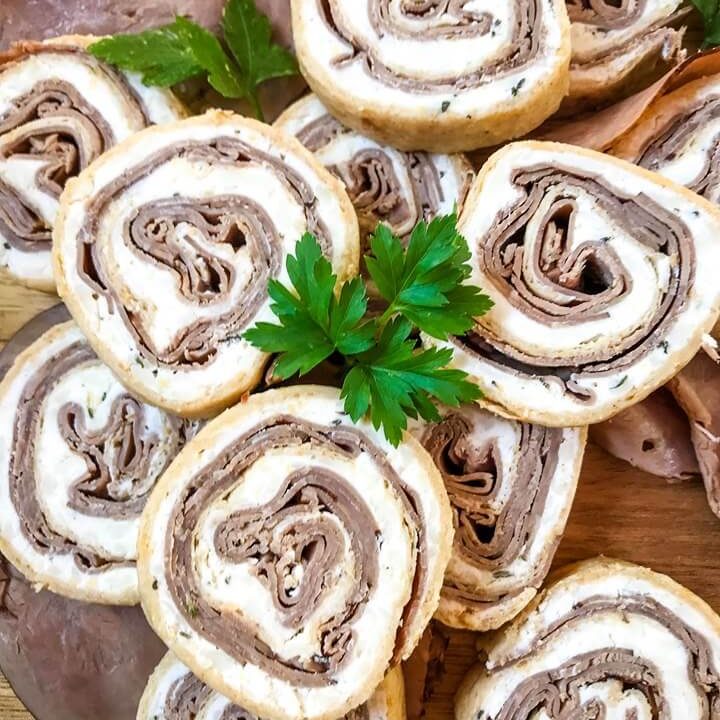 Horseradish Roast Beef Pinwheels are a fast and easy appetizer for party entertaining. Roast beef slices are layered with a horseradish cream cheese mixture, flavored with thyme and horseradish, and rolled in large flour tortillas. So simple!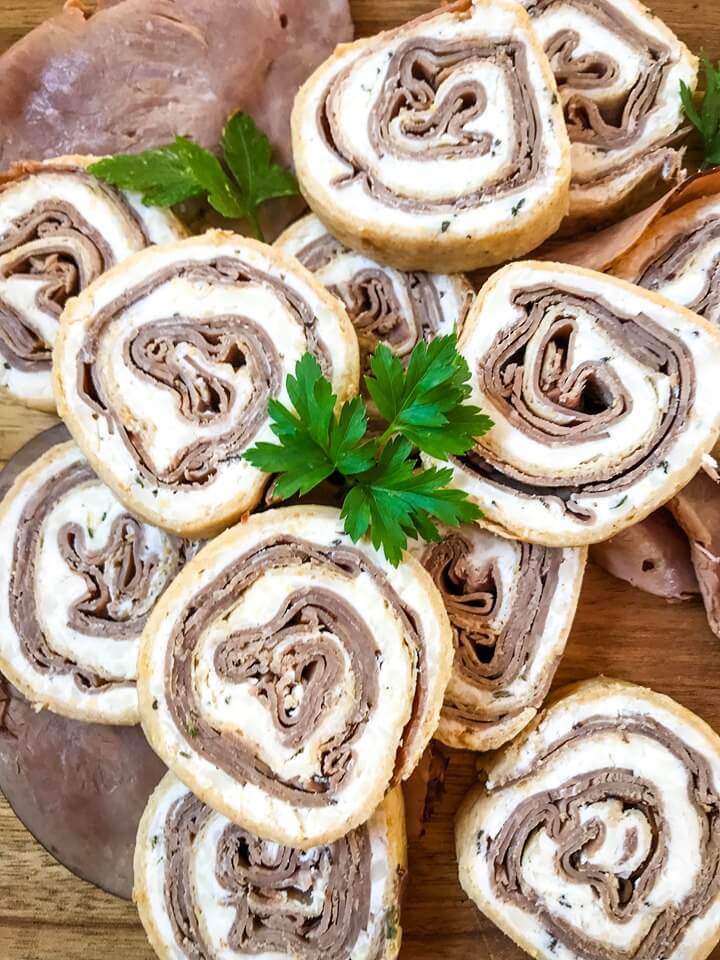 Why You Will Love This Recipe
Roast beef and horseradish are a classic combination.  These Horseradish Roast Beef Pinwheels or roll ups are a perfect way to enjoy those same flavors in a simple recipe.  These flavors are a throw back to those family and holiday meals.
I love making pinwheels (or roll ups) for parties.  They are so fast and easy to make, and hold very well when made in advance. 
The flavor combinations are also endless, so they offer a lot of variety.  Find more pinwheel recipes here!  
Pinwheels are so versatile, they can be used as finger food at fancier parties or holiday parties, but also make a great option for casual gatherings like game day.  They can be made in advance and hold over well.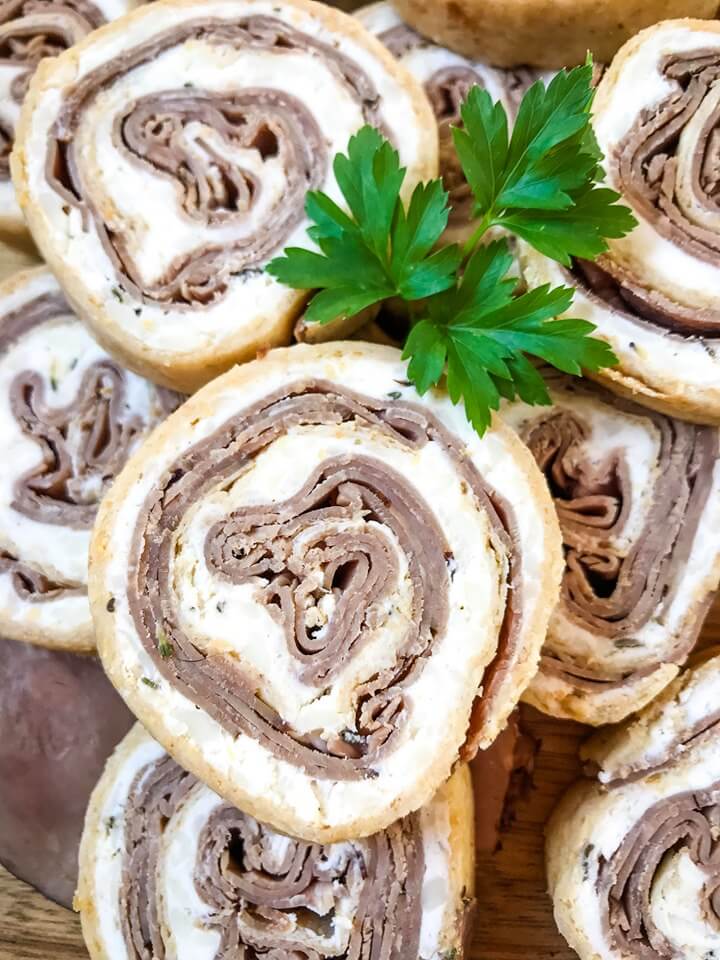 Ingredients
These are the ingredients you need for this recipe:
Roast Beef Slices
Large Flour Tortillas
Cream Cheese
Monterey Jack Cheese
Prepared Horseradish
Dried Thyme
Garlic Powder
Salt
Prepared Horseradish – This is the raw, chunkier version of horseradish.
Equipment
This is the equipment you need to make the recipe:
Medium Bowl
Spatula
Serrated Knife
Instruction Overview
To make the Horseradish Roast Beef Pinwheels, first mix the cream cheese mixture by combining the cheeses, thyme, spices, and horseradish together. 
You can add as much or little horseradish as you would like based on your spice preference. 
If you are concerned, start with only 1/2 Tablespoon, and add more as desired to taste. 
Then spread the mixture out across the tortillas and layer on the roast beef. 
Tightly roll up the tortillas into logs, without squeezing out the cheese, and chill. 
Chilling the logs helps the cheese to set so it does not leak out and also makes them easier to cut. 
Slice them up into rounds and serve.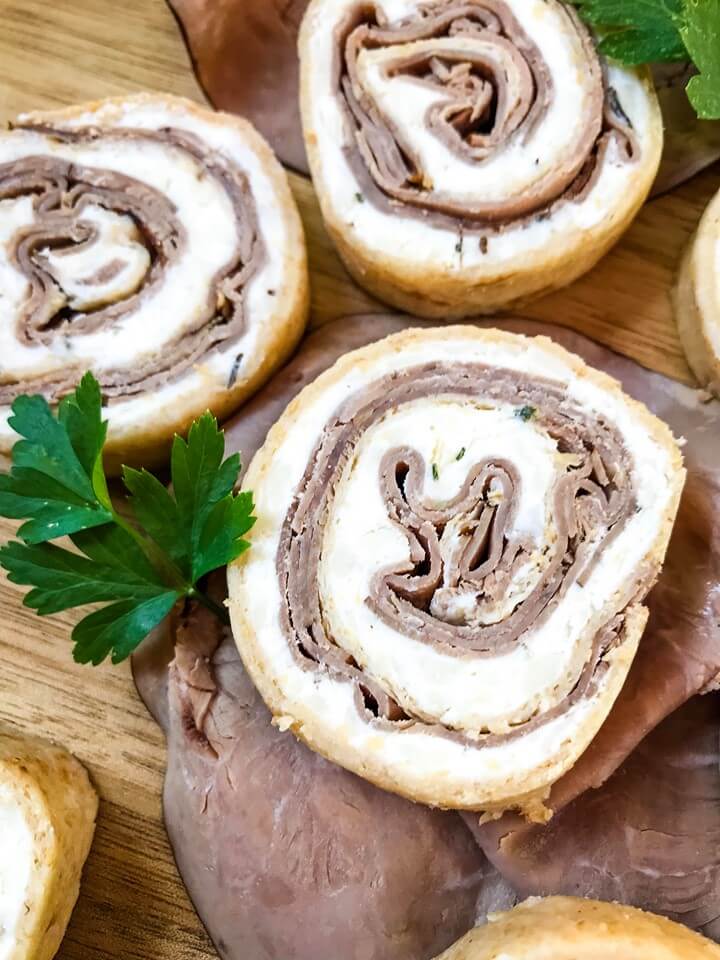 Modifications and Substitutions
Use more or less horseradish as desired.
Prepared horseradish is stronger. Creamy horseradish can be used but you will likely need to use more. Also be careful of the consistency as too much creamy horseradish can make the cheese mixture thin and messy.
Monterey Jack can be swapped for mozzarella cheese.
Thyme can be swapped for rosemary.
You can use fresh herbs instead of dried if desired. Use 1 teaspoon if fresh.
Kim's Tips
Briefly freezing was the best way to get the cheese to set up quickly without overchilling.
If you chill too long, it is more difficult to slice but still possible.
FAQs
What are beef pinwheels made of?
The key ingredients are roast beef, tortillas, cream cheese, shredded cheese, and spices.
Find more specifics above in the ingredients section.
How do you get pinwheels to stick?
They stick because of the cheese mixture.
The mixture is sticky and thick enough to help hold everything together. And this is further helped by the mixture being chilled and setting up some.
Do you refrigerate pinwheels before cutting?
Yes, you want to chill them. This makes them much easier to slice.
Can I make cold pinwheels the day before?
Yes! They hold over very well.
How do you roll tight pinwheels?
As you roll, pull the top piece tightly into the middle and continue to pull toward you and toward the middle as it is rolled up.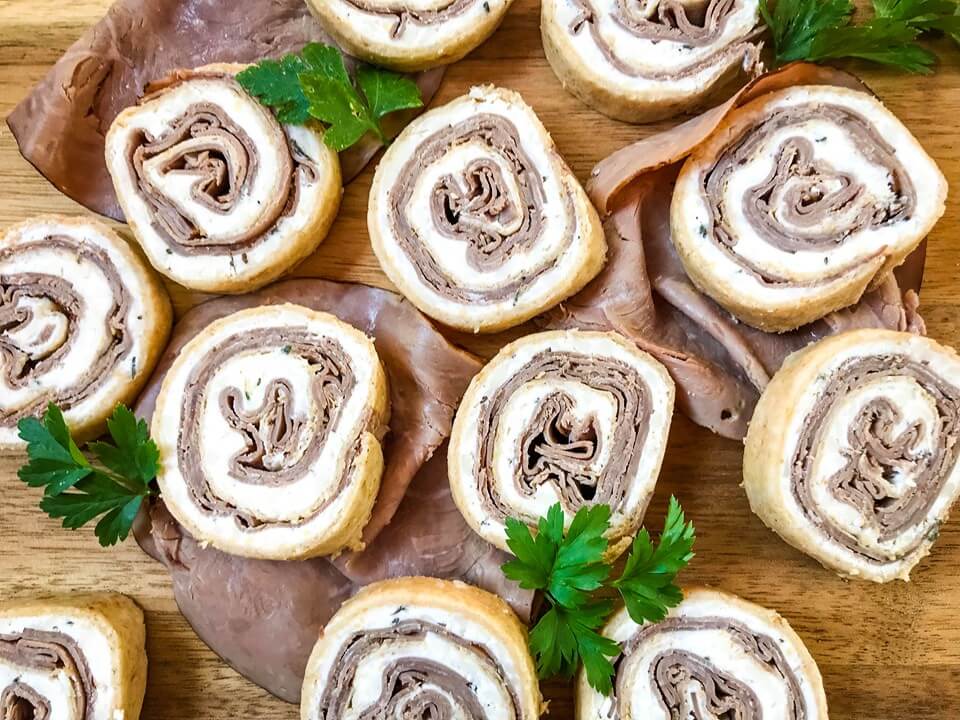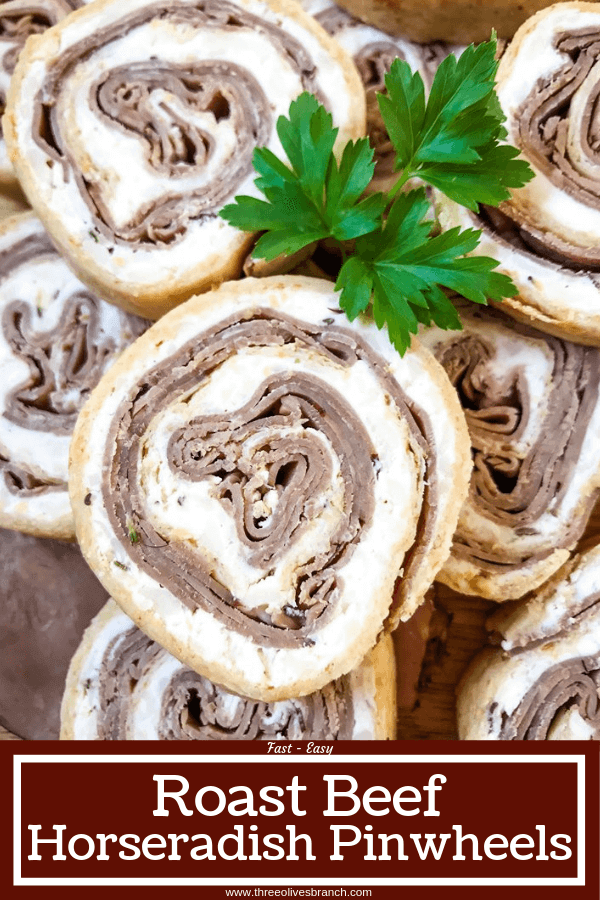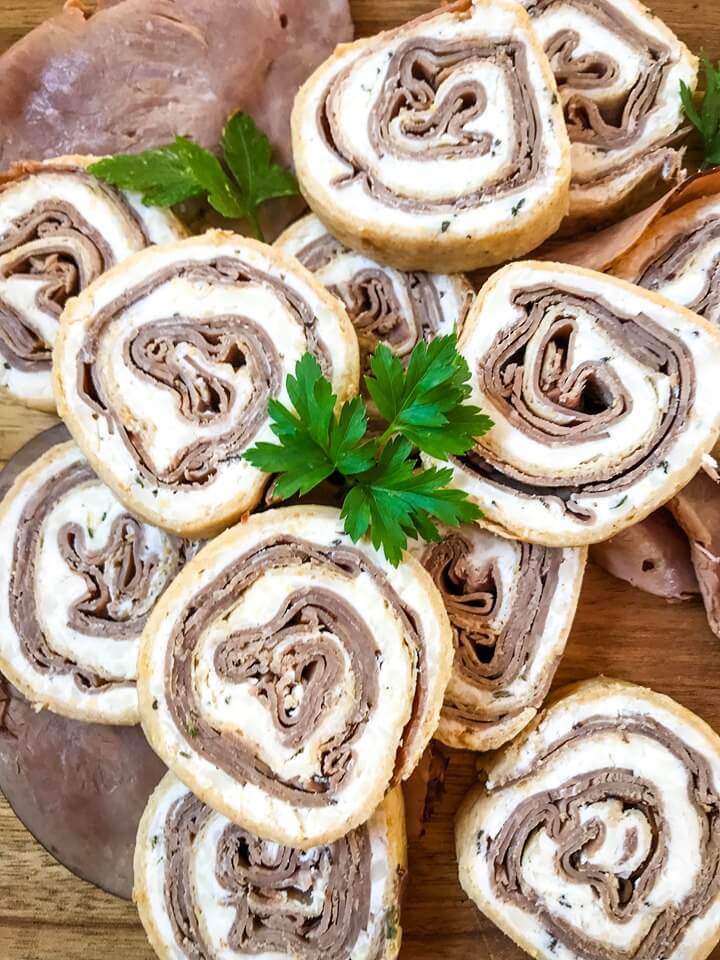 Instructions
Make the cheese mixture by combining the cream cheese, Monterey Jack, horseradish, dried thyme, garlic powder, and salt in a small bowl. Set aside.

4 ounces cream cheese,

1/3 cup shredded Monterey Jack cheese,

1 Tablespoon prepared horseradish,

1/2 teaspoon dried thyme,

1/4 teaspoon garlic powder,

1/4 teaspoon salt

Spread the cheese mixture across both tortillas to the edges in an even, thin layer. I skip spreading to the right and left edges by about an inch because the ends will be thrown out.

Layer the slices of roast beef across the cheese mixture.

Starting from the bottom, roll the tortilla up rather tightly but without squeezing the cream cheese mixture out.

Chill the logs in the freezer for 10 minutes to firm up, or in the refrigerator if waiting longer before serving. The chilling will make them easier to slice and create cleaner cuts without everything oozing out.

When ready to serve, use a serrated knife to cut the log into half inch rounds (or as thick/thin as preferred). Discard the ends where the log is hollow (or snack on them!). Serve immediately.
Notes
You can also use regular large tortillas however you will get fewer pinwheels per tortilla and will need more to use up the cheese mixture.
If you choose to use a cream horseradish, you may need to add more as it may not have as much of a flavor punch.
Nutrition
Serving:
1
piece
|
Calories:
49
kcal
|
Carbohydrates:
3
g
|
Protein:
3
g
|
Fat:
3
g
|
Saturated Fat:
1
g
|
Cholesterol:
12
mg
|
Sodium:
227
mg
|
Potassium:
42
mg
|
Fiber:
1
g
|
Sugar:
1
g
|
Vitamin A:
76
IU
|
Vitamin C:
4
mg
|
Calcium:
48
mg
|
Iron:
1
mg
More Pinwheel Recipes
Pinwheel Roll Up Recipes
Some of our popular pinwheel, or roll up, recipes! Perfect for parties, entertaining, snacks, and lunch!

By