Individual Italian Charcuterie Cups are a perfect Italian appetizer recipe! Antipasto skewers in green, white, and red to look like the Italian flag. Perfect for a holiday and Christmas! An easy finger food party recipe with meat and cheese.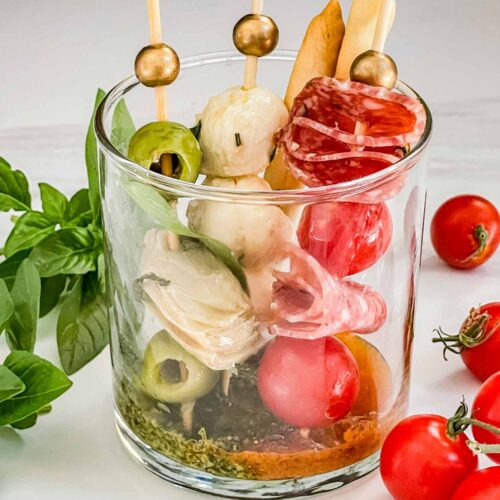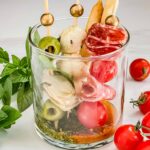 These Individual Italian Charcuterie Cups are perfect appetizers for a holiday party, especially Christmas! Using Italian antipasti flavors on skewers for an easy handheld holiday snack.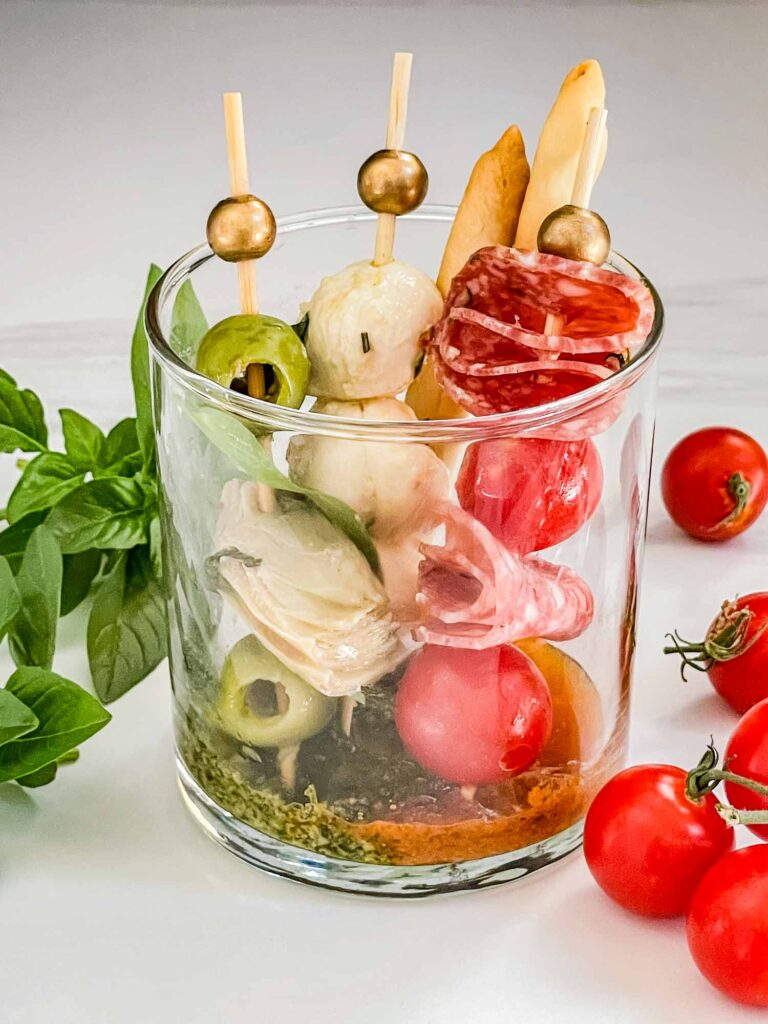 Why You Will Love This Recipe
Individual charcuterie cups are a delightful and trendy way to serve a variety of Italian cold cuts and accompaniments in a single, portable, and visually appealing container. These cups are often prepared for parties, picnics, or as appetizers for events.
Inspired by an Italian Charcuterie Board, these individual portions of Italian Charcuterie Cups are perfect for handheld appetizers at a party. If you love Italian meats and Italian cheeses, this is the appetizer recipe for you!
They are designed to represent the Italian flag in red, white, and green colors, also making them perfect as Christmas charcuterie cups for the holiday season! They are also great for a bridal shower, baby shower, birthday party, or any gathering.
You can also easily accommodate various dietary needs with this charcuterie recipe. Whether gluten free, vegetarian, dairy free, or low carb, you can skip certain ingredients as needed for each cup.
Whether you're making them for a special occasion or just for a casual snack, individual Italian charcuterie cups are a delightful way to enjoy a taste of Italy's culinary traditions.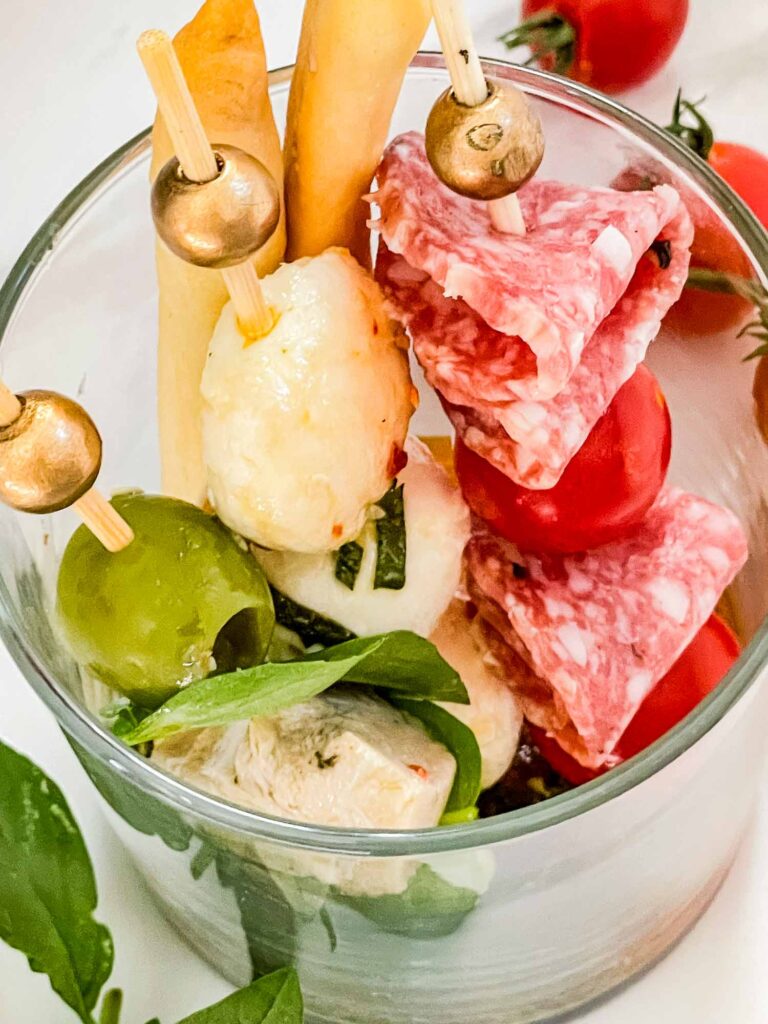 Ingredients
Here are a collection of ideas for ingredients that can be used for these mini charcuterie cups.
To keep the Italian flag pattern, if desired, keep in mind a balance of things that are red, white, and green for each skewer.
We are using the ingredients from a traditional charcuterie board as inspiration for these antipasto skewers. Think lots of meat option, white cheeses, and more for different textures and a delicious bite. Everything good charcuterie should be!
Charcuterie cups are highly customizable, allowing you to tailor them to your preferences or the preferences of your guests. You can experiment with different combinations of meats, cheeses, and accompaniments to create a unique experience.
Red
Meats – Italian charcuterie typically includes a selection of cured Italian meats, such as prosciutto, genoa salami, and coppa. These meats are sliced thin and then folded to put on the skewers, and are often the star of the charcuterie cup. Italian dry salami is one of my favorites to use. Use an assortment of meats or just one – whatever you like!
Cherry Tomatoes – a good option to bring something fresh to the mix. Grape tomatoes will also work.
Roasted Red Peppers – Roasted red peppers are a common addition, adding a sweet and smoky note to the charcuterie cups. They also provide a pop of color.
Sundried Tomato Vinaigrette – A great dressing to bring additional flavor and color! I like to put some in the bottom of the cup.
White
Cheese – Cheeses play a crucial role in Italian charcuterie. Common choices on a cheese board include the Italian cheeses of mozzarella, provolone, Parmesan, and gorgonzola. These cheeses add richness and complement the meats. Harder cheeses will be difficult to skewer as they will crack easily. Soft and semi-soft cheeses are best for this reason. Goat cheese balls are another great option!
Marinated Mozzarella Balls are what I used for the white in these skewers. They are easy to make and a special homemade addition with lots of flavor!
Breadsticks – To accompany the charcuterie, small pieces of crusty Italian bread or artisanal crackers are often served on the side. They provide a vessel for assembling bite-sized combinations of meats, cheeses, and other ingredients. I love to make my Rosemary Grissini, a homemade thin breadstick recipe with tons of flavor. Simply cut them down to an appropriate size for your cup.
Green
Olives – Italian olives, such as Castelvetrano, are often included for their briny and savory flavors. They provide a nice contrast to the meats and cheeses. You can even use our delicious homemade Blue Cheese Stuffed Olives if desired!
Artichoke Hearts – Marinated or grilled artichoke hearts are a great addition to offer a slightly tangy and earthy element to the cup.
Fresh Basil Leaves – Fresh herbs such as basil, parsley, or thyme can be used to garnish the cups, enhancing the overall flavor and appearance. Basil is perfect for the skewers as they are wide and large enough for a visual impact.
Basil Pesto – Another great sauce to put in the bottom of the cup for additional flavor!
Presentation
Presentation is essential with this appetizer cups, as the visual appeal of these cups is a significant part of their charm.
To be able to see the colors and flag pattern, it is recommended to use a clear plastic cups or glasses for the antipasto skewers.
Put the ingredients on cocktail picks for easy eating.
A great way to add flavor and variety is with including some sauces in the bottom of the cups. It also brings different textures to the cups.
I like to use some fresh homemade basil pesto and sun-dried tomato vinaigrette to keep with the red and green theme.
When assembling these charcuterie cups, it's essential to balance flavors, textures, and colors for a visually appealing and flavorful result.
The best way to serve these individual charcuterie cups is to have them all prepared and ready to grab for a party!
Alternatively to accommodate preferences and dietary needs, you can have pre-built skewers with variety that guests can select from.
FAQs
What is charcuterie cups?
Charcuterie cups are small charcuterie board representations in individual cups, making them an easy grab for a party and finger food. They are typically on skewers full of meat, cheese, and other items.

What size cup to use for charcuterie cups?
The range of 7 to 9 ounces is great for a charcuterie cup, but it does depend on how much you want to put in each cup. Using short rocks glasses is also great if you already have them on hand!
What is the Italian version of charcuterie board?
Charcuterie boards tend to have a large amount of Italian ingredients. Items such as salami, prosciutto, parmesan, fontina, mozzarella, and more are common ingredients.
Can you make charcuterie cups the night before?
Yes, you can make charcuterie cups the night before but you will want to make sure they are covered either in plastic wrap on in a container. Alternatively, since we are making these on a skewer, the skewers can be assembled and wrapped or placed in containers for fast and easy assembly in the cups when ready to serve.
How do you set up a charcuterie cup?
To make charcuterie cups, place your items on skewers. If desired, place sauces in the bottom of each cup. Drop the skewers into the cup with the grabbing end at the top and place out to serve.
Shop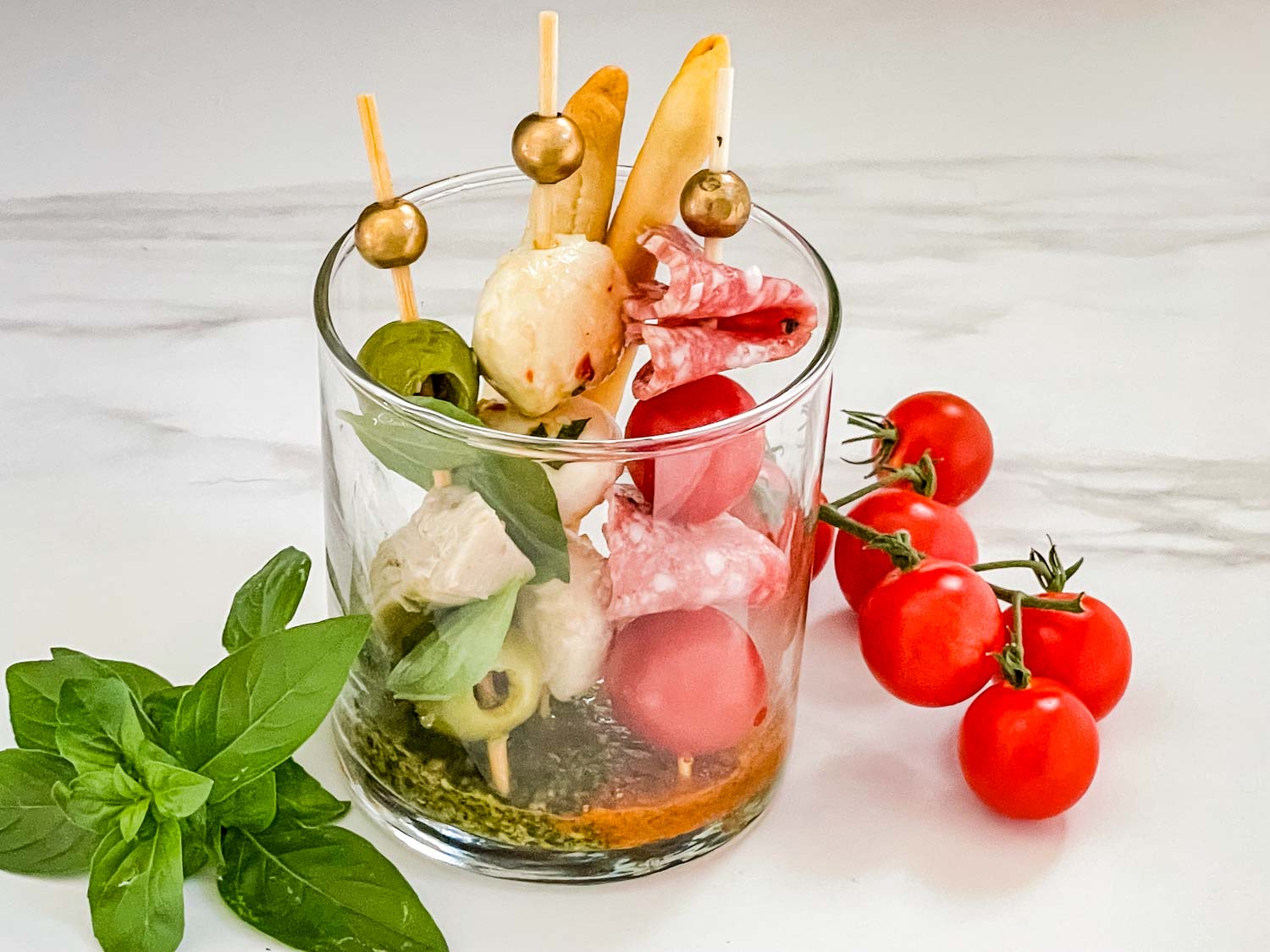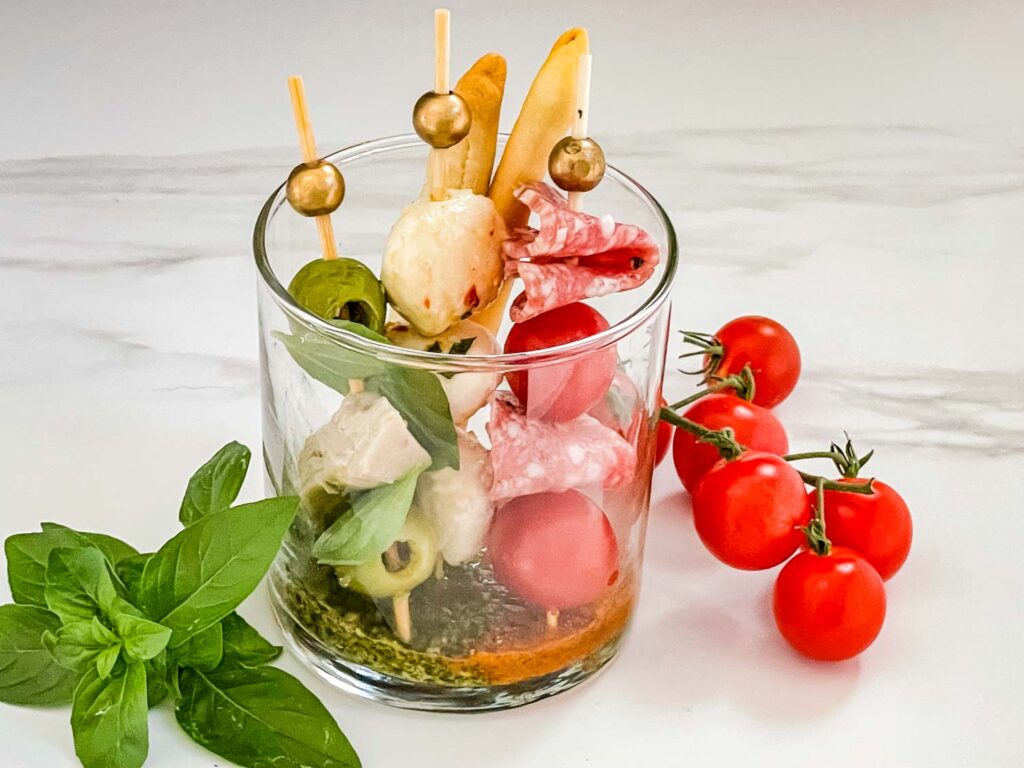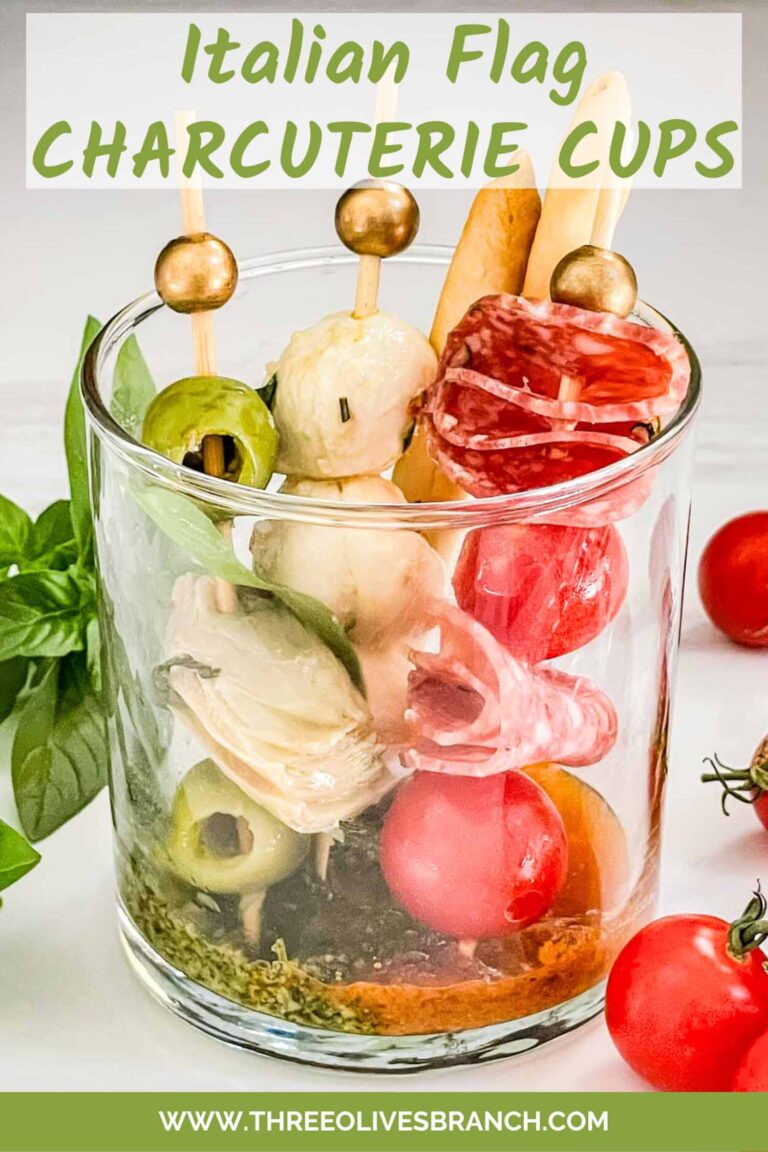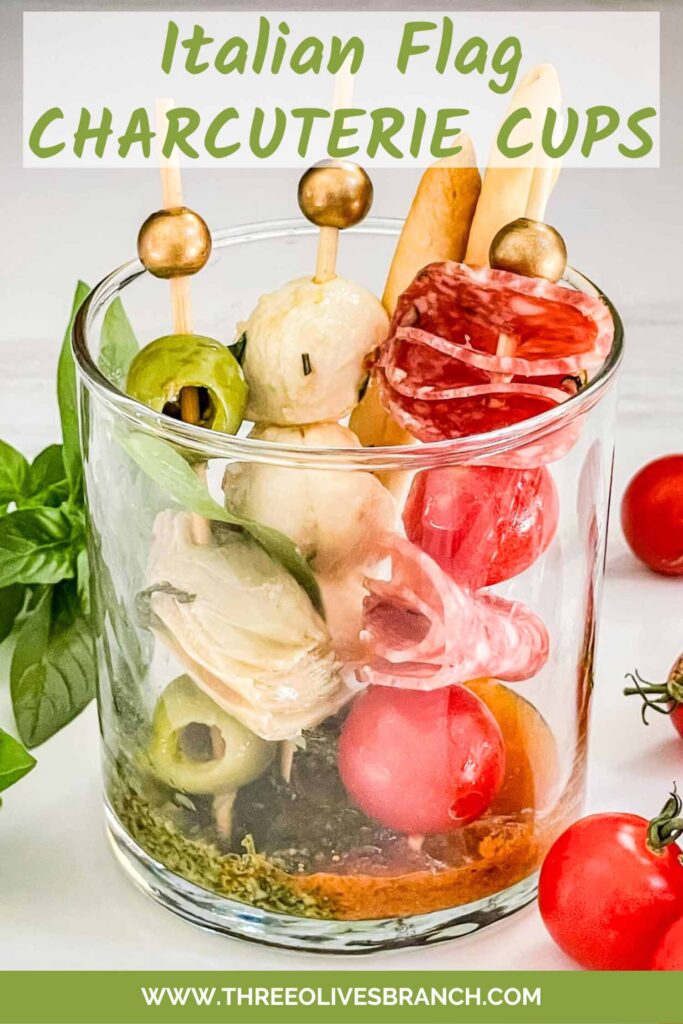 More Italian Antipasti Recipes
Italian Antipasti Recipes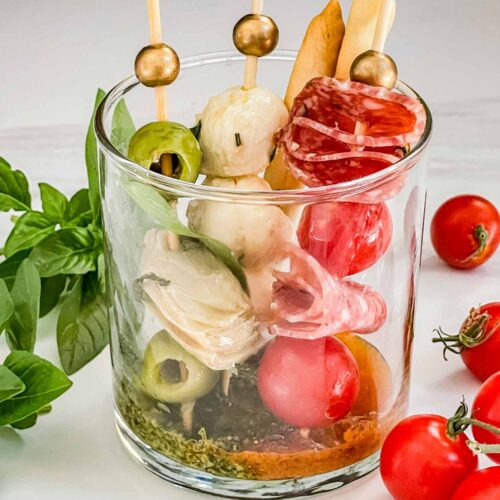 Individual Italian Charcuterie Cups
Individual Italian Charcuterie Cups are a perfect Italian appetizer recipe! Antipasto skewers in green, white, and red to look like the Italian flag. Perfect for a holiday and Christmas! An easy finger food party recipe with meat and cheese.
Print
Pin
Rate
Instructions
Have your ingredients ready to go.

Make your red skewer by alternating a salami, folded into quarters, with tomatoes. Two slices of salami and two tomatoes per skewer.

Make your white skewers by skewering three bocconcini mozzarella balls.

Make your green skewers by layering a green olive, artichoke heart quarter, basil leaf, and another olive.

In the bottom of each cup, pour in one Tablespoon of basil pesto on one side, and one Tablespoon of sun-dried tomato vinaigrette on the other side.

Place your skewers in the cup in the order of green, white, red. One of each color in each cup.

Snap some grissini breadsticks down to size (just sticking out of the cup, if using) and place behind the white skewer.
Notes
Use more or less of anything as desired, and swap out or add things that you want!
Other ingredient ideas include:
Red: Roasted Red Peppers, Prosciutto, Coppa, other cured Italian meats
White: Soft and semi-soft cheeses such as provolone, goat cheese balls, fontina 
Green: Blue Cheese Stuffed Olives
Nutrition
Serving:

1

cup

|

Calories:

152

kcal

|

Carbohydrates:

3

g

|

Protein:

5

g

|

Fat:

13

g

|

Saturated Fat:

3

g

|

Polyunsaturated Fat:

1

g

|

Monounsaturated Fat:

4

g

|

Cholesterol:

15

mg

|

Sodium:

684

mg

|

Potassium:

147

mg

|

Fiber:

1

g

|

Sugar:

1

g

|

Vitamin A:

541

IU

|

Vitamin C:

8

mg

|

Calcium:

36

mg

|

Iron:

1

mg

By