Orange Simple Syrup is a three ingredients easy condiment. Perfect sweet citrus flavor for drinks, cocktails, desserts, and more.

Orange Simple Syrup is a three-ingredients easy condiment. Perfect sweet citrus flavor for drinks, cocktails, desserts, and more.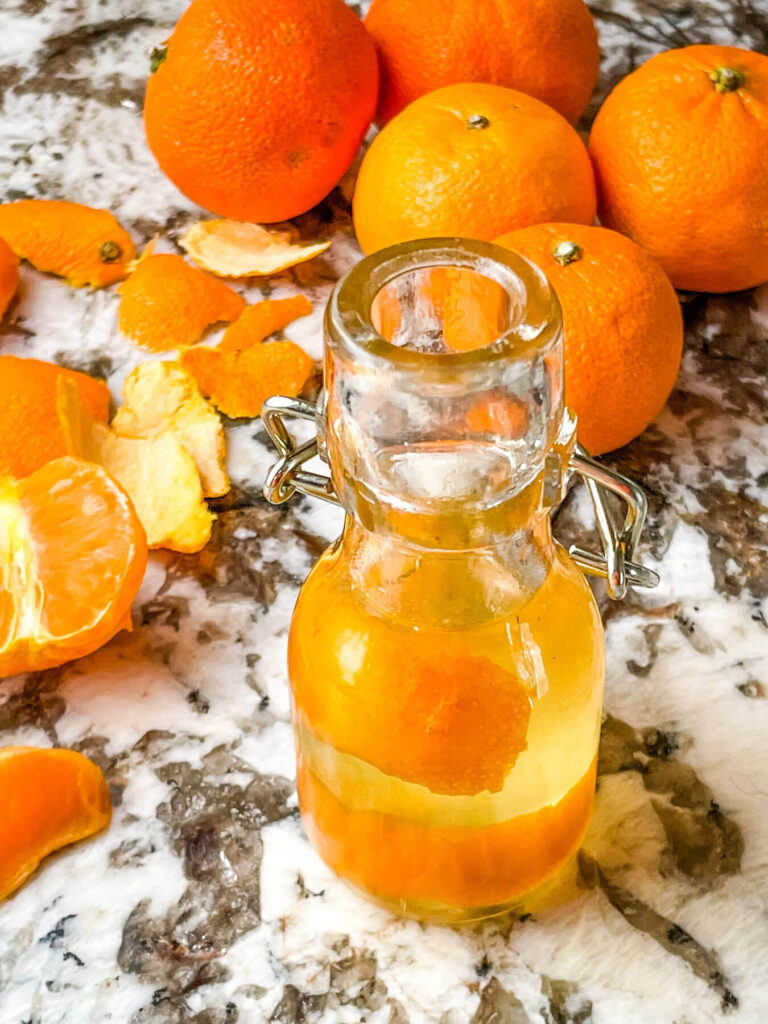 Homemade Sugar Syrup
One of my favorite things to do when I am hosting and making cocktails is have some flavored simple syrups to serve up!
The extra flavor is just perfect for enhancing a drink, plus it can be used in desserts as well.
This orange simple syrup is extremely versatile with a strong citrus flavor and great for the holidays.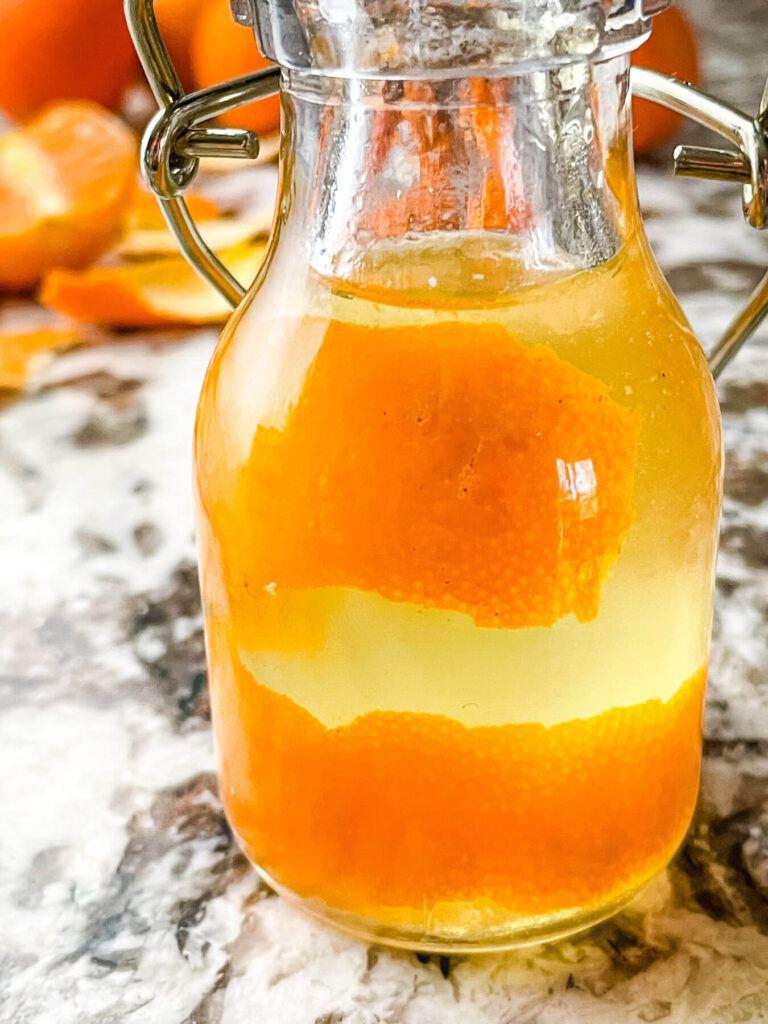 WHAT IS SIMPLE SYRUP?
Simple syrup is a basic and easy to make sweet syrup. Make simple syrup by combining sugar and water over heat until the sugar dissolves.
It is important to not let the sugar boil as it will start to crystalize and give you something much thicker or harder than a simple syrup.
Simple syrup can be used in various baked goods, such as to soak into cakes to keep moisture, but is most commonly known for its use in cocktails and drinks.
For cocktails, simple syrup brings sweetness to the drink and sometimes additional flavor if you are using an infused simple syrup, such as this Orange Simple Syrup.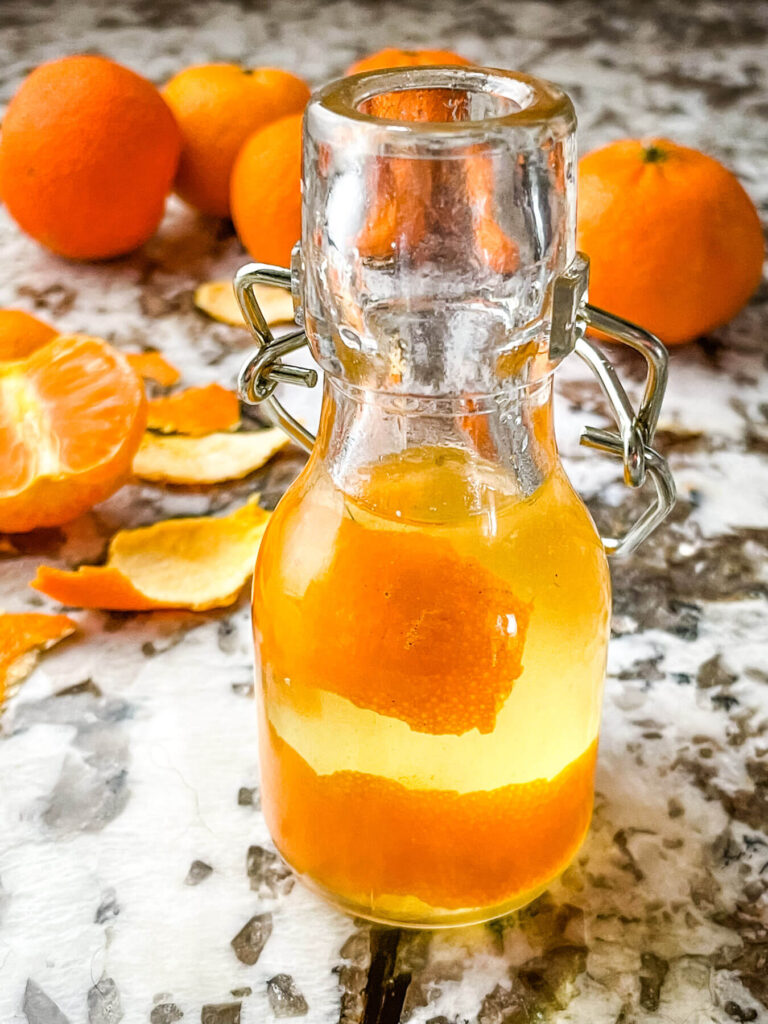 What is simple syrup made of?
A simple syrup is simply equal parts sugar and water – that's it!
You can choose to make it extra sweet by increasing the sugar up to twice the amount of water (such as 1 cup sugar to 1/2 cup water) however I have found this causes it to crystalize very easily.
When making a flavored simple syrup such as this orange one, there is a flavor component added, typically in the fashion of infusing the flavor with an ingredient soaking in the syrup when cooling.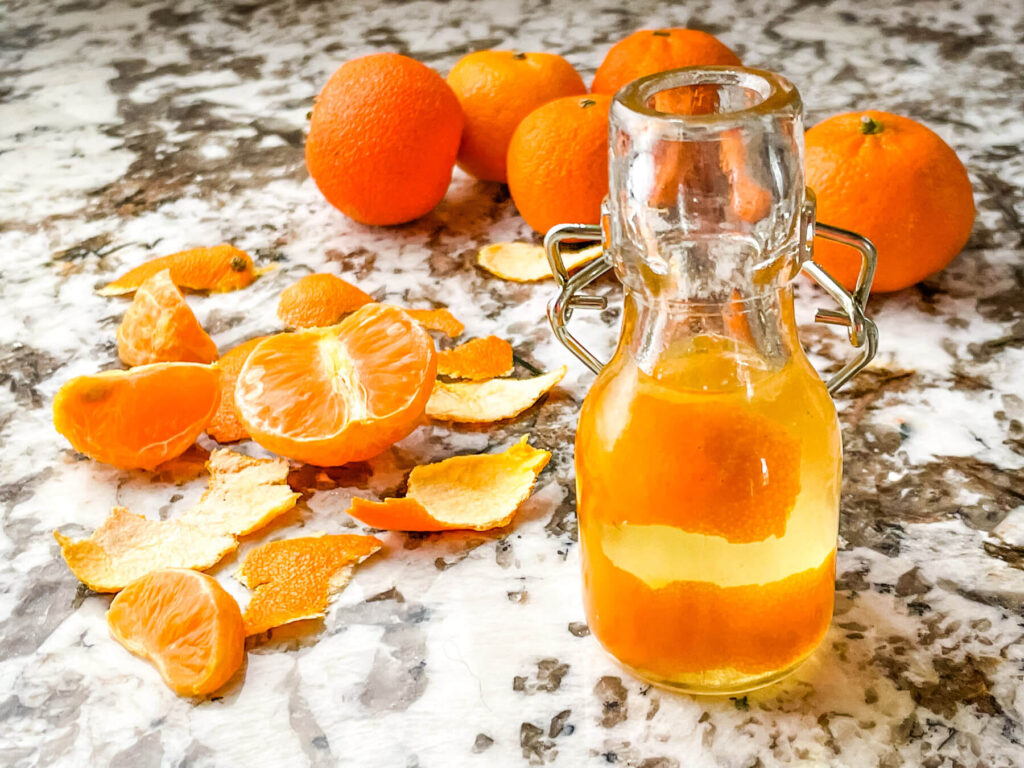 Does simple syrup need to boil?
Not necessarily, however heating it makes the sugar dissolve much faster.
Is simple syrup the same as sugar syrup?
Yes!
Should you refrigerate simple syrup?
Yes, you want to keep it cold. This will help prevent it from molding.
Store it in a container, jar, or bottle for up to a month in the refrigerator.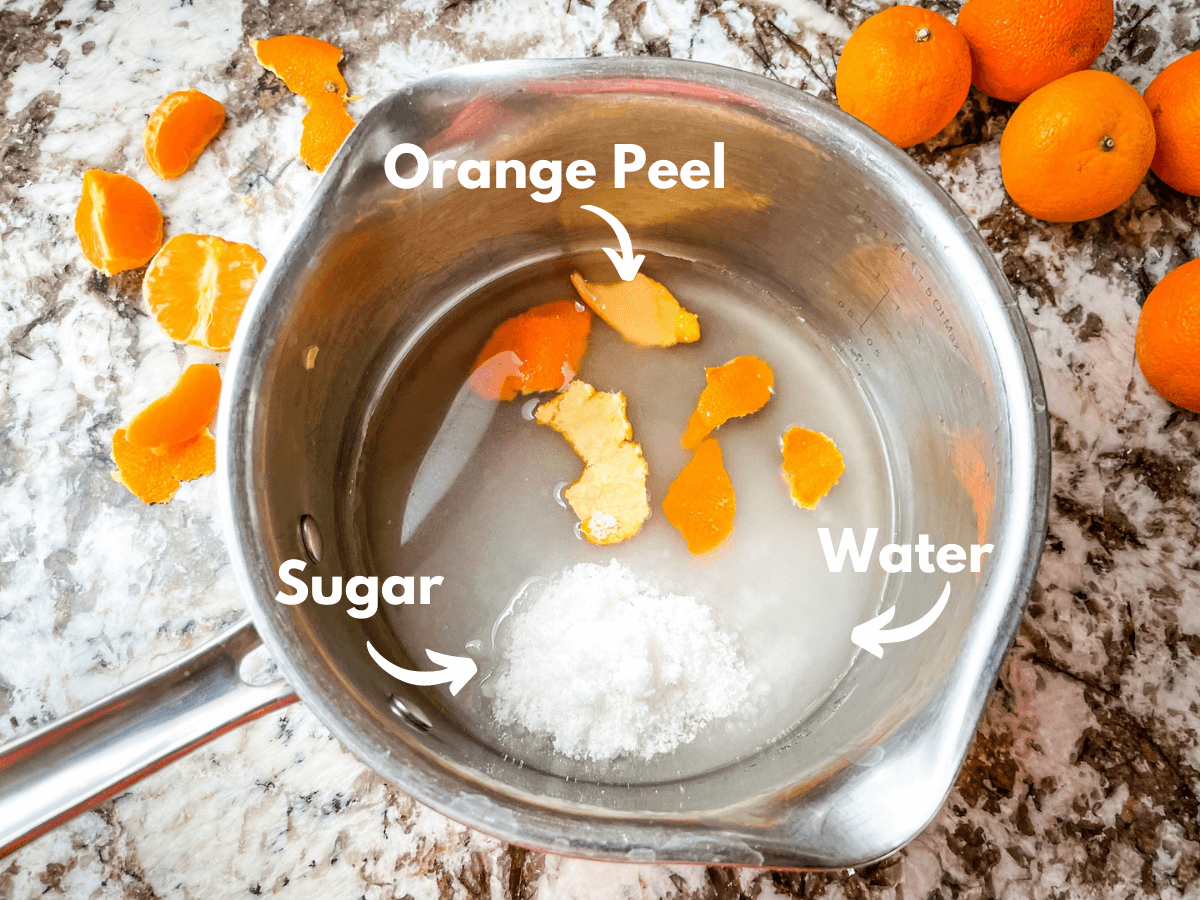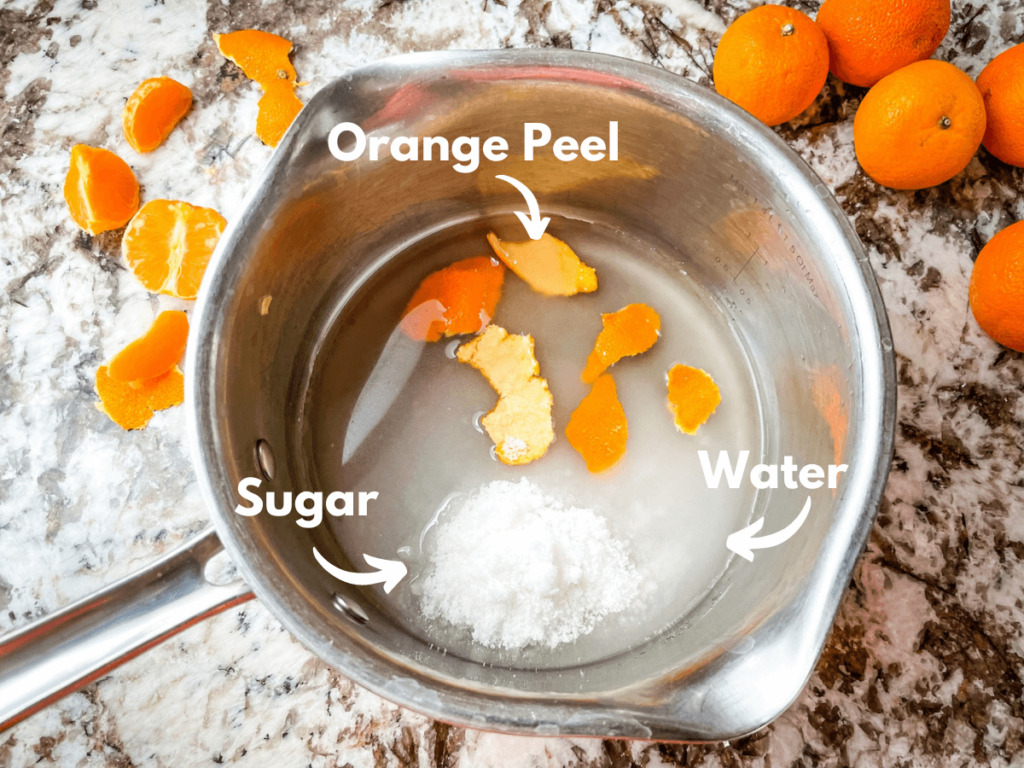 Ingredients
Here is what you need to make this syrup:
That's it! 🙂
Instructions Overview
Making your own simple syrup is so easy!
Add all three ingredients into a small pot and bring to a boil.
Reduce the heat and let it simmer for 15 minutes to make sure the sugar is dissolved and also strengthen the orange flavor.
Remove from the heat and let it sit, with the peels steeping in the syrup, to further develop the orange flavor.
Then bottle it up to store in the refrigerator and use as desired!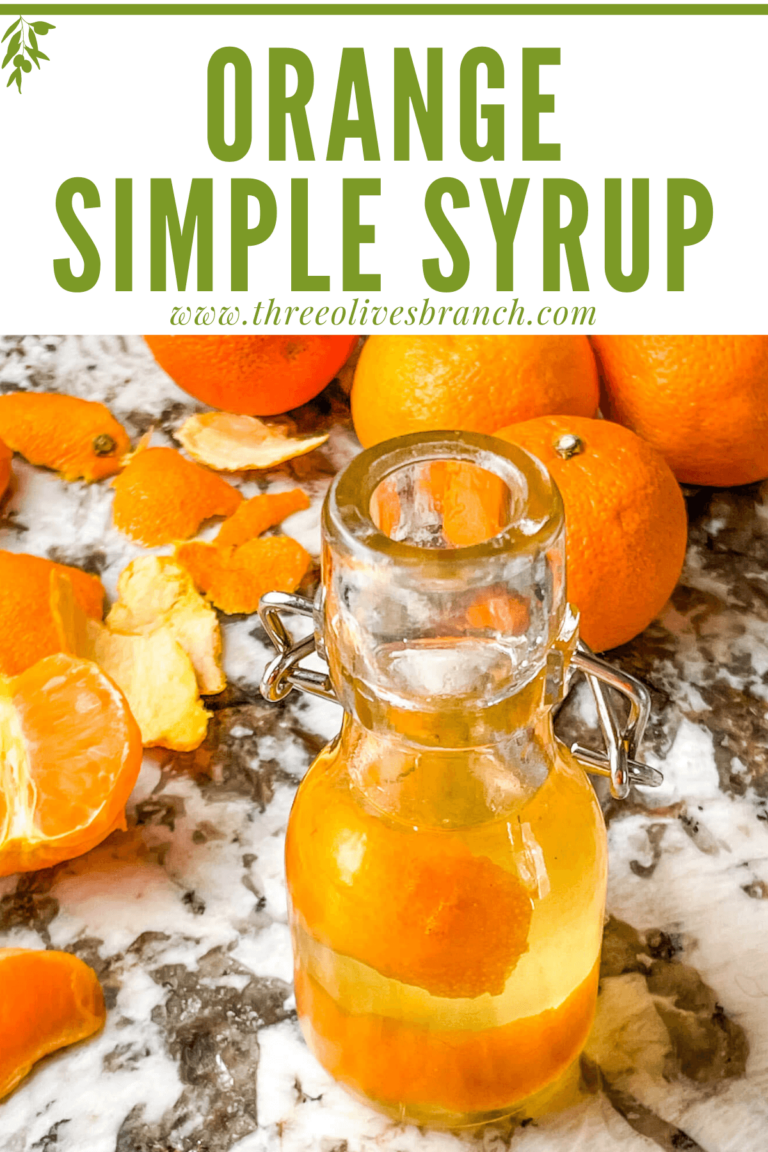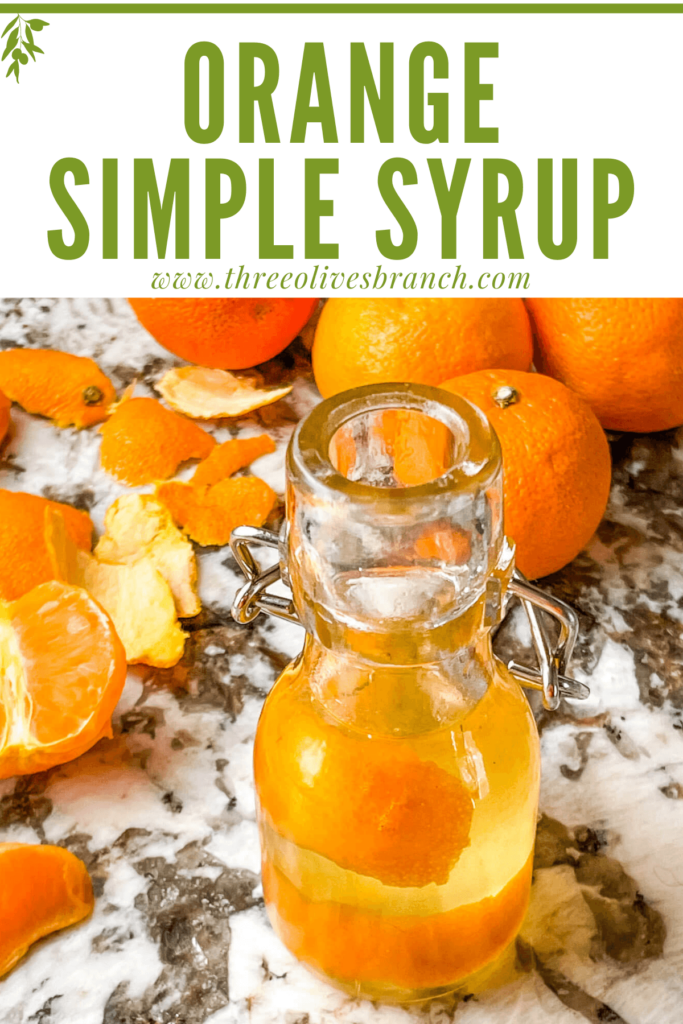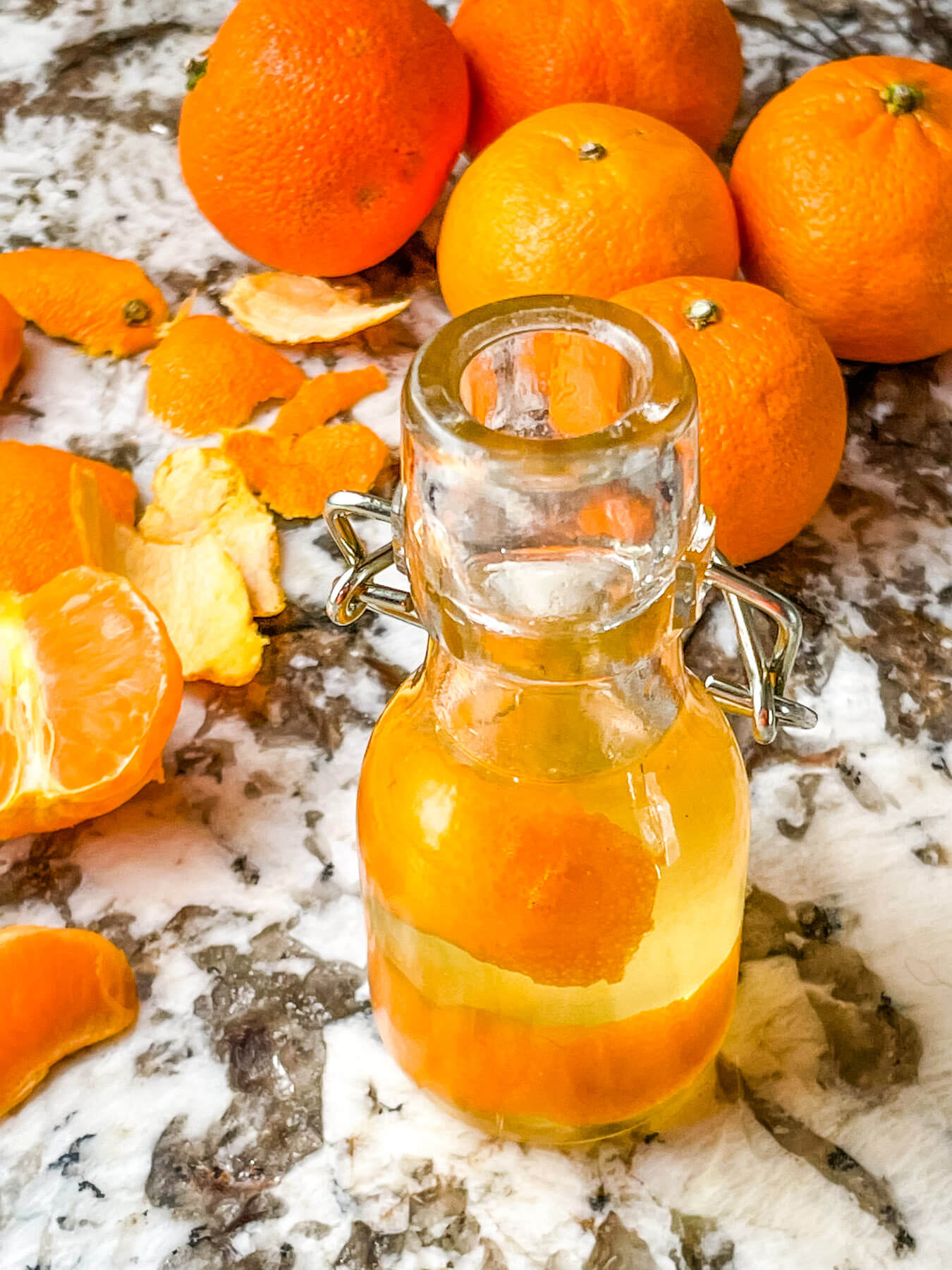 Ingredients
6

inches

orange peel

(½ an orange)

1

cup

water

1

cup

sugar
Instructions
Heat a small pot over medium high heat.

Peel the orange with a vegetable peeler, avoiding most of the with pith under the orange skin.

Combine the orange peel, sugar, and water in the pot.

Bring to a boil then reduce heat to medium low and simmer for 15 minutes.

Remove from heat and let the orange peel sit in the syrup to infuse, at least one hour.

Strain the peel out of the syrup if desired using a fine mesh strainer. Store the syrup in a container. Keep the syrup refrigerated up to one month.
Notes
It is best to avoid as much of the white pith as possible to avoid adding some bitterness to the syrup.
Nutrition
Serving:

1

batch

|

Calories:

789

kcal

|

Carbohydrates:

204

g

|

Protein:

1

g

|

Fat:

1

g

|

Polyunsaturated Fat:

1

g

|

Monounsaturated Fat:

1

g

|

Sodium:

18

mg

|

Potassium:

36

mg

|

Fiber:

2

g

|

Sugar:

200

g

|

Vitamin A:

64

IU

|

Vitamin C:

21

mg

|

Calcium:

36

mg

|

Iron:

1

mg

By