A peppermint flavored rice cereal treat layered with white and milk chocolates!

Celebrate the holiday season with these Peppermint Bark Rice Krispie Treats! Peppermint and chocolate are layered like a bark on top of rice krispie treats for a fun dessert or sweet snack.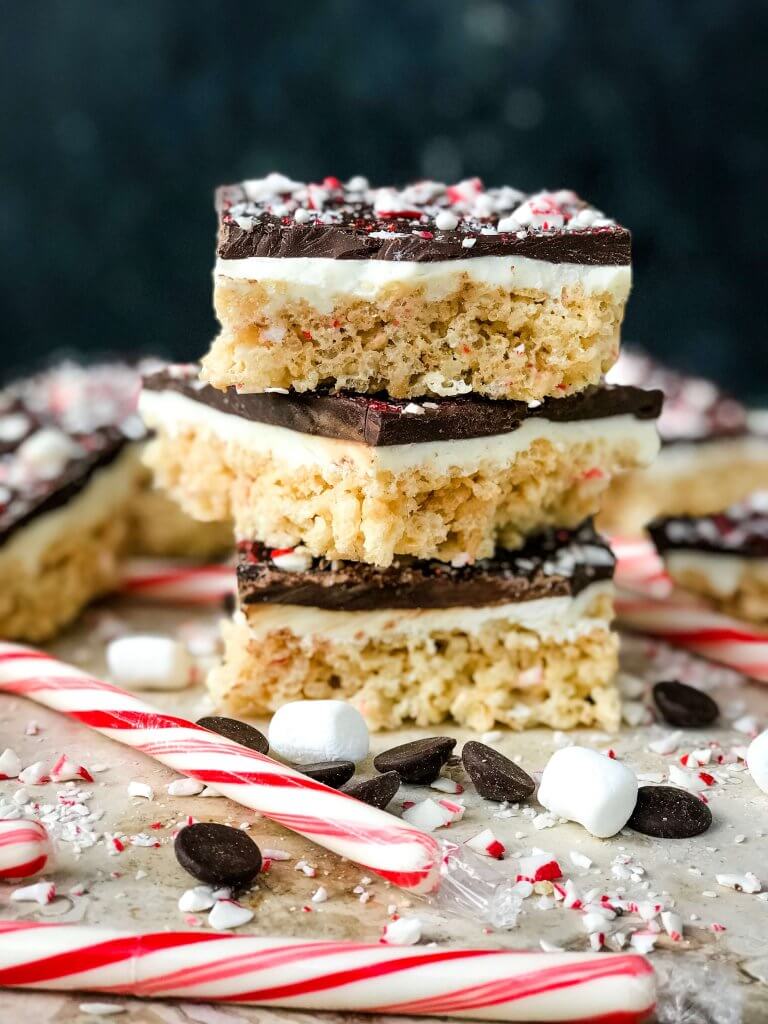 This post contains affiliate links.
Christmas Rice Krispie Treats
As pumpkin spice is to fall, peppermint chocolate is to winter and Christmas.
It is pretty much impossible to avoid the winter season without being surrounded by peppermint and chocolate.
I am a big fan of combining flavors in new ways, so these Peppermint Bark Rice Krispie Treats are a fun twist on classic flavors!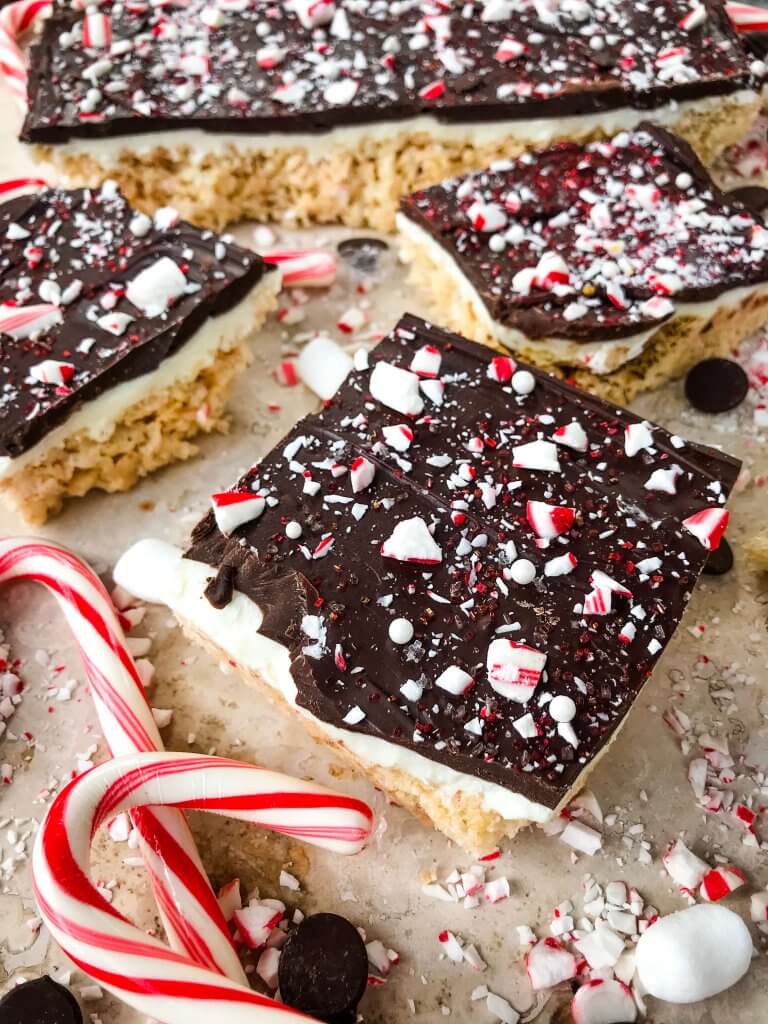 Ingredients
This is what you will need to make these treats:
Butter
Marshmallows
Peppermint Extract
Candy Canes
Puffed Rice Cereal
Chocolate Chips
White Chocolate Chips
Red and White Sprinkles (optional)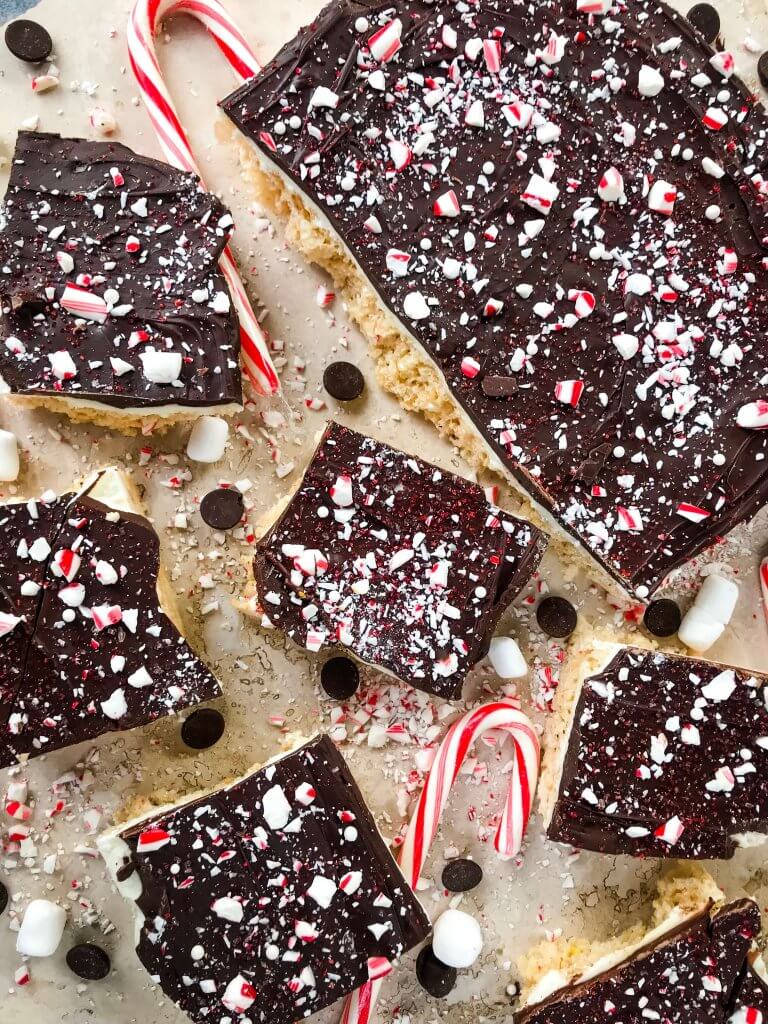 Instruction Overview
One of the things I love most about these rice krispie treats is that they are so incredibly simple but seem so fancy! Only a couple extra steps beyond a normal rice krispie treat and you have some delicious dessert snacks ready for the holidays.
To make the peppermint treats, first melt the marshmallows in some butter with peppermint extract and crushed candy canes, mixed with the cereal.
Then press into a pan and top with a layer of melted white chocolate with some more peppermint flavor.
Once hardened, a final layer of chocolate is added with some crushed candy canes and sprinkles. So simple but so pretty!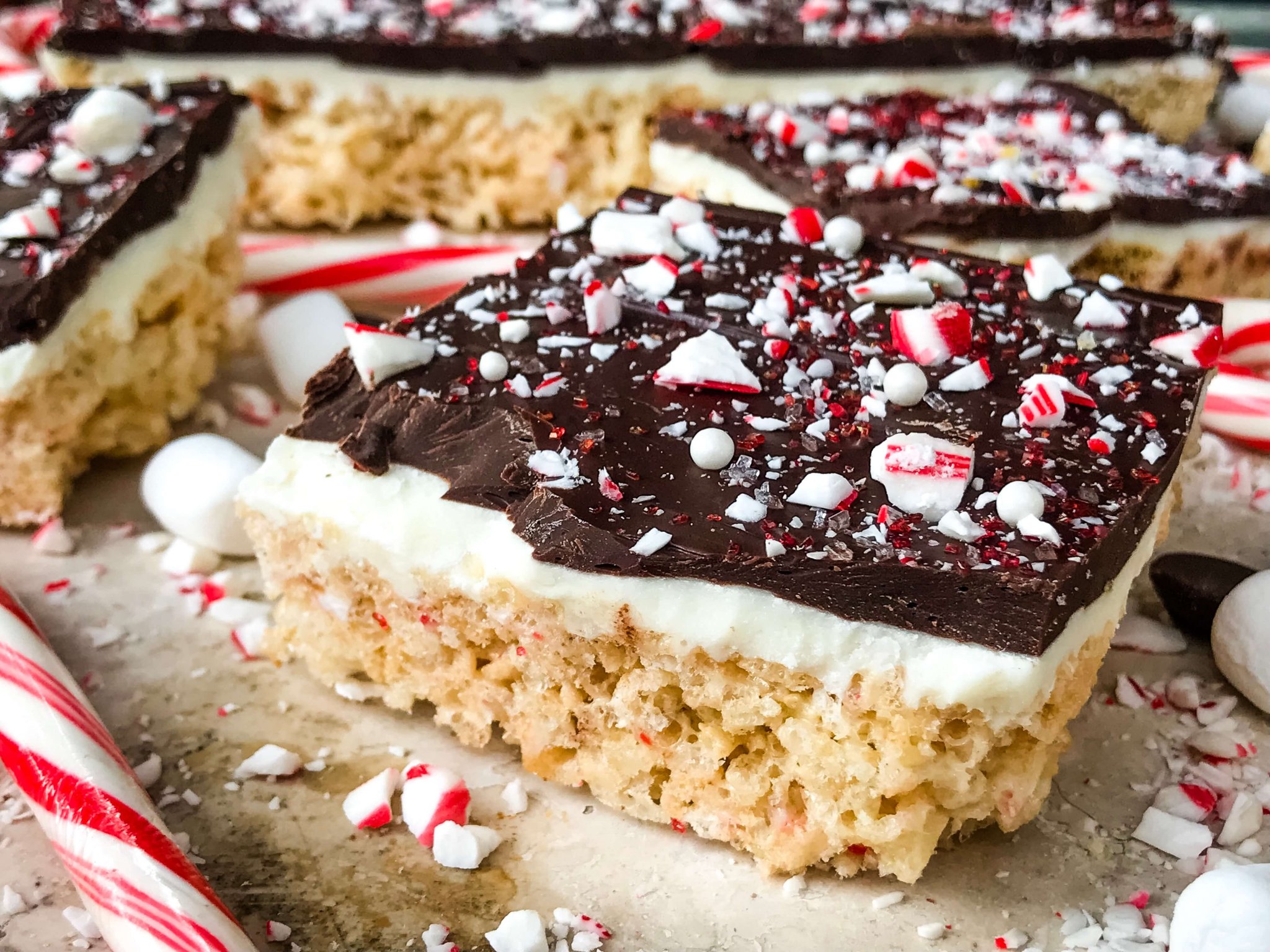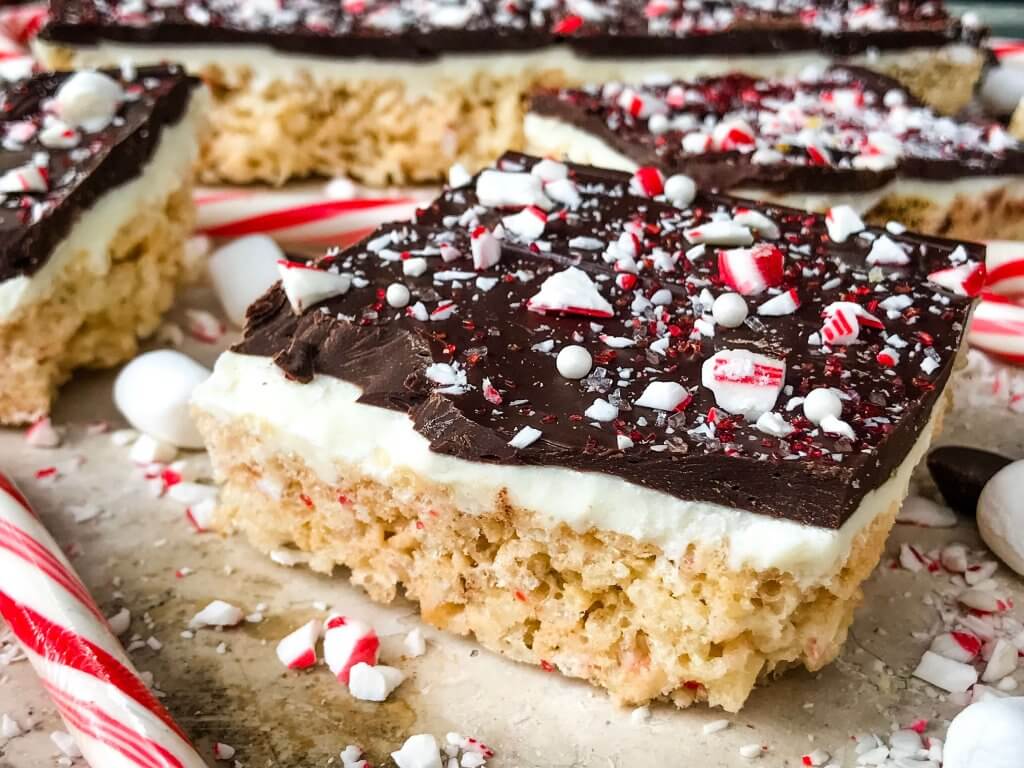 If you REALLY want a strong peppermint flavor, add more extract or candy canes to any step in the process. Just keep in mind that the flavor strength of each component adds up for the final product.
And these rice cereal treats are a great dessert for kids because they are something familiar, but still exciting.
It makes 12 large pieces but you could easily cut them much smaller to make them go further.
It is best to eat them as fresh as possible, or at least within a couple days when stored in an air tight container. If they last that long!
How do you cut Rice Krispie Treats neatly?
Using a sharp knife that is coated in non-stick spray is a great way to cut through the treats and sticky marshmallow.
Since we have a thick layer of chocolate on top, you also want to make the knife warm. The warmth will help slide through the chocolate and minimize breakage or cracking where you do not want it.
To do this, simply run the knife under hot water for a few seconds and then spray with non-stick spray.
You might need to repeat this a few times to do all of your cutting.
Still having issues? Try a serrated bread knife and gently saw through the chocolate layer.
Peppermint Bark Rice Krispies Treats Recipe
A peppermint flavored rice cereal treat layered with white and milk chocolates!
Print
Pin
Rate
Instructions
In a large saucepot, melt the butter over low heat.

When melted, add the marshmallows. Stir until melted, approximately 3 minutes. Add 1/2 teaspoon peppermint extract and stir to combine.

Add the rice krispies and 2 of the crushed candy canes. Stir to combine.

Immediately transfer the rice krispie mixture to a greased 9 by 13 baking dish. Press the mixture into the dish until level and spread out.

Melt the white chocolate by placing in a bowl and microwaving on high for 1 minute. Stir and continue heating if needed in 15 second intervals, stirring in between, until fully melted. Stir in the remaining 1/4 teaspoon peppermint extract.

Spread the white chocolate across the rice krispies. This is easiest with an offset spatula. Try to make it as even as possible.

Let the rice krispies sit until the white chocolate is firm, approximately 20 minutes in the refrigerator. (This can also be done at room temperature but it will take a lot longer).

Once firm, heat the chocolate chips in a small bowl in the microwave by heating on high for 1 minute. Stir and continue heating if needed in 15 second intervals, stirring in between, until fully melted.

Spread the chocolate across the rice krispies with the offset spatula, again trying to make it as level as possible.

Immediately sprinkle the top with the remaining crushed candy canes and any sprinkles as desired. Cool or let sit until firm. Cut into 12 squares.
Nutrition
Calories:

434

kcal

|

Carbohydrates:

64

g

|

Protein:

4

g

|

Fat:

19

g

|

Saturated Fat:

11

g

|

Cholesterol:

18

mg

|

Sodium:

184

mg

|

Potassium:

100

mg

|

Fiber:

1

g

|

Sugar:

48

g

|

Vitamin A:

368

IU

|

Vitamin C:

3

mg

|

Calcium:

132

mg

|

Iron:

4

mg

By