Classic cheesesteak sandwich flavors stuffed into a keto low carb and gluten free mushroom cap. A delicious appetizer or snack food!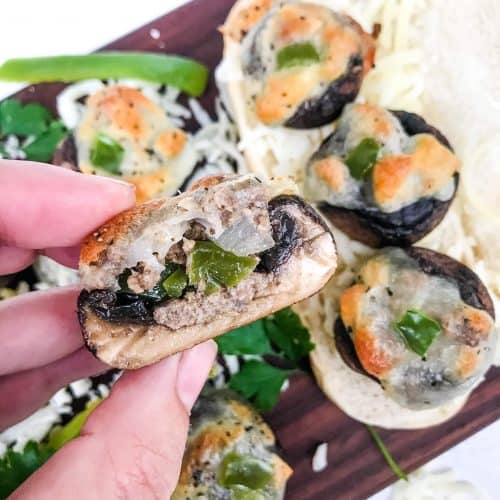 These Philly Cheesesteak Stuffed Mushrooms are a delicious appetizer or snack that feature the same great flavors of a Philly cheesesteak sandwich!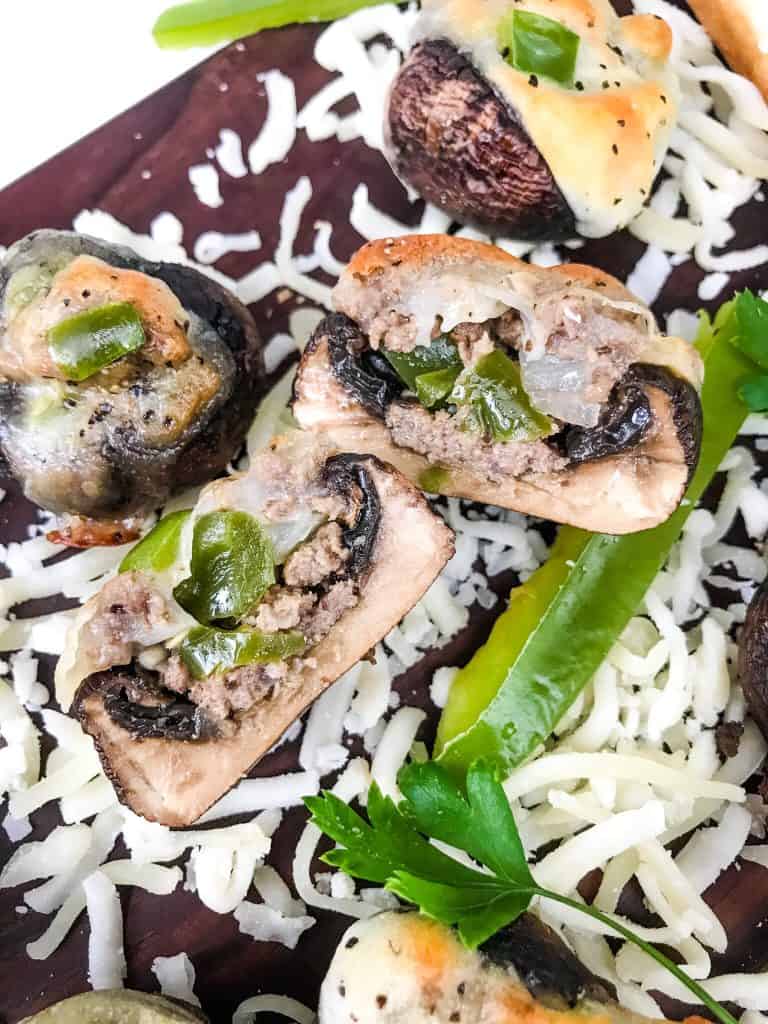 This post contains affiliate links.
Stuffed mushroom recipes are a great option for parties. They hold some elegance while being incredibly simple to make. Philly Cheesesteak Stuffed Mushrooms are keto, low carb, and gluten free, which makes them perfect to feed a crowd.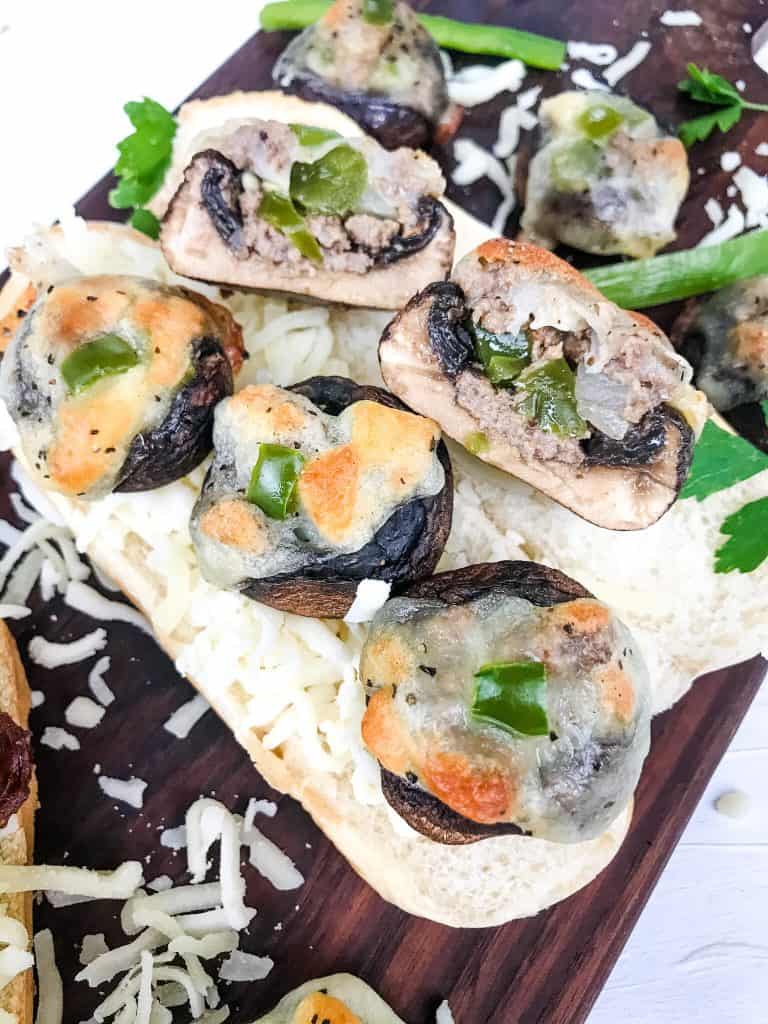 Finding new ways to use classic flavors is a great way to make appetizers and entertaining exciting. Find our stuffed mushroom recipes here!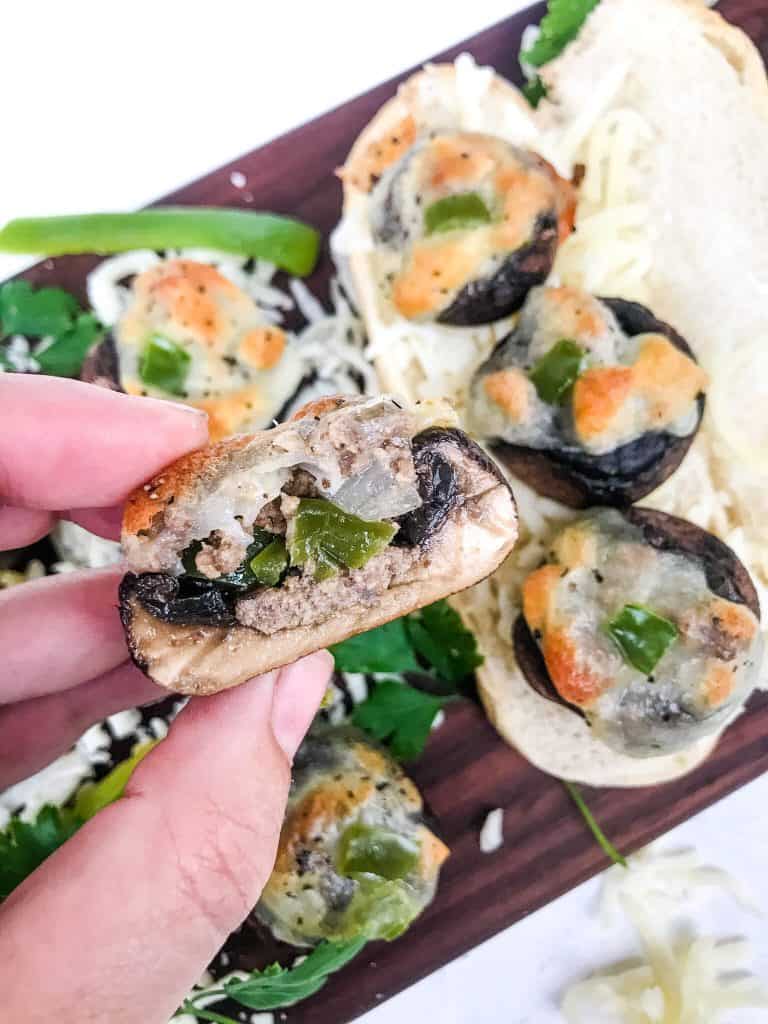 I have been to Philadelphia many times for work, and love grabbing cheesesteaks when I am there!
Everyone definitely has their favorites, and it seems like there is no clear winner.
But one thing is for sure – the two commonly known sites of Geno's and Pat's are NOT local favorites. They are considered the tourist traps.
My personal favorite is Tony Luke's, specifically the one off of Oregon under the highway. And it is GOOD.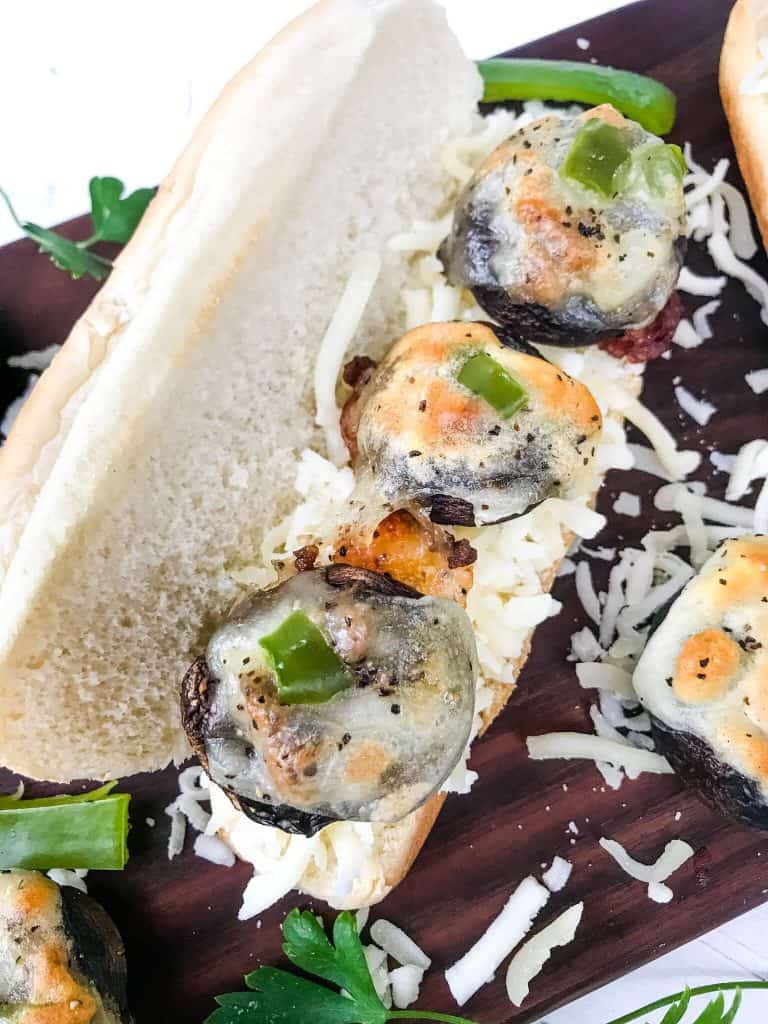 Which cheese is traditional for a cheesesteak?
Outside of location and brand, the other hot question is what type of cheese to get on a Philly cheesesteak sandwich.
I am told that the only correct answer if you are a local is provolone cheese. Cheez Whiz is another tourist selection and makes it obvious who is from out of town.
I personally am not a fan of canned cheese, and instead love getting a double order of sharp Provolone on a cheesesteak, with peppers and onions. Locals say Provolone is the choice of the local crowd. Yum.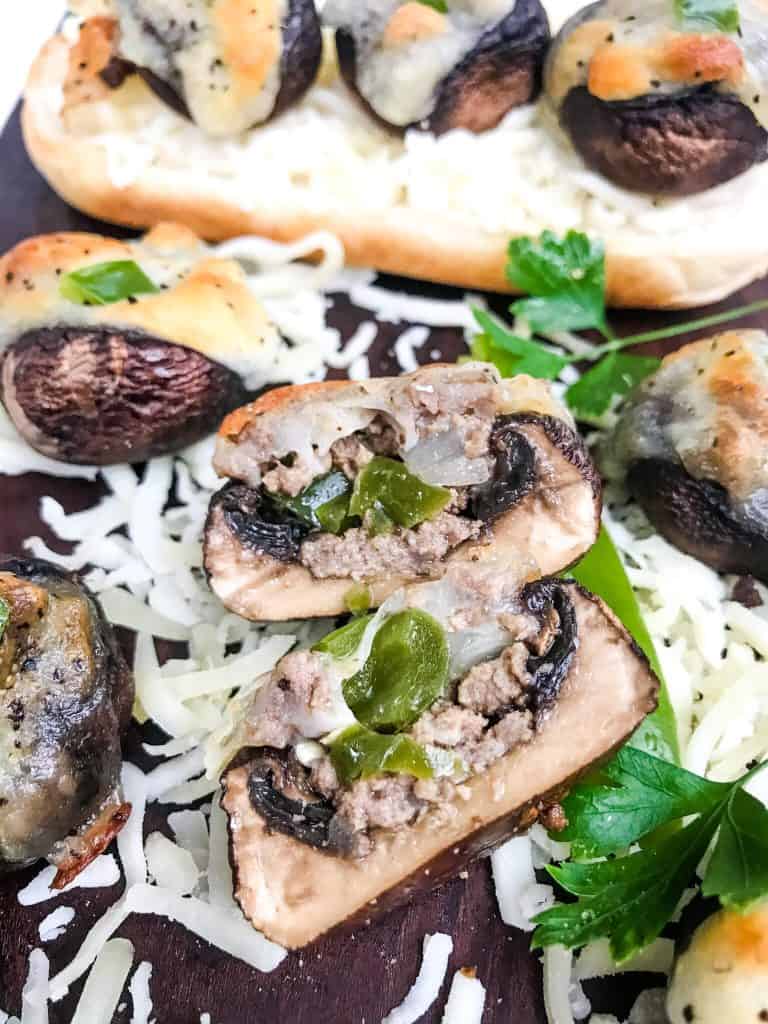 So those are the flavors that I use to create these Philly Cheesesteak Stuffed Mushrooms.
If you prefer, you can switch out the cheese for cheddar or anything else you like, and even skip the peppers and/or onions.
I list shredded Mozzarella in the recipe here because it is easy and likely to have on hand, and the stretch and melt factor is great.
But if you have Provolone cheese, you will get a more authentic flavor experience!
And sometimes I like to put a little piece of green bell pepper on top of the cheese to add some color and indication of what is in the mushrooms!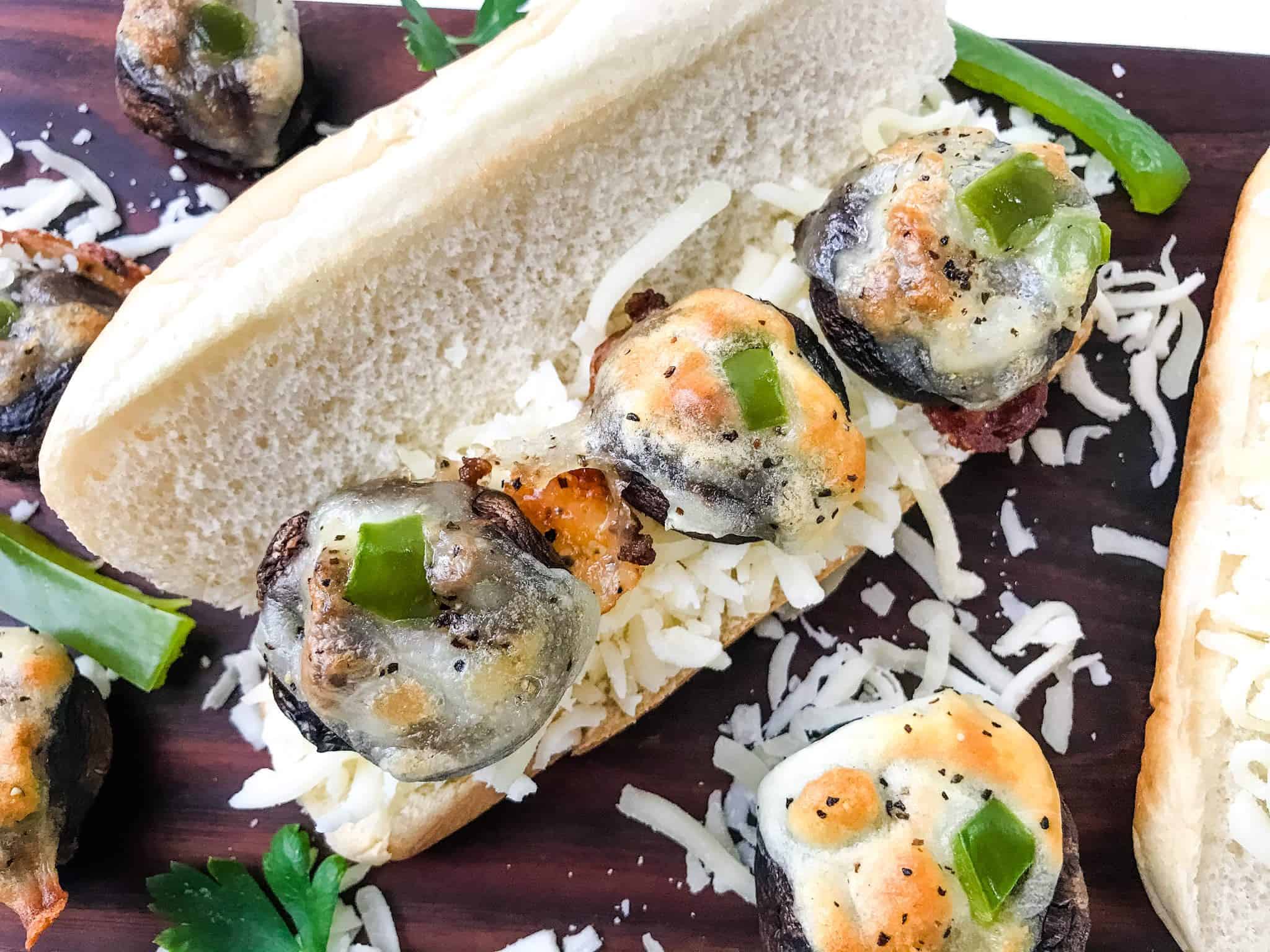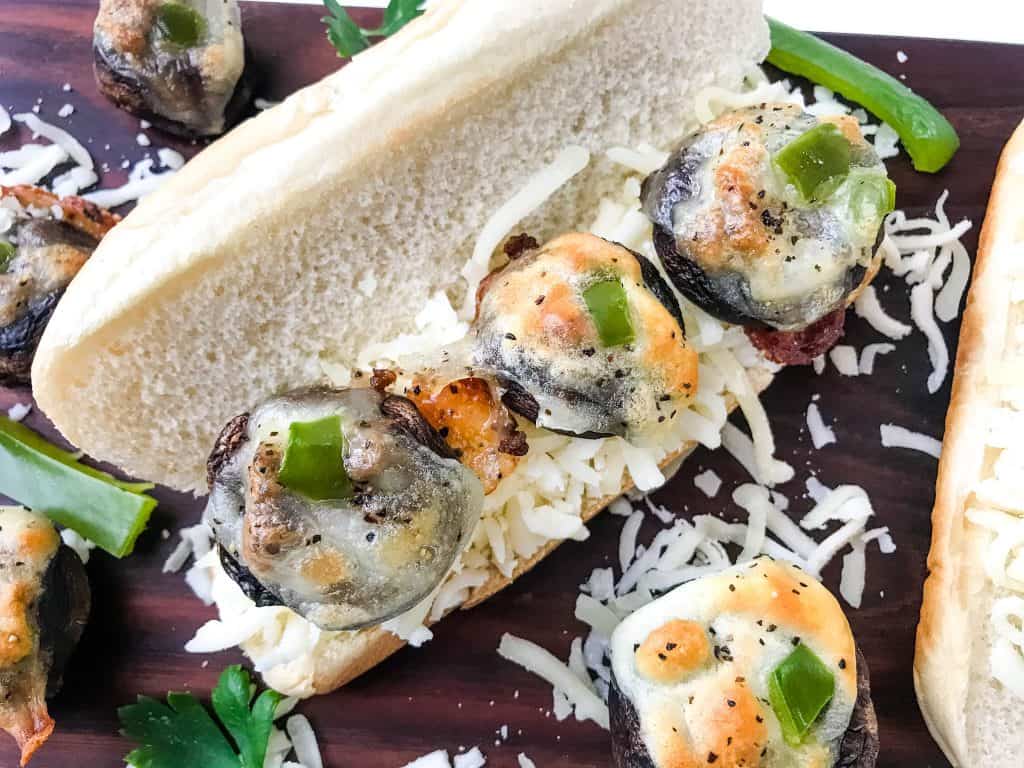 You could also swap out the mushrooms for a larger Portobello mushroom and make this a meal instead of an appetizer.
Bake for approximately 10 minutes and they are ready!
You can easily make large batches by preparing them in advance by filling the caps, and then bake them off when you are ready to serve them.
Bake a little longer for softer mushrooms, but they become a little more difficult to eat by hand.
Philly Cheesesteak Recipes
Great recipes to enjoy the classic flavors of a Philly cheesesteak sandwich!
Stuffed Mushrooms
Various stuffed mushroom recipes that are perfect for appetizers and entertaining!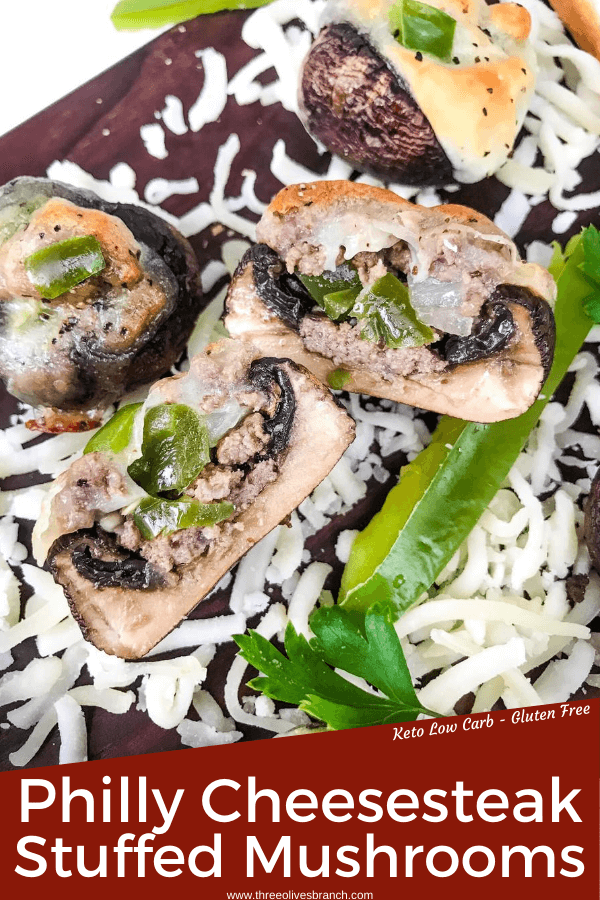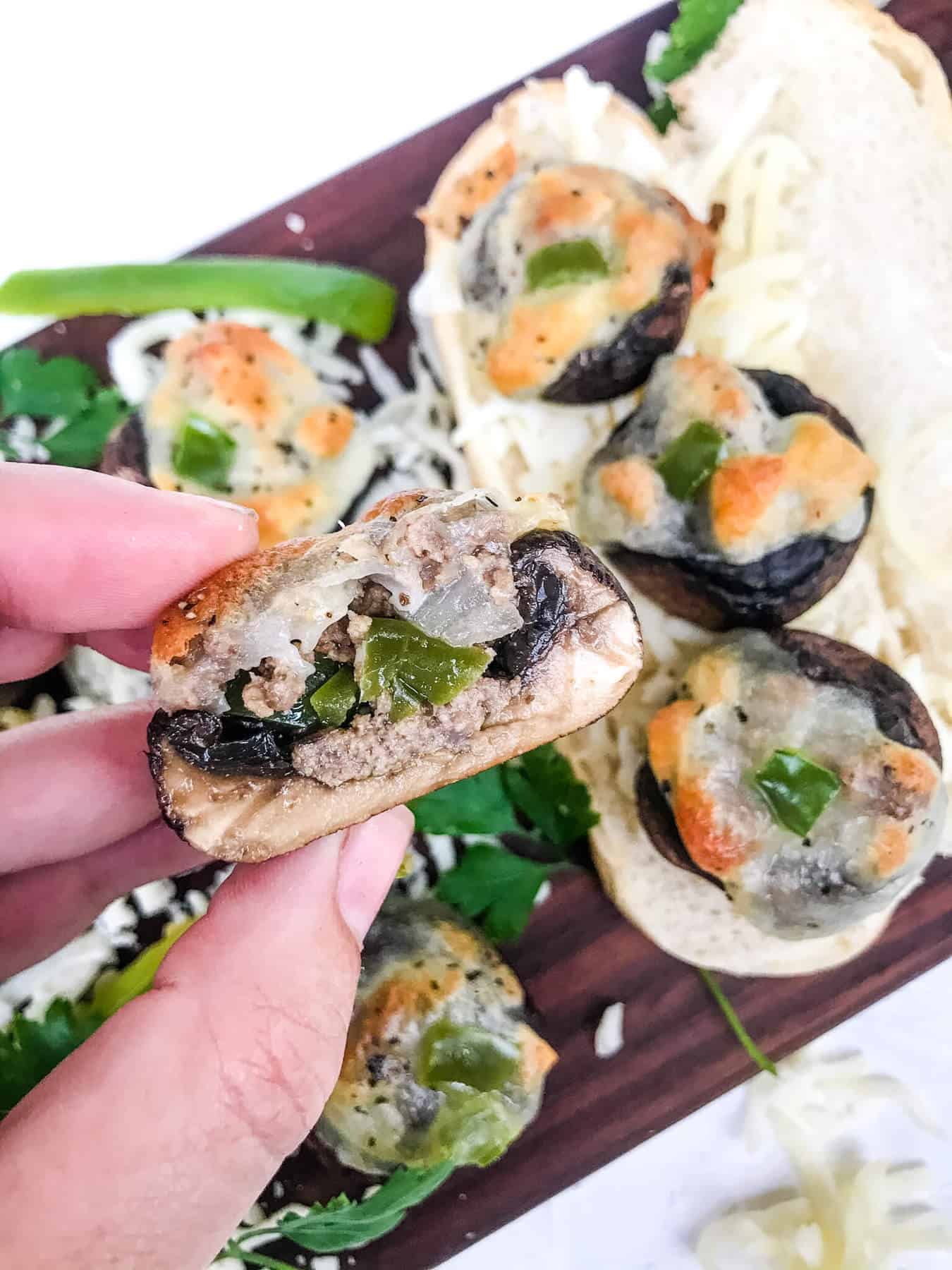 Instructions
Preheat oven to 350F.

Cook the ground beef in a skillet over medium heat until cooked through. Season lightly with salt and pepper. Set aside.

Prepare the mushrooms by wiping off the caps and removing all of the stems.

Line the mushrooms up in a baking dish, cap side down.

Fill each mushroom with a combination of the ground beef, some bell pepper, and some onion.

Sprinkle each mushroom with the mozzarella cheese or cut the provolone slices into pieces and lay them on top of the mushrooms.

Bake the mushrooms for 10-15 minutes until the mushrooms are tender. Bake longer if you want softer mushrooms, however they will become more difficult to eat by hand. Serve immediately.
Notes
If you want your mushrooms browned on top but it is not happening, pop them under the broiler in the oven for just a minute or two. Make sure they are NOT on a silicone baking mat if you do this as it will blister and burn. Just put them on a metal pan or in a baking dish.
You may need more or less of the sauce and cheeses depending on exactly how large the mushrooms are.  Fill with each ingredient to your desired preference.
To ensure keto, use a keto marinara.
Nutrition
Serving:

1

mushroom

|

Calories:

25

kcal

|

Carbohydrates:

1

g

|

Protein:

2

g

|

Fat:

2

g

|

Saturated Fat:

1

g

|

Cholesterol:

5

mg

|

Sodium:

57

mg

|

Potassium:

86

mg

|

Fiber:

1

g

|

Sugar:

1

g

|

Vitamin A:

66

IU

|

Vitamin C:

1

mg

|

Calcium:

34

mg

|

Iron:

1

mg

By