Instant Pot Potato Soup is a fast and easy beginner recipe! A hearty and creamy soup made with milk, potatoes, bacon, cheese, and onion for a loaded potato soup recipe. A great Instapot recipe for cold weather.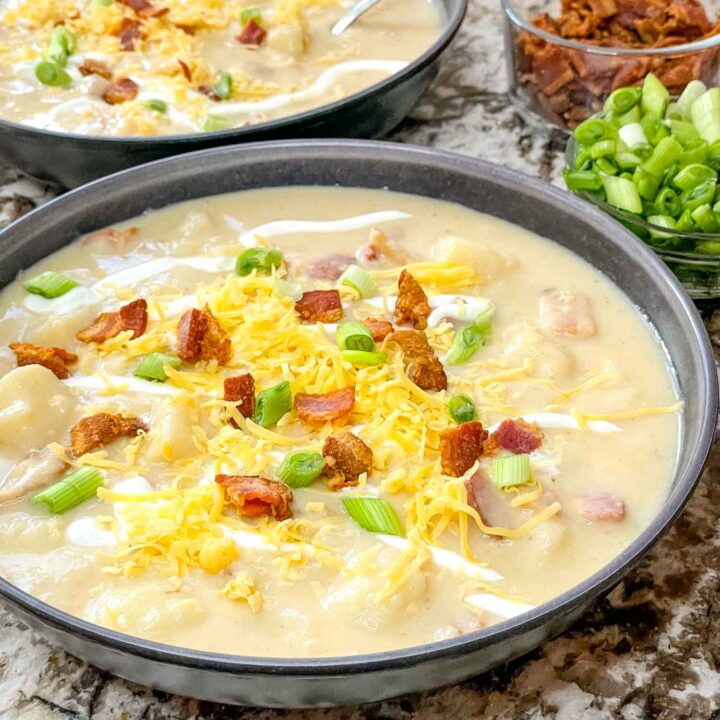 This Potato Soup Instant Pot recipe is a creamy, hearty soup that is perfect for cold weather!
Made with all the ingredients of a loaded potato like bacon, cheese, and onion. And ready in just minutes using an Instant Pot!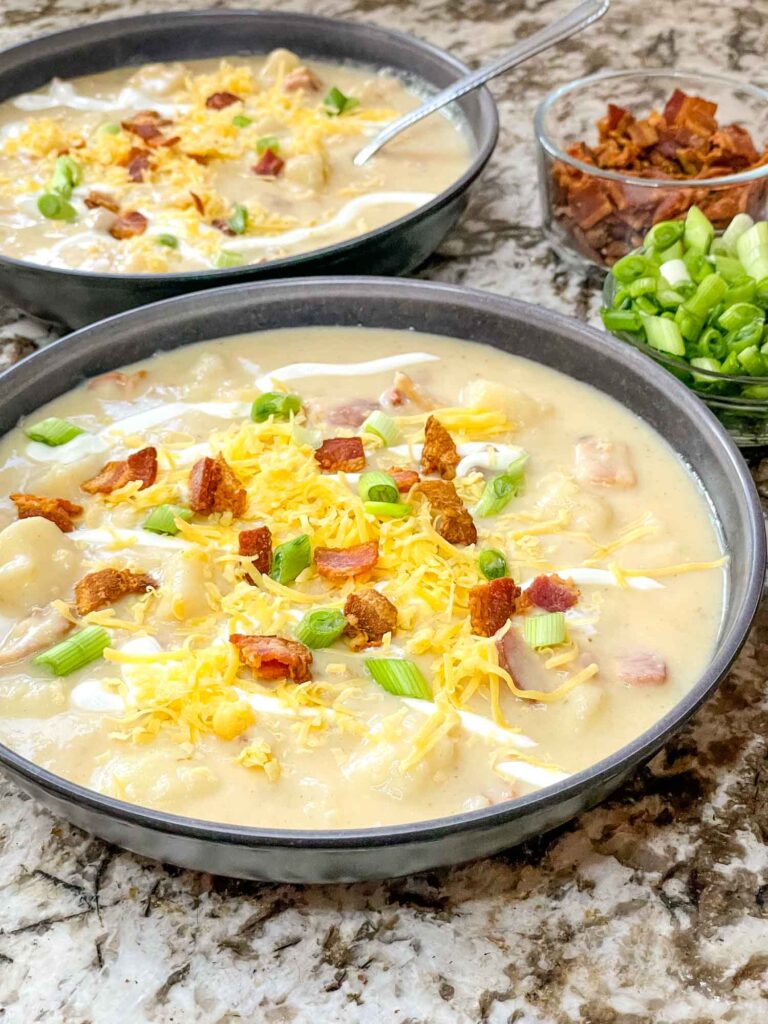 Loaded Potato Soup
I am a huge lover of potatoes, and a creamy, loaded potato soup recipe is one of my favorite things to make when it is cold outside.
This recipe is made in an Instant Pot for an easy and fast soup!
Made with bacon, but you can easily skip the bacon to make it vegetarian if desired.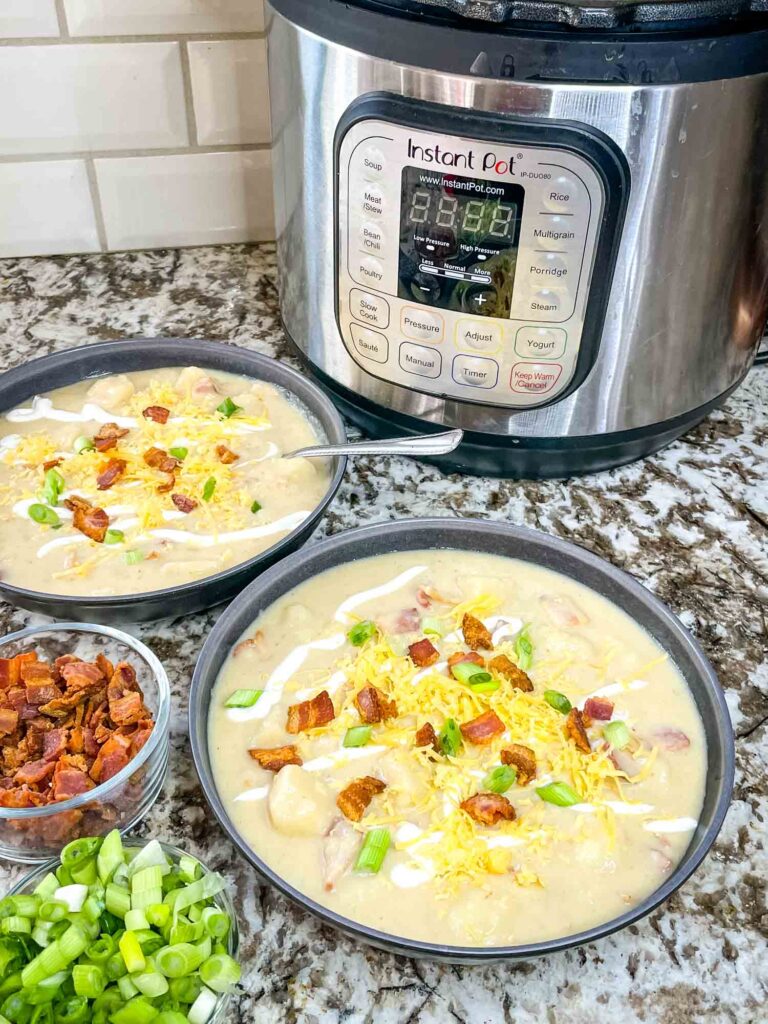 What is in Potato Soup?
Here are the ingredients you need to make this loaded potato soup:
Russet Potatoes
Milk
Vegetable Stock (or chicken stock)
Cheddar Cheese
Onion
Bacon
Cornstarch (or flour)
Garlic
Fresh or Dried Thyme
I make this Instant Pot Potato Soup without heavy cream by using whole milk which is thicker and richer. You could use a thinner milk like 2% but will lose some of the richness and it might be a little thinner in consistency.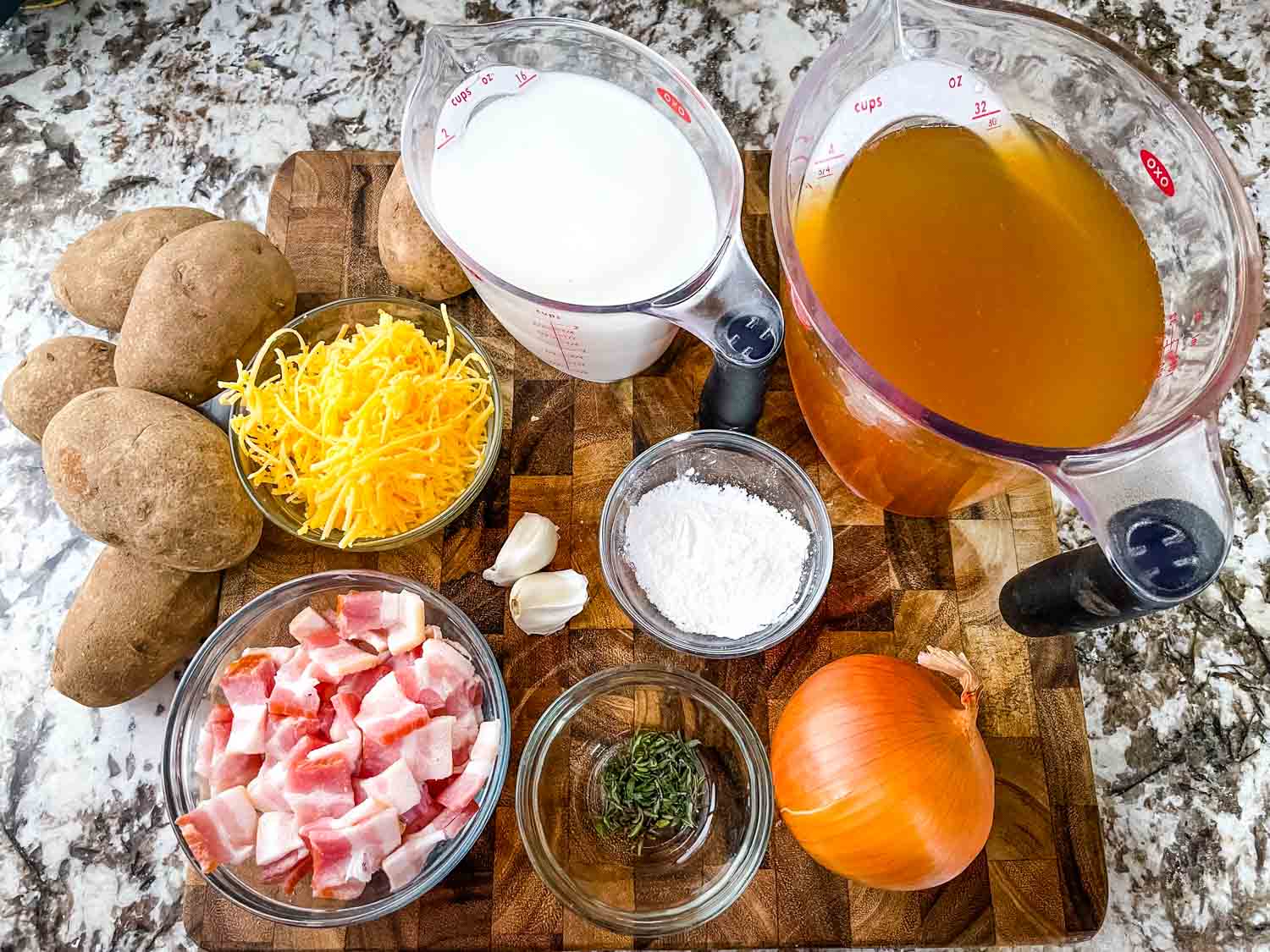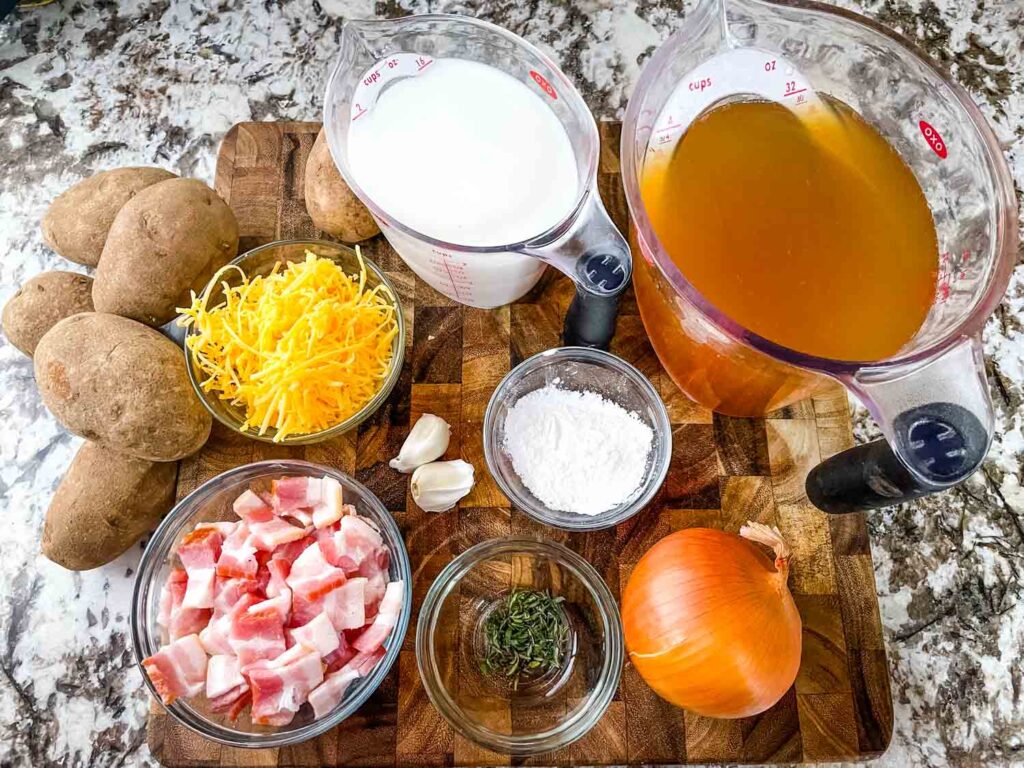 What is the Thickener in Potato Soup?
In this recipe, the cornstarch is a thickener. You could also substitute with flour (see recipe for quantity).
The potato is also a natural thickener because of the starch.
And the cheese is almost a thickener as well since it melts into the soup.
The soup will seem runny until the very end, so don't worry until you are ready to serve.
At this point, if you still think it is runny, you can mash more potatoes or add a little more cornstarch/flour (just mix it in a small bowl with a little water or the soup first before adding to make sure it incorporates well). Then stir and let it sit on a low temperature for a couple minutes to thicken and do its thing.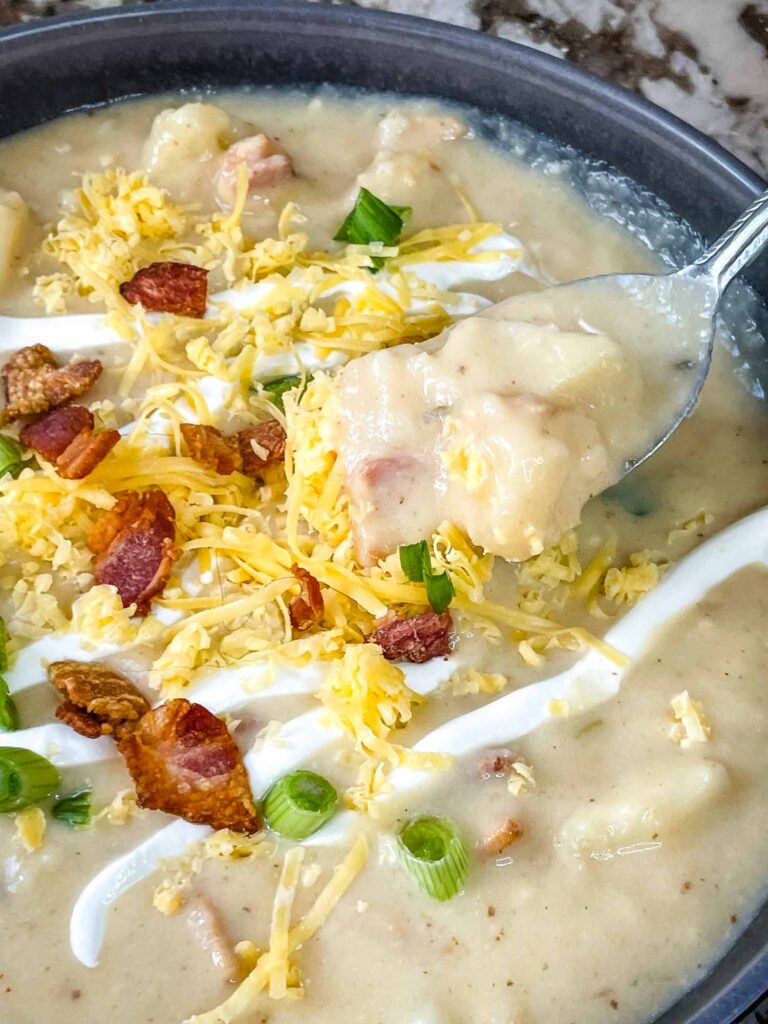 What Kind of Potatoes are Best for Soup?
I stick with a classic russet, but I do not cut them too small. Since they are a starchy potato and not a waxy potato, they will break down much more easily in the cooking process.
So to keep the potato chunks, make sure the potatoes are cut up into larger pieces as explained in the instructions.
Waxy potatoes, such as red potatoes or Yukon gold potatoes, are also great. They are both considered waxy instead of starchy which means they will break down less when cooking and hold their shape.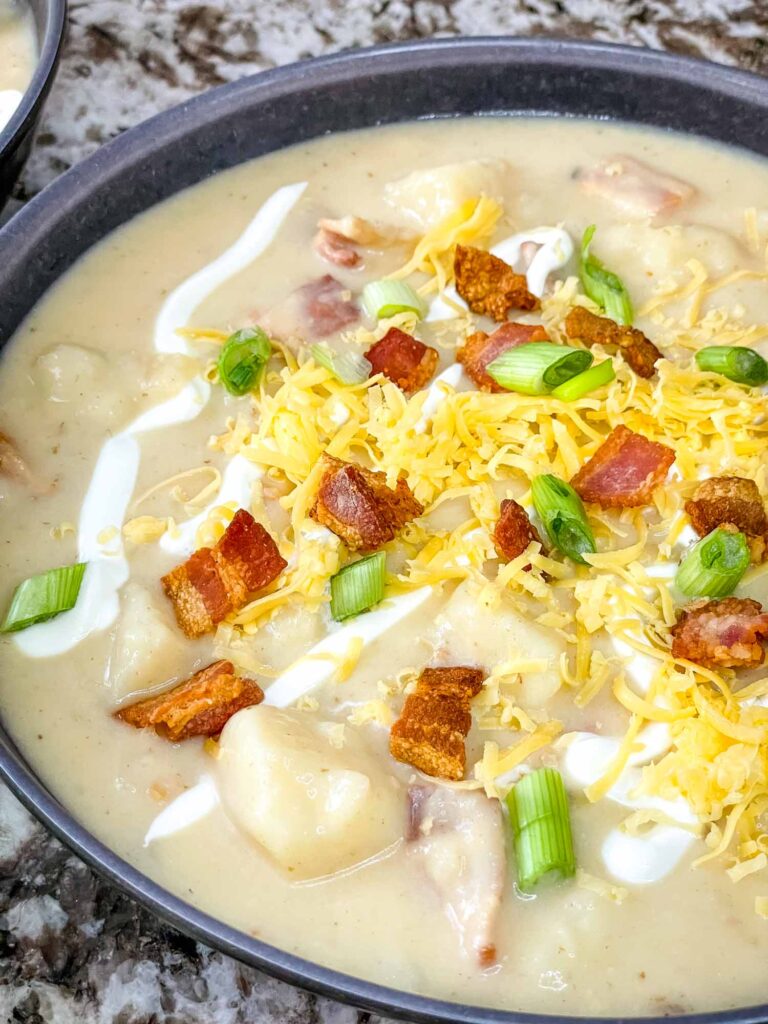 Do you Peel Potatoes for Soup?
I love potato skin in general, but I do peel potatoes for this soup to give it a silkier texture.
You can absolutely leave the potato skins on if desired.
How to Make Potato Soup in Instant Pot – Instruction Overview
How do you make Instant Pot baked potato soup? First cook your chopped bacon in the Instant Pot on the sauté setting until it is crisp. Remove the bacon, set aside on a paper towel, and keep the bacon fat in the pot.
Then add the onions to the bacon fat and cook until translucent.
Add the thyme, garlic, and cornstarch and cook until just fragrant.
Cancel the sauté function and add the potatoes and stock to the pot. Set your pot for manual pressure at 8 minutes and put the lid on, with the seal closed to keep the pressure in.
After cooking, manual release by opening the valve. When the pressure has gone down, open the pot and turn it off, but you can keep the pot in the device.
Add the cheese, milk, and bacon. Season to taste and serve.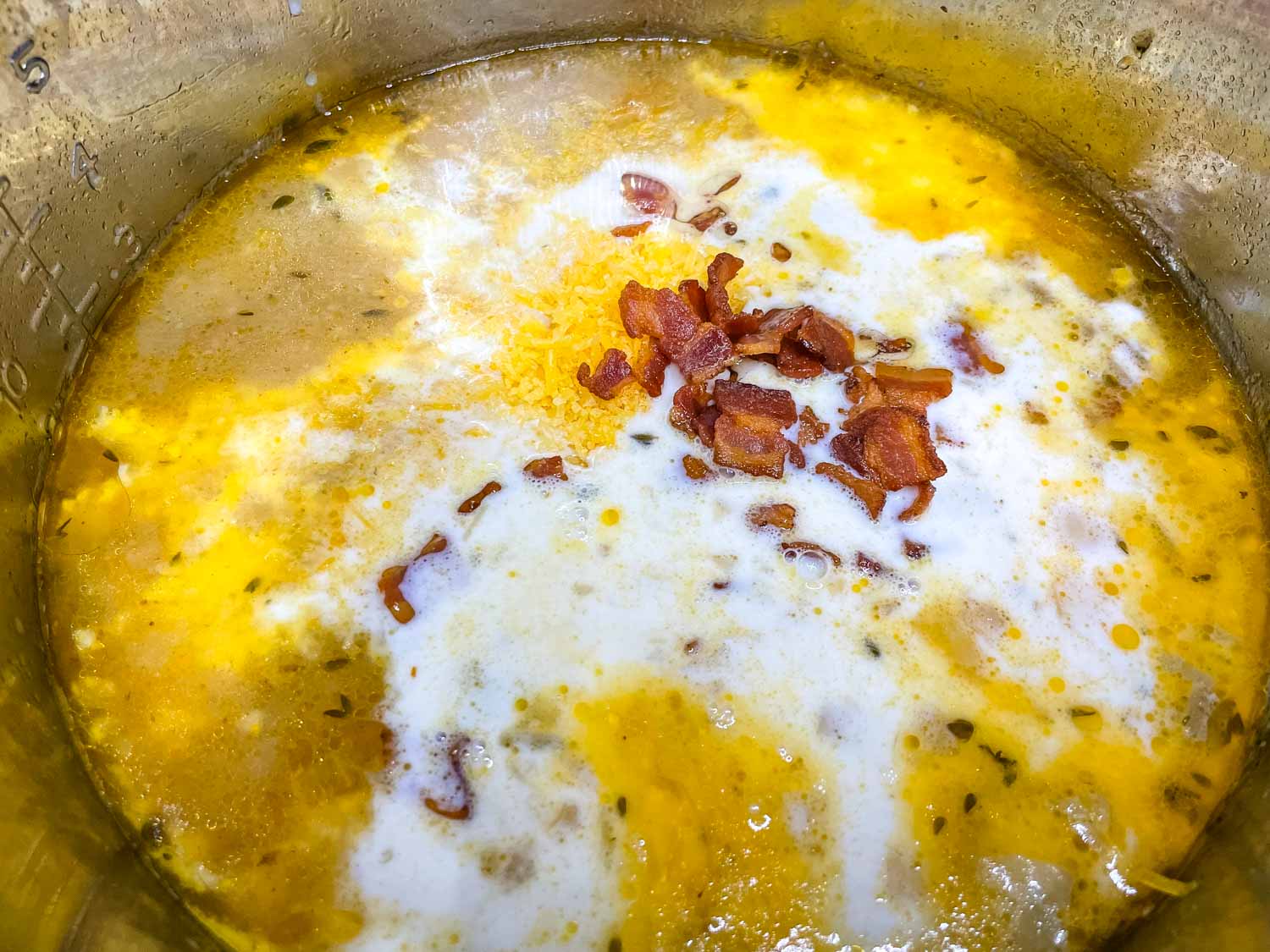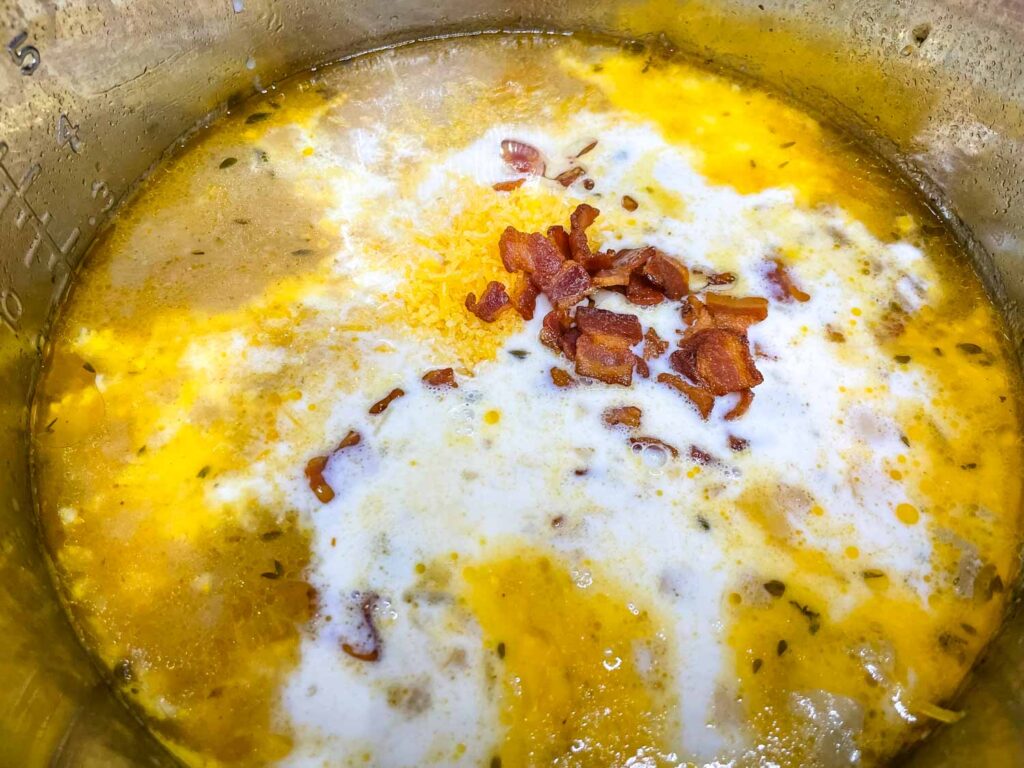 If you want to keep the bacon extra crispy, do not mix it in! And instead serve it along with the soup so that it does not get softer while hanging out in the pot.
How Long Do I Cook Potato Soup in an Instant Pot?
I found that the sweet spot was 8 minutes on manual for cooked potatoes that were not too soft!
How Long Does it Take to Pressure Cook Potato Soup?
From start to end, it will take about 20 minutes of cooking time which includes the pot coming up to pressure.
Please note that each pot can vary in how long it takes to come to pressure before the cooking timer starts.
Instant Pot Potato Soup Recipe Video
Watch our YouTube video where I make this soup live and show you how to do it!
How Do You Thicken Potato Soup?
We are using a few elements that help thicken the potato soup: cornstarch, cheese, and the potatoes themselves!
If you need it to be thicker, you can do a few things:
Mash more potatoes to release their starches and thicken
Cook it on a simmer for some of the liquid to evaporate
Add more cheese which thickens the soup but will also change the flavor
Mix a little cornstarch with some of the soup in a bowl until combined, add back into the pot, and let simmer a few minutes to thicken
Can I Use Mashed Potatoes to Thicken Soup?
Yes! But add just a little at a time so you do not end up with a runny mashed potato!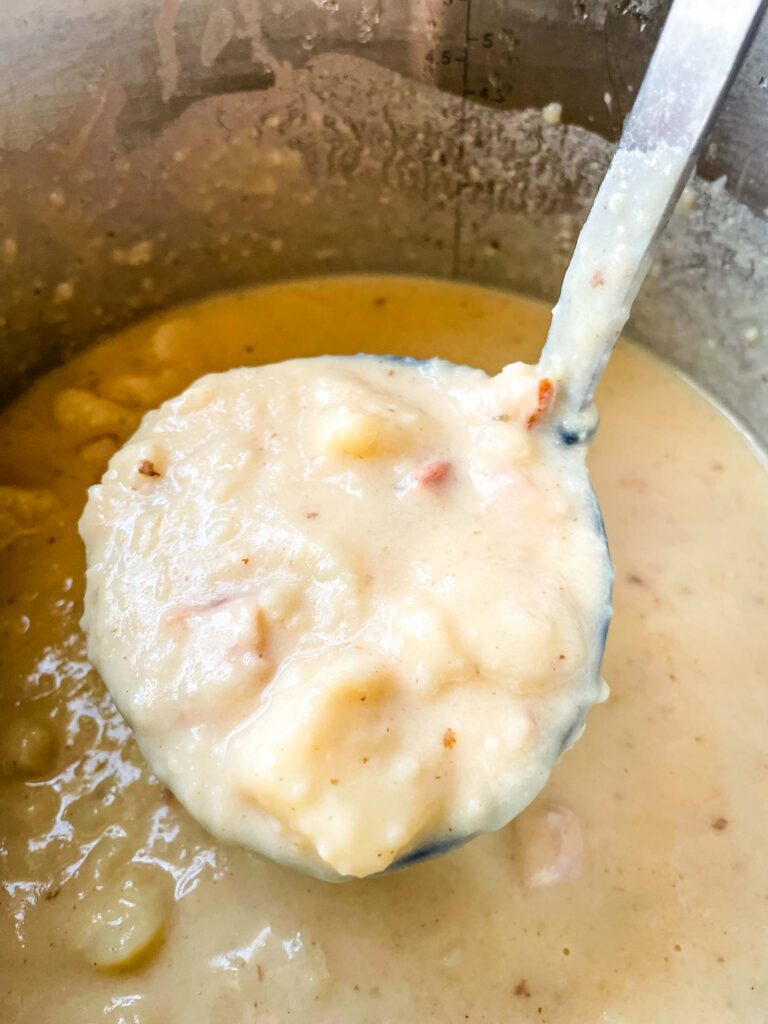 Should You Cook Potatoes Before Adding to Soup?
No need to here! They cook within the soup itself and release starches which work to help thicken the soup.
What Can I Add to my Potato Soup for Flavor?
if you feel like your soup is lacking flavor, there are a few things you can add. I would not recommend adding anything additional until the soup is completely done as the flavors will continue to develop and change, especially the salt factor.
Salt and Black Pepper – the seasoning OGs
Parsley – for more of a fresh, herb flavor
More Thyme
More Cheese (I like to use a sharp cheese in the first place for maximum flavor)
A little cayenne or hot sauce if you want just a little bit of a kick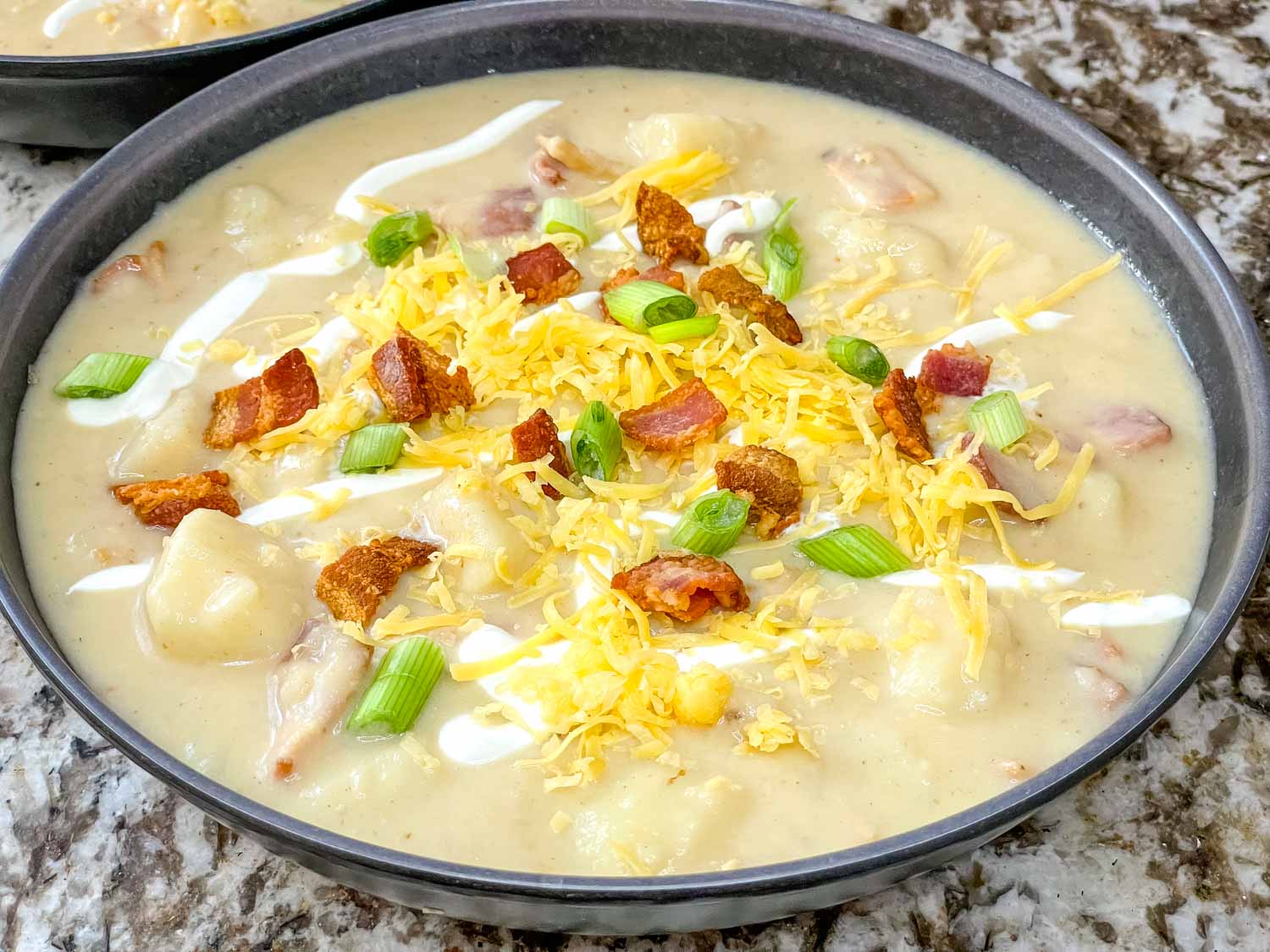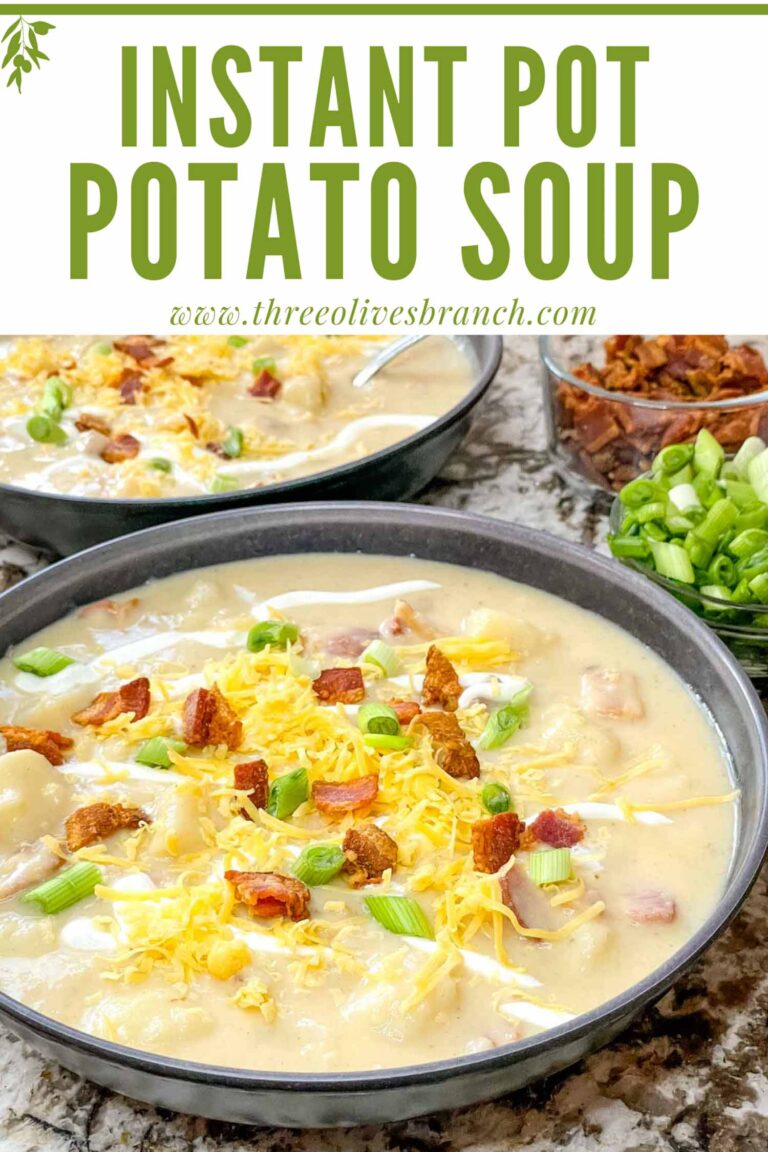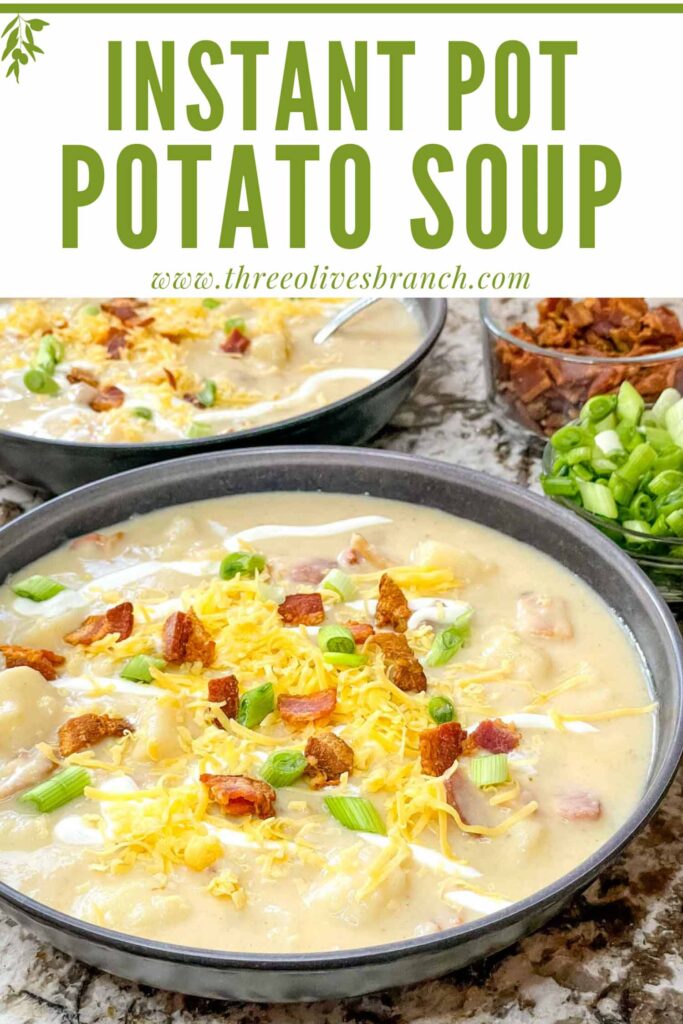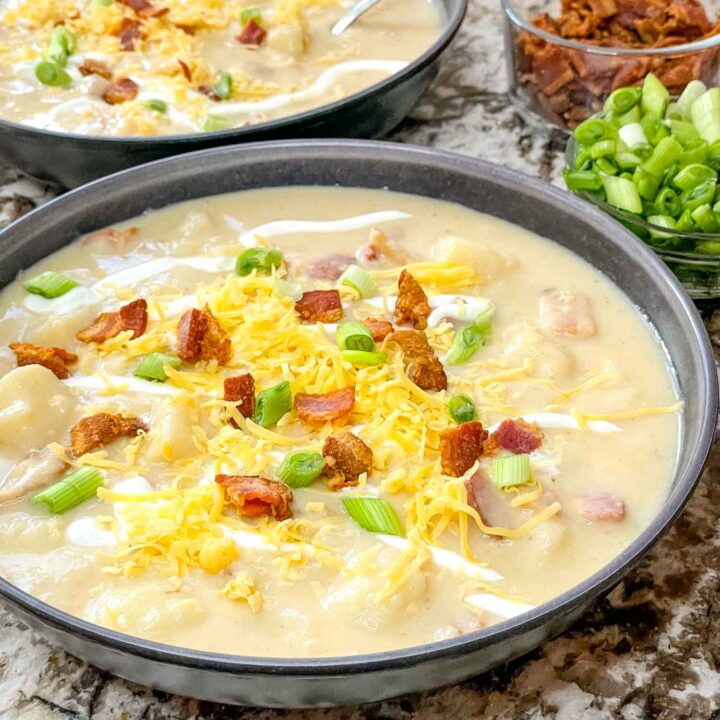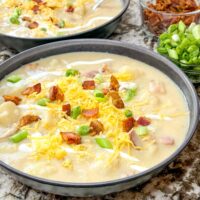 Potato Soup Instant Pot Recipe
Instant Pot Potato Soup is a fast and easy beginner recipe! A hearty and creamy soup made with milk, potatoes, bacon, cheese, and onion for a loaded potato soup recipe. A great Instapot recipe for cold weather.
Print
Pin
Rate
Ingredients
½

pound

bacon

chopped

1

cup

diced onion

(approximately 1/2-3/4 medium onion)

1 ½

Tablespoons

cornstarch

(or 3 Tablespoons flour)

1

teaspoon

fresh thyme

(or 1/2 teaspoon dried thyme)

2

minced

garlic cloves

(or 1/2 teaspoon garlic powder)

3

pounds

russet potatoes

peeled and chopped into 1/2 inch cubes (see note 1)

4

cups

chicken stock

or vegetable stock (32 ounces)

2

cups

whole milk

(see note 2)

2

cups

shredded cheddar cheese
sour cream

for serving, if desired

green onions

or chives, for serving, if desired

chopped bacon

cooked, for topping, if desired (can be cooked in step 1 and kept aside for serving)
Instructions
Chop the bacon and cook in the Instant Pot on the sauté setting until crispy. Remove the bacon and set aside. Leave the bacon fat in the pot.

Add the onions to the bacon fat and cook on the sauté function until translucent but not browning, approximately 4 minutes.

Add the cornstarch, thyme, and garlic. Cook until fragrant, about 1 minute.

Add your stock and potatoes to the pot. Put the lid on. Cancel the cooking on the Instant Pot and then set the pot to manual cooking, set for 8 minutes. Make sure the pressure valve is closed.

Once the pressure cooking has completed, use the manual release by turning the valve in the back to release the steam and pressure. When the pressure is gone and the lid clicks, remove the lid.

Use a potato masher to mash some of the potatoes (as much or little as desired – I like it chunky so I mash about 1/3).

Add the milk and cheese. Stir until the cheese is melted. Add the bacon now too if desired, or keep it all for serving if you want it to stay crispy.

Season to taste with cheese, salt, and pepper.

See notes below regarding soup consistency and adjust as desired if necessary. I do not adjust consistency until after cheese is added as the cheese will help thicken.

After the consistency is set, season to taste again with salt and pepper as needed.

Serve with additional toppings as desired such as cheese, sour cream, green onions/chives, and crispy bacon.
Video
Notes
You can also use red or Yukon gold potatoes. however the are waxy and will hold their shape more than a russet. 
Whole milk is recommended because it is creamier and richer than a lighter milk. Lighter milks like 2% can be used however your soup will likely be thinner and might taste a little less creamy.
Soup Thickness:
If you prefer a thicker soup, more similar to a stew, reduce chicken stock to 2 cups.
The exact thickness or consistency will vary based on (1) how many potatoes are mashed, (2) type of milk used and (3) the cheese you use. 
When you get to the end, if too thick, add a little more water, stock, or milk (1/2 cup at a time). If too thin, mash more potatoes, add more cheese, or make a slurry by whisking .5-1 Tablespoons cornstarch (1-2 Tablespoons of flour) with a little of the soup liquid in a small bowl, add back to the pot, stir, and simmer until it thickens.
Once you achieve the consistency you want, season to taste.
Nutrition
Serving:
1
serving
|
Calories:
615
kcal
|
Carbohydrates:
56
g
|
Protein:
26
g
|
Fat:
32
g
|
Saturated Fat:
15
g
|
Polyunsaturated Fat:
3
g
|
Monounsaturated Fat:
12
g
|
Trans Fat:
1
g
|
Cholesterol:
77
mg
|
Sodium:
761
mg
|
Potassium:
1375
mg
|
Fiber:
3
g
|
Sugar:
9
g
|
Vitamin A:
547
IU
|
Vitamin C:
16
mg
|
Calcium:
408
mg
|
Iron:
3
mg
Soups with Meat
Find some new soup night favorites!

By