This Rigatoni Arrabbiata is a classic Italian pasta recipe! An easy vegan tomato sauce with garlic and red pepper flakes tossed with rigatoni and parsley. Known as angry pasta for its spicy kick! #arrabbiata #pastarecipes #veganpasta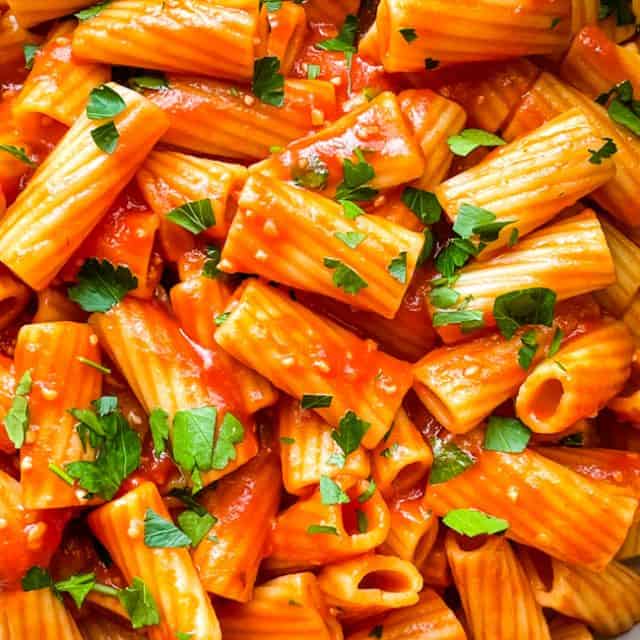 Rigatoni Arrabbiata is a spicy rigatoni pasta recipe ready in just 20 minutes! Fresh and simple flavors that stand on their own or add mix ins of choice!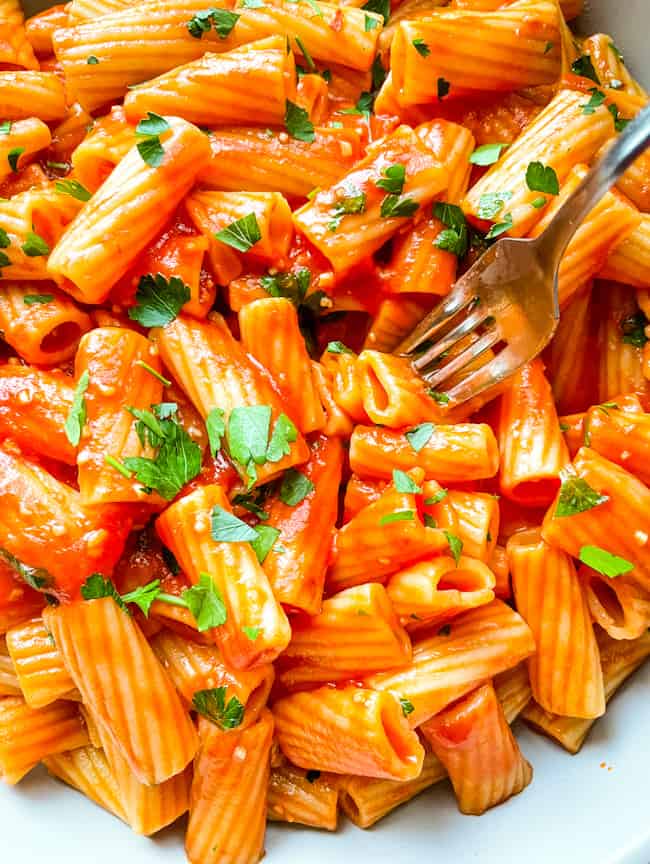 I fell in love with so many new dishes when I was in Italy for college, and pasta arrabbiata was one of them.
I got it so often and I had never heard of it before.
As soon as I got back, I was hooked, and have been making it at home ever since.
One of the best things about great Italian food is how incredibly simple and fresh it is.
This recipe is just a few ingredients and ready in just 15-20 minutes with tons of flavor.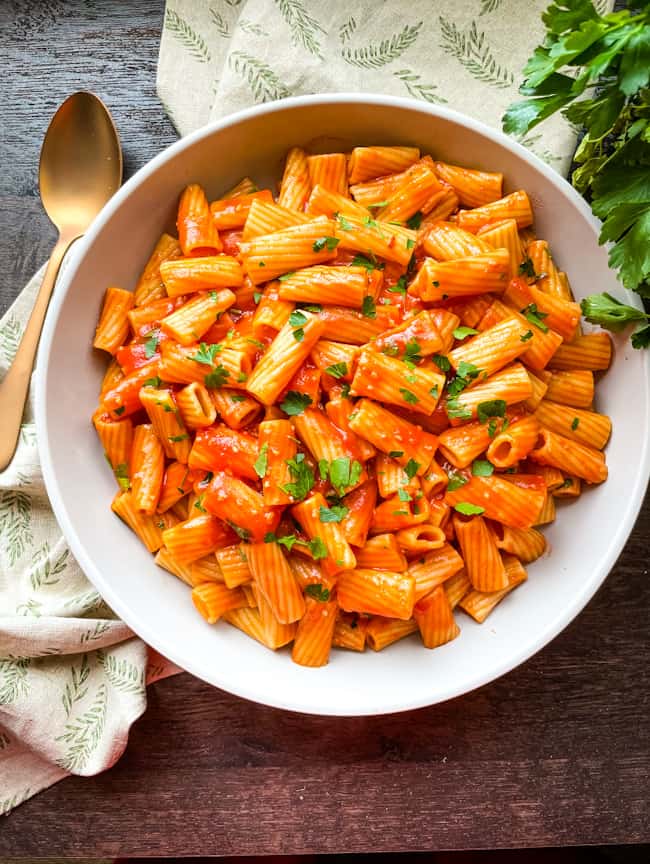 Using Rigatoni Noodles
I am a big believer that a pasta shape can completely change a dish.
Rigatoni pasta is perfect for this pasta arriabata because the noodles have some ridges which help trap the sauce on the pasta without it sliding off.
You can use any shape of noodle, but the more ridges the pasta has, the thinner the sauce will appear since there is more surface area to cover.
It is also great with other options in place of pasta, like zoodles or even as Arrabbiata Beans!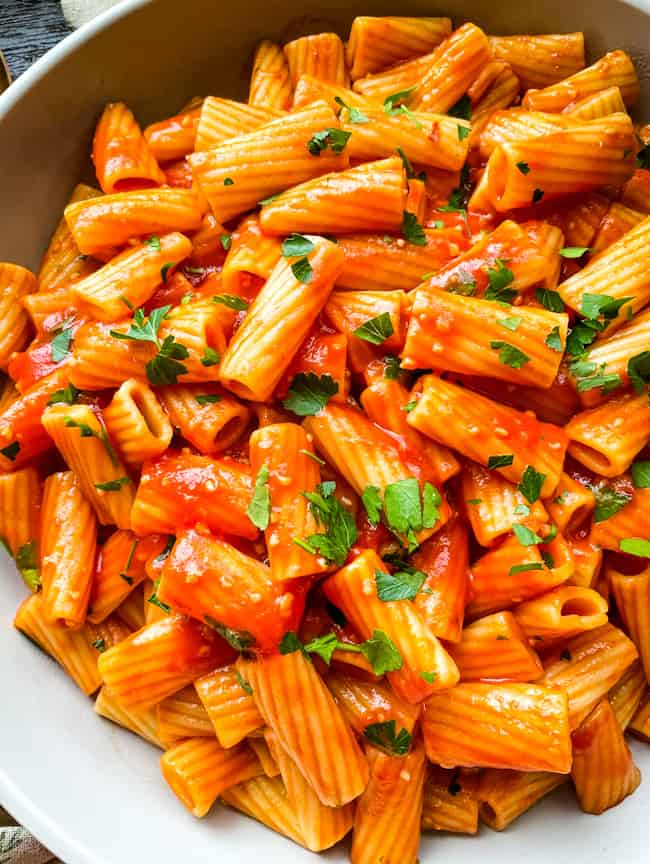 What is arrabbiata?
Pasta arrabbiata means "angry pasta" and the angry reference alludes to it being spicy.
Now remember, we are talking Italian spicy, not Mexican spicy.
And the spice comes from garlic and red pepper flakes instead of hot peppers.
So while I am not a fan of hot, I find this pasta to have a pleasant kick.
And this word can be tricky to remember how to spell. I see many variations of it like arrabiata, arribiata, arriabata, and more. But they are all the same thing.
And you can remember it by two "r"s, two "b"s. 🙂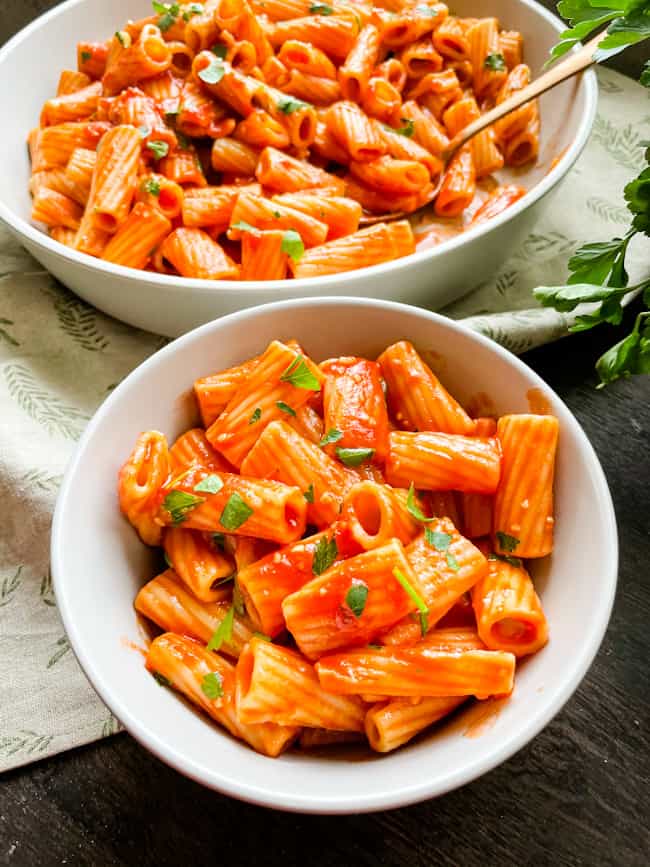 How spicy is spicy?
Trying to understand how spicy something is can be rather difficult since everyone has a different tolerance and preference of heat.
What I think of as hot but bearable can easily be nothing to others.
I find the easiest way to explain a heat is to compare it to jarred salsa at the store, since these salsas are purposefully adjusted to keep the same consistent heat in each batch.
So, with that in mind, I would say that this pasta arrabiata recipe as written is similar to a medium salsa in heat.
The one caveat is that your specific ingredients could potentially change this.
If your red chili flakes are old, they likely have lost some of their heat. And I find that jarred garlic has a little less heat than fresh.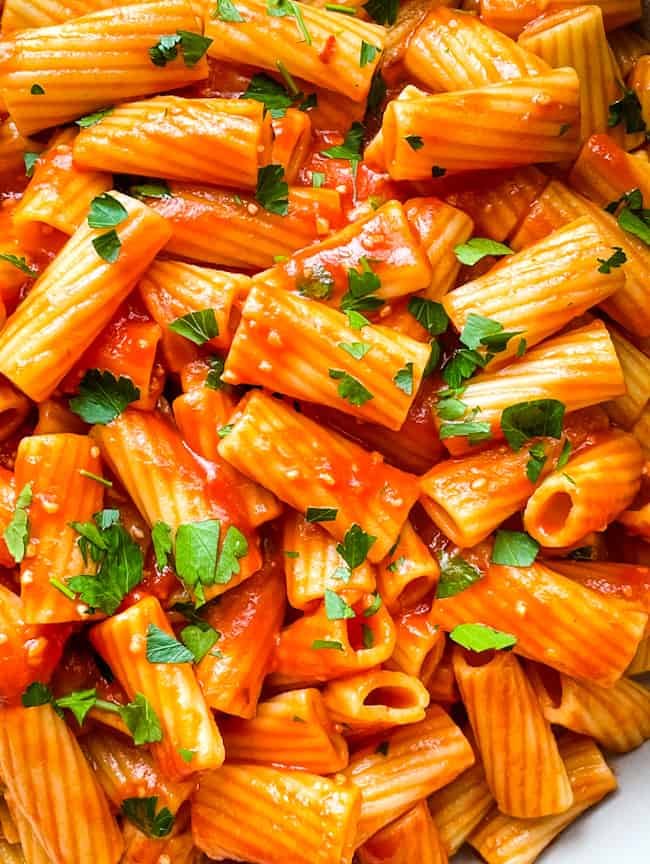 Cooking the Pasta
I am definitely on "team al dente" when it comes to how pasta is cooked.
Al dente pasta literally translates as "to the tooth" in Italian which means that there is a little bight or firmness to the pasta.
One of my biggest pet peeves is a restaurant that cooks pasta until it is completely mushy.
Your boxed pasta will have instructions for how to cook to al dente. But cook until it is as soft as you like.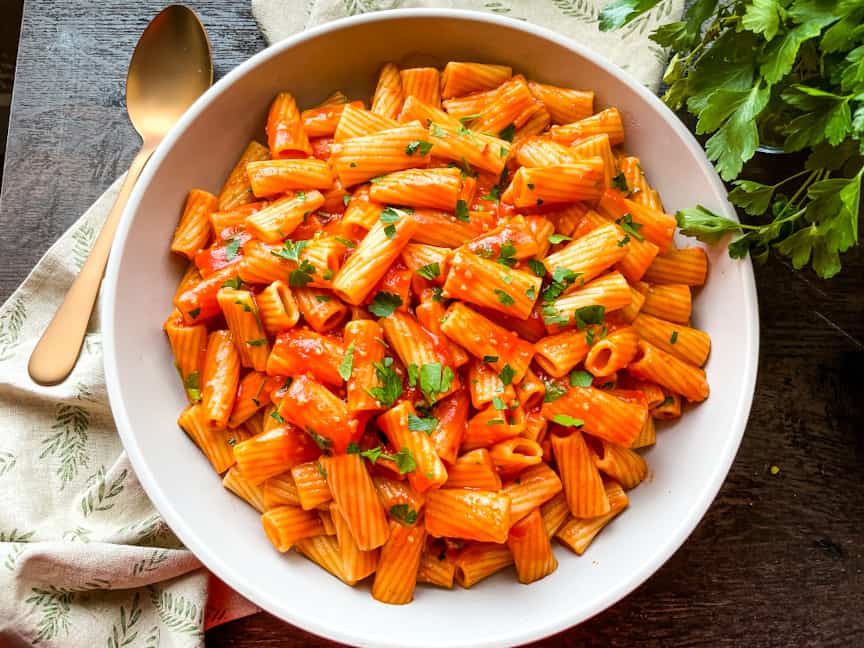 Variations and Additions
I personally do not think this pasta needs anything else.
But if you are looking to jazz it up a bit, I have ideas for you!
I love adding a bunch of sautéed vegetables, mixing them in with everything at the end (but cooked separately). My favorites are zucchini, peppers, onions, and asparagus.
Add chicken, sausage, or shrimp!
And this Rigatoni Arrabbiata is classically served with Parmesan cheese on the side if desired.
The fresh parsley on top really makes it amazing, so try to use it whenever possible! Dried works (use much less of it) but it does not bring the same freshness.
Pasta Recipes Without Meat
A collection of delicious pasta recipes without meat to serve up as a side or main course!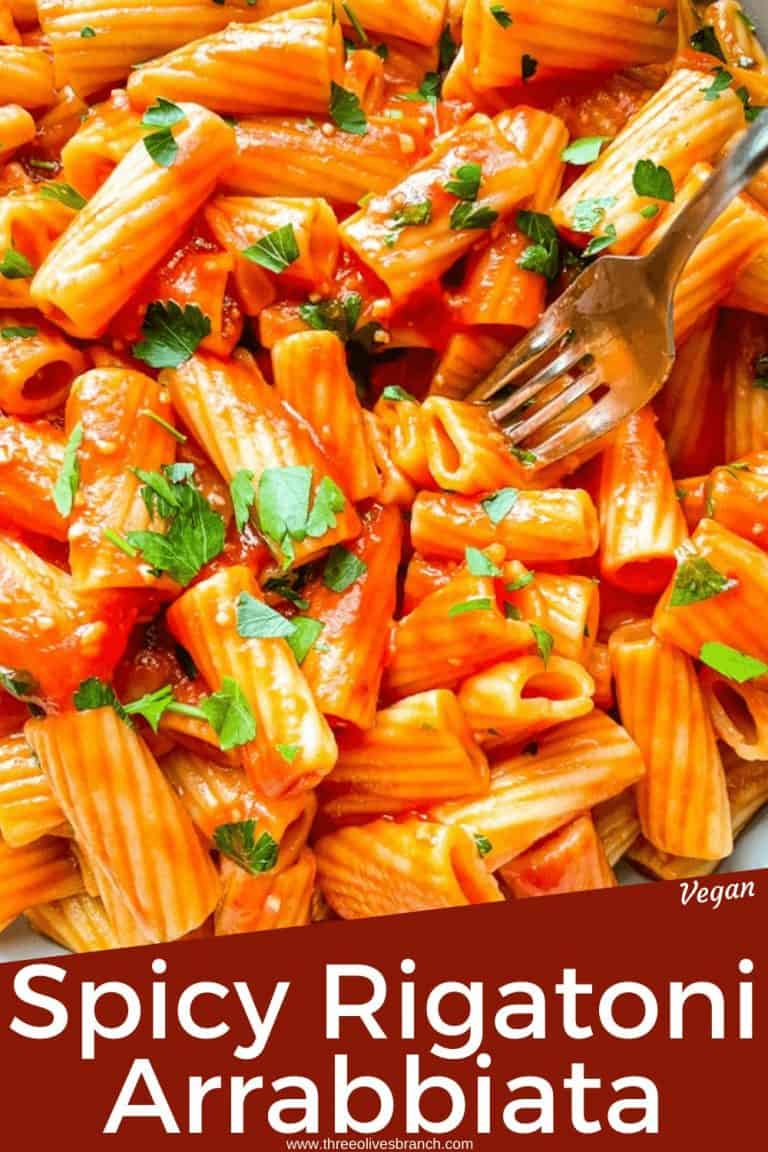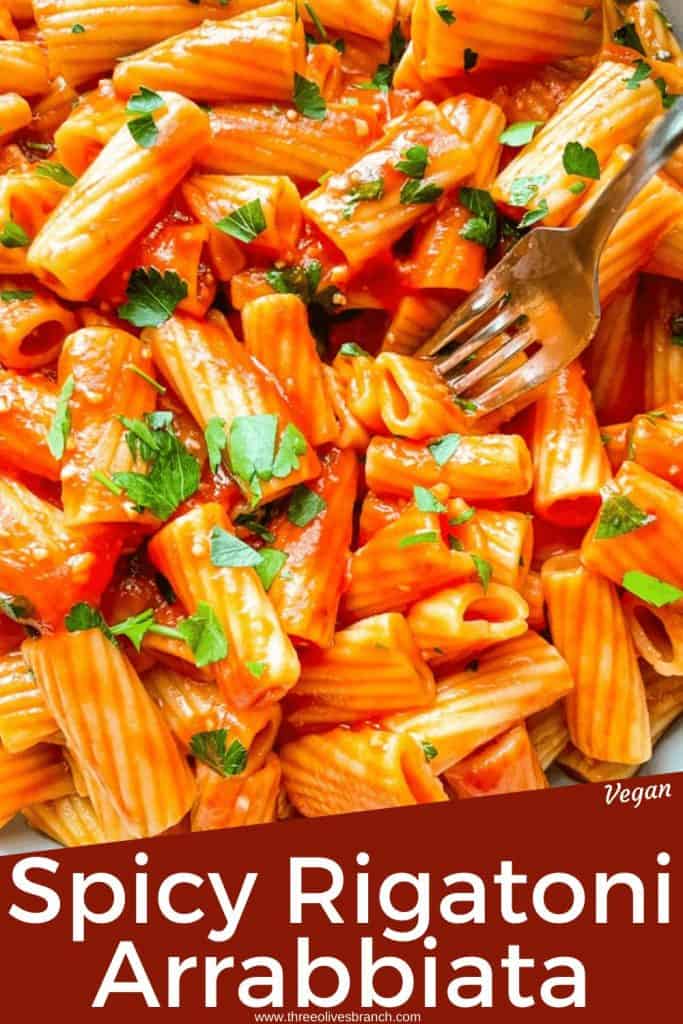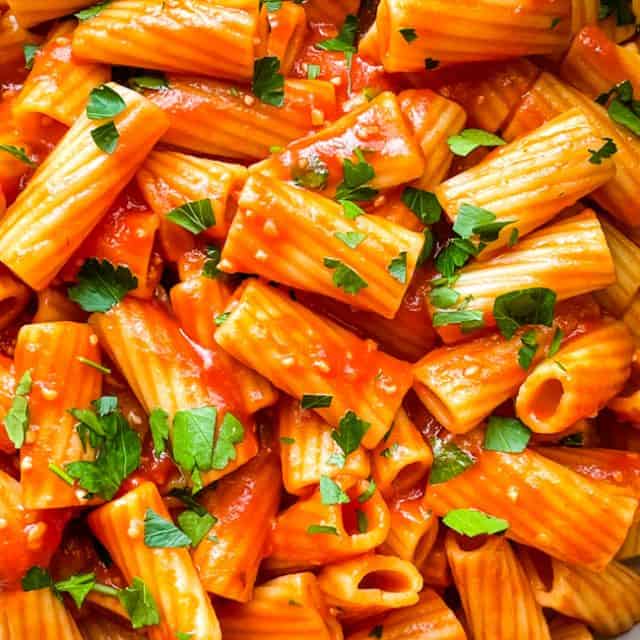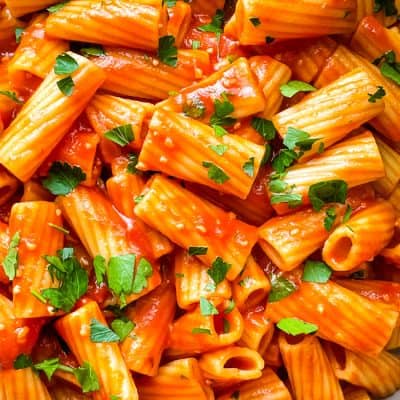 Rigatoni Arrabbiata
This Rigatoni Arrabbiata is a classic Italian pasta recipe! An easy vegan tomato sauce with garlic and red pepper flakes tossed with rigatoni and parsley. Known as angry pasta for its spicy kick! #arrabbiata #pastarecipes #veganpasta
Print
Pin
Rate
Instructions
Heat a large pot of water over high heat. Salt the water and cook the rigatoni to al dente as per package directions.

While the pasta water is heating, make your sauce. Heat oil in a small pot over medium heat.

Add garlic, red pepper flakes, and a pinch of salt. Sauté until garlic starts to very slightly brown, approximately 2-3 minutes.

Add tomato sauce and 1/2 cup of water. Stir and reduce heat to low.

Simmer sauce while cooking pasta as per package directions. The sauce will taste better the longer it cooks, but just 10 minutes or so should do the trick to meld the flavors. If possible, I like to simmer on low for 30 minutes for deeper flavor.

When pasta is ready, drain. Add the sauce and parsley to the pasta. Stir to combine. Season to taste with salt and red pepper. Serve with Parmesan cheese if desired.
Notes
The intensity of heat will vary based upon the garlic and red pepper flakes that you use.
I love to add some sautéed vegetables to the pasta, or you can add chicken, shrimp, or sausage for meat eaters.
Nutrition
Serving:

1

serving

|

Calories:

521

kcal

|

Carbohydrates:

96

g

|

Protein:

18

g

|

Fat:

7

g

|

Saturated Fat:

1

g

|

Sodium:

914

mg

|

Potassium:

885

mg

|

Fiber:

7

g

|

Sugar:

10

g

|

Vitamin A:

915

IU

|

Vitamin C:

15

mg

|

Calcium:

72

mg

|

Iron:

4

mg

By