Easy and simple, these sparkling rosemary are a perfect addition to holiday snacks, drinks, and desserts!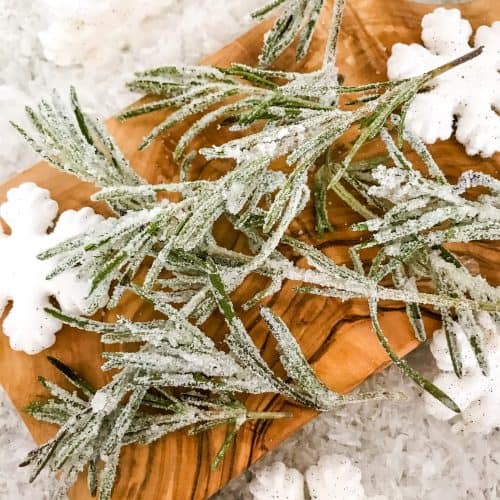 Sparkling Rosemary (Sugared Rosemary) is a beautiful and unique holiday decoration that is perfect for desserts and cocktails!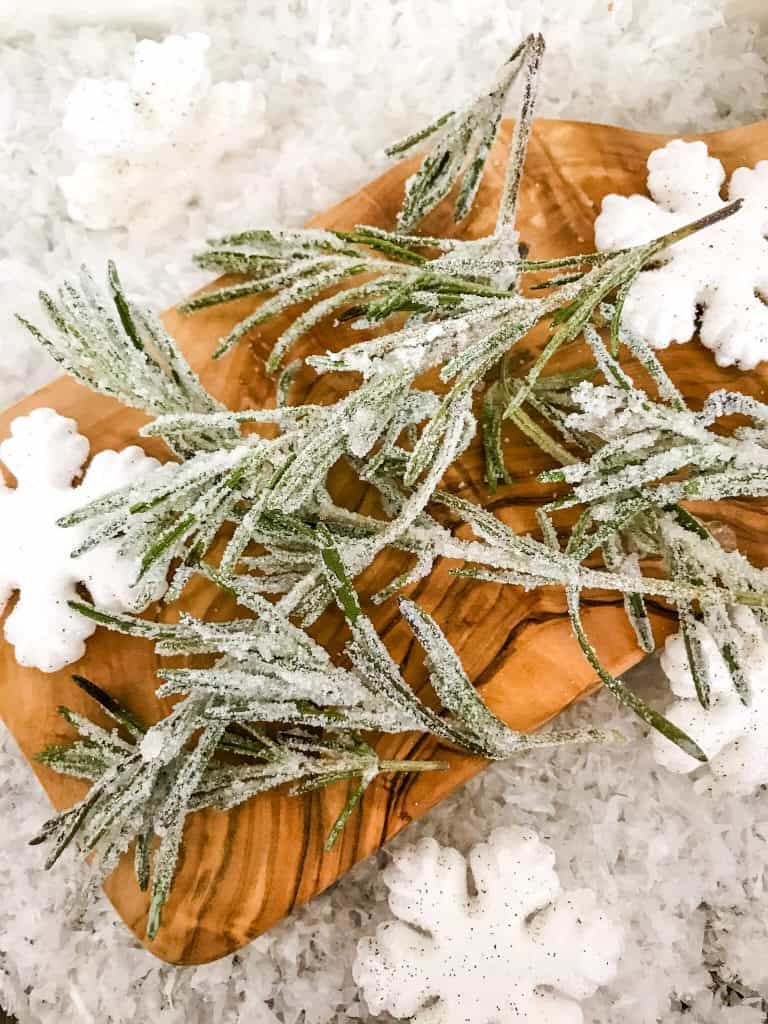 I am a sucker for sparkly things.
Plus my favorite theme or trend for Christmas and the winter holidays is a snowy forest.
So twist my arm! These Sparkling Rosemary (Sugared Rosemary) pieces are just beautiful and remind me of a snowy forest!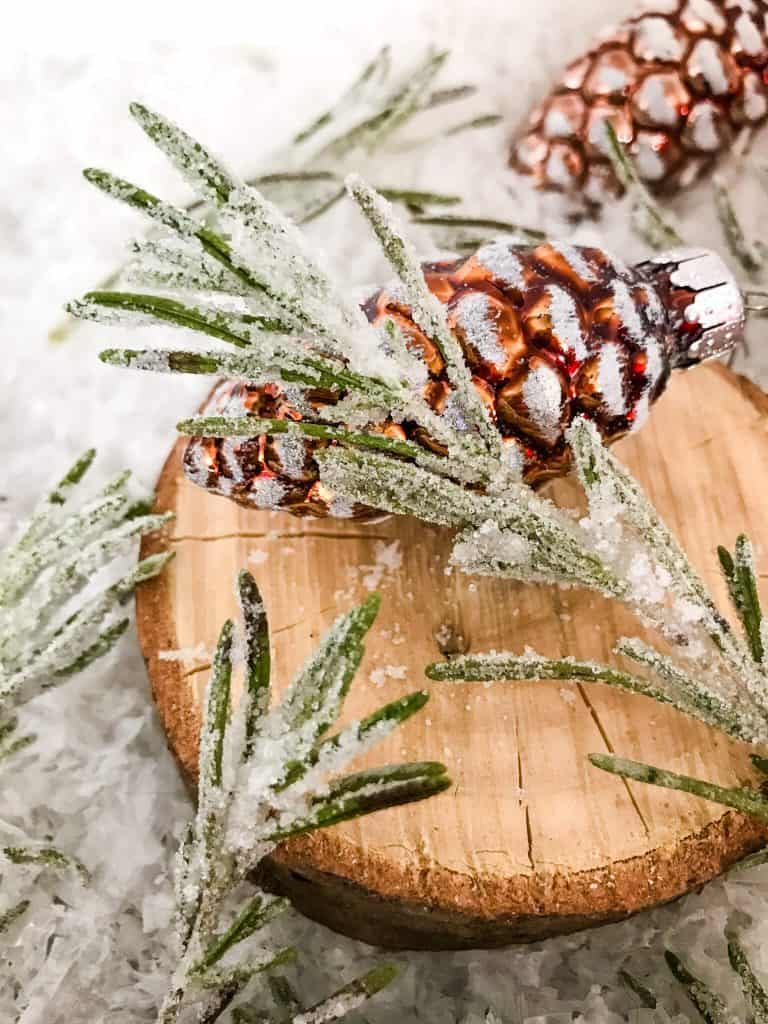 They look like a winter storm just came through and left a dusting of snow across the leaves and branches.
A great way to bring the sparkle and magic of winter indoors regardless of where you live!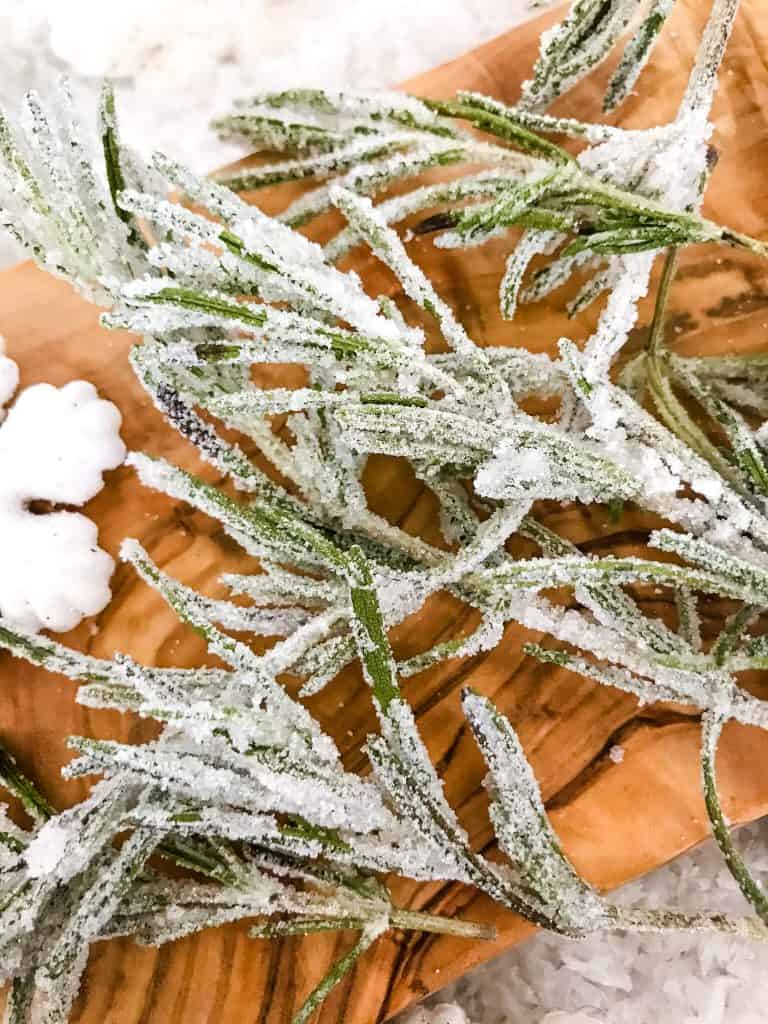 Just roll the fresh rosemary around in some simple syrup, let them sit until they are sticky but not dry, and then roll around in sugar. That's it!
The leftover syrup can be used in any way that you would use a simple syrup like cocktails, drinks, or desserts. It will have a faint taste of rosemary but nothing too strong.
Alternatively, you can also choose to leave a couple pieces of rosemary in the simple syrup for an hour to make a true rosemary simple syrup!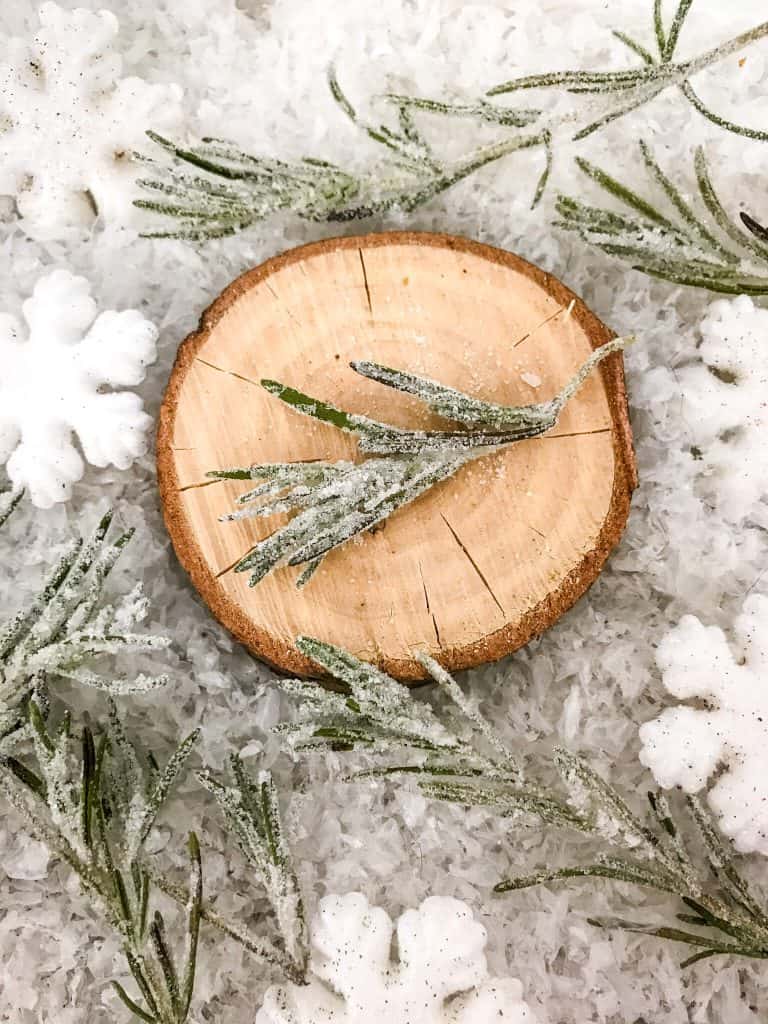 I like to make this Sparkling Rosemary (Sugared Rosemary) along with Sparkling Cranberries for the holidays.
Both of them together just screams Christmas and winter, and the colors look great together.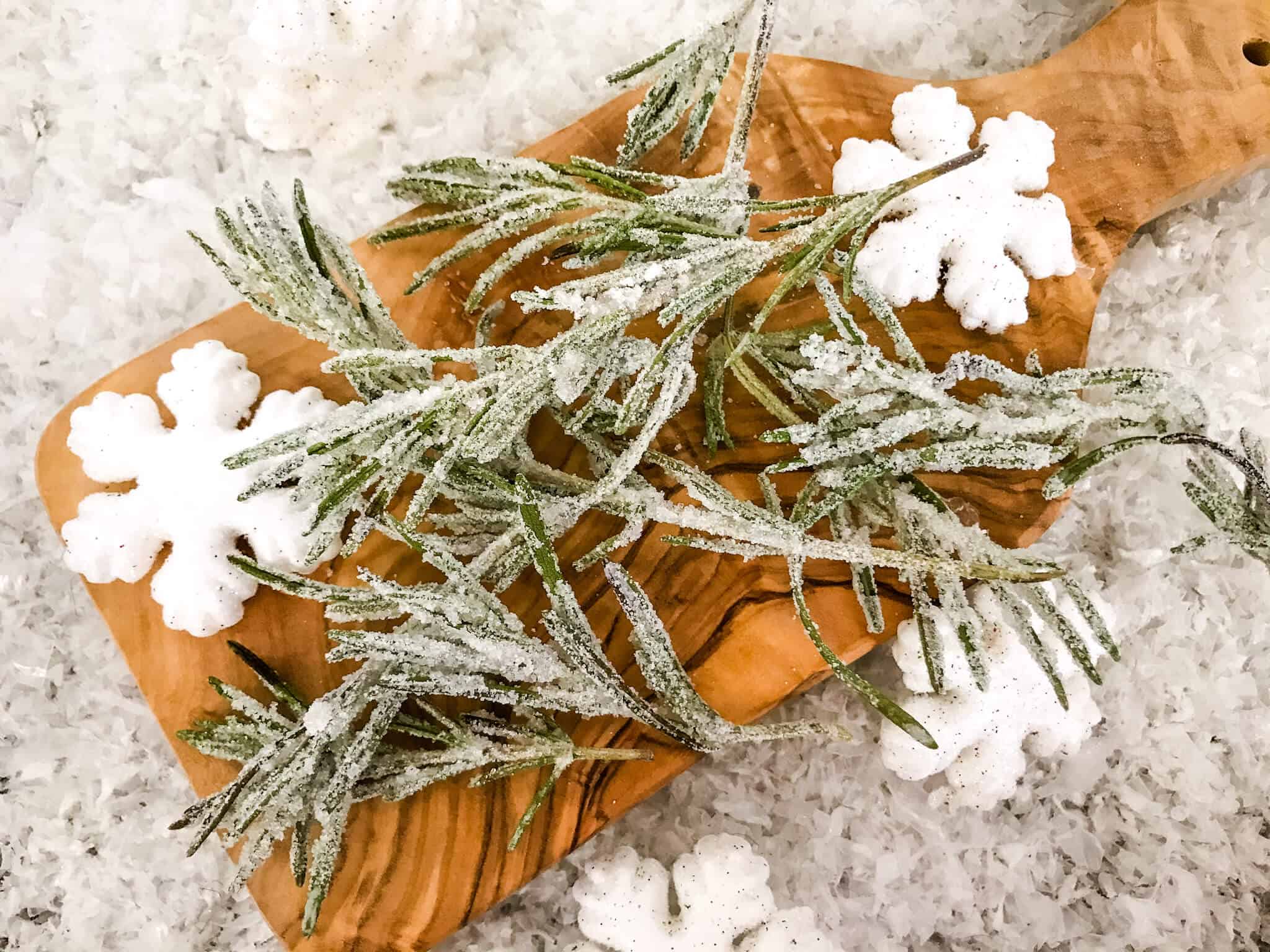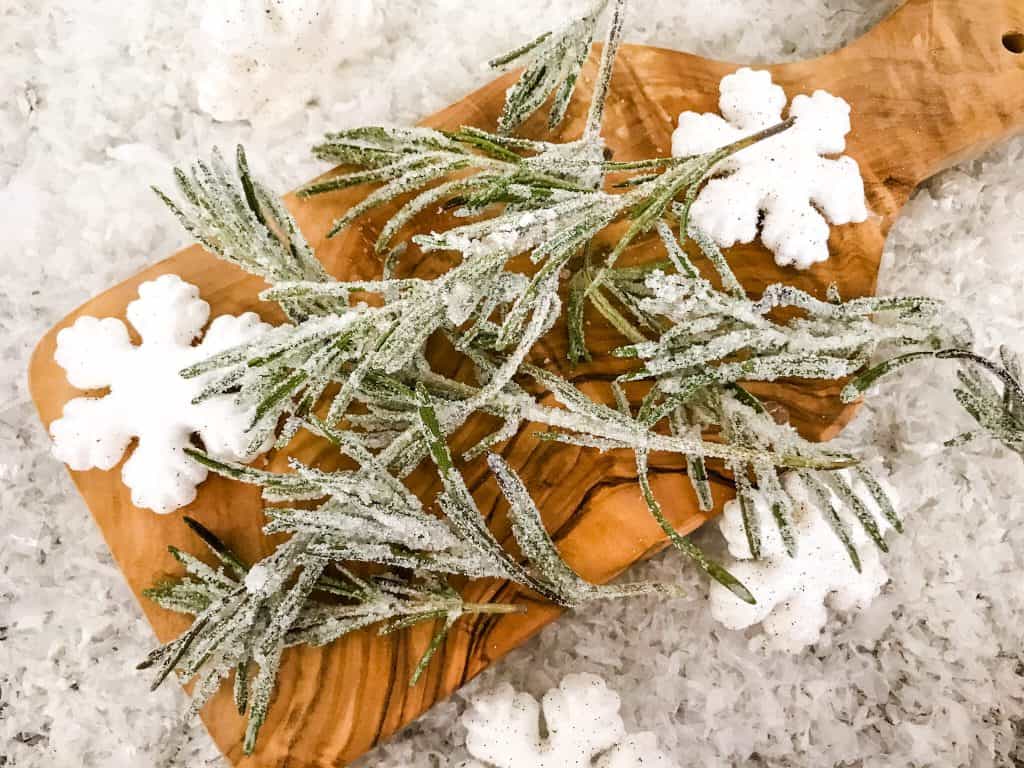 Since this rosemary is a long stick, it works beautifully as a cocktail garnish since most of it will stick out of the liquid and stay sparkly.
Add it to any festive cocktail like a Cranberry Old Fashioned.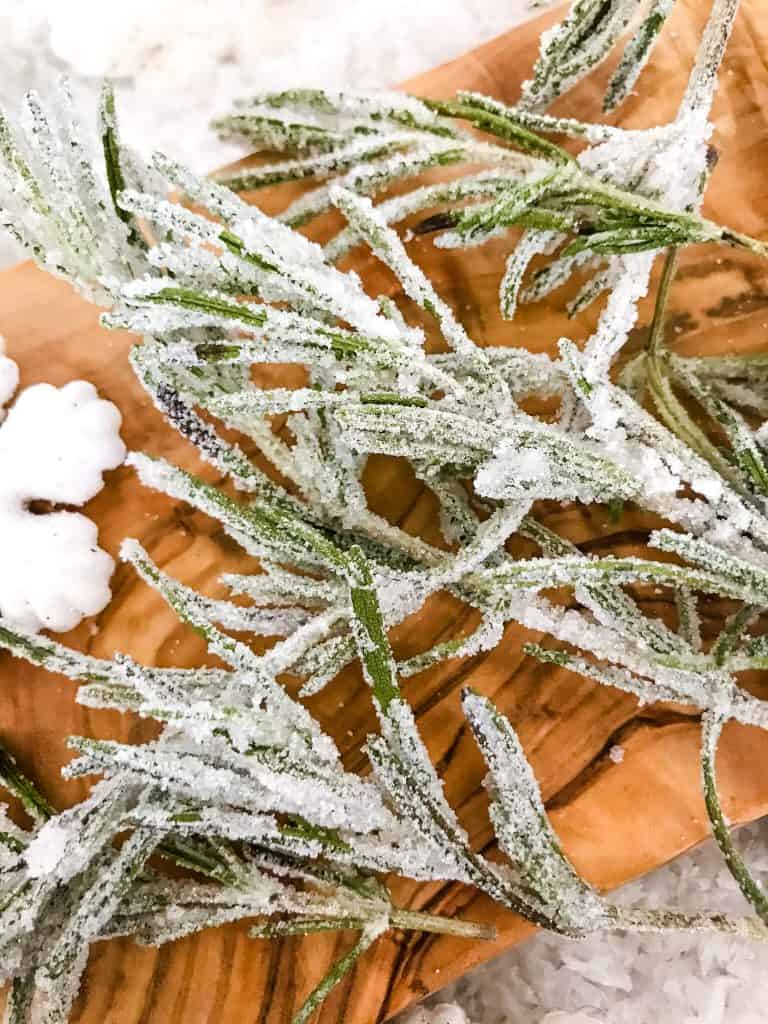 Ingredients
1 1/2

cups

sugar

1/2

cup

water

1.5

ounces

fresh rosemary branches

(1.5 – 2 ounce package)
Instructions
Combine 1/2 cup sugar and the water in a medium pot over medium heat. Stir until sugar is dissolved. Do not boil.

Add the rosemary pieces and stir to coat (work in batches if desired). Remove the rosemary with a slotted spoon and place them on a cooling rack.

Let the rosemary sit for one hour. They will no longer be wet but will be sticky.

Roll the rosemary in the remaining sugar to completely coat. Use a fork or spoon to separate the rosemary pieces as needed to fully coat in sugar as sometimes the leaves stick together.

Rosemary can be stored in an air tight container for up to 3 days in the refrigerator.
Notes
Use the simple syrup in desserts and cocktails!
This recipe can easily be halved based on how many you want to make.
If the rosemary starts to lose the sugar coating over time, they can be re-coated in sugar.
Nutrition
Serving:

1

batch

|

Calories:

1217

kcal

|

Carbohydrates:

309

g

|

Protein:

1

g

|

Fat:

2

g

|

Saturated Fat:

1

g

|

Sodium:

20

mg

|

Potassium:

284

mg

|

Fiber:

6

g

|

Sugar:

299

g

|

Vitamin A:

1243

IU

|

Vitamin C:

9

mg

|

Calcium:

135

mg

|

Iron:

3

mg

By