This Strawberry Thyme Cooler (Non-Alcoholic Mocktail) is a delicious and refreshing summer drink recipe! Made with berries, citrus, and fresh herbs for a fruit forward light drink. Bubbly kid cocktail from club soda and great for a party or BBQ cookout.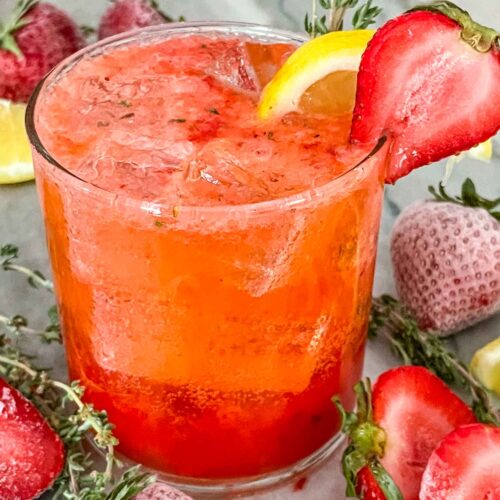 This Strawberry Thyme Cooler (Non-Alcoholic Mocktail) is a refreshing fruit flavored beverage perfect for warm weather summer! Strawberries are muddled with fresh herbs and citrus for a delicious drink.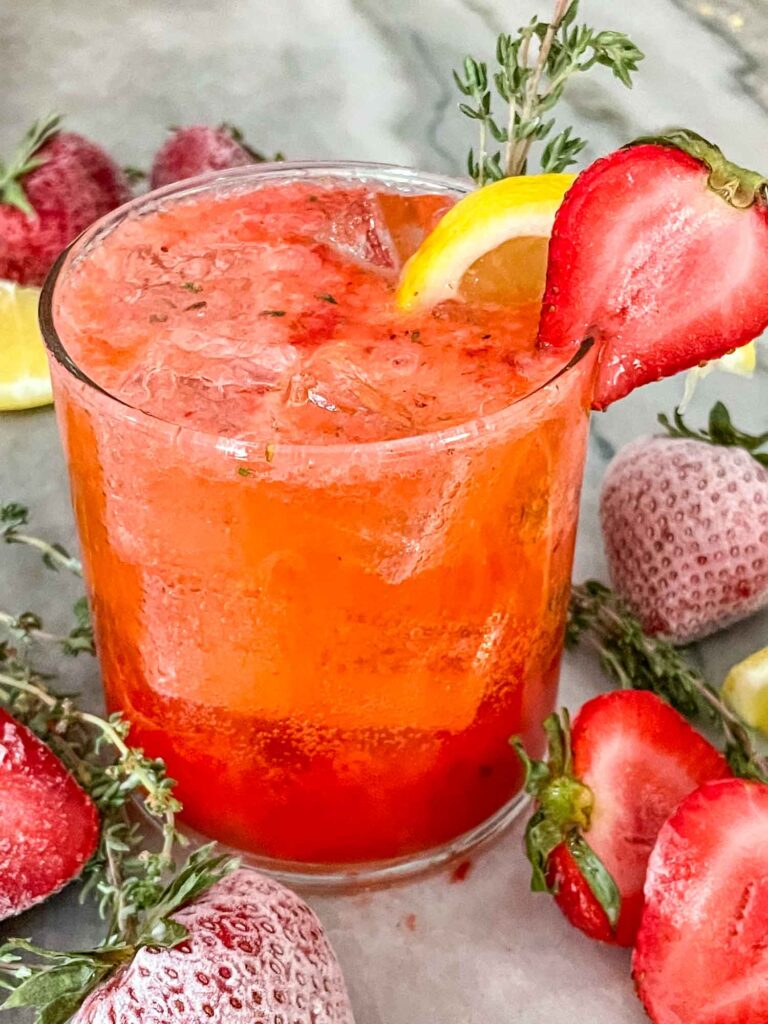 Non-Alcoholic Strawberry Drink
Whether you are looking for kid friendly drinks or a non-alcoholic mocktail option, this Strawberry Thyme Cooler (Non-Alcoholic Mocktail) is perfect for a crowd!
Using fresh herbs in a drink might sound weird, but they do an amazing job of balancing the other flavors and bringing their fragrance to the drink. Our super popular Amalfi Martini Limoncello is a perfect example of this!
What is the Difference Between a Cooler and a Spritzer?
It is difficult to find the meanings of these online as it seems like the answers vary so much.
From what I have found and from a lot of research, a spritzer is typically made with wine. A cooler has any type of alcohol in it.
So while this is a non-alcoholic beverage recipe, we are calling it a cooler since it is sparkling and no wine. But technically it could also be a non-alcoholic spritzer!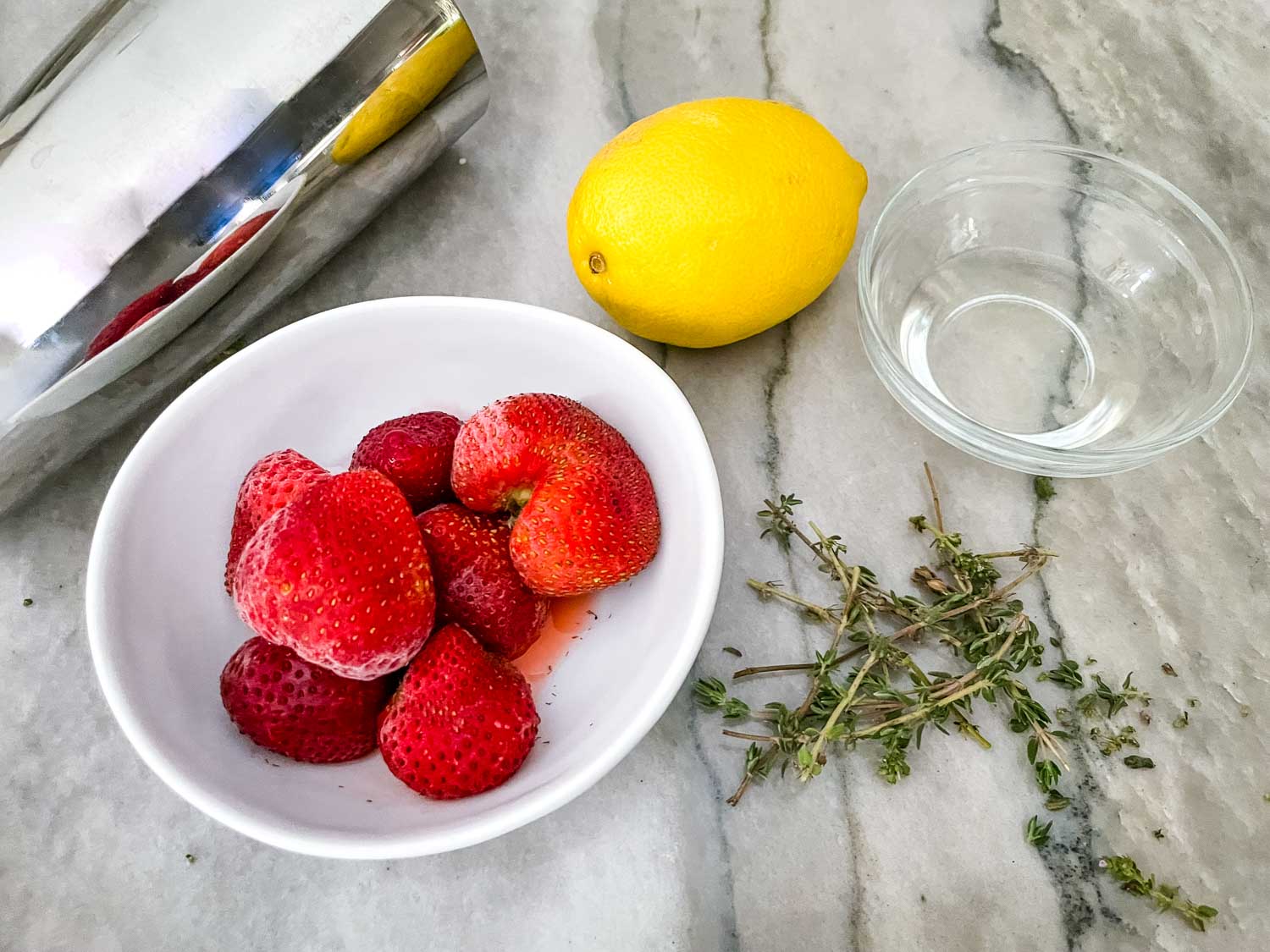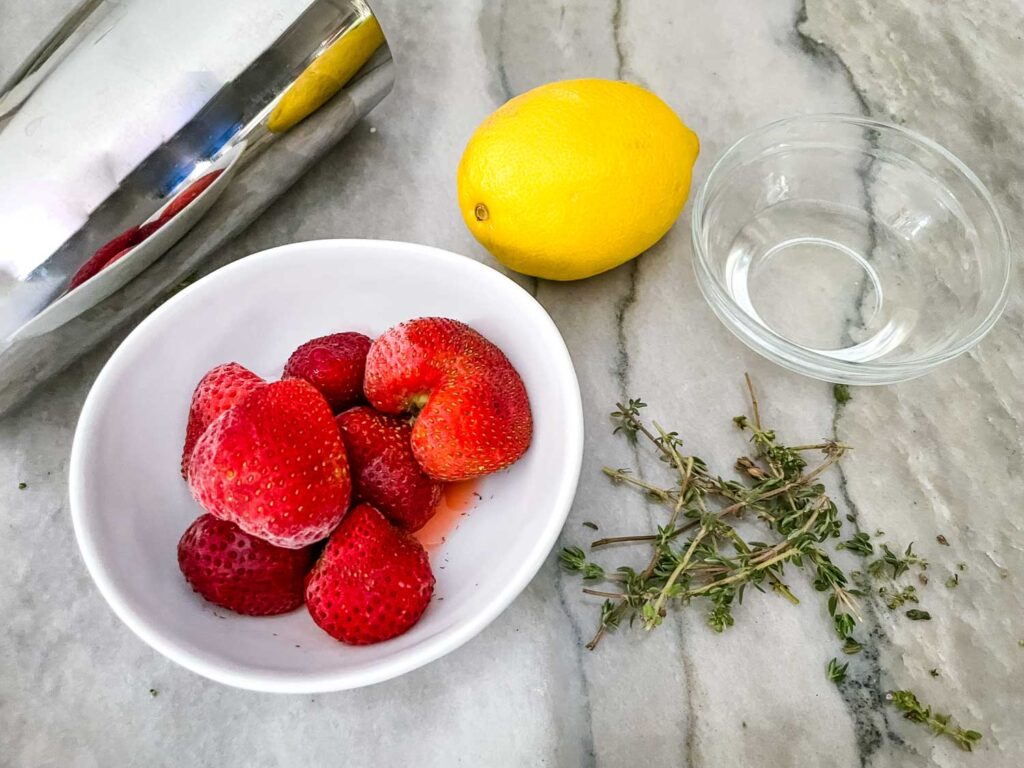 What is in a Strawberry Thyme Cooler?
Here are the ingredients you need to make this drink:
Strawberries
Fresh Thyme
Lemon Juice
Simple Syrup
Club Soda
Ice
Can I Use Frozen Strawberries?
Yes! They can be defrosted or you can leave them out for a few minutes until they are mashable.
Frozen strawberries are a great option as they are frozen so quickly after picking.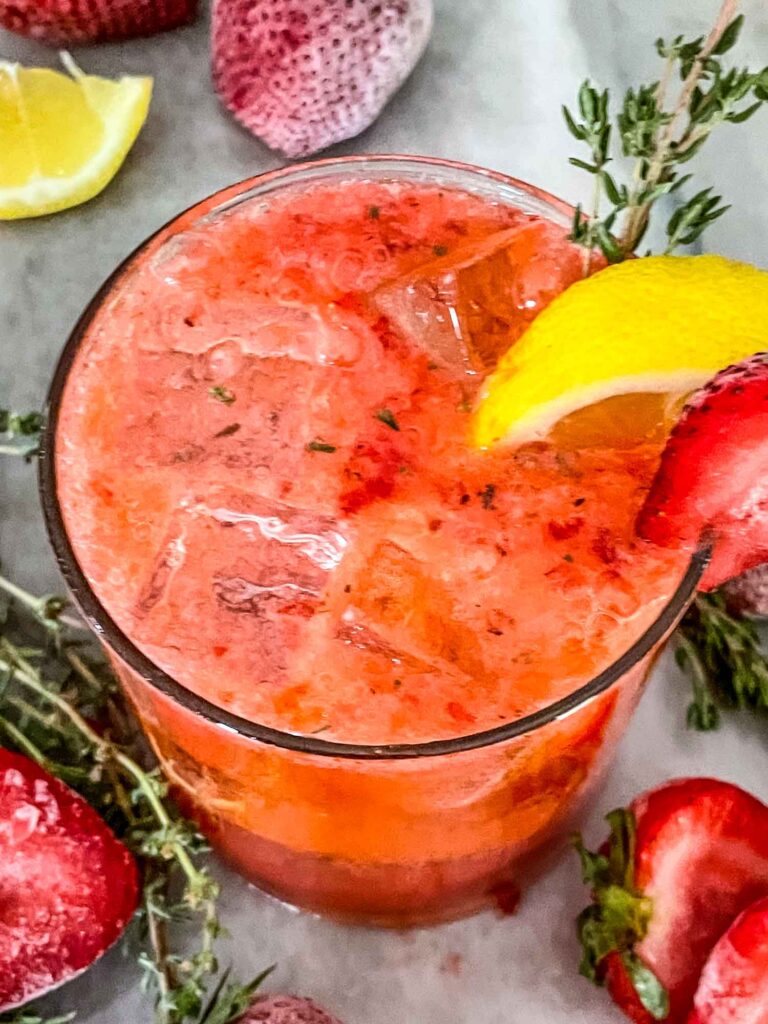 Can I Use Dried Thyme?
Yes, you can use about 1/4 teaspoon of dried thyme instead of fresh.
How Do I Make Simple Syrup?
Simple syrup is super easy to make!
Mix 1 cup sugar with 1 cup water in a small pot and bring to a simmer.
Once all of the sugar is dissolved, let it cool and use it! Super easy!
You can also take it a step further and use a flavored simple syrup for extra flavor punch, such as our Orange Simple Syrup. Or even bring a little bit of a kick with our Jalapeno Simple Syrup!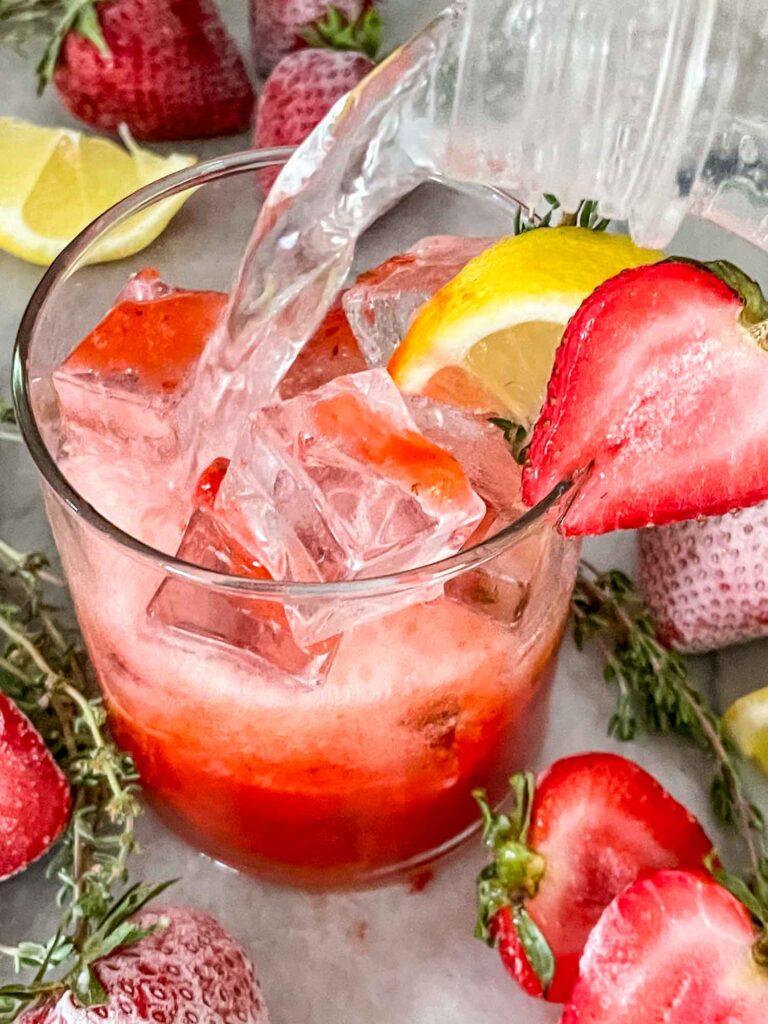 Modifications and Substitutions
Want to change things up?
Any berry such as blueberries or blackberries would be a great swap
Other herbs like rosemary or basil would also be great for pairing with berries
Use a lemon lime soda or tonic water for a sweeter rink with more citrus flavor\\How to Make the Cooler
First muddle the strawberries, thyme, simple syrup, and lemon juice together in a cocktail shaker.
No shaker? You can also muddle them directly in a glass.
Shake with a scoop of ice and pour into the serving glass.
You will have pieces of strawberry and the thyme leaves come out, which I love!
Fill the glass with ice and top it with soda water.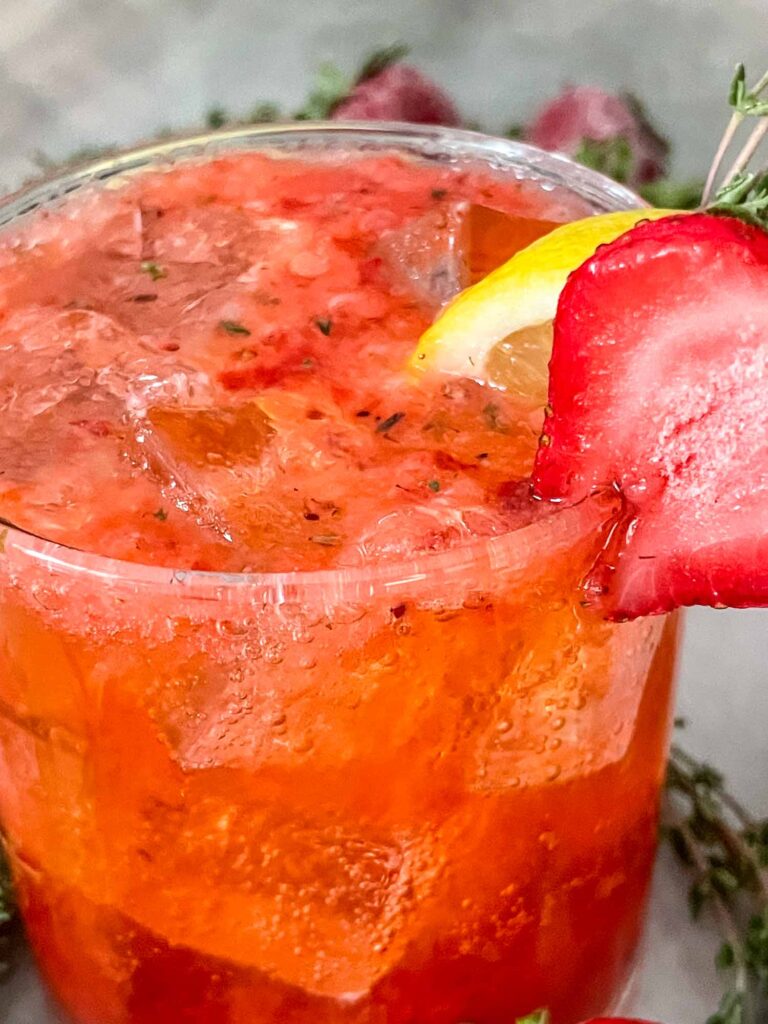 Can I Make a Large Batch of this Drink?
Yes! I love making larger batches to make life easy when you are ready to pour a drink.
Simply mash the strawberries, thyme, lemon, and simple syrup together and have ready to go.
Then pour small amounts into glasses and top with your club soda.
I would not pour the club soda early as it will lose the bubbles!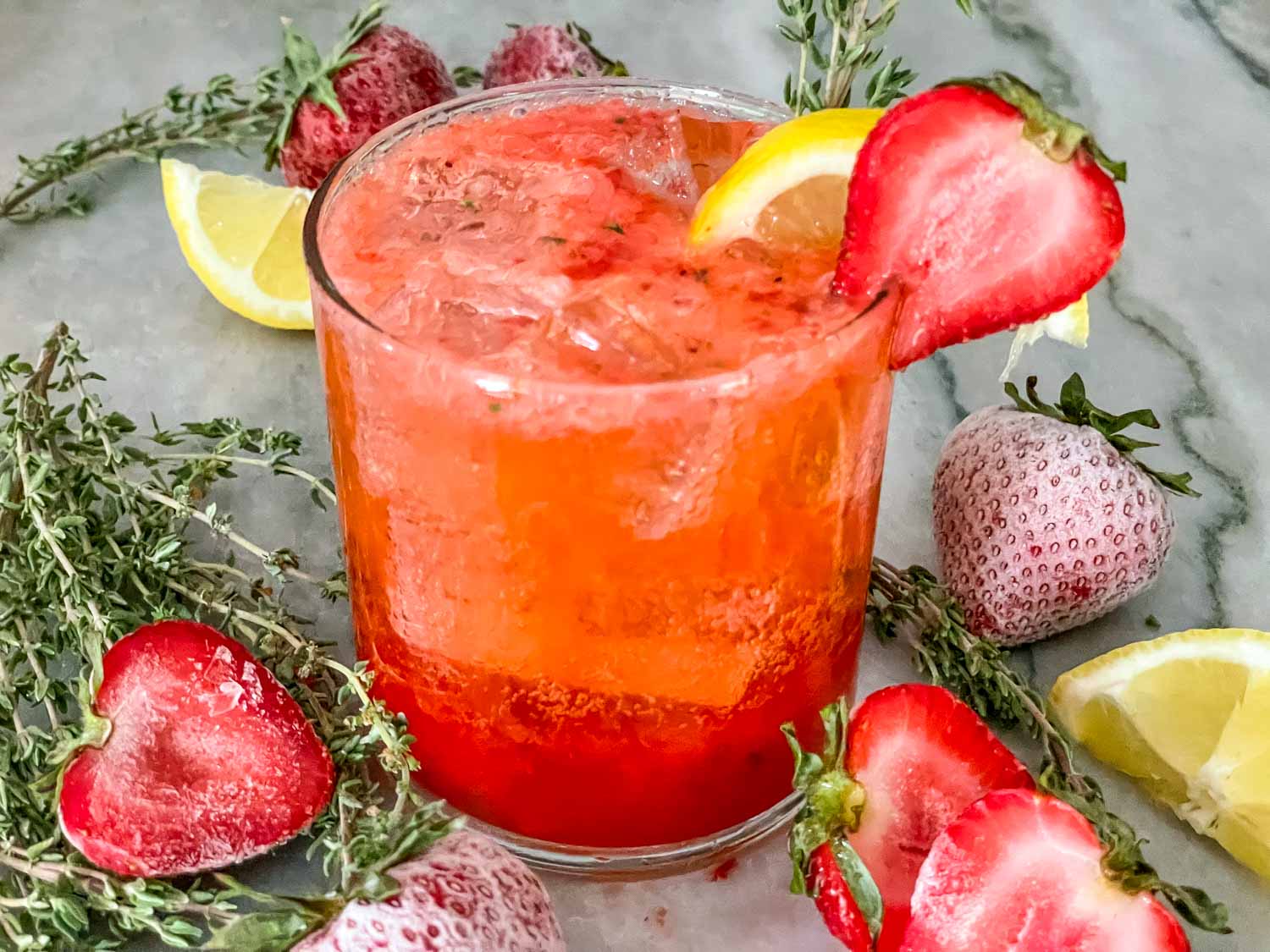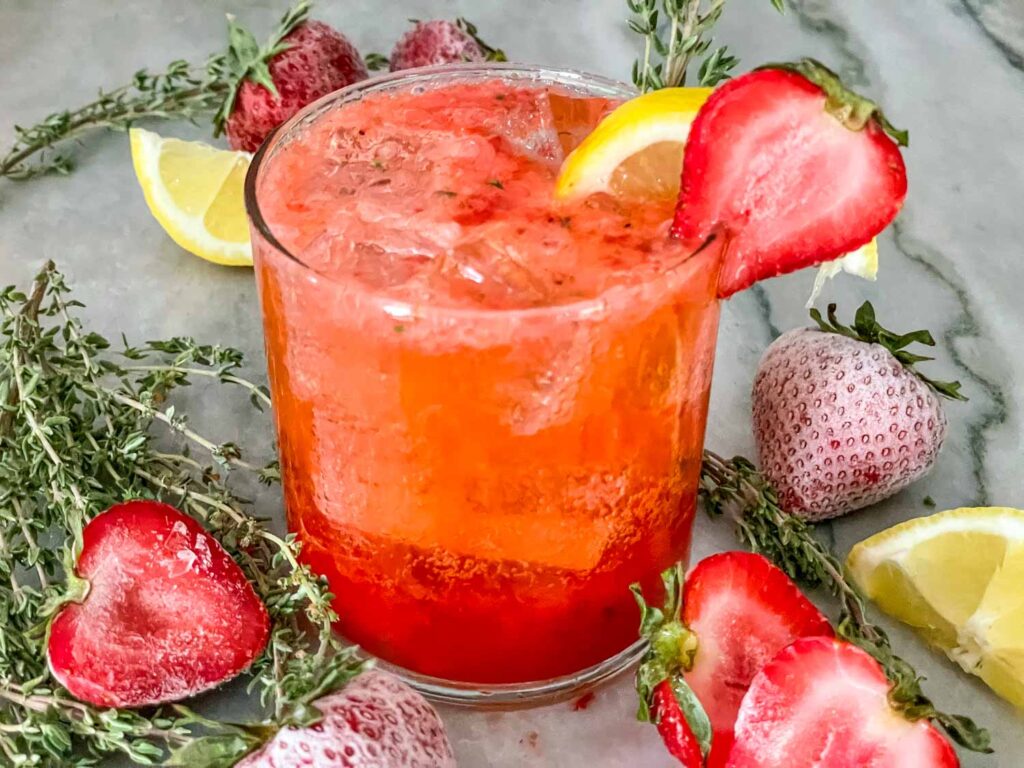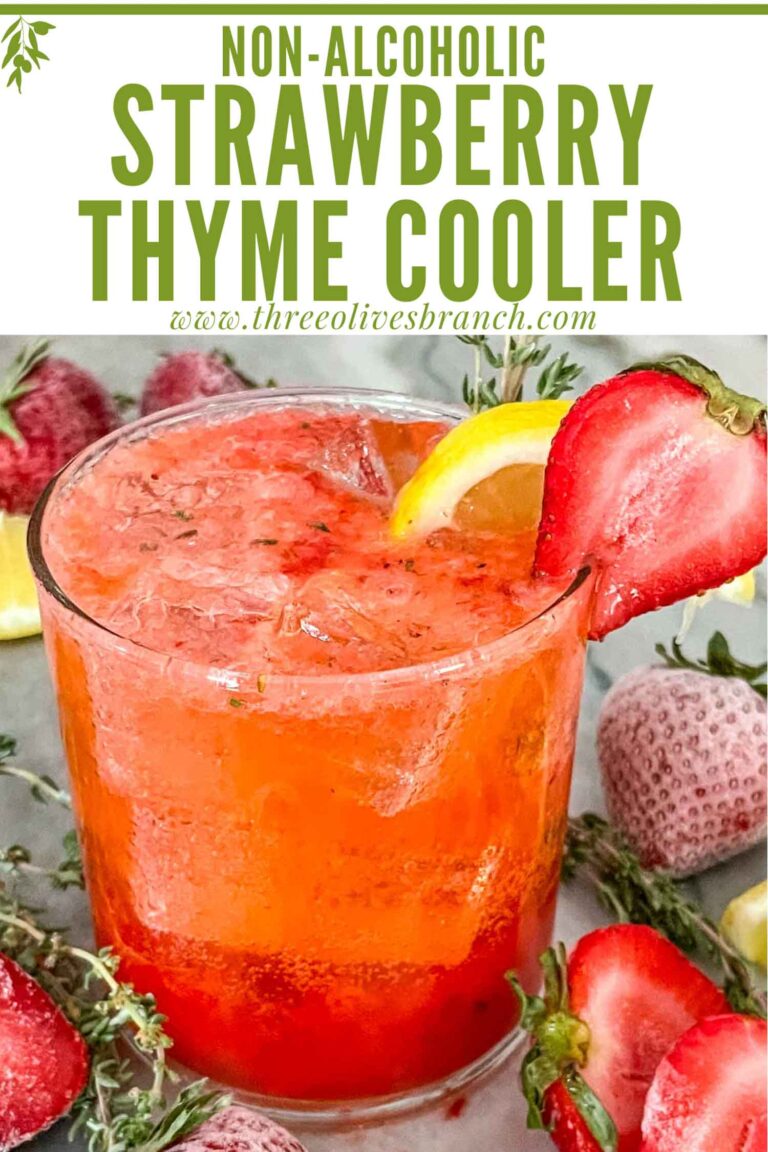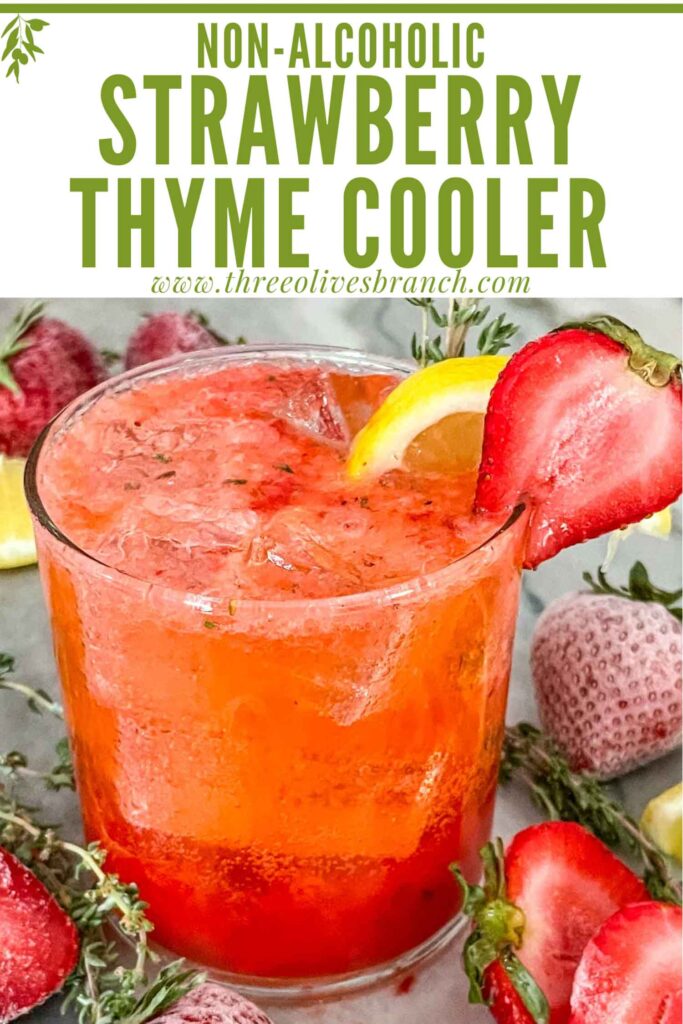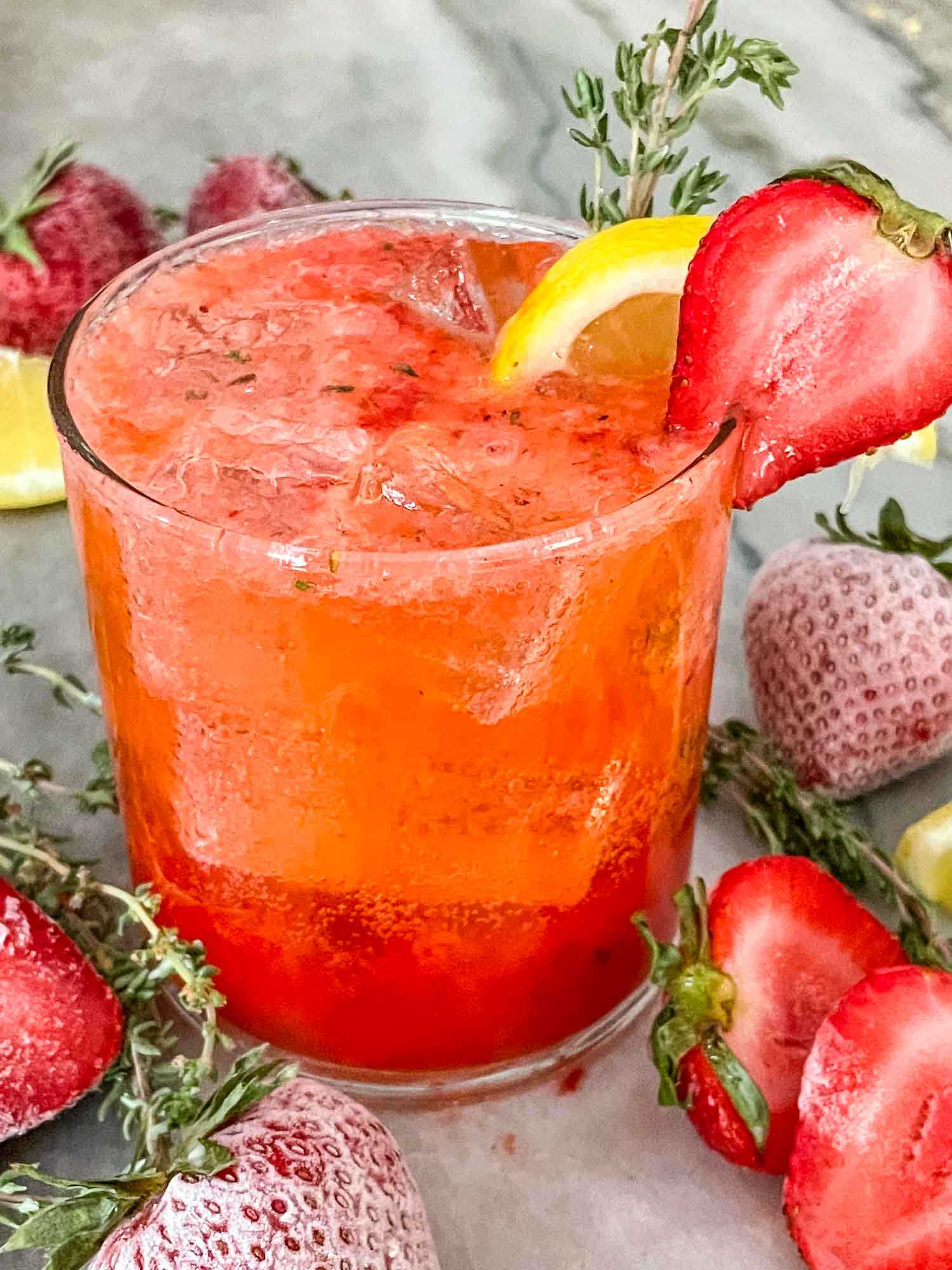 Ingredients
4

medium

strawberries

(about 1/2 cup sliced)

2

sprigs

fresh thyme

1

ounce

simple syrup

(2 Tablespoons)

1

ounce

lemon juice

(2 Tablespoons)

club soda
Instructions
Put all of the ingredients except the club soda into a cocktail shaker.

Muddle and mash the ingredients together until well blended.

Add a scoop of ice to the shaker and shake until very cold, about 30 seconds.

Pour into a glass filled with ice and top with club soda. Serve.
Notes
No cocktail shaker? You can make it directly inside a glass.
Nutrition
Serving:
1
drink
|
Calories:
100
kcal
|
Carbohydrates:
27
g
|
Protein:
1
g
|
Fat:
0.2
g
|
Saturated Fat:
0.03
g
|
Polyunsaturated Fat:
0.1
g
|
Monounsaturated Fat:
0.02
g
|
Sodium:
17
mg
|
Potassium:
133
mg
|
Fiber:
1
g
|
Sugar:
24
g
|
Vitamin A:
102
IU
|
Vitamin C:
42
mg
|
Calcium:
21
mg
|
Iron:
2
mg
Mocktails and Non-Alcoholic Drinks
By