Three Cheese Zucchini Parmesan is an amazing Italian dinner recipe idea! A great healthy twist to use summer squash in classic Italy flavors. Coated with breadcrumbs, marinara tomato sauce, Fontina, mozzarella, and Parmesan cheese.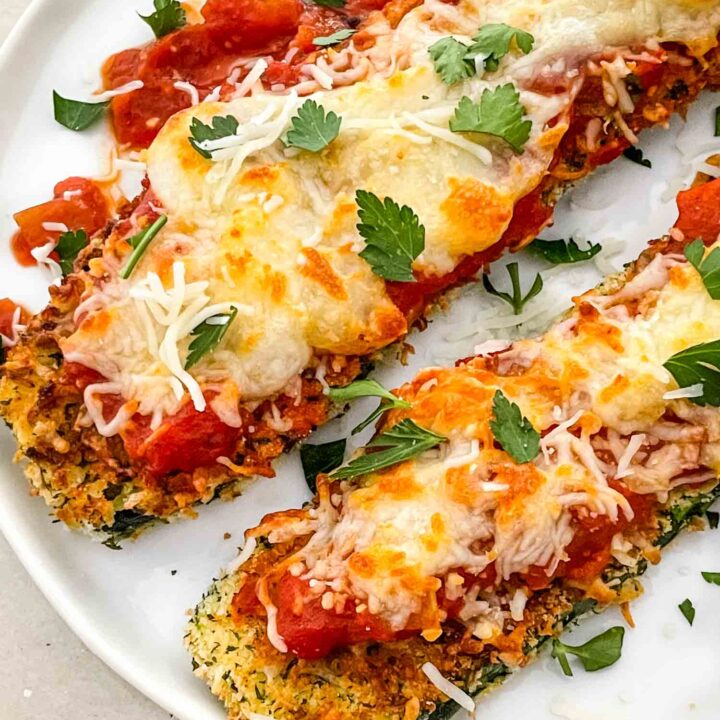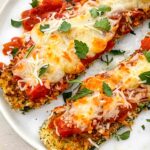 This Three Cheese Zucchini Parmesan came about from a bumper crop of zucchini and has now become one of our favorite meals! Three cheeses and a crunchy, panko crust makes this so good that you won't miss the chicken one bit.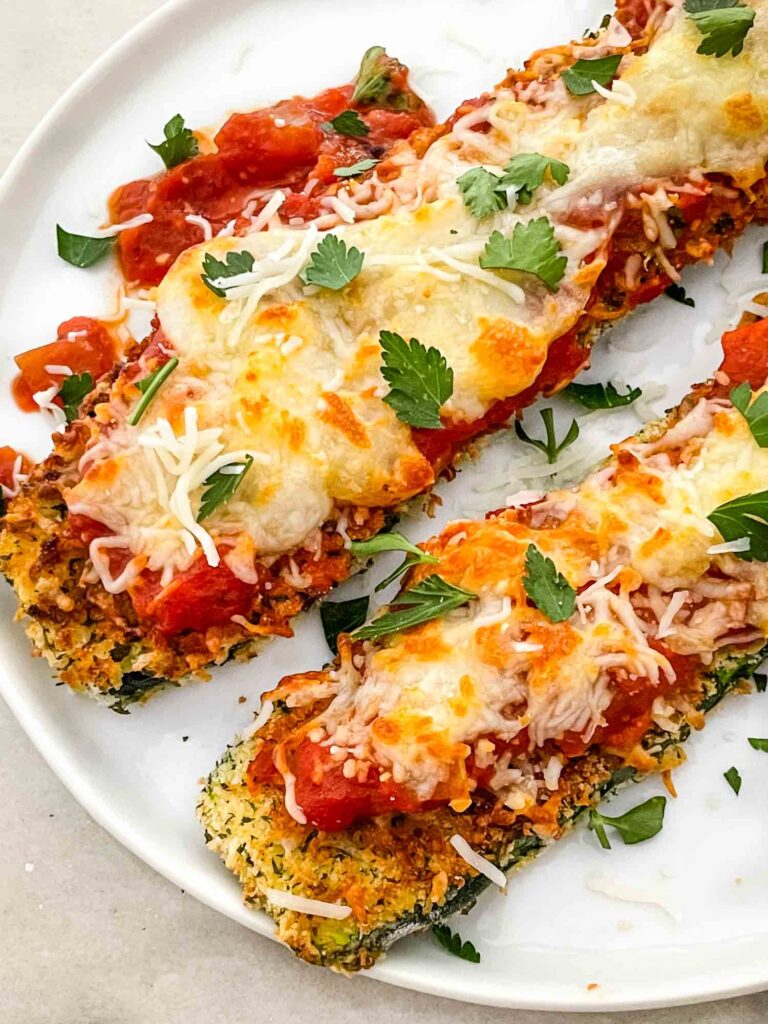 Why You Will Love This Recipe
This Three Cheese Zucchini Parmesan is a wonderful Italian dinner idea that I LOVE to make in the summer! It is especially great when you have a zucchini bumper crop.
It gives you all the things you love about a Chicken Parmesan in a vegetarian, lighter verion.
I made this for my husband's best friend one day, and he is definitely a meat eater, so I was a little worried.  But he LOVED it!  
So now I am always getting asked about when I am going to make this Three Cheese Zucchini Parmesan again. It is just so good!
This dish is definitely a little bit of work so it is not really ideal for a busy weeknight, but it is so amazing that we make it regularly on the weekends.
Any of your favorite Italian sauces are great here. I like to use my Simple Marinara Sauce and make some pasta to go along with it.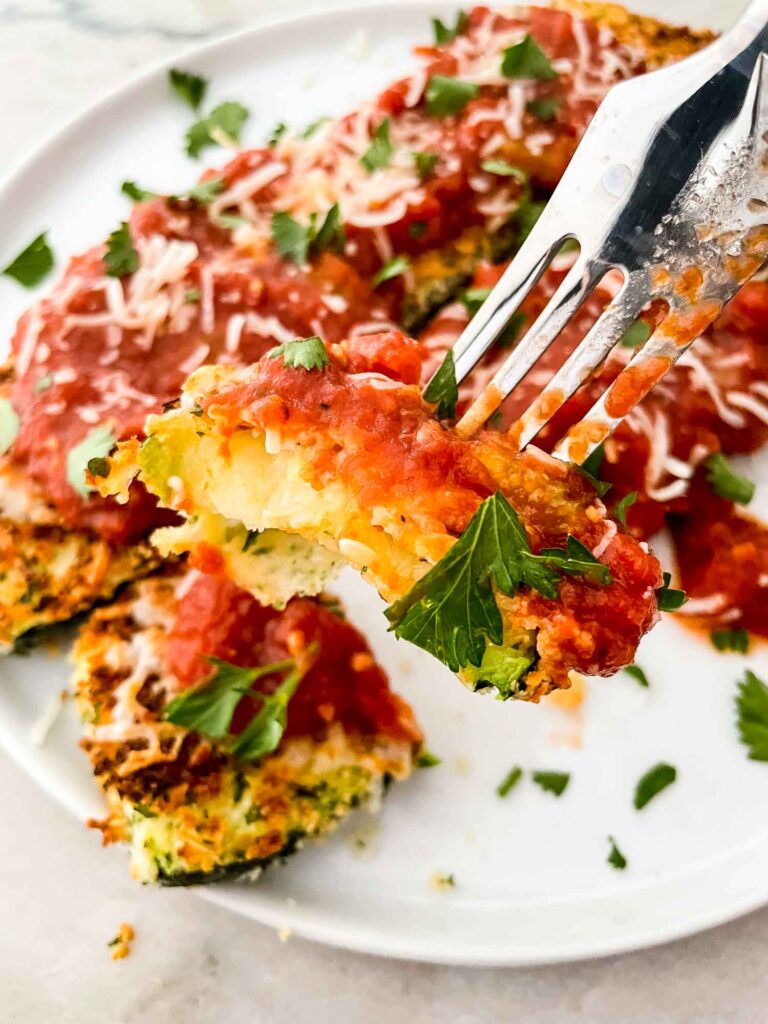 Ingredients
These are the ingredients you need to make a zucchini parmesan recipe:
Zucchini Squash (or similar summer squash)
Marinara Sauce
Parmesan Cheese
Fontina
Mozzarella Cheese
Vegetable Oil
Breadcrumbs (Panko preferred)
Dried Parsley
Eggs
Flour
You can also peel the zucchini before slicing them if you are not a fan of the skins.  Or maybe if you want to try and hide the fact that it is green in an attempt to get it by the kiddos.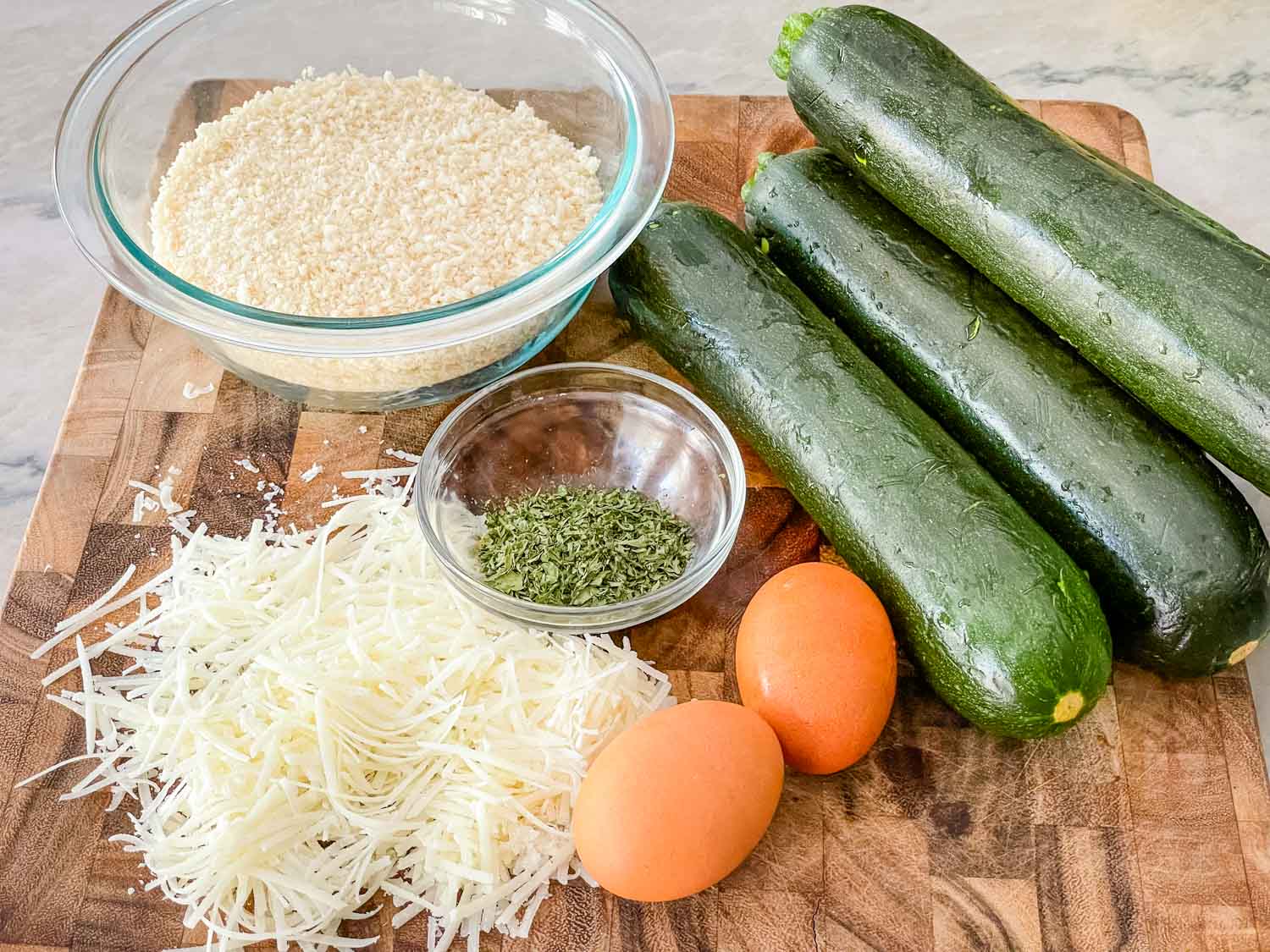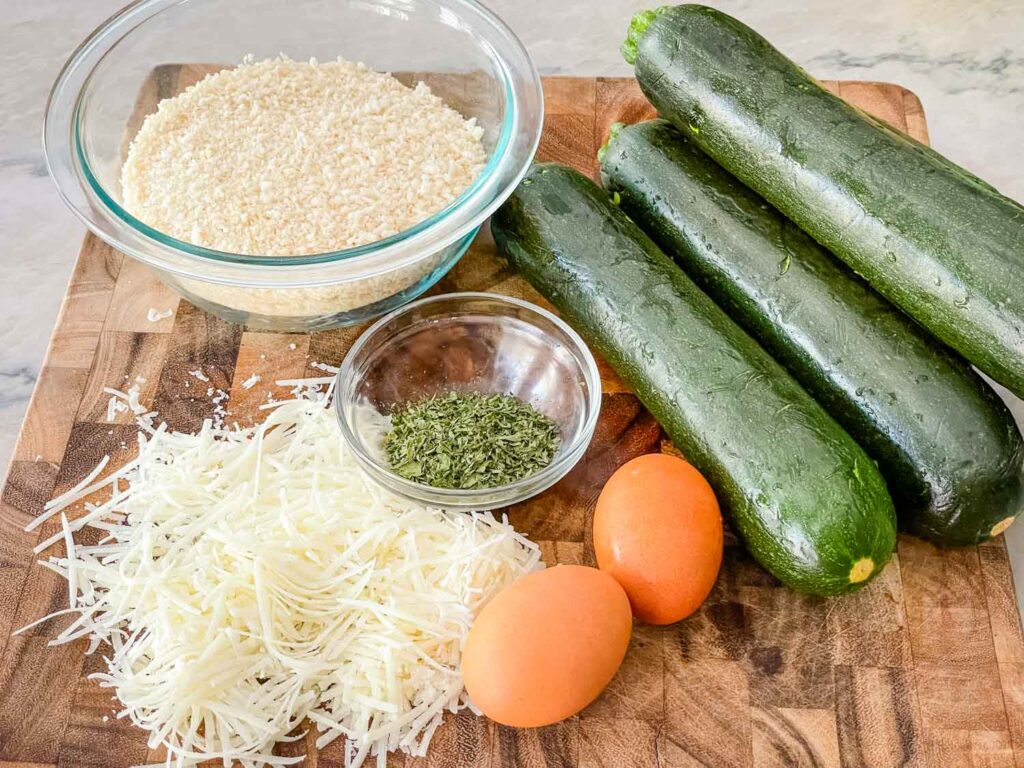 Equipment
This is the equipment you need to make the Italian recipe:
Large Skillet
Tongs
Cutting Board
Knife
Measuring Cups
Measuring Spoons
Baking Sheet
3 Pie Dishes – or other shallow bowls to use for dredging
If you have never used a splatter screen before, you probably are familiar with trying to avoid all those random oil explosions and making it out of the kitchen with as few battle scars as possible. You should grab one of these fancy splatter screens as they are amazing! No oil all over the counters or stove, and no oil trying to attack you.
Instruction Overview
Prepare your zucchini by trimming and cutting into strips.
Make your dredging stations.
Coat each piece of squash in the flour, and shake off the excess.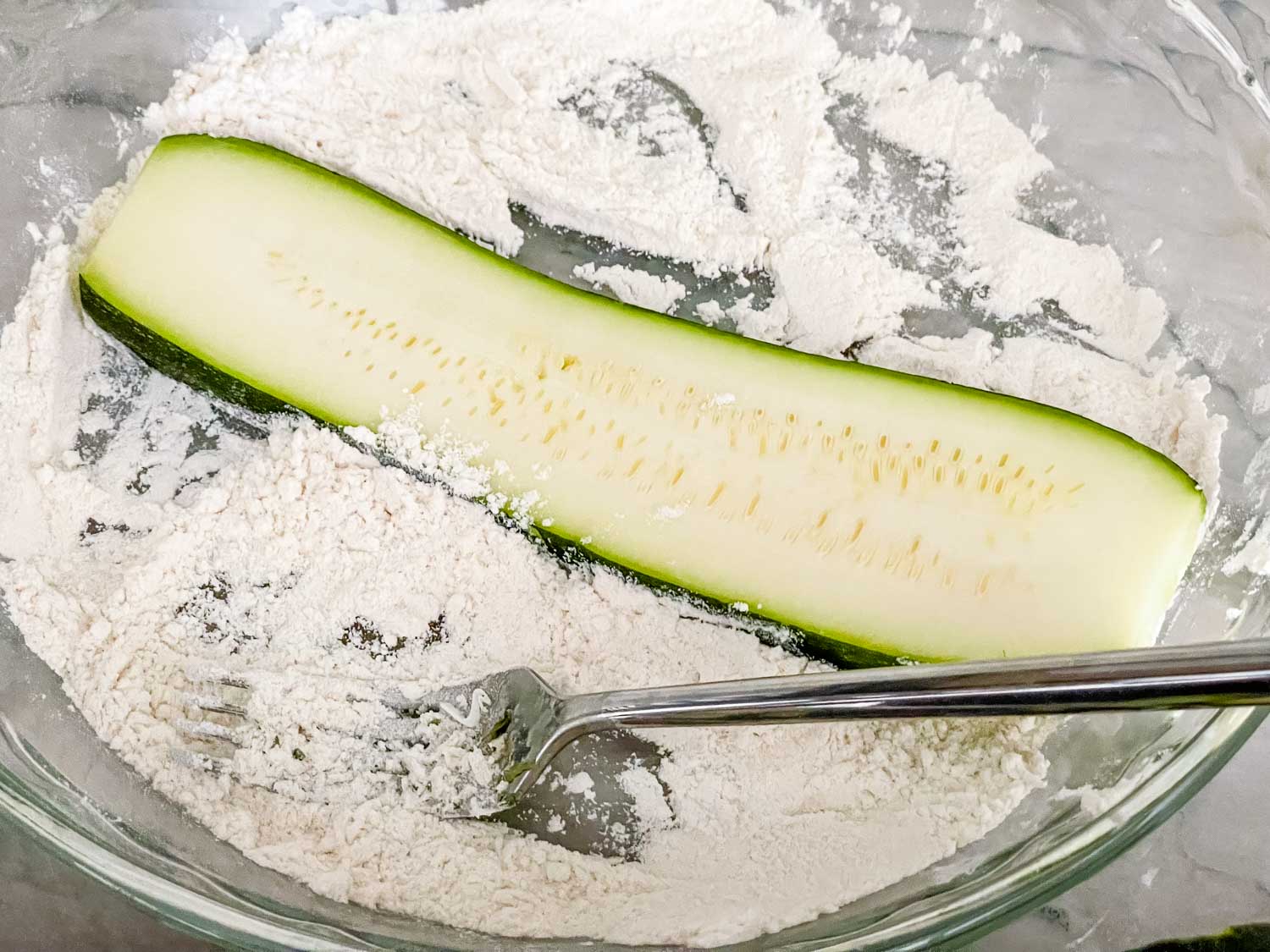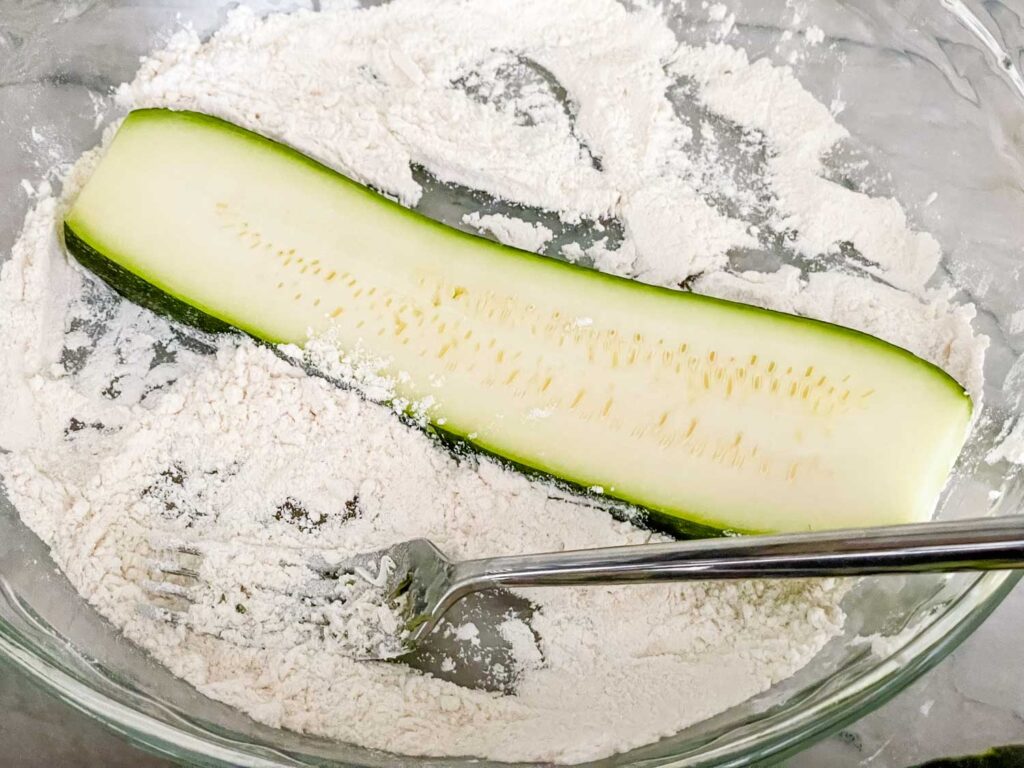 Then coat in the egg.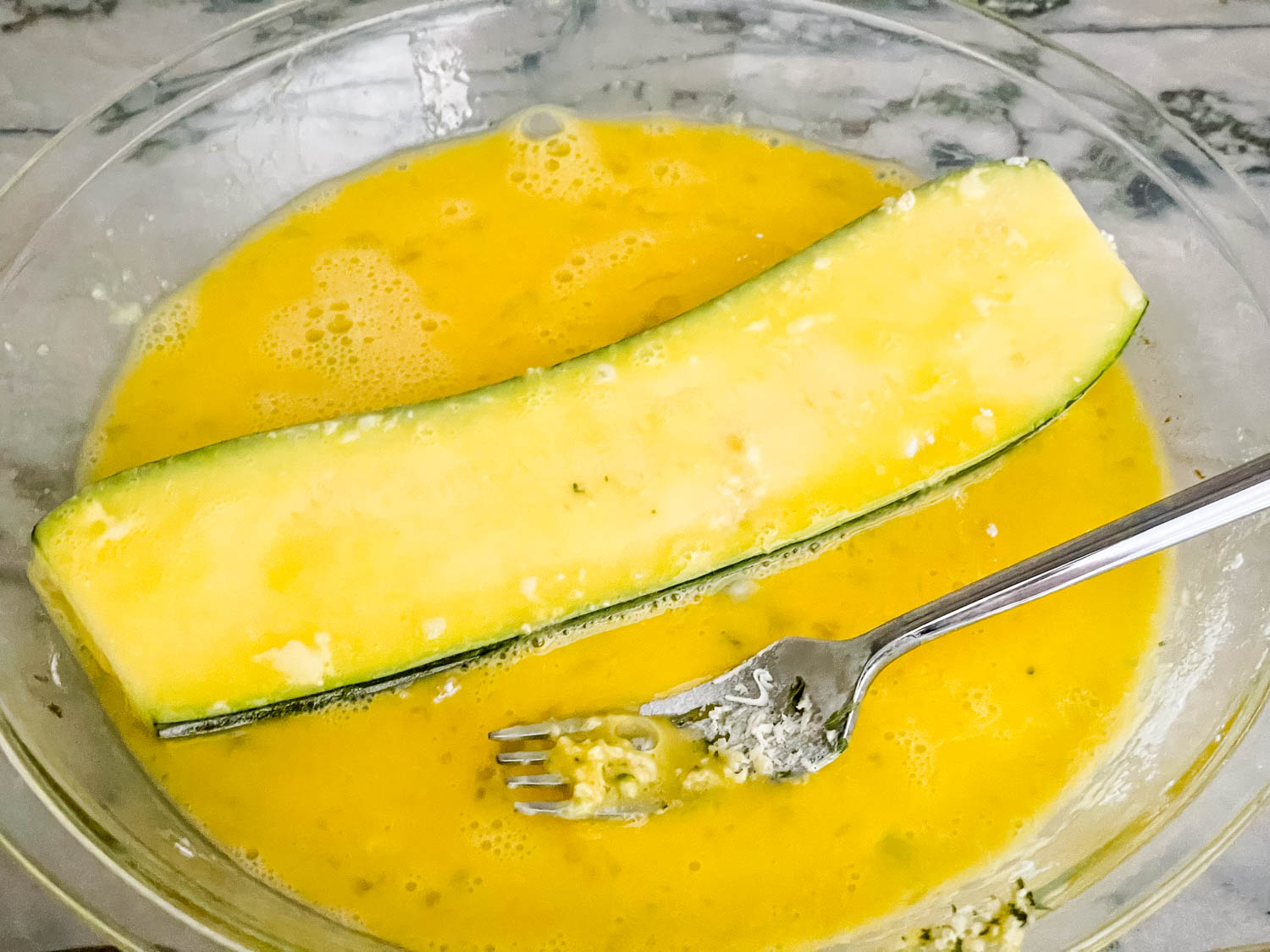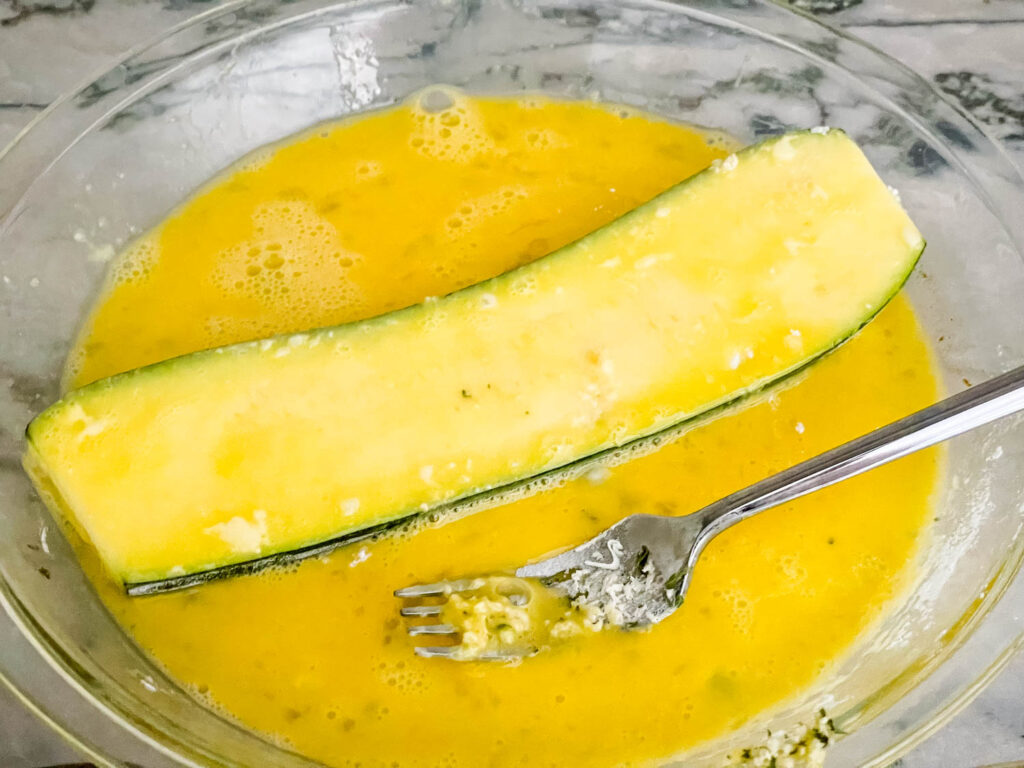 Then coat in the breadcrumb mixture.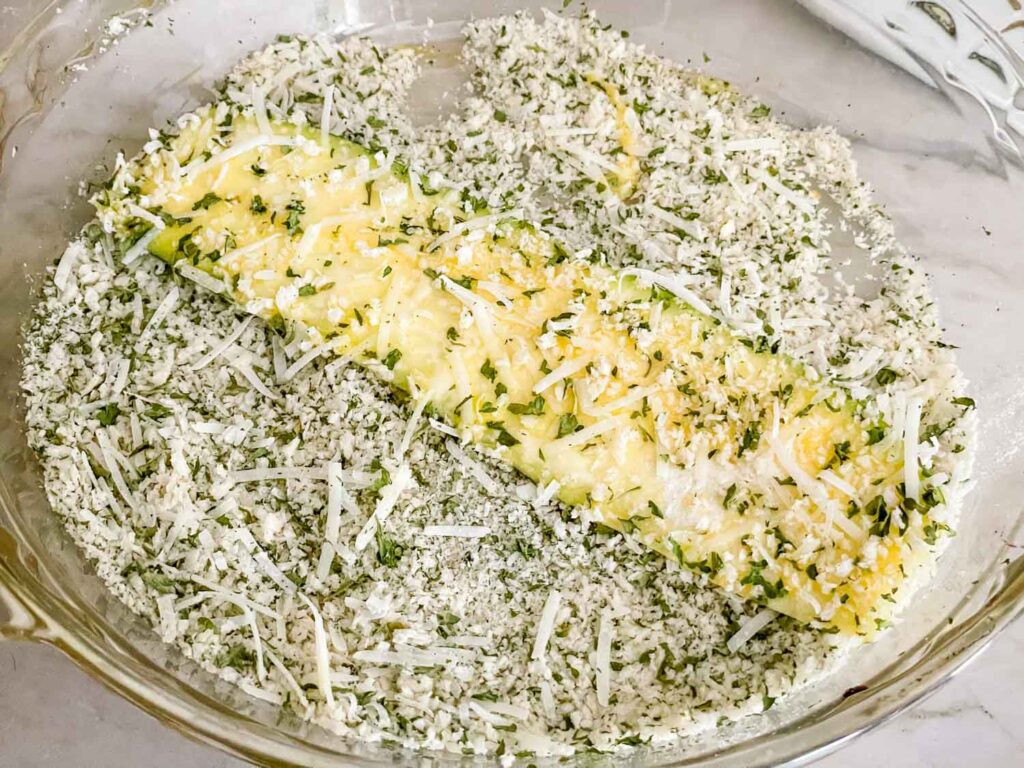 Heat your oil in a large skillet.
Cook the zucchini in the oil until crisp and browned.
Repeat with all zucchini pieces.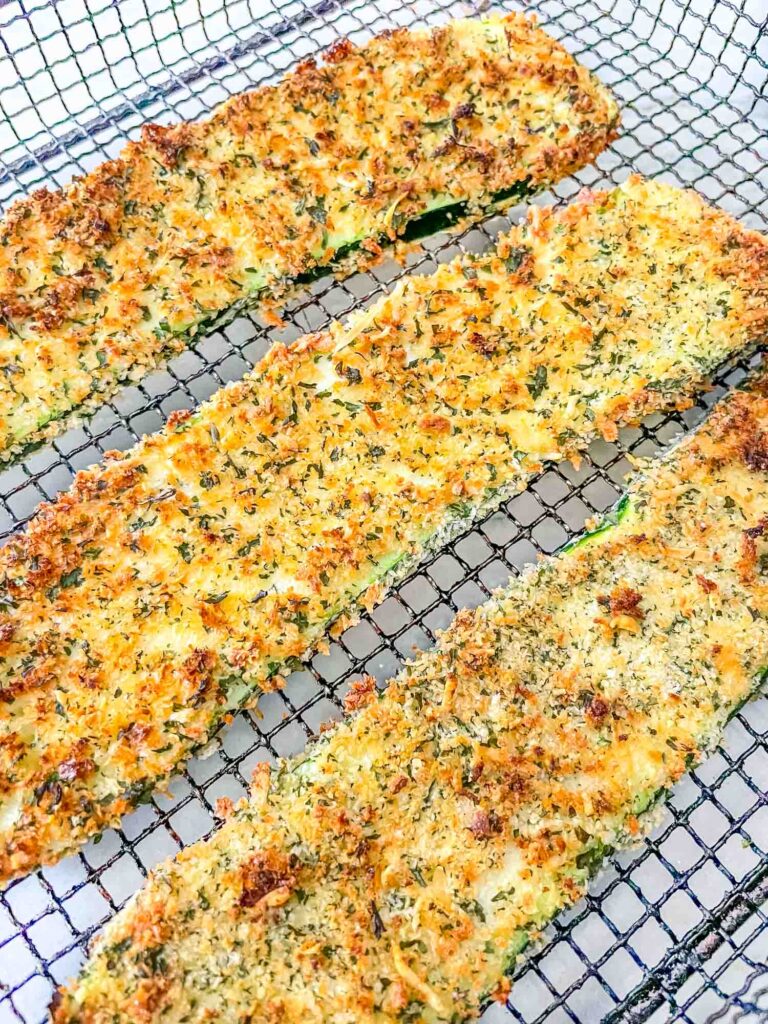 Top the zucchini with some cheese and broil to melt.
Add the sauce and the rest of the cheese and broil again.
Serve!
Modifications and Substitutions
I love the addition of Fontina but you can easily skip it.
Use any sauce you prefer, with or without meat.
Panko breadcrumbs are best because they give you a great crunch in texture but regular can work too.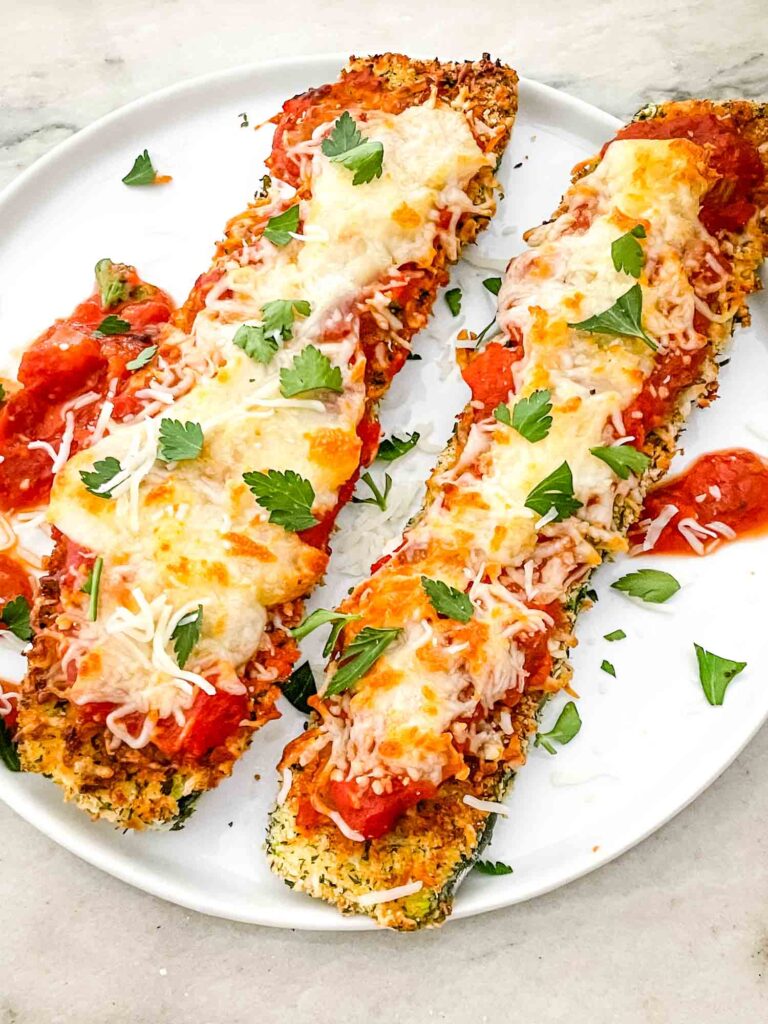 Kim's Tips
The thinner the squash is cut, the faster it cooks.
FAQs
How do you cook zucchini so they are not soggy?
In zucchini parmesan, the trick to this is making sure that your oil is HOT! If it is not hot, it will just soak into the breadcrumbs and squash.
Can you use a cheese slicer to cut zucchini?
Yes! This can be done with a cheese slicer, mandoline, or just a knife. I find that a knife works just fine since we are cutting them at a decent thickness.
How do I know when to flip the zucchini?
When it is starting to turn a light golden brown, it is ready to flip or remove! It will continue to get just a little darker golden even after being removed.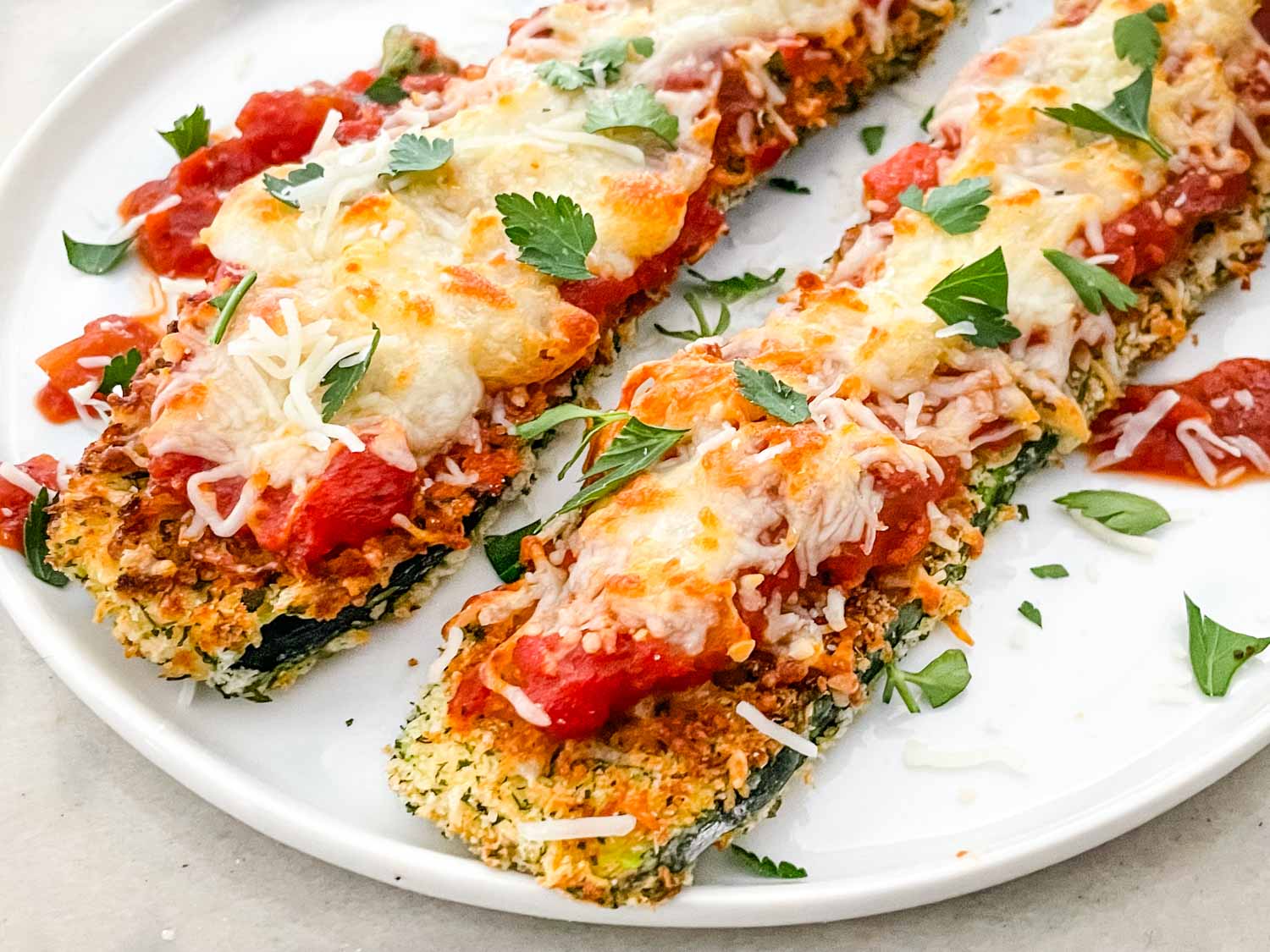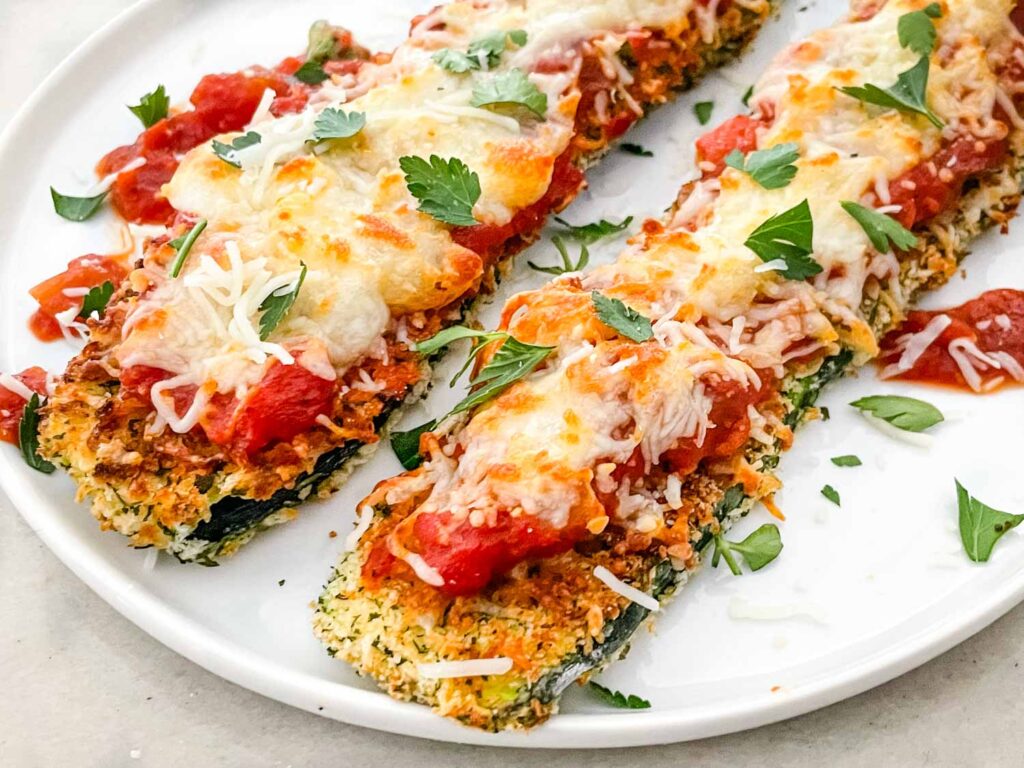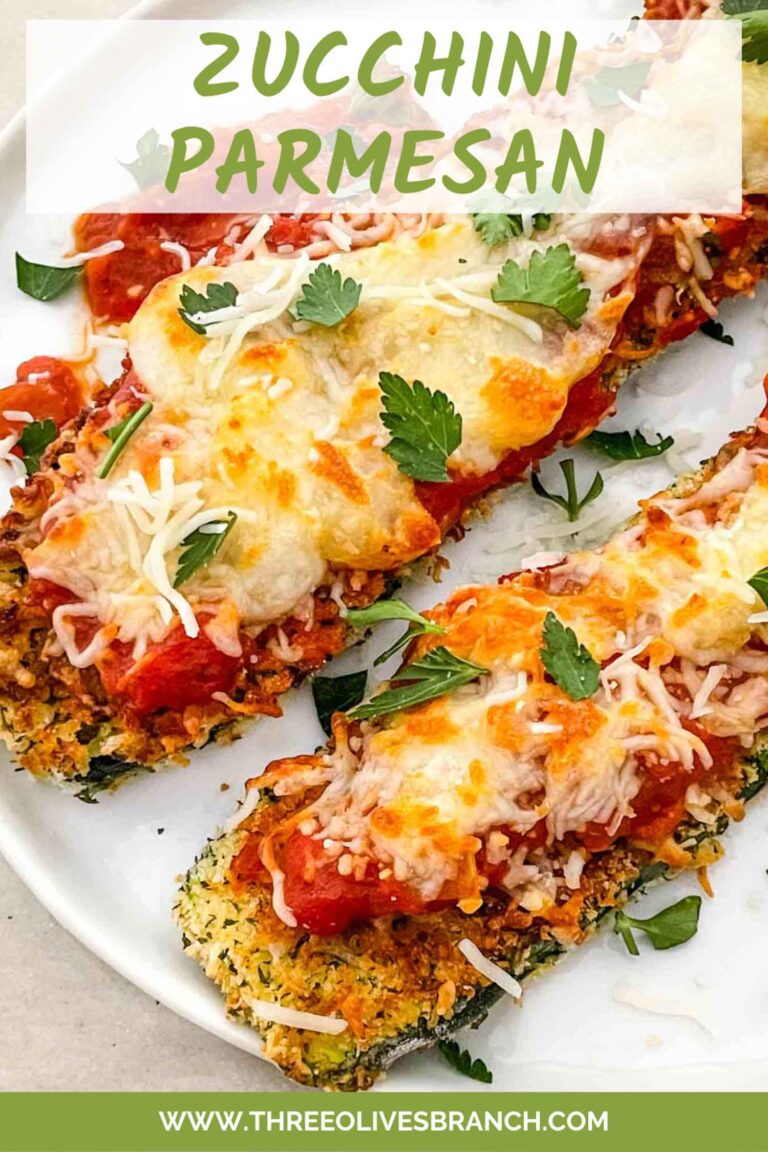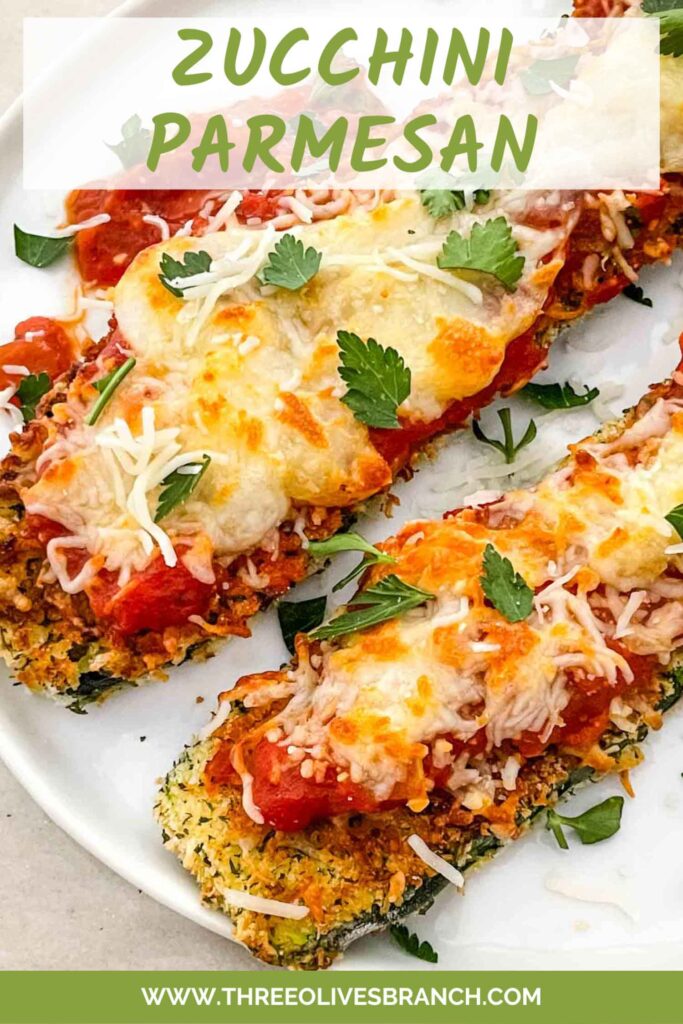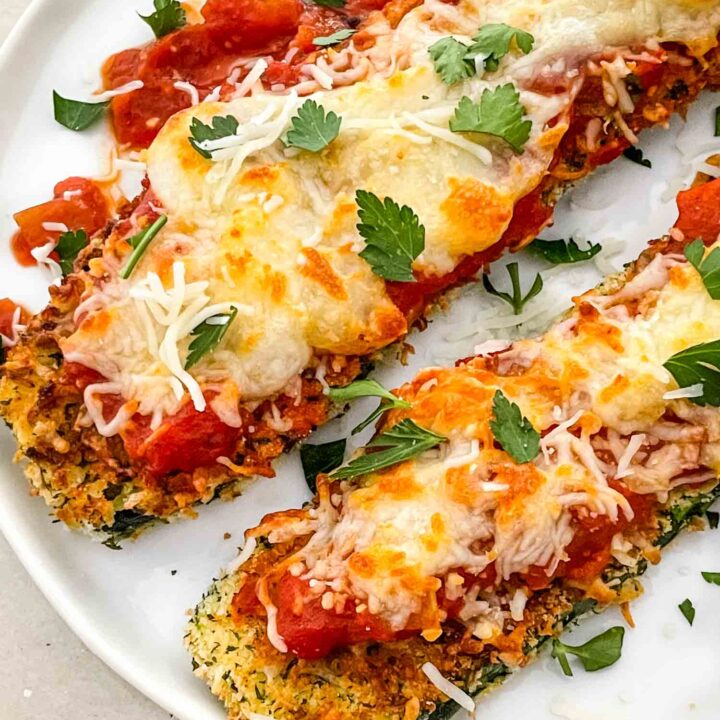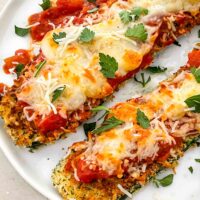 Three Cheese Zucchini Parmesan
Three Cheese Zucchini Parmesan is an amazing Italian dinner recipe idea! A great healthy twist to use summer squash in classic Italy flavors. Coated with breadcrumbs, marinara tomato sauce, Fontina, mozzarella, and Parmesan cheese.
Print
Pin
Rate
Equipment
3 pie dishes

or other shallow bowls for dredging
Instructions
Cut off the ends of each zucchini. Cut the zucchini lengthwise into 1/2 inch slices. You should typically get four slices from each zucchini for a total of eight. Set aside.

Set up three shallow bowls or small plates for the dredging stations. In the first, add the flour. In the second, crack open the egg and lightly beat to mix the yolk and white together.

1/4 cup all-purpose flour,

1 large egg

In the third dish, mix together the panko breadcrumbs, parsley, and fresh Parmesan. Lightly mix with a fork to combine.

1/2 cup panko breadcrumbs,

1 Tablespoon dried parsley,

1/4 cup freshly grated Parmesan

Pour enough oil in a large nonstick skillet to cover the bottom. Heat the skillet over medium low heat. (If you are making pasta, this is when I start getting the water boiling).

While waiting for the oil to heat, start dredging the zucchini. Place a zucchini slice in the flour and coat on both sides. Tap or shake off the extra flour. There should be a very think coating of flour. Do not worry if it is not on the edges.

Transfer the floured zucchini to the egg mixture and coat on both sides. Using the fork, hold it above the dish to let the excess egg drip off.

Transfer the zucchini to the breadcrumb mixture and coat on both sides. Repeat with each piece of zucchini. If you are working ahead, you can place the dredged zucchini on a large plate for holding.

When the oil is hot enough, place the zucchini in the skillet 2-3 at a time. Use a splatter screen to prevent oil from splashing during cooking.

Cook zucchini until golden brown, approximately 3-4 minutes. Flip over and cook the second side until golden, approximately 2-3 minutes.

Transfer the finished zucchini slices to a baking sheet. Do NOT use a sil pad as you will be using a broiler and it will ruin the silicone. Tin foil is fine.

Repeat the pan frying process for each zucchini piece until completed. Add additional oil as needed and wait for it to heat up before adding the zucchini each time. Turn off the stove. You should now have all of your zucchini on the baking sheet.

At this point, you can serve as-is if you wish. For the "Parmesan" effect, sprinkle some of the fontina and mozzarella on each zucchini. This cheese will create a little barrier to help prevent the zucchini from getting soggy due to the sauce.

1/2 cup fontina cheese,

1/2 cup fresh mozzarella cheese

Turn the broiler on in the oven. Place the cheese covered zucchini on the top rack and broil until melted. This will only take a few seconds, so watch it! Leave the oven door cracked open for heat to escape.

Pull the sheet back out of the oven (or just pull the shelf out). Place a little sauce on each zucchini slice and top with the remaining mozzarella and fontina. Sprinkle with some extra Parmesan.

1/2 cup fontina cheese,

2 cups Simple Marinara Sauce,

1/2 cup fresh mozzarella cheese

Put the tray back under the broiler and broil until the cheese is melted and just starting to brown. Again, this will take only seconds.

Remove from oven and serve immediately with pasta or sides of choice.
Notes
You can use any of your favorite Italian pasta sauces for this recipe, such as our Simple Marinara Sauce.
To ensure a truly vegetarian meal, use cheeses that are confirmed vegetarian.
The exact amount of sauce you need will depend upon how saucey you like it and whether you are using any on pasta as well.  One batch of my Simple Marinara Sauce above was enough for all of the zucchini, pasta, plus some left over.
You do not want to fry in olive oil. Vegetable, grapeseed, canola, or a similar oil that can withstand high heats will all work.
Nutrition
Serving:
1
serving
|
Calories:
370
kcal
|
Carbohydrates:
35
g
|
Protein:
18
g
|
Fat:
19
g
|
Saturated Fat:
8
g
|
Polyunsaturated Fat:
2
g
|
Monounsaturated Fat:
8
g
|
Trans Fat:
0.01
g
|
Cholesterol:
81
mg
|
Sodium:
831
mg
|
Potassium:
1038
mg
|
Fiber:
7
g
|
Sugar:
14
g
|
Vitamin A:
3600
IU
|
Vitamin C:
40
mg
|
Calcium:
373
mg
|
Iron:
5
mg
More Zucchini Recipes
Zucchini Recipes
Zucchini recipes that feature the popular summer squash!

By