A simple, fresh Italian appetizer recipe. Herbed lemon ricotta cheese is layered with zucchini slices for a vegetarian finger food. Great for summer entertaining and parties.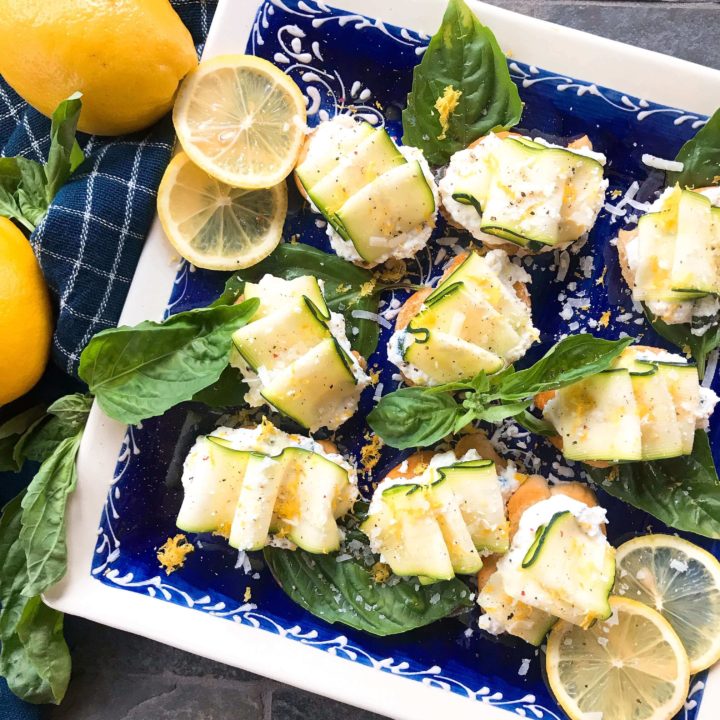 Zucchini Lemon Ricotta Crostini are a simple and fresh appetizer recipe featuring Italian flavors.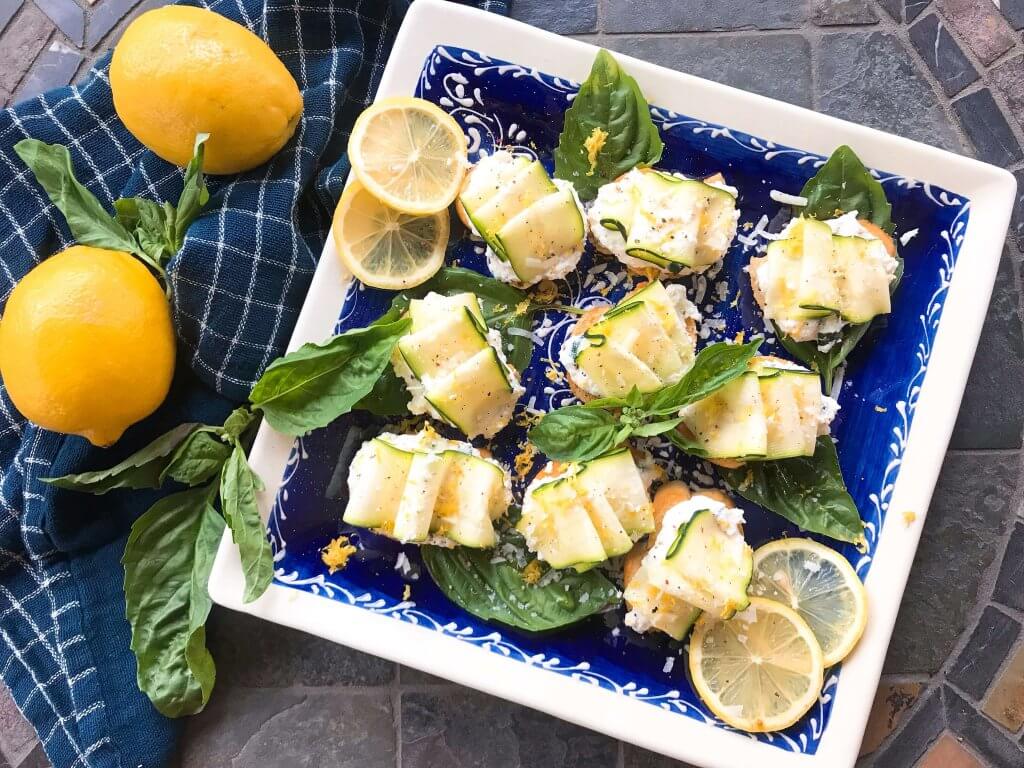 This post contains affiliate links.
These Zucchini Lemon Ricotta Crostini are SO GOOD and SO FRESH! The bright flavors of lemon and zucchini make these crostini light and a perfect appetizer for summer entertaining. Zucchini and lemon are just perfect together, I love to use them in so many different recipes like these Zucchini Lemon Stuffed Shells with a Creamy Pesto Sauce.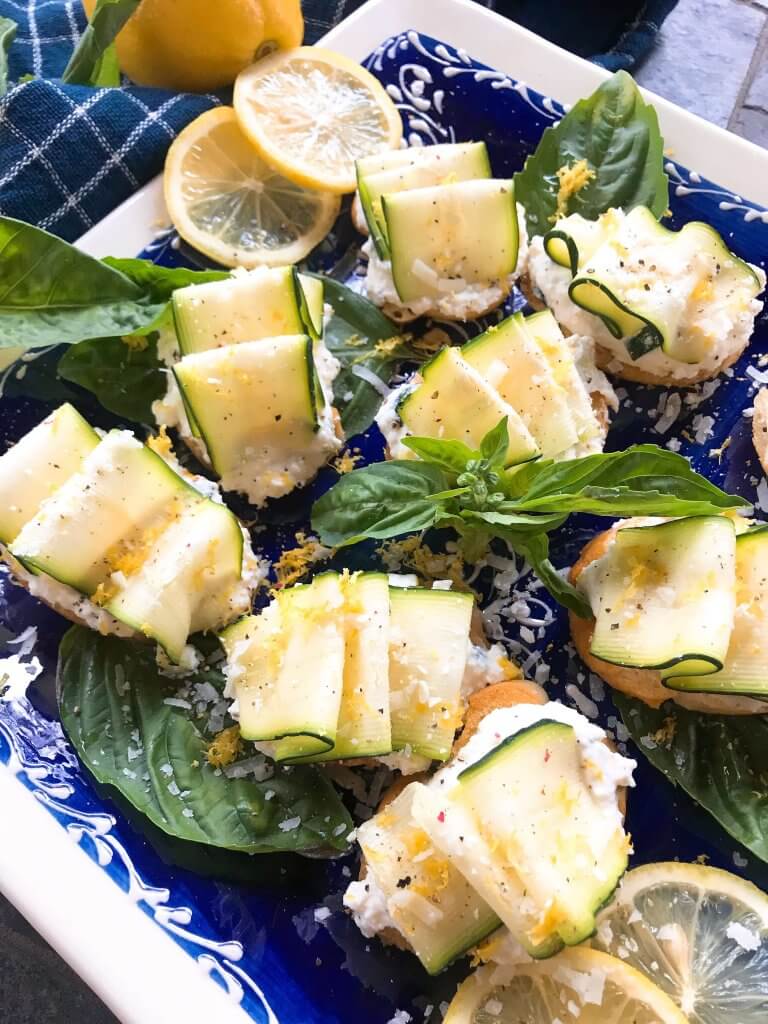 Learn how to make the base crostini here! I am a big fan of crostini. There are so many toppings you can put on crostini. It is such a versatile appetizer and party food. Find all of our crostini recipes here!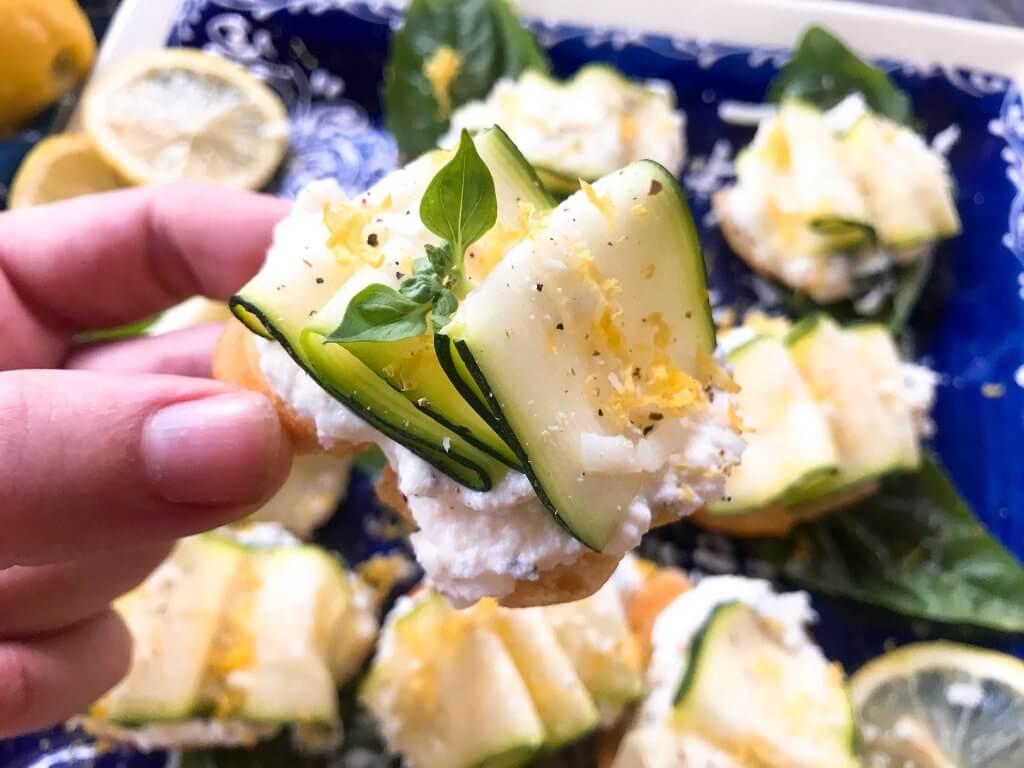 This beautiful plate just makes the colors of the Zucchini Lemon Ricotta Crostini pop! This is my mom's plate that she got when we went on a girls' trip to Europe when we were in Barcelona. She has several fun bowls, platters, and miscellaneous serve-ware that I rarely ever see. My philosophy is if you have it, you should use it! Don't let it just collect dust in a cabinet.
Whenever I pop down to their house, if I am making something for the blog, I used her goods for the photos! I keep threatening that if she doesn't start actually using them, that they will just disappear one day and find a new home in my kitchen, full of regular use. 🙂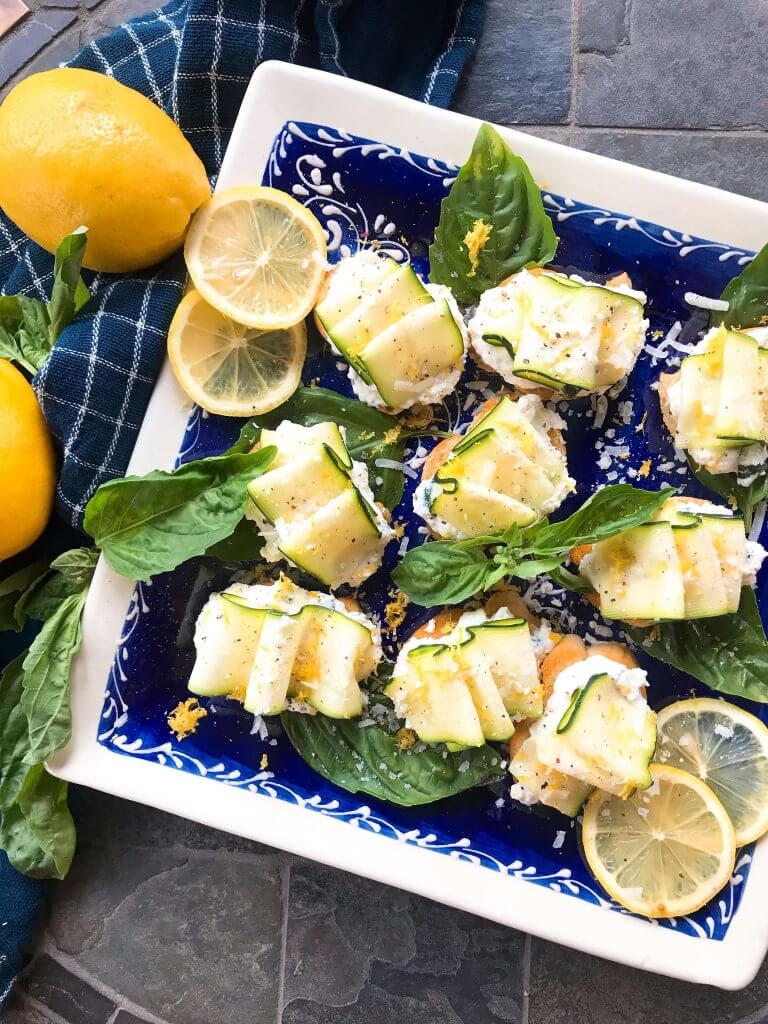 To make Zucchini Crostini, first get your crostini rounds ready from a baguette. They can be made up to two days in advance, which is my favorite way to do it. I am all about making entertaining and hosting as easy as possible the day of. You can also find crostini bread pieces at most grocery stores in the bread section, but I find they taste stale more than toasted around here.
Then make your cheese mixture and user a peeler to make long, thin strips of zucchini. When ready to serve, assemble by spreading some of the lemon herbed cheese mixture across each little toast. Top off with a folded zucchini ribbon and a dusting of lemon zest, salt, and/or Parmesan cheese.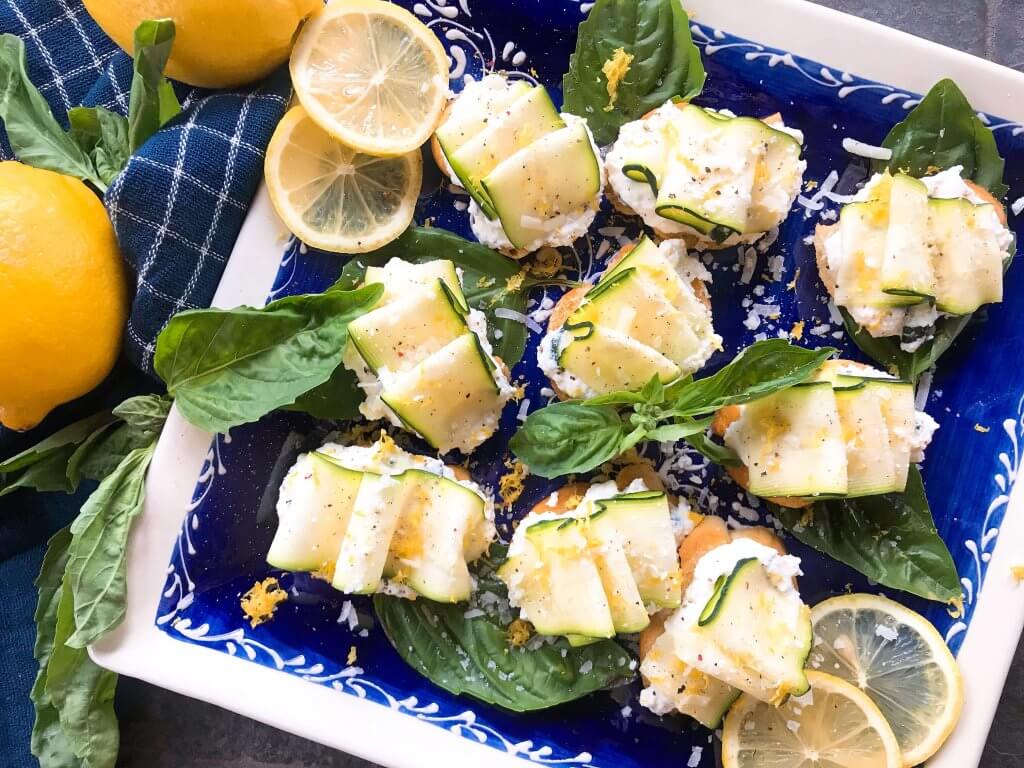 You can always dice up the zucchini instead to make it easier, but I find the folded ribbons to be so pretty! Plus, since the zucchini is not cooked, it gives it a lighter texture. The zucchini would also be great grilled!
Zucchini Recipes
Zucchini recipes that feature the popular summer squash!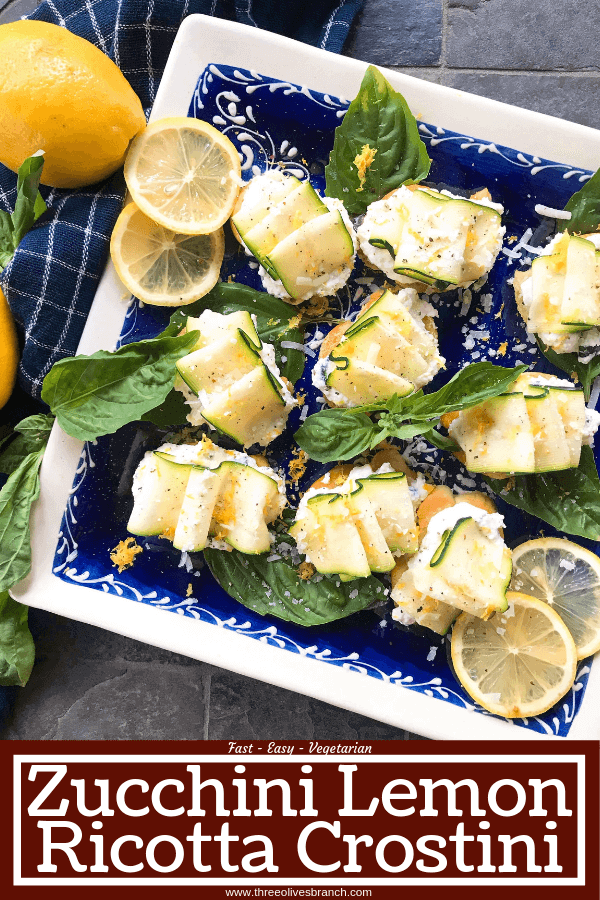 Instructions
Cook your crostini rounds as per recipe instructions through the link below if not done already. This can be done up to two days in advance and the crostini kept in an airtight bag or container. Make sure the crostini are completely cooled before storing otherwise the trapped heat moisture will re-soften them.

Make the cheese mixture by combining the ricotta, Parmesan, dried basil, salt, pepper, and juice of one lemon in a small bowl. Mix to combine and set aside. (If you want to garnish the finished crostini with lemon zest, first zest the lemon before juicing and place the zest off to the side). (You could also choose to put the lemon zest in the cheese mixture itself for a stronger lemon flavor).

Using a peeler, slice or peel the zucchini lengthwise to make long, thin strips. Repeat all the way through both zucchini. Set the strips aside.

Scoop 1-2 Tablespoons of the cheese mixture on each crostini piece. The exact amount you need will vary with how large the bread is and how much cheese you want!

Next, take one of the zucchini slices and fold it like an accordion (a zig-zag pattern back and forth, approximately one inch wide between folds) (see pictures for reference). Push it down into the cheese mixture. If it will not stay folded, you can gently press or flatten the zucchini when in a zig-zag accordion shape where the zucchini bends to help it stay in place.

Garnish with some additional lemon zest, Parmesan, salt sprinkle, or fresh basil if desired.
Notes
Learn how to make the base crostini here!
The exact amount of crostini you get will vary with multiple factors: how big your bread slices are, how much topping you put on each bread, and how wide the bread is.
Nutrition
Calories:

48

kcal

|

Carbohydrates:

5

g

|

Protein:

3

g

|

Fat:

2

g

|

Saturated Fat:

1

g

|

Cholesterol:

7

mg

|

Sodium:

107

mg

|

Potassium:

57

mg

|

Fiber:

1

g

|

Sugar:

1

g

|

Vitamin A:

86

IU

|

Vitamin C:

4

mg

|

Calcium:

50

mg

|

Iron:

1

mg

By