A flavorful salt that is perfect on just about anything! From grilling to vegetables to salads to eggs and more.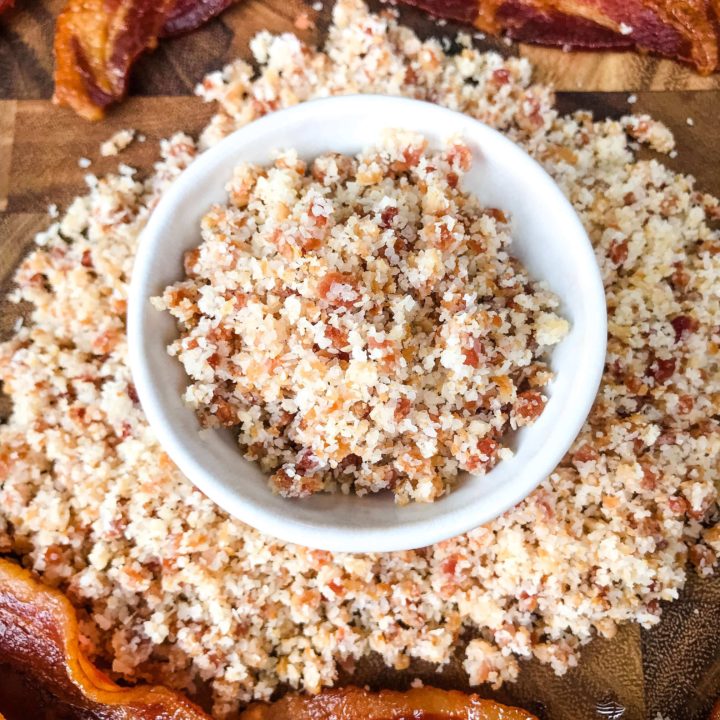 This year for Father's Day, I was struggling to think of a gift for my dad, which is weird because I am normally very good at finding gifts!  And when all else fails, I think about things that people can use, such as foods.  
This Bacon Salt was the winning idea!  A gift that he could use on practically anything, combining two of his favorite things: bacon and bourbon.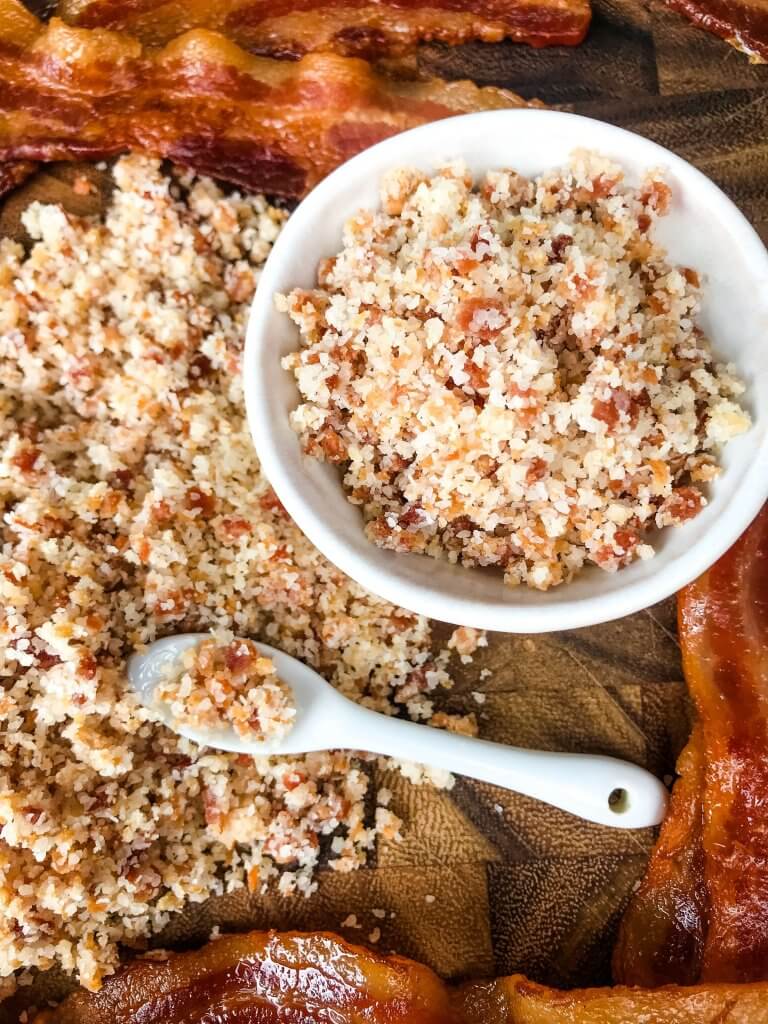 This post contains affiliate links.
Bacon salt makes a great gift because it is DELICIOUS and so versatile to use on so many different things.  
In the summer I am ALWAYS looking for a reason to grill.  And since I am grilling so much, I need some new ideas or flavors to use!  
That is where flavored salts like this Bacon Bourbon Flavored Salt come in.  It is a great way to spice up a simple piece of chicken, pork, steak, or even vegetables with exciting flavors.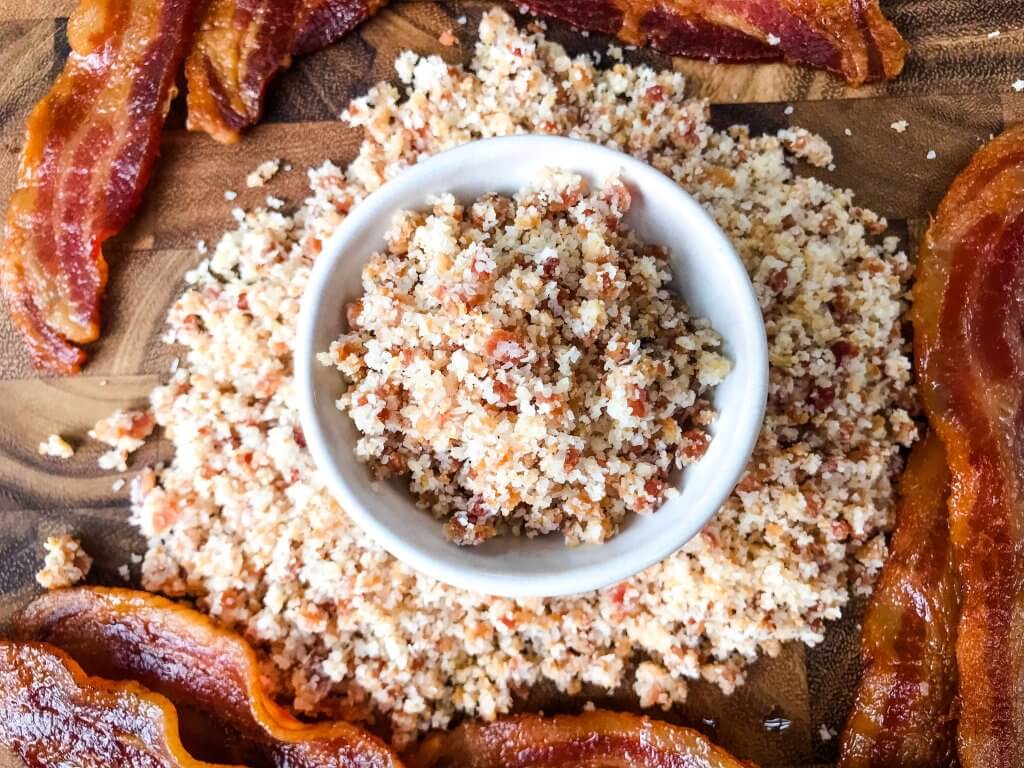 This year on Father's Day we sprinkled it on some bread slices and as a topped on deviled eggs.  The possibilities are endless!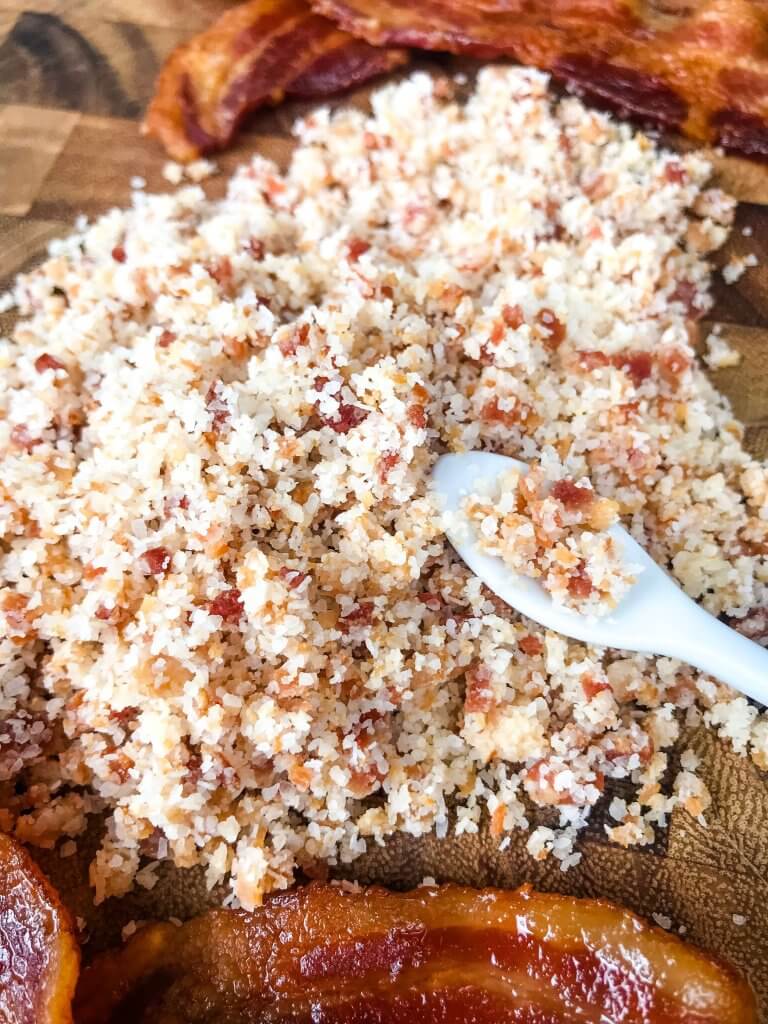 This salt is crazy easy to make, guys!  
Literally just put the ingredients in a food processor, pulse, and you are done!  
You can use it right away if you want, but the flavors do develop more if you are able to let it sit for a day or longer.  
It is best to use a small food processor to ensure the blade can reach the ingredients and get a good blend.
But you could also mix it all by hand in a bowl.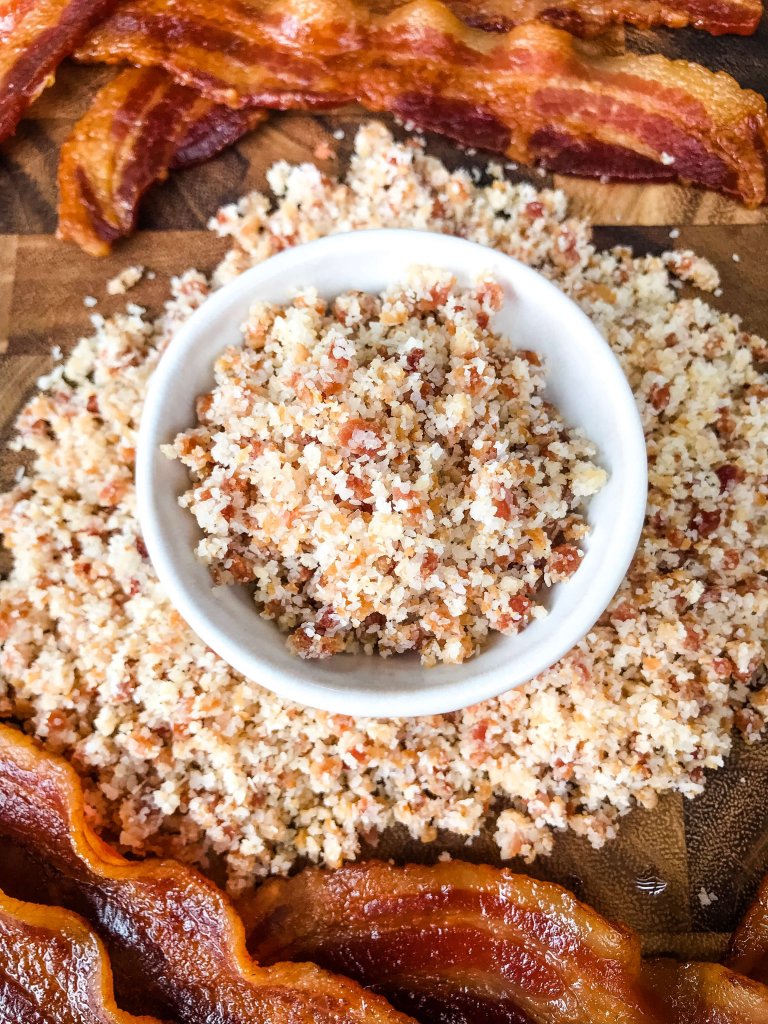 The primary base of this flavored salt is still salt and not another seasoning, so use it sparingly like you would salt.  
I love to use this bacon seasoning for special events, parties, and gatherings.  Especially in the summer with Father's Day and the 4th of July when you are most likely grilling anyway.  
And it is great as a gift for anyone that loves for or grilling, like Dad, because sometimes it is just IMPOSSIBLE to figure out what to give them.  
Food is always a good idea, right?  And this is something they can use and enjoy, whether they share or not. 🙂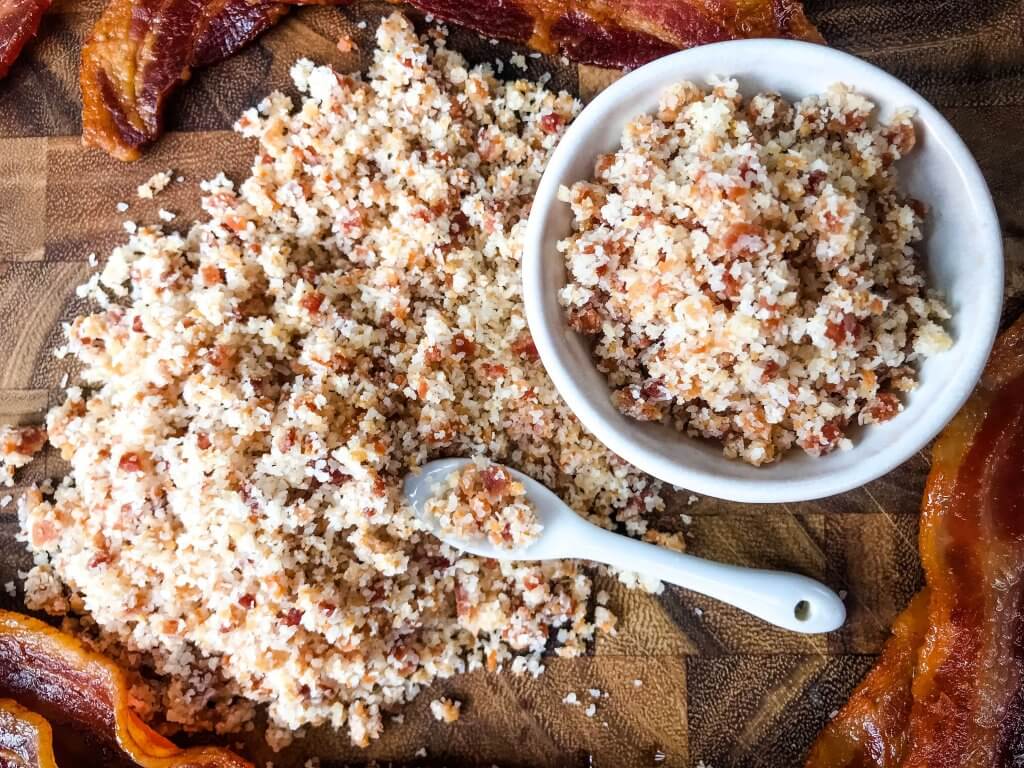 Find more of our flavored salt recipes here!
Using Kosher Salt
It is important to use kosher salt and not regular table salt for this recipe.
Why? The kosher salt is a larger grain (not as fine as table salt). This will better absorb the flavors.
Also, the fine table salt is much more likely to "melt" away into the bourbon that you add.
You could also choose to use a salt that is larger than kosher such as sea salt, however you will also then get stronger pockets of the salt flavor when you use it.
Flavored Salts
Homemade flavored salts make the perfect seasoning! Great for grilling and BBQ recipes, baking, or finishing off with a little flavor.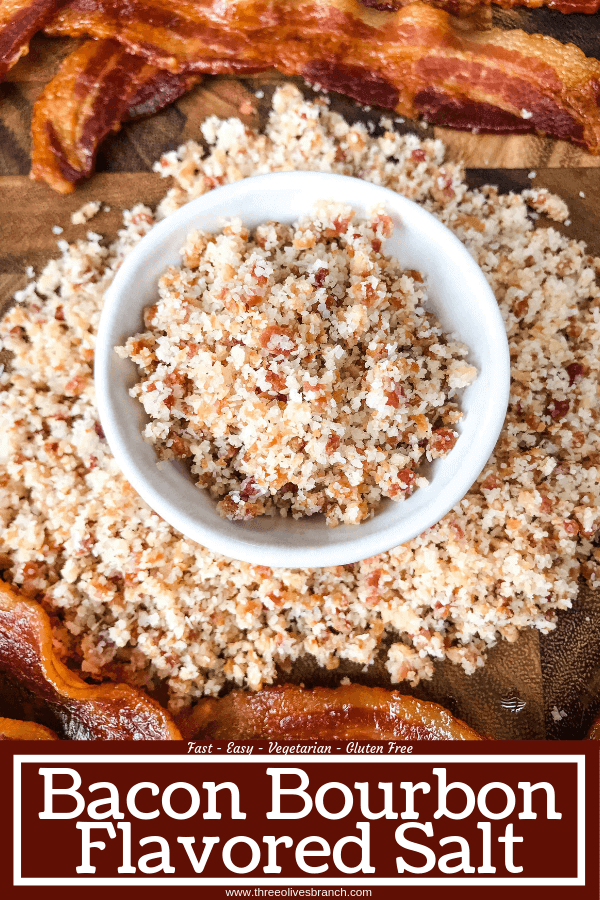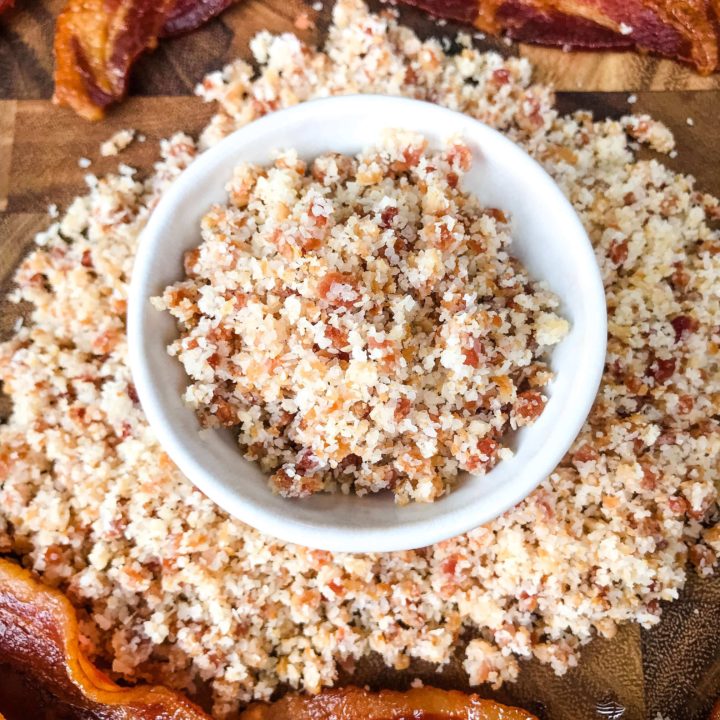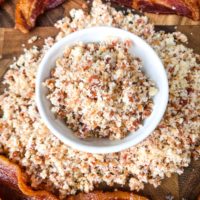 Bacon Bourbon Flavored Salt
A flavorful salt that is perfect on just about anything! From grilling to vegetables to salads to eggs and more.
Print
Pin
Rate
Instructions
Cook the bacon if not already done. I like to cook it spread out on a baking sheet in an oven at 375F for approximately 20-25 minutes until cooked through. It will crisp up a little more as it cools. The exact time will vary based on the thickness of your bacon. Let bacon cool.

Break up the bacon into pieces and place in the food processor. Add the salt and sprinkle the bourbon around the bowl so it is not just in one place (for better distribution).

Pulse just a few times until everything is incorporated.

The salt will be wet from the bourbon, so lay it out on a baking sheet. Preheat an oven to 200F and put the salt in the oven to dry, approximately one hour. If it is stuck together, you can break it up with your hands or pulse it very briefly in the food processor again to break it up.

Pour the salt into a container for storing. The flavors will continue to build over time. Place a pinch of dry, uncooked rice in the container to help keep it from caking and absorbing moisture.
Notes
The bourbon is a subtle flavor.  Adding more can cause the salt to start breaking down.
You can also easily skip the bourbon altogether.
I love to use jars like this to store the flavored salts in, but you can also use empty spice containers.
It is best to use a small food processor to ensure the blade can reach the ingredients, although a larger one will still work.
Nutrition
Serving:

1

batch

|

Calories:

1015

kcal

|

Carbohydrates:

3

g

|

Protein:

29

g

|

Fat:

90

g

|

Saturated Fat:

30

g

|

Polyunsaturated Fat:

15

g

|

Monounsaturated Fat:

40

g

|

Trans Fat:

1

g

|

Cholesterol:

150

mg

|

Sodium:

58088

mg

|

Potassium:

461

mg

|

Vitamin A:

84

IU

|

Calcium:

46

mg

|

Iron:

1

mg

By