Salt flavored with buffalo wing sauce and ranch to season anything you want with this classic flavor combination!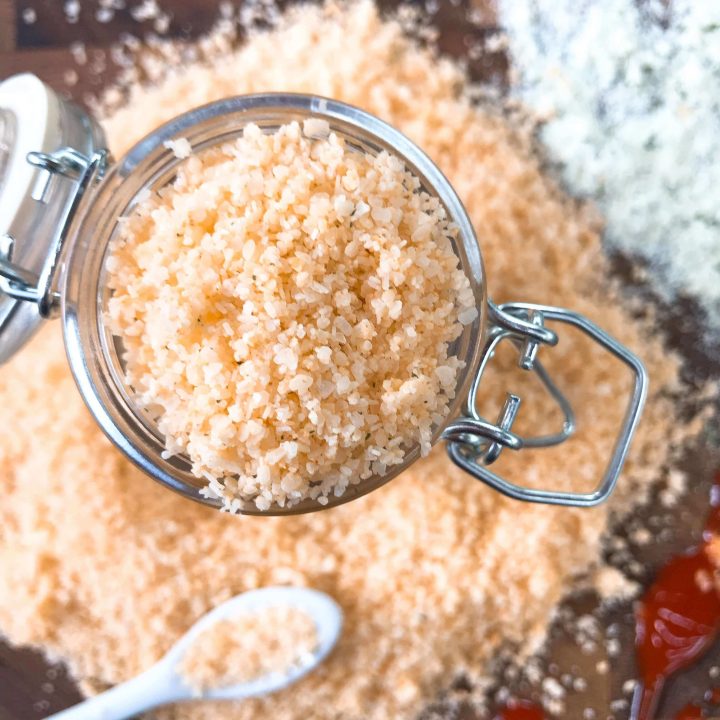 This Buffalo Ranch Flavored Salt lets you flavor anything you want with a spicy buffalo wing sauce and ranch taste.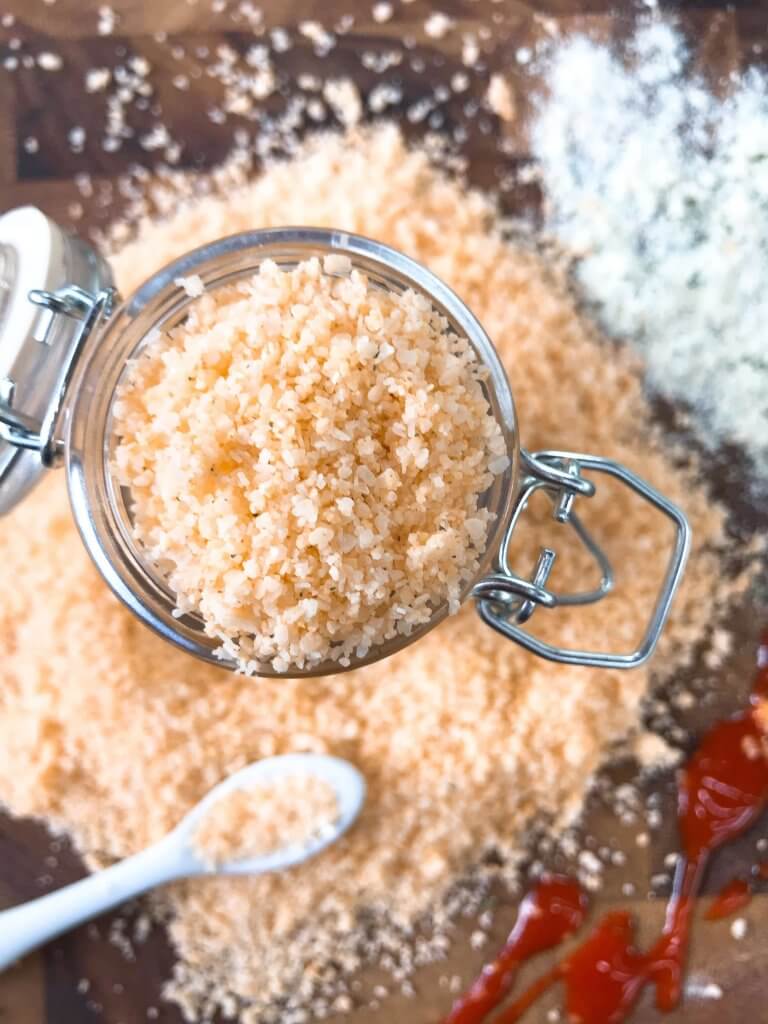 This post contains affiliate links.
Buffalo ranch seems to be something that you just cannot get away from. Especially around game time, tailgating, and football season, buffalo wings and ranch are everywhere.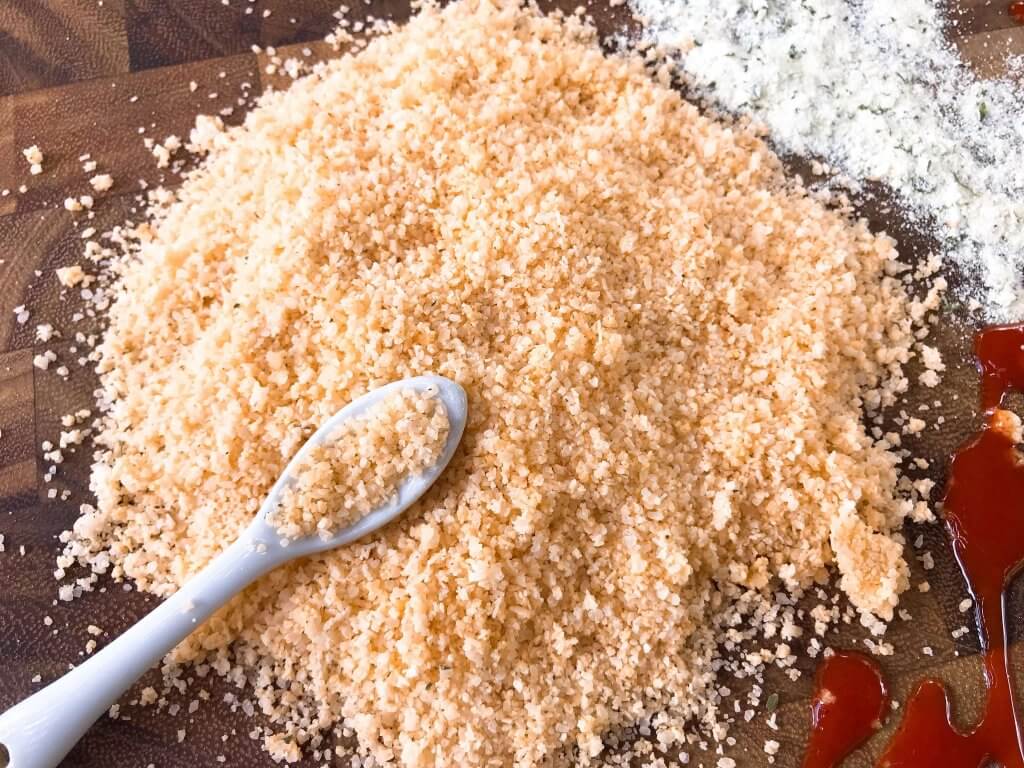 Buffalo Ranch Flavored Salt lets you season anything you want with the same great flavors in fun and unique ways. I have been using these flavors in so many unique ways, and you can find my collection of buffalo and ranch recipes here! One of my favorites is this Vegetarian Buffalo Cauliflower Pizza that even the meat lovers will devour. It is gone in seconds!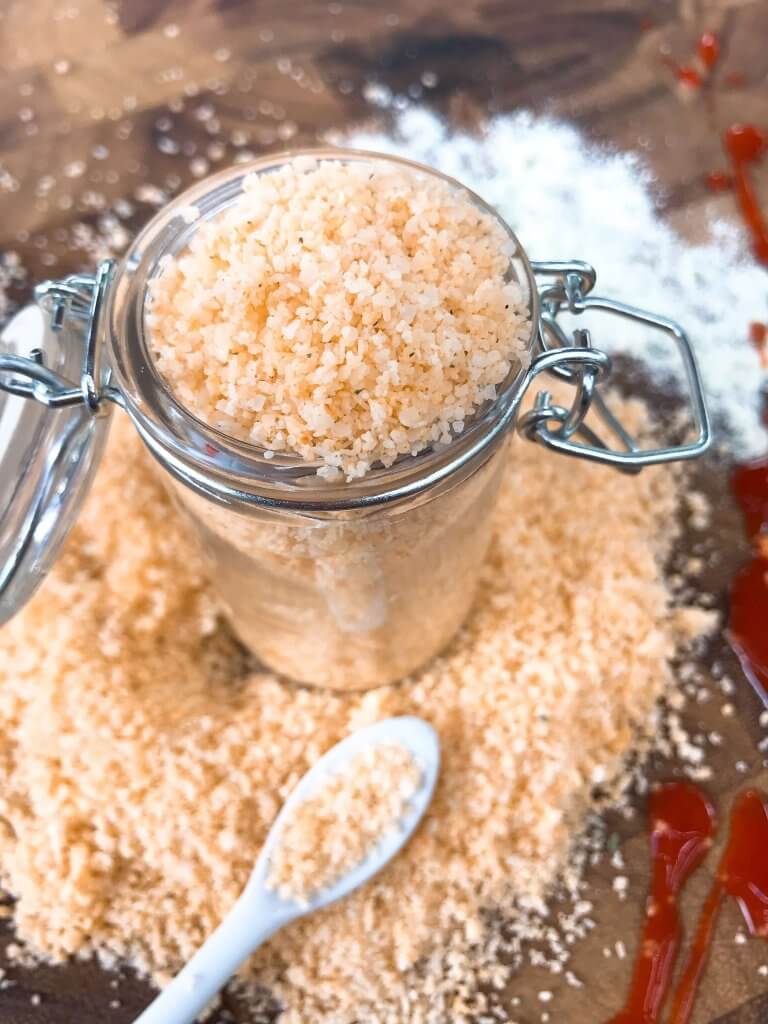 This flavored salt is crazy easy to make! Literally just put the ingredients in a food processor, pulse, and you are done! You can use it right away if you want, but the flavors do develop more if you are able to let it sit for a day or longer.
It is best to use a small food processor to ensure the blade can reach the ingredients and get a good blend. But a larger food processor works as well. If you do not have a food processor, you can stir it in a small bowl, it will just take a little longer to make sure it is well incorporated.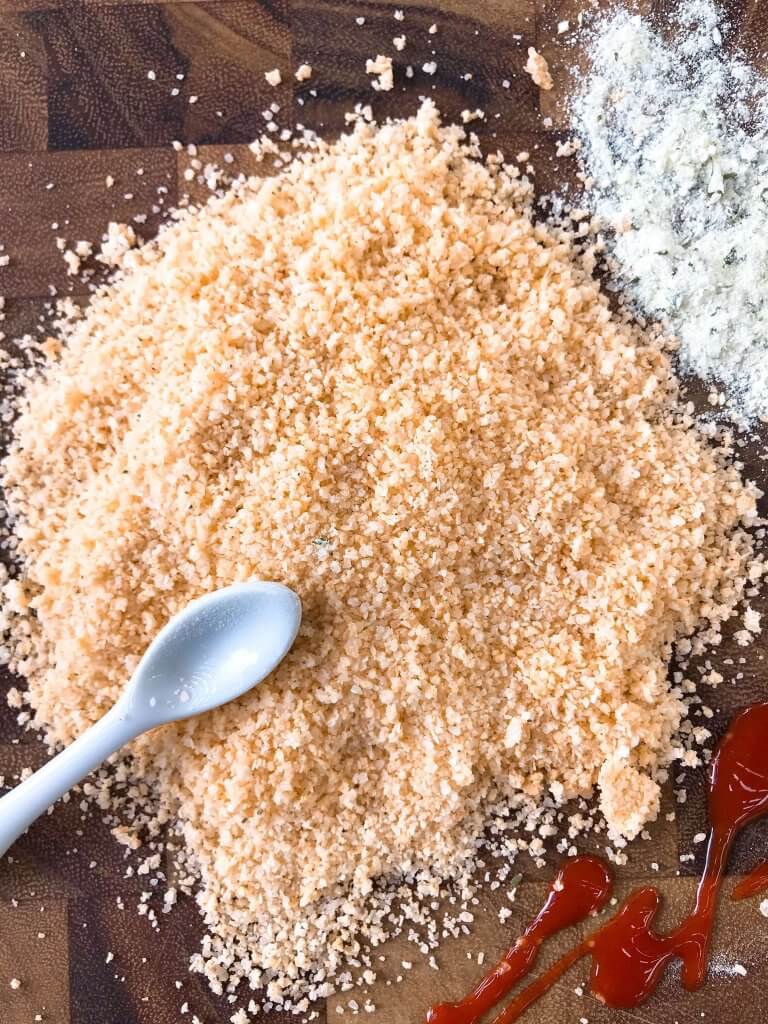 The buffalo wing sauce makes the salt a little wet, so you need to let it dry in a thin layer before storing. I use a large plate or silicone baking mat and just let it sit out. Then break up the salt with your hands and put in a small container. Little jars or emptied spice jars are perfect for this! If needed, you can always re-blend the salt as well.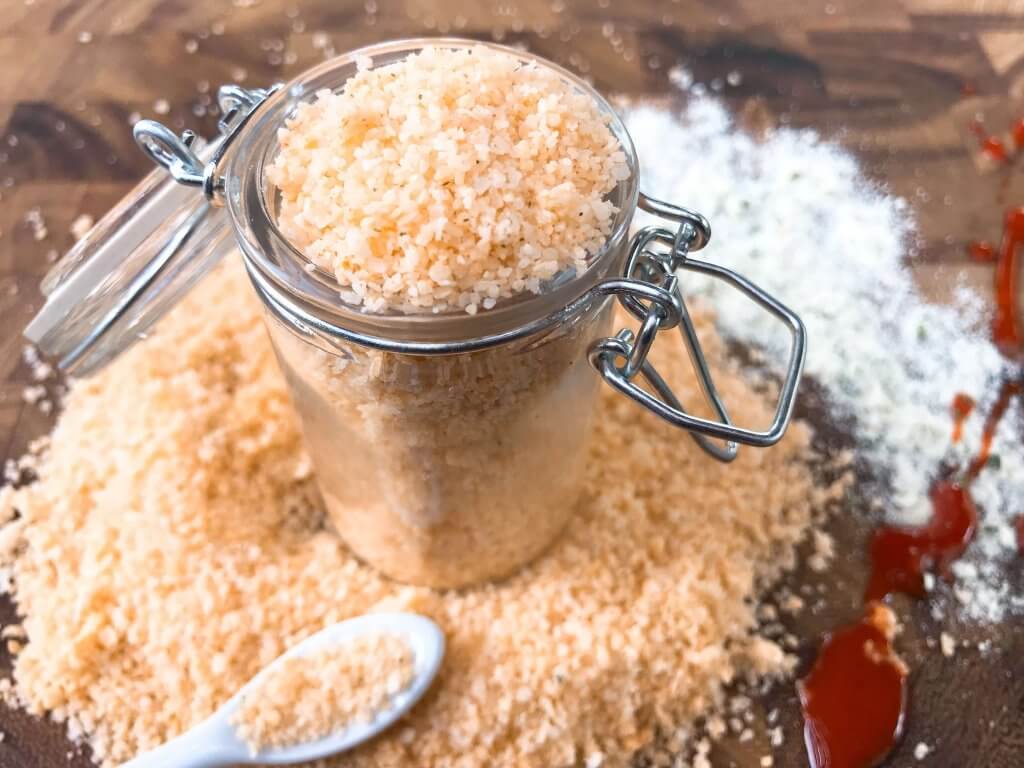 Make your own mini collection of flavored salts, ready whenever you are in need of quick and easy seasoning! This game day salt is sure to get compliments and be a winner.
Flavored Salts
Homemade flavored salts make the perfect seasoning! Great for grilling and BBQ recipes, baking, or finishing off with a little flavor.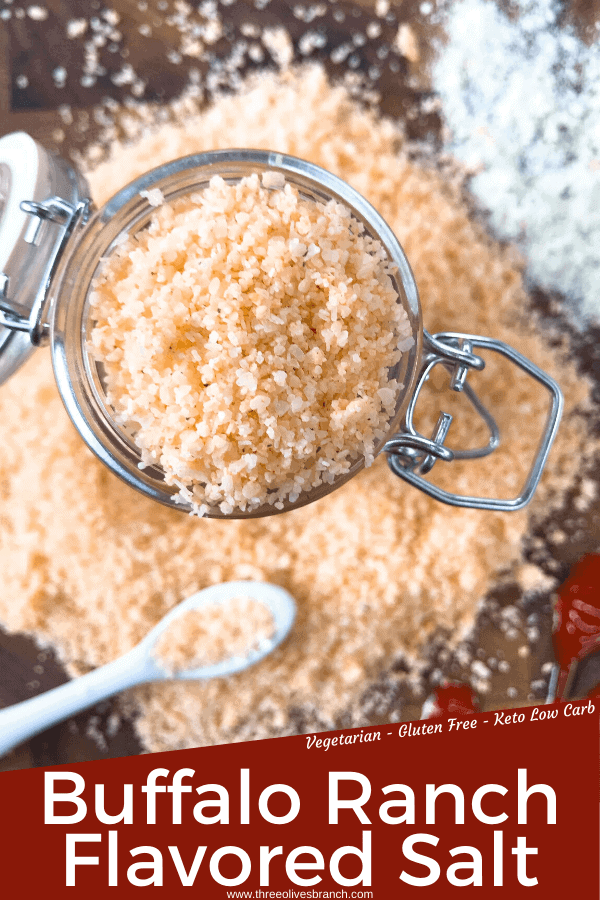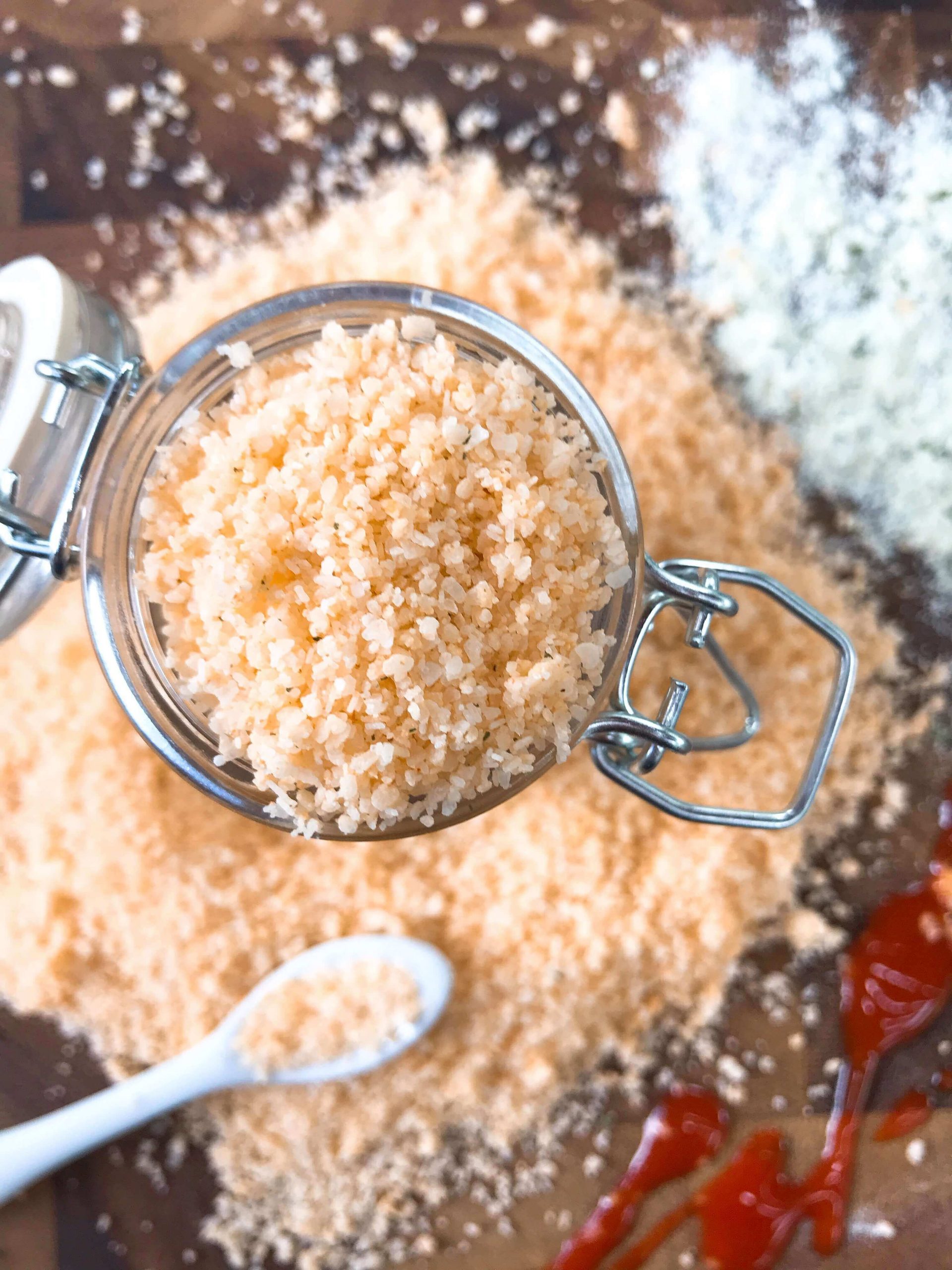 Instructions
Place all of the ingredients into a small food processor. Pulse until the ingredients are just combined. Adjust flavors to taste with additional wing sauce or ranch mix as desired.

As the salt is a little wet, spread it out over a plate, silicone baking sheet, or parchment paper to dry. Leave out overnight or place in a warm (but not "on") oven to dry out. The salt will cake up and stick together a little, so when dry use your hands to crush the salt and remove the clumps. (You could also use the salt immediately while still wet, but dry first if you are storing it).

Store the salt in a little jar or empty spice container.
Notes
It is best to use a small food processor to ensure the blade can reach the ingredients, although a larger one will still work.
I love to use jars like this to store the flavored salts in, but you can also use empty spice containers.  These jars would fit approximately half of one batch of salt.
Nutrition
Calories:

25

kcal

|

Carbohydrates:

5

g

|

Sodium:

57488

mg

|

Calcium:

35

mg

|

Iron:

1

mg

By