This makes approximately 2 cups of dip. With one other appetizer, this was good for four people.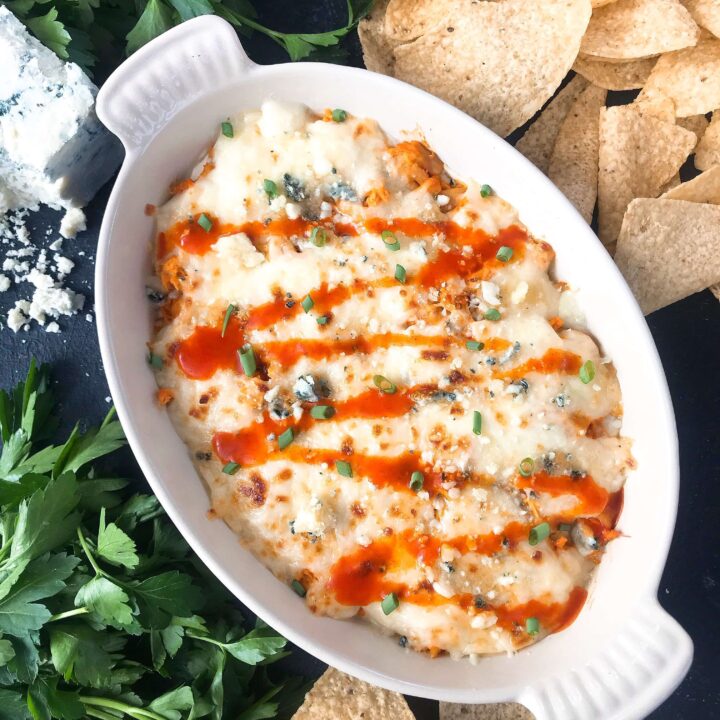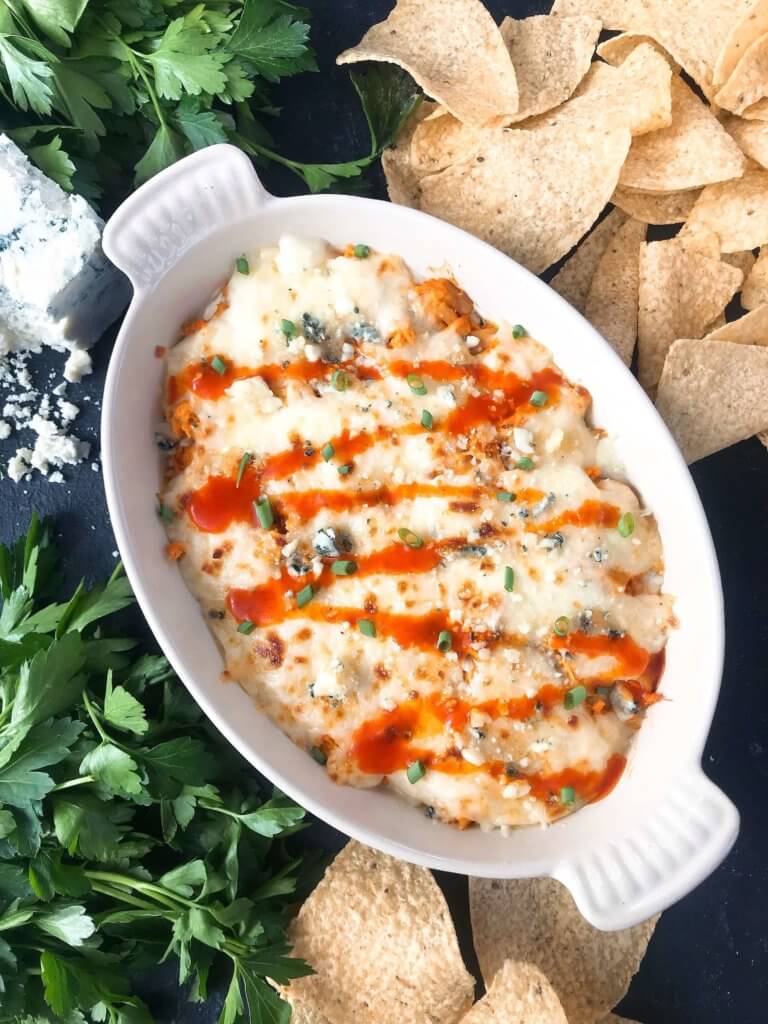 This Buffalo Chicken Cheese Dip was inspired by traditional buffalo wings with all the fixings.  I love having wings at our game day parties, especially football, but they are so incredibly messy!  I swear, sauce and dressings end up everywhere.  This dip lets you have all of those amazing flavors in a compact, easy, and convenient way.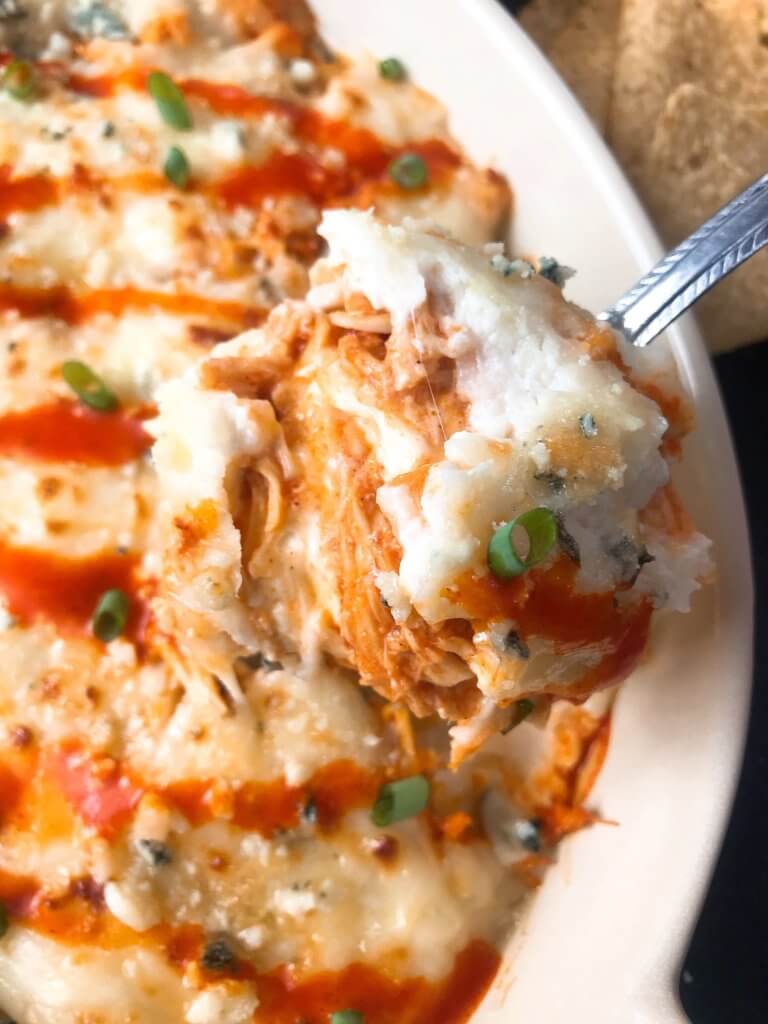 This post contains affiliate links.
Cheese dips are seriously one of my favorite things when entertaining or watching a game.  We are some big cheese lovers!  And they are pretty popular with our family and friends.  Win-win.
I like to keep the heat level relatively mild in the house.  Partially because not everyone can handle a lot of heat, but mainly because I like to pile on an abnormally large amount of dip on each chip.  And I really do not like my mouth being on fire, so making things mild is the best compromise.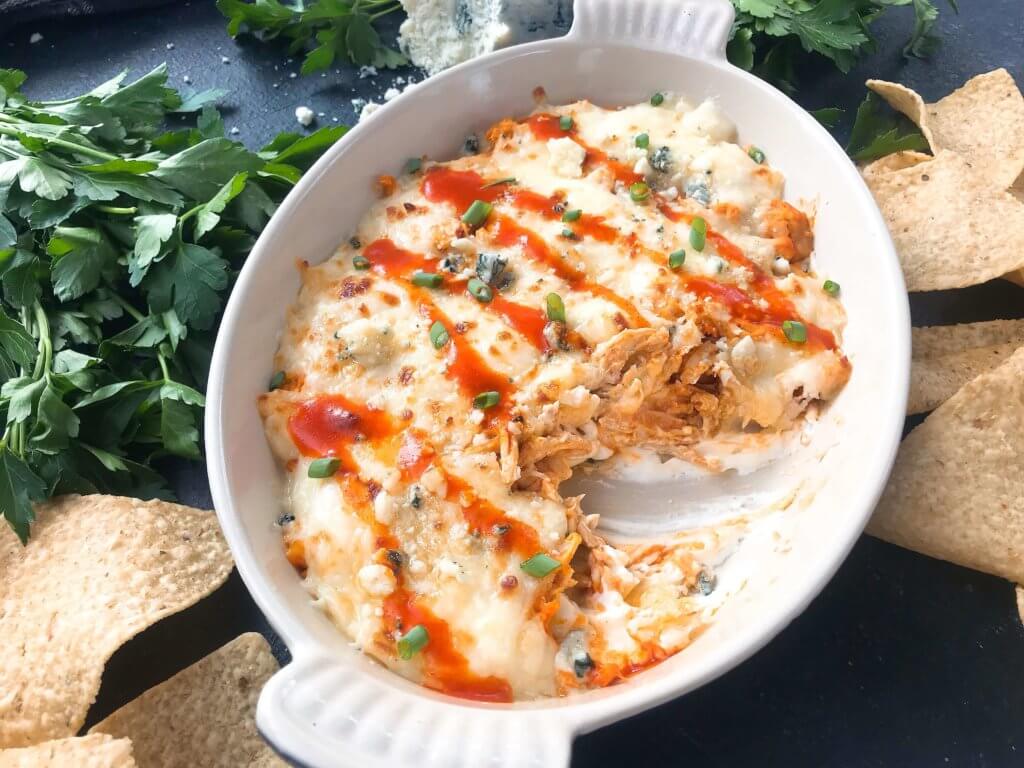 I find that my oval baking dish, pictured here, is perfect for cheese dips!  A lot of surface area for that crunchy, gooey cheese on top without being too large.  You can use this affiliate link to find my baking dish here.
This gluten free Buffalo Chicken Cheese Dip is easily customizable!  Want it spicy?  Increase your amount of buffalo sauce or add some hot sauce in there.  Not a blue cheese fan?  You can just leave it out all together.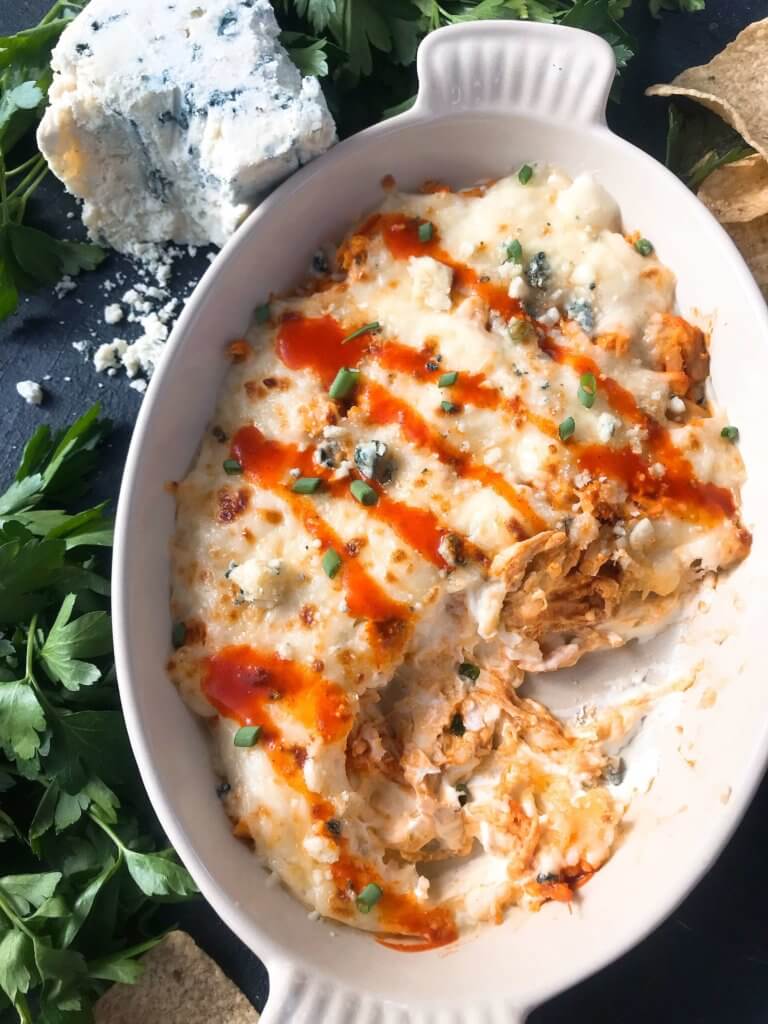 Need some more game day inspiration?  Check out our Buffalo Chicken Cheese Bread and the rest of our Game Day Recipes and Posts!
I always know that I have to serve more cheese dip than anything as it is always so popular.  What snacks or appetizers are a tradition at your home-gating events?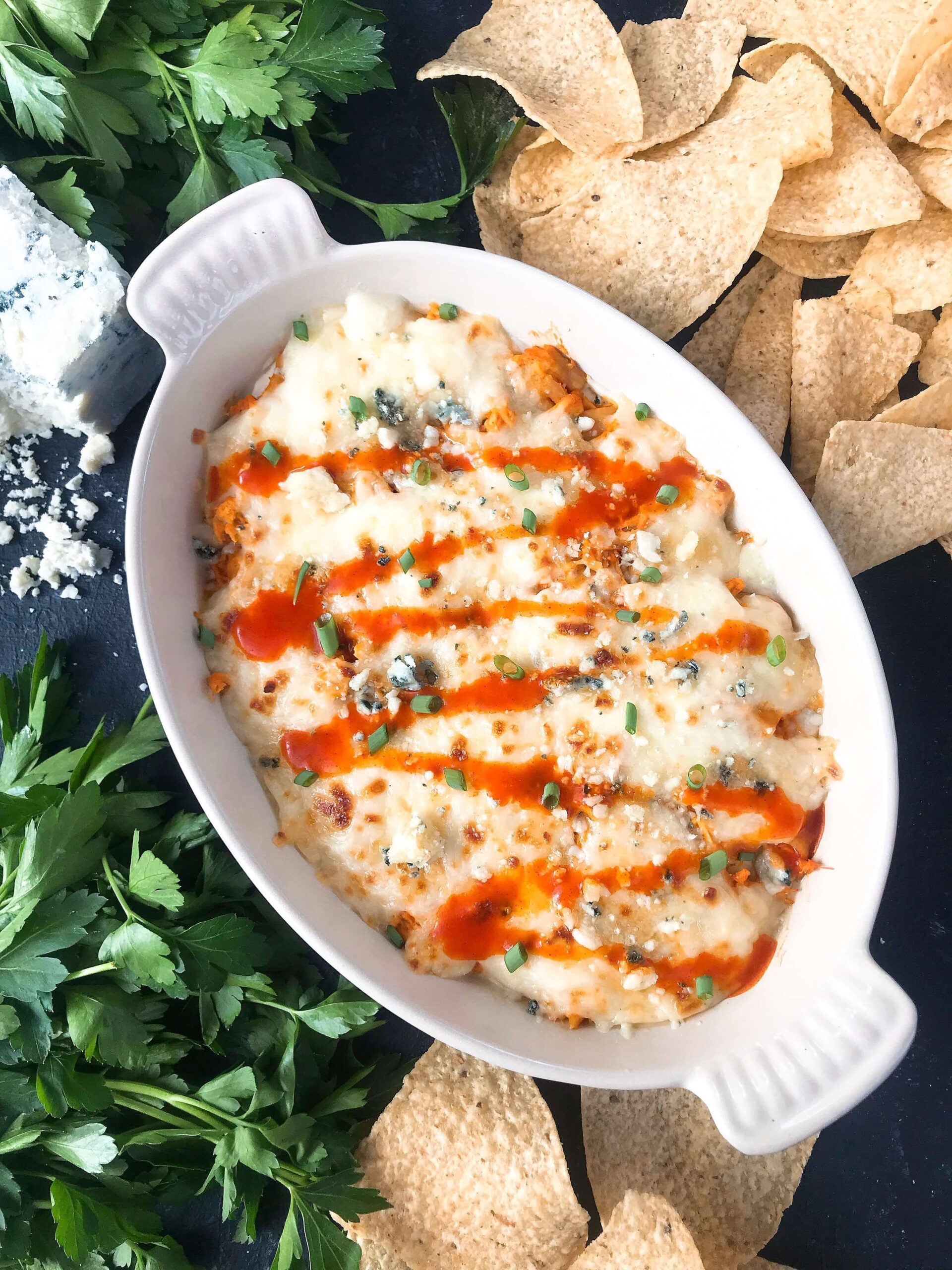 Instructions
Prep
If your chicken is not pre-cooked, bake your chicken with salt and pepper at 350F until cooked through. Shred or chop the chicken and set aside.

Preheat the oven to 350F.

In a small bowl, combine the softened cream cheese and garlic powder.

In a medium bowl, combine the chicken, buffalo wing sauce, and blue cheese crumbles. Add more wing sauce or hot sauce for more heat.

In a small bowl, combine the sour cream and monterey jack (or mozzarella) cheese.
Assemble
Spread the cream cheese mixture into a small baking dish. Something skinny or narrow is best, such as a bread loaf pan or small oval dish such as the one in the picture. The larger the dish you select, the thinner the dip will be.

On top of the cream cheese, spread out the chicken mixture.

On top of the chicken, spread out the sour cream and cheese mixture.

Bake the dip in the oven for approximately 5-10 minutes, or until the top cheese is melted and the dip is heated through. Top with green onions and additional buffalo sauce. Serve immediately with dippers of choice.
Notes
This will take longer to prepare if you do not have pre-cooked chicken available.

Depending on the size of your dish, you may end up with a thin or thick dip.  If your dish is large, double up the recipe to make it thicker.

There are a lot of great dippers for this dip: celery, carrots, tortilla chips, pita bread, pretzels, peppers, etc.

By