An easy breakfast or brunch casserole loaded with potatoes, eggs, tomatoes, fresh basil, and mozzarella cheese.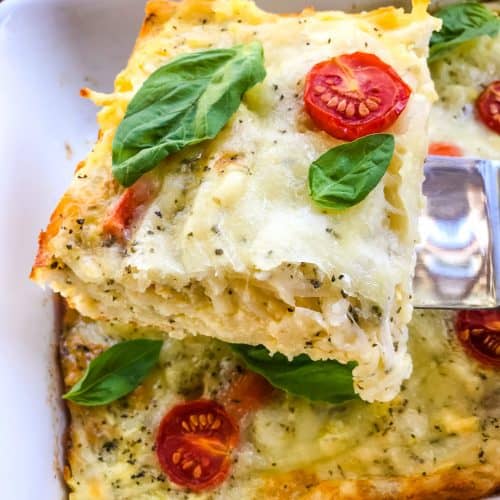 An easy Caprese Hashbrown Breakfast Casserole full of Italian flavors for a simple breakfast or brunch!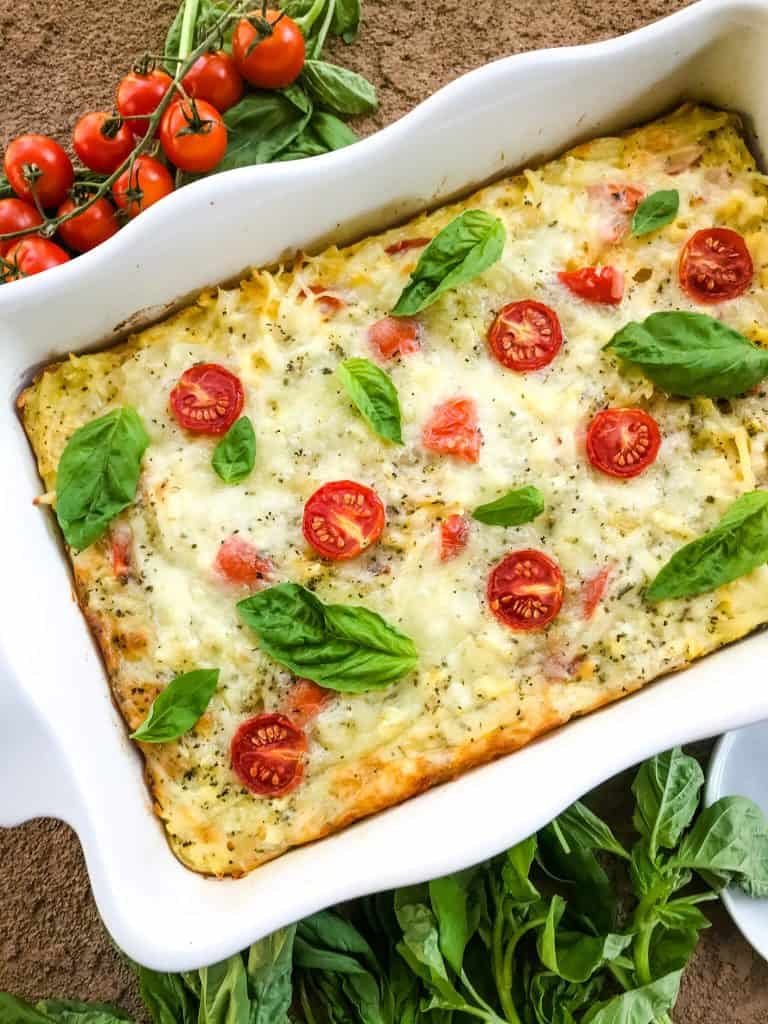 This post contains affiliate links.
The caprese inspiration comes from the classic Italian caprese salad which is simply fresh tomatoes, fresh mozzarella, and fresh basil. It is just delicious.
I have loved using this flavor combinations in many ways, creating many caprese recipes.
My mom loves caprese anything so she is always a willing guinea pig!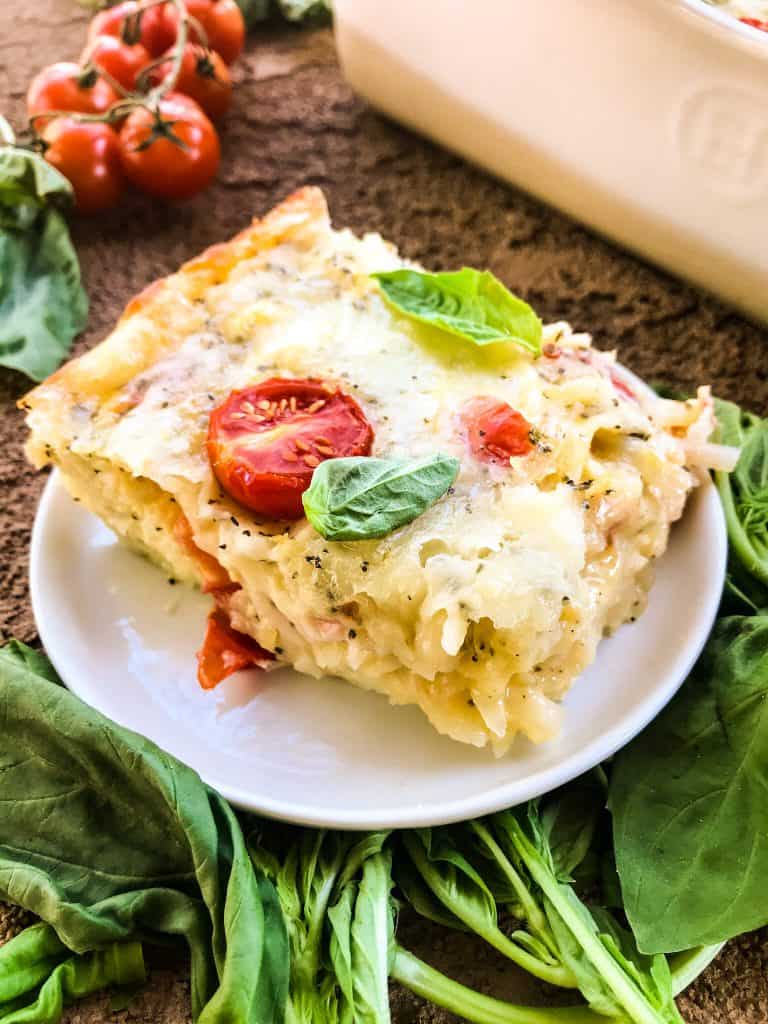 Do the hashbrowns need to be frozen or thawed?
You can use either frozen or thawed shredded hashbrowns. Even diced hashbrowns work!
The only caveat is that if using frozen, then need to not be in one giant, solid mass.
So if they are all stuck together, just zap in the microwave for a couple minutes until you are able to press and squeeze them apart while in the bag.
If I am thinking in advance, I throw a bag of the frozen potatoes in the refrigerator over night so that they are typically thawed when I am ready to make the hashbrown casserole.
But if they are frozen and not a giant mass, just throw them in the casserole as per the instructions! They might take a couple minutes longer to cook but come out beautifully.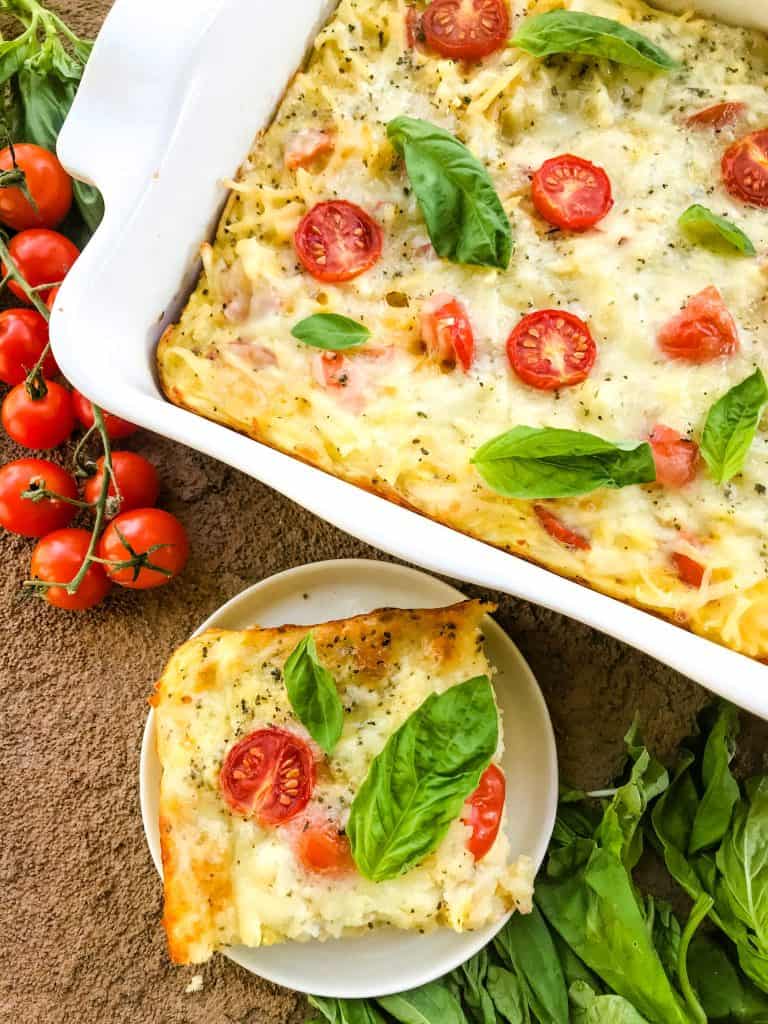 Fresh versus Dried Basil
I use dried basil in the Caprese Hashbrown Breakfast Casserole itself because it is easy to have on hand and in small pieces that will disperse among the other ingredients easily.
You can also cut the dried basil in half for fresh chopped basil. It might get a little dark from the heat but will taste amazing.
Top the breakfast casserole off with some fresh basil if you have it! The fresh herb will bring some brightness to the dish.
Just don't cook the basil on top of the casserole as it will definitely brown and burn from being so delicate!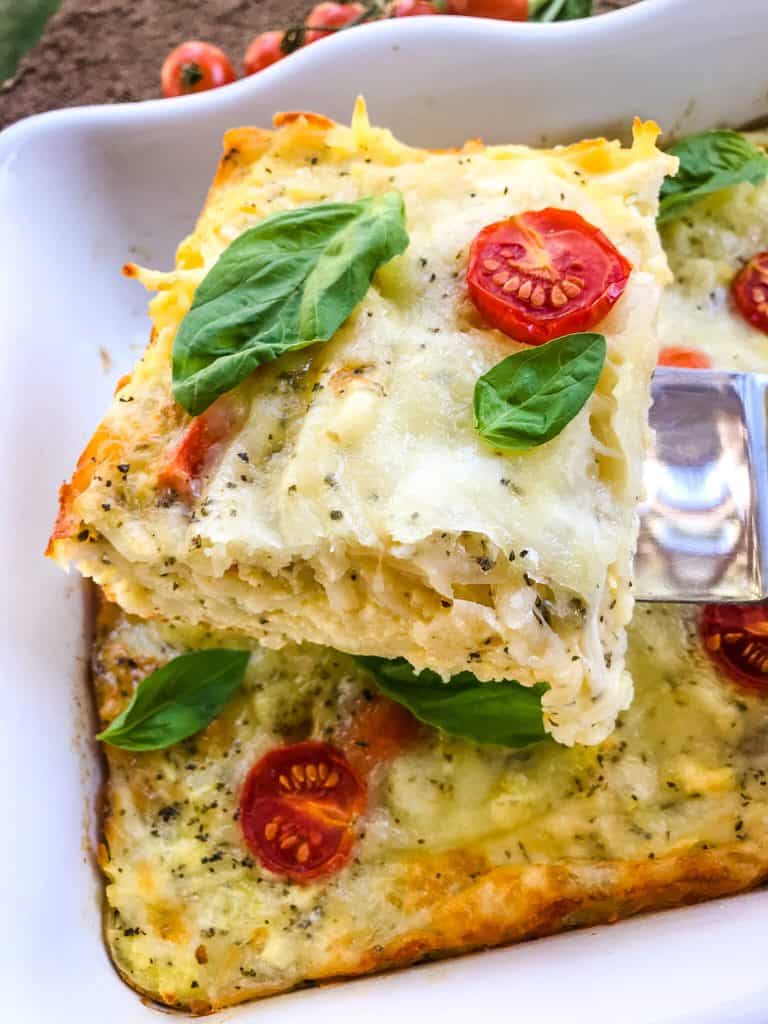 Tomatoes and Mozzarella
I am a huge fan of fresh mozzarella, but chose to use shredded here. Either one will work!
If using fresh mozzarella, if you leave it in larger chunks, you will get pockets of gooey, melted cheese throughout the breakfast potatoes.
For tomatoes, use what you love or have on hand.
My favorites are cherry tomatoes, grape tomatoes, or roma tomatoes. Just dice them up into chunks and toss throughout.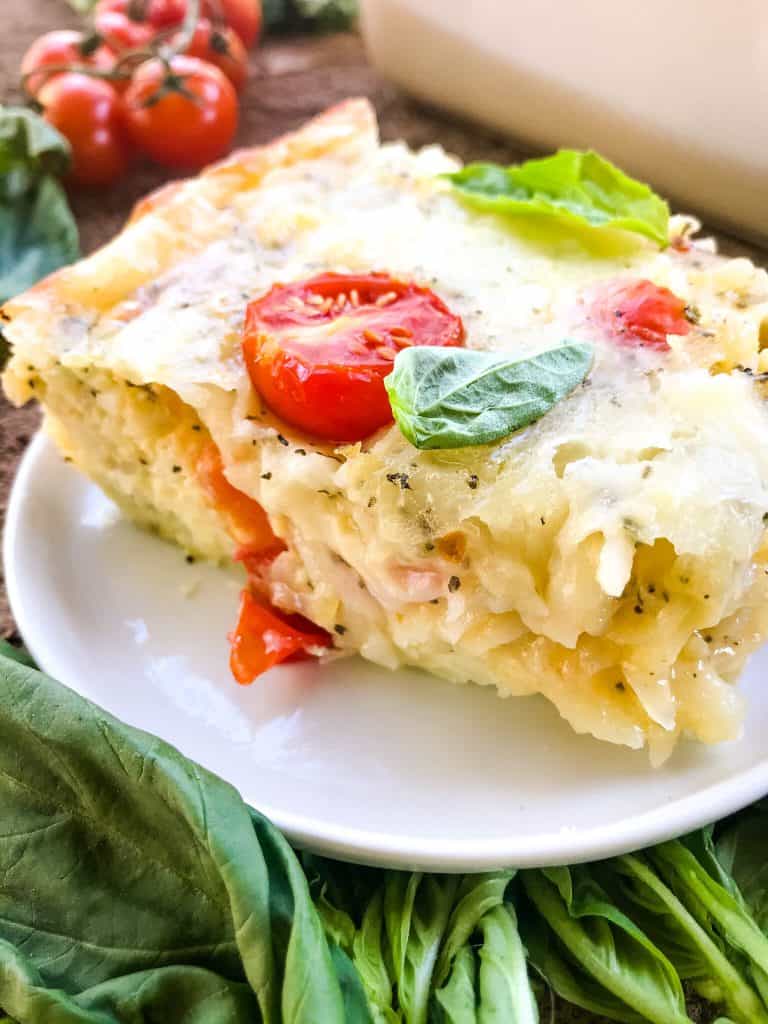 How Many Eggs?
You can easily increase the number of eggs if desired to either get a larger yield for servings or if you want more of a focus on the eggs.
I prefer the 8 eggs, which is enough to bring all the ingredients together, and the texture is more about the potatoes and mix ins.
10 eggs would be a good balance of the two, and 12 eggs would make it more egg-focused.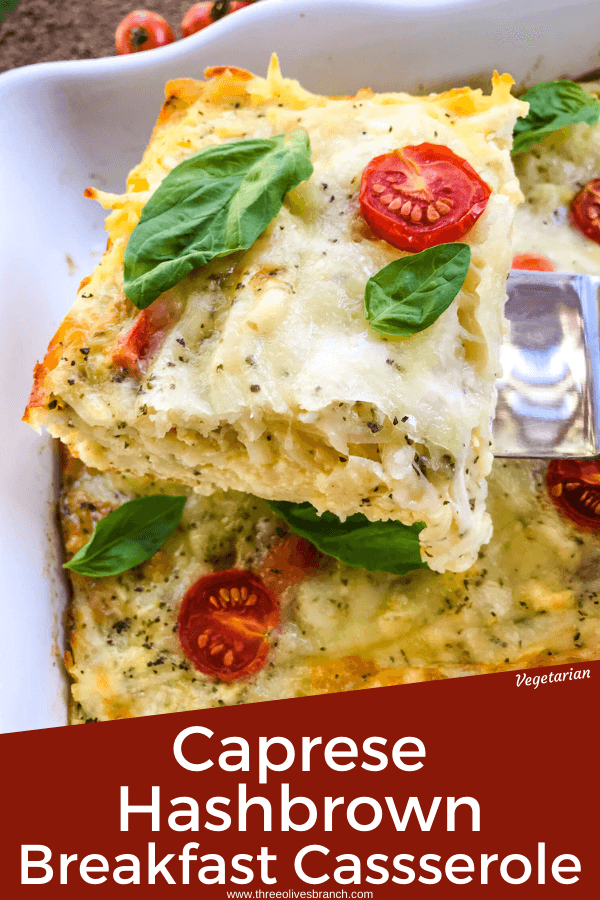 Caprese Recipes
Everyone sure loves our caprese recipes! Find more ideas that use these flavors!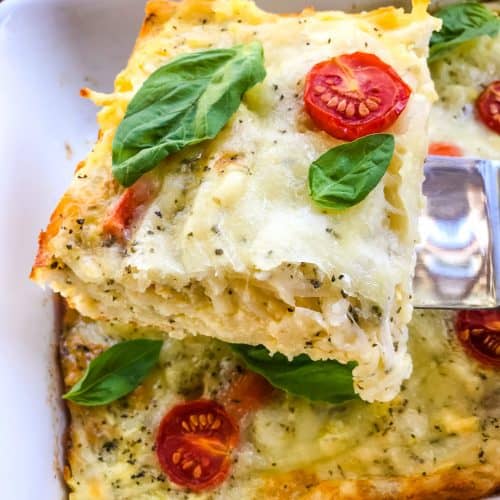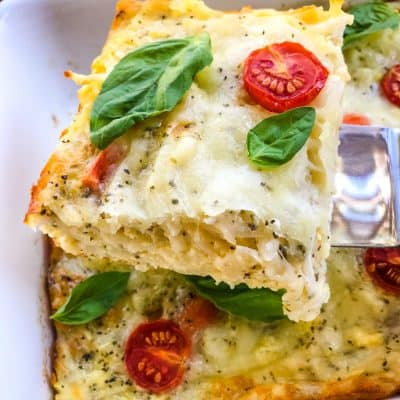 Caprese Hashbrown Breakfast Casserole
An easy breakfast or brunch casserole loaded with potatoes, eggs, tomatoes, fresh basil, and mozzarella cheese.
Print
Pin
Rate
Instructions
In a large bowl, beat together the eggs, milk, dried basil, garlic powder, salt, and pepper.

Add the halved cherry tomatoes,1 1/2 cups of the Mozzarella cheese, and hashbrowns and stir to combine.

Pour everything into a 9×12 inch baking dish.

Sprinkle with the remaining 1/2 cup Mozzarella cheese.

Bake until the casserole is cooked through to preference, approximately 45 minutes for cooked thoroughly but not dry.

Serve immediately with fresh basil.
Notes
Hashbrowns come in varying package sizes, so anything close to 30 ounces will work.
8 eggs results in a potato and mix-in focused casserole. Use 10 eggs for balance, or 12 eggs for an egg-centric casserole.
Hashbrowns can be used frozen or thawed, as long as they are not a solid block. If solid, heat in the microwave until you can break them apart to evenly incorporate into the mixture.
Nutrition
Serving:

1

serving

|

Calories:

364

kcal

|

Carbohydrates:

32

g

|

Protein:

22

g

|

Fat:

17

g

|

Saturated Fat:

8

g

|

Cholesterol:

282

mg

|

Sodium:

483

mg

|

Potassium:

750

mg

|

Fiber:

3

g

|

Sugar:

5

g

|

Vitamin A:

1064

IU

|

Vitamin C:

30

mg

|

Calcium:

298

mg

|

Iron:

3

mg

By