Cranberry Orange Bread Pudding is a delicious bread pudding recipe full of fresh orange and cranberries. Make in advance and serve up with ice cream for a special event or holiday dessert. #breadpudding #cranberryorange #holidaydessert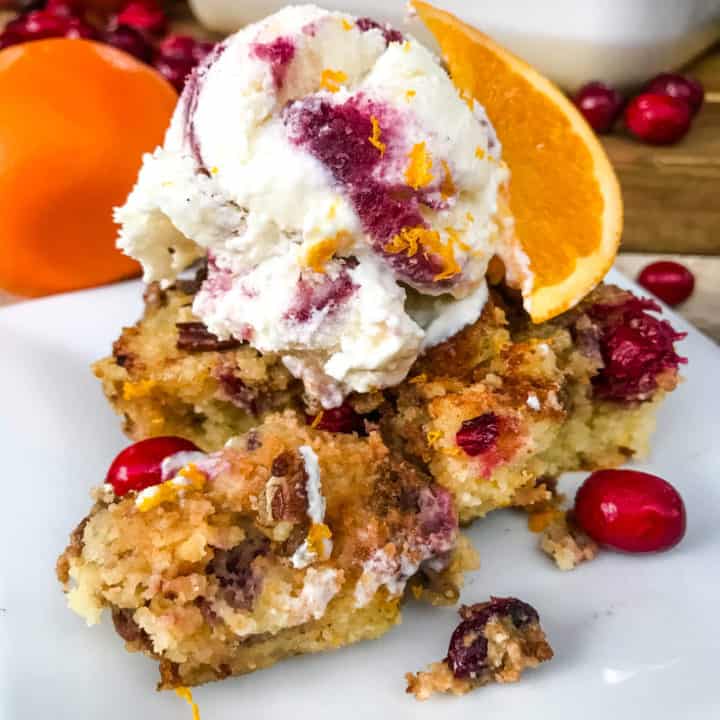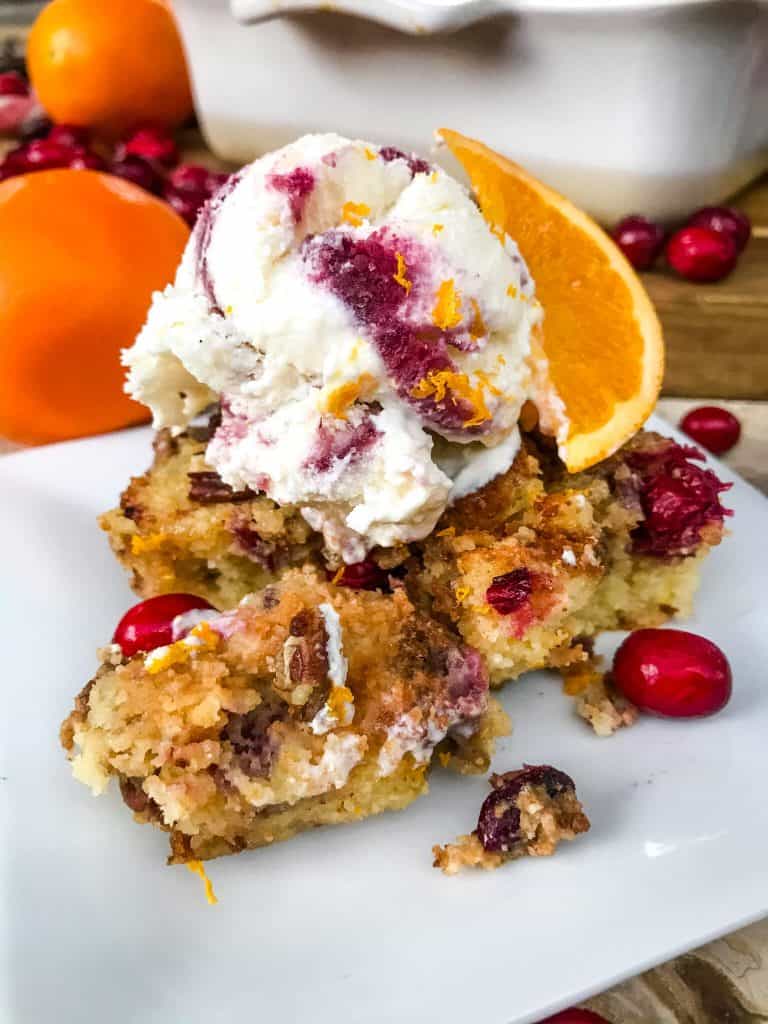 Cranberry Orange Bread Pudding is a delicious bread pudding recipe filled with fresh cranberries and orange in a custard sauce. Serve it up with some ice cream!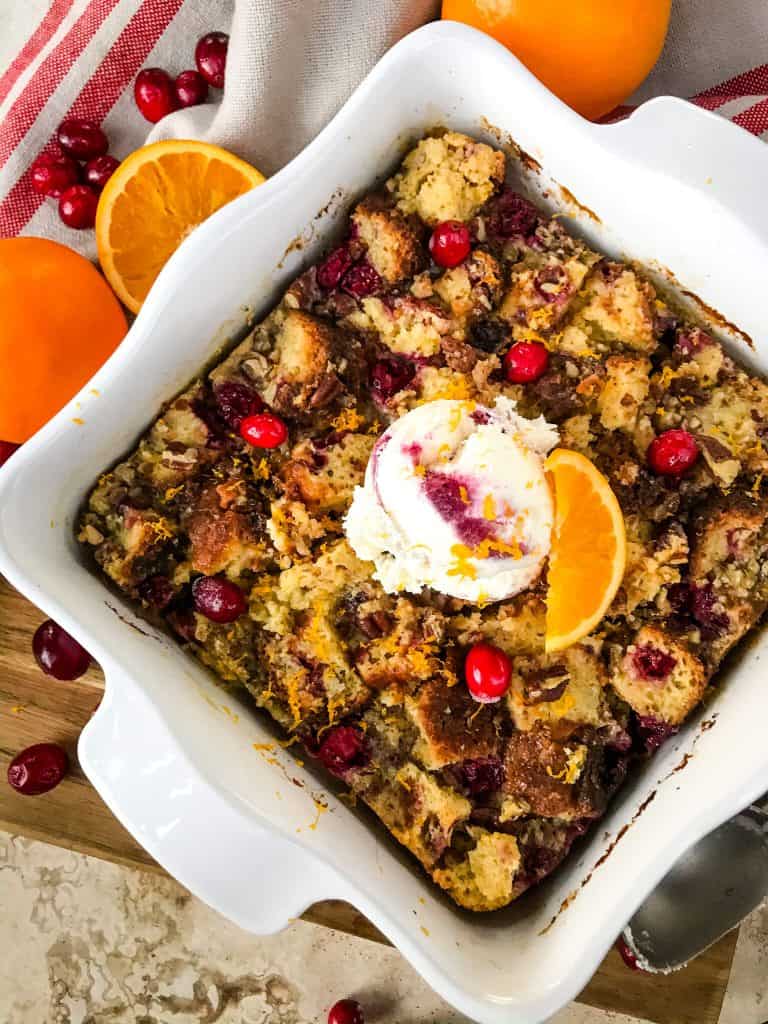 This post contains affiliate links.
I love using cranberry and orange together, and this bread pudding is packed with those flavors! Find more of our cranberry orange recipes here! The flavors together are perfect for the holiday season, but work all year round as well, so I love how versatile this is!
When I made this cranberry bread pudding recipe for family, the resident sweet tooth fiend said it was the best dessert ever! Definitely a win in my book!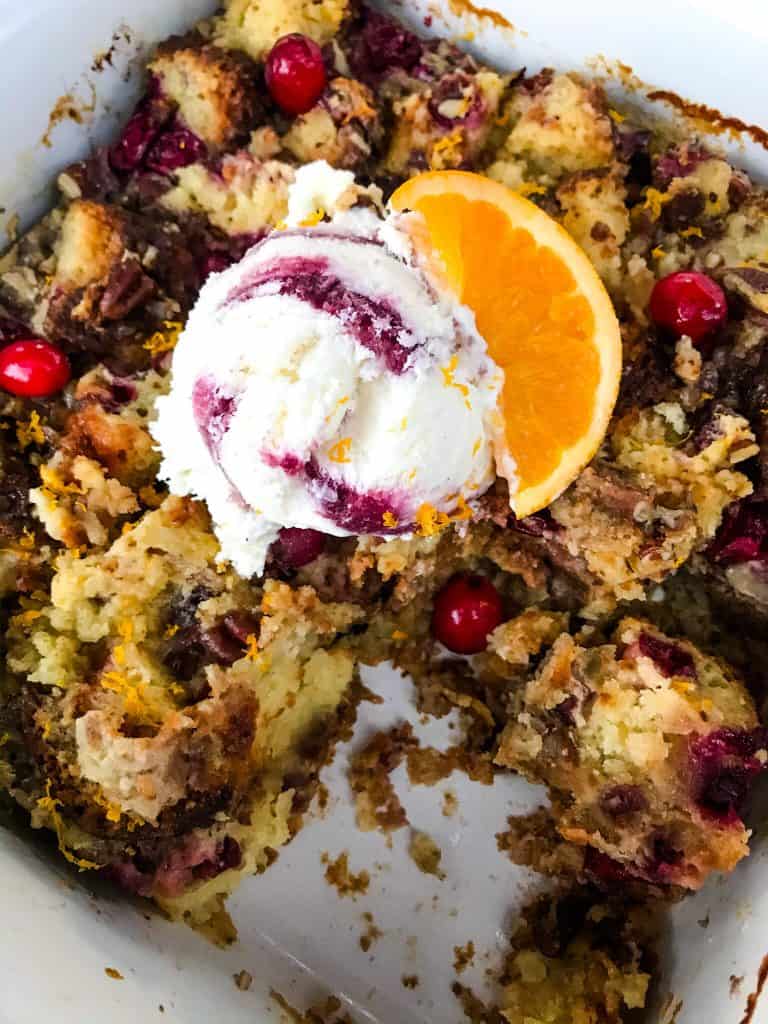 The easiest way to zest citrus is with a microplane. You can get a microplane online here! I use it ALL the time so it is definitely worth having in the kitchen. You can zest citrus and finely grate things like chocolate or cheese with it. The orange juice I use here really brings the citrus flavor to the bread and pudding. Fresh juice is best (from the orange you zested!) but bottled could work as well.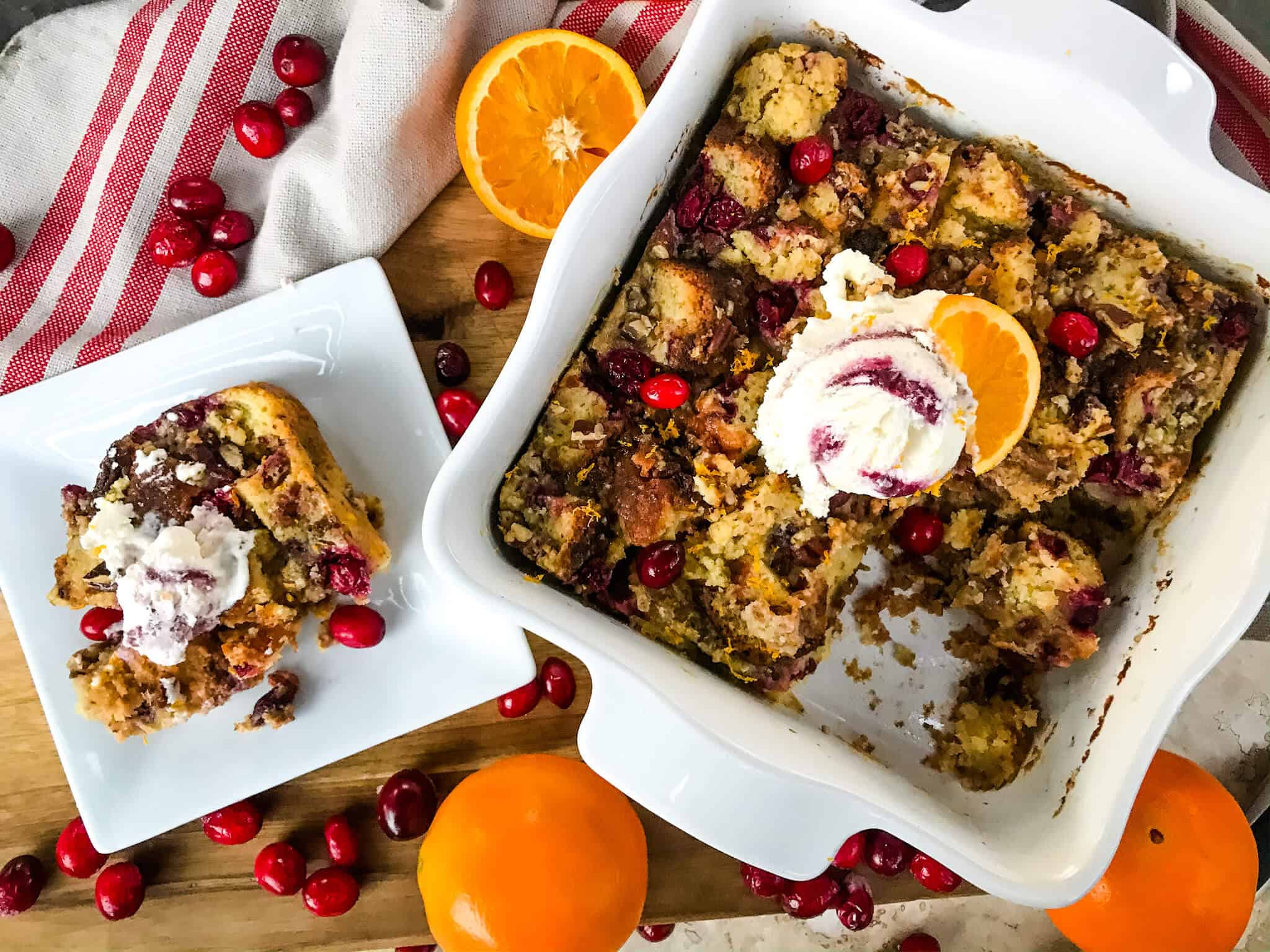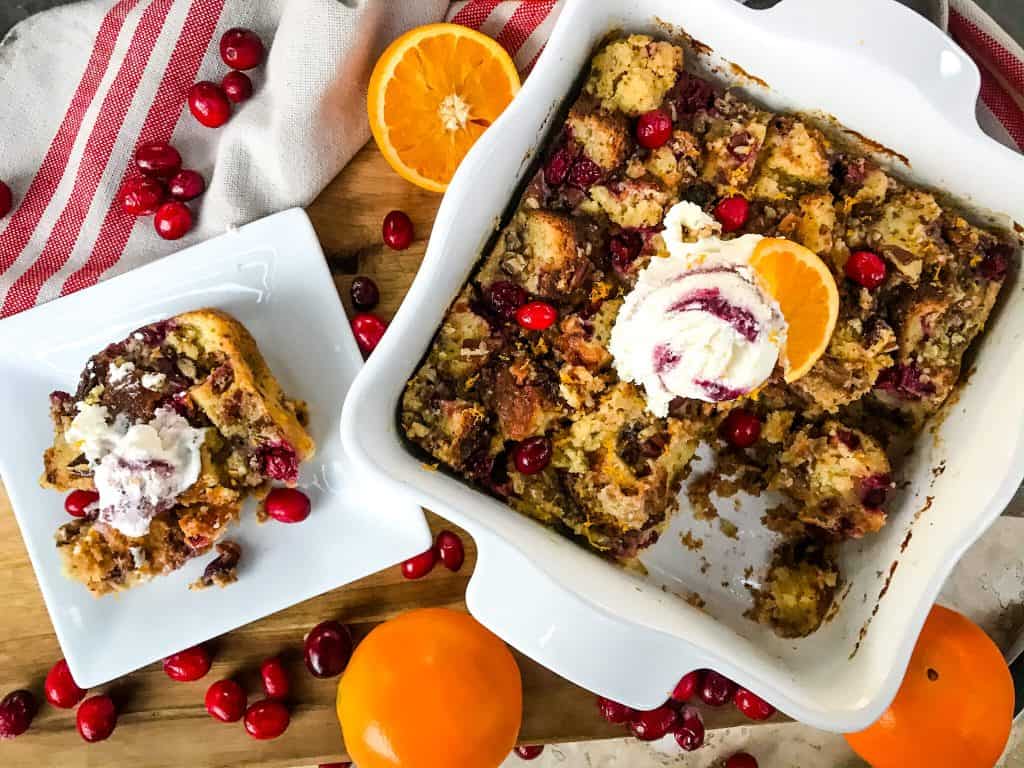 Using our recipe for Cranberry Orange Bread in the Cranberry Orange Bread Pudding is best here because it adds extra flavor! But you could also use any plain bread in its place. I like to use the fresh cranberries because they add some moisture and tartness, but dried cranberries could work too. I was told the fresh cranberries "make it" so I recommend those if you can grab them! (Frozen cranberries are a great substitute for fresh).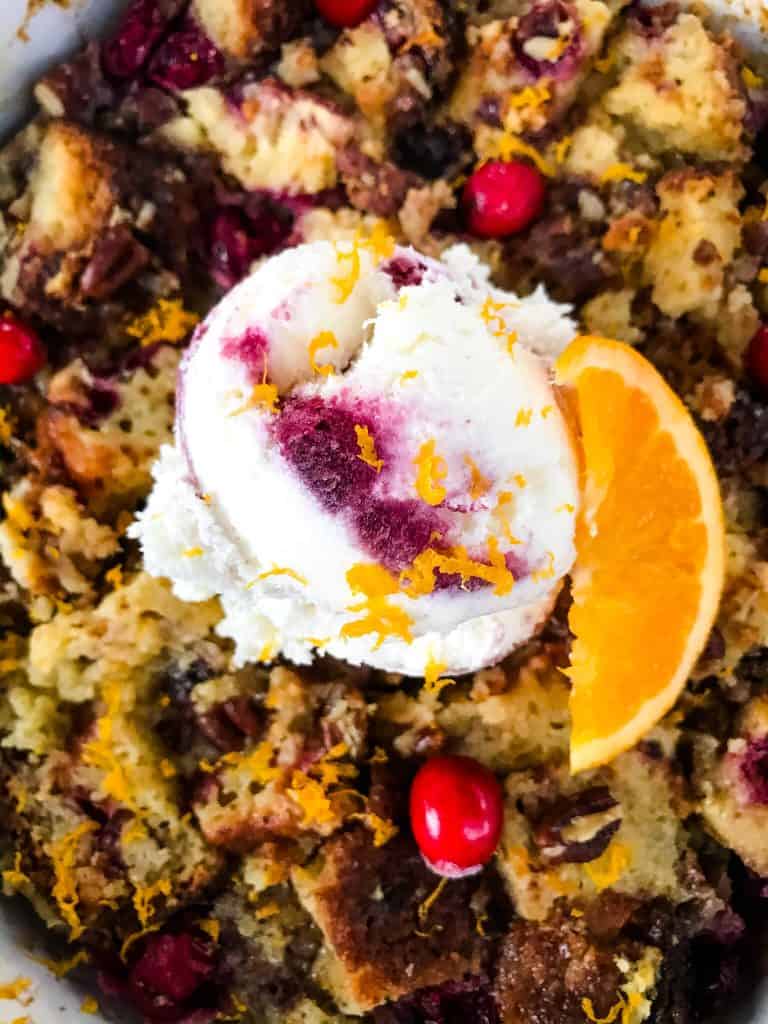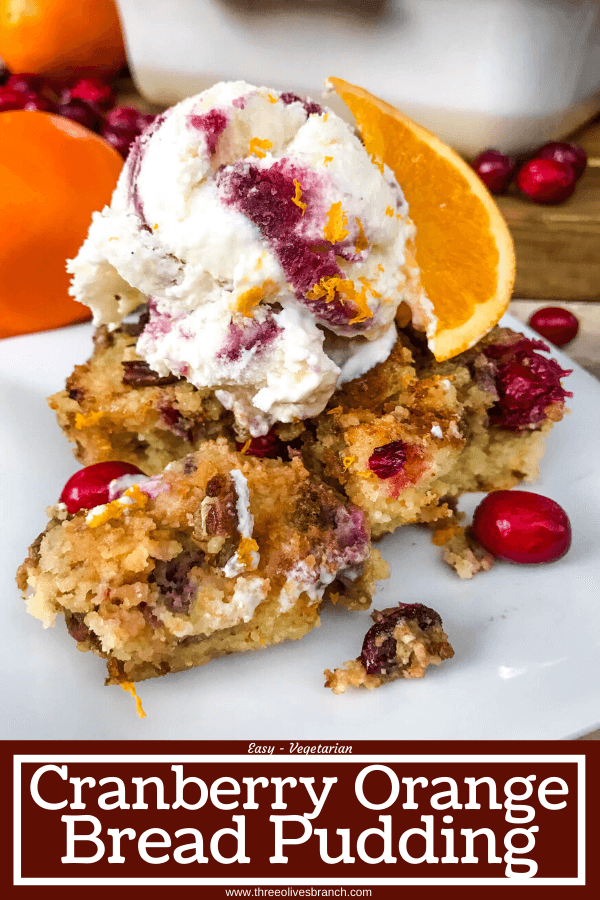 Instructions
Cut the bread into 1.5 inch cubes. Set aside.

Whisk together the remaining ingredients in a large bowl, using both the zest and the juice of one orange. Add the bread and toss to coat.

Coat a 9 by 13 inch baking dish with cooking spray. Pour the bread pudding mixture into the dish. Cover and let sit at room temperature for 20 minutes.

Preheat oven to 325F.

Bake the pudding on the lower middle rack until it is golden brown and puffing up around the edges, with a slight jiggle in the middle, approximately 45-50 minutes.

Let cool for 30-45 minutes before serving warm. Top with additional pecans if desired. This pudding is great served with whipped cream or ice cream.
Notes
Our cranberry orange bread is best for this recipe because it brings extra flavor, but any type of bread will work, especially a crusty bread like French or rustic bread.  A 9.5 inch loaf was the perfect amount to get 8 cups.
You can let the bread soak in the refrigerator for up to 24 hours if needed.
You can use dried cranberries instead, but I find the fresh cranberries add great moisture, texture, and tartness.
Nutrition
Calories:

581

kcal

|

Carbohydrates:

43

g

|

Protein:

12

g

|

Fat:

39

g

|

Saturated Fat:

20

g

|

Cholesterol:

238

mg

|

Sodium:

394

mg

|

Potassium:

315

mg

|

Fiber:

3

g

|

Sugar:

27

g

|

Vitamin A:

1445

IU

|

Vitamin C:

11

mg

|

Calcium:

203

mg

|

Iron:

2

mg

By