Pumpkin Bread Pudding is a perfect fall dessert recipe! Packed with pumpkin spice flavors for autumn in a custard creamy casserole. A fun Thanksgiving dessert option.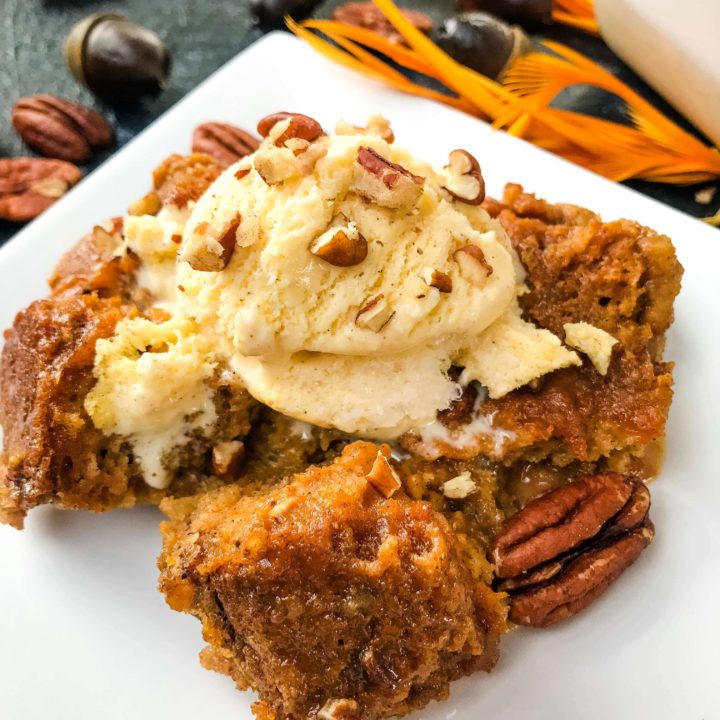 Pumpkin Bread Pudding is a fantastic pumpkin dessert recipe perfect for fall and Thanksgiving!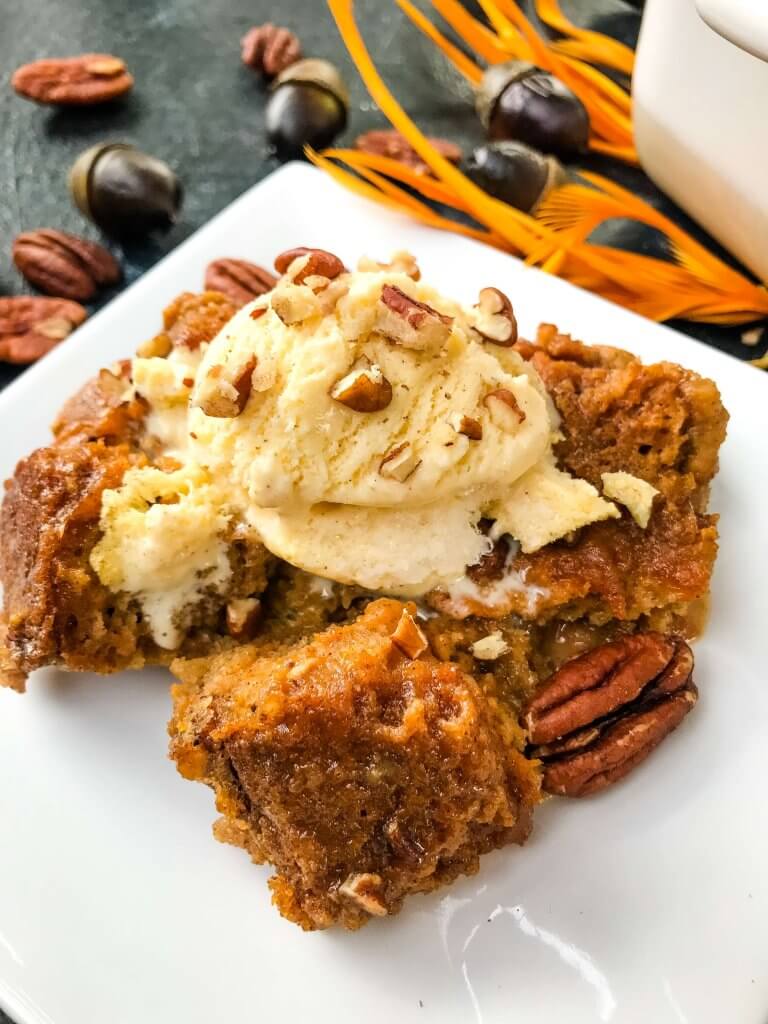 This post contains affiliate links.
Why You Will Love This Recipe
Fall is my absolute favorite season.  Something about the crisp air, comforting food, soups, and of course warm spices like pumpkin spice make me so happy. 
I just want to curl up with a blanket, coffee, and delicious food. 
This Pumpkin Bread Pudding is filled with fall flavors and a great way to warm up and enjoy the season.
A creamy, pumpkin loaded custard is mixed with fresh pumpkin bread.
While pumpkin spice lattes may be popular, I love using the flavors of pumpkin spice in different recipes.  It is a combination of cinnamon, nutmeg, ginger, and cloves. 
The warmth of these spices is what makes them perfect for fall baking and cooking. Find more pumpkin spice recipes here!
Ingredients
Here is what you need to make this recipe:
Eggs
Sugar
Heavy Cream
Milk
Pumpkin Puree
Bourbon (optional)
Vanilla Extract
Cinnamon
Sugar
Nutmeg
Pecans
Pumpkin Bread – I love to use a homemade pumpkin bread. You can use store bought, or even a non-pumpkin version like French bread. But a pumpkin bread is best to really drive home the flavors!
Pumpkin Puree – Make sure you are using the puree and not pie filling!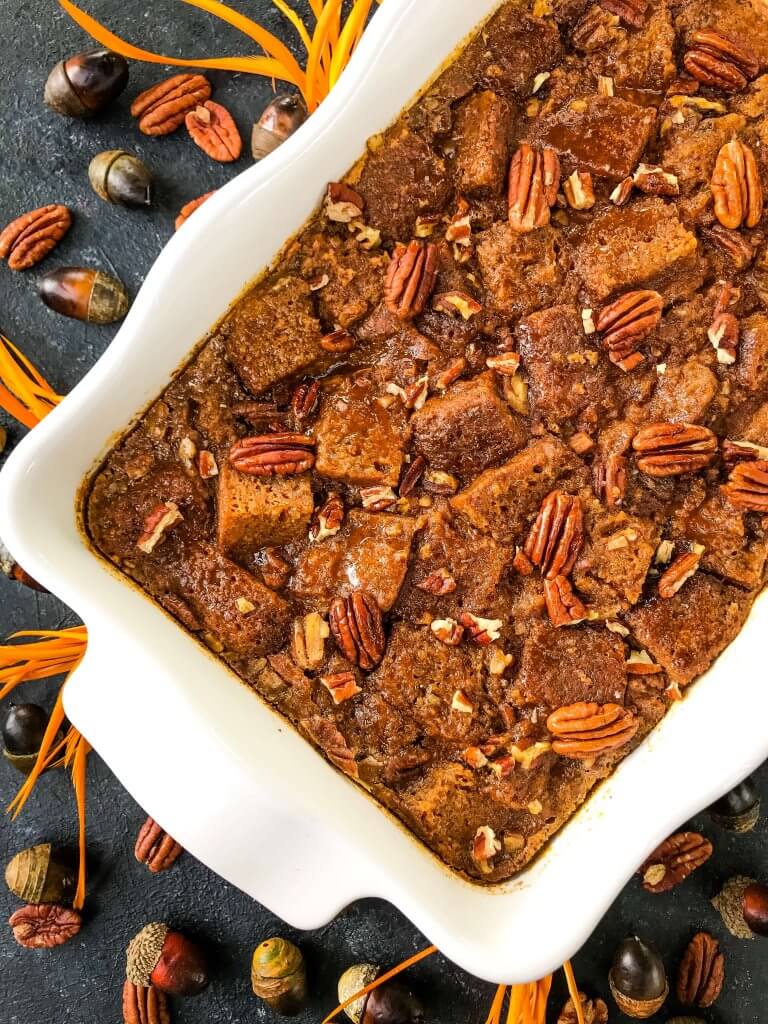 Instruction Overview
This pumpkin dessert recipe is made by tossing bread in a mixture of pumpkin puree, cream, milk, chopped pecans, and spices. 
I love using pumpkin bread or pumpkin spice bread for extra fall flavors, but you can use any bread you want or have.  8 cups of bread might seem like a lot, but in such large cubes, a loaf from a 9.5 inch baking dish was perfect. 
Let it all sit together for a little bit while preheating the oven. The bread soaks up a lot of the custard mixture and makes a soft texture.  I like to add the pecans for a little crunch, but you could leave them out or sub them for another nut like walnuts. 
This would also be great by adding some dried fruits in the mixture like cranberries.
Then bake until it has puffed up and there is a very slight jiggle in the middle.
The Pumpkin Bread Pudding can be assembled and kept in the refrigerator for up to 24 hours before baking if desired, but it is so fast to put together that I normally make it right when I need it.
Modifications and Substitutions
Pumpkin Bread – use any plain bread if needed, but pumpkin bread really drives the flavor forward!
Bourbon – great for warmth but can be skipped
Pecans – walnuts are a great swap but not quite as sweet
Heavy Cream – don't have any? Use more whole milk and add a couple Tablespoons of melted butter (not mandatory but helps keep some richness you are losing)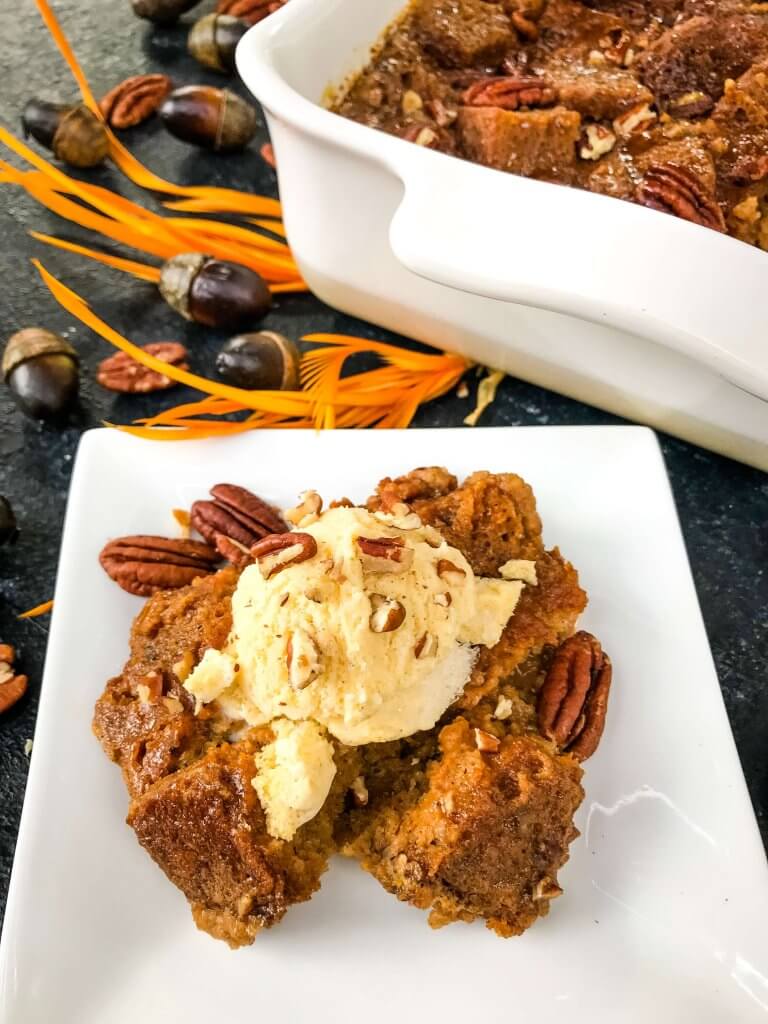 Serving
Serve it warm with some ice cream, whipped cream, caramel sauce, or anything else you can think of!
FAQs
Do you put eggs in bread pudding?
Yes. The eggs help make the custard texture and also help hold everything together.
Is pumpkin puree and pumpkin pie filling the same thing?
No. Puree is pumpkin – that is it.
Pie filling has added flavors and ingredients.
We are adding select ingredients to our mixture, so you want to start with a plain pumpkin puree.
Is bread pudding supposed to be moist?
Yes. The custard sauce will lead to moist and wet bread that all sticks together. The top layer that is exposed to heat in the oven will be crisper.
Can you overcook bread pudding?
Yes. If overcooked, it can become dry, too thick, or even cause the custard sauce to break.
Should bread pudding be served warm or cold?
Either! Although warm tends to be the most popular.
Is it OK to leave bread pudding out overnight?
No. Since it has so much dairy in it, it needs to be refrigerated.
Troubleshooting
Why is my bread pudding watery?
This could happen for a few reasons: there was not enough bread, the correct amount of egg was not added, or it was not cooked long enough to set.
My bread pudding is dry
This likely happened because it was overcooked, or there was too much bread.
The best option for a quick fix is adding a little more milk, poured on top, and to let it soak into the crevices for a few minutes. It should help loosen up the custard that IS there and bring some moisture back.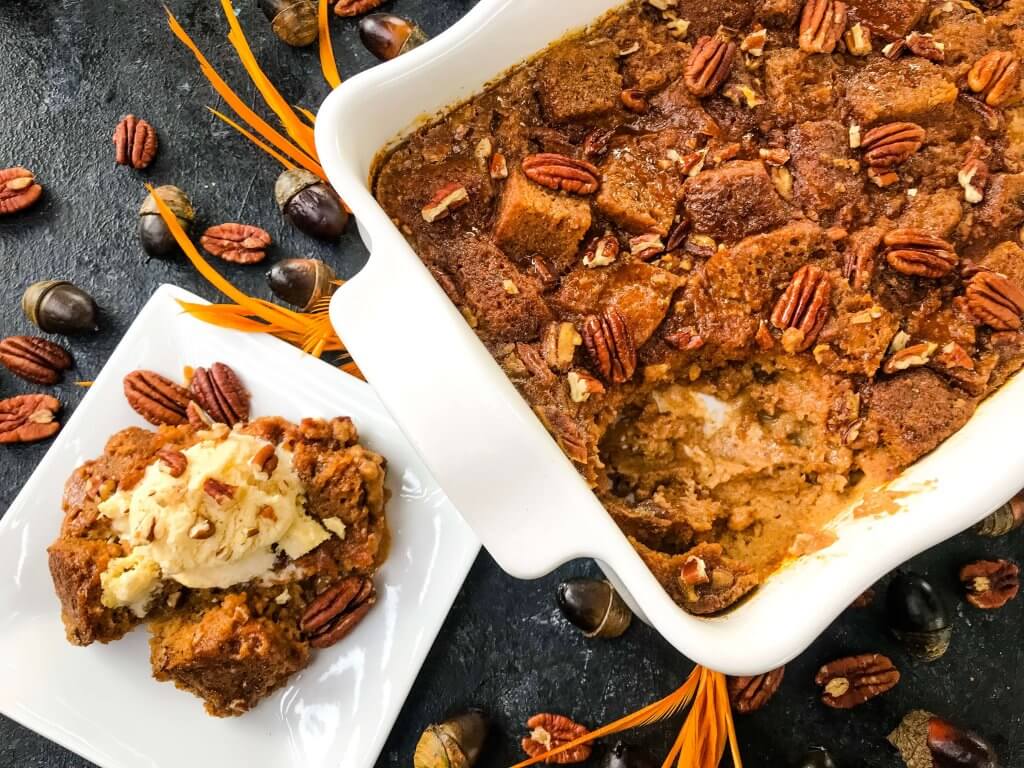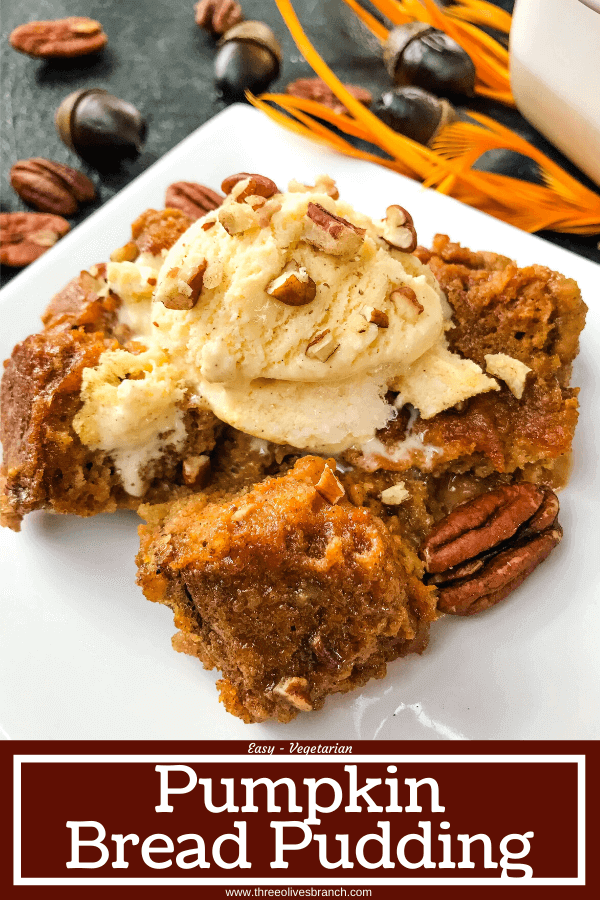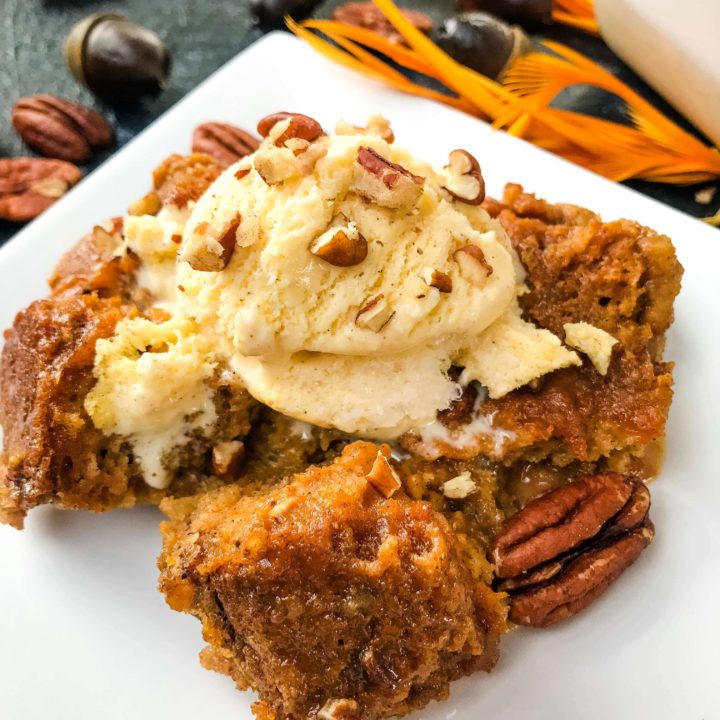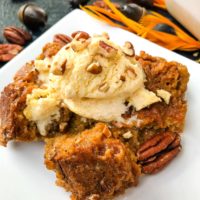 Pumpkin Bread Pudding
Pumpkin Bread Pudding is a perfect fall dessert recipe! Packed with pumpkin spice flavors for autumn in a custard creamy casserole. A fun Thanksgiving dessert option.
Print
Pin
Rate
Equipment
Bread Knife

9×13 inch Baking Dish
Instructions
Cut the bread into 1.5 inch cubes. Set aside.

8 cups pumpkin spice bread

Whisk together the remaining ingredients in a large bowl. Add the bread and toss to coat.

4 large eggs,

1 large egg yolk,

3/4 cup granulated sugar,

1 cup heavy cream,

2 cups whole milk,

15 ounces pumpkin puree,

1/4 cup bourbon,

2 teaspoons vanilla extract,

1 teaspoon ground cinnamon,

1 teaspoon ground ginger,

1/2 teaspoon nutmeg,

1/2 cup chopped pecans,

1/2 teaspoon salt

Coat a 9 by 13 inch baking dish with cooking spray. Pour the bread pudding mixture into the dish. Cover and let sit at room temperature for 20 minutes.

Bake the pudding on the lower middle rack until it is golden brown and puffing up around the edges, with a slight jiggle in the middle, approximately 45-50 minutes.

Let cool for 30-45 minutes before serving warm. Top with additional pecans if desired. This pudding is great served with whipped cream or ice cream.
Notes
Pumpkin bread or pumpkin spice bread are best for this recipe, but any type of bread will work.  A 9.5 inch loaf was the perfect amount to get 8 cups.
You can let the bread soak in the refrigerator for up to 24 hours if needed.
You can use 2.5 teaspoons of any pumpkin spice blend instead of the cinnamon, ginger, and nutmeg.  Learn how to make pumpkin spice here!
Nutrition
Serving:
1
serving
|
Calories:
423
kcal
|
Carbohydrates:
42
g
|
Protein:
11
g
|
Fat:
22
g
|
Saturated Fat:
10
g
|
Cholesterol:
175
mg
|
Sodium:
373
mg
|
Potassium:
330
mg
|
Fiber:
4
g
|
Sugar:
26
g
|
Vitamin A:
8992
IU
|
Vitamin C:
2
mg
|
Calcium:
167
mg
|
Iron:
2
mg
More Pumpkin Recipes
By