These Dry Rub Cajun Grilled Chicken Drumsticks are a perfect grilled chicken recipe for summer BBQs! A simple spice blend coats the chicken to make a crisp crust.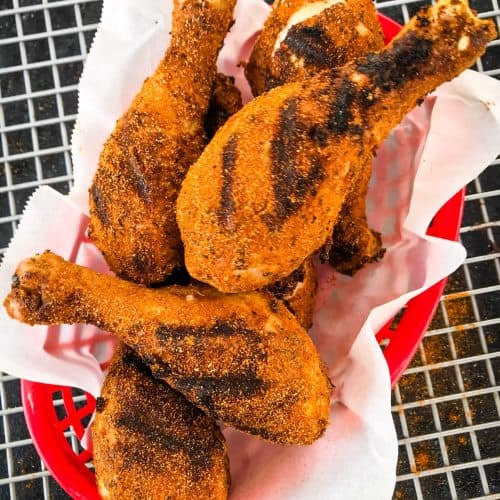 Grilled Chicken Legs with Cajun Dry Rub are perfect for summer grilling! A simple homemade spice blend that you can make as spicy or mild as you want!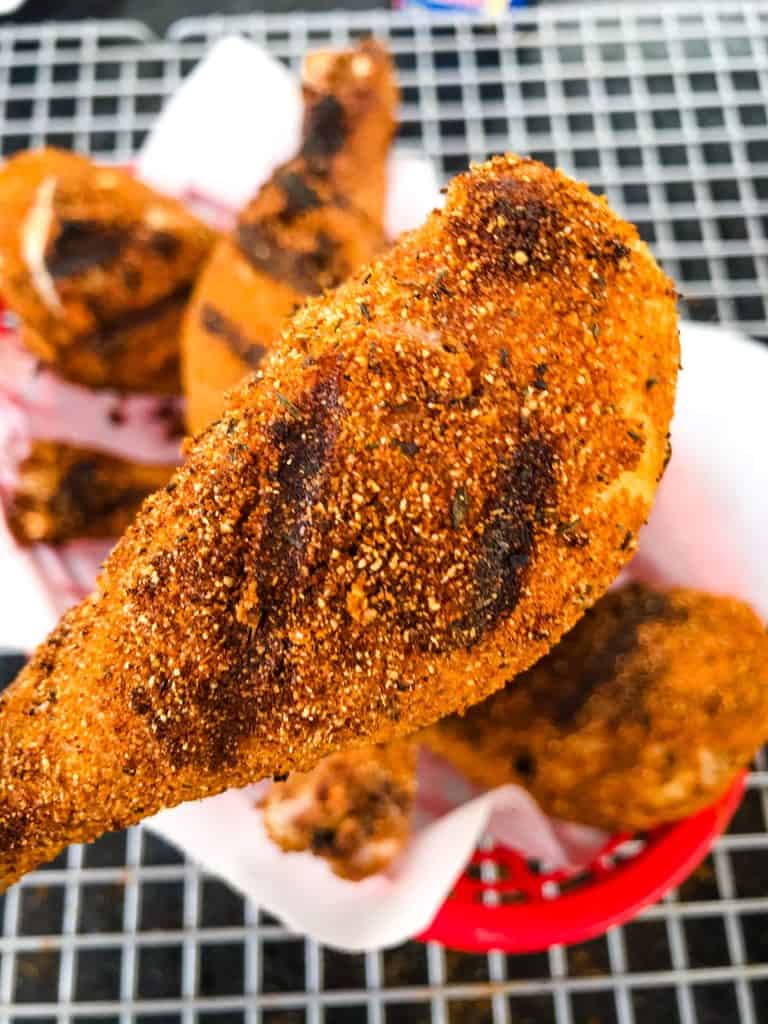 This post contains affiliate links.
Grilled Chicken Legs with Cajun Dry Rub
These Cajun chicken drumsticks are just delicious! I have fallen in love with making dry rub recipes for meats on the grill. The dry rub almost makes a light, thin crust on the chicken that traps in the moisture and provides great texture.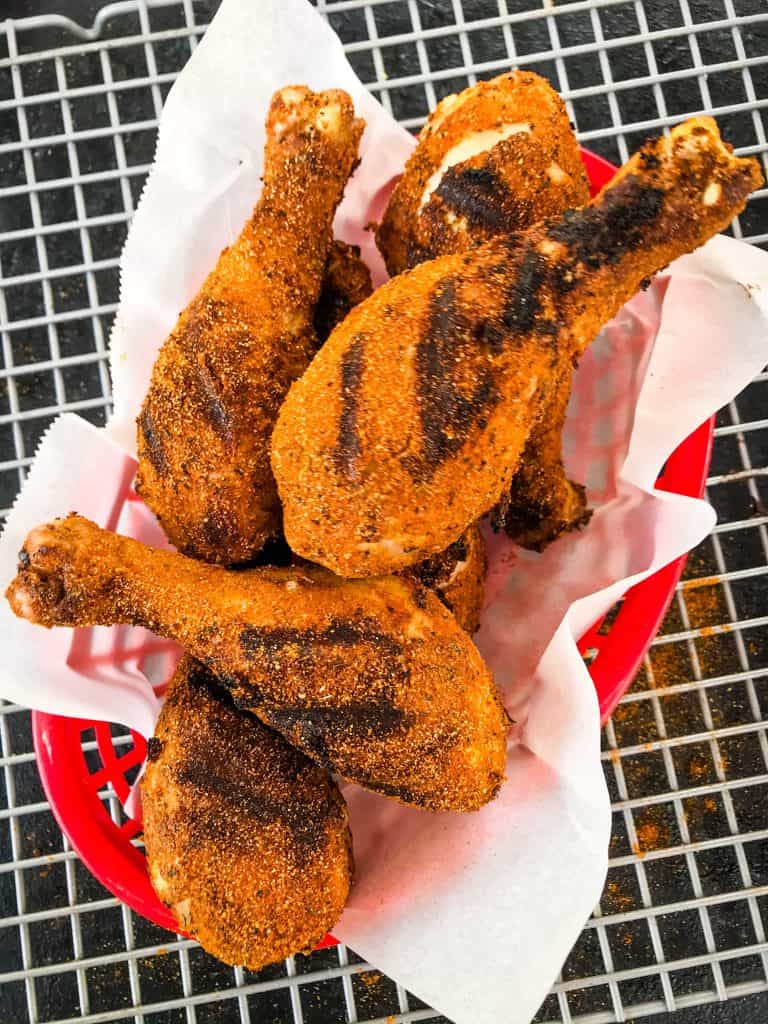 Making the Dry Rub Mixture
Making your own Cajun dry rub is a great way to use the spices that you already have.
Just mix together the paprika, garlic powder, thyme, black pepper, and cayenne pepper. It is SO easy!
Cajun recipes are known for being spicy such as our Blackened Cajun Chicken in Gumbo Rice and Cajun Roasted Chickpeas.
This Dry Rub Cajun Grilled Chicken Drumsticks recipe is around the same heat level as medium jarred salsa. Easily make it more mild or spicier by adjusting the amount of ground red pepper (also called cayenne pepper).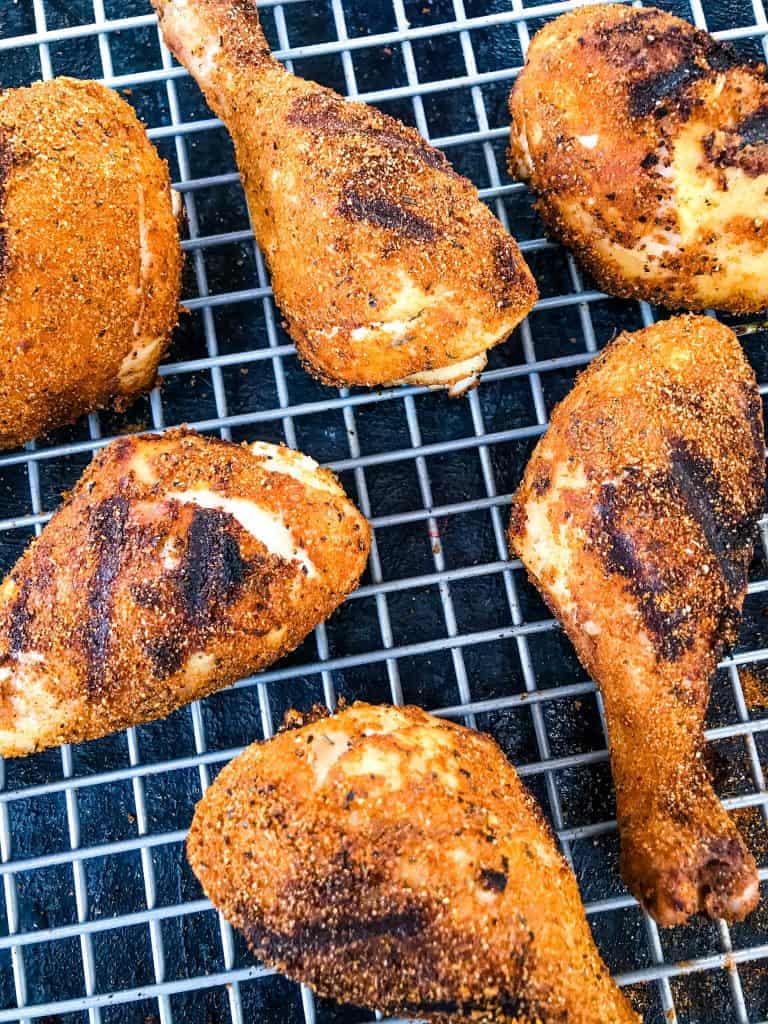 Grilling Tips
Here is my ultimate hack for cooking chicken on a grill. You will not believe that this works. I did not believe it would work. But it does.
We were having issues with chicken and more fragile foods sticking and therefore tearing on the grill and it was SO annoying because the char and grill marks are my favorite part.
No matter how much oil we used and different tricks we tried, it did not work.
But you know what DID work?! A potato! Not kidding. I was so skeptical.
Cut a potato to expose the inside, and after your grill is preheated, rub the potato on the grill grates. Then immediately add your food.
It won't stick. Like not at all.
When minutes before with all the oil in the world everything was sticking. And you still get beautiful grill marks. It is pure magic and makes me so happy.
The theory is that the starches do something with the heat to make a barrier. And odds are you have a potato on hand anyway. Give it a shot and let me know below if it works for you, too!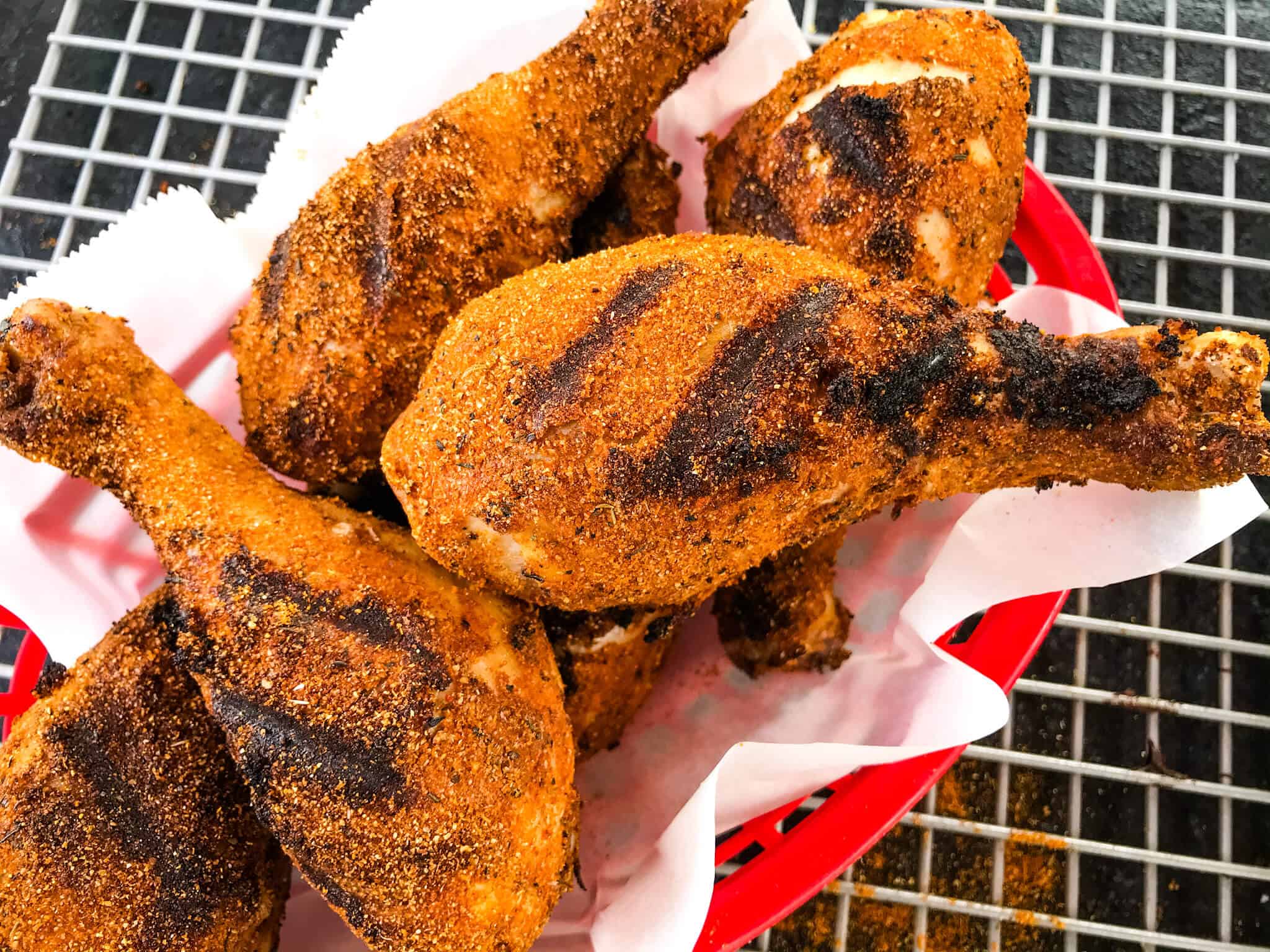 One batch of this Dry Rub Cajun Grilled Chicken Drumsticks covered approximately 12 drumsticks or 3 pounds. The more surface area you have to cover, the more you will need regardless of weight.
You can make an extremely large batch, too, and have it always ready to go in a small container or empty spice jar.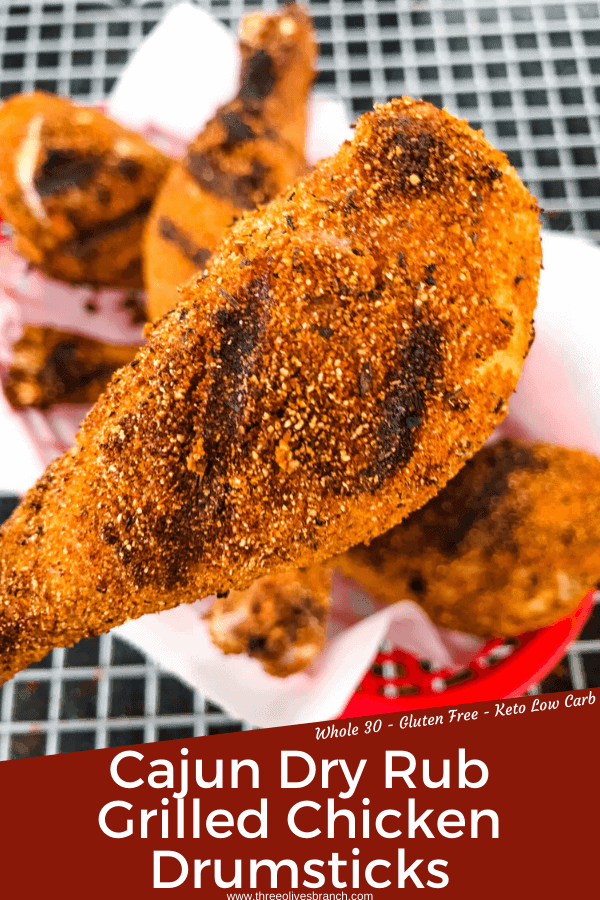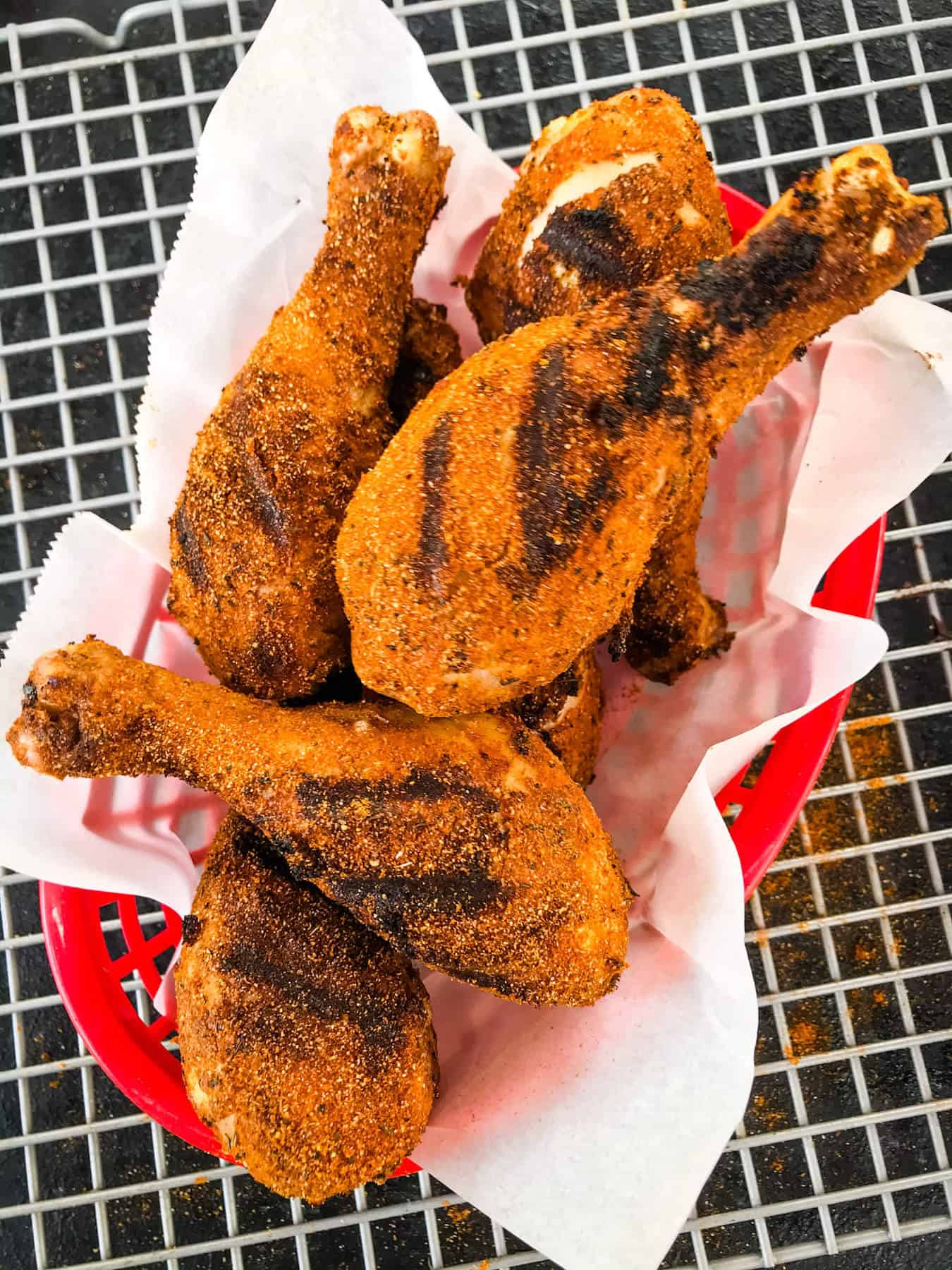 Instructions
Preheat your grill to medium heat, 350F.

Let the grill completely heat up so the grill grates are very hot. While it is heating, make the dry rub mixture by combining the spices in a small bowl. Adjust to taste, including using more ground red pepper (cayenne) to make it spicier.

Make sure the chicken is wet (not dry) so the dry rub sticks to the chicken. If dry, very lightly coat with water or a little oil.

Sprinkle and rub the spice mixture into each drumstick, all the way around.

Prepare your grill by rubbing a raw potato, cut in half, across the grill grates. (Or any other preferred way you like to prepare your grill so food does not stick).

Place the chicken drumsticks on the grill and cook until you are getting grill lines, approximately 12-15 minutes.

Flip the chicken and continue cooking until the chicken reaches an internal temperature of 165F, approximately an additional 10-15 minutes.

Remove the chicken from the grill and let rest 5-10 minutes before serving.
Notes
The cooking time can vary greatly with your grill performance and size of the chicken.
This spice mixture will be similar in heat to medium salsa. Use more or less ground red pepper to adjust the spice level up or down to your preference.
Nutrition
Serving:

1

leg

|

Calories:

137

kcal

|

Carbohydrates:

3

g

|

Protein:

14

g

|

Fat:

8

g

|

Saturated Fat:

2

g

|

Cholesterol:

70

mg

|

Sodium:

82

mg

|

Potassium:

276

mg

|

Fiber:

2

g

|

Sugar:

1

g

|

Vitamin A:

1904

IU

|

Vitamin C:

1

mg

|

Calcium:

21

mg

|

Iron:

2

mg

By