Ginger Carrot Cake Cinnamon Rolls with Cream Cheese Glaze perfect for Easter breakfast or brunch! Make these homemade cinnamon rolls in advance for a fast and easy morning treat. Great for holiday and spring. Carrot cake base with crystallized candied ginger, walnuts, and carrot cake spices. Topped with a cream cheese glaze. Vegetarian and kid friendly.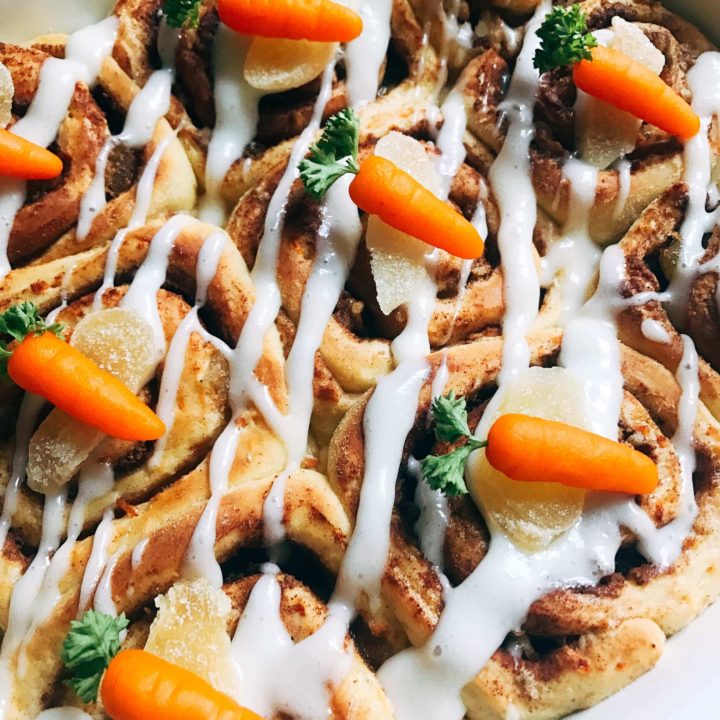 I love a good cinnamon roll in the morning, and my newest obsession is Ginger Carrot Cake Cinnamon Rolls with Cream Cheese Frosting!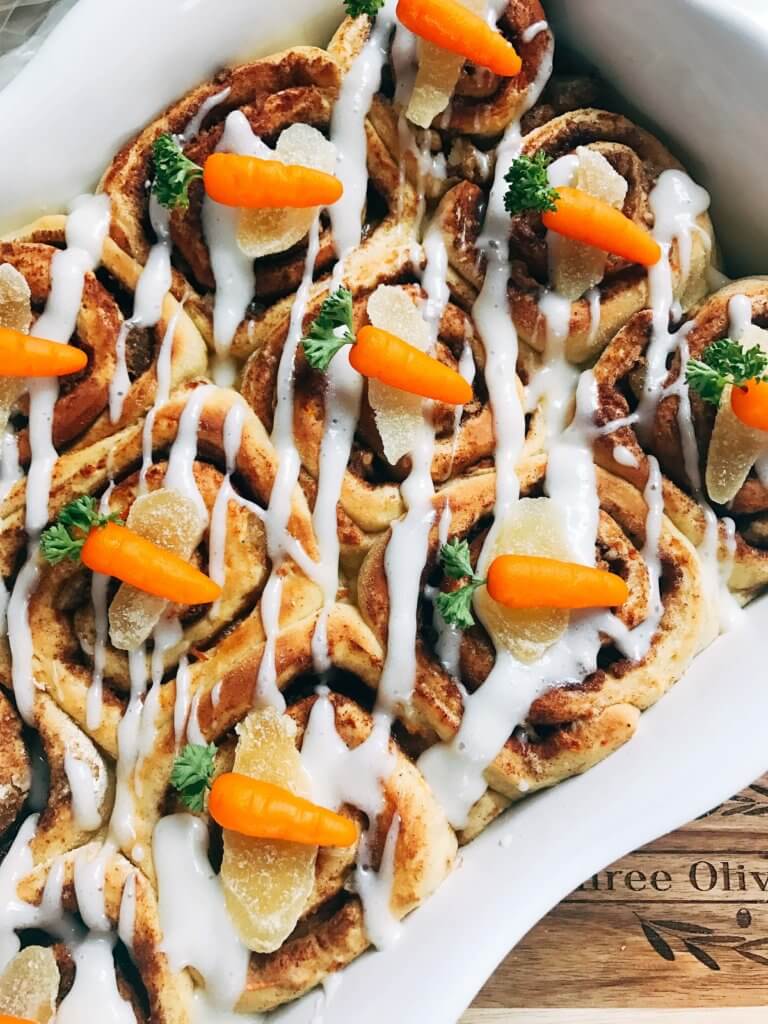 Why You Will Love This Recipe
Around here, making cinnamon rolls is a tradition on every holiday.
I tend to mix it up based on the season (these are PERFECT for Easter brunch!) and rotate through the flavors.  
I always make at least two batches of homemade cinnamon rolls because people are known to eat 2 or 3 each!  And this also gives me the perfect excuse for making different flavors to please everyone.  
You can find more flavors and variations of my homemade cinnamon rolls under the recipe card below!
And the BEST thing about these rolls are they are perfect to make the day before. You can bake them all the way through in advance and warm them up for a delicious and easy breakfast.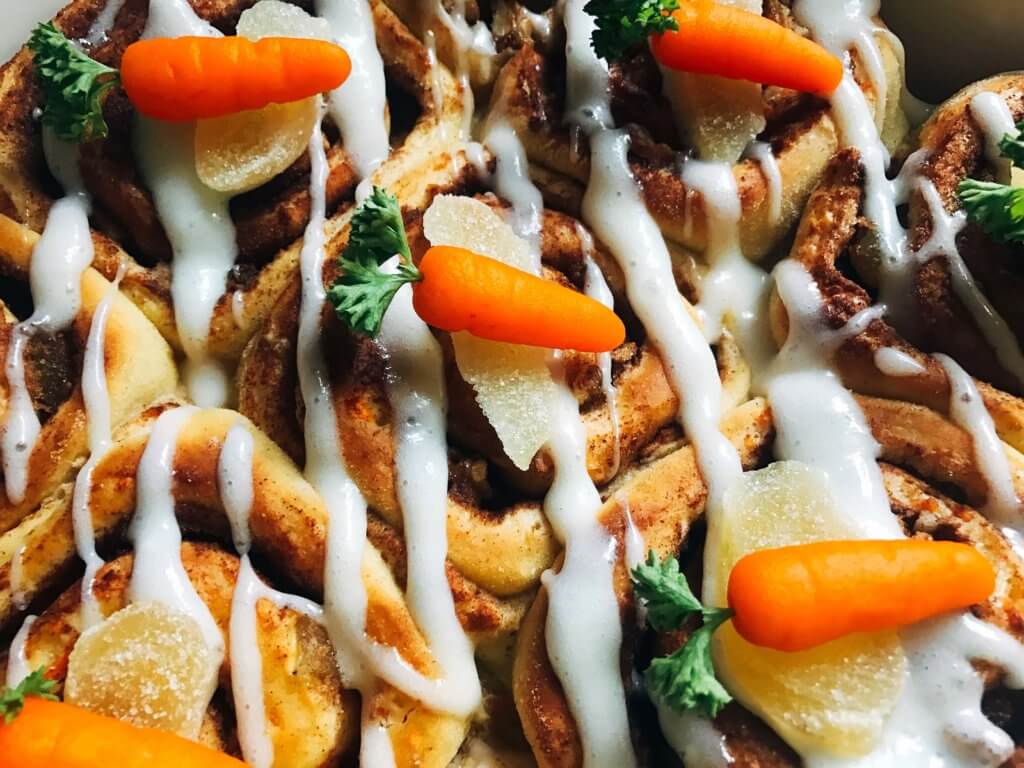 Marzipan Carrots
Aren't these little carrots just the cutest things ever?!?!??!?!? Check out my post on how to make these marzipan carrot cuties!
They are the perfect topper for the Ginger Carrot Cake Cinnamon Rolls and a fun touch for Easter or spring.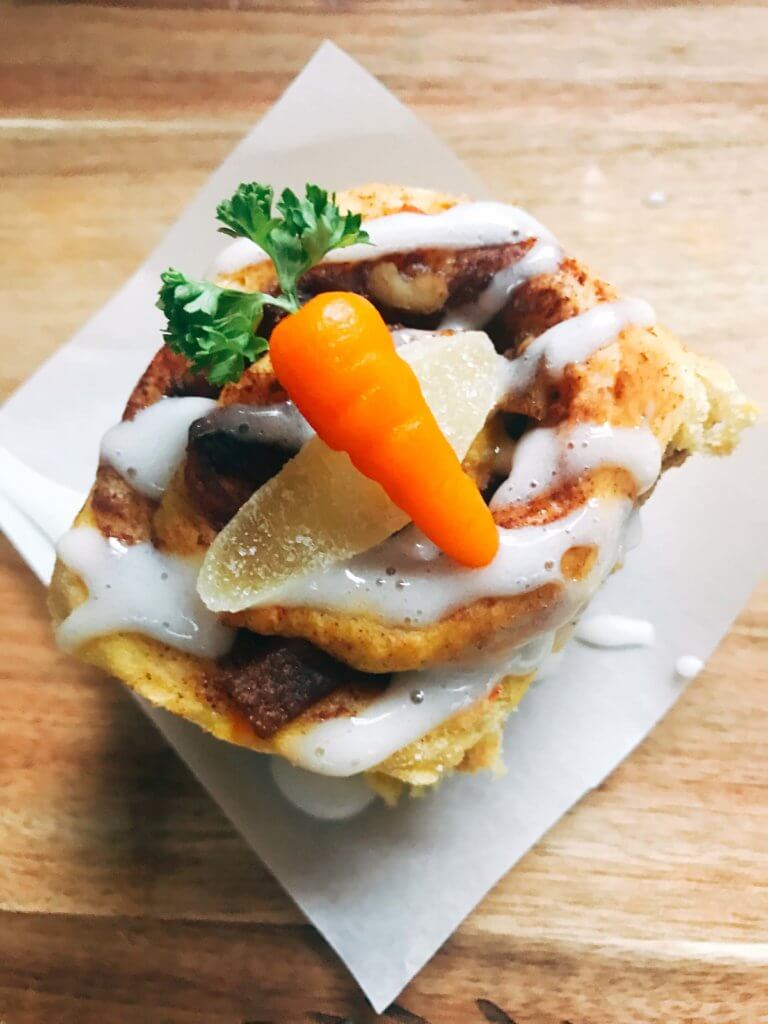 Ingredients
Here is what you need to make these rolls:
Flour
Dry Yeast
Milk
Sugar
Egg
Water
Cinnamon
Butter
Nutmeg
Shredded Carrots
Salt
Brown Sugar
Ground Ginger
Ground Cloves
Cream Cheese
Candied Ginger
Walnuts (optional)
Powdered Sugar (Confectioner's Sugar)
If you are not a fan of ginger, you can skip it, but the crystallized candied ginger brings a new flavor with just a little kick (it is mainly sweet) for a fun cinnamon roll!
You can find the crystallized ginger in your local store (mine was in a bulk bin) or online.
Equipment
This is the equipment you need to make this recipe:
Measuring Cups
Measuring Spoons
Large Bowl
Rolling Pin
Large Baking Dish
Knife
Plastic Wrap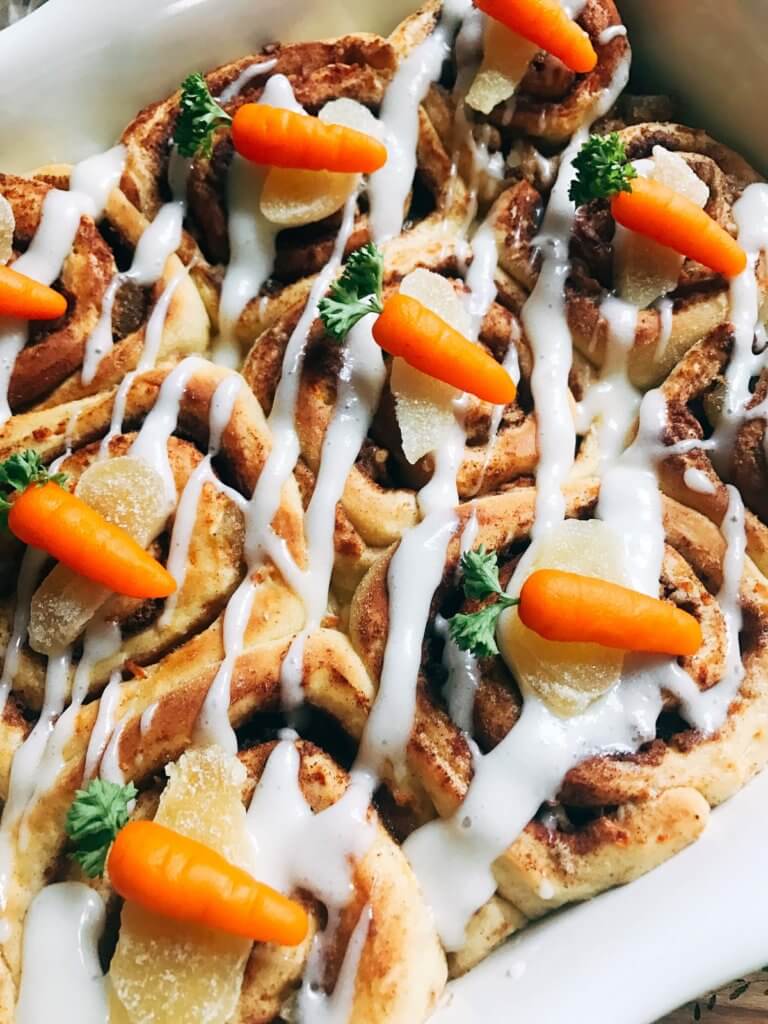 Instruction Overview
Ginger Carrot Cake Cinnamon Rolls with Cream Cheese Frosting do take some time to make, but they are completely worth it. The trick with these is making them the day or night before.
This way, you do not have to wake up in the middle of the night to get these going.
First make the dough by activating the yeast in warm water (but not too hot, because it will kill the yeast).
Mix the dough ingredients together and knead either by hand or in a stand mixer until it bounces back and can be stretched thin without tearing too much.
Let the dough rest and rise, and then roll it out and spread the filling on the dough with some candied ginger pieces.
Roll it up, cut it into the 12 rolls, and put in a baking dish that has some butter and sugar on the bottom. This will help prevent it from sticking too much plus bring some additional flavor.
Rise again until they are nice and puffed up and then bake.
While in the oven, make the cream cheese frosting. Make sure the cream cheese is room temperature, otherwise it will be a little chunky in the frosting.
Spread the frosting on top of the rolls after they have cooled slightly to prevent it from sliding off the buns.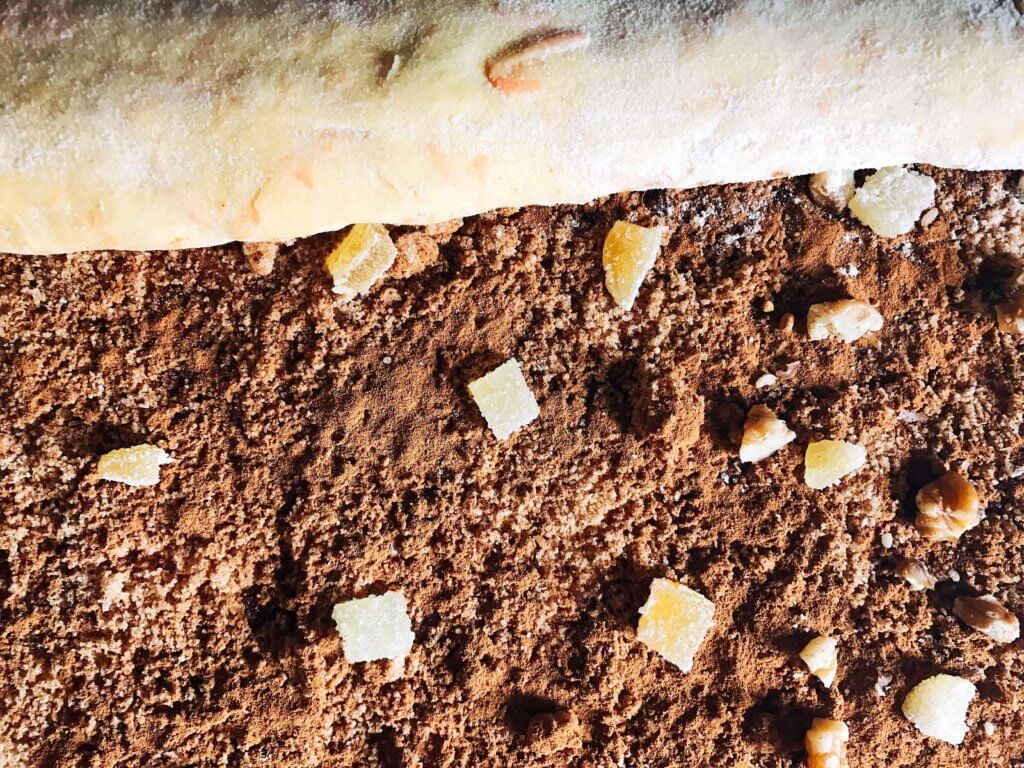 How to Reheat Cinnamon Rolls
If the rolls are made in advance or if you are eating leftover rolls, I still prefer to have them a little warm.
You can heat them in a microwave individually for 10-15 seconds. Do not heat them too long, as it will make them hard.
Also make sure you eat them relatively soon because as it cools down from the microwave, they will harden up since moisture has evaporated from them.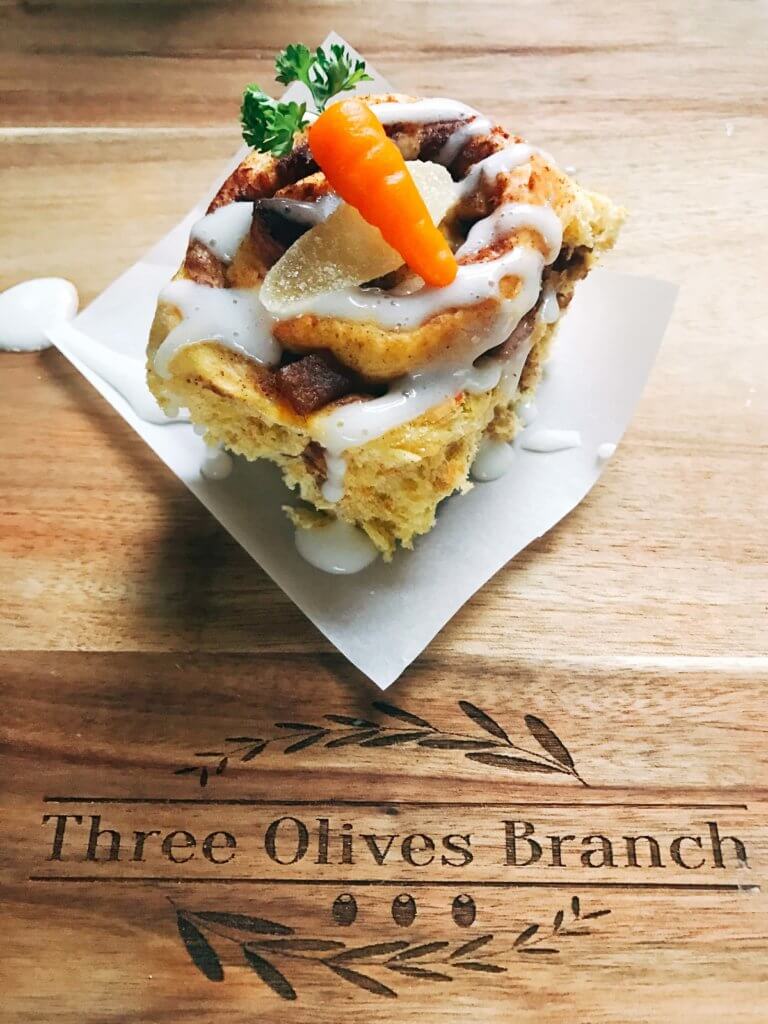 Kim's Tips
I LOVE making my Marzipan Carrots to decorate the tops!
A stand mixer makes this easy if you have one! Just assemble the dough and need in the mixer. It does take longer to knead but is much easier!
FAQs
Why do my Cinnamon Rolls come out Hard?
Most likely you used too much four in the dough and the dough was too stiff.
Use just enough where the dough is not sticky, but is still tacky.
What do you Call the Center of a Cinnamon Roll?
Typically it is called the core.
And this is my ABSOLUTE favorite part of the entire roll, and I will save it for my last bite!
What Kind of Flour Should I Use for Cinnamon Rolls?
You will see posts out there that declare you need 00 flour or bread flour or something else more specialized.
But it is not necessary. All purpose flour works just find and will give you amazing rolls!
What is the Difference Between Chelsea Buns and Cinnamon Rolls?
Chelsea Rolls tend to include a dried fruit inside the roll mixture and cinnamon rolls traditionally do not.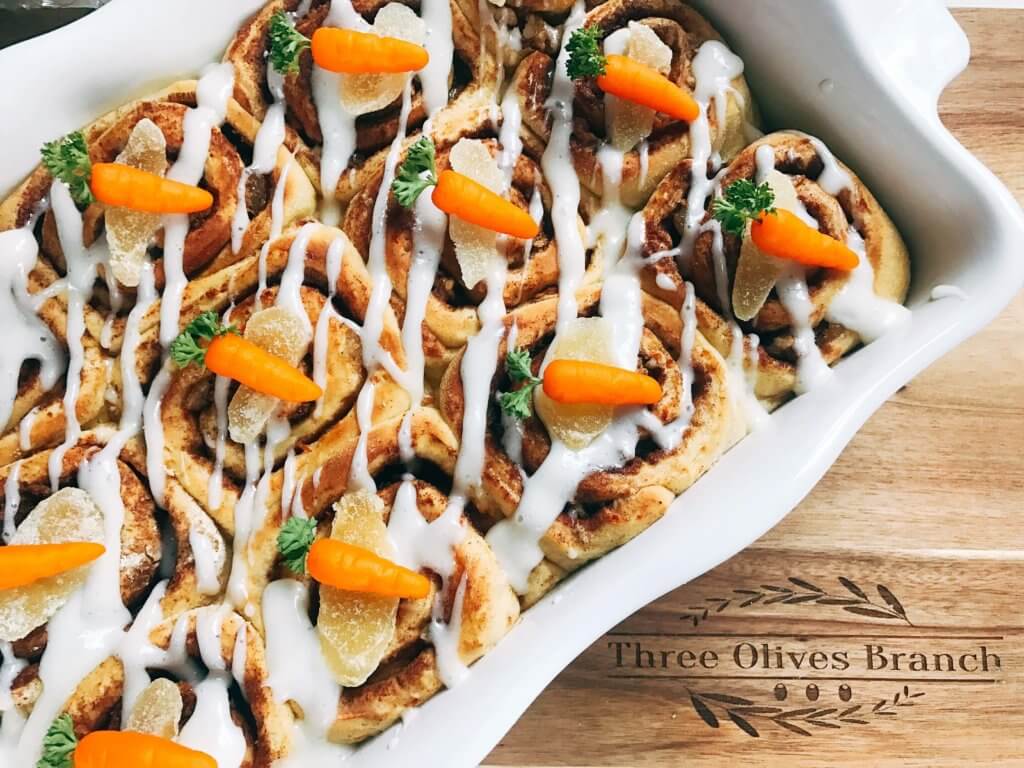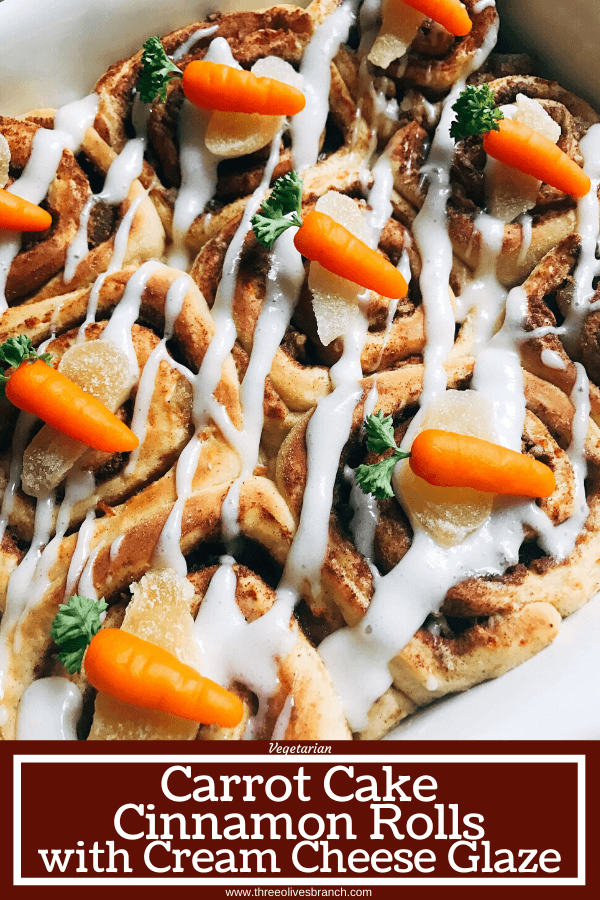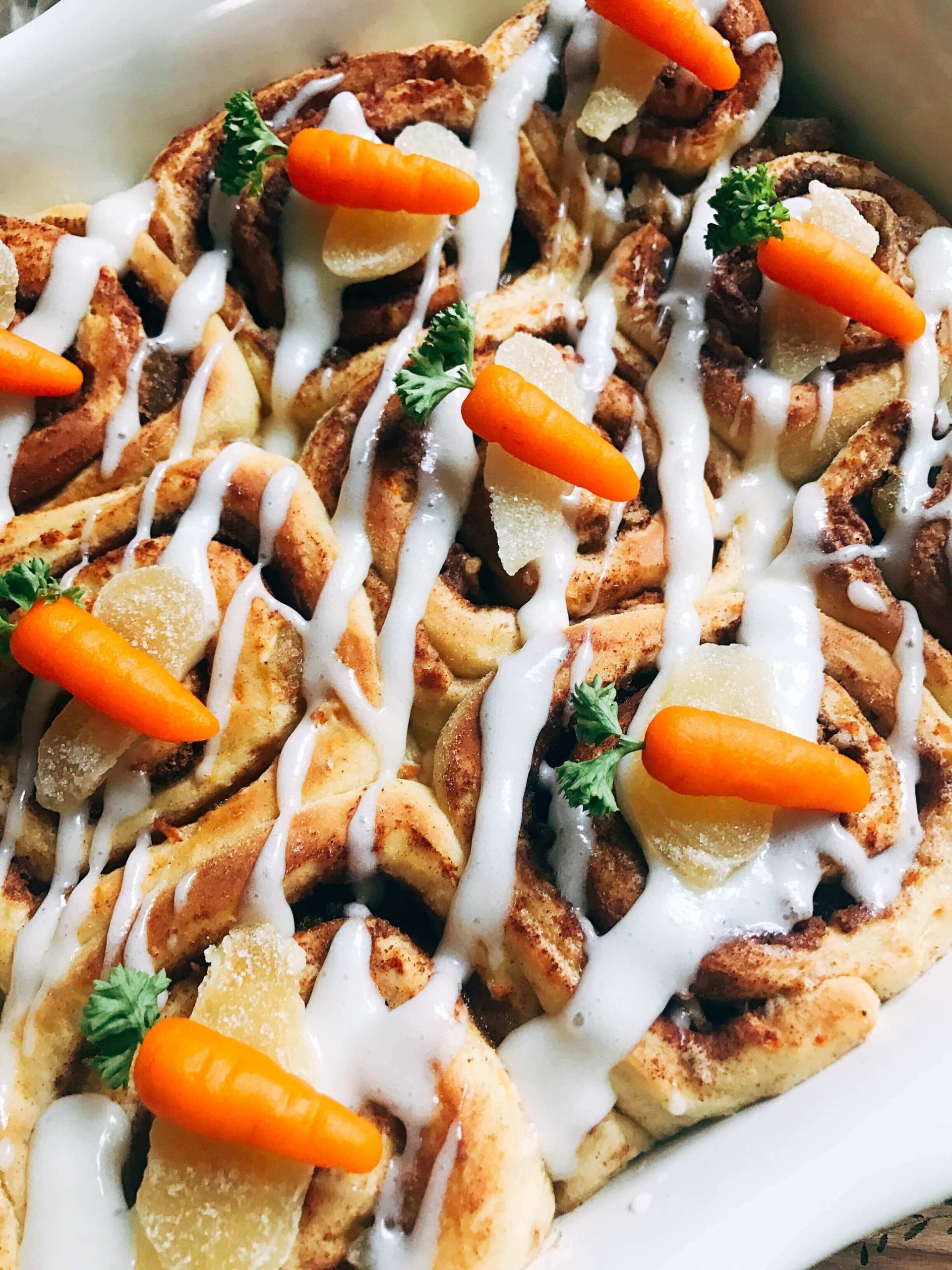 Instructions
In a small bowl, dissolve yeast in ½ cup warm water as per package directions for the correct temperature to ensure that you keep your yeast alive.

1 package active dry yeast,

½ cup warm water

In a large bowl, mix the milk, sugar, melted butter, salt, egg, ½ teaspoon cinnamon, and ¼ teaspoon nutmeg. Add yeast mixture and mix to combine.

½ cup milk,

¼ cup sugar,

⅓ cup unsalted butter,

1 teaspoon salt,

1 large egg,

½ teaspoon cinnamon,

¼ teaspoon ground nutmeg

Add in 2 cups of flour and the shredded carrots and mix until smooth.

1 ½ cups shredded carrot,

4 cups all-purpose flour

Add additional flour ½ cup (or less) at a time until the dough is easy to handle (the amount of flour that you need will vary).

Roll the dough out onto a lightly floured surface and knead for 5 to 10 minutes. (You can knead in a stand mixer as well at speed 1 or 2 as per mixer instructions. I have found a stand mixer takes longer). The dough is ready when you can stretch it thinly to see light through it without it breaking, and the dough bounces back when you press it with your finger.

Place the dough into a greased bowl (you can use 1-2 teaspoons of vegetable oil to coat the bowl you mixed everything in). Cover bowl with saran wrap and then a kitchen towel. Let sit until the dough has doubled in size, approximately 60-90 minutes.

When dough has doubled in size, punch it down. Then put it back on a floured surface and using a rolling pin, roll the dough into a rectangle approximately 15×9 inches.

Spread the melted butter on top of the dough.

4 Tablespoons unsalted butter

Mix the cinnamon, brown sugar, ground ginger, ground nutmeg, and ground cloves in a small bowl. Sprinkle the mixture over the butter.

1 cup light brown sugar,

3 Tablespoons cinnamon,

1 teaspoon ground ginger,

½ teaspoon ground nutmeg,

⅛ teaspoon ground cloves

Sprinkle the candied crystallized ginger across the dough to your preference. Top with walnuts if using.

¾ cup walnuts,

¼ cup candied ginger

From the long edge, tightly roll the dough all the way to the other long edge and pinch dough together to seal. Using a serrated knife, cut the log in half. T

hen cut each half into half again so that you have four equal pieces. Lining up two pieces at a time, cut each into three rolls so that you have a total of 12.

Coat the bottom of your 9×13″ baking dish with some additional melted butter and sugar to coat. Place the cinnamon roll slices close together in the dish (four rows of three) and let them rise until the dough has doubled again, approximately 45 minutes. (If you are making these the night before, once the rolls have doubled in size, cover them in plastic wrap and place them in the refrigerator. In the morning, pull them out to warm to room temperature before baking).

Preheat the over to 350°F. Once the rolls have doubled in size, place them in the oven and bake for about 30 minutes or until they are starting to brown.

While the rolls are baking, prepare the icing. Whisk the cream cheese in a stand mixer until creamy. Add the milk and whisk in until combined. Sift in the powdered sugar and whisk until smooth. You can also add some flavorings such as vanilla, a teaspoon of orange extract, or another flavor.

3 Tablespoons cream cheese,

3 Tablespoons milk,

1 ½ cups powdered sugar

Pour the glaze over the rolls. Decorate with pieces of crystallized candied ginger or candy carrots if desired. Serve warm.

candied ginger,

marzipan or candy carrots
Notes
Make the rolls the day before for a fast and easy breakfast.  Rolls can be heated for approximately 15 minutes to warm up.
I get my candied ginger from the bulk bins at my local grocery store or you can get it online.
Make marzipan carrots for a cute decoration!
Nutrition
Serving:
1
roll
|
Calories:
473
kcal
|
Carbohydrates:
77
g
|
Protein:
7
g
|
Fat:
16
g
|
Saturated Fat:
7
g
|
Trans Fat:
1
g
|
Cholesterol:
44
mg
|
Sodium:
315
mg
|
Potassium:
202
mg
|
Fiber:
3
g
|
Sugar:
41
g
|
Vitamin A:
3049
IU
|
Vitamin C:
1
mg
|
Calcium:
80
mg
|
Iron:
3
mg
More Cinnamon Roll Recipes
By