Grilled Swordfish Steaks with Tomato Olive Relish is a simple grilled fish recipe. White fish is topped with a simple warm salsa for a healthy and light dinner.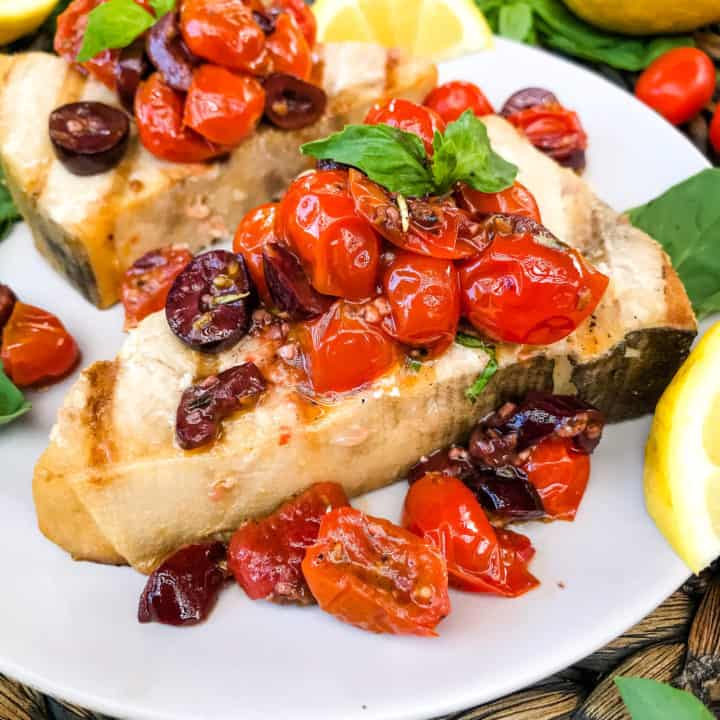 These Grilled Swordfish Steaks with Tomato Olive Relish are incredibly easy and fast for a delicious grilled dinner!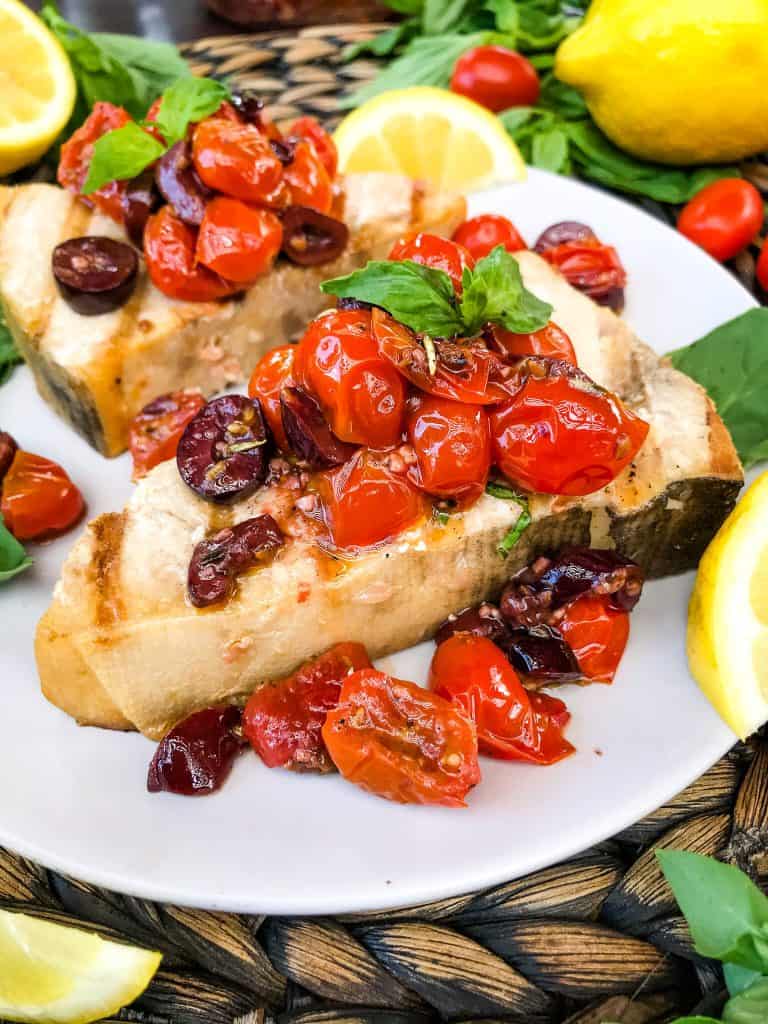 This post contains affiliate links.
I love how balanced this Grilled Swordfish Steaks with Tomato Olive Relish is! The rich fish is complimented with a rich and savory relish with acid from the tomatoes, brine, and lemon. I use dried rosemary for this recipe because it is easy to have on hand, but use fresh rosemary, basil, or thyme for a little freshness if you have it!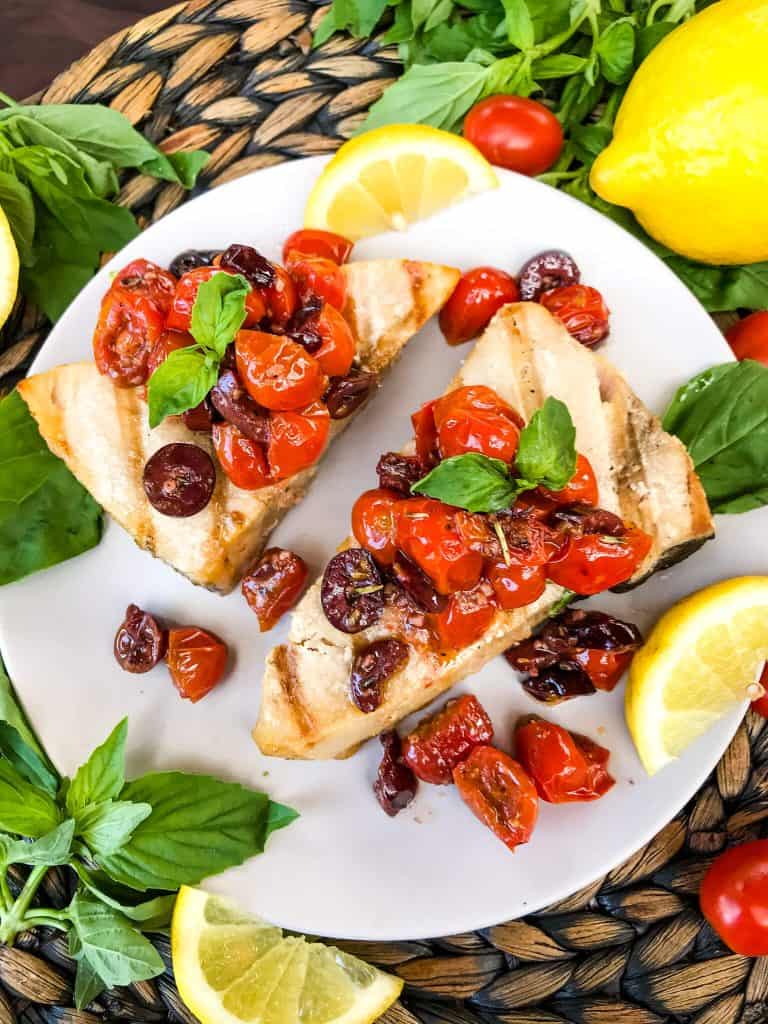 If you are not a fan of olives, you can simply skip them, or even use capers for a little brine and tangy flavor. Any type of olive you love also works, but kalamatas are my favorite for many recipes.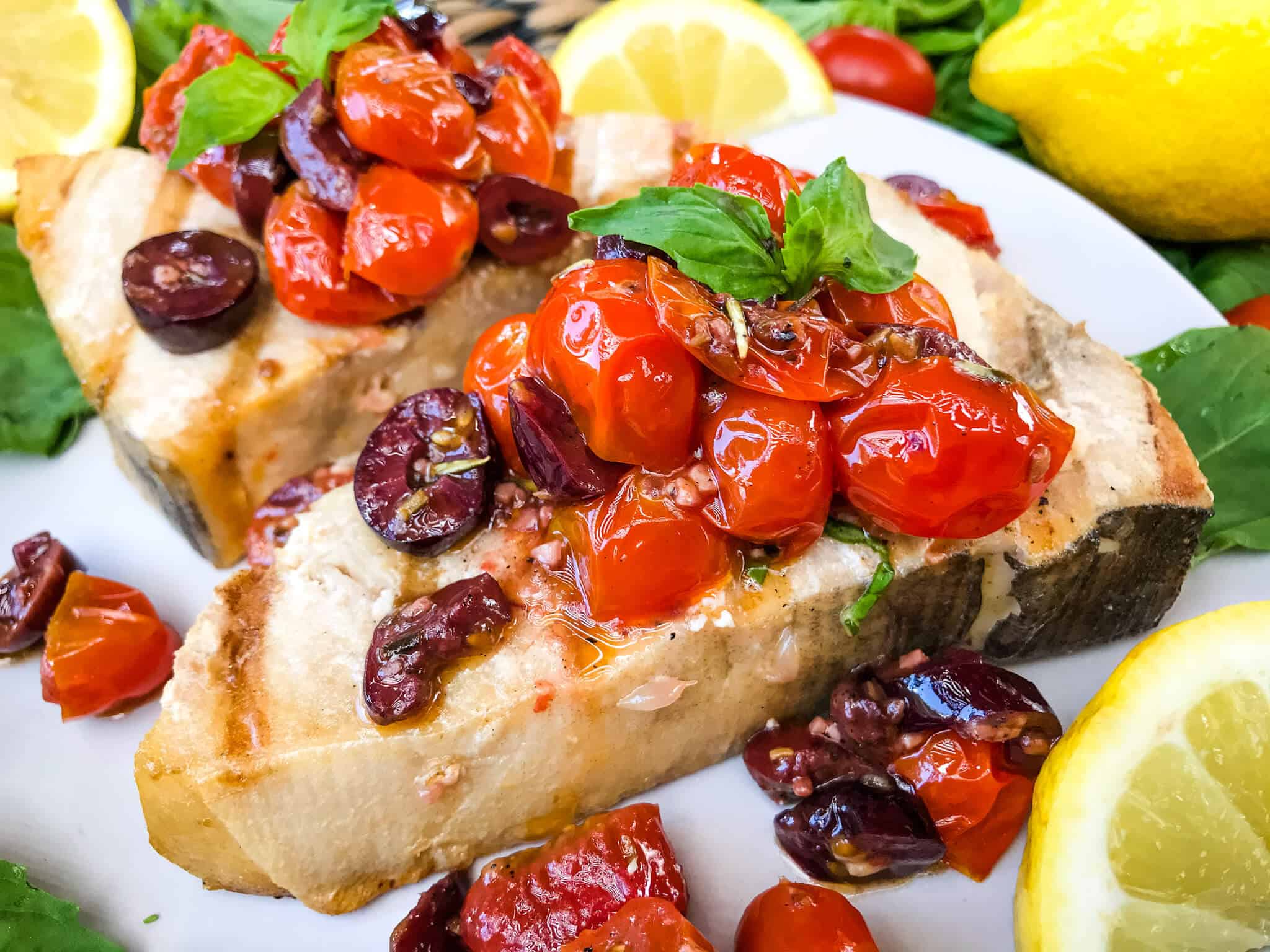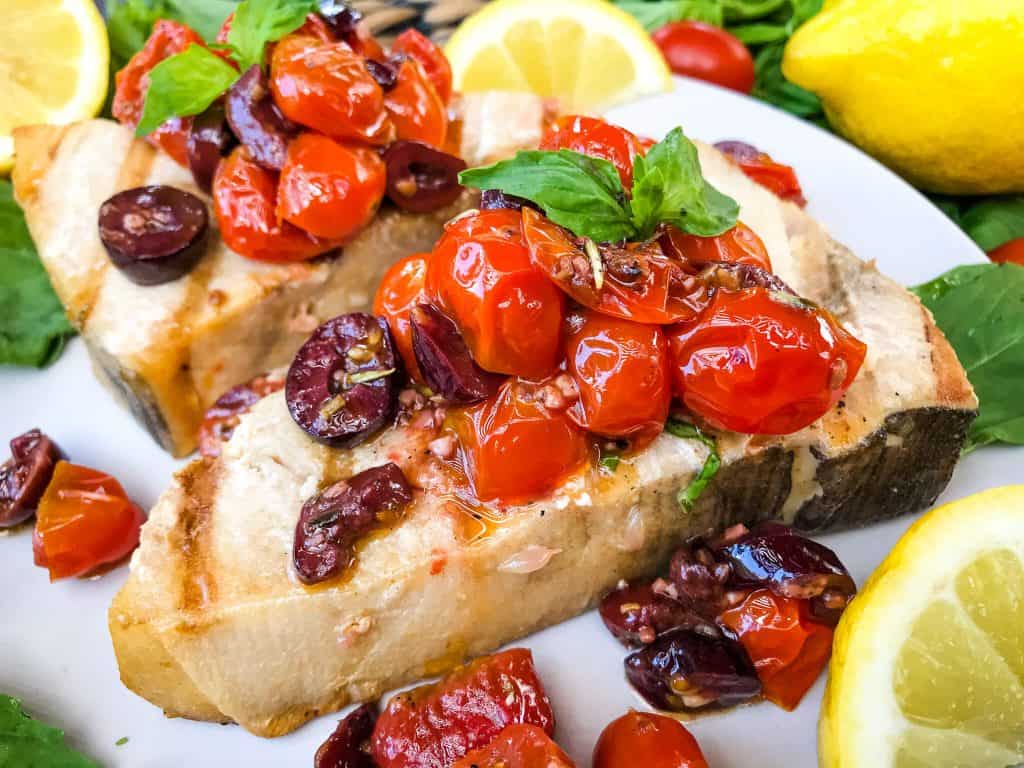 Grilling fish can be a little intimidating because they are rather delicate, and the last thing you want is huge chunks of fish being stuck to the grill and ripping off. The trick? Get your grill ripping hot through a preheat, and coat the fish directly with some oil. Then once it is down, don't move it! Let it cook, and it should easily come up. If it is still stuck and you have oiled it, odds are it just needs a little more time. This recipe would also be great with other grilled white fish like cod or halibut. Find more of our seafood recipes here and more of our grilling recipes here!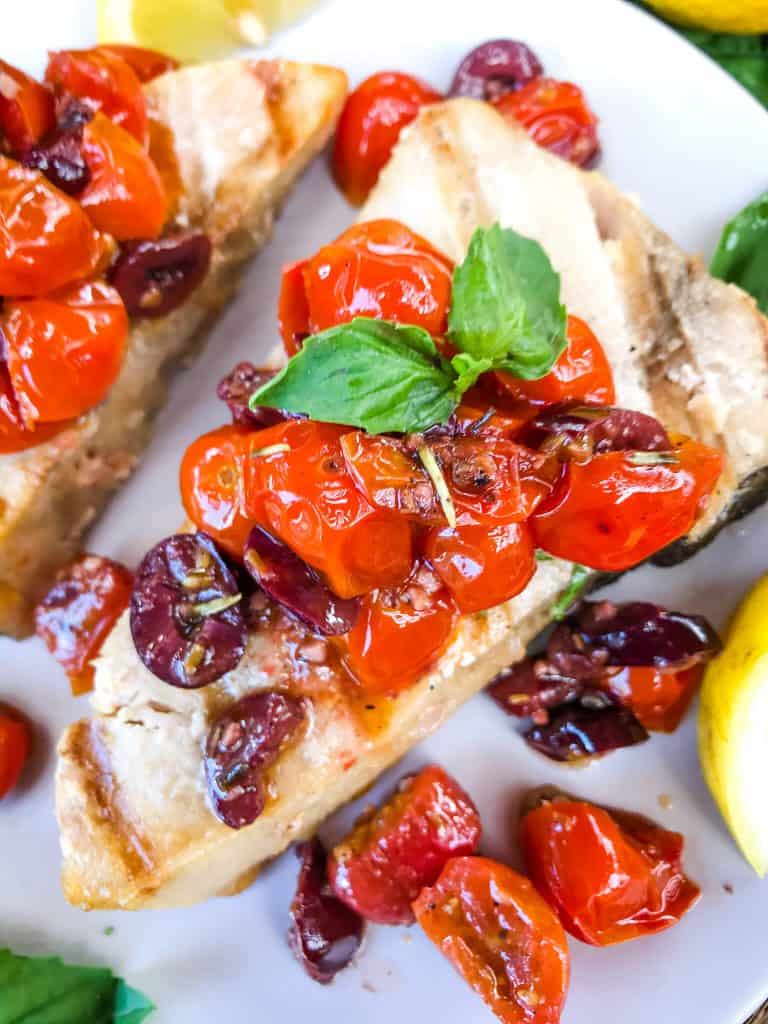 I am a BIG fan of condiments and sauces when it comes to food. I am commonly doubling up a sauce recipe because I KNOW it will be good. So the same goes here with this swordfish recipe. If this tomato olive relish is speaking to you, make a double batch! And if somehow you do not use it all, it would be great on some crostini or in an omelet or in pasta.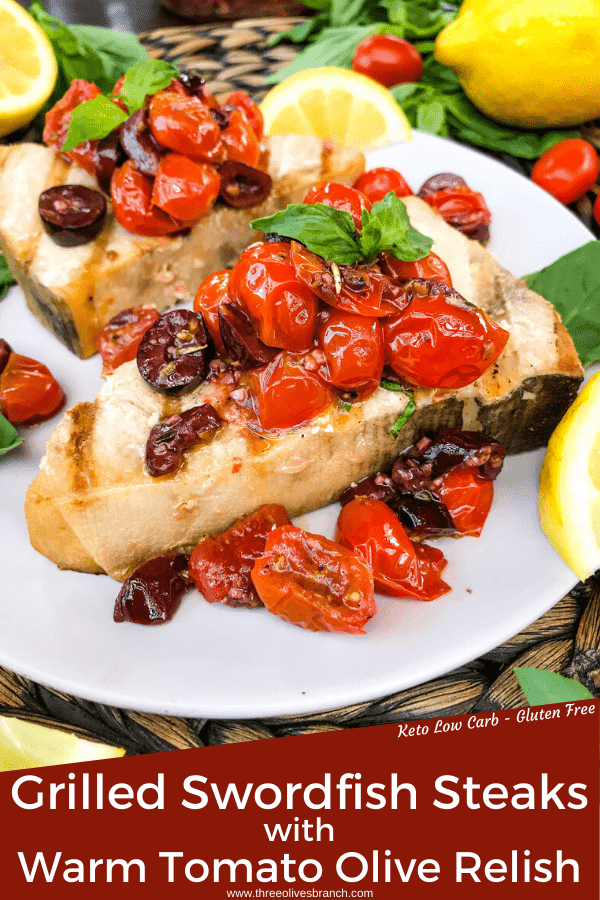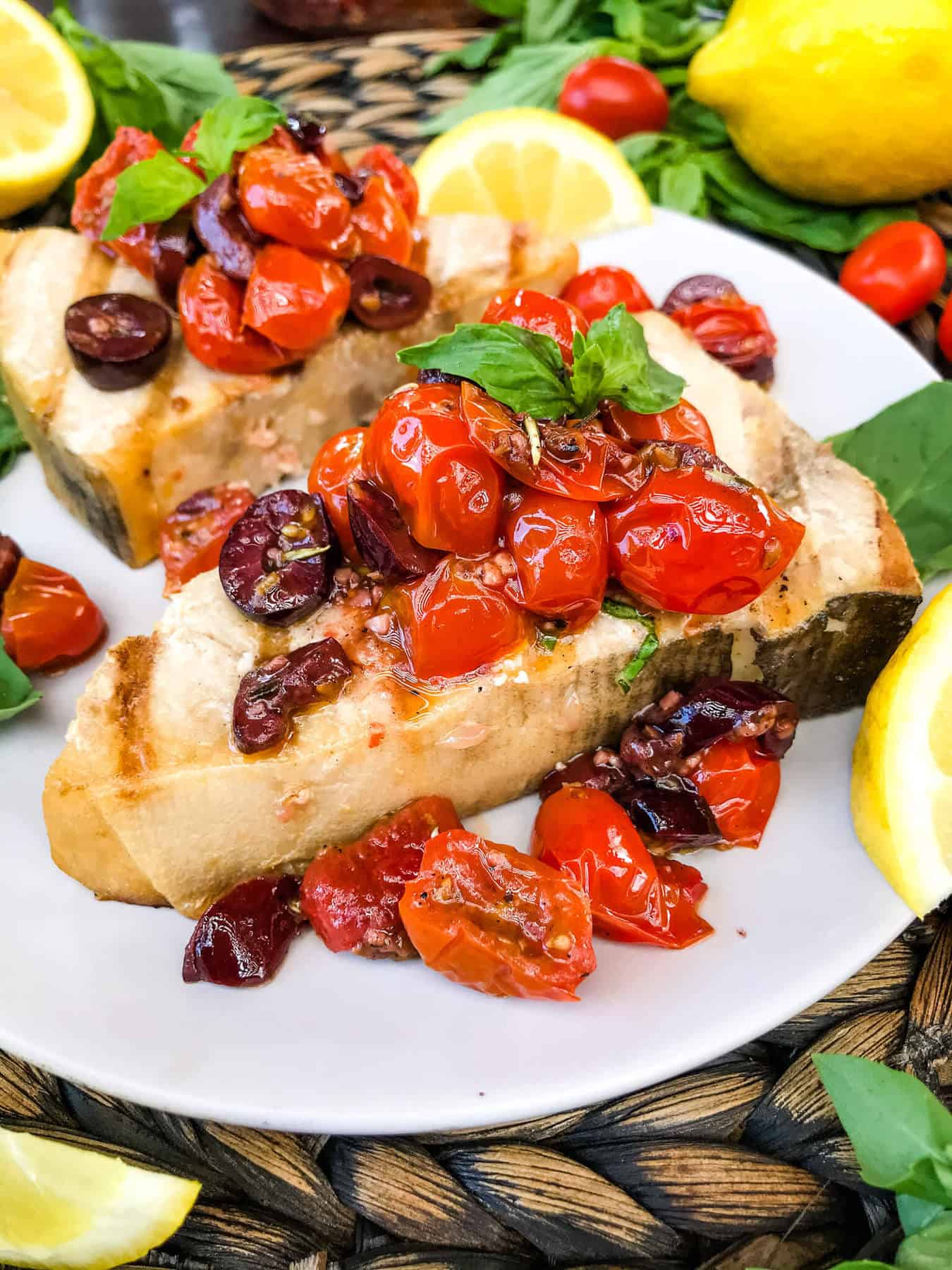 Instructions
Preheat your grill to medium heat. Preheat a skillet on the stove/grill or grill basket with small holes on the grill for the relish. Something that the pieces will not fall through.

Meanwhile, cut the tomatoes in half and chop the olives. Leave them large enough that they will not fall through any holes in the grill pan.

Season both sides of the fish with salt and pepper. Brush your grill (and/or the fish, honestly) with some oil to help prevent it from sticking.

When the grill is hot, add the swordfish to the grill.

When you add the fish, add the tomatoes and olives to the preheated skillet or grill basket.

Cook the fish for approximately 5 minutes. The fish should release somewhat easily from the grill. Flip over.

When the fish is flipped, your tomatoes should just be starting to burst or shrivel a little. Remove from the heat and place in a small bowl. If not bursting or shriveling, let them go a little longer or move to a hot spot on the grill to speed along.

Make the relish while the fish finishes cooking by adding the remaining ingredients to the tomatoes and olives: lemon juice and zest, garlic, dried rosemary, and a pinch of salt and pepper. Stir to combine and season to taste.

Finish cooking the fish, an additional 5 minutes or so on the second side. Remove from the heat.

Top the fish with the relish, or serve on the side. Serve immediately.
Notes
You can skip the lemon zest if you want and just use the juice, but it adds great flavor.
This recipe is great served on top of a rice or vegetable like asparagus. Double up the relish recipe if you want a lot of it!
Nutrition
Calories:

321

kcal

|

Carbohydrates:

7

g

|

Protein:

35

g

|

Fat:

17

g

|

Saturated Fat:

3

g

|

Cholesterol:

112

mg

|

Sodium:

319

mg

|

Potassium:

1019

mg

|

Fiber:

2

g

|

Sugar:

4

g

|

Vitamin A:

1234

IU

|

Vitamin C:

24

mg

|

Calcium:

34

mg

|

Iron:

1

mg

By