Pesto Crusted Salmon is a fast and easy fish diner recipe. Ready in just 20 minutes, this healthy and gluten free salmon steak is packed with flavor from fresh basil, lemon, and pistachios. #salmonrecipes #pesto #fishrecipes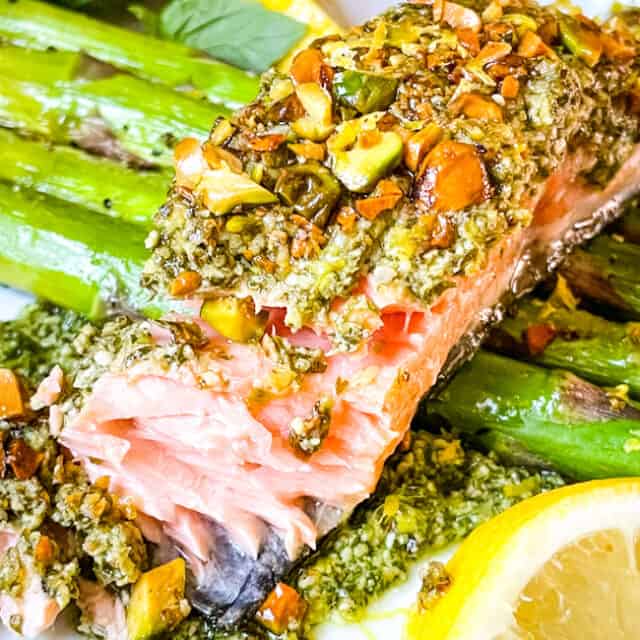 This Pesto Crusted Salmon is fast and easy to make! Salmon steaks are topped with a basil pesto and chopped pistachios.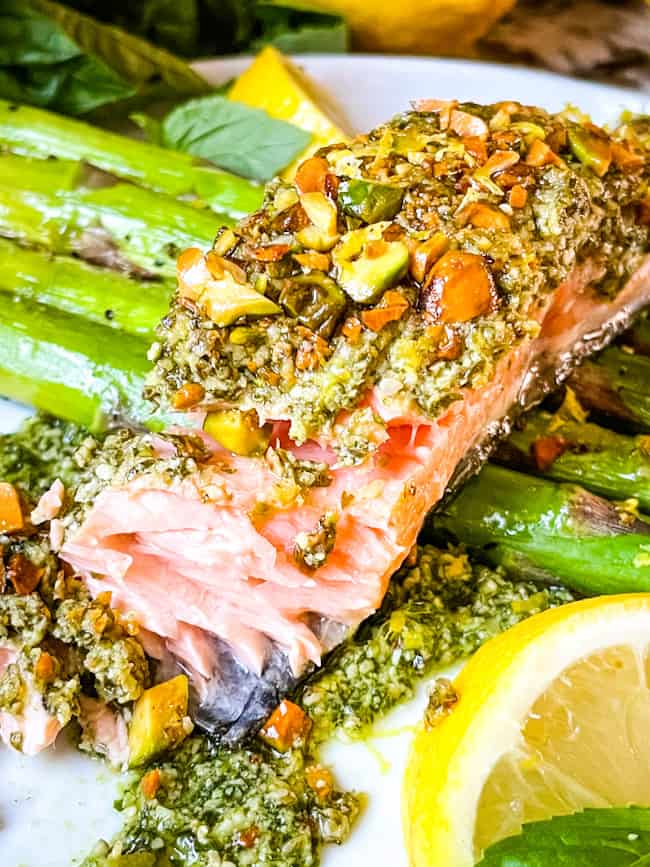 So you could imagine that friends and family are used to me making lots of great food for them.
And they are completely spoiled with it.
This Pesto Crusted Salmon was RAVED about to a point that made me question my cooking abilities with other foods. So I take that as a huge sign that this recipe is absolutely delicious.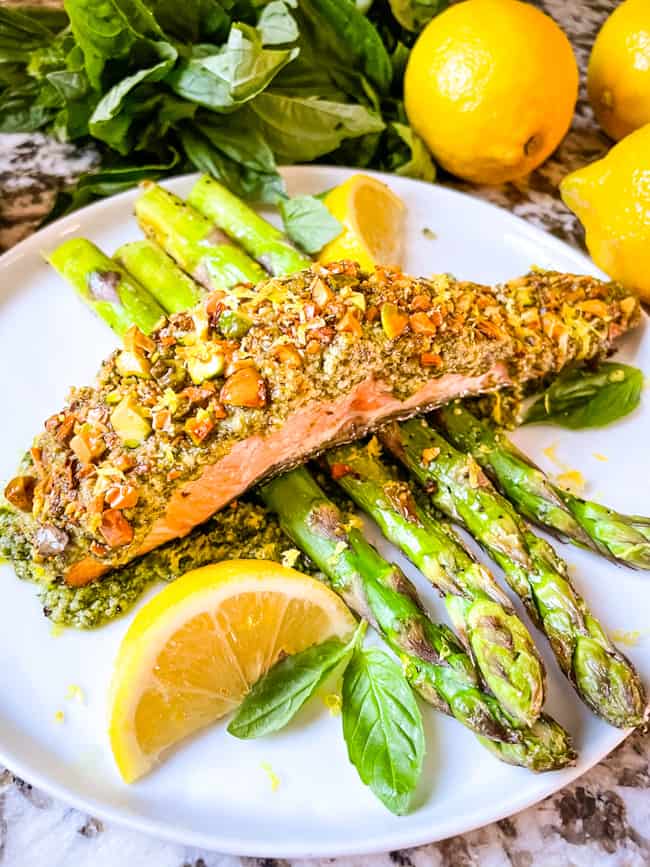 These flavors were pretty much meant to be together!
Pesto salmon balances the richness of the fish with the fresh herbs, spicy garlic, and acidic lemon.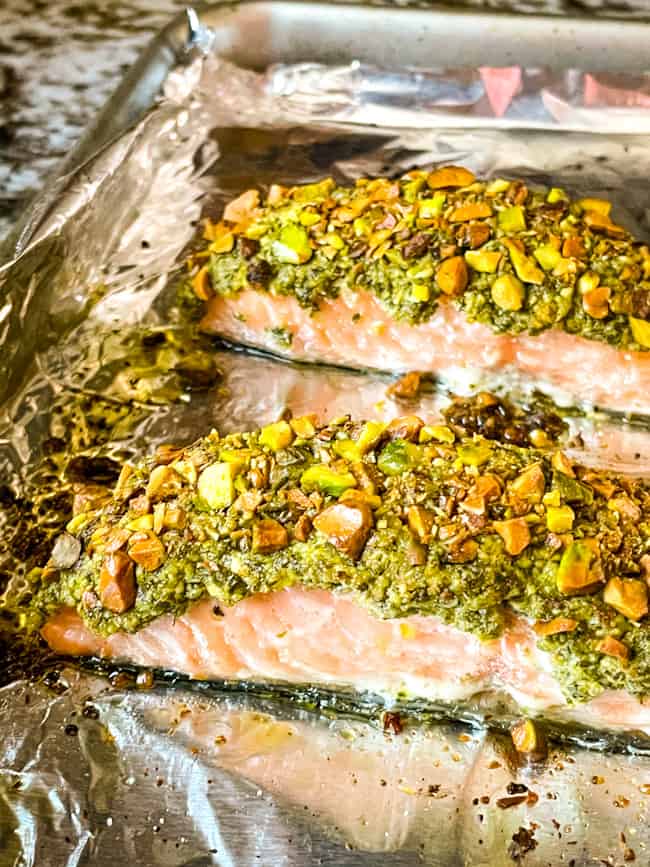 Cleaning Salmon
Salmon skin is completely edible.
If you want to eat the skin, make sure the scales have been removed.
You can ask your fish monger to do this for you. If you need to do it at home, simply hold one end of the fish and use the dull top edge of a chef knife, scraping against the skin, in the opposite direction of the scales.
To cut salmon into smaller steaks, you might have to use kitchen shears to cut through the skin.
And if you are eating the skin, it is best to cook the fish on tin foil instead of a silicone mat. I am not a fan of using one-use products like tin foil if I can avoid it, but it is much better at transferring heat to the skin to crisp it up. If you use a silicone mat, it will not get as crisp.
Also make sure that bones are removed by running your finger across the flesh and feeling for any stiff bone pins. These should all have been removed, but just in case anything was missed.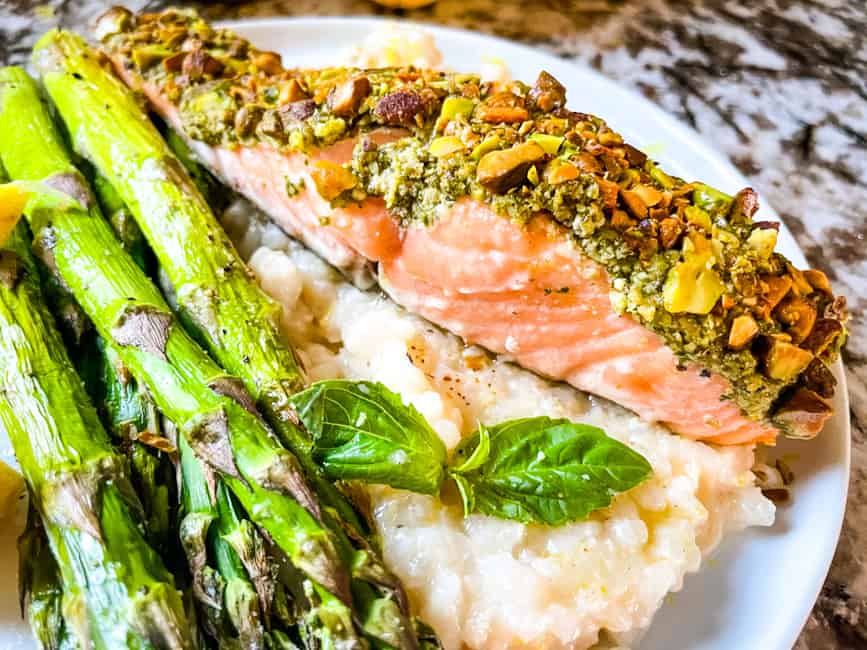 Pesto Recipe
I just LOVE making homemade pesto. It is SO easy and simple to make, and just tastes amazing.
I have included a small batch version of the homemade basil pesto that I use for most everything.
Any other pesto that you love, whether a recipe or store bought, is great.
Keep in mind that some pestos have a very high oil content, and the pesto is very thin. This means that the pesto is much more likely to run off of the fish instead of staying on top like a crust.
I recommend using a thick pesto, like my homemade basil pesto recipe, or trying to remove oil from a thin pesto to keep it thicker for the crust.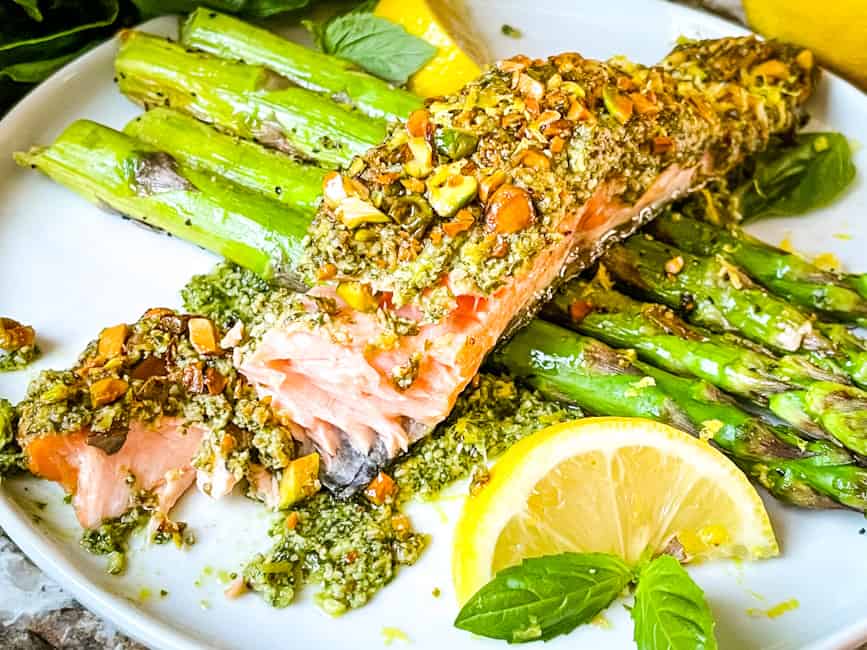 Which Nut to Use
Using a nut for the crust is completely optional but highly recommended.
Not only does the nut provide texture, but it also brings a depth of flavor to the fish.
Pistachios were a huge hit in our house for this recipe, so that is my recommendation.
But walnuts, almonds, or pecans would also work.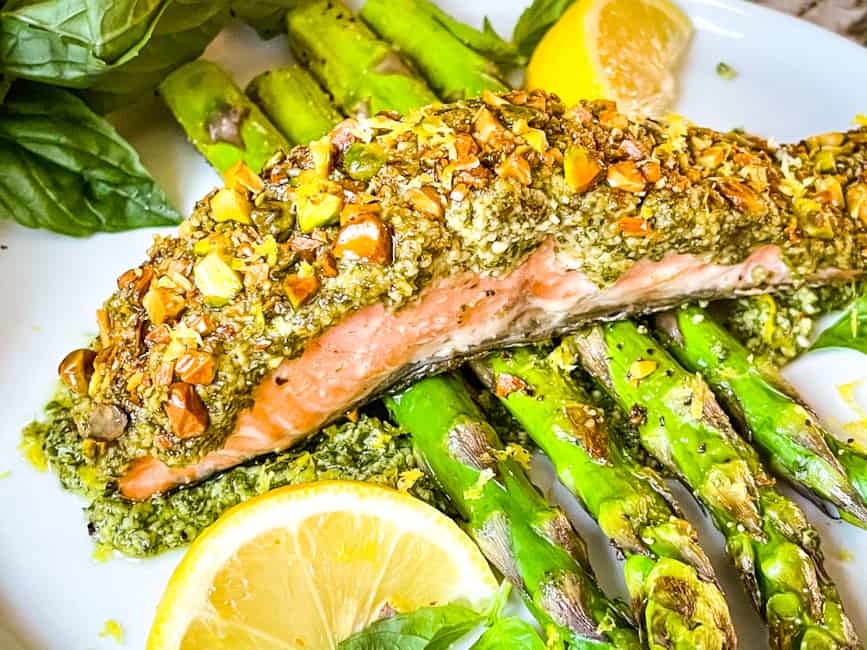 Cooking Times for Crusted Salmon
The cooking time is going to vary slightly for your Pesto Crusted Salmon based on the thickness of the salmon steak.
Even if the same weight of 4 ounces, the salmon could be longer, thinner, or taller which changes cooking time.
The general rule of thumb is 10 minutes at 400 for every inch that the salmon is thick (tall). But this is slightly reduced when you have a thin filet as what you see in these pictures. Plus, it depends on if you prefer salmon that is cooked through or more on the rare side.
I also look for the white lines of fats to start almost melting out of the fish, indicating that they are cooking and warm. You can tell that the white lines on the side are less distinct than they were before when it reaches this stage.
The fish steaks I used were around an inch and a half tall, which would equate to 15 minutes of cooking time, but were thinner slices around 1 to 1.5 inches wide, so 10 minutes was perfect to just cook it through.
Want your fish more toward rare? Reduce your cooking time.
When in doubt, it is best to pull the salmon out earlier rather than later and test it for flakiness by using a fork to peer into the thick section of the fish. And if needed, cook longer.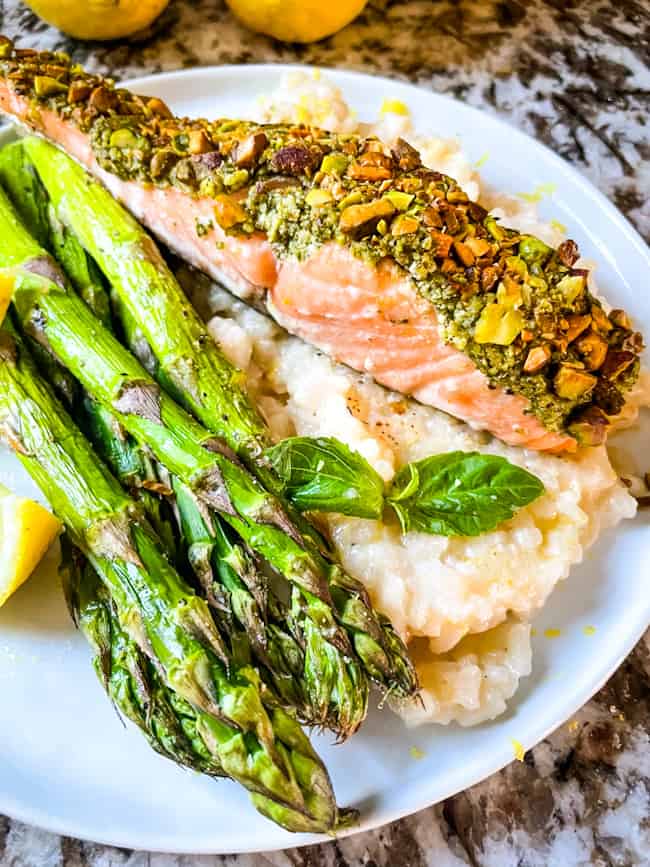 Side Dishes for Pesto Crusted Salmon
Here are some recipe ideas for what you can serve with your Pesto Crusted Salmon.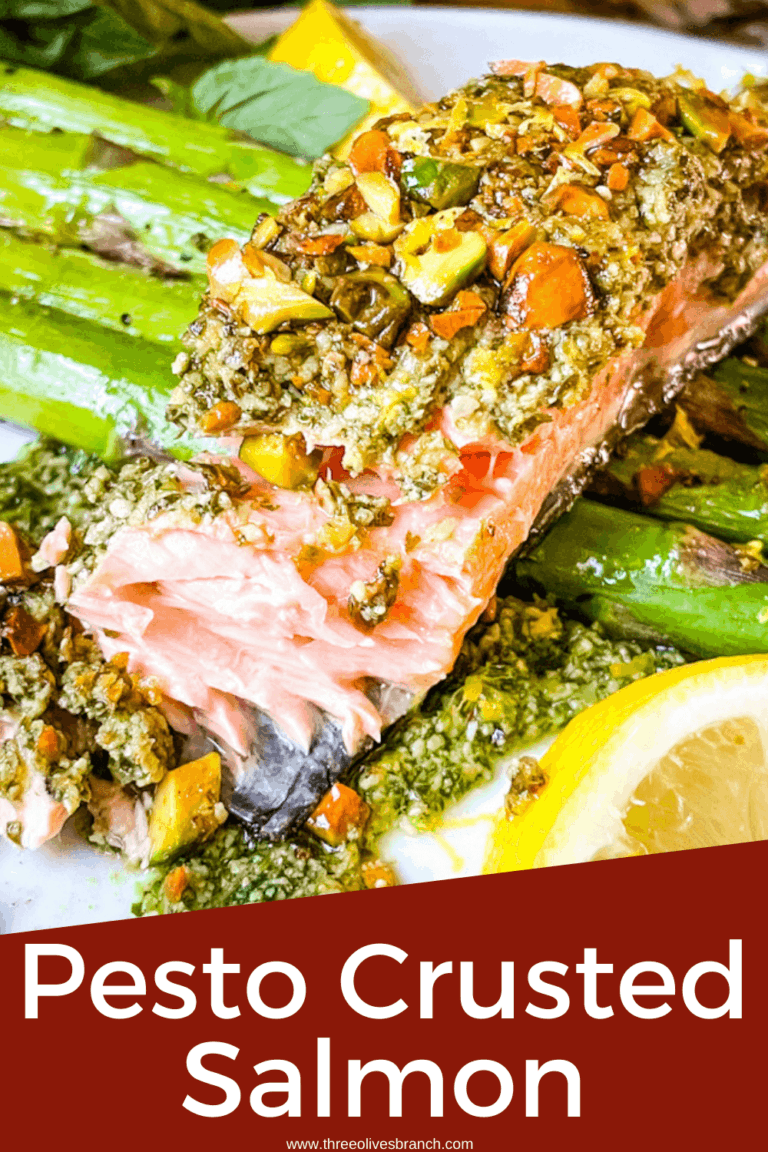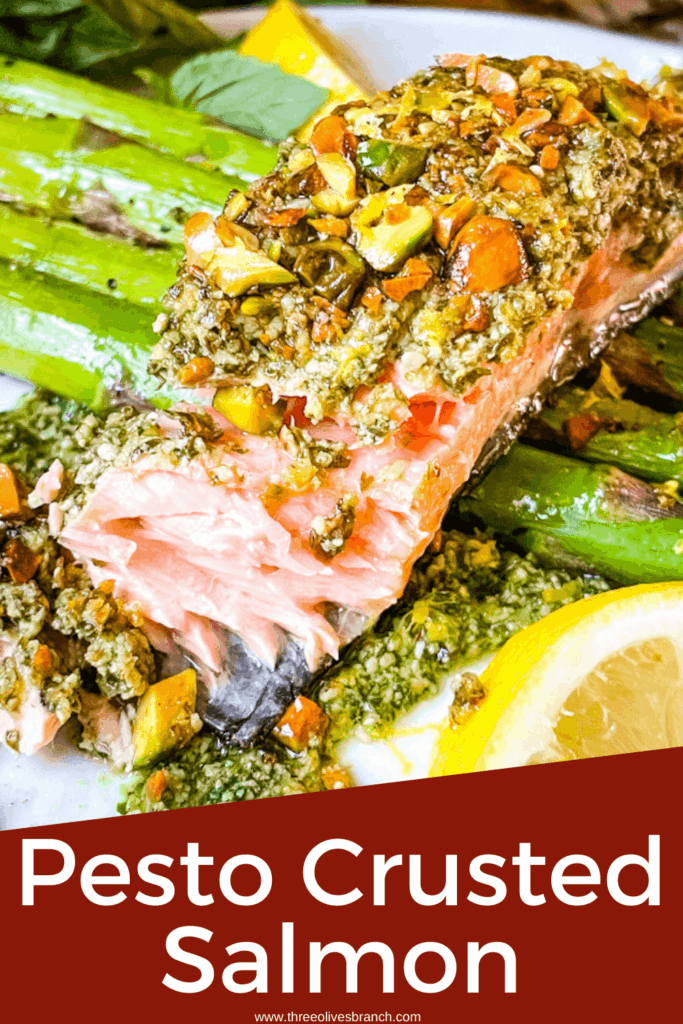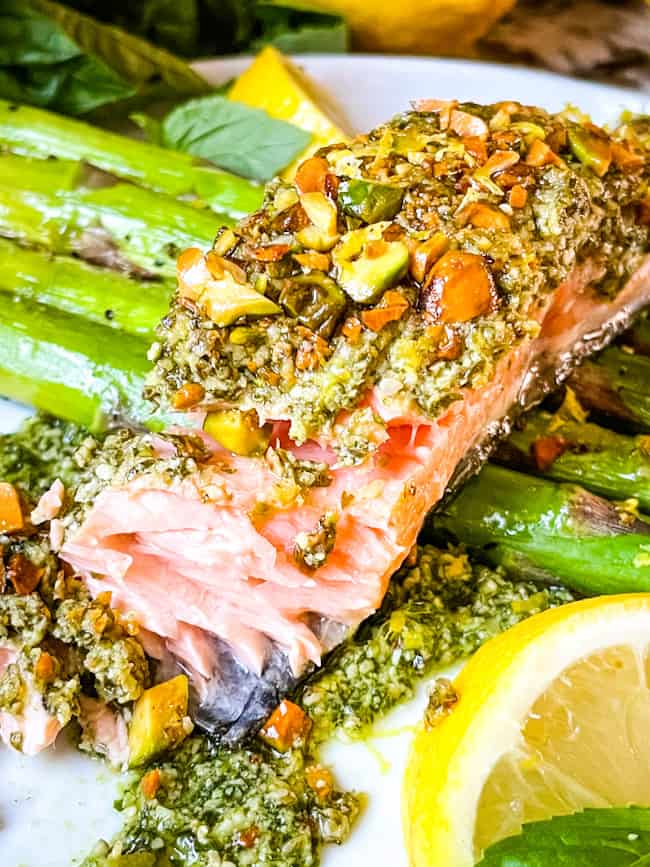 Instructions
Make your pesto by combining all of the pesto ingredients together in a food processor. Blend until incorporated for approximately 15 seconds.

Pat your fish portions dry with a paper towel.

Sprinkle each fish portion lightly with salt and pepper.

Put the salmon skin side down on a tin foil or silicone mat lined baking sheet.

Spread the pesto over the top of the salmon steaks, approximately 1/8 of an inch thick (more than a thin coat, just not super thick). Approximately 2 Tablespoons per salmon steak if they are 1.5 inches wide, 1.5 inches tall at thickest point.

Chop the pistachios. Press them into the pesto on top of each steak, approximately 1 Tablespoon per steak.

Bake the salmon for approximately 10 minutes. Cooking time will vary, see note.

Serve immediately with lemon wedges and leftover pesto.
Notes
If you are planning to eat the skin, make sure the scales have been removed. You can ask your fish monger to do this, or you can do it by running the flat back edge of a knife in the opposite direction of the scales.
Cooking Time: 10 minutes for 4 ounce portions, 1.5 inches wide, 1.5 inches tall, was perfect for them to be just cooked through and flaky. If you want the fish more on the rare side, reduce cooking time. Also adjust time up or down depending on size of the salmon steaks, including thickness. You can check for doneness by gently prying into the thick section of the salmon to check for its color, like you would chicken.
4 ounce portions might seem small but is a standard size for salmon. Salmon is a richer and heavier fish than others. You can increase the portion size as desired, just adjust your cooking time as needed.
Nutrition
Serving:

1

serving

|

Calories:

414

kcal

|

Carbohydrates:

5

g

|

Protein:

28

g

|

Fat:

32

g

|

Saturated Fat:

5

g

|

Cholesterol:

68

mg

|

Sodium:

438

mg

|

Potassium:

742

mg

|

Fiber:

2

g

|

Sugar:

1

g

|

Vitamin A:

611

IU

|

Vitamin C:

10

mg

|

Calcium:

115

mg

|

Iron:

2

mg

By