Loaded Smashed Brussels Sprouts are topped with the popular potato toppings of cheese, bacon, sour cream, and chives. A healthy twist, this side dish recipe is gluten free and keto low carb. Roasted, not boiled, and fast to make.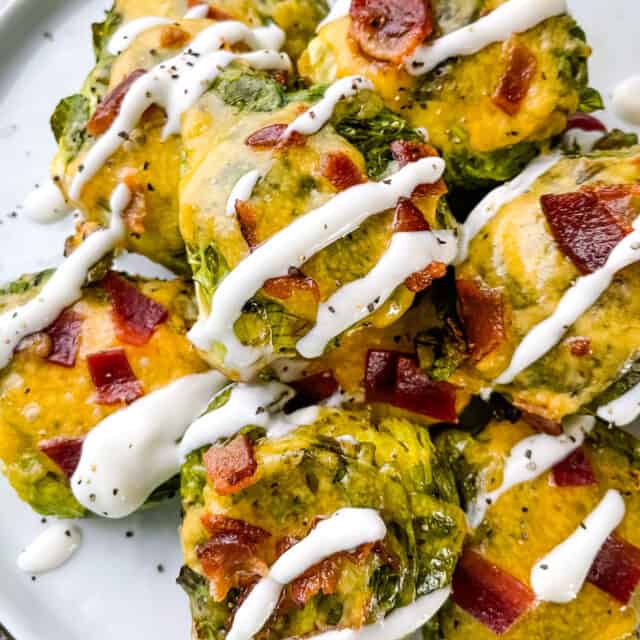 These Loaded Smashed Brussels Sprouts are loaded up with the same great toppings of a potato skin in a healthy vegetable format!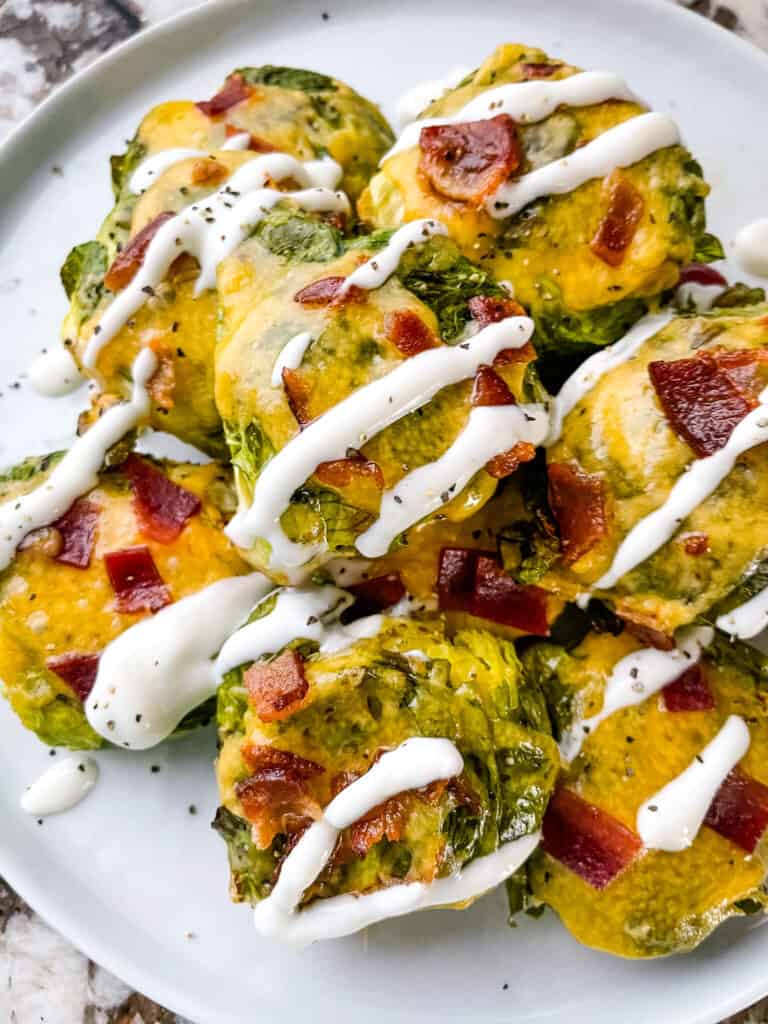 Loaded Smashed Brussels Sprouts
These smashed brussels sprouts are SO good! I whipped them up as an easy side and everyone loved them, including people that are not a big fan of brussels sprouts.
What makes something "loaded?" Well, like a loaded baked potato, it means lots of butter, cheese, sour cream, bacon, and chives (or green onions).
Someone said they liked them better than loaded potato skins and while I am not willing to go that far (huge potato lover), it was a big compliment!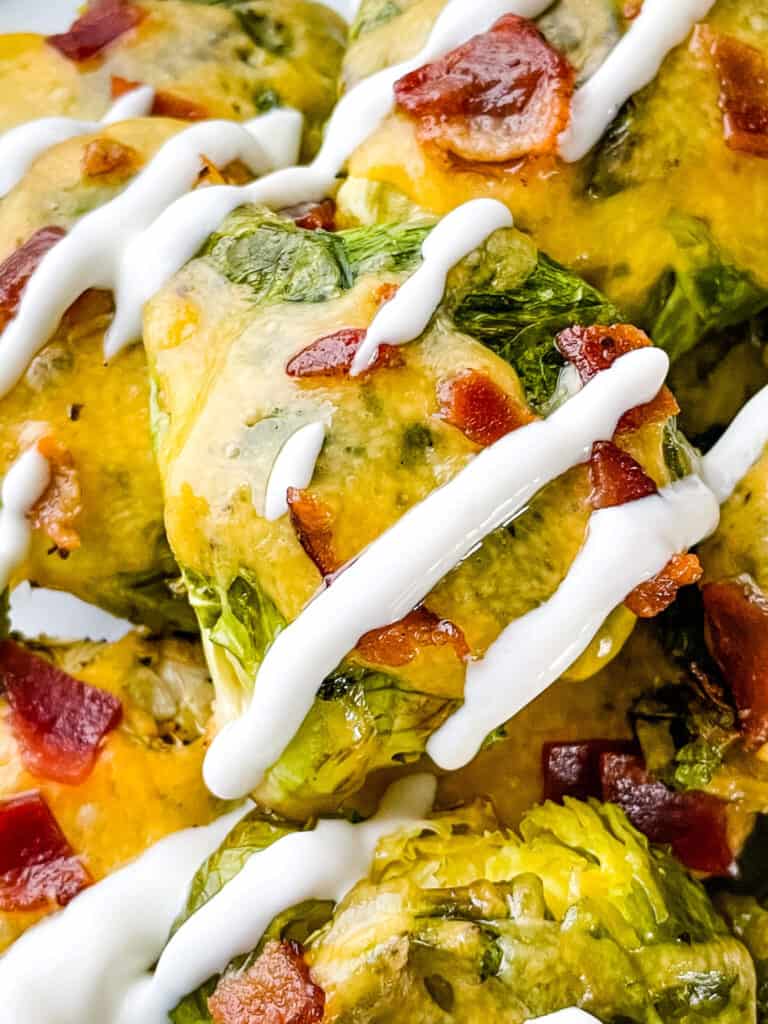 Are brussels sprouts supposed to be mushy?
Brussels sprouts definitely have a bad reputation, and in part for good reason.
Boiled brussels sprouts are just…not very good.
When boiled, the sprouts release sulfur which makes them smell off as well as taste different.
But ROASTED sprouts are a whole other thing and so tasty!
Most smashed brussels sprouts I have seen boil them first, then finish off roasting. But the problem with this is they become water logged, making it difficult to crisp up. Resulting in mushy, sulfur sprouts.
So why even boil them in the first place?!?
The roasted sprouts will bring an amazing depth of flavor, just like other roasted vegetables. Odds are if you like roasted veggies, you will like these!
How do you fix mushy brussels sprouts?
You fix mushy brussels sprouts by roasting them and tossing them with a little oil.
But if you skip boiling the sprouts altogether, as recommended, this will not be a concern.
Instructions
As I mentioned, most smashed brussels sprouts are boiled first and I just see NO need for that.
Why get them all water logged, making them difficult to crisp up, especially when you are using the oven anyway? Just seems like a sub-par way to dirty up an extra pot to clean.
So first clean and trim as needed the sprouts.
Toss them in a little oil, salt, and pepper. They can take a good amount of salt and pepper!
Roast them in the oven at 425F until they are smash-able, approximately 15 minutes for small sprouts and 20 minutes for larger sprouts.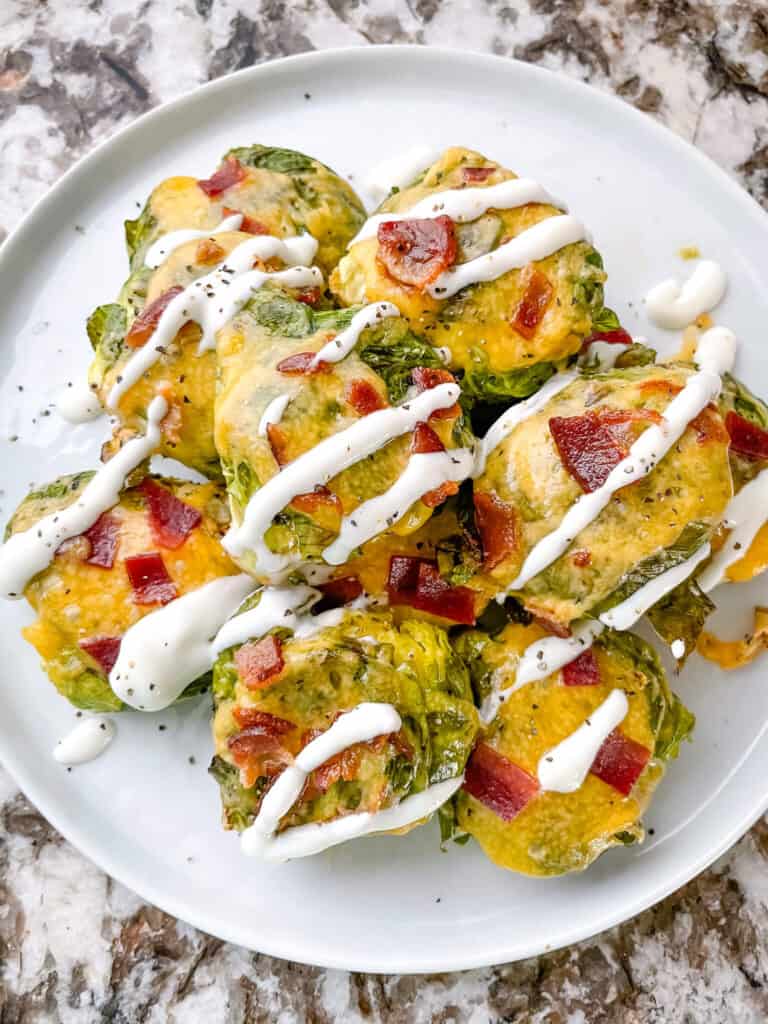 Take the tray out of the oven and use something heavy, sturdy, and flat, like a mug. Press it on top of each sprout with force, twisting the mug if needed to help smash, until it is flattened. It won't be pancake flat since there is a lot of mass, but it will spread out and be about half as tall.
Load them up with all that yummy cheese and bacon, and put back in the oven until the cheese is melted, 3-5 minutes. Use more of any ingredient as your heart desires!
Then serve the smashed brussels sprouts up with a sour cream drizzle (or on the side to dunk) and green onions.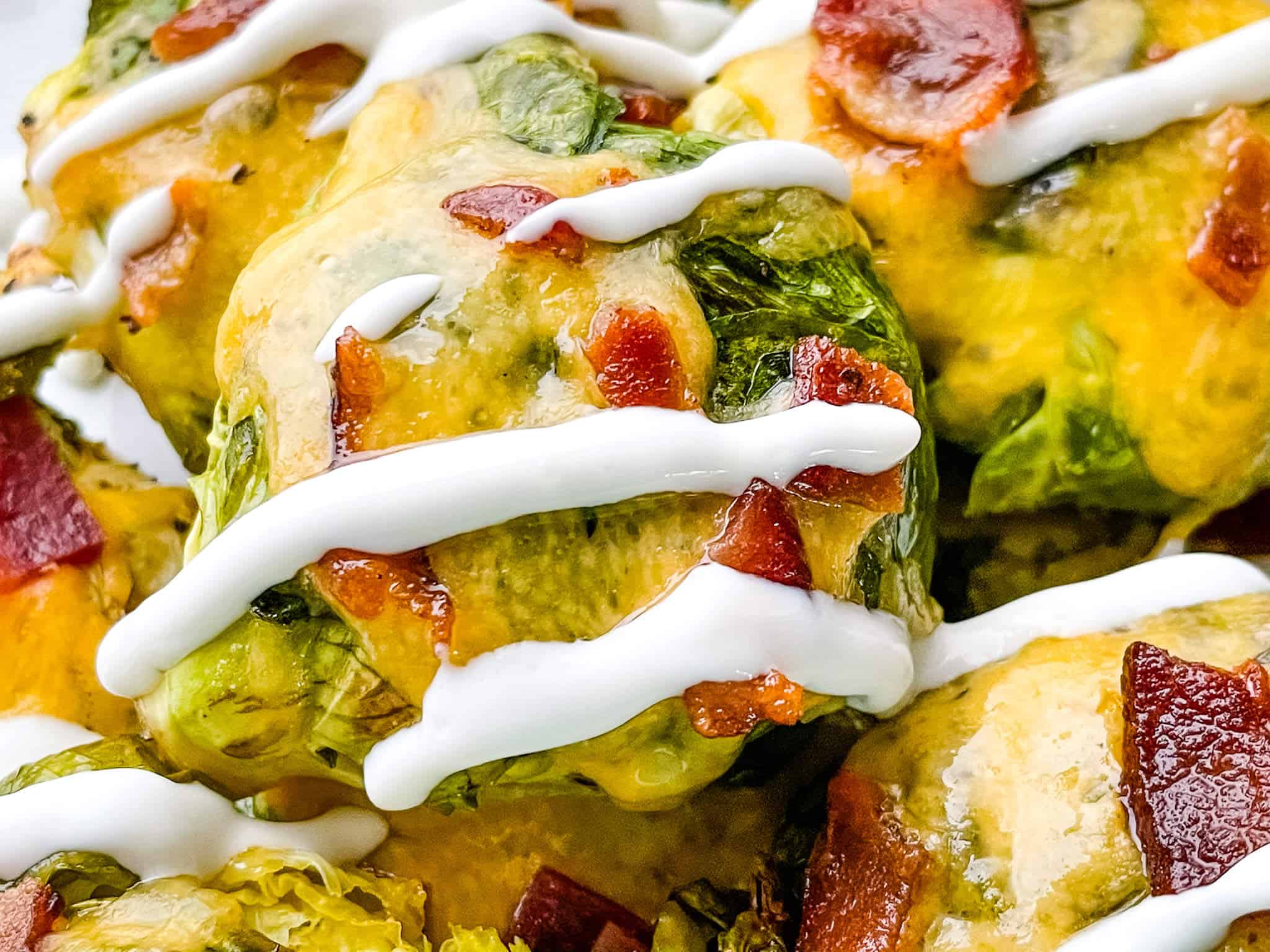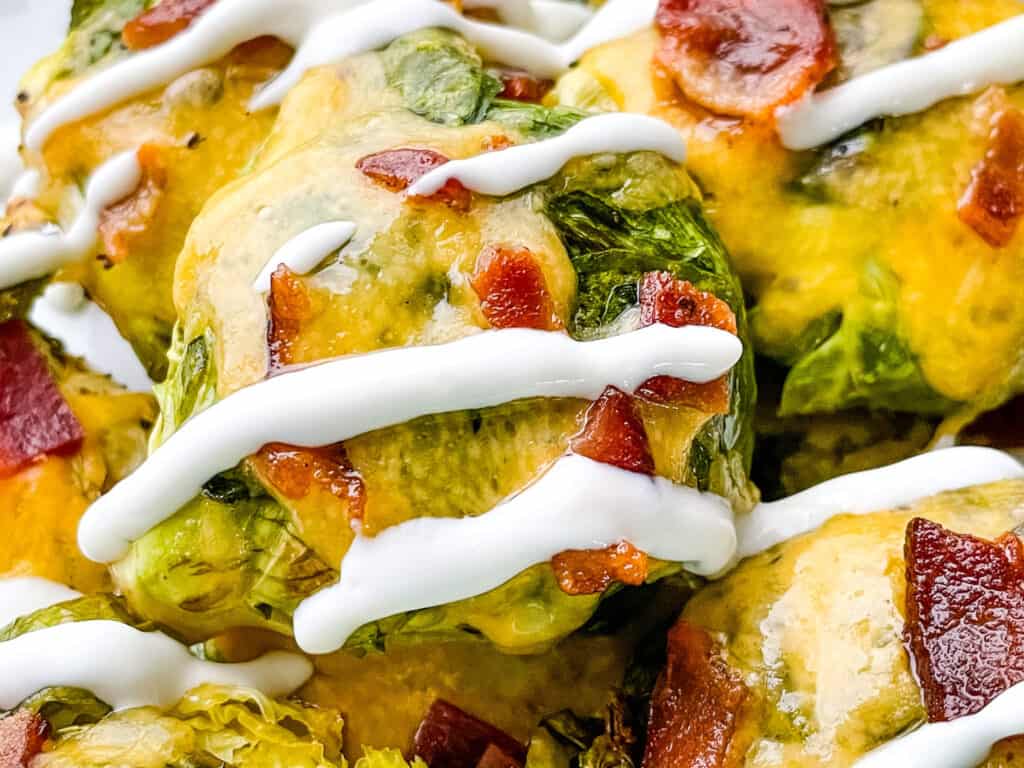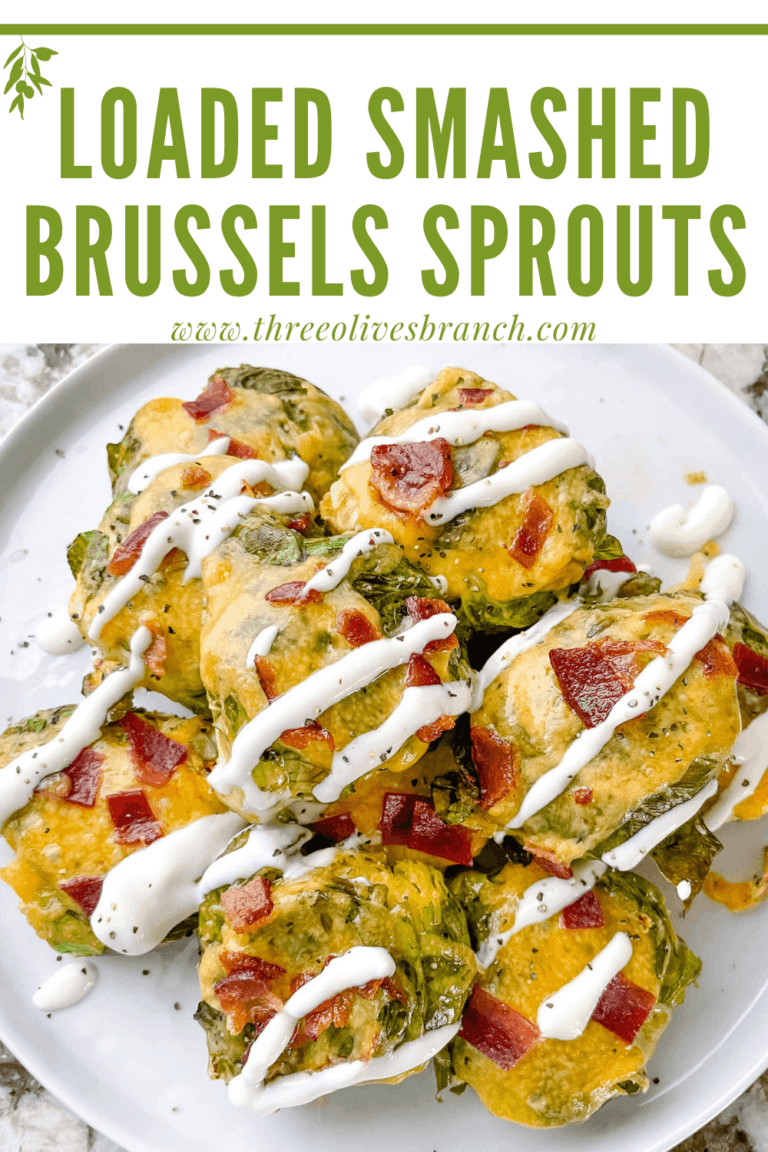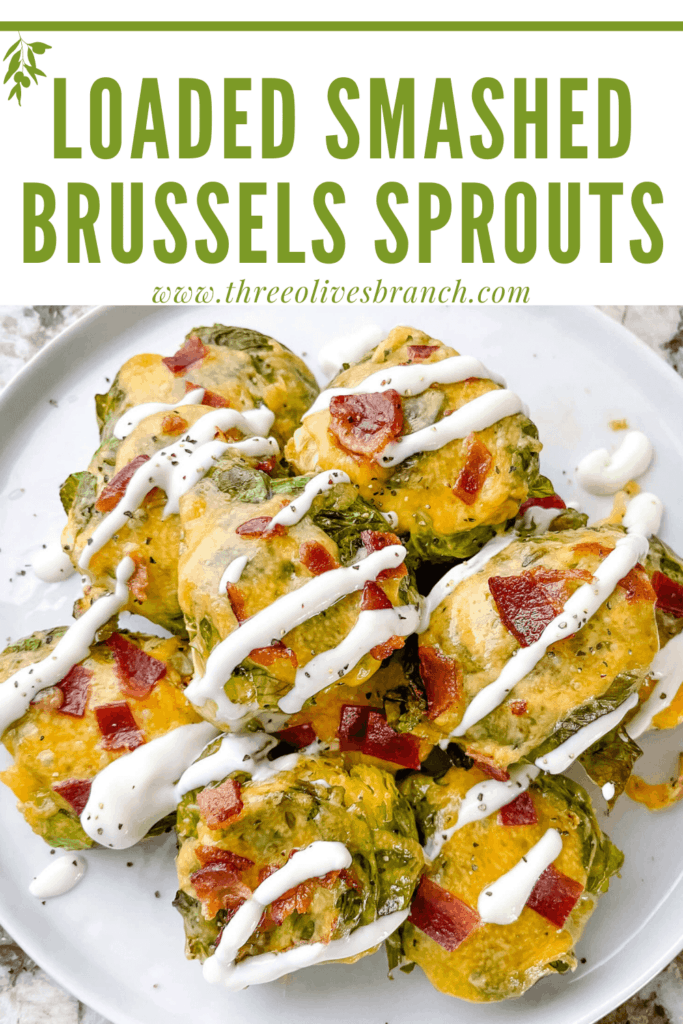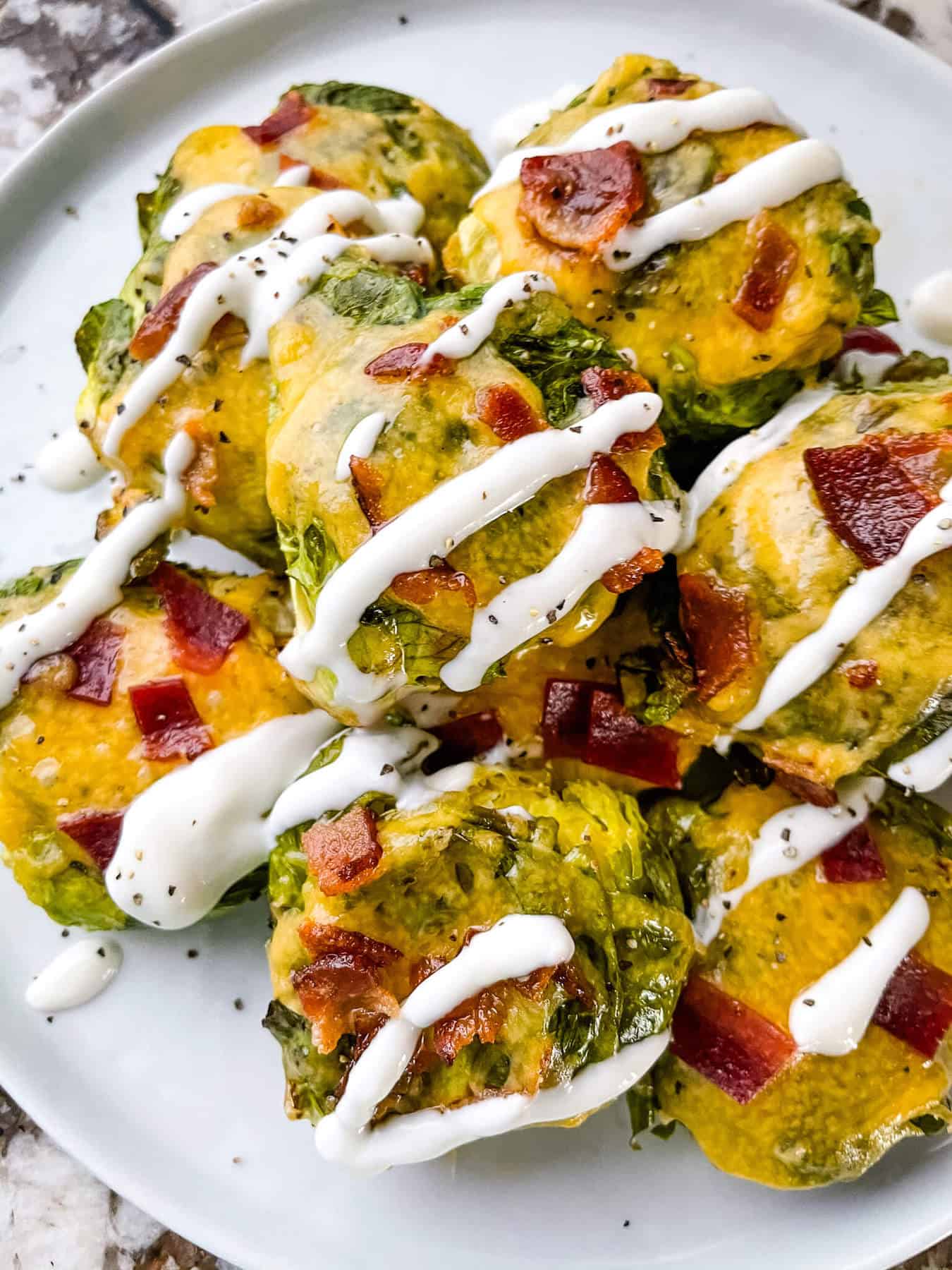 Instructions
Wash the brussels sprouts and shake off or dry off extra moisture.

Lightly drizzle with the oil and sprinkle with salt and pepper. Toss to coat.

Arrange in a single layer on a baking sheet.

Bake until the sprouts are starting to brown and are soft enough to squash, approximately 15 minutes for smaller sprouts and 20 minutes for larger sprouts.

Remove from the oven and use a heavy, flat bottomed mug to press down onto each sprout, flattening it.

Top with the cheese and chopped bacon.

Return to the oven and cook until the cheese is melted, approximately 3-5 minutes.

Remove and drizzle with sour cream and green onions, or serve the sour cream on the side.
Notes
Sour cream can be drizzled by placing it in a small plastic bag and cutting the tip off, then squeezing to drizzle back and forth.
Nutrition
Serving:

1

serving

|

Calories:

311

kcal

|

Carbohydrates:

11

g

|

Protein:

16

g

|

Fat:

24

g

|

Saturated Fat:

12

g

|

Trans Fat:

1

g

|

Cholesterol:

59

mg

|

Sodium:

405

mg

|

Potassium:

540

mg

|

Fiber:

4

g

|

Sugar:

3

g

|

Vitamin A:

1307

IU

|

Vitamin C:

97

mg

|

Calcium:

319

mg

|

Iron:

2

mg

By