Air Fryer Potato Skins are fast and easy appetizer to make! A healthier option for this popular game day snack recipe. Fill with the classic cheese and bacon or anything you want!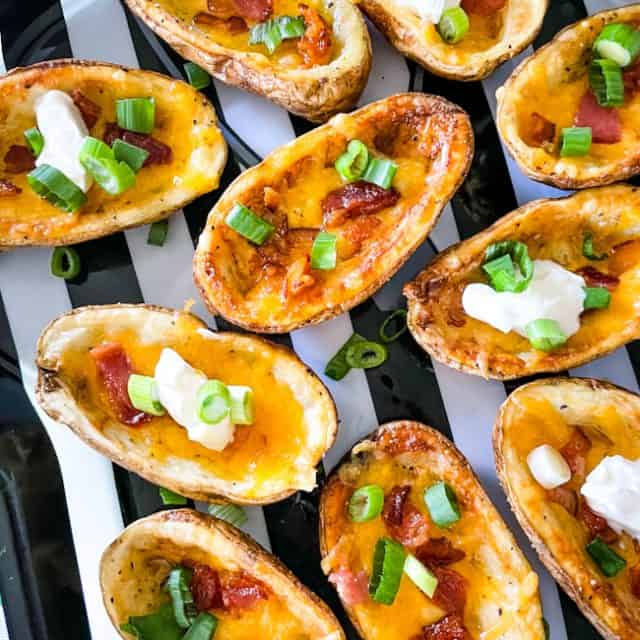 These Air Fryer Potato Skins are fast and easy to make! Serve them up with your favorite fillings as a snack, appetizer, or game day recipe!
I figured out a way to make delicious potato skins at home a few year ago and boy, have I been enjoying that!
Potato skins are one of my favorite things to make for game day and are a fun appetizer, especially for holidays.
These Air Fryer Potato Skins are made completely in an air fryer with little (or no) oil.
Fill them up with any of your favorite fillings. Check our our vast collection of fun potato skin recipes!
Or keep it classic and follow the last few steps in the recipe below.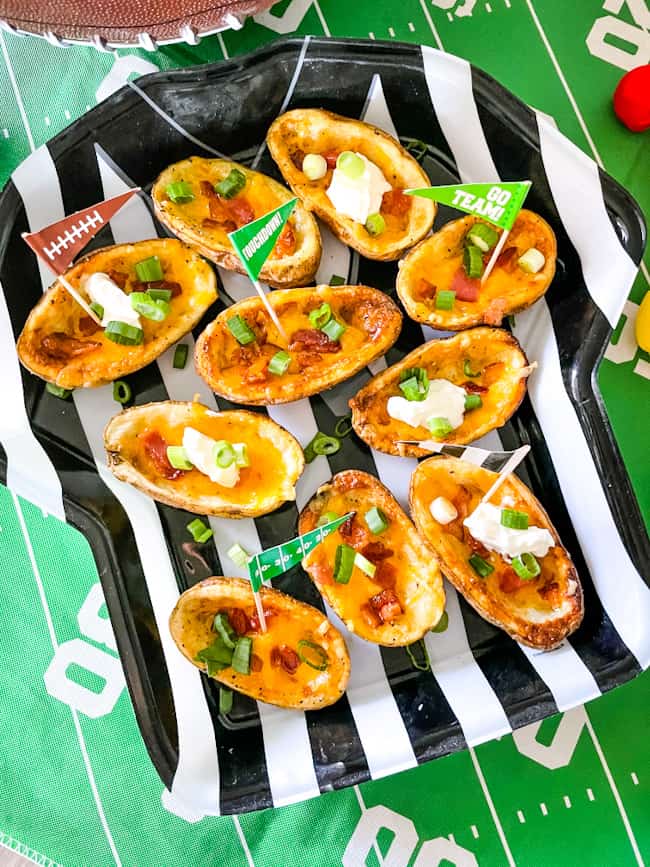 Shaping the Potato Skins
When I made my popular baked Potato Skin Shells, I tested out numerous ways to make the potato skins.
This included scooping out the middles both before and after cooking.
I found that the best potato skins had the insides scooped out before cooking and held a better texture.
The trick to this is using a melon baller to quickly and easily scoop out the middles.
I have tried a grapefruit spoon, and it works, but it is much more difficult.
The melon baller is perfect because it has a sharper edge, is small, and rounded for easy scooping.
I am not a fan of one-purpose kitchen gadgets. This one is worth the space and very versatile.
Honestly, I use my melon baller all the time. And it is never for melons.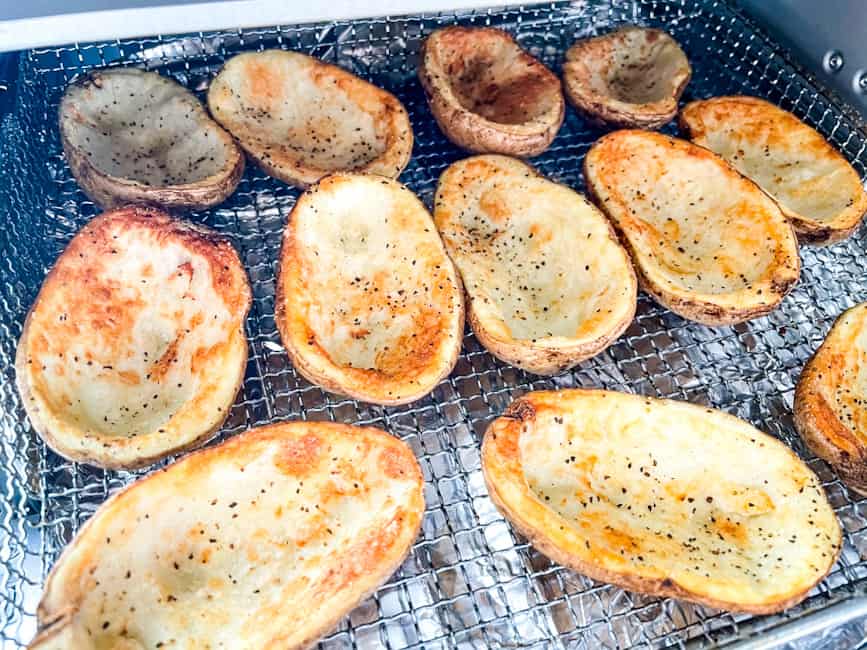 To Use Oil or Not
I personally like to use oil because it helps give the potato skins that classic, crispy crust.
For the air fryer, I use a non-stick oil spray to get a very light coating.
Want to skip the oil? You absolutely can!
The potato skins should still crisp up, it just might not be quite as crisp and not quite as browned.
But you will definitely still get a crisp texture unlike a traditional oven.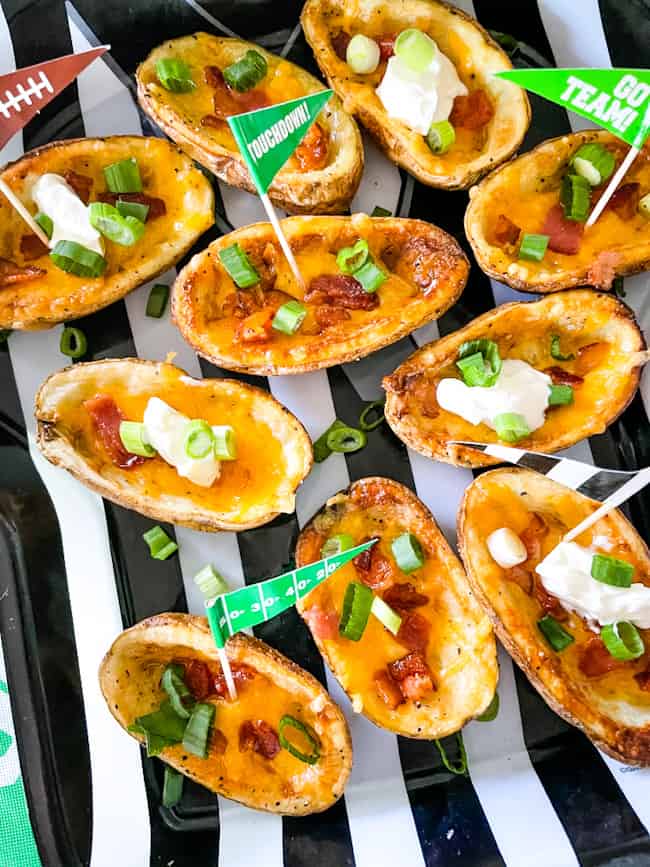 Picking an Air Fryer
There are a lot of air fryer options out there. Many air fryers are designed as single-use appliances, as in they air fry and not much else.
If you are looking at purchasing an air fryer, you want to consider how you will likely be using it.
Not only does the batch size vary with how large the air fryer is, but some have small and deep baskets while other have shallow and wide frying baskets.
I prefer and recommend something that has a wide and shallow basket because you can fit more in it without the food overlapping on itself, which especially matters sometimes as with these Air Fryer Potato Skins.
I have the Cuisinart Air Fryer Toaster Oven which is wonderful because it also bakes, toasts, and more all in one appliance. With the shallow and wide basket.
And it works FAST which means chicken nuggets for the kiddos are ready in a flash!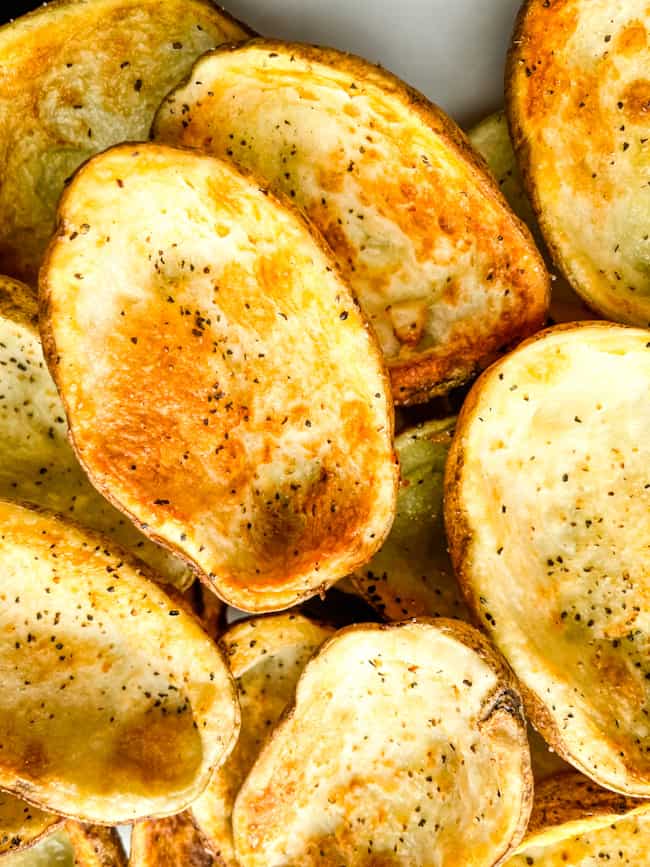 Potato Skin Fillings
After you make the shells of your Air Fryer Potato Skins, the filling possibilities are endless!
Over the years on this blog, I have had a lot of fun making unique and delicious potato skin recipes.
Most potato skin fillings you find will be for a traditional oven, but you can easily finish them off in the air fryer as well.
Simply make and assemble the fillings as the recipe says.
When time to bake, pop the potato skins back in the air fryer at 350F for about 5 minutes or so, depending on if you need something to cook or melt.
Just keep an eye on them and when the melting/cooking has happened, you are all set!
Want to keep it classic with cheddar cheese, bacon, sour cream, and chives?
I have included a few steps at the end of the recipe card for how to do this.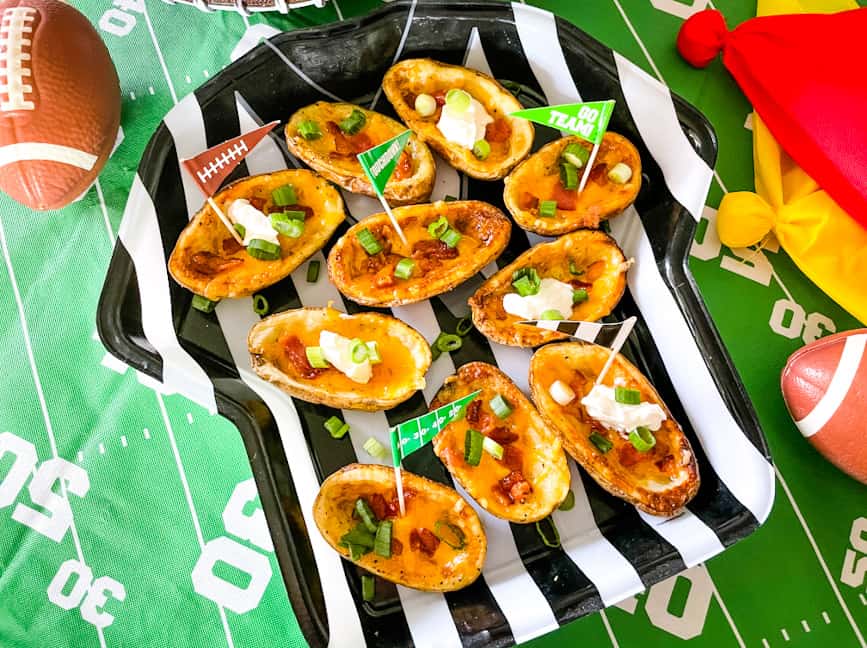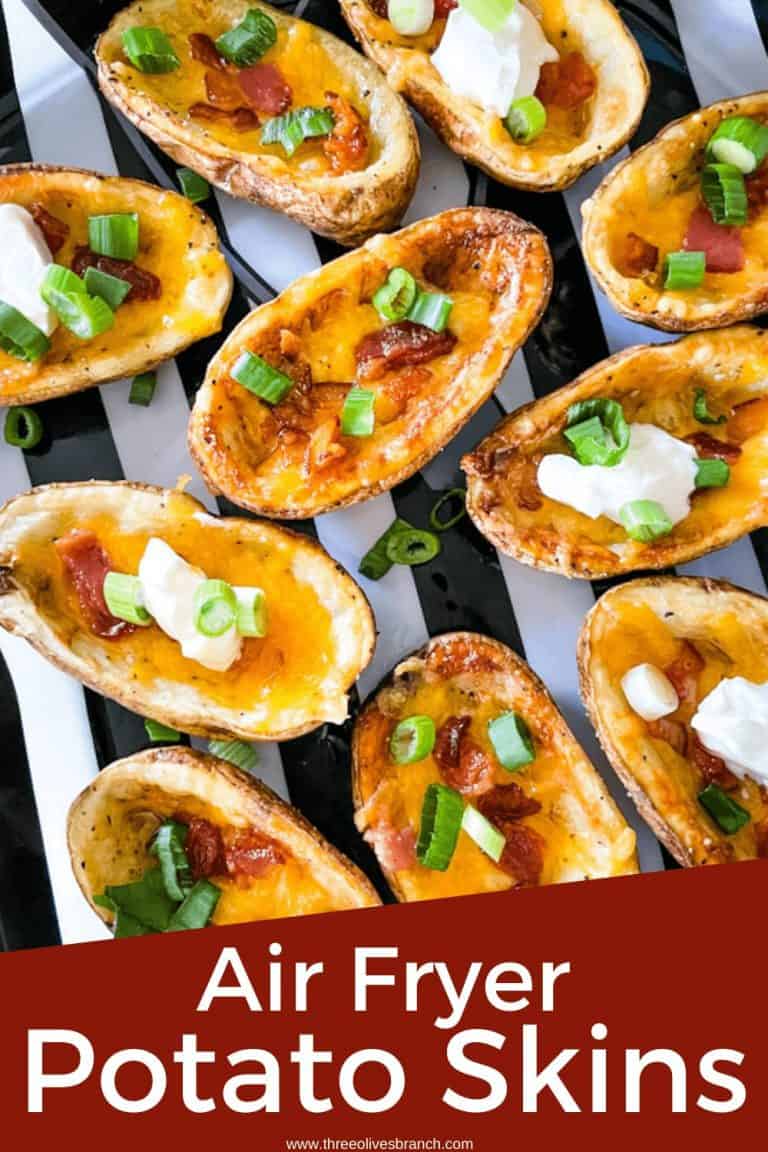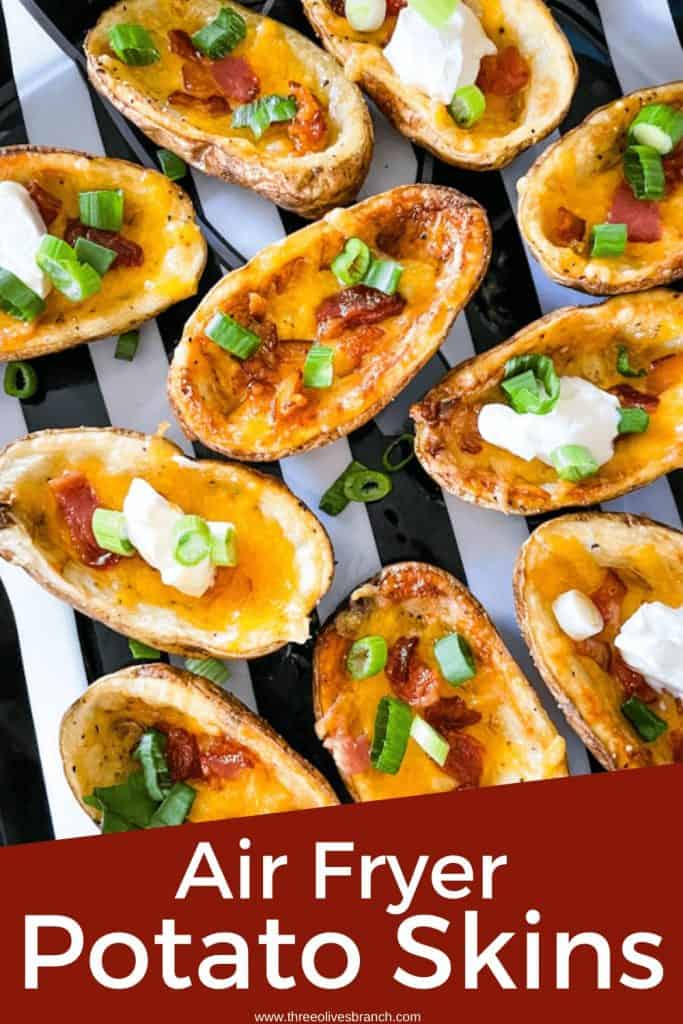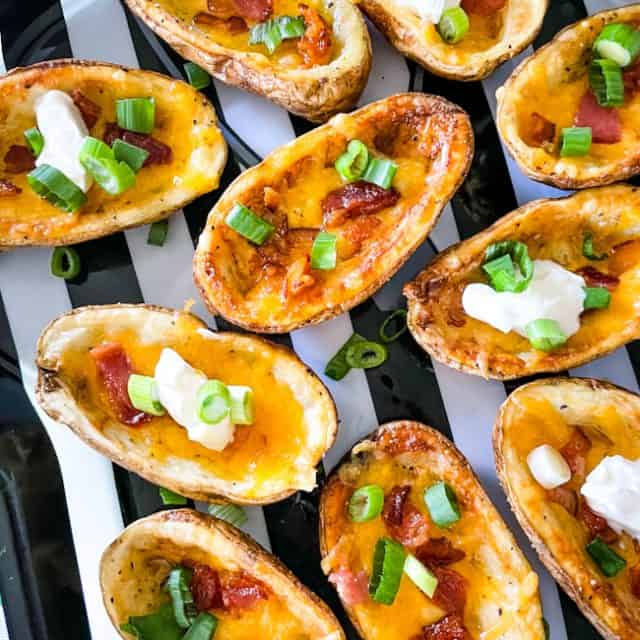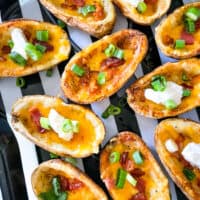 Air Fryer Potato Skins
Air Fryer Potato Skins are fast and easy appetizer to make! A healthier option for this popular game day snack recipe. Fill with the classic cheese and bacon or anything you want!
Print
Pin
Rate
Ingredients
6

russet potatoes

(approx 4 inches long) (see note)

non-stick cooking spray

1/4

teaspoon

salt

1/4

teaspoon

black pepper
Instructions
Scrub and wash the potatoes. Slice them in half lengthwise. Prepare a large bowl or pot full of water. This will be used to keep the potatoes from browning while they are being prepared.

Using a melon baller, scoop out the middle of the potato, leaving a border approximately 1/4″ thick. When completed, place the potato in the water. You can also keep the pieces you scooped out and make some mashed potatoes!

Repeat until all of the potatoes have been scooped out.

Remove the potatoes from the water and shake off. Place them skin side up in the air fryer basket. Lightly spray the potatoes with the oil spray. Sprinkle with a little salt and pepper. Use as much or little salt and pepper as you like, keeping in mind the salt factor of whatever you are filling them with.

Flip each shell upside down so the skin side is now down.

Spray the potatoes on this side and again sprinkle with salt and pepper.

Put the basket in the air fryer and cook on the air fry setting at 400F for approximately 8-10 minutes. They are done when you can prick them with a fork.

Remove them from the oven and let cool slightly before adding any fillings. We have a vast collection of popular filling options. The traditional potato skin filling instruction is below.
Traditional Potato Skins
Fill each potato skin shell with cheddar cheese and top with bacon that has been cooked and diced. The cheese will shrink down when it melts, so fill the shell higher than you want them to be in the end.

Put back in the air fryer for 3-5 minutes at 350F. Remove when the cheese is melted.

Top or serve with sour cream and sliced green onions or chives.
Notes
The potatoes can be any size you wish however it is best to keep them similar in size so that they cook evenly.  The size of the potato will also change how long you need to cook them.
Use any of your favorite fillings, or any potato skins from our extensive collection of options!
Whichever side of the potato skin you place up in the air fryer will be a  little crisper and browner than the bottom side. Either way works!
You can follow the instructions for any filling in the air fryer. Just keep the air fryer temperature around 350 and a short cook time. Keep your eyes on them and remove as soon as cooked/melted to adjust for the difference in cooking method.
Nutrition
Serving:

1

empty potato skin

|

Calories:

84

kcal

|

Carbohydrates:

19

g

|

Protein:

2

g

|

Fat:

1

g

|

Saturated Fat:

1

g

|

Sodium:

54

mg

|

Potassium:

445

mg

|

Fiber:

1

g

|

Sugar:

1

g

|

Vitamin A:

1

IU

|

Vitamin C:

6

mg

|

Calcium:

14

mg

|

Iron:

1

mg

By