Oatmeal Craisin Cookies are a delicious twist on a homemade cookie recipe. Filled with oats and dried cranberries for a soft and chewy dessert biscuit. Great for winter and Christmas or cookie exchanges.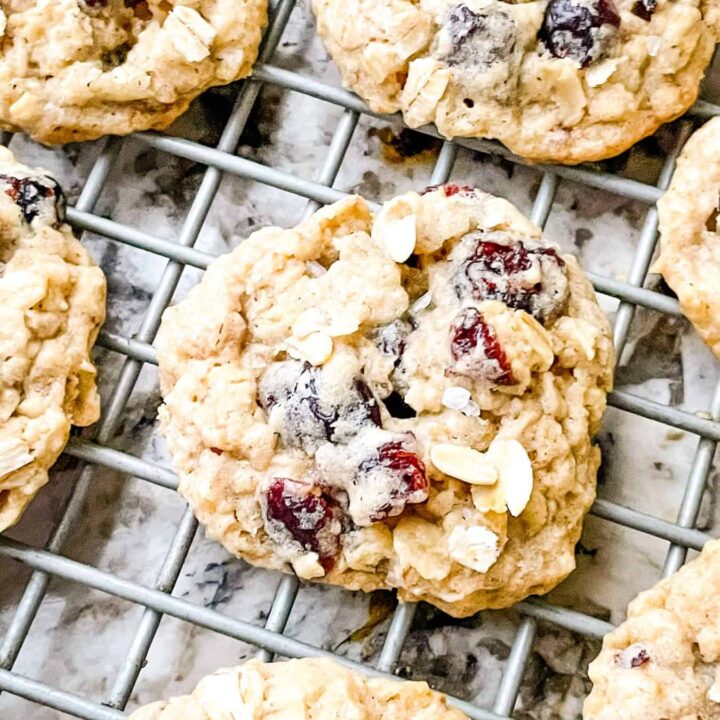 Oatmeal Craisin Cookies are perfect chewy, soft cookies for Christmas, cookie swaps, and any day! Packed with dried cranberries and rolled oats.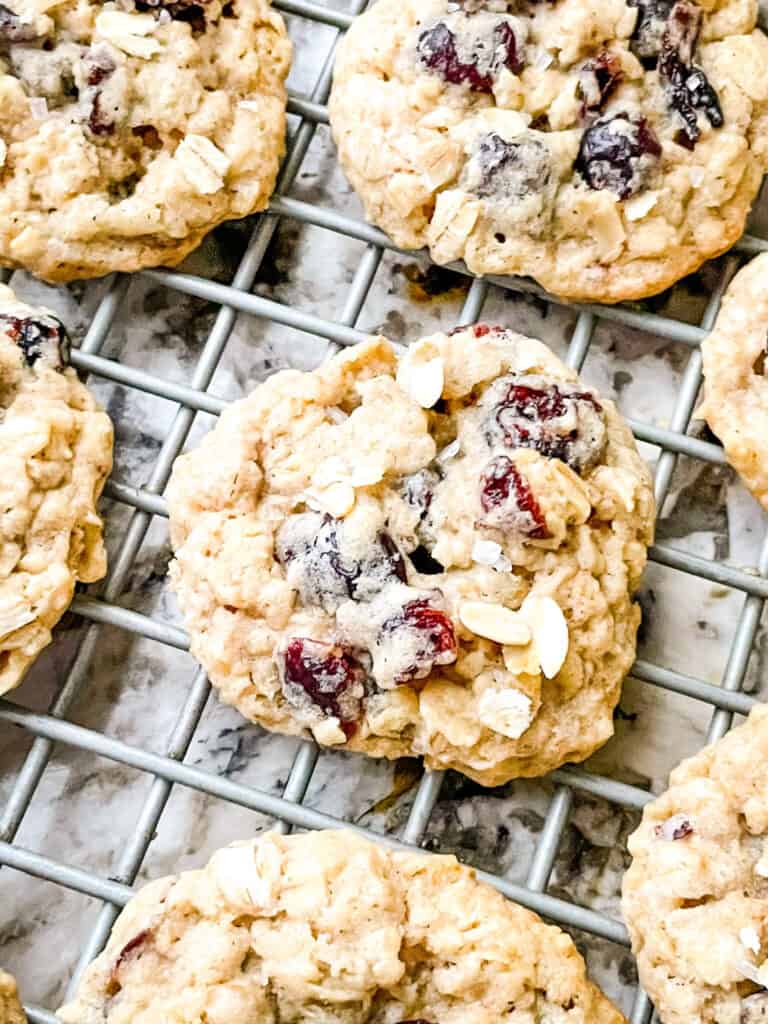 Chewy Oatmeal Cookies
I am a huge fan of chewy, soft cookies and these cookies are just that!
The oats add extra texture and chew factor with a sweet and salty flavor.
These cookies are sure to be an absolute hit every time you make them!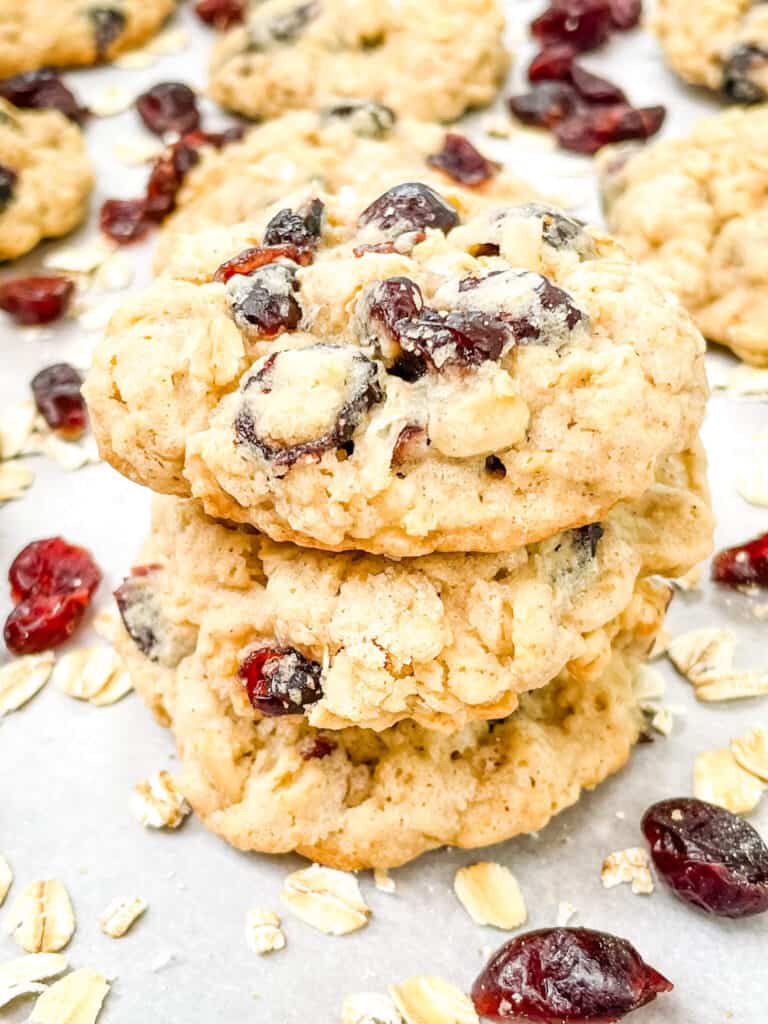 Can I use quick oats in my cookies?
Can you use regular oats instead of quick oats in cookies?
It will work, but rolled oats (old-fashioned oats) are preferred. This is because quick oats absorb moisture differently, changing the texture of the cookies.
Quick oats also have a different texture and will result in a soften, more delicate texture opposed to rolled oats.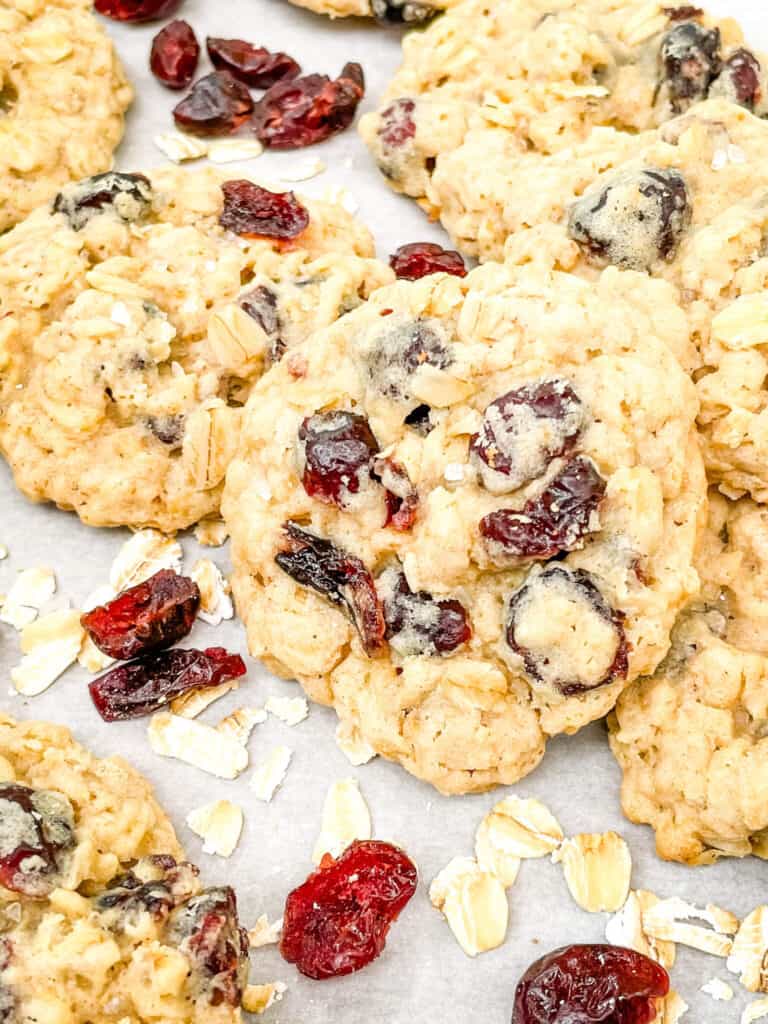 Why are my oatmeal cookies hard?
It is possible the dough was overmixed, making the cookies tougher and harder.
If you do not chill the dough, it is possible that some of the butter leaks out, leaving less moisture/fat and a harder cookie.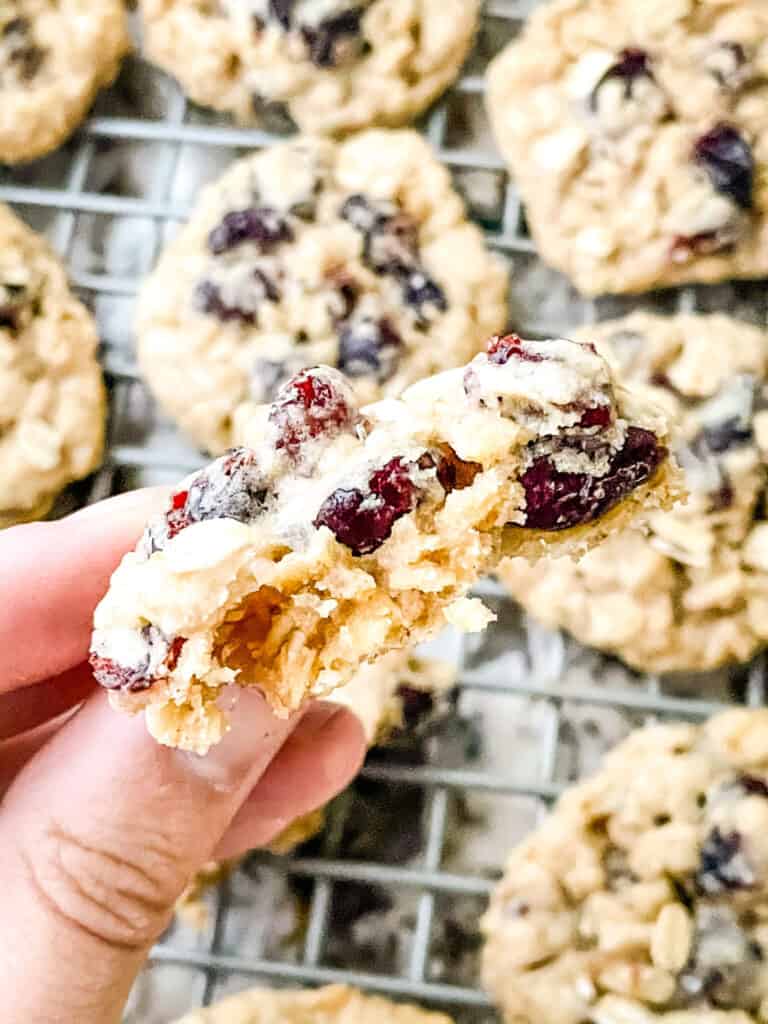 Are Craisins healthier than raisins?
Typically, craisins (dried cranberries) will have lower carbs, fewer calories, and more fiber than raisins. But they also tend to have added sugars, which raisins do not.
So "healthier" is dependent upon your definition.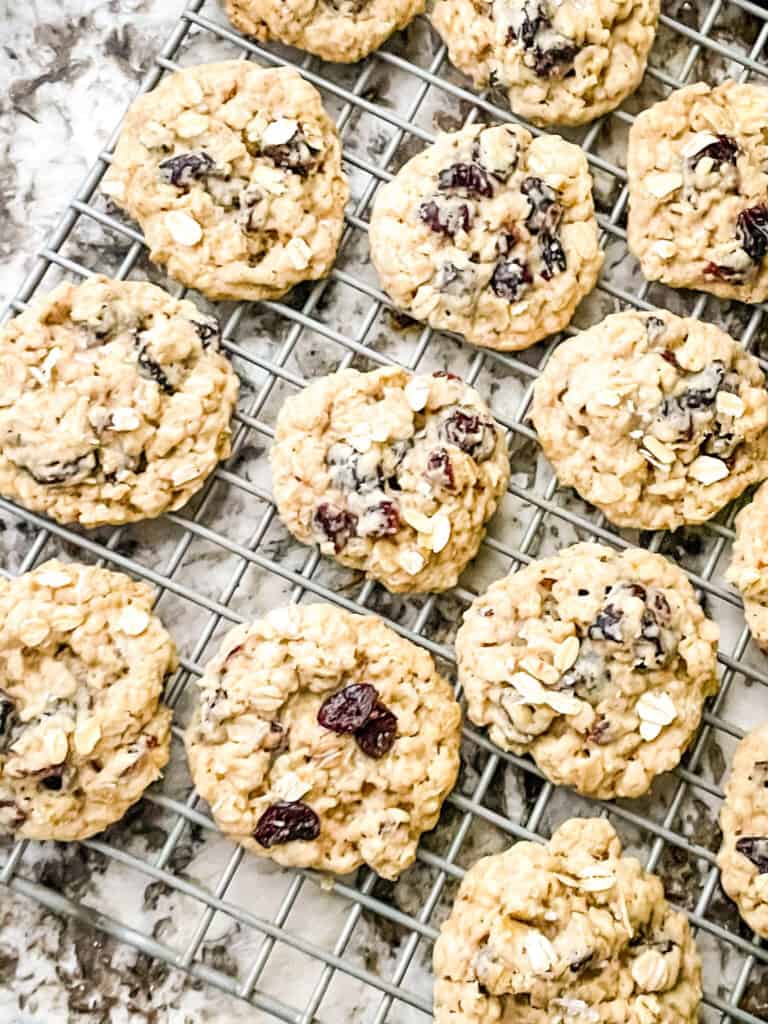 Ingredients (including a secret ingredient!)
The ingredients you need are very typical for cookies:
Flour
Butter
Sugar
Brown Sugar
Rolled Oats
Eggs
Cinnamon
Baking Powder
Vanilla Extract
Dried Cranberries
Walnuts (optional)
And the secret ingredient –

coarse sea salt

! See notes below in the instruction summary for why this makes the cookies so special.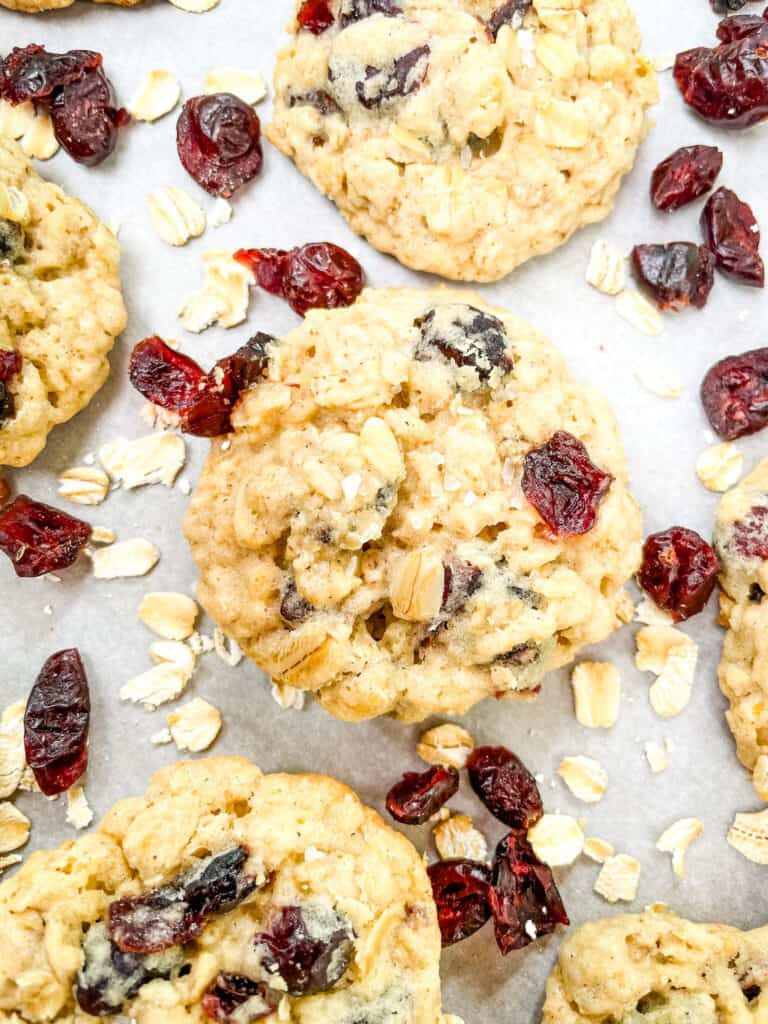 Instruction Overview
First, dry ingredients are mixed together.
Then wet ingredients are beaten in a stand mixer until well combined. This will help with the texture of the cookies.
Just barely mix the two together, plus adding the craisins. Do not overmix as explained in sections above. I like using a stand mixer, but a hand mixer works as well.
One of the most important parts is making sure the dough is chilled! Chilling the dough helps keep the butter locked into the cookies so they stay thick and chewy instead of thin and crispy.
Ready for the secret ingredient?! Once out of the oven, top them with some sea salt or other large, flaky salt. Use coarse ground and not fine ground to get those big, beautiful flakes and pop of salt.
Salt on top of cookies is AMAZING and you will love the sweet and salty flavor!
When using the salt, sprinkle on top immediately after they come out of the oven or press some on top of the rounded cookie dough before baking to help them stick more.
These cookies can be stored in an air tight container up to a week, or freeze up to a month.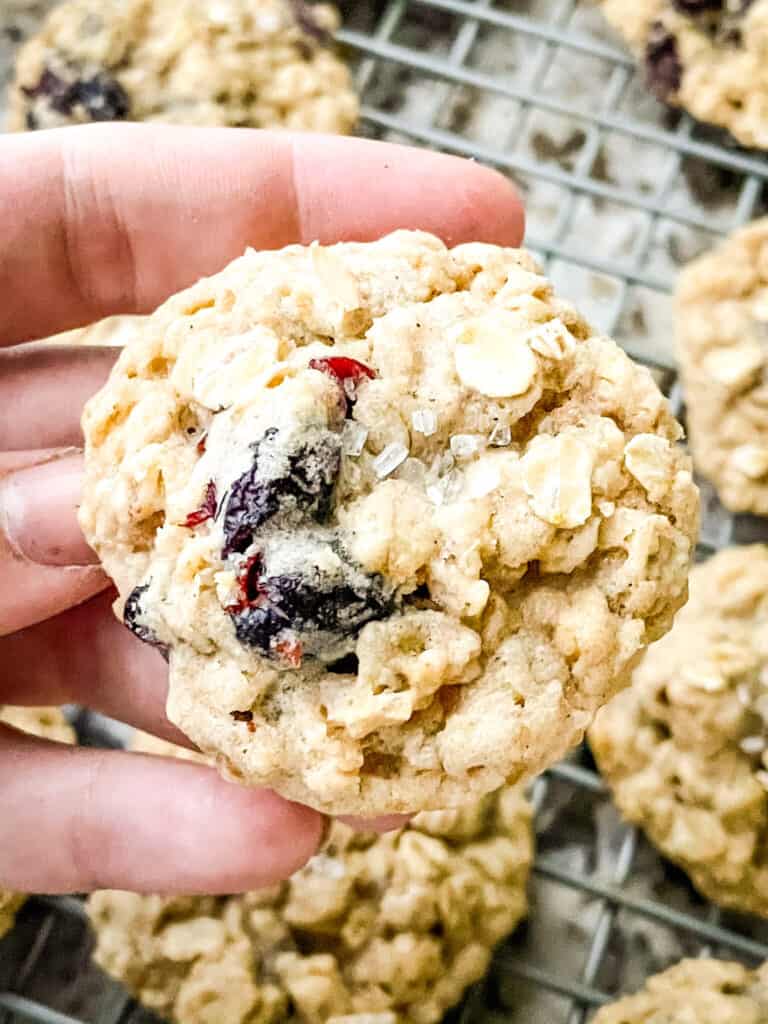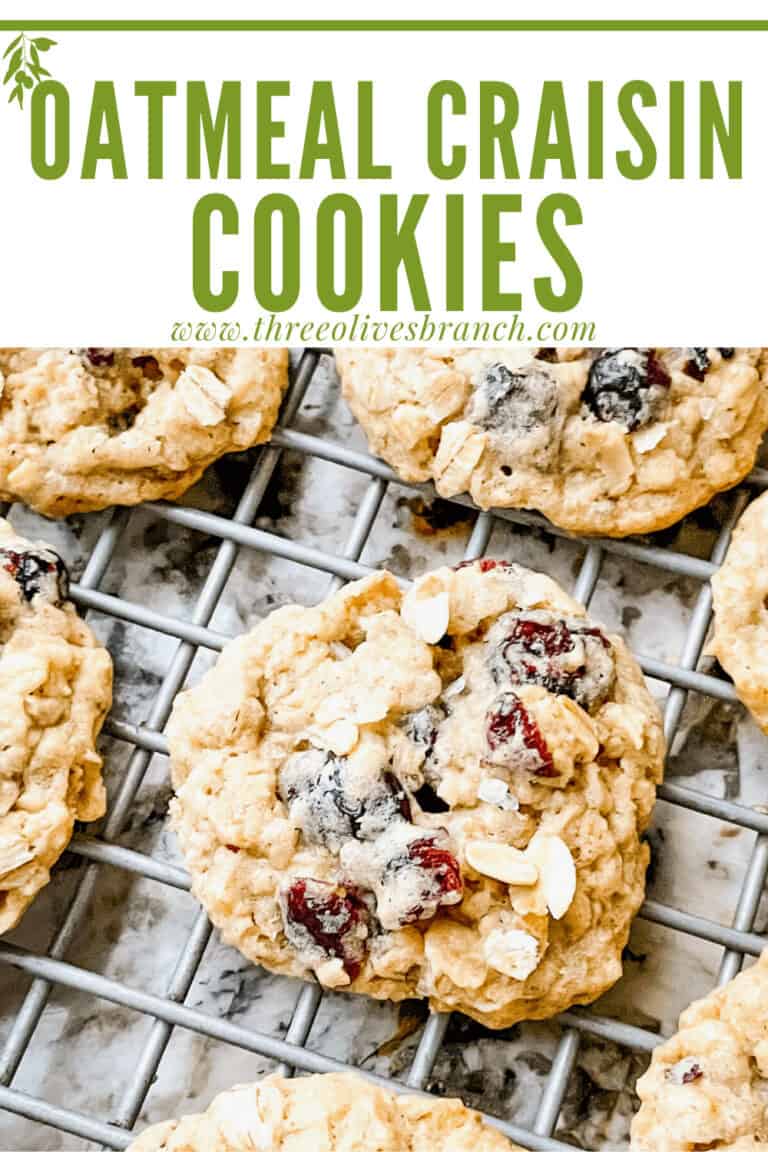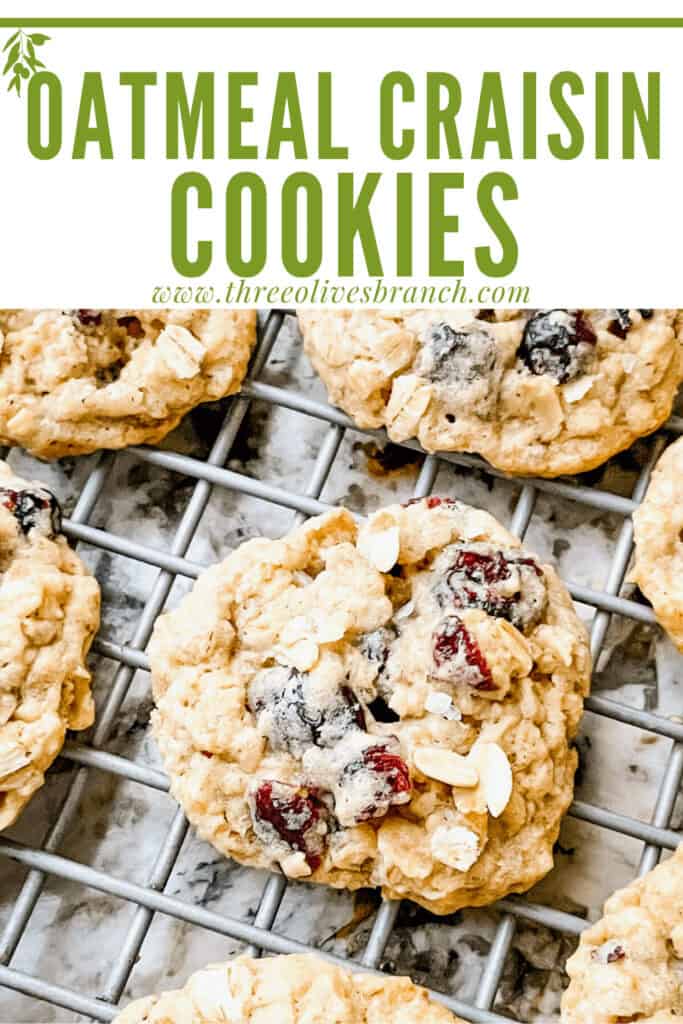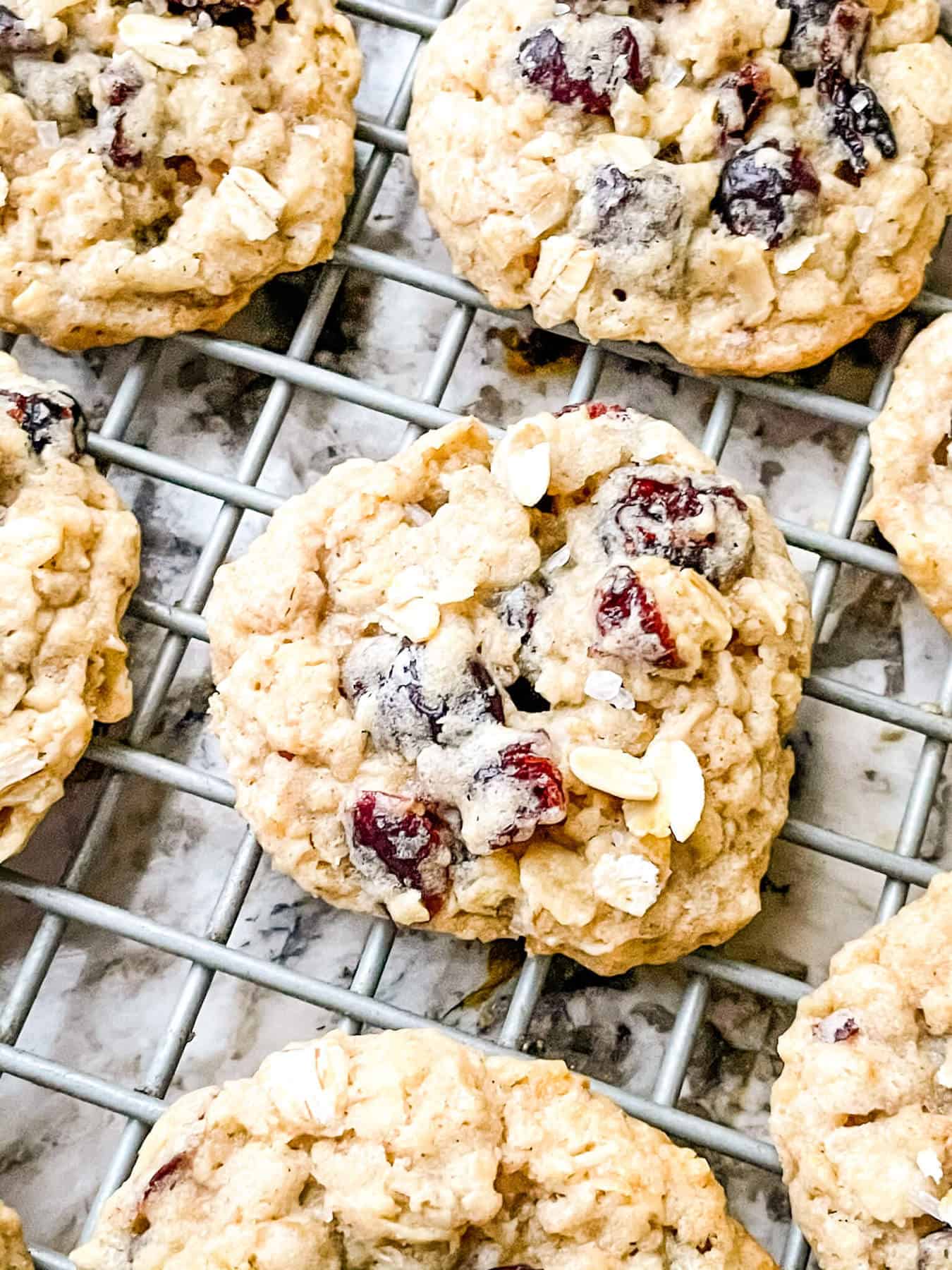 Instructions
Combine the flour, oats, baking powder, cinnamon, and salt in a medium bowl.

In the bowl of a stand mixer, add the brown sugar, granulated sugar, and softened butter. Using the paddle attachment, beat the ingredients until combined and fluffy over medium low to medium speed.

Add the eggs one at a time while the mixer is running until fully incorporated. Add the vanilla extract and beat to combine.

Reduce speed to low. Slowly pour in the flour oat mixture while the stand mixture is running until just incorporated. Turn the mixer off.

Add the dried cranberries (and nuts if using) and mix with a spatula to combine.

Refrigerate the dough for at least 30 minutes.

Preheat oven to 350°F with rack in the middle position (upper middle and upper lower if using two racks at once).

Use a scoop or your hands to make dough balls approximately 2 Tablespoons in size. Spread them out at least 2 inches apart on a parchment or silicone mat lined baking sheet.

Bake for 13-15 minutes until the bottom edges are just starting to lightly brown. They will look a little undercooked but will settle after removal from oven.

Remove from the oven and immediately sprinkle with sea salt. Let sit on the cookie sheets for 5 minutes before using a spatula to transfer them to a cooling rack.

Repeat as needed with remaining dough. Store in an air tight container or bag for up to 5 days. They also freeze well.
Notes
The sea salt is optional if you are watching your sodium but highly recommended. Sea salt on top of cookies is amazing! 
Nutrition
Serving:
1
cookie
|
Calories:
144
kcal
|
Carbohydrates:
22
g
|
Protein:
2
g
|
Fat:
6
g
|
Saturated Fat:
3
g
|
Polyunsaturated Fat:
1
g
|
Monounsaturated Fat:
2
g
|
Trans Fat:
1
g
|
Cholesterol:
24
mg
|
Sodium:
84
mg
|
Potassium:
57
mg
|
Fiber:
1
g
|
Sugar:
12
g
|
Vitamin A:
172
IU
|
Vitamin C:
1
mg
|
Calcium:
18
mg
|
Iron:
1
mg
Cookie Recipes
Delicious cookie recipes that you can enjoy all year long!

By