These Poinsettia Cookies are perfect Christmas cookies! Cherry flavored sugar cookie dough shaped into poinsettia flowers. A great holiday dessert recipe for a cookie swap exchange.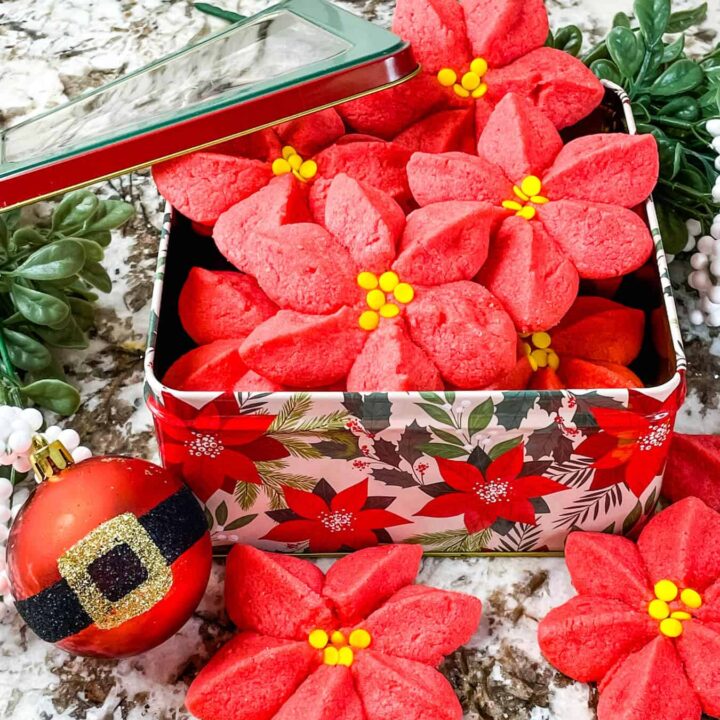 Festive and bright, these Poinsettia Cookies are a perfect way to celebrate Christmas and winter. Cherry flavored Jell-o cookies shaped like the classic flowers will be a hit!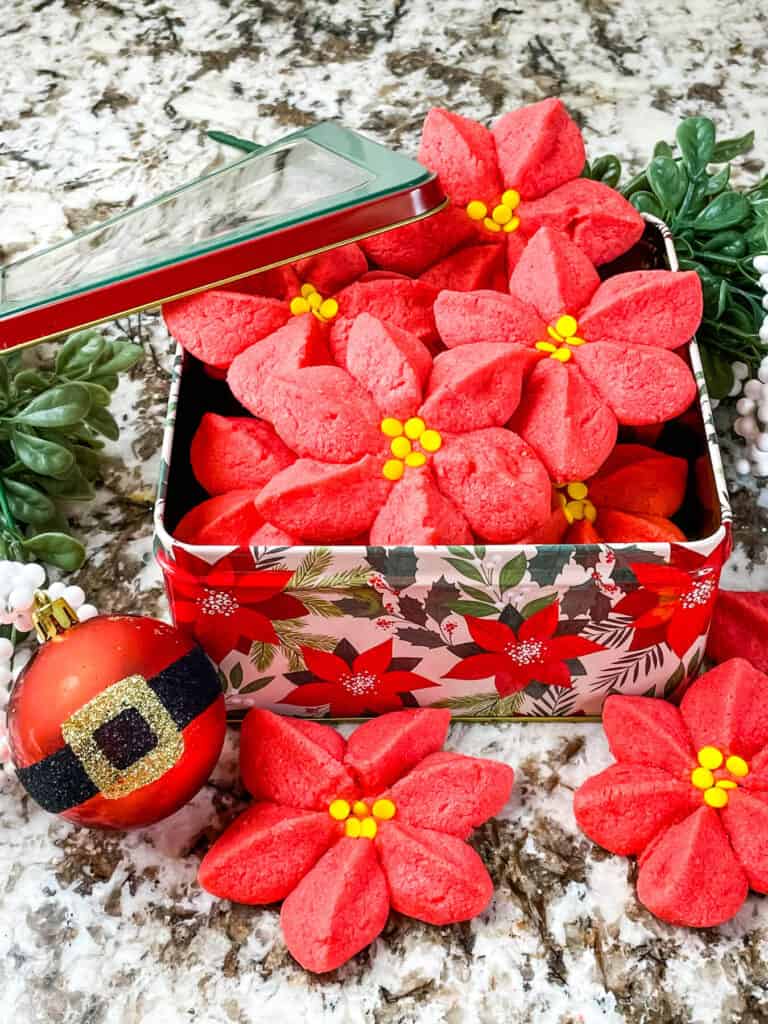 Christmas Cookies
I just cannot get over how adorable these Poinsettia Cookies are!
They make the perfect Christmas cookie for cookie swaps and are a great representation of winter.
Making the dough into flowers takes some extra time and care compared to a traditional drop cookie, but it is worth it!
And this batch makes about 30 large cookies, so there will be plenty to go around!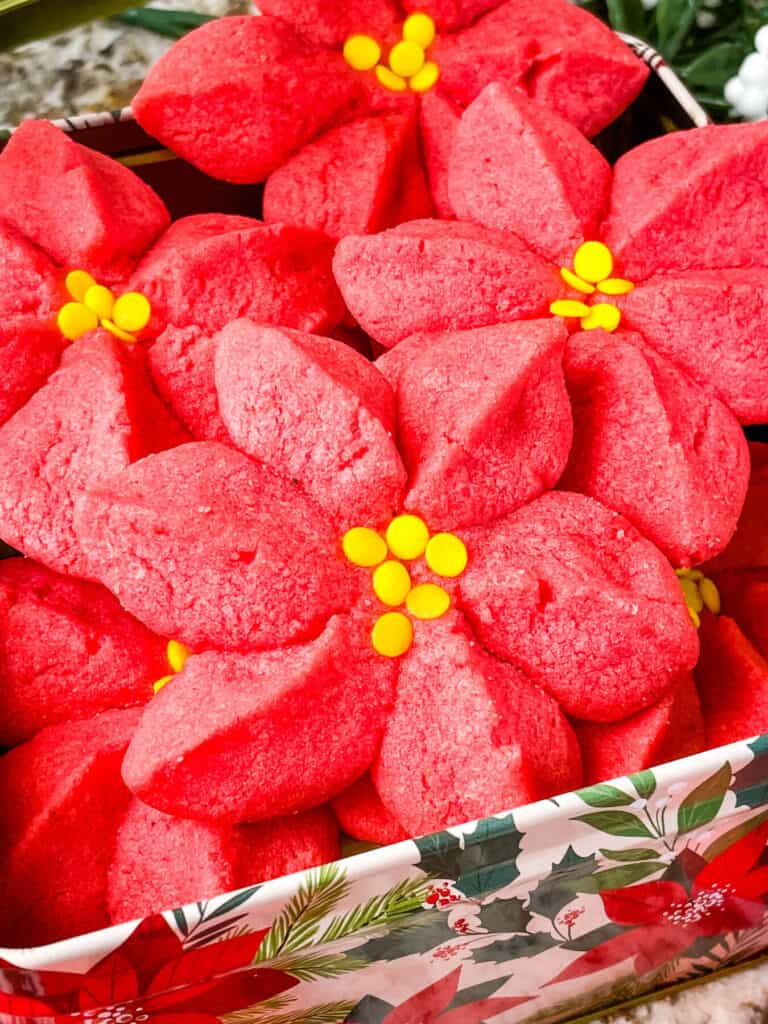 Gelatin in cookies?
Yes, the red color and cherry flavor comes from gelatin!
I know, it might seem weird. I was skeptical at first.
Would the gelatin affect the cookie texture? Surely they would be way too sweet?
But it absolutely works! No problem with weird texture or overly sweet cookies.
It is a great way to add the flavor and a great color without using food coloring.
I use six ounces (one large package or two small) of Cherry Jell-o for a bright red color.
Other red Jell-O flavors will work as well, but I love cherry because it tastes great and is one of the deeper red colors.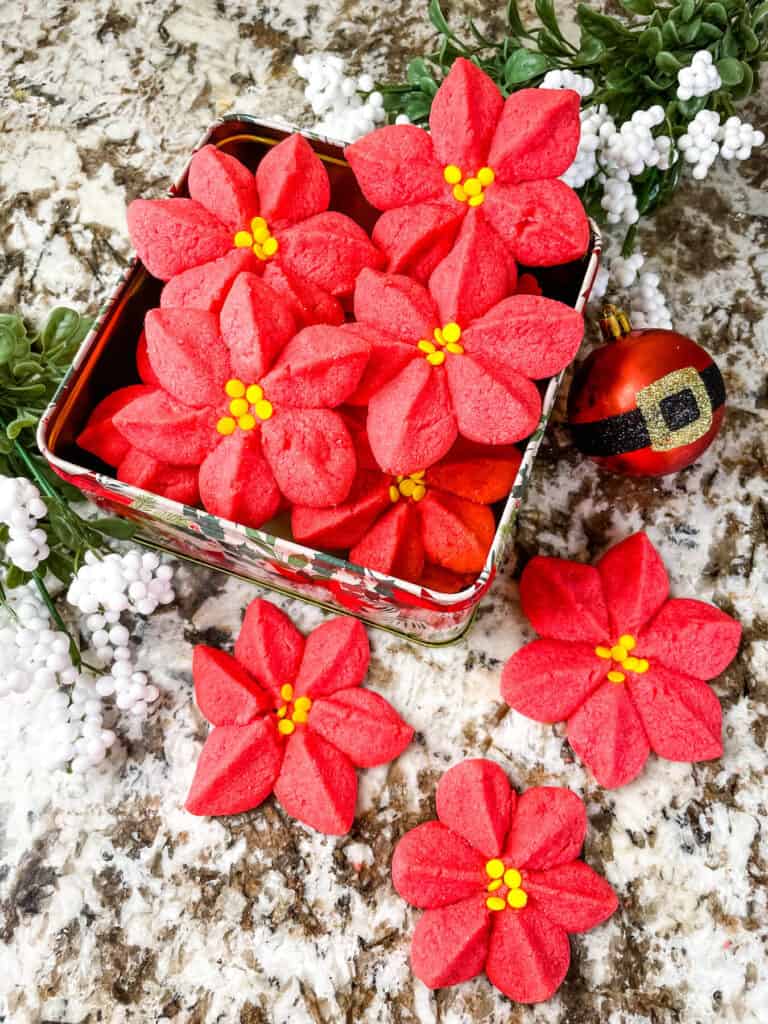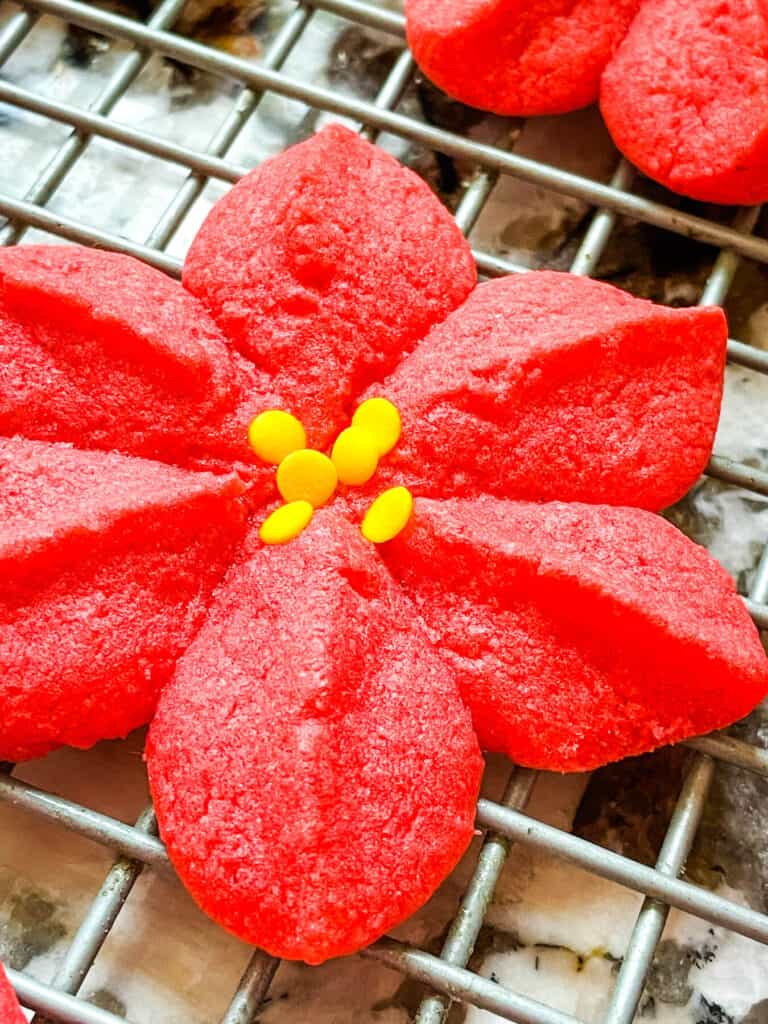 Ingredients for Cookies
This is what you need to make the Christmas cookies:
Sugar
Flour
Egg
Butter
Vanilla Extract
Baking Powder
Salt
I like the round, flat yellow sprinkles for the flower centers but they can be tricky to find online.
You can check your local baking or craft stores for small packages of them, or find a mix with multiple colors and pick out the yellows.
Any yellow sprinkle mix can work! Or even gold sprinkles for some shimmer.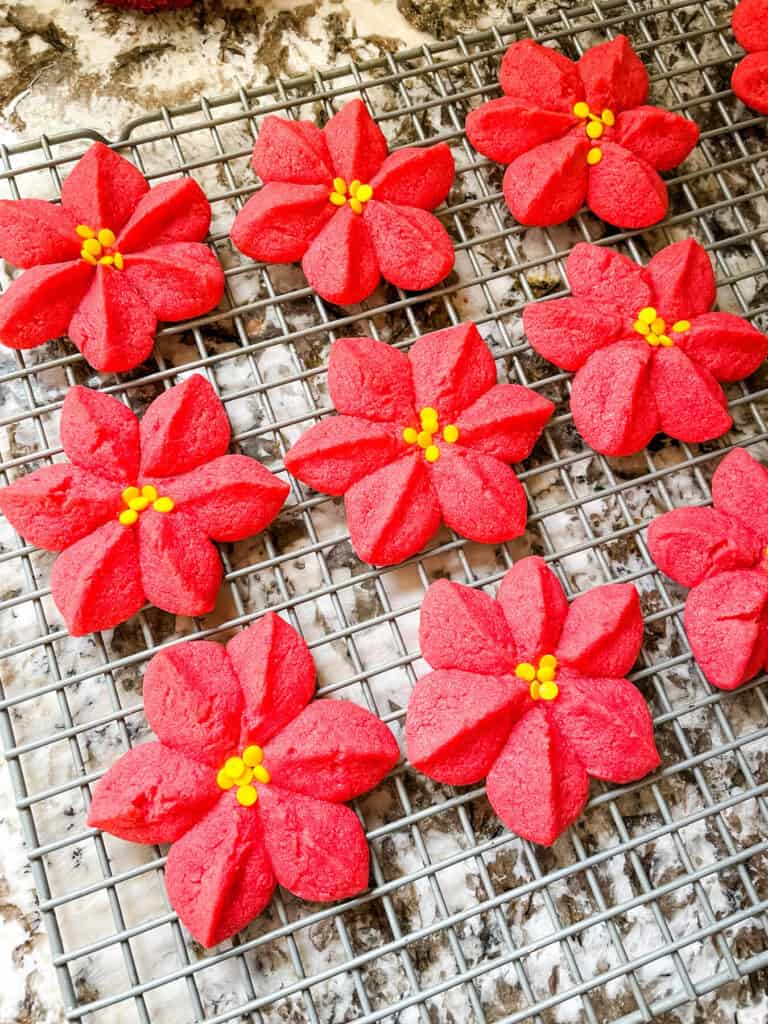 Making the Poinsettia Cookies – Instruction Overview
Making the cookie dough is very much like most cookie doughs.
First beat the sugar and butter with the gelatin in a mixer.
Then add in the egg, vanilla, and baking powder.
Next beat in the flour and salt and you have your dough!
It is going to look rather crumbly and a little dry, but that is okay! As long as it sticks together when you squeeze it, you are in business.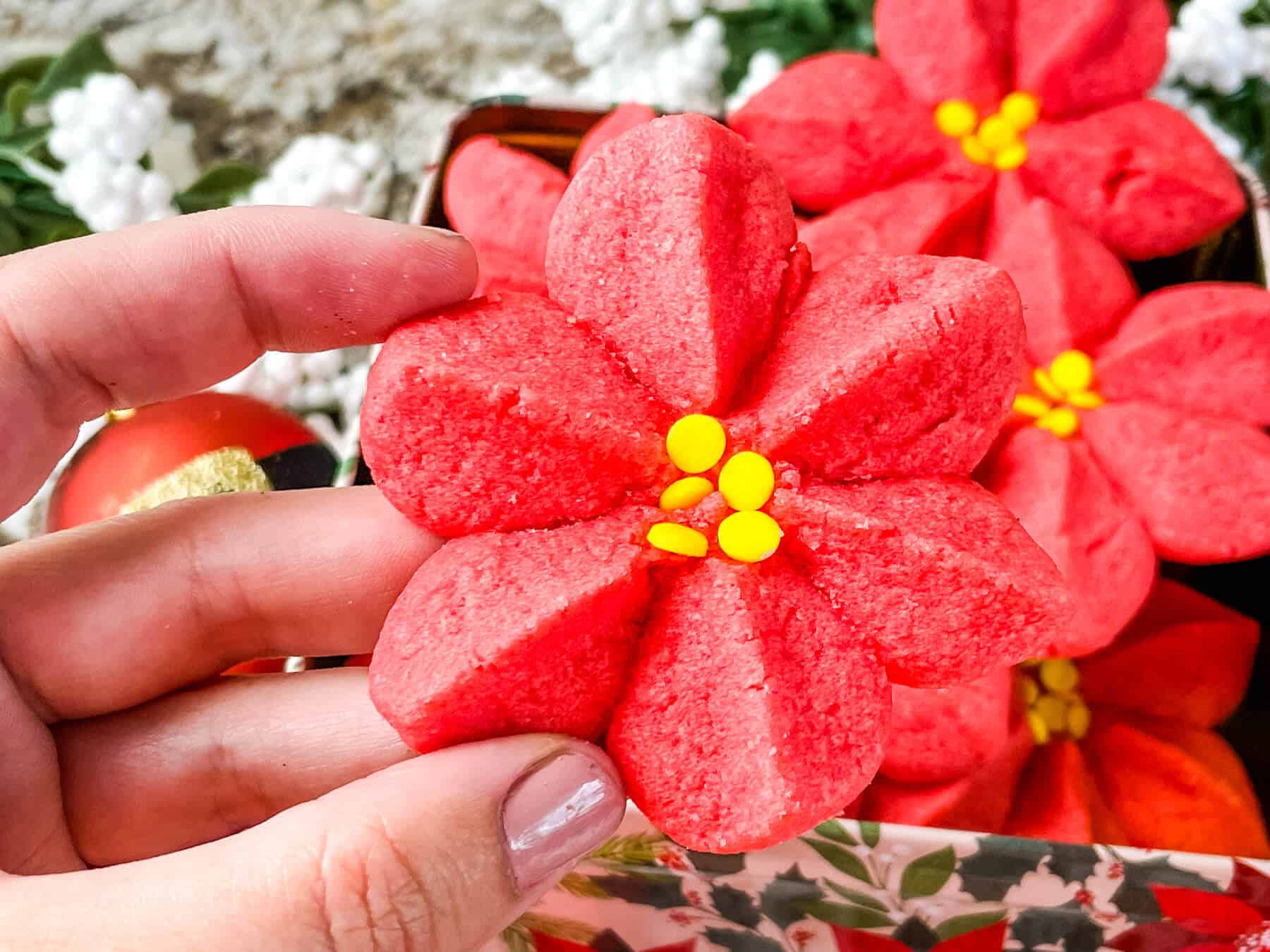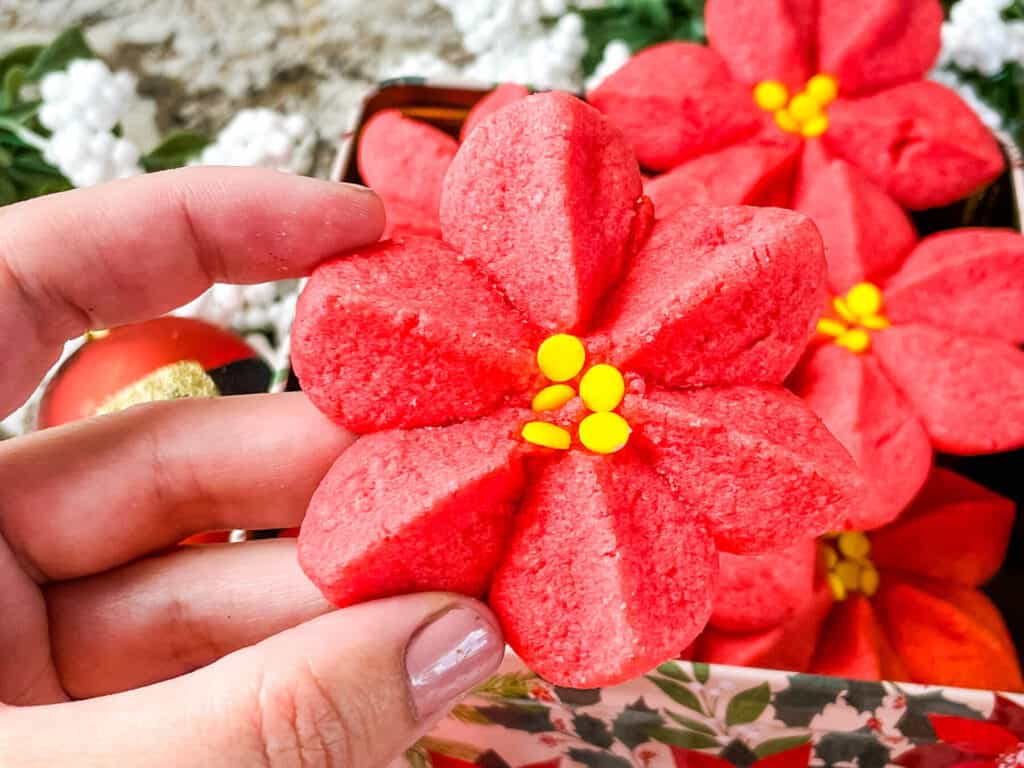 Making the Dough into Flowers
Now comes the fun part – making the poinsettia flowers!
Scoop the dough into equal sized balls, approximately 1.5 Tablespoons (or a size 40 scoop).
Tip: Squeeze the dough together a few times like you would with clay to make sure it is really well mixed. Dry spots inside the dough will result in crumbled petals.
Make it into a nice, round ball and place it on a silicone mat (or parchment paper) lined baking sheet where you want it to stay. Moving the flowers after cutting is very difficult!
Use a sharp knife and saw the ball in half, almost all the way to the bottom. If you cut all the way through, it is okay.
Then rotate and cut across twice more, making six wedges similar in size.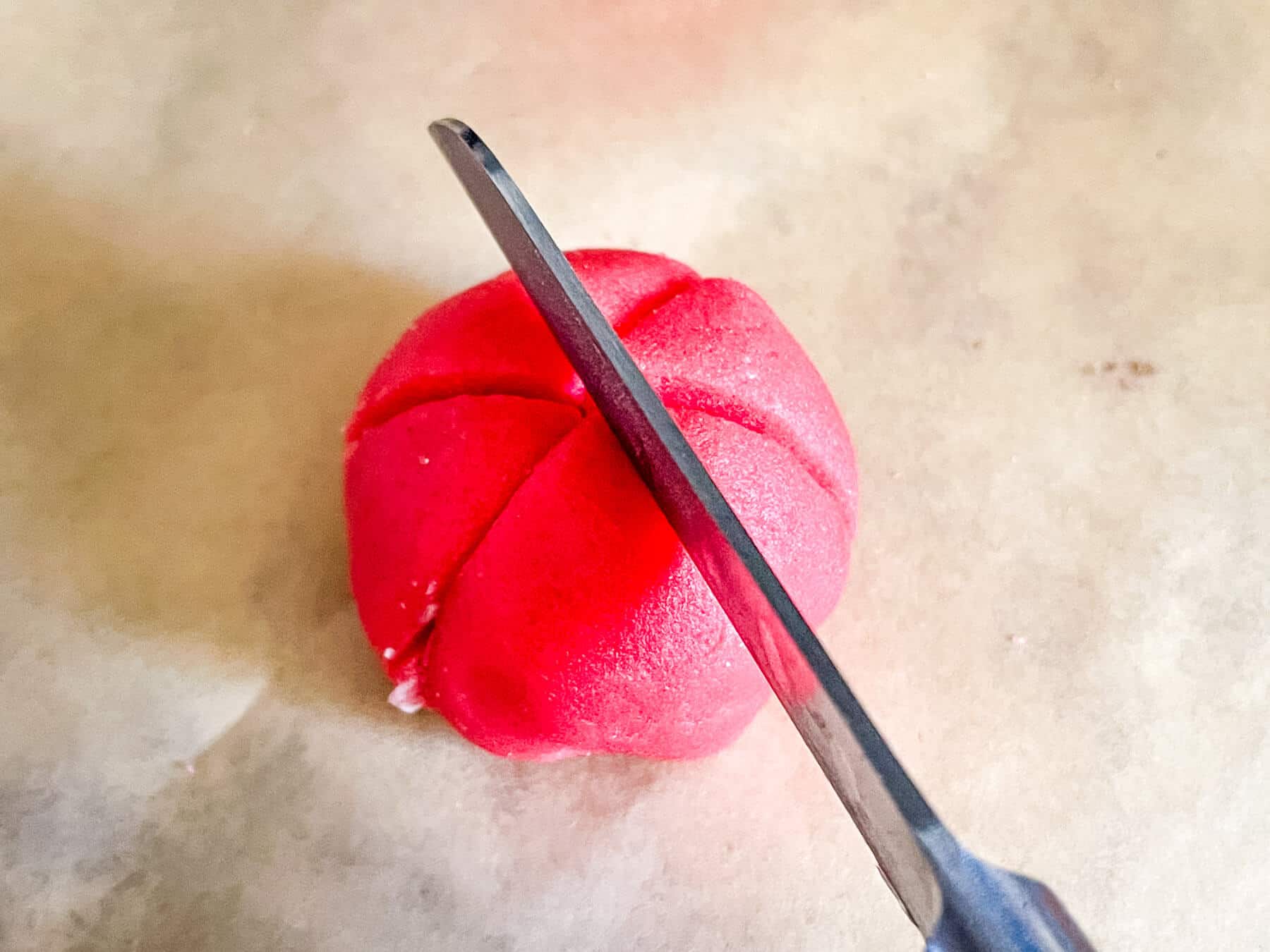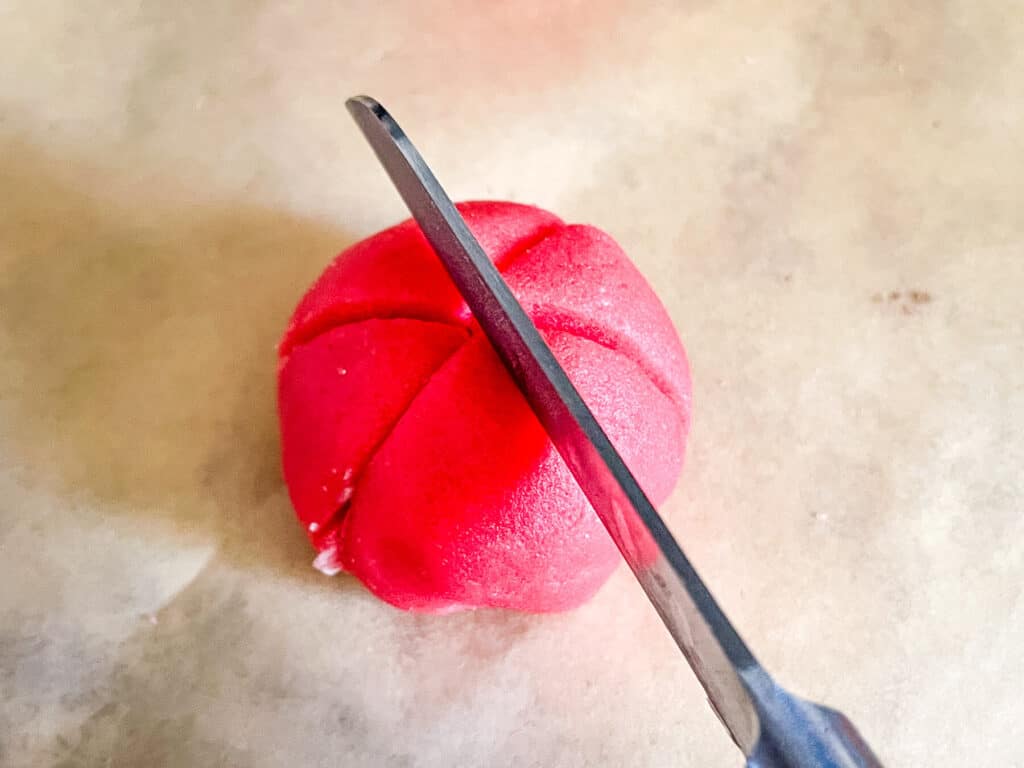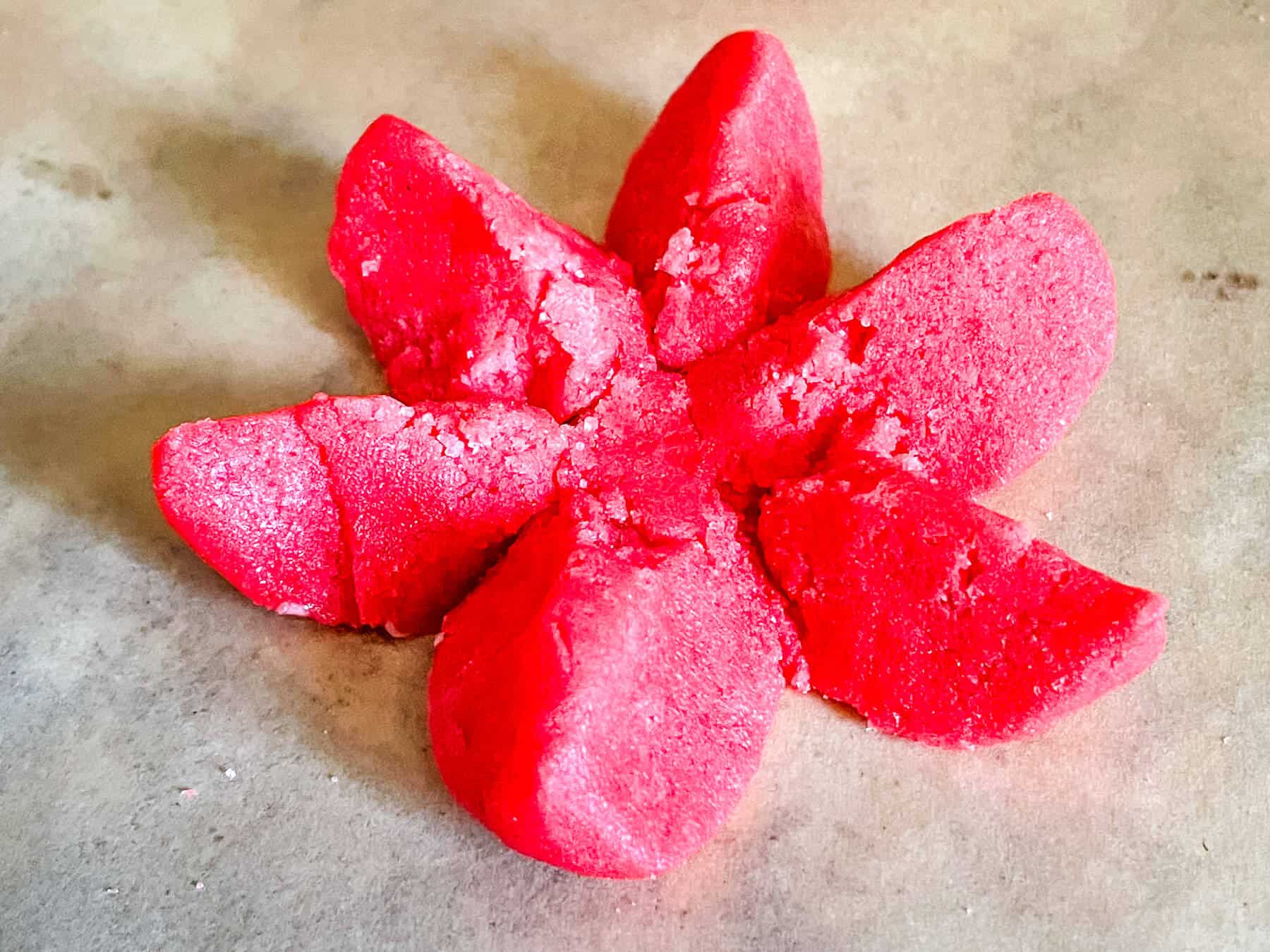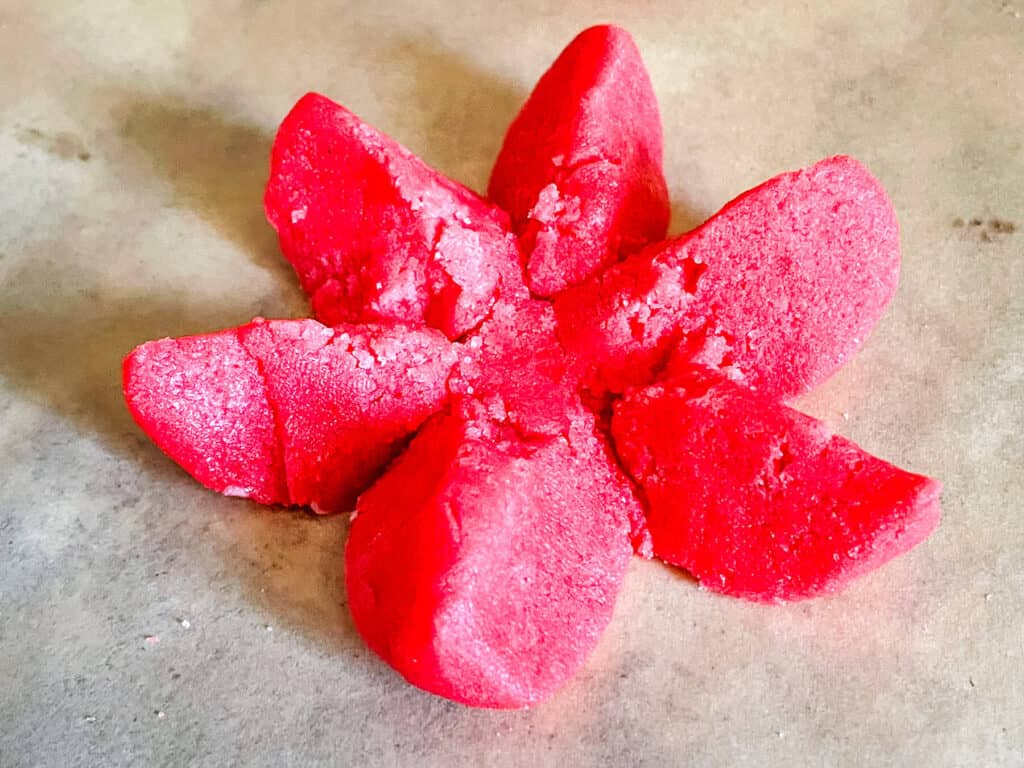 Very gently, peel back the petals. They do not have to lay completely flat as this will happen when cooking.
If you have gaps in the bottoms, making a hole, it is okay. Just get them as close to each other as possible and the gaps will fill in when in the oven.
Place your yellow sprinkles in the middle and then freeze the entire sheet for 10 minutes.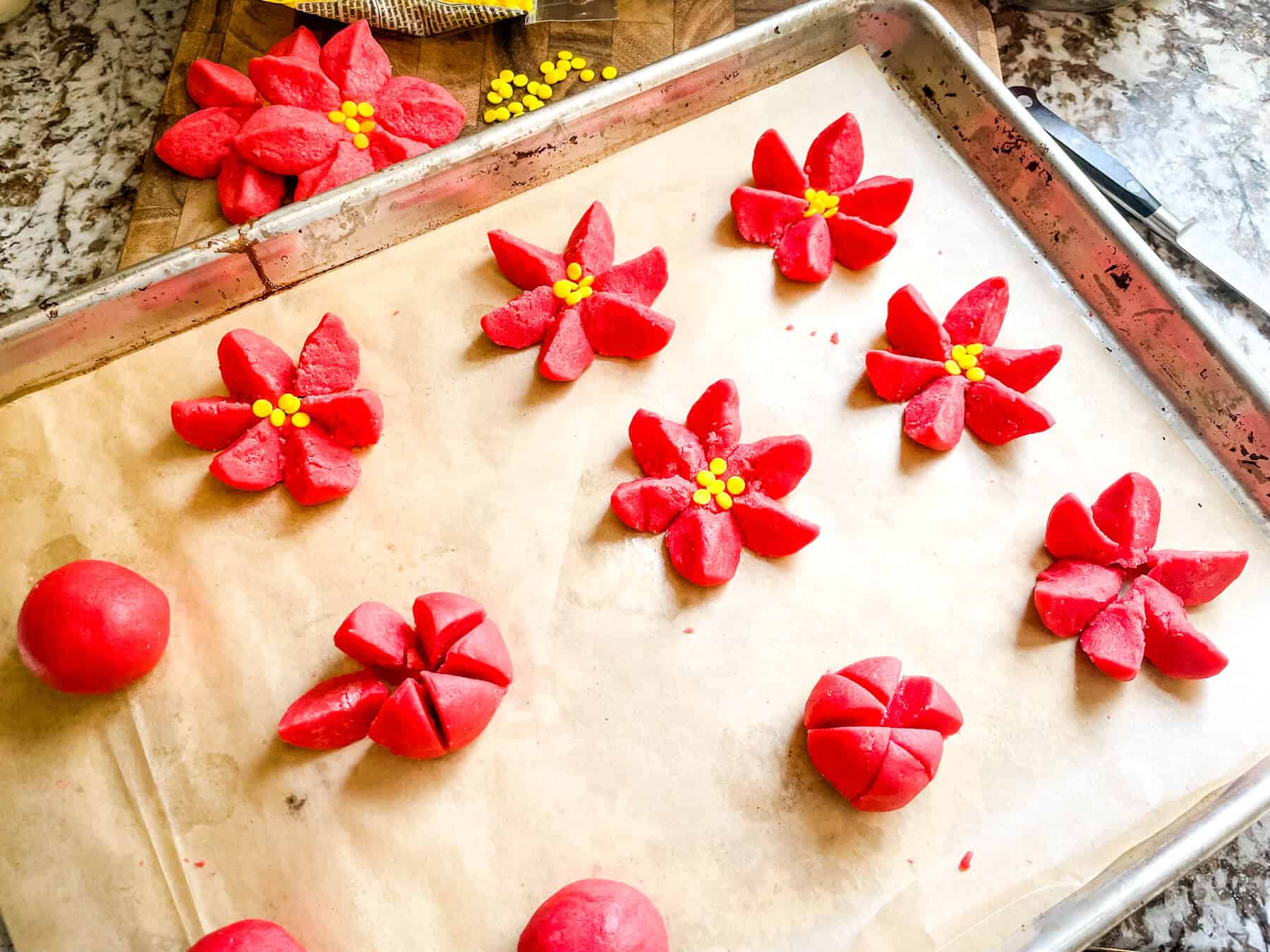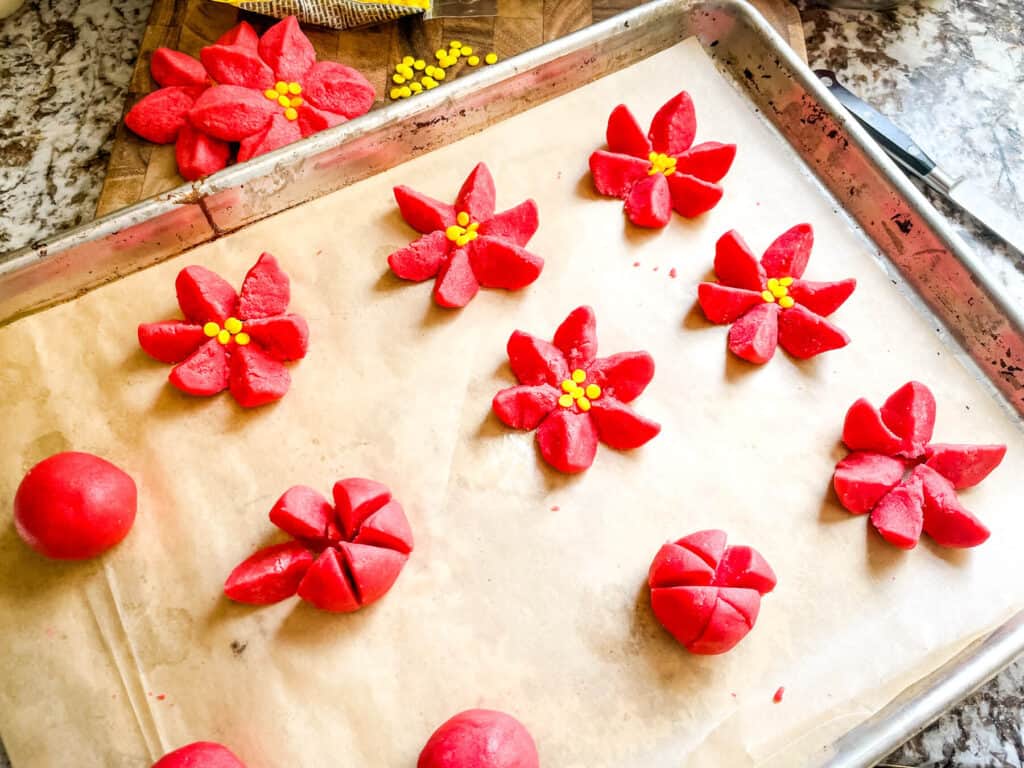 Why Freeze the Cookie Dough?
Freezing the dough makes it extra cold and helps it keep its shape which is important for us to get those crisp edges and definition of the flower petals.
Then bake for about 14 minutes and let the cookies cool at least 5 minutes on the sheet before removing them to a cooling rack.
If you have any sprinkles that disappear from the centers and get sucked into the cookies, simply press a few more on immediately after the cookies come out of the oven.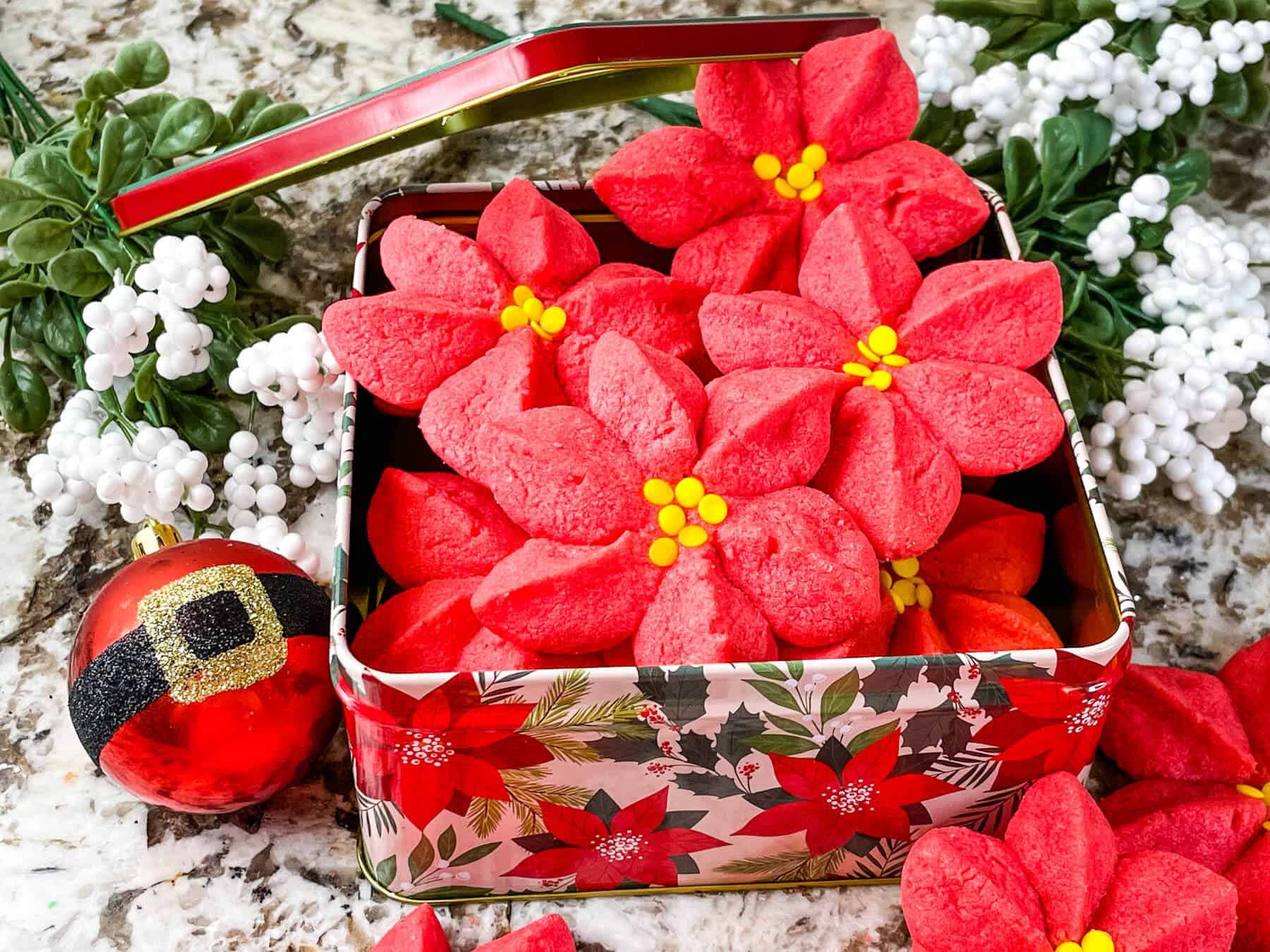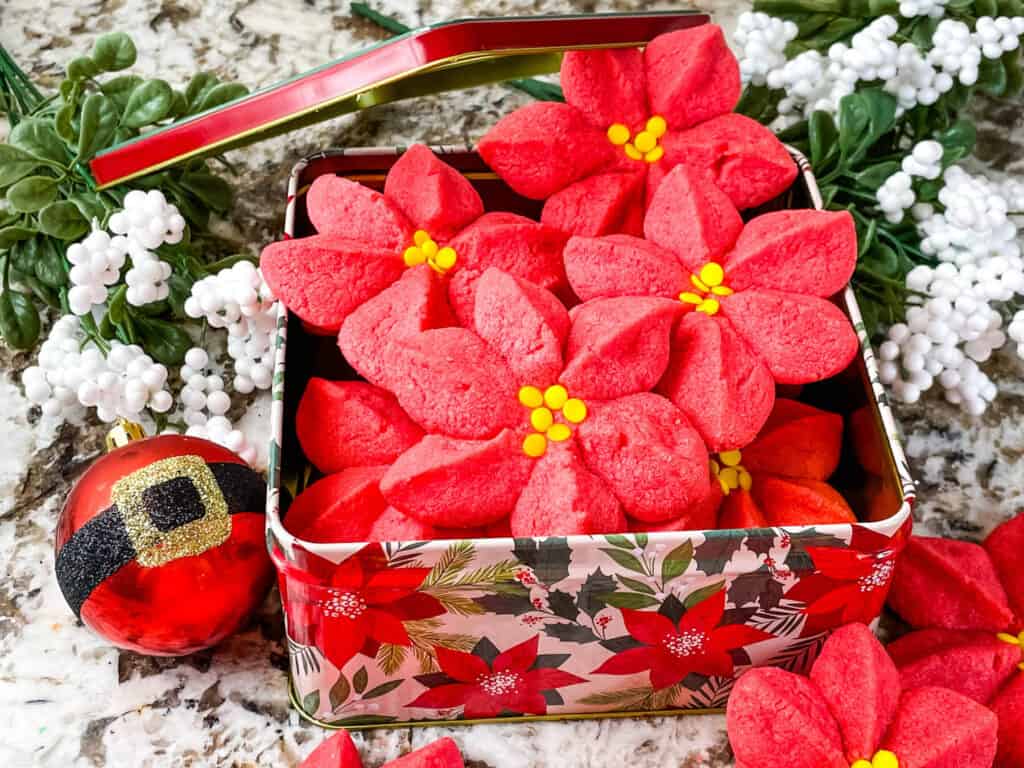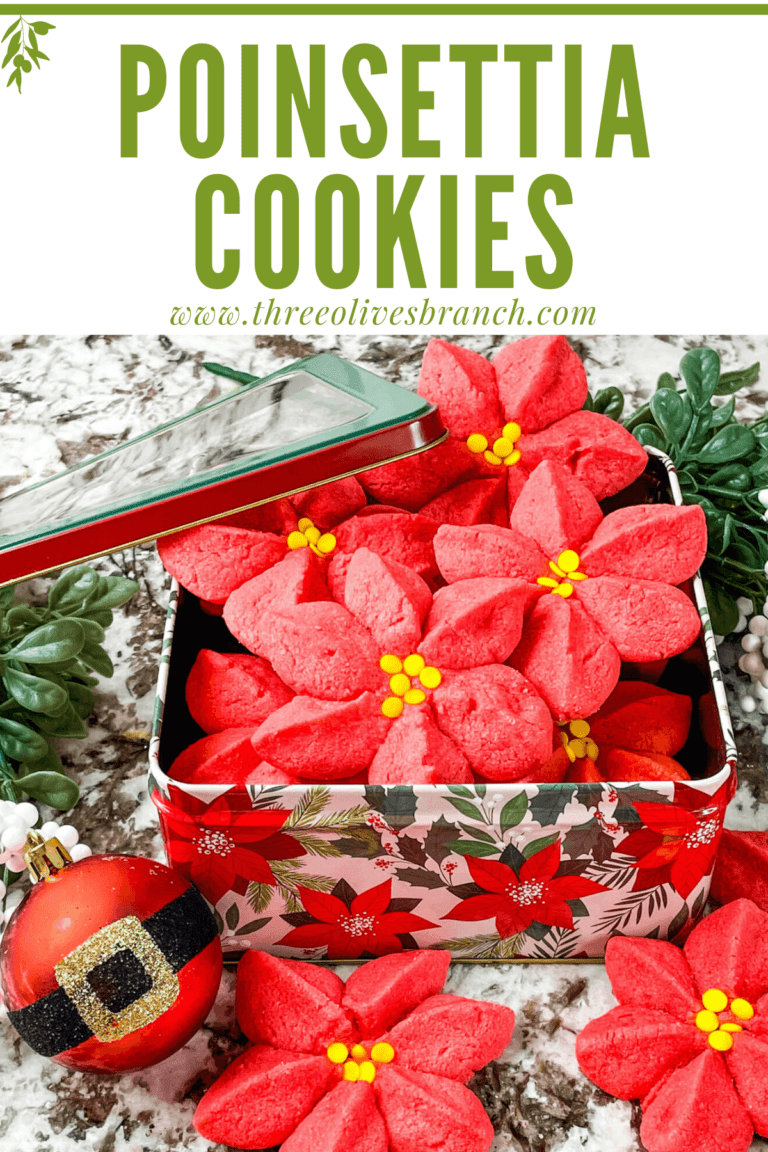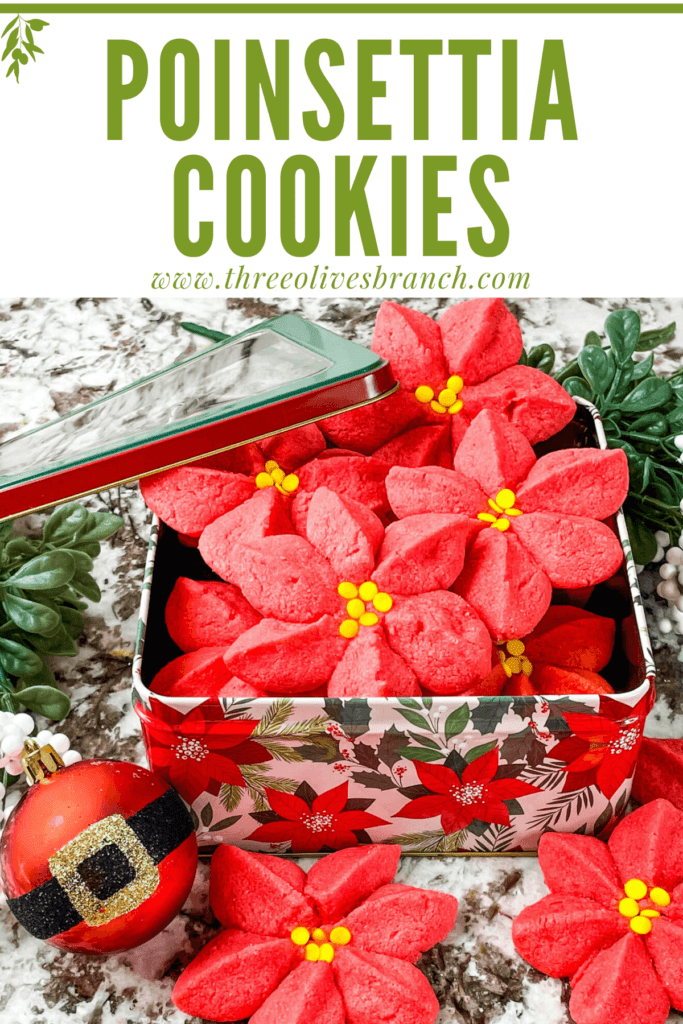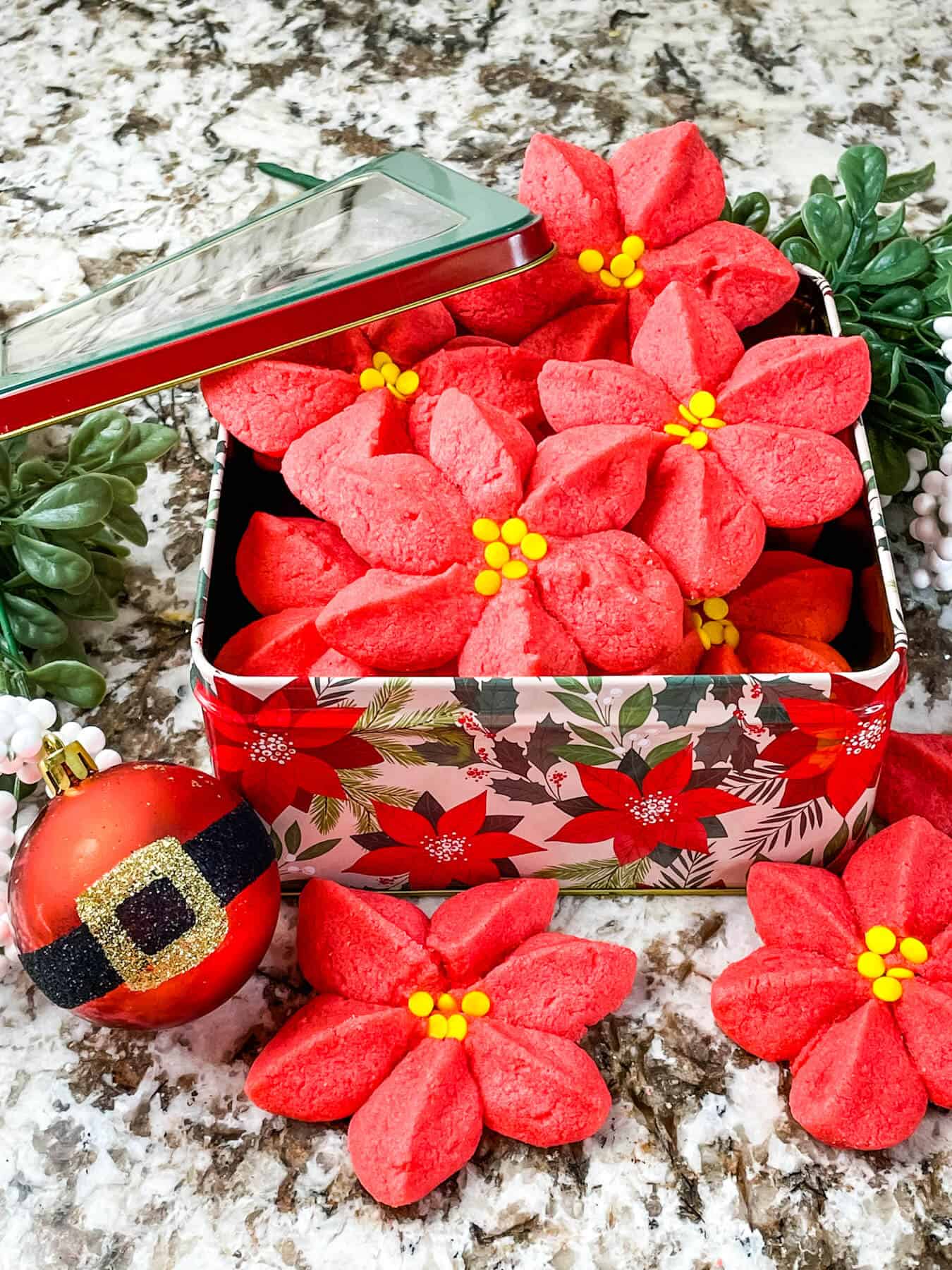 Instructions
In a stand mixer (or large bowl with a hand mixer), use the paddle attachment to beat the softened butter, sugar, and Jell-o mixture together on medium speed until well combined, about 3-4 minutes.

Scrape down the sides of the bowl and add the egg, baking powder, and vanilla extract. Mix again on medium speed for 3 minutes until well combined.

Scrape down the sides of the bowl again and add the flour and salt. Beat on low speed until everything is just combined. It will be crumbly and look a little dry but will stick together if you squeeze it in your hand.

If it does not stick together, add a very small amount of water and briefly mix until it does stick together.

Remove from the mixer and make sure all of the dry ingredients on the bottom are incorporated.

Squeeze a small handful of the dough together. If the dough is not squeezing together well and feels too dry, add a tablespoon of water and briefly mix to incorporate, then check again. The dough should hold together but not be too dry where it does not hold together. You do not want too much moisture because a wet dough will cause it to puff and lose shape in the oven.

Line a baking sheet with a silicone baking mat or parchment paper.

Scoop the dough out with a size 40 scoop (or 1.5 Tablespoons of dough). Squeeze the dough together several times in your hands to make sure it is well incorporated. Roll the dough into a ball.

Place the ball on the baking sheet where you want the cookie to be (they are very difficult to move after cutting). Using a sharp knife, cut down into the ball almost all the way through (if it cuts all the way through, that is fine).

Repeat the cut two more times on the ball, evenly spaced, making six segments.

Gently pull each petal down toward the baking sheet. It does not have to lay flat as it will fall further when baking.

If the base comes apart, it is fine, just simply place the petals as close together in the center as possible. When it bakes, it will close the gap.

Place several of your yellow sprinkles in the center of the flower.

Repeat with additional dough until the baking sheet is full (9-12 flowers).

Freeze the cookies on the baking sheet for 10 minutes.

This helps them keep their shape.

When the oven is hot and the cookies have chilled, bake the cookies for 12 minutes until set and barely turning a light brown on the bottom edges. You almost want them to seem a little undercooked to get soft cookies.

Remove from the oven and let sit on the baking sheet for 5 minutes to firm up a little. If needed, add additional yellow sprinkles immediately after removing from the oven (sometimes they get sucked down under the cookie).

Remove from the baking sheet to finish cooling on a cooling rack.

Repeat the process with the remaining dough, making additional batches as others are chilling and baking.

If your dough is becoming too dry as you go, add a very small amount of water as needed.
Notes
If you are constantly working new batches while cookies are chilling and cooking, it will be faster than if you do one tray start to finish before starting another.
Nutrition
Serving:
1
cookie
|
Calories:
143
kcal
|
Carbohydrates:
20
g
|
Protein:
2
g
|
Fat:
6
g
|
Saturated Fat:
4
g
|
Polyunsaturated Fat:
1
g
|
Monounsaturated Fat:
2
g
|
Trans Fat:
1
g
|
Cholesterol:
22
mg
|
Sodium:
122
mg
|
Potassium:
32
mg
|
Fiber:
1
g
|
Sugar:
10
g
|
Vitamin A:
197
IU
|
Calcium:
11
mg
|
Iron:
1
mg
Cookie Recipes
Delicious cookie recipes that you can enjoy all year long!

By