No Bake Christmas Wreath Cookies are made with just three ingredients. An easy and fast cookie recipe for the holiday. Great for a cookie swap plate or decorating baked goods.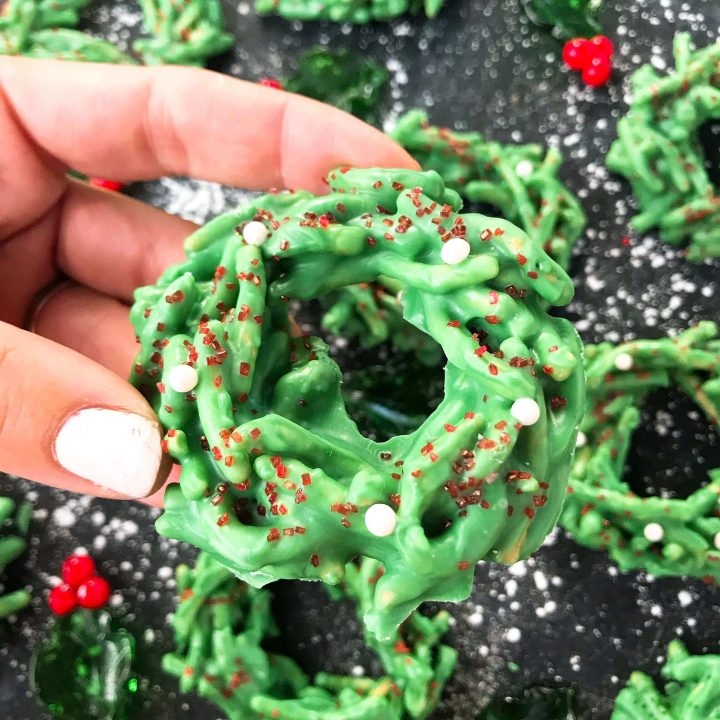 These No Bake Christmas Wreath Cookies are a fast and simple Christmas cookie recipe to celebrate the holidays.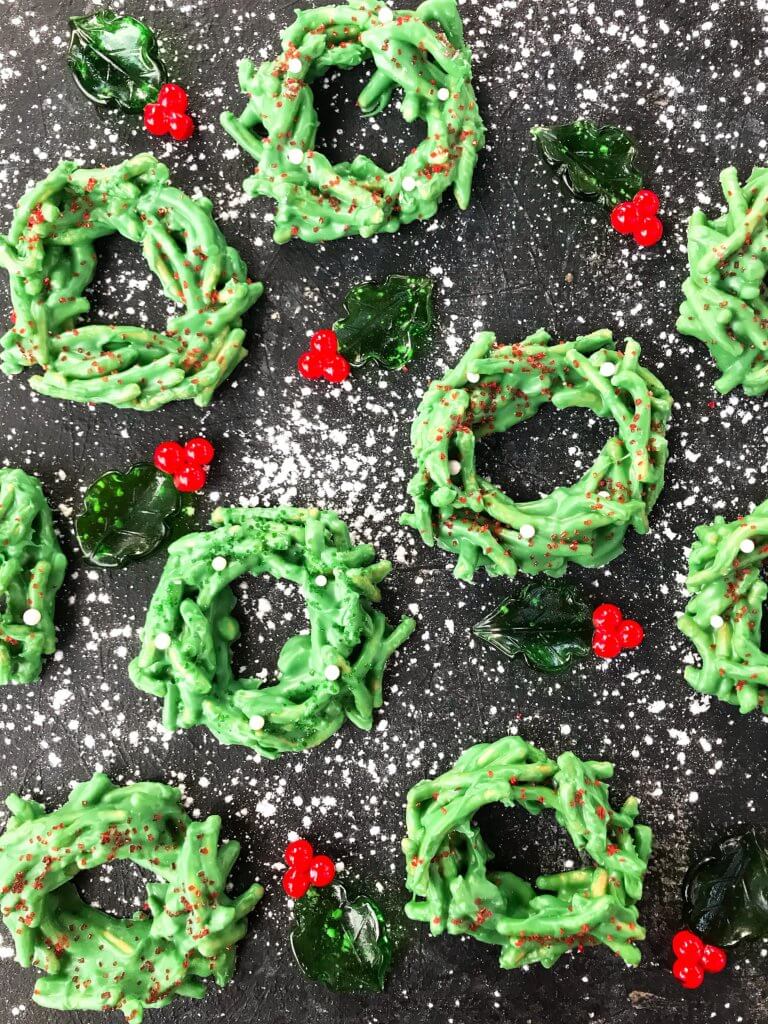 This post contains affiliate links.
No Bake Christmas Cookies
These No Bake Christmas Wreath Cookies were inspired by anthills that we made growing up. 
The anthills use chocolate and butterscotch, and you pile them up into mounds on a baking sheet.
By switching to the green candy melts and making them in a circle, you have a wreath!
The candy melts are definitely sweeter than the chocolate and butterscotch mixture, but oh so good!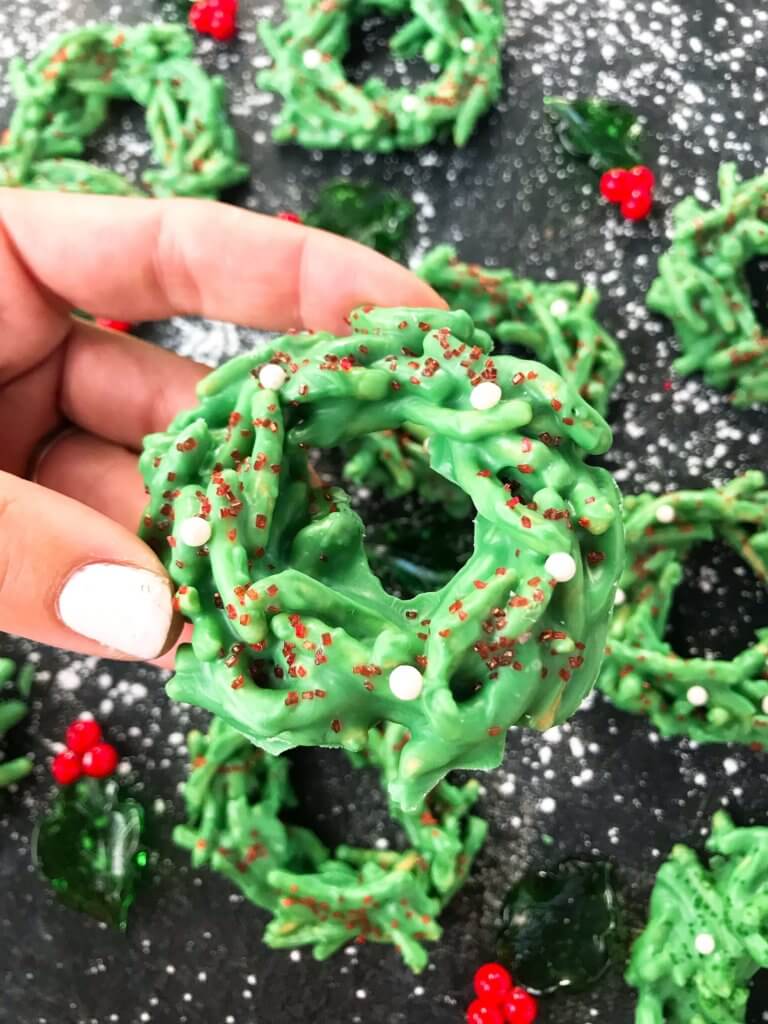 I love making some of the standard Christmas cookies every year, but I always want to try out a few new ones, too.
Typically there is a baking party at someone's house and we go to town with lots of different cookies.
Best part of doing this? With multiple people and so many recipes, you get to walk away with quite the variety and some new cookie inspiration!
But all those cookies means limited oven space, so something like these No Bake Christmas Wreath Cookies are perfect to keep the baking party going while the oven is occupied.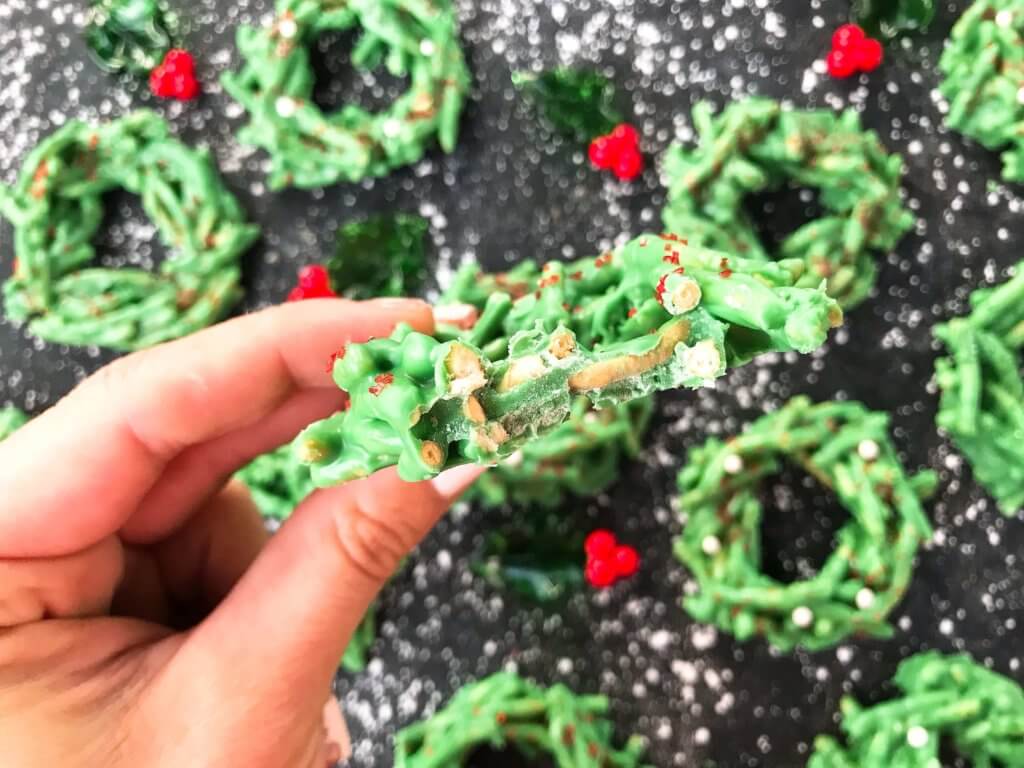 Making these No Bake Christmas Cookies is easy and does not require the oven.
Make sure to not leave any gaps or weak points in the wreath where they could break! Decorate with sprinkles and let set until hardened. That's it!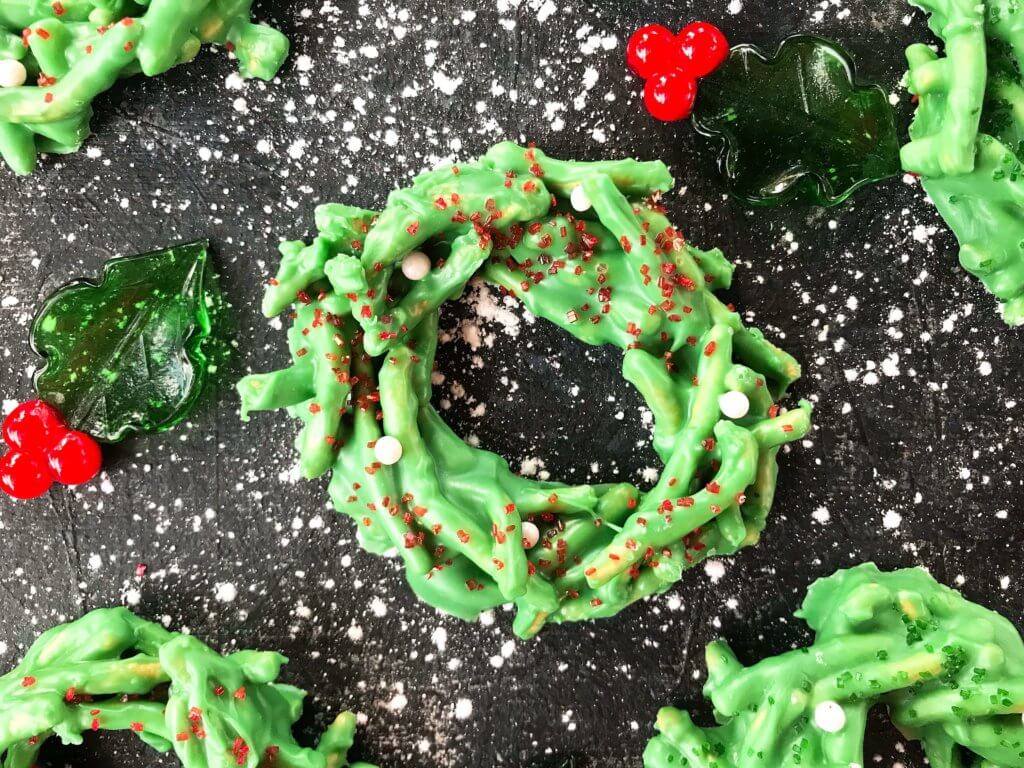 Three Ingredient Cookies – Ingredients Needed
Here is what you need to make these Christmas Cookies:
You can find chow mein noodles in a bag in the International/Asian section of your grocery store.
I like to use a variety of sugar sprinkles and sprinkles that are small, round balls to give a variety of ornaments and decoration to the wreaths. Use anything you have and like!
Candy Melts vs White Chocolate
I prefer to use green candy melts instead of colored white chocolate for these no-bake Christmas cookies.
Why? White chocolate is temperamental and does not like to melt well!
If you do choose to go the route of white chocolate, it is best to melt it in a double boiler on a stove. That means filling a pot with a couple inches of water, getting it simmering, and placing the chocolate in a bowl that sits on top of the pot without touching the water. Stir until melted.
Microwaving is more difficult because the white chocolate easily seizes and does not melt well.
When using green candy melts, melt as per package directions which can be done in the microwave.
Just be ready to work fast regardless so you can get your wreathes made before it sets up!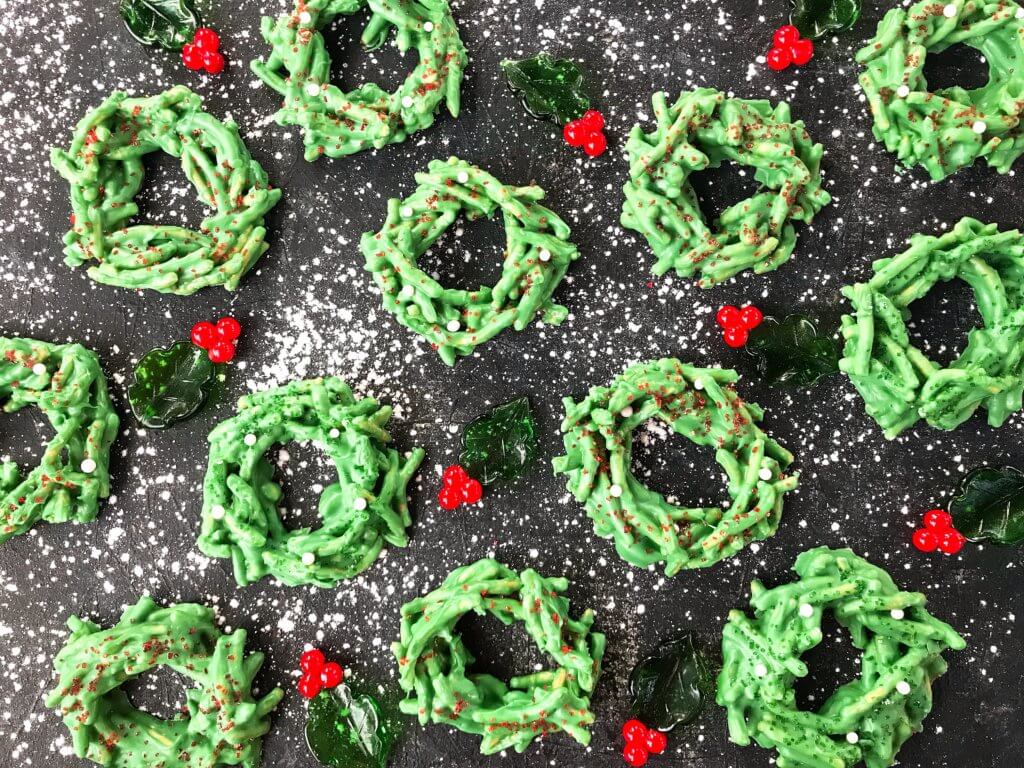 Instruction Overview
To make these wreath cookies, first melt the candy melts per package directions.
It is very important to not heat them too hot or too long as the candy will start to seize up and be difficult to work with.
Add the noodles and mix well to coat.
Then use two spoons and start to scoop the mixture onto wax paper or a silicone baking mat. Use the spoons to shape the mound into a circle wreath with a hole in the middle.
If there is candy melt in the center, plugging the hole, no worries! You can easily break it off later. Just make sure there is a gap of noodles. Also do not leave any part of the wreath too thin so it does not break.
Then let them sit to harden before storing them in an air tight container.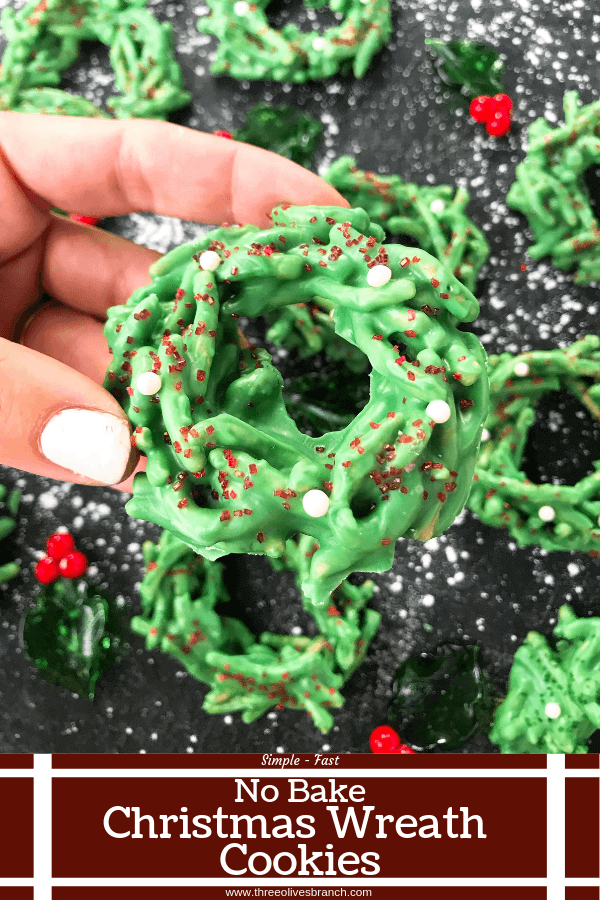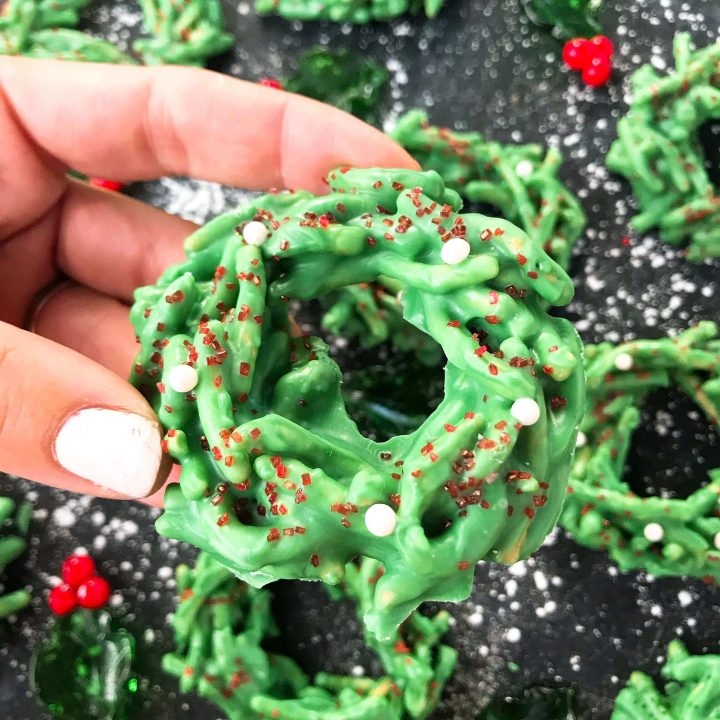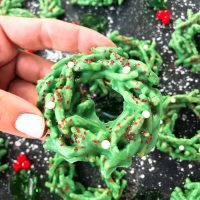 No Bake Christmas Wreath Cookies Recipe
No Bake Christmas Wreath Cookies are made with just three ingredients. An easy and fast cookie recipe for the holiday. Great for a cookie swap plate or decorating baked goods.
Print
Pin
Rate
Instructions
Put all of the green candy melts in a medium bowl. Microwave until melted as per package directions.

Immediately mix in the chow mein noodles. Gently fold the mixture until all noodles are covered.

On a parchment or silicone baking mat lined baking sheet, use two spoons to make the wreaths. Spoon a little at a time into a circle shape with a hole in the middle. Use the spoons to push the noodles into the circle shape, ensuring that they make a solid circle without gaps.

Immediately decorate the wreath with colored sugars and sprinkles.

Repeat until you use all of the mixture. If the mixture starts to harden, soften by microwaving as per package directions of the candy melts.

Let set until hardened.
Notes
Get the green candy melts here
Use any sprinkles that you like to decorate the wreathes
Makes approximately 18 wreathes depending on how large and thick they are.
Nutrition
Serving:
1
cookie
|
Calories:
135
kcal
|
Carbohydrates:
23
g
|
Protein:
4
g
|
Fat:
3
g
|
Saturated Fat:
2
g
|
Sodium:
173
mg
|
Fiber:
1
g
|
Sugar:
6
g
|
Iron:
1
mg
Cookie Recipes
Delicious cookie recipes that you can enjoy all year long!

By