Pumpkin Patch Dirt Pudding Dessert is a fun and festive dessert recipe for fall, Thanksgiving, and Halloween. A simple instant pumpkin pudding layered with cookies and topped with a candy pumpkin patch. Full of pumpkin spice flavors.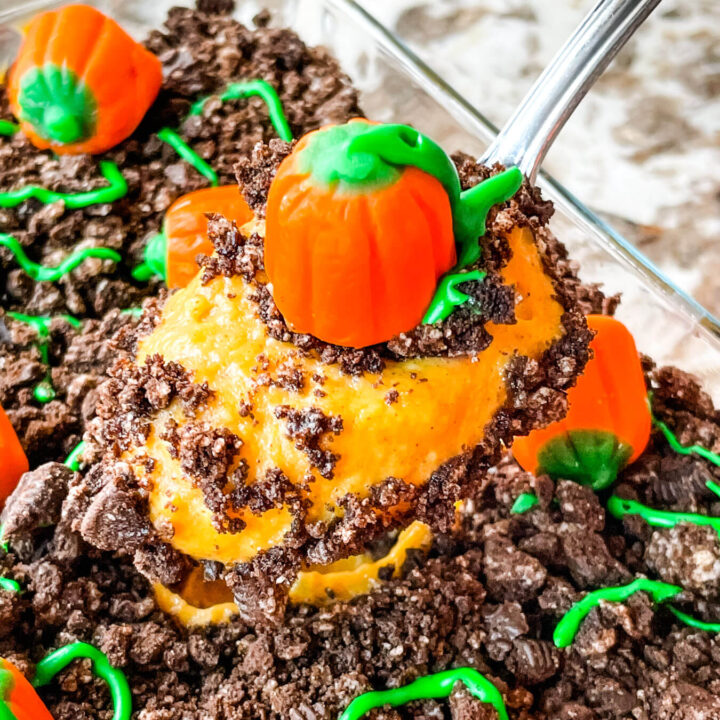 This Pumpkin Patch Dirt Pudding Dessert is an adorable and delicious pumpkin dessert recipe! Perfect for fall, Halloween, and Thanksgiving.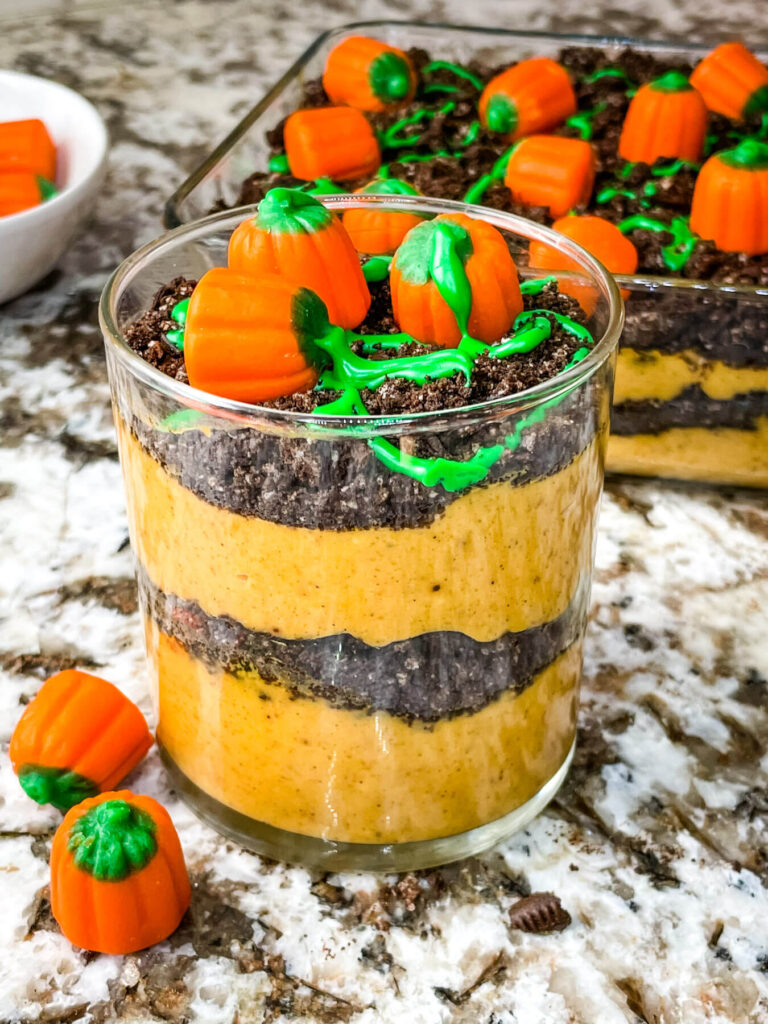 Why This Recipe is Great
I always try to make food that looks great without being overboard in complexity, but once in a while I make something that looks SO good or is SO cute that I can't handle it.
And this is one of those things.
This idea just also kept expanding into what you see here, from a dirt pudding with pumpkins on it to one that involved both pumpkin puree and pumpkin spice to really drive the theme home.
It would make an amazing dessert recipe for Thanksgiving, Halloween, or fall in general.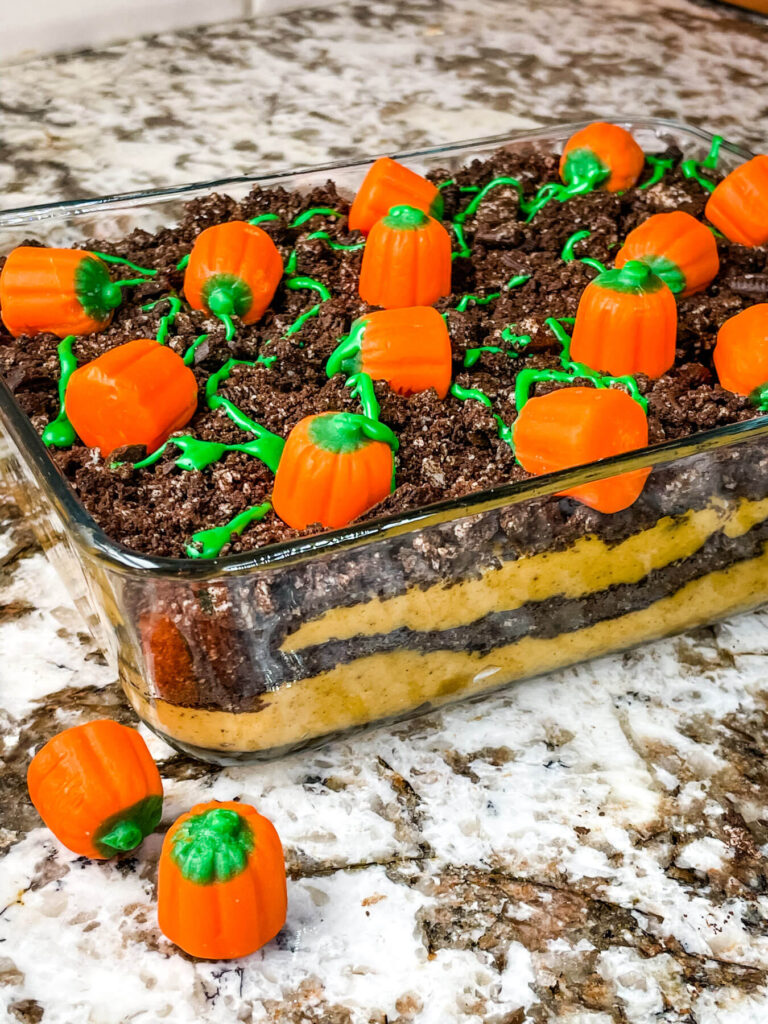 Ingredients Needed
Here is what you need to make this dirt pudding dessert:
Instant Vanilla Pudding
Whole Milk
Chocolate Sandwich Cookies (like Oreos)
I like to use my own homemade pumpkin spice blend because it is so easy to make and you can adjust it to your preference with each spice used.
And I recommend using whole milk because it is richer and thicker, but other fat contents of milk will work as well.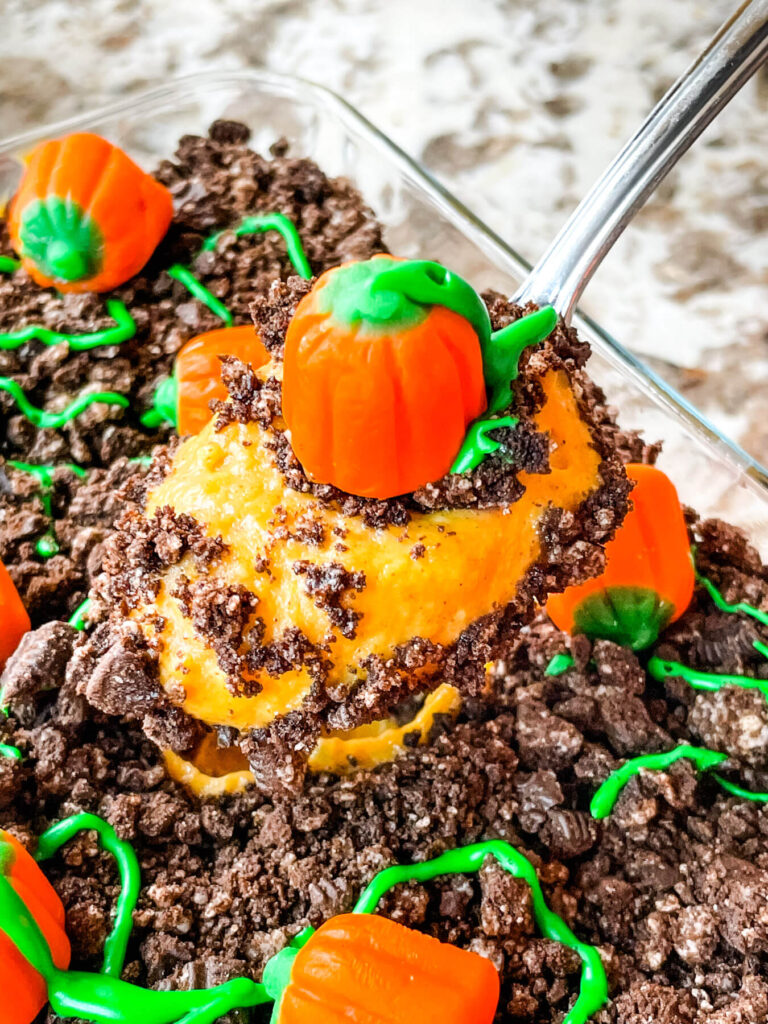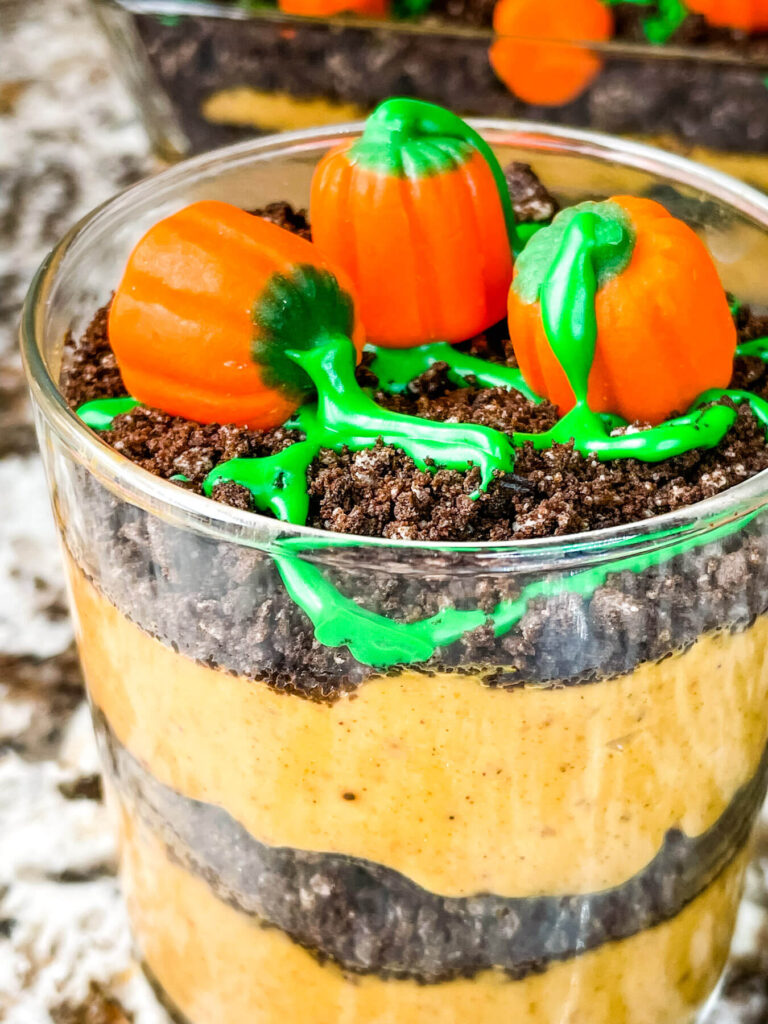 Instruction Overview
First get your pumpkin pudding whipped up so it can thicken. Whisk together the pudding mix, pumpkin, milk, and pumpkin spice in a large bowl. Set aside.
Then smash those Oreo cookies in a large bag with a rolling pin. You can also use anything heavy like a wine bottle, canned good, or even a pot.
Leave the cookie filling in there! And roll or smash until the cookie bits are as small or large as you like. I prefer to still have some larger chunks in there for texture.
Then get to layering! You first need to decide if you want to do one large dish or small individual portions. The large dish is faster, and people can get their perfect portion, but you lose some of the dirt layer effect when serving.
I like to have two pudding layers and two cookie layers, but you can do as many or few as you would like.
Chill for at least 30 minutes so it is nice and cold and sets up more.
When ready to serve, pipe on some vines with green frosting and place your pumpkins in their patch!
I do not recommend adding the vines and pumpkins until ready to serve because they can start to seep and bleed into the cookies.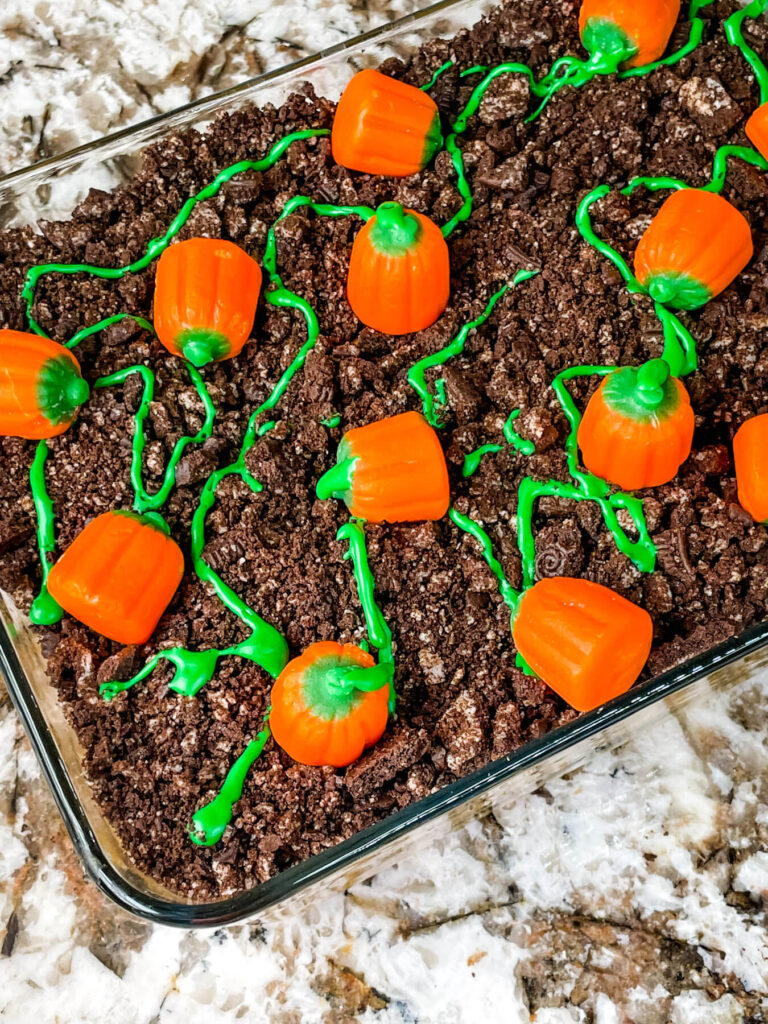 Instruction Video on YouTube
Modifications and Variations
Not a fan of pumpkin? You can use a chocolate or vanilla pudding and skip the pumpkin puree.
Serve them up in a cup or a large dish, whatever you like best or is easier!
Add some cookie gravestones for a spooky graveyard!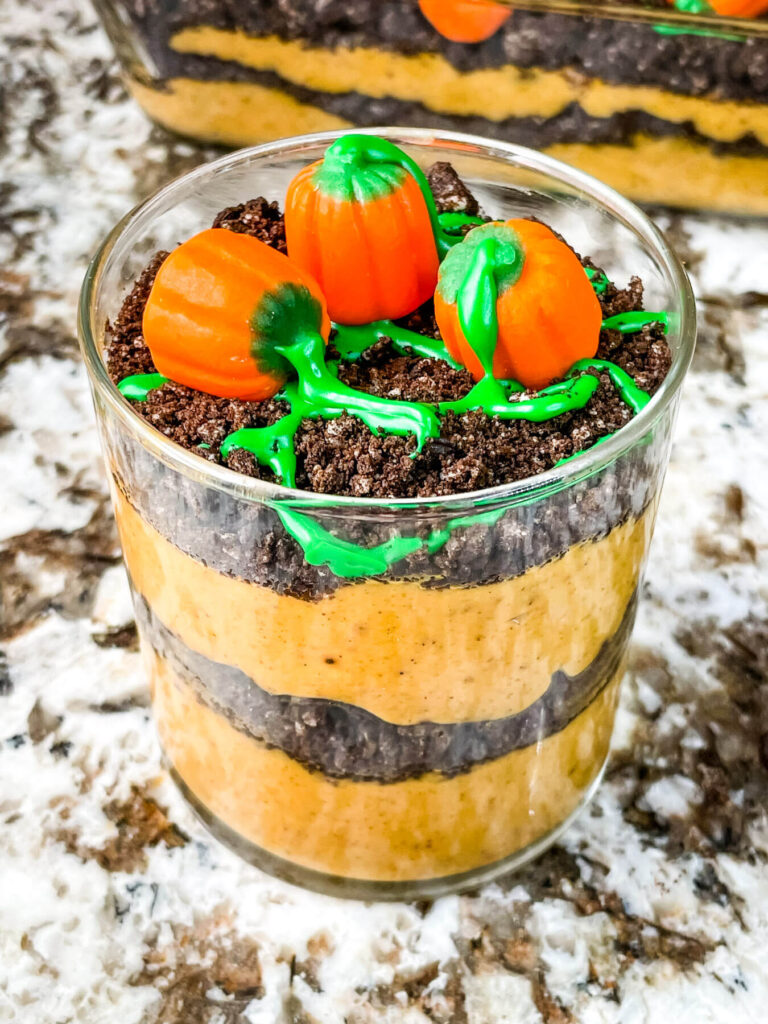 FAQs
Is mashed pumpkin the same as pumpkin puree? Is pumpkin the same as pumpkin pie filling?
Yes, mashed pumpkin and pumpkin puree are the same thing. They are the squash mashed down without added flavors.
But no, pumpkin puree is not the same thing as pumpkin pie filling. Make sure you grab pumpkin puree and not the pumpkin pie mix. The pie mix already has lots of other sugars and flavors in it which is going to change your final dessert.
Is there pumpkin instant pudding?
Yes, there are pumpkin instant puddings in the store during the fall. They can be hard to find, however.
But this dessert is special because it uses a homemade pumpkin pudding!
To do this, you combine a vanilla instant pudding with pumpkin puree.
I prefer this version that combines flavors into the vanilla pudding because the flavors are so much richer and deeper.
Kim's Tips
The layer of dirt in the middle is not required and not always the norm depending on who you ask, but SO worth it!
Whole milk is best to make it really rich and creamy, opposed to kind of watery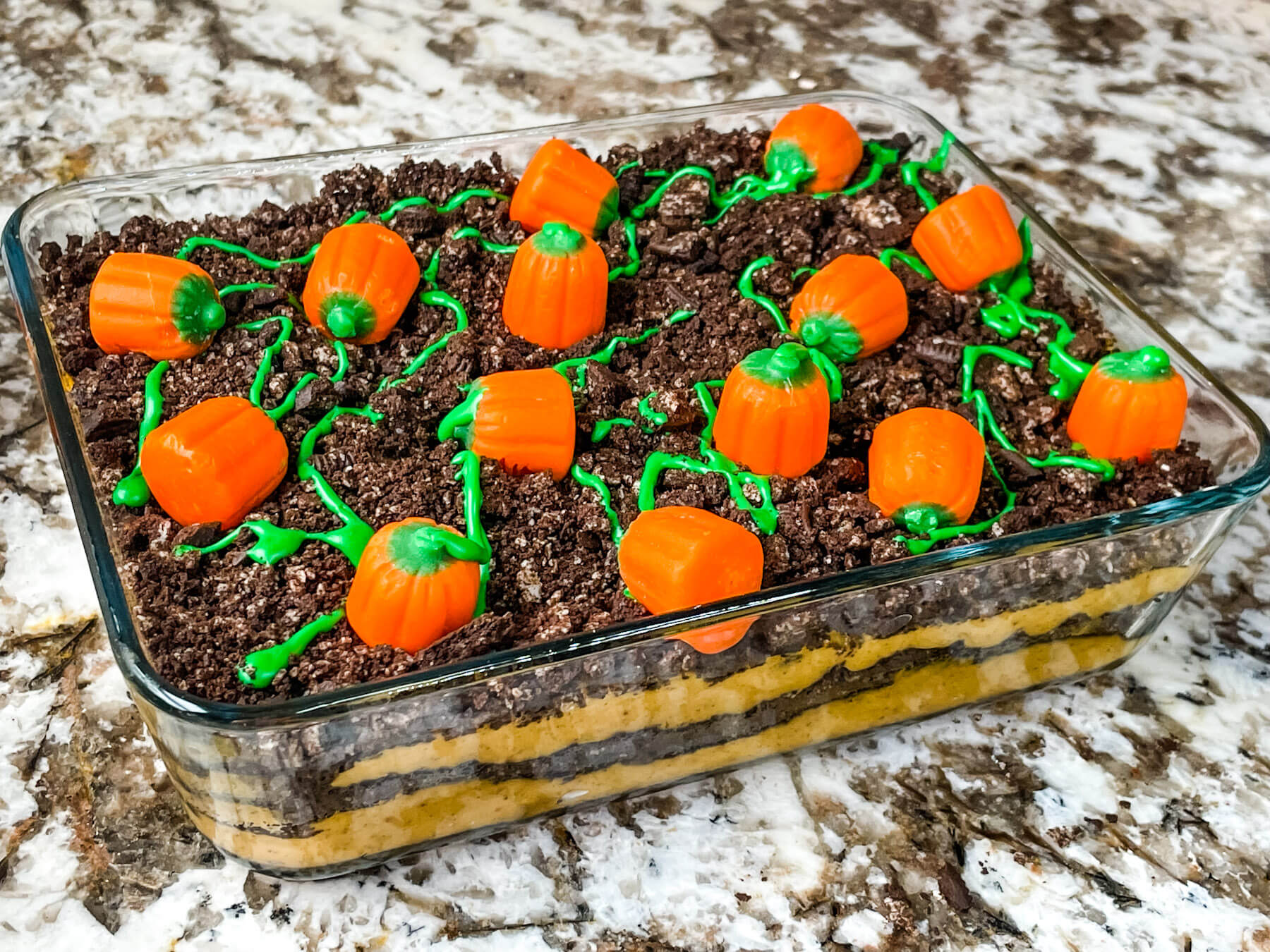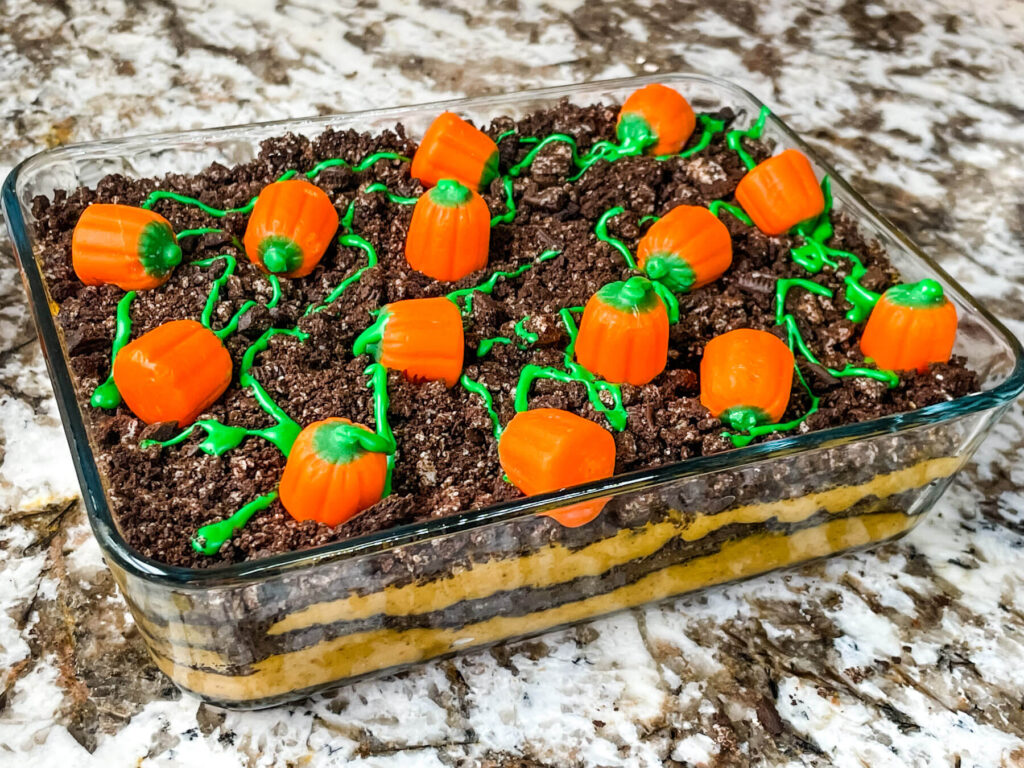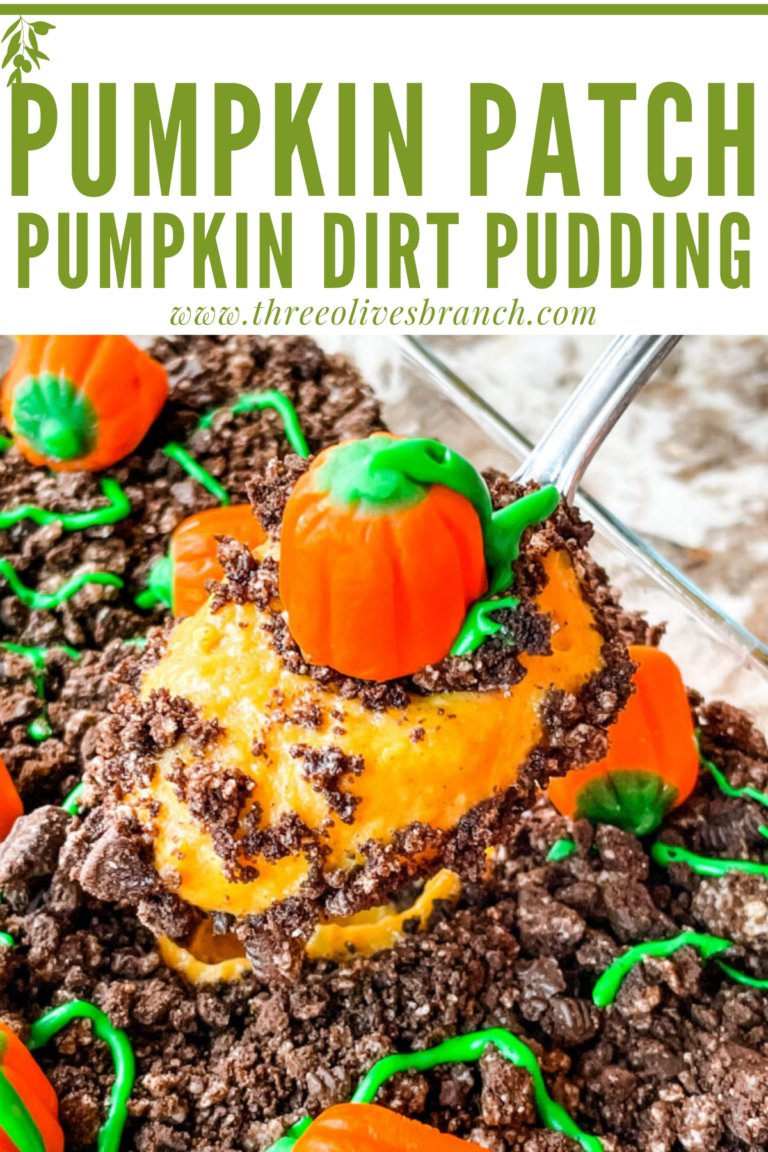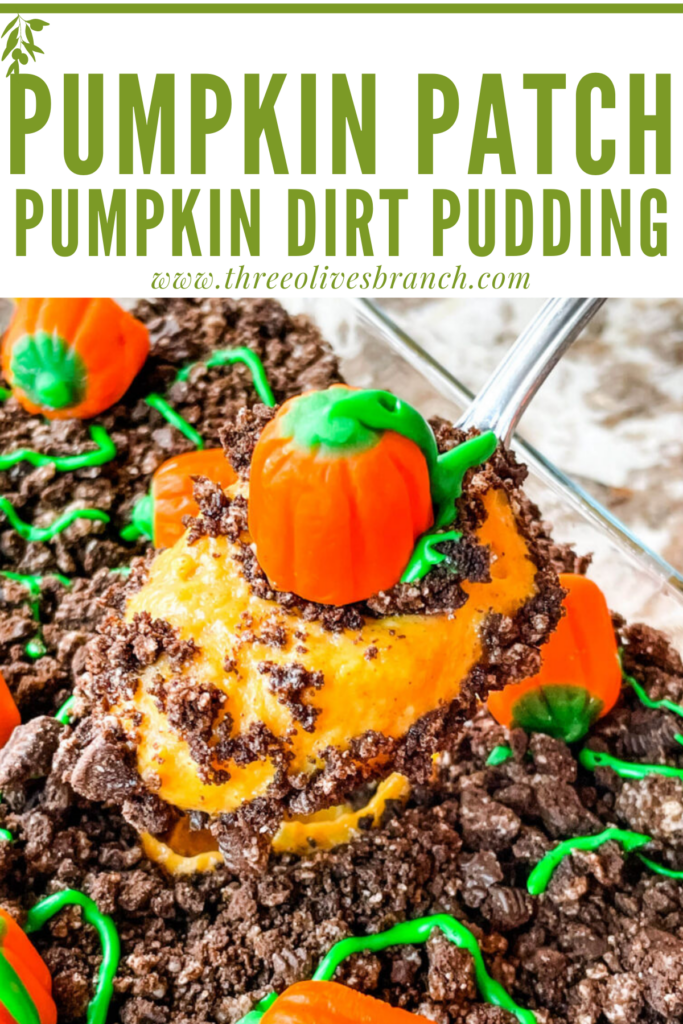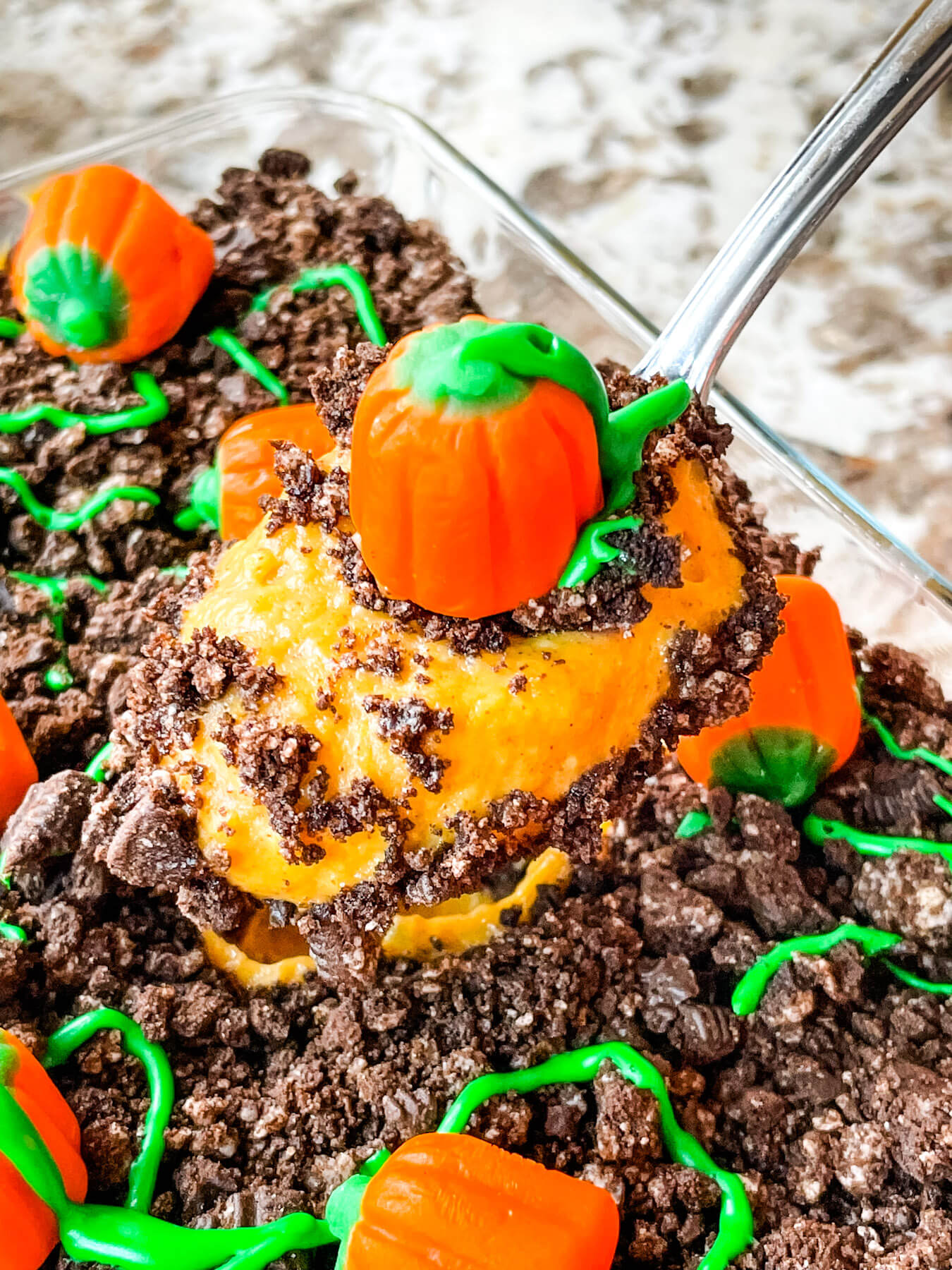 Instructions
First make your pudding to give it time to set up. Combine the instant vanilla pudding mix, pumpkin puree, pumpkin spice, and milk in a large bowl and whisk to combine. Set aside to thicken.

Meanwhile, crush the cookies (filling and all) into dirt by placing them in a large bag and crushing the cookies with a rolling pin (or wine bottle, large can, or anything heavy). Crush until you reach your desired consistency.

For one large dish: Scoop half of the pudding across the bottom of the dish in an even layer. Then spread half of the cookie crumbs across the pudding. Repeat with another layer of pudding (using the remaining) and top it off with the remaining dirt.

For individual portions: Layer the pudding into each glass, using half of the pudding total. Then add a layer of dirt across the pudding in each glass, using half of the dirt total. Repeat with another layer of pudding (using everything that is remaining) and finish off with the rest of the dirt across all the cups.

Chill for at least 30 minutes or until ready to serve.

When serving, squeeze green icing in thin vines across the top of the desserts. This can be done in straight, even lines or as swirly, twisting vines.

Place pumpkins on the vines, as many as you want. I like to place some on their sides, some standing up, etc like you would find them in a patch but you can also make them all standing up.

If desired, use more green frosting to connect the top stems of the pumpkins to the vines. Add leaves or little vine tendrils if desired. Serve.
Video
Nutrition
Serving:
1
serving
|
Calories:
379
kcal
|
Carbohydrates:
68
g
|
Protein:
6
g
|
Fat:
10
g
|
Saturated Fat:
4
g
|
Polyunsaturated Fat:
2
g
|
Monounsaturated Fat:
4
g
|
Trans Fat:
1
g
|
Cholesterol:
9
mg
|
Sodium:
370
mg
|
Potassium:
316
mg
|
Fiber:
3
g
|
Sugar:
50
g
|
Vitamin A:
8423
IU
|
Vitamin C:
2
mg
|
Calcium:
131
mg
|
Iron:
4
mg
More Pumpkin Recipes
By