Pumpkin Tarts are a perfect fall dessert recipe! Made as individual desserts, a buttery crust is filled with pumpkin spice pastry cream for a light yet rich dessert. Great for fall, autumn and Thanksgiving.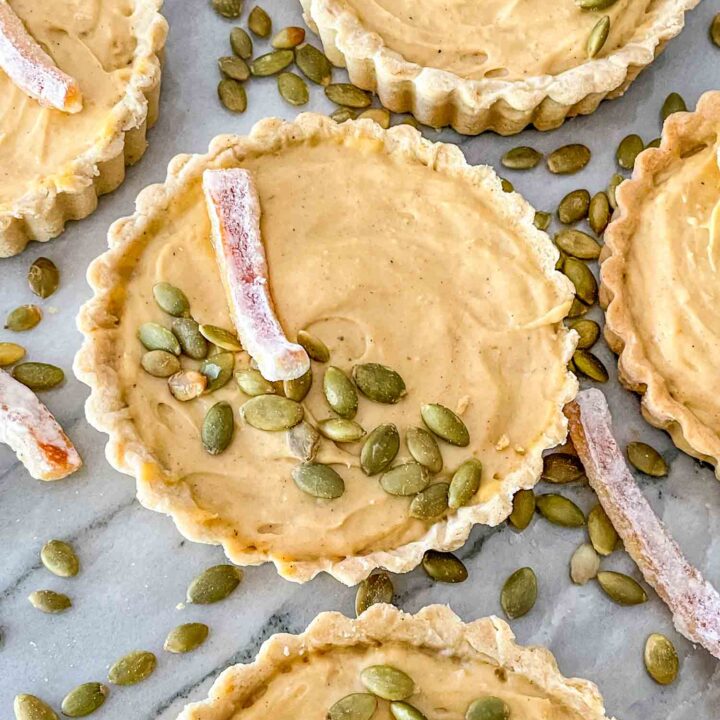 Hello, fall! This is my favorite time of year and these adorable Pumpkin Tarts are the perfect desserts to celebrate this season.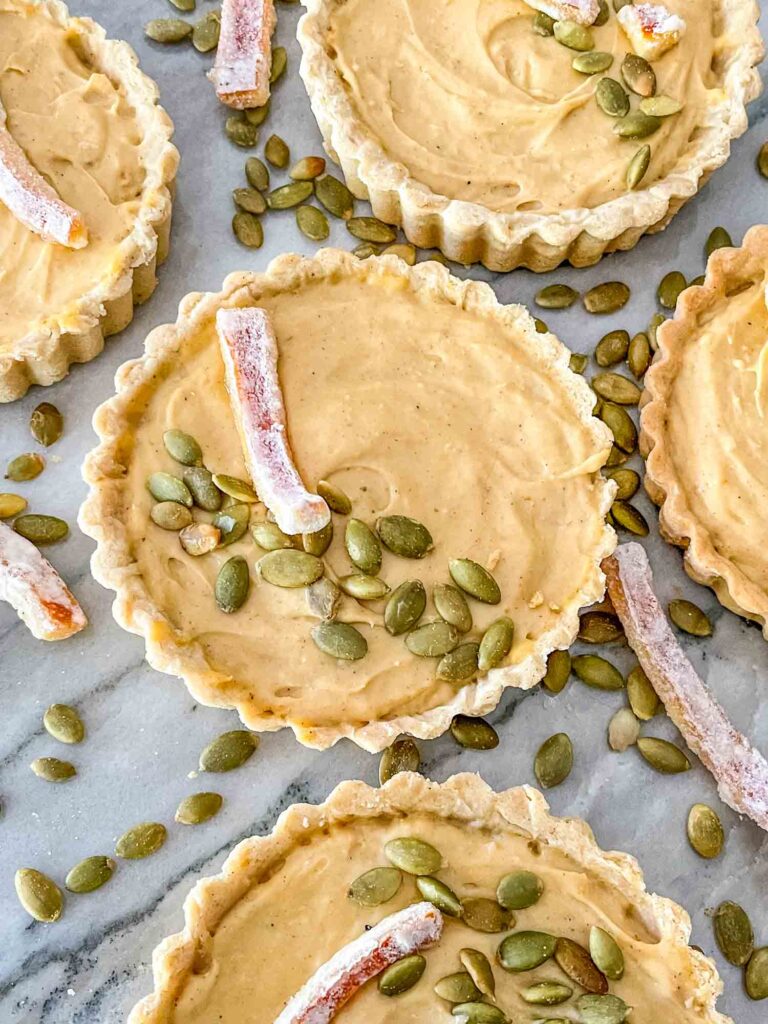 Why This Recipe is Great
These Pumpkin Tarts are a delicious twist on the classic pumpkin tarts which are traditionally made as mini pumpkin pies.
I use my creamy Pumpkin Pastry Cream from my Pumpkin Cream Puffs recipe as the filling for a lighter tart.
They are also made in 4-inch tart pans, perfect for a large personal serving or to cut up in cute little wedges for a bite sized dessert. Typically pumpkin tartelettes are the small, bite sized portions.
Eat these Pumpkin Tarts to celebrate autumn and they also make a perfect dessert option for Thanksgiving and Friendsgiving!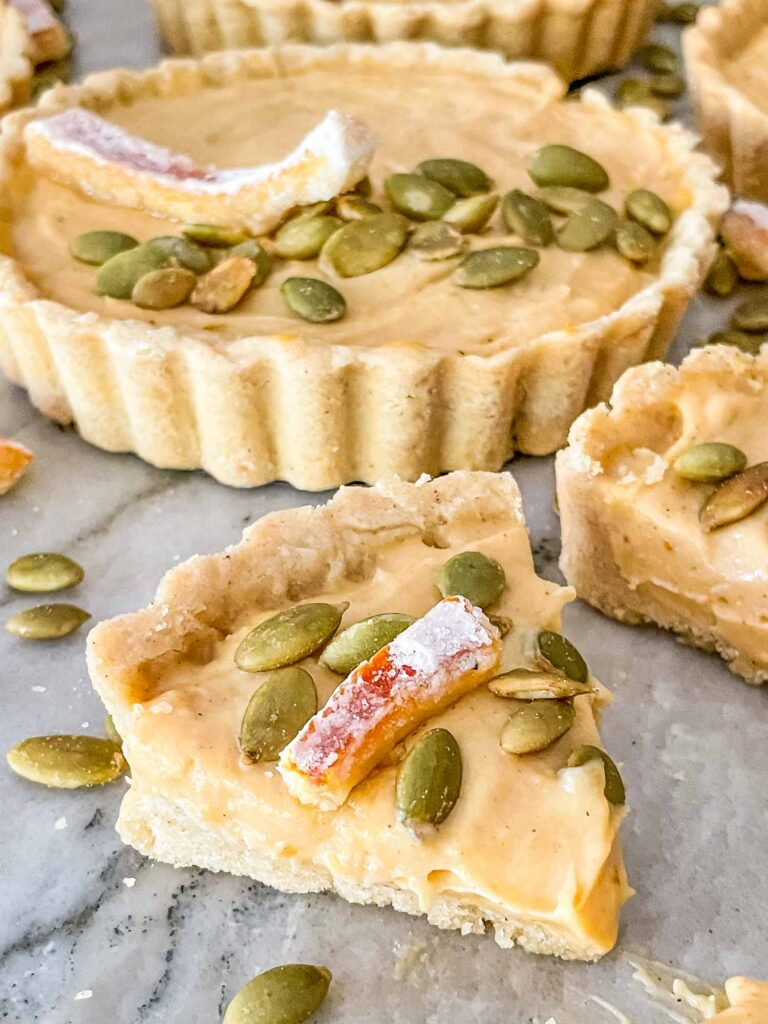 Ingredients Needed
Here are the ingredients you need:
Flour
Butter
Egg Yolk
Heavy Cream
Powdered Sugar
Vanilla Extract
Salt
Pepitas (optional, for decorating)
Candied Orange Peel (optional, for decorating)
Pumpkin Pastry Cream – This is another recipe on this site and is just perfect for these tarts! I went with the cream because it is lighter in flavor and not as dense as traditional pumpkin pin and tart fillings. You are going to love it!
Flour – All-purpose flour is perfect
Butter – Always use unsalted butter for baking unless it is stated otherwise so you can control the salt
Powdered Sugar – A powdered sugar will be a little softer than a granulated sugar. If you want a super crisp and harder crust, use the same amount of granulated sugar instead.
Instruction Overview
Put the flour, sugar, pumpkin spice, and salt in a food processor and pulse to combine.
Add the butter chunks and pulse until it looks like a rough cornmeal.
Combine the egg, cream, and vanilla and feed it through the feeding tube. Let it mix until it is primarily in one large ball.
Put the dough in plastic wrap and chill for an hour.
While the dough is chilling, you can make your pastry cream. It needs to cool down before filling. It spreads more easily in the tart shells if it is room temperature, but can also be made in advance and fully chilled.
Let the dough sit out for 10 minutes to very slightly start to soften.
Roll it out to about 1/8 inch thick, or a little thicker if desired. Place it over the tart pans (I try to do as many as once as I can for speed and ease) and gently let it fall down into the pan and against the sides.
Use a rolling pin to roll over the tops and cut off the excess.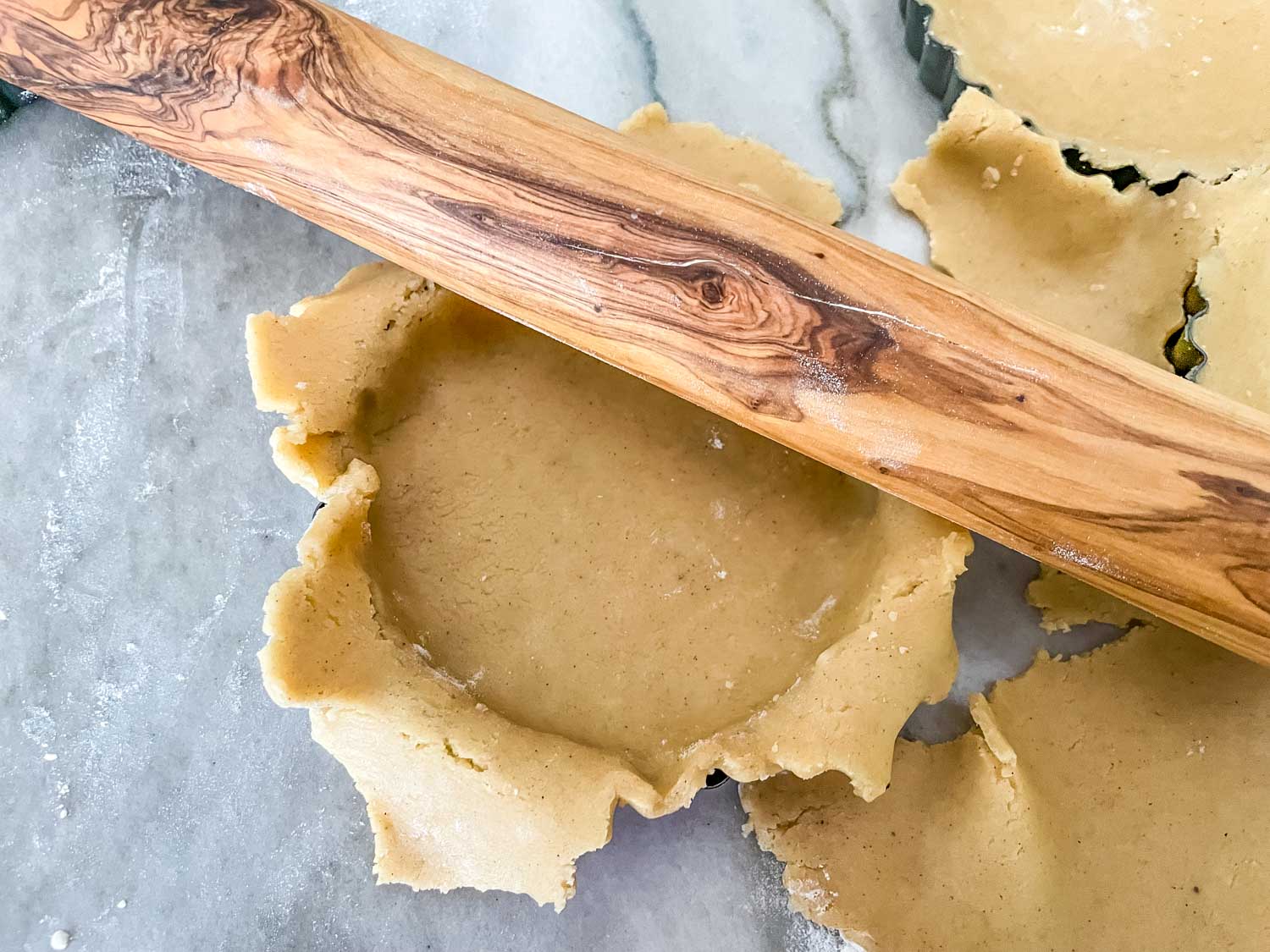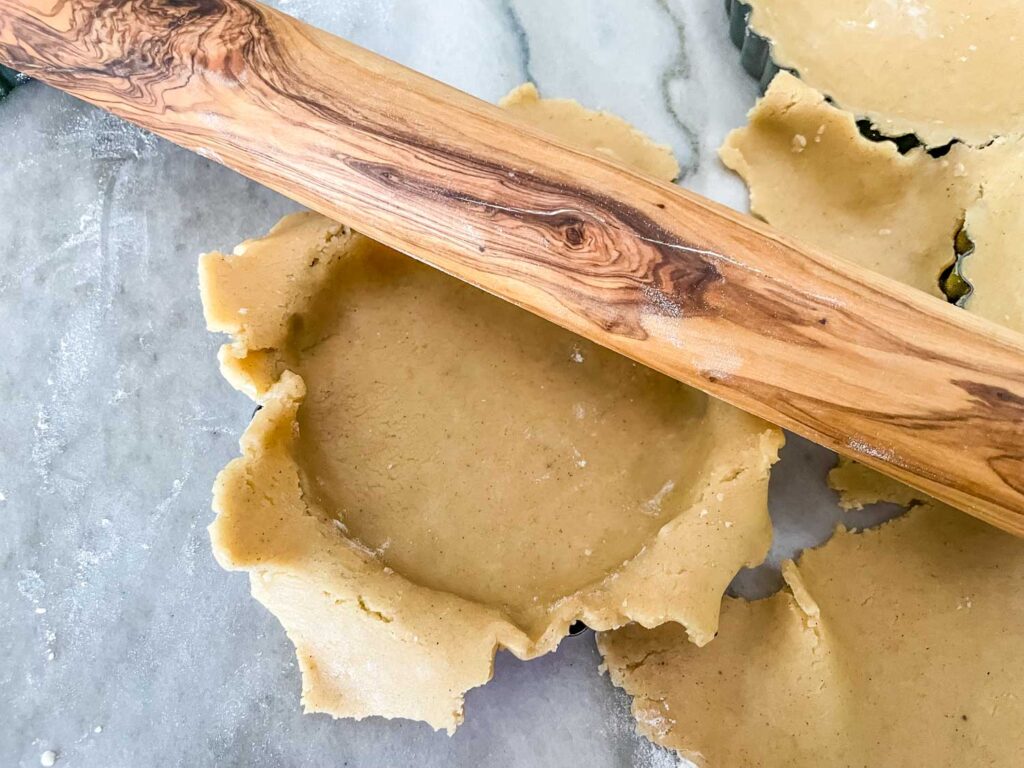 Patch any holes or thin spots as needed, and repeat rolling as needed to fill each of the 6 pans. (Ideally, you want to try to not re-roll too many times as it can make the dough tougher, but do what you need to do!).
Put the tart pans in the freezer for 30 minutes. This is going to help prevent them from shrinking when baking!
When ready to bake, put them on a cookie sheet and cover with foil. Use weights to par bake the crusts (see below for more information and tips). Bake at 375F for about 20-25 minutes until a very light golden brown.
Let the tarts cool completely and then fill with the pumpkin pastry cream.
Once filled, chill 30 minutes or until ready to serve. Decorate right before serving is preferred.
How to Par Bake Crusts
This recipe par bakes the tart crust. What does par baked mean? It means baking them without a filling.
This technique is used when the filling is not baked (such as this recipe), if the filling needs a shorter cooking time, or to prevent raw dough.
To do this, after getting the crust in the tart pans, they are lined with foil (or parchment paper) and filled with a weight. This weight keeps the dough down and prevents it from puffing up too much.
You can use pie weights or dried beans for this, or even rocks from your yard! I like to go the rock route since it is so easy. Just rinse them off well first!
Then after baking, the lining and weights are removed and you will have a relatively flat and cooked crust.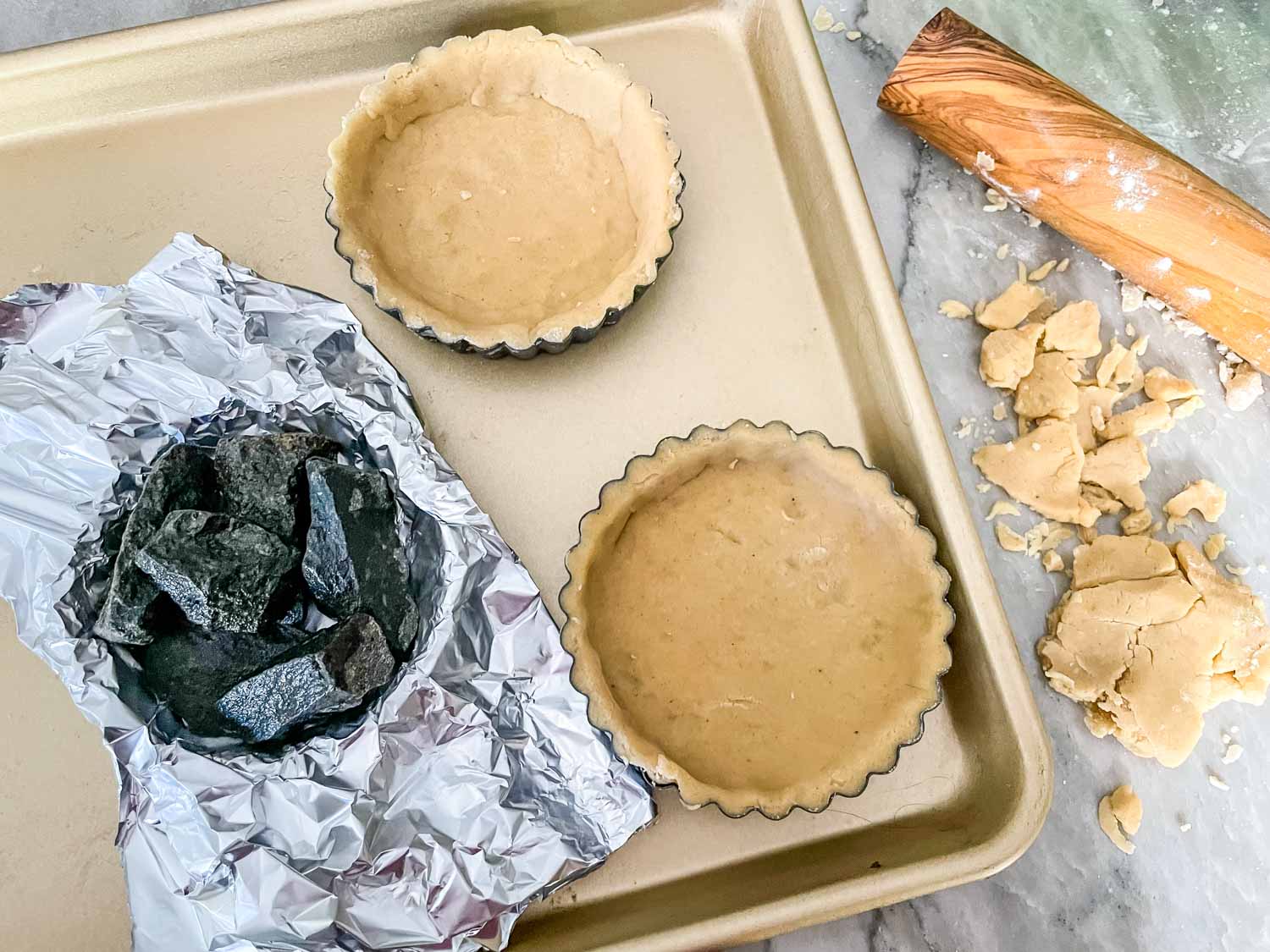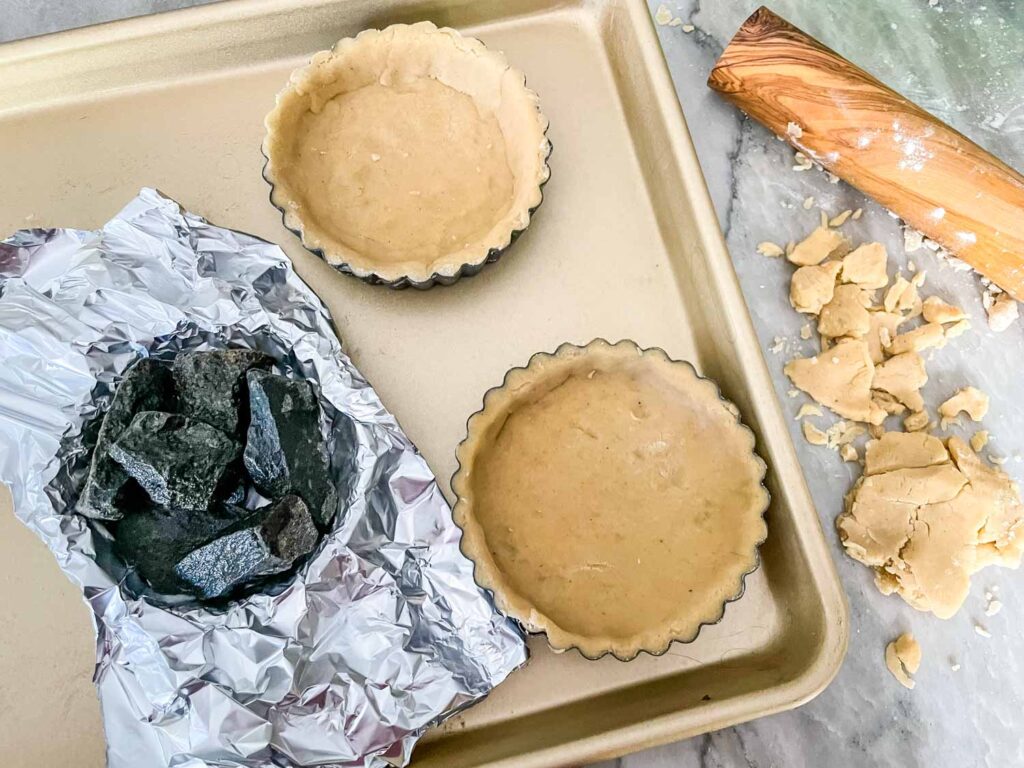 Decorating Tarts
If you choose to decorate the tarts, there is a wide variety of options that you can put on top.
I chose to use toasted pumpkin seeds (pepitas) and some candied orange peel.
Here are some other great options:
Whipped Cream
Pecans or Walnuts
Orange Zest
Sprinkles
Chocolate Chips or Shavings
FAQs
What is the Difference Between a Pumpkin Pie and Pumpkin Tarts?
The tart has a thicker bottom crust that is also firmer and less flaky.
A tart is also thinner and not as deep as a pie.
Can You Freeze Pumpkin Tarts?
You do not want to freeze these pumpkin tarts as-is because the pastry cream is made with cornstarch. Cornstarch does not freeze and thaw well and will negatively alter the texture of the pastry cream.
If you do want to freeze them, use 1/2 cup of flour instead of the cornstarch as it works much better for freezing.
How Long do Pumpkin Tarts Last?
These tarts last about 3 days, either filled or unfilled.
If filled, the crust is at risk of getting soft and absorbing moisture.
Serving
You can serve these as large individual portions and leave them completely intact.
They can also be cut into halves or even wedges as desired.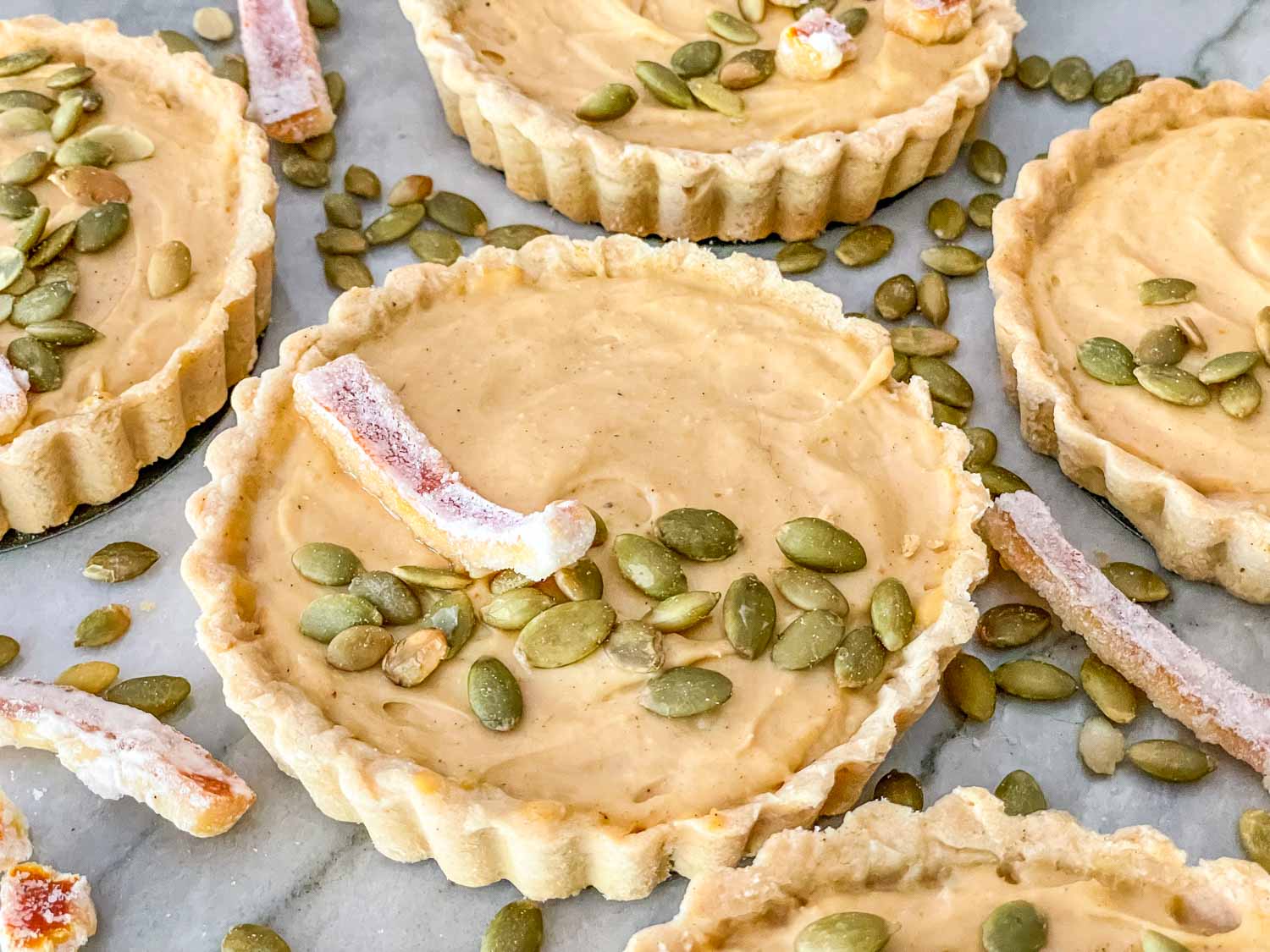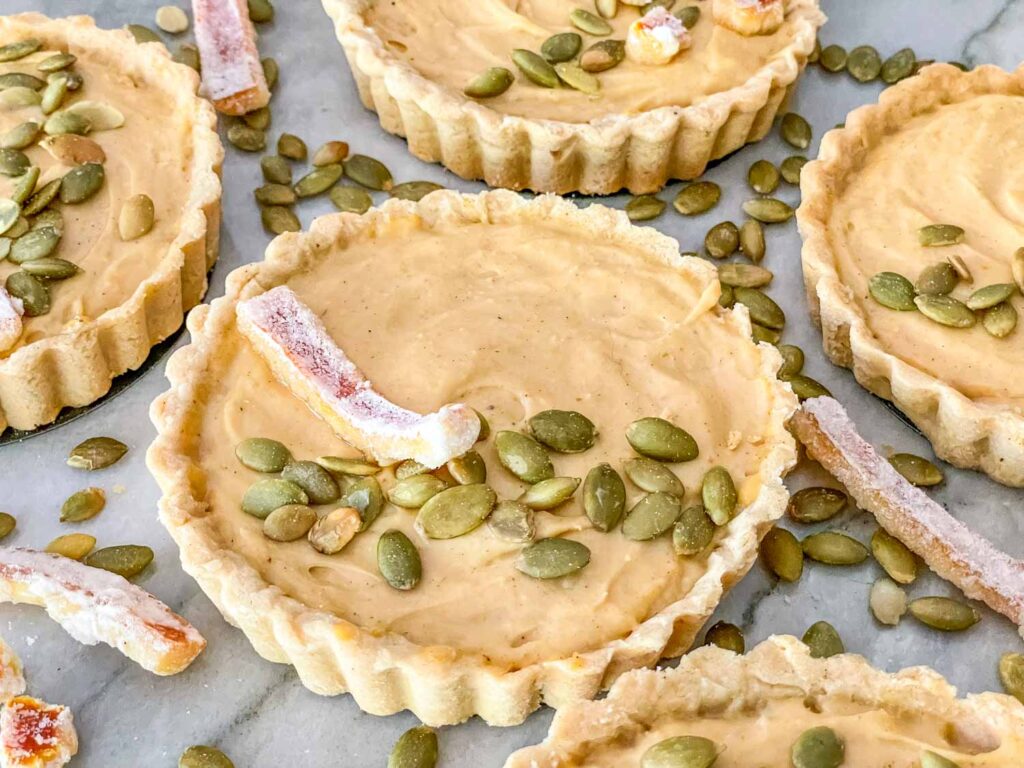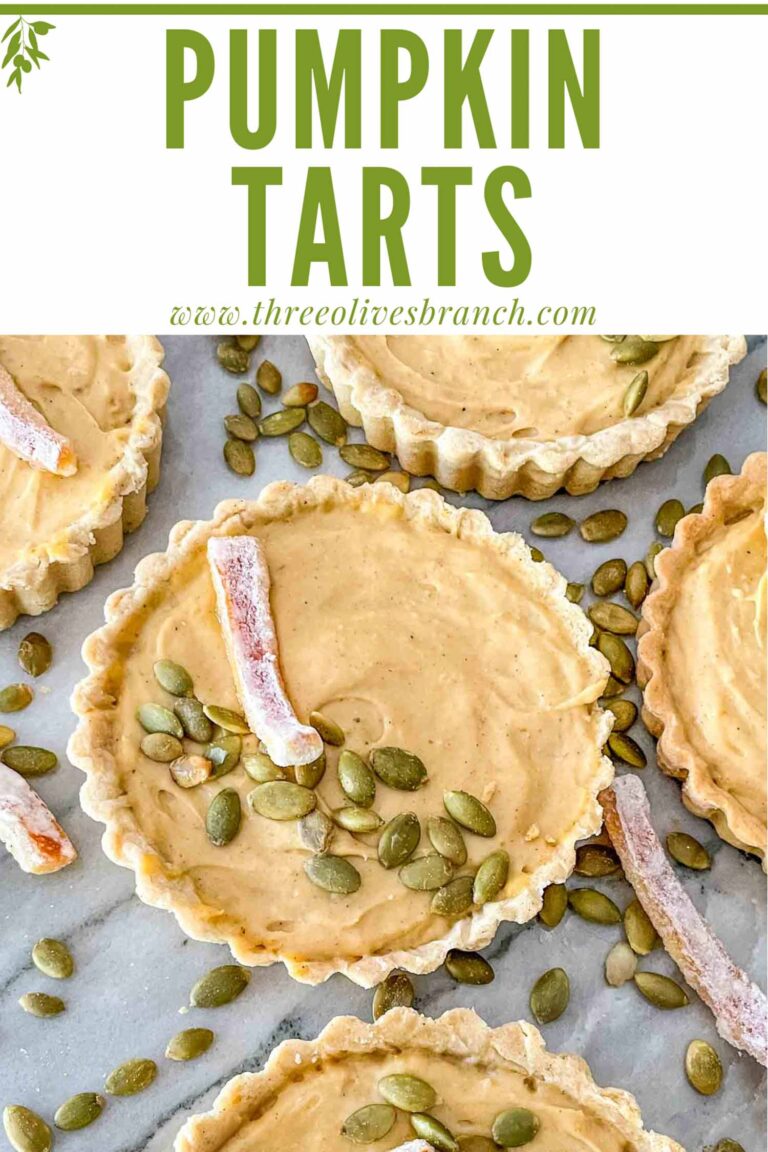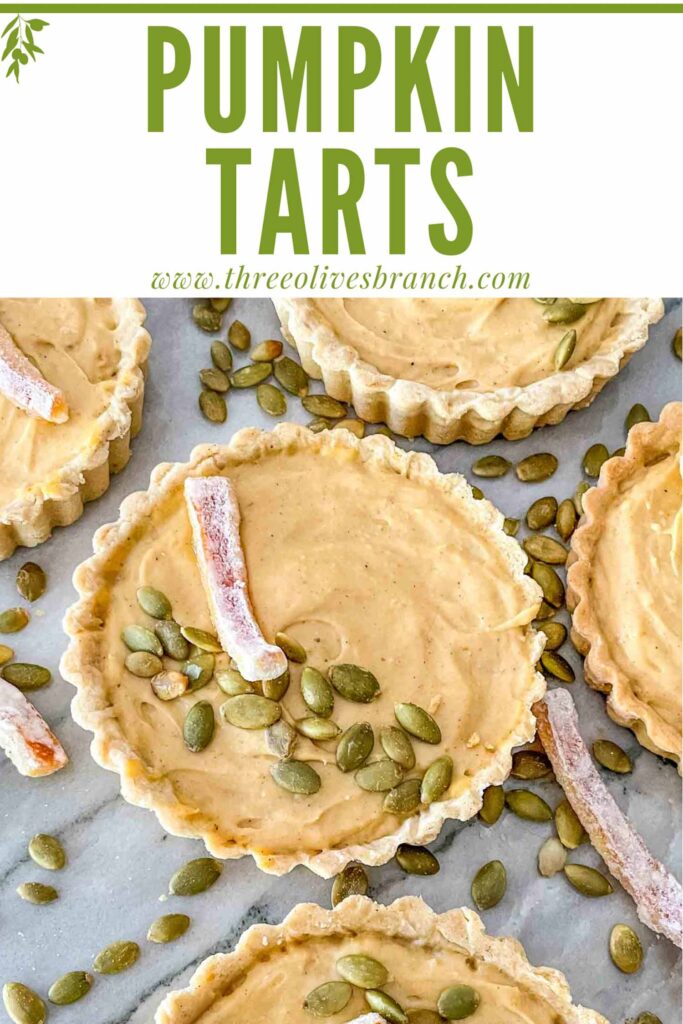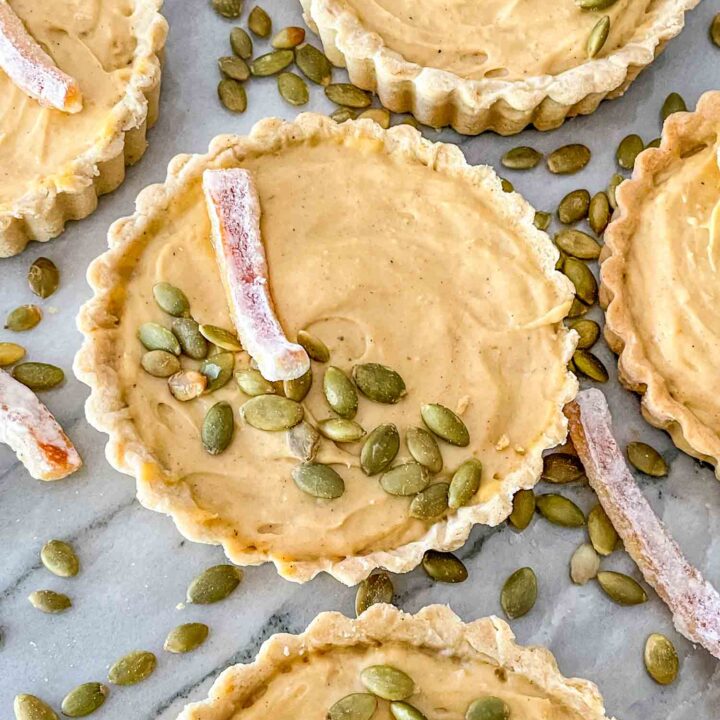 Pumpkin Tarts
Pumpkin Tarts are a perfect fall dessert recipe! Made as individual desserts, a buttery crust is filled with pumpkin spice pastry cream for a light yet rich dessert. Great for fall, autumn and Thanksgiving.
Print
Pin
Rate
Instructions
Put the flour, sugar, pumpkin spice blend, and salt in the food processor with the chopping (regular) blade and pulse a few times to mix.

Scatter the butter chunks across the flour, replace lid, and pulse until the flour looks like a coarse cornmeal.

In a small bowl, whisk together the egg yolk, heavy cream, and vanilla extract.

Turn the food processor on so it is running, remove the feeding tube in the top, and slowly pour the egg mixture in.

Let the food processor continue to run or about 10-15 seconds until the dough is primarily in one large ball.

Remove the dough from the food processor and place on a large piece of plastic wrap. Flatten slightly into a disk shape, cover completely, and chill for 1 hour.

Make your Pumpkin Pastry Cream while waiting for the dough to chill.

The cream can also be made in advance and chilled. It is easier to put into the tart shells when it is not super cold, so remove and let sit for 30 minutes later before filling if it is chilled.

When your dough has chilled, remove the dough and let sit on the counter for 10 minutes to slightly soften. This will make it easier to work with.

Roll out the dough to about 1/8 inch thick (a little thicker is fine if preferred).

Place over the tar molds and let the dough fall into the pans and press up against the sides. (I try to do multiple with the same roll for speed and rolling the dough less, but it is a little trickier).

Patch up any holes or cracks as needed and place the tart pans in the freezer for 30 minutes to minimize shrinking.

After freezing, put the tart pans on a baking sheet and cover with foil. Fill the pans with pie weights, dry beans, or even cleaned rocks to weight the dough down for a blind bake.

Bake for about 20-25 minutes until the crusts are a light golden brown.

Remove from the oven, let cool completely and remove the weights and foil.

Fill with the pastry cream. Refrigerate 30 minutes or until ready to serve. Decorate when ready to serve.
Notes
This can be done by hand instead of using a food processor by cutting the butter into the dough with a pastry cutter or fork and mixing in the other steps.
Nutrition
Serving:
1
tart
|
Calories:
481
kcal
|
Carbohydrates:
61
g
|
Protein:
8
g
|
Fat:
23
g
|
Saturated Fat:
13
g
|
Polyunsaturated Fat:
2
g
|
Monounsaturated Fat:
7
g
|
Trans Fat:
1
g
|
Cholesterol:
206
mg
|
Sodium:
140
mg
|
Potassium:
220
mg
|
Fiber:
1
g
|
Sugar:
35
g
|
Vitamin A:
4018
IU
|
Vitamin C:
1
mg
|
Calcium:
137
mg
|
Iron:
2
mg
More Pumpkin Dessert Recipes
By