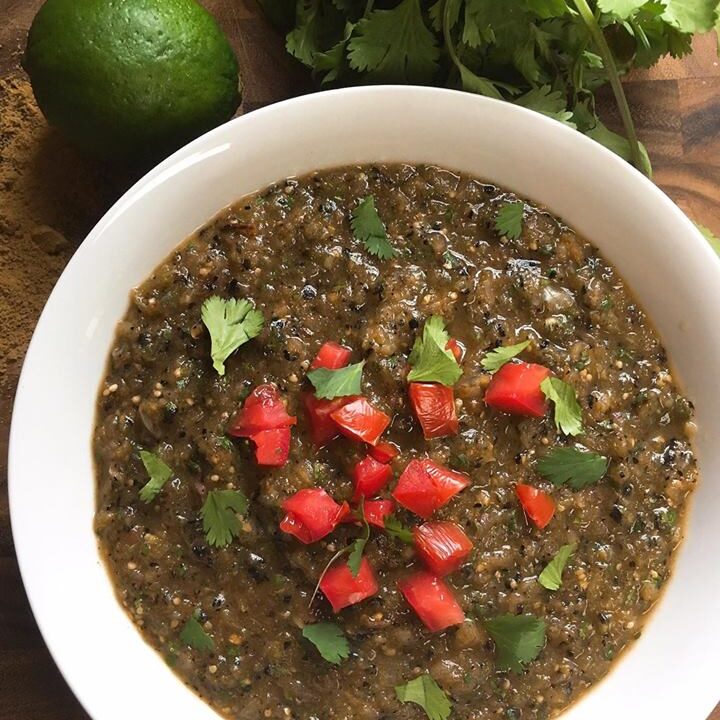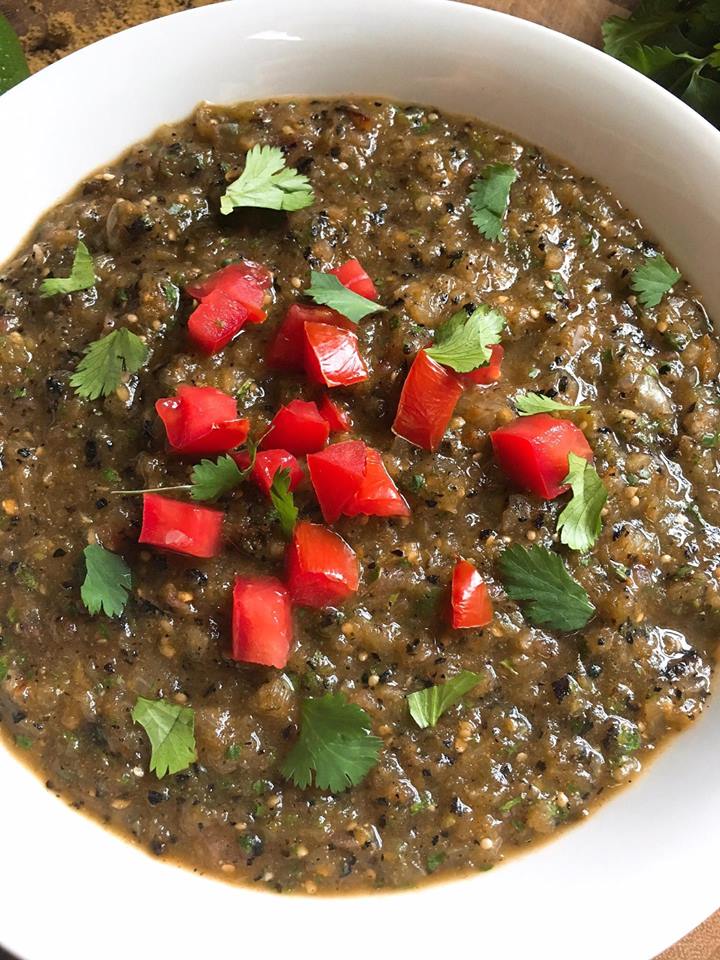 Making your own salsa is incredibly easy.  It is so fast and simple, allowing you to make it taste exactly how you want it to.  Total control over customization!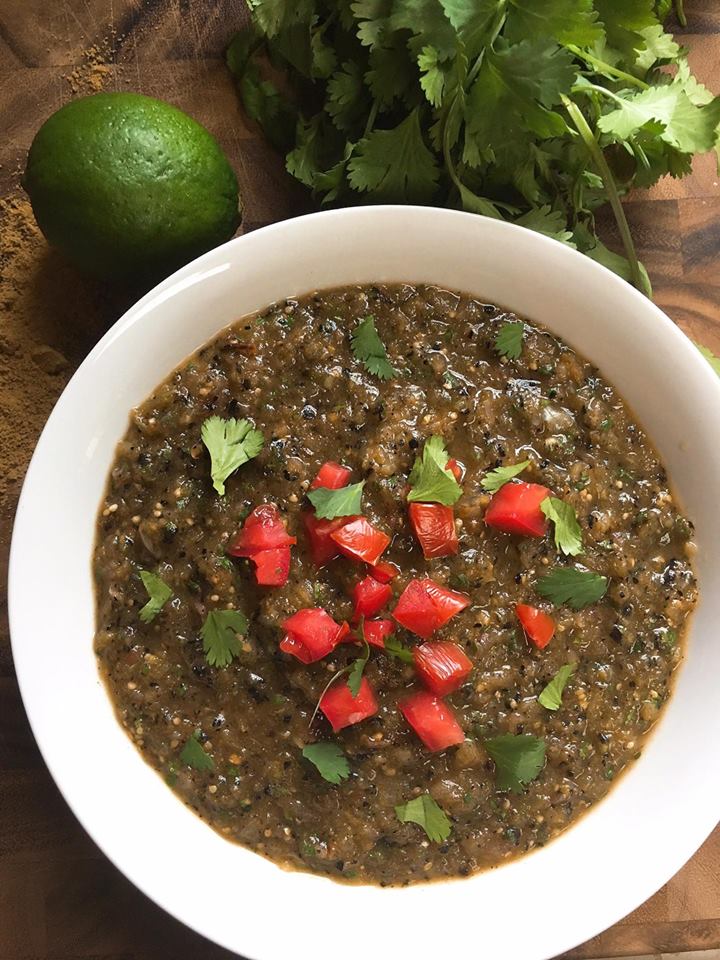 I am typically a fan of the traditional, red salsas, but I love to change things up and this Roasted Tomatillo Salsa is perfect!  The tang of the tomatillos that you find in salsa verde is enhanced through the roasting process.
Have you discovered tomatillos yet?  They are those odd small, green things that look a little like tomatoes covered in a papery green skin.  I love tomatillos because they they have a unique tangy flavor with a hint of acidity that brightens up any dish.  The tang from the tomatillos balances with the spice of the jalapenos in a really interesting way.  I love to add this salsa on my tacos like these Slow Cooker Shredded Beef Barbacoa Tacos or Vegan Roasted Pepper Tacos!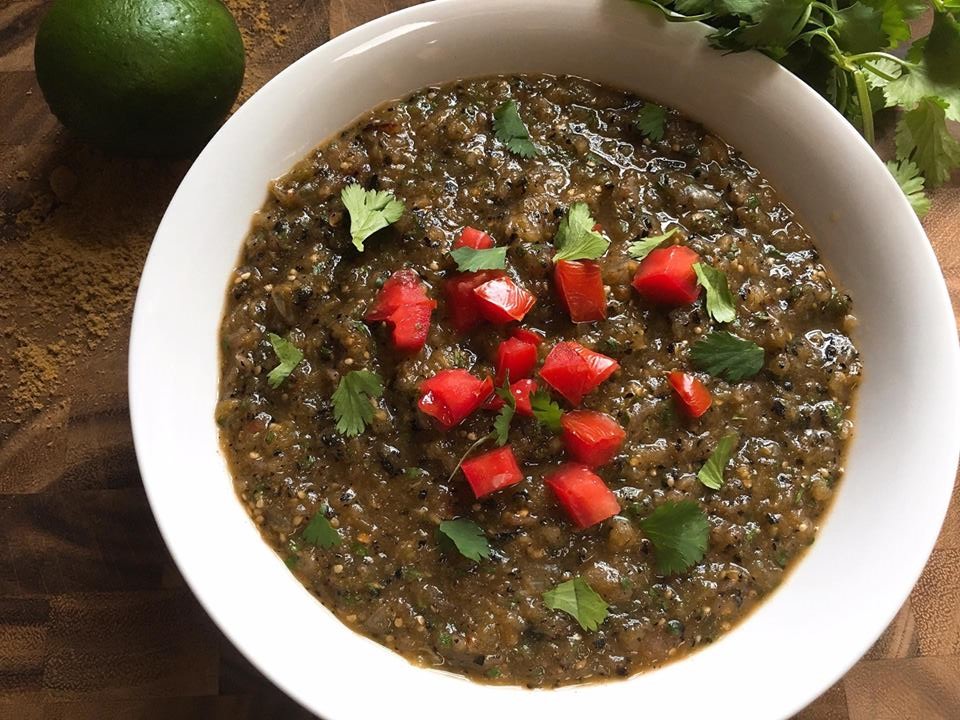 I like a change in texture in most of my food, so I leave my salsa a little chunky.  Then I also add in some miscellaneous "crunchers" like tomatoes, onion, corn, or anything else laying around that sounds good at the moment.  My husband is not always a fan of this, but he is not the one cooking!
This Roasted Tomatillo Salsa is based off of the same flavors that are found in my Roasted Poblano Salsa Verde Chicken Enchiladas, so you should head on over to that recipe if you are a fan of these green salsas!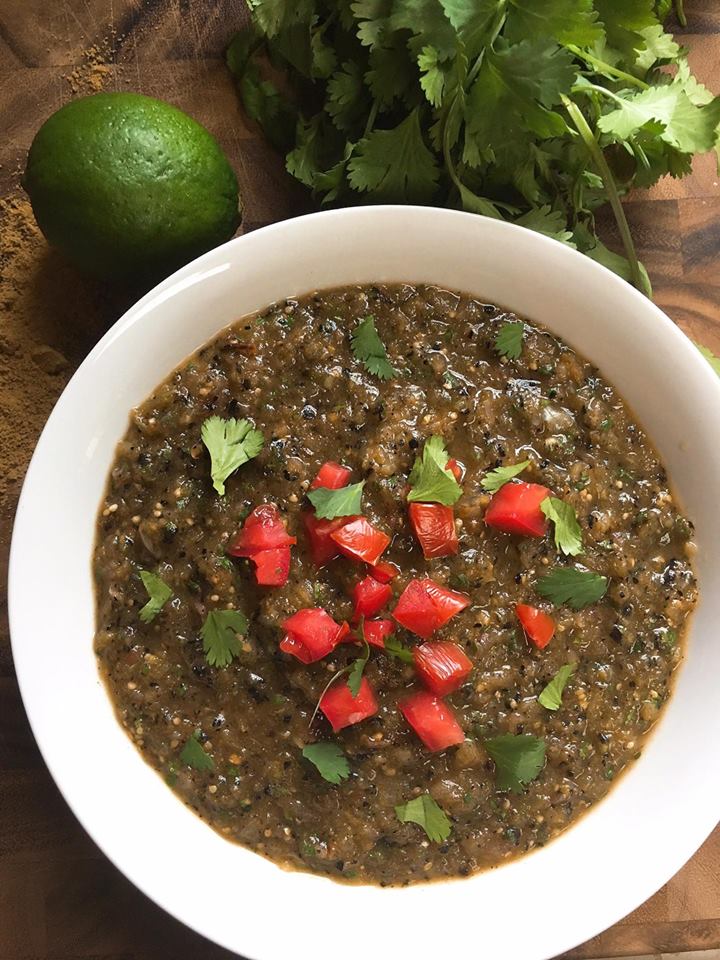 Instructions
Peel the tomatillos and place on a baking sheet lined with aluminum foil.

Peel and quarter the onion. Add the onion to the baking sheet.

Remove the stems from the jalapenos. If you want a mild salsa, remove all seeds and ribs. For medium salsa, remove seeds and stems from just one. For spicy salsa, leave all seeds and ribs intact. Place on the baking sheet.

Move a rack in the oven to the top most position. Turn your oven on to broil. Place the baking sheet on the top rack with the oven left ajar for the heat to escape.

Broil until char starts to form on the vegetables, approximately 5 minutes. Flip them over to char the second side, approximately 5 more minutes.

Place all of the roasted vegetables and any juices from the pan into a food processor. Add the juice of 1/2 lime, cumin, and a pinch of salt. Process until you reach your desired consistency.

Let cool to room temperature or chill before serving.
By