Melted Mexican cheeses with lots of Hatch green chiles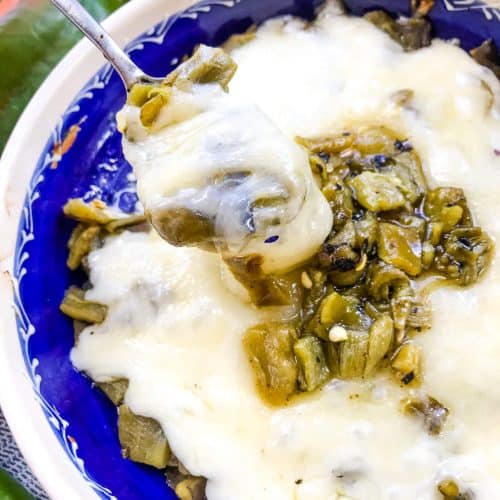 This Hatch Green Chile Queso Fundido is a fast and delicious appetizer or game day recipe packed with cheese and Hatch chile peppers!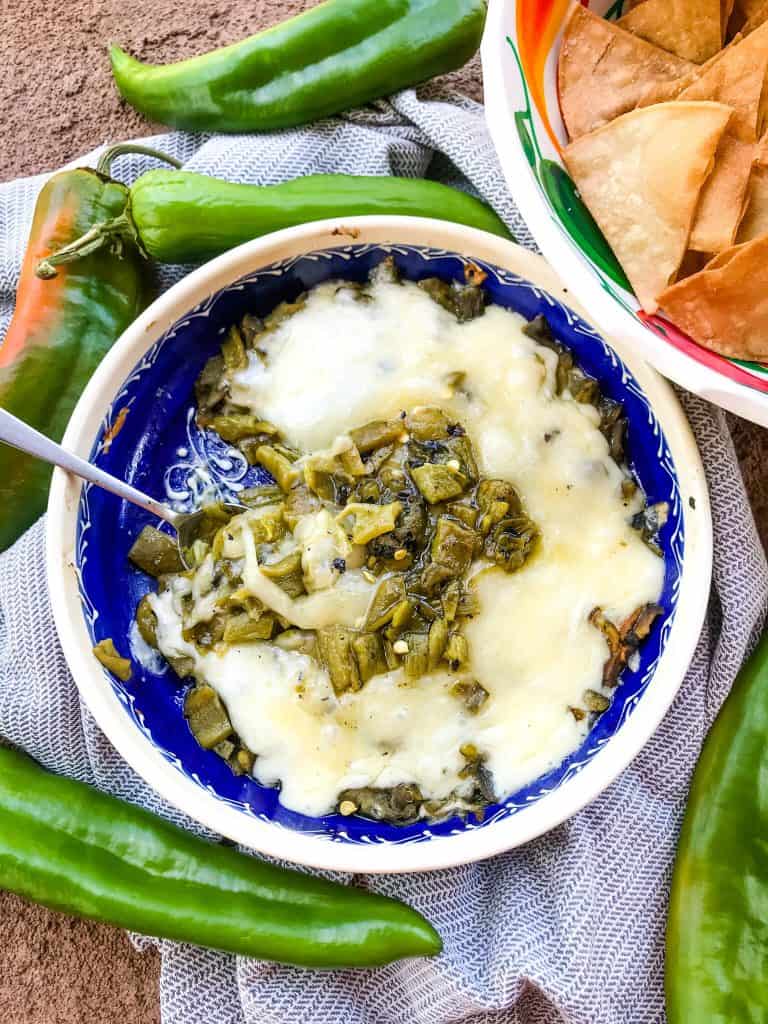 This post contains affiliate links.
I love cheese and am also obsessed with Hatch chile pepper recipes. So once I discovered queso fundido, I know a Hatch queso fundido was in the cards.
This queso fundido receta (recipe) is easy and keto low carb, plus gluten free, which makes it great for a crowd and game day.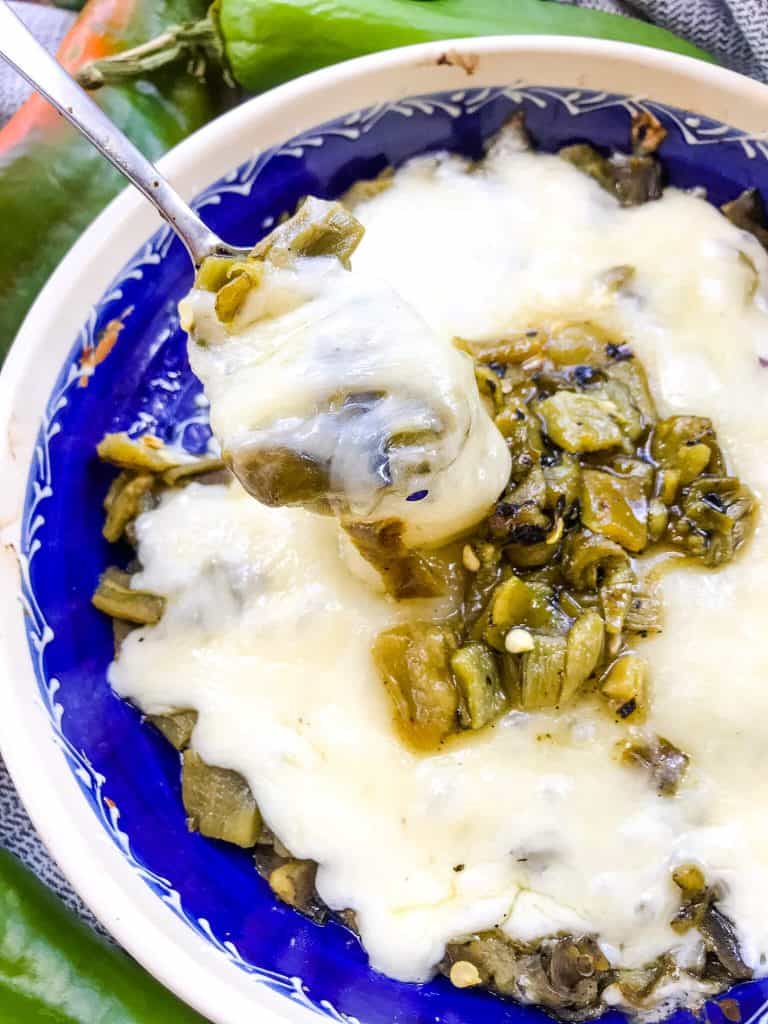 What is Queso Fundido?
I was introduced to this magical, melted cheese dish at a local taco restaurant in Denver.
Queso fundido translates to "melted cheese" which is the foundation and most important part of this Mexican appetizer.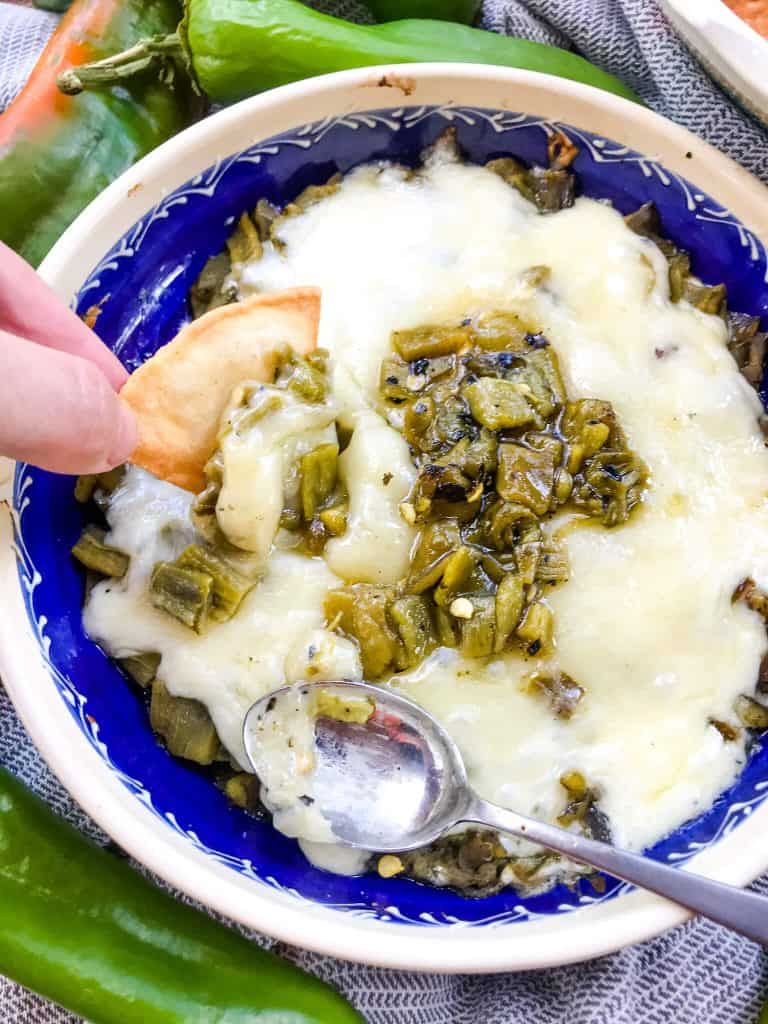 Traditionally, authentic queso fundido is stretchy, melted cheese with chorizo, often including peppers and/or onions.
Scoop this queso fundido up into a warm tortilla, or dig in with chips. Tortillas are my favorite! They are like a soft cheese taco. Just perfect.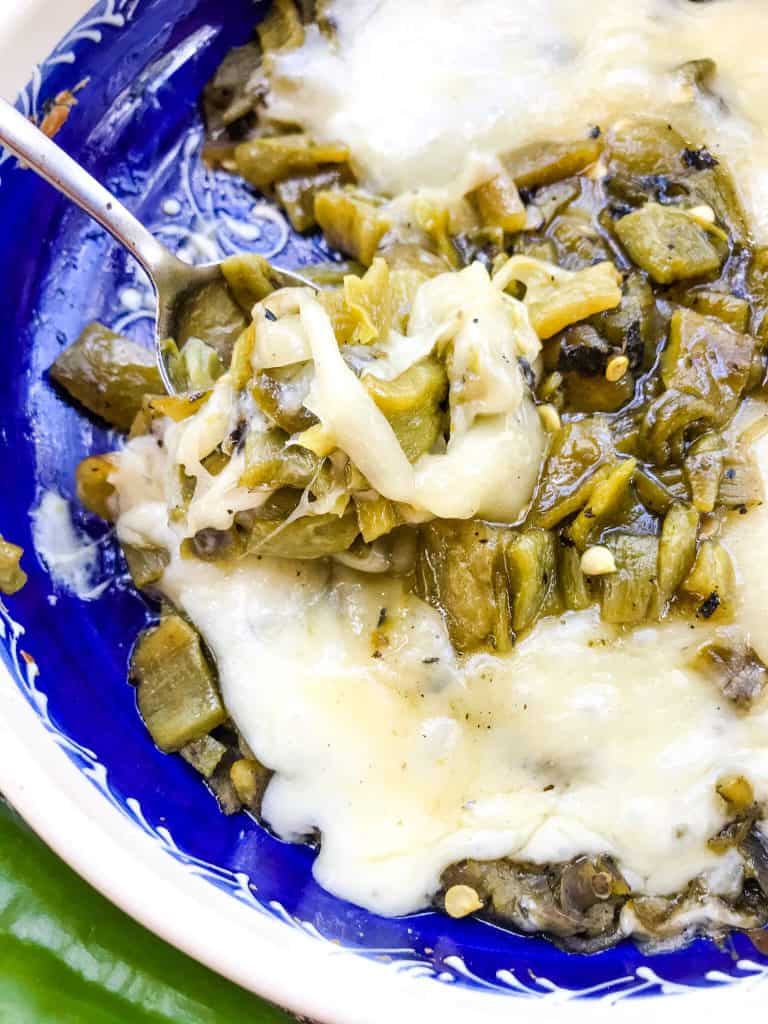 What Cheese should be Used in Queso Fundido?
I love using a mixture of Monterey Jack cheese and Oaxaca (pronounced wa-ha-kuh) cheese for a queso fundido.
Oaxaca cheese is very similar to Monterey Jack. It is stretchy, creamy, and mild white cheese. Taste them side by side and you will notice a slight difference.
You can often find it with other Mexican options in the refrigerated section, typically near fresh Italian options like pasta, and near yogurt or other dairy products.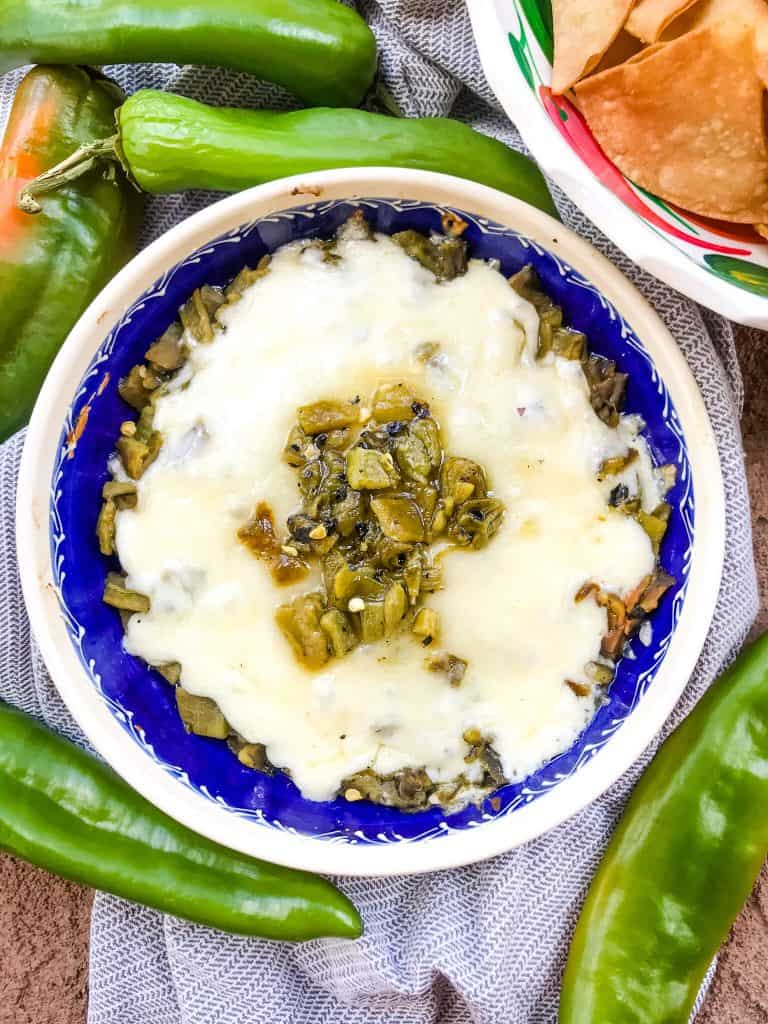 Pepper Options for Hatch Green Chile Queso Fundido
If you can find fresh roasted Hatch green chiles, those are the best to use. They have the best flavor and come in various heat levels based on your preference.
Next best would be frozen diced green chiles, and then canned diced green chiles.
Another option is to buy Anaheim peppers fresh and roast them yourself. The Anaheim pepper is actually a variety of Hatch peppers that were grown in California. The main difference is they are very, very mild. So to get heat, you will want to add hot sauce.
More Hatch Green Chile Recipes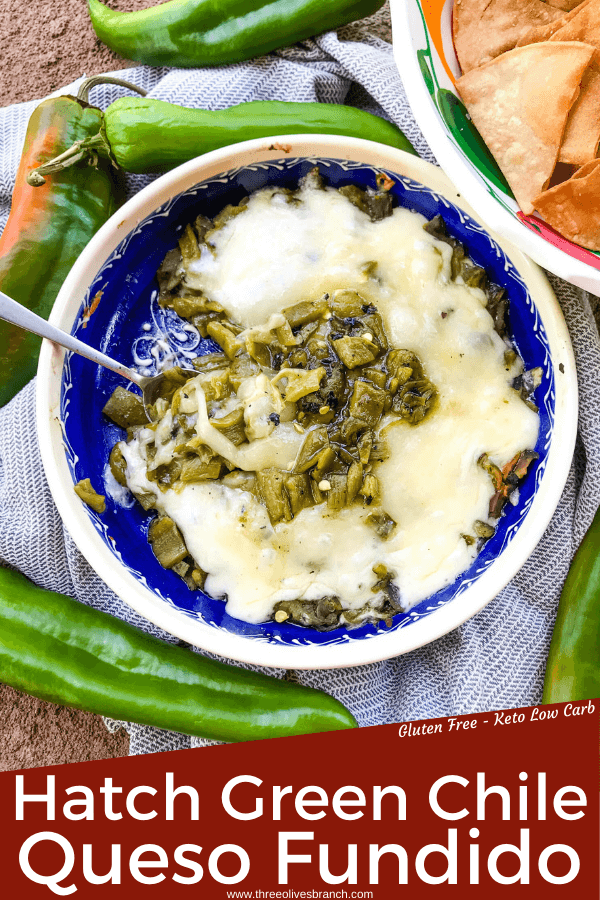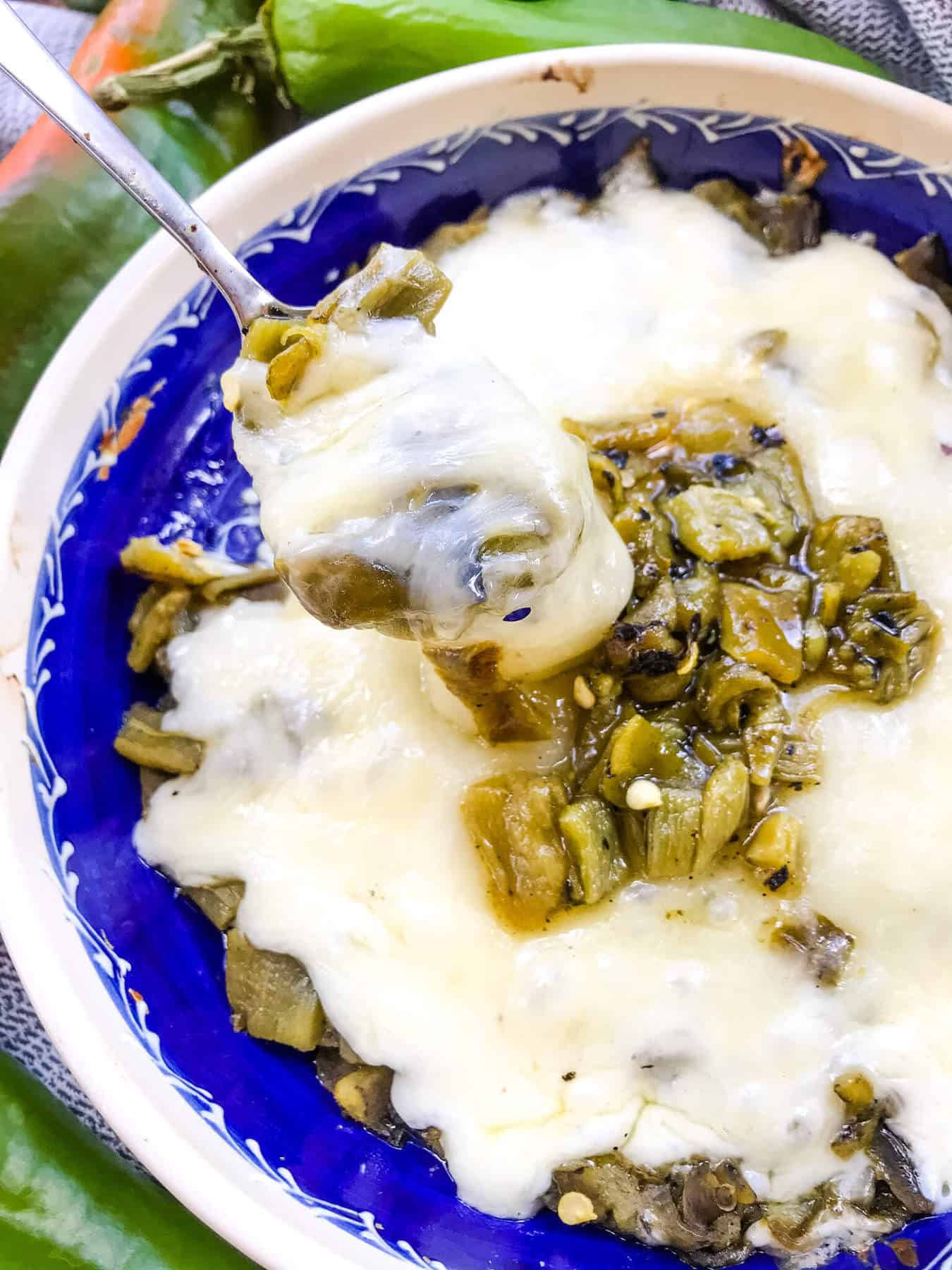 Instructions
Spread the diced Hatch green chiles across a small baking dish.

Mix the two cheeses together and sprinkle over the peppers.

Bake the fundido until the cheese is completely melted, just starting to bubble, but not browned.

Remove from oven and squeeze 1/4 lime and a sprinkle of salt over the queso.

Garnish with additional ingredients as desired, such as diced tomatoes or cilantro. Serve immediately with soft tortillas or chips.
Notes
You can often find Oaxaca cheese with other Mexican options in the refrigerated section, typically near fresh Italian options like pasta, and near yogurt or other dairy products.
If you do not have or cannot find Oaxaca, simply use more Monterey Jack. Other great cheese options are pepperjack (which is Monterey Jack with some peppers in it) or even mozzarella. Anything stretchy that melts well is perfect. 
Control the heat level by using your heat preference of Hatch chile peppers. A mild alternative are Anaheim peppers which are a variation of Hatch.
It is best to use pre-roasted peppers (such as the canned variety) or roast them yourself before making this recipe.
Nutrition
Calories:

176

kcal

|

Carbohydrates:

3

g

|

Protein:

11

g

|

Fat:

14

g

|

Saturated Fat:

9

g

|

Cholesterol:

32

mg

|

Sodium:

313

mg

|

Potassium:

85

mg

|

Fiber:

1

g

|

Sugar:

1

g

|

Vitamin A:

251

IU

|

Vitamin C:

5

mg

|

Calcium:

233

mg

|

Iron:

1

mg

By