Mexican Street Corn Salsa (Esquites) is a simple fresh corn salsa recipe! Elote inspired flavors from Mexico street food in an easy salsa. Use as a dip or condiment for your favorite recipes like tacos!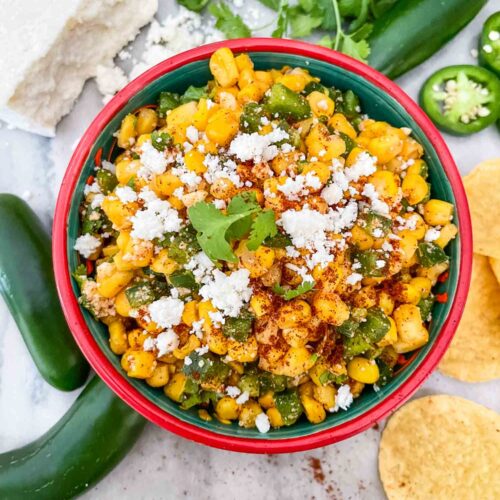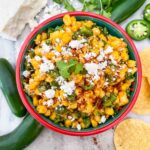 Mexican Street Corn Salsa (also called Esquites) is an amazing combination of flavors found in the popular street food. Fast and easy to make with lots of flavor that is perfect to serve up as an appetizer dip or a condiment for your favorite Mexican food recipes.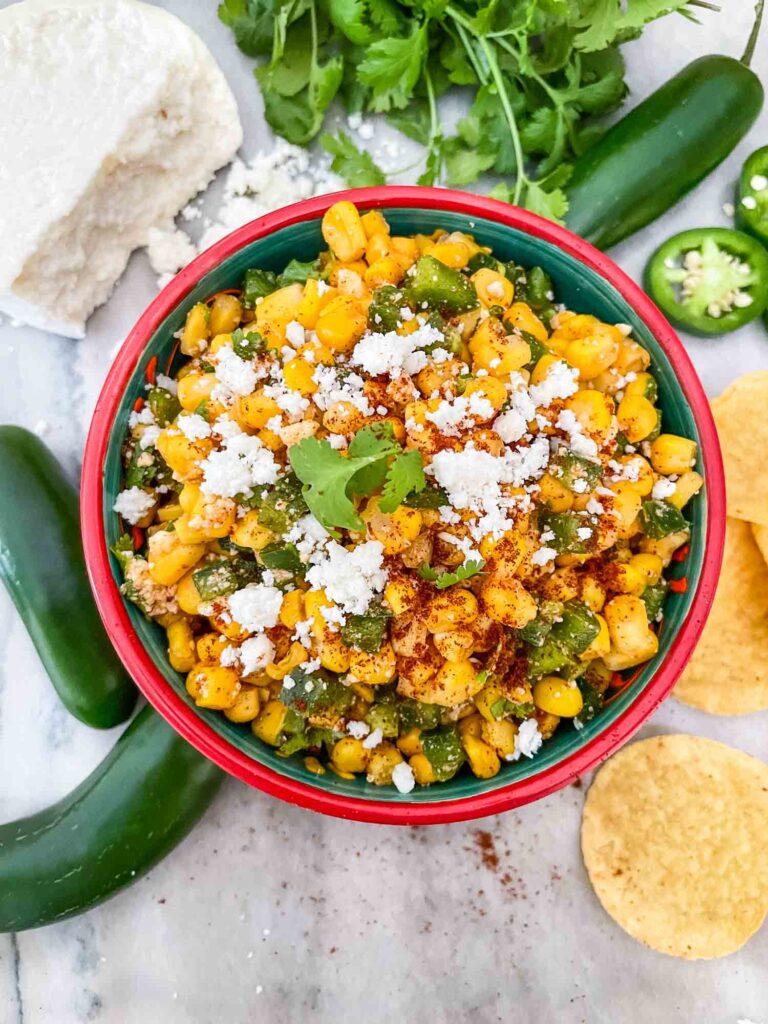 Why You Will Love This Recipe
Depending on where you live, have traveled, and are aware of, you may have NO idea of what I am talking about when I say Mexican street corn.  (If so, you are missing out, but don't worry, you will be in-the-know shortly!).  
But oh, those of you that do know what that is, probably know all about the magic of this simple street food.  It is my inspiration for this Mexican Street Corn Salsa.
Mexican street corn is typically a roasted ear of corn (husk still on for better grip!) that is slathered in mayo with chili powder and cotija cheese (although there are variations, of course).  
This recipe uses those amazing flavors in a simple corn salsa recipe.
My first experience with Mexican street corn was on a family vacation to Santa Fe.  I had seen and heard about this treat but had not come across an "authentic" source.  So I was extremely excited when I found a Mexican street corn stand at a market in Santa Fe!
I am also a huge salsa freak, primarily for the chunky fresh types such as my Pico de Gallo, and this was a natural step to make a salsa out of the street corn, called esquites.
I was a little worried about the cheese at first (I LOVE cheese, so that was not the problem, you just don't see chunks of it in salsa very often) but the softness and mildness of the cotija did not overpower the other flavors at all.  Success!!!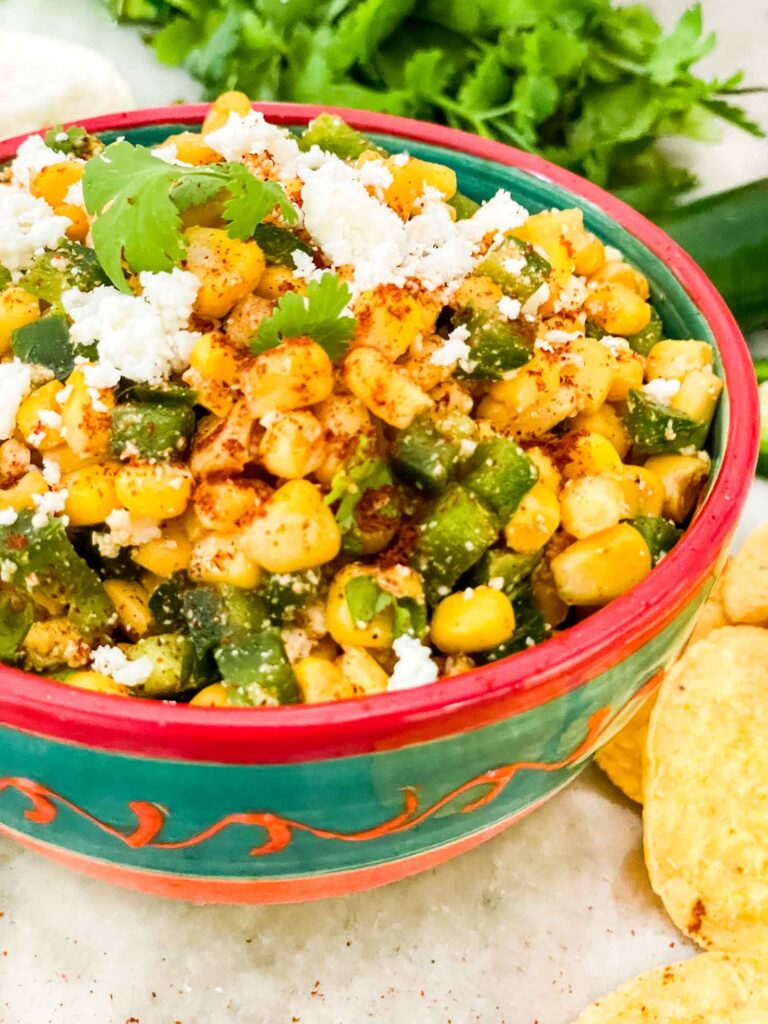 Ingredients
These are the ingredients needed to make esquites:
Corn
Jalapeno
Lime
Chili Powder
Cotija Cheese
Salt
Corn – I like to use frozen corn that was thawed. Fresh corn is great if you can get it.
Cotija Cheese – This cheese is a dry, crumbly cheese often used for tacos. You should be able to find it in the refrigerated Latin section of your grocery store.
Equipment
You only need a few simple pieces of equipment to make this corn salsa:
Knife
Cutting Board
Bowl
Measuring Cups
Measuring Spoons
Instruction Overview
This Mexican street corn salad recipe is very simple! Just chop and prep as needed, mix together, and chill until serving!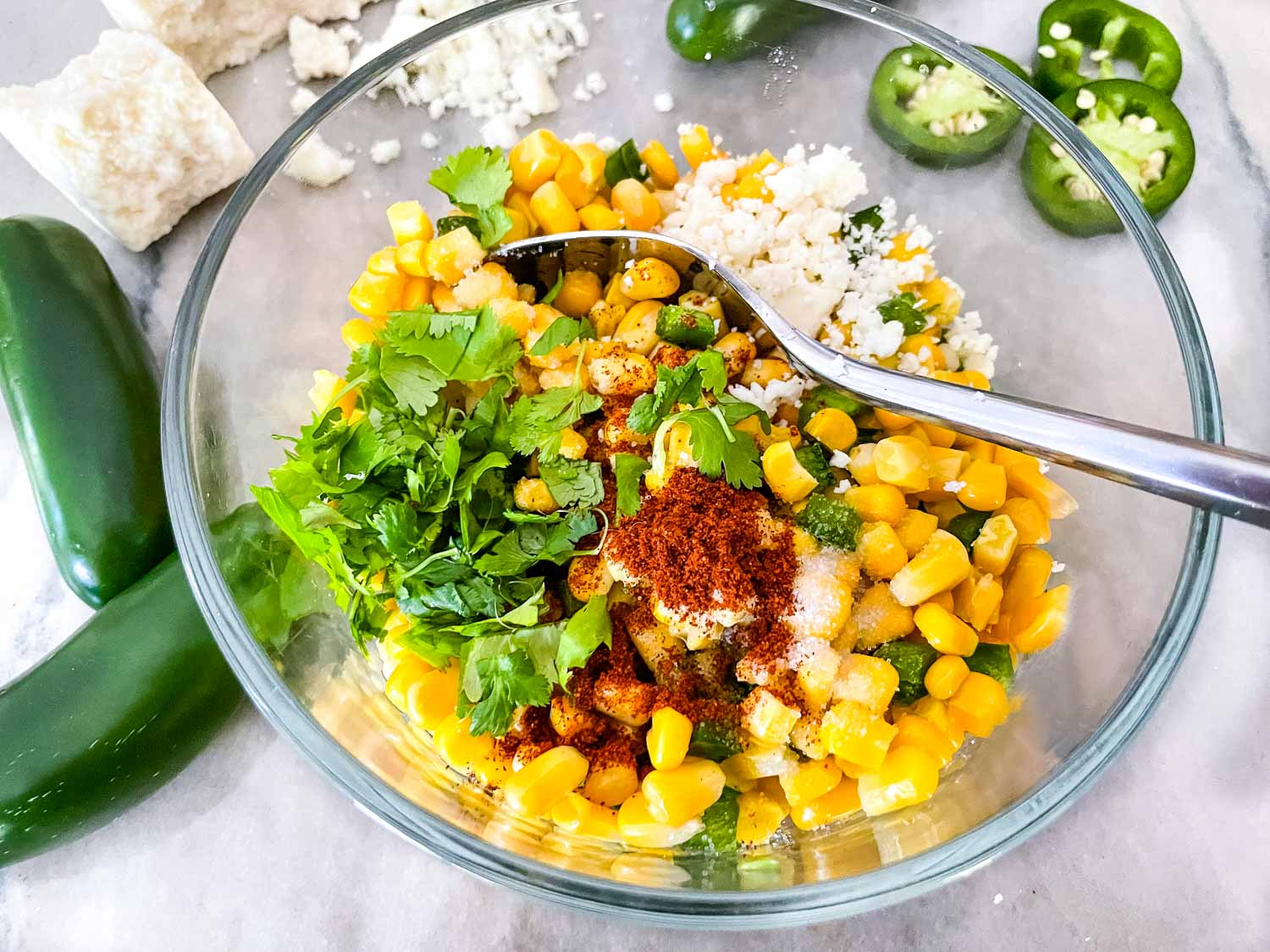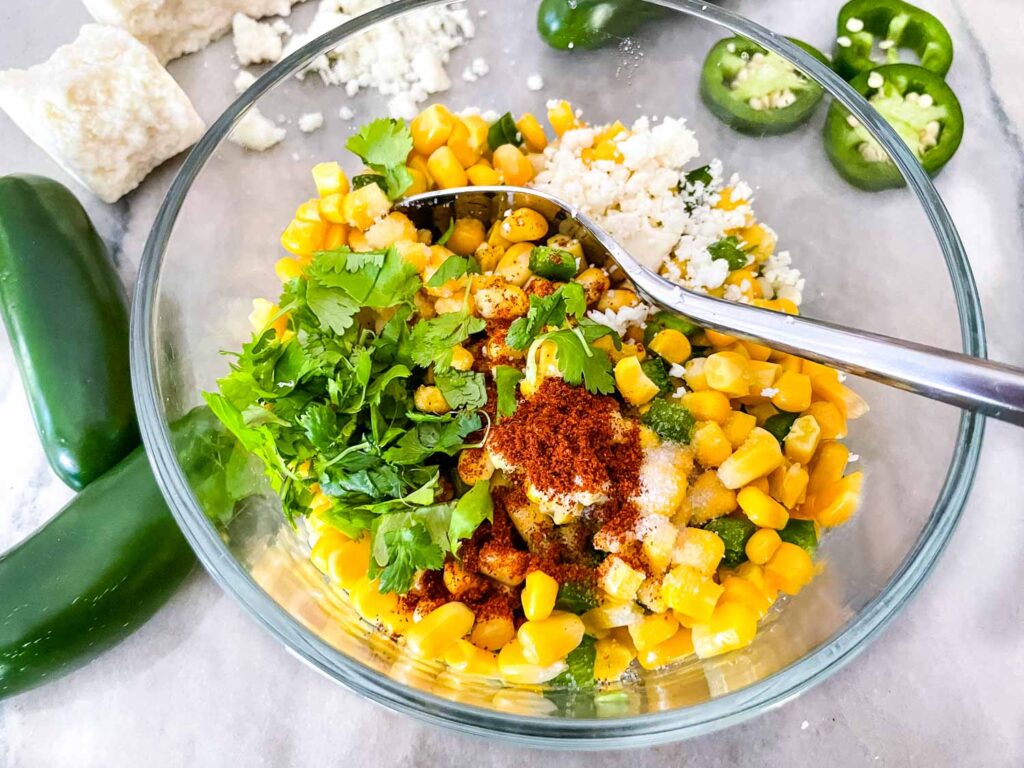 Modifications and Substitutions
Make it spicier by using hotter peppers like serrano, or more of them.
Frozen thawed corn is great for a fresh flavor. Fresh corn is ideal if you can get it. Canned corn will work but has a slightly different flavor profile because of its juice.
Feta is a great substitute for cotija.
Kim's Tips
This Mexican Street Corn Salsa is best the same day you make it as it starts to dry out over time, but you can freshen it back up with some more lime juice or a little water.  
I have been using the amazing flavors of this Mexican Street Corn Salsa in different recipes. Check them out here! From enchiladas to frittatas and tacos, there are so many tasty options!
Even though I use this primarily as a salsa for dipping, it is also great as a topper for any other Mexican dish: fajitas, tacos, enchiladas, etc.  I love adding fresh ingredients like this to brighten up what can be heavy Mexican food.  That is, if there is any left over 🙂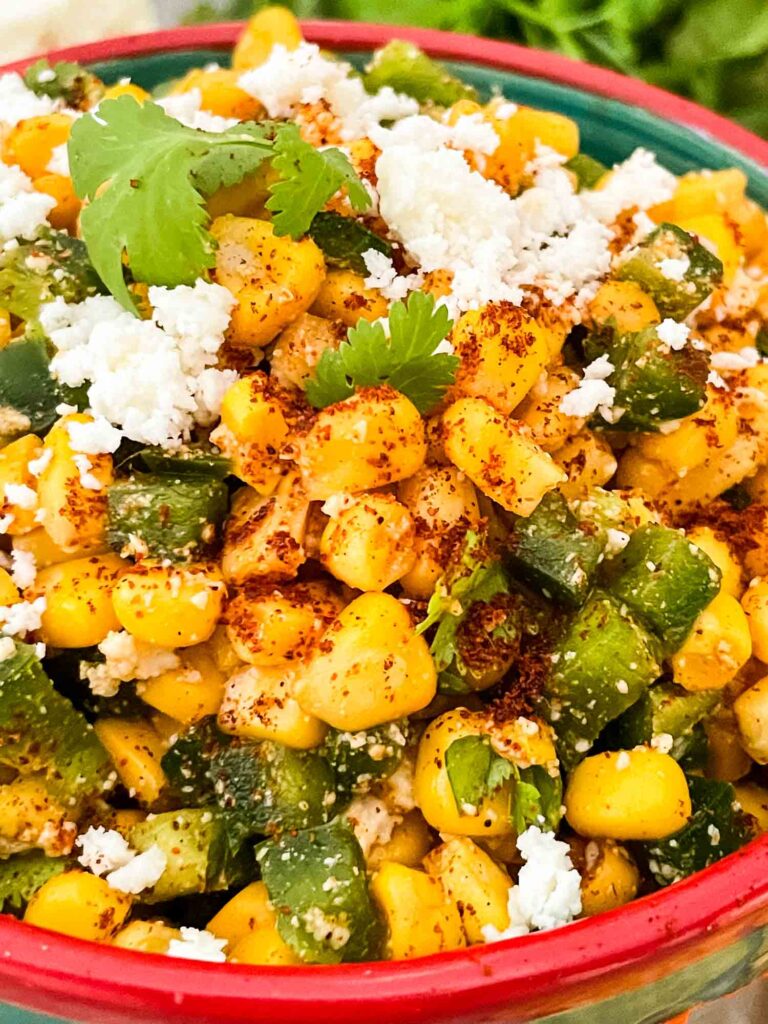 FAQs
What is the difference between elotes and esquites?
Elote is with the corn still on the cob, and esquites is corn removed from the cob and served in a cup.
What is the red stuff in elote?
Chili powder!
What is Mexican Street Corn made of?
The primary ingredients are corn, chili powder, cotija cheese, and lime. Plus mayonnaise when thinking about it on the cob!
What is the difference between elote and Mexican Street Corn?
They are the same thing! Elote is the Spanish name for it in Mexico.
What can I use instead of cotija?
Feta cheese is a great substitution for cotija cheese. They are both a dry, crumbly cheese with similar flavor.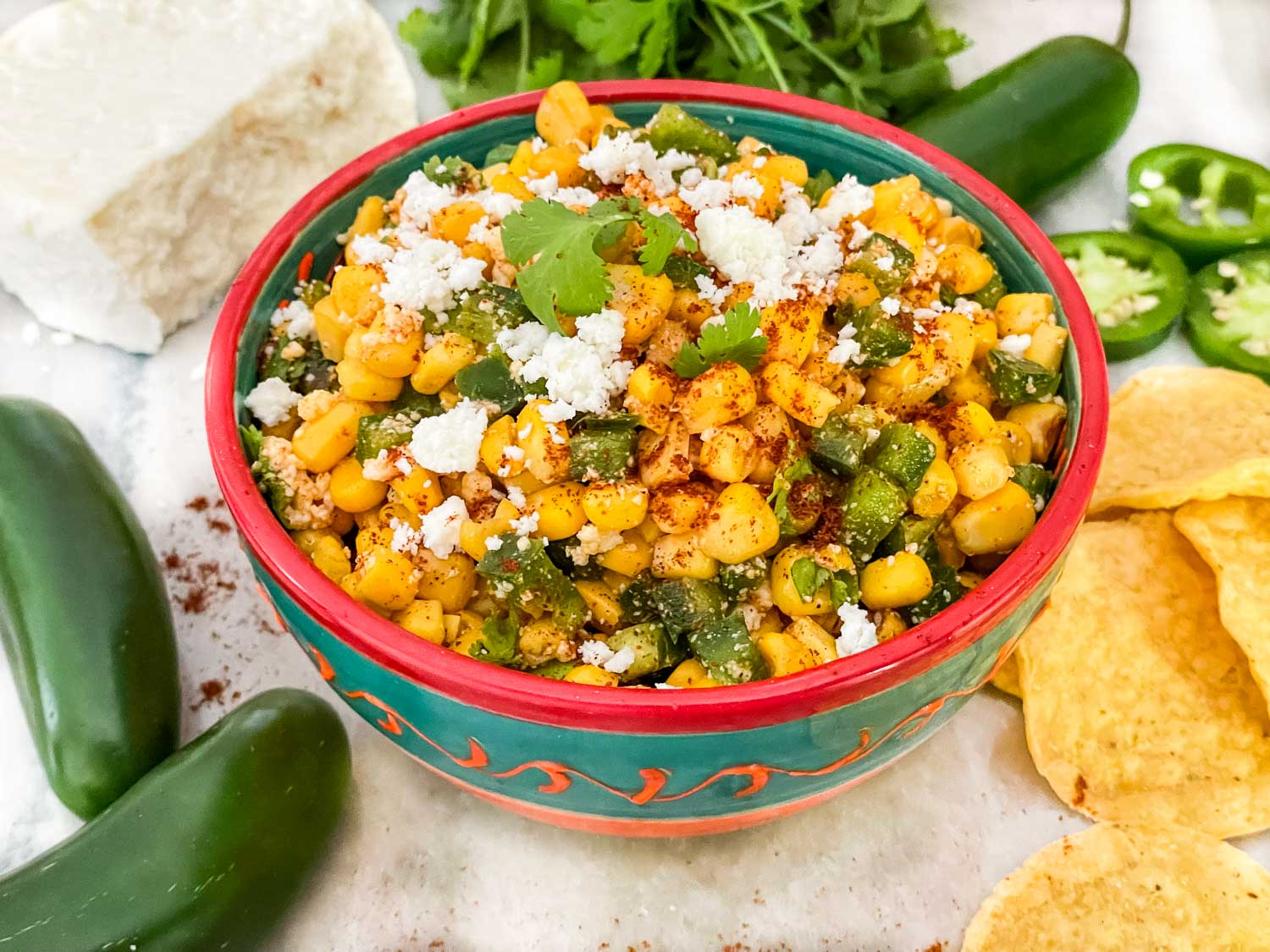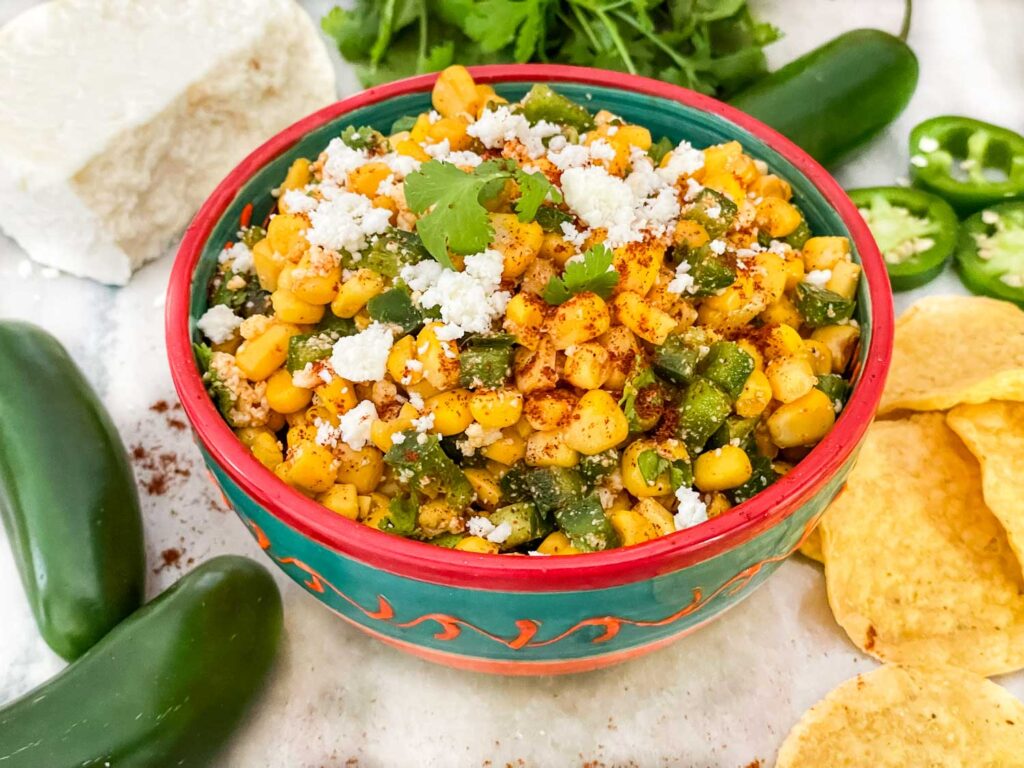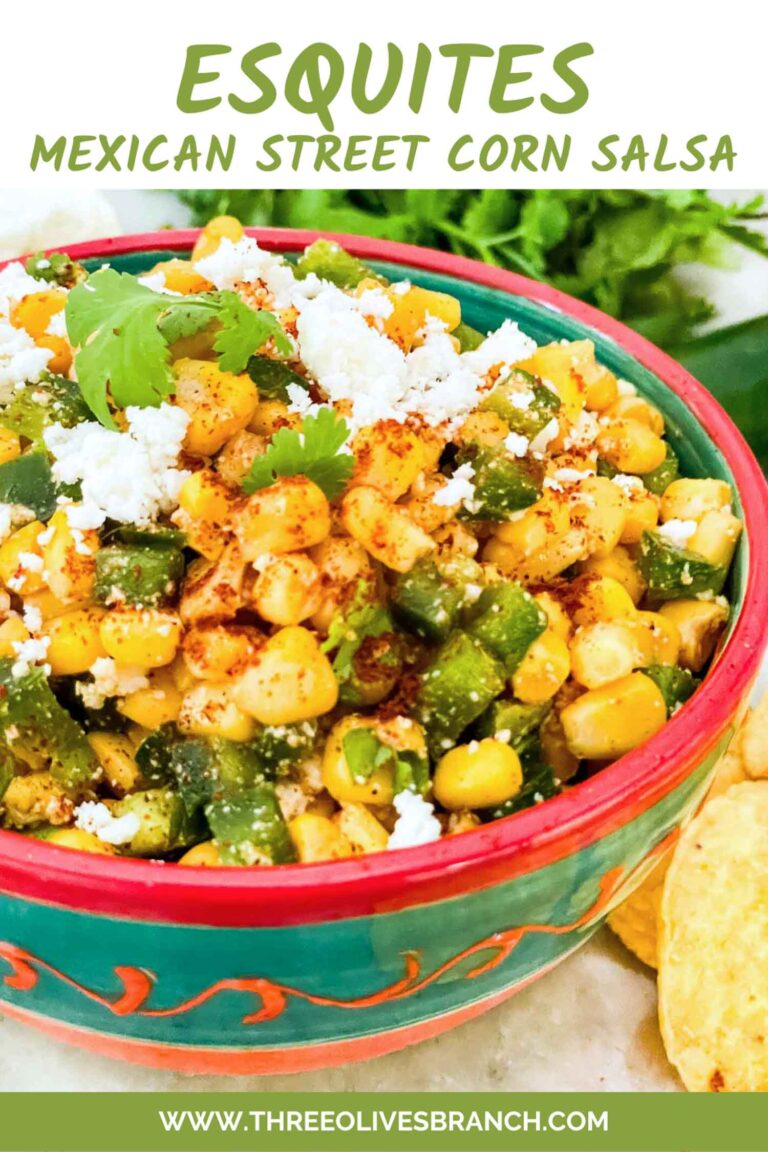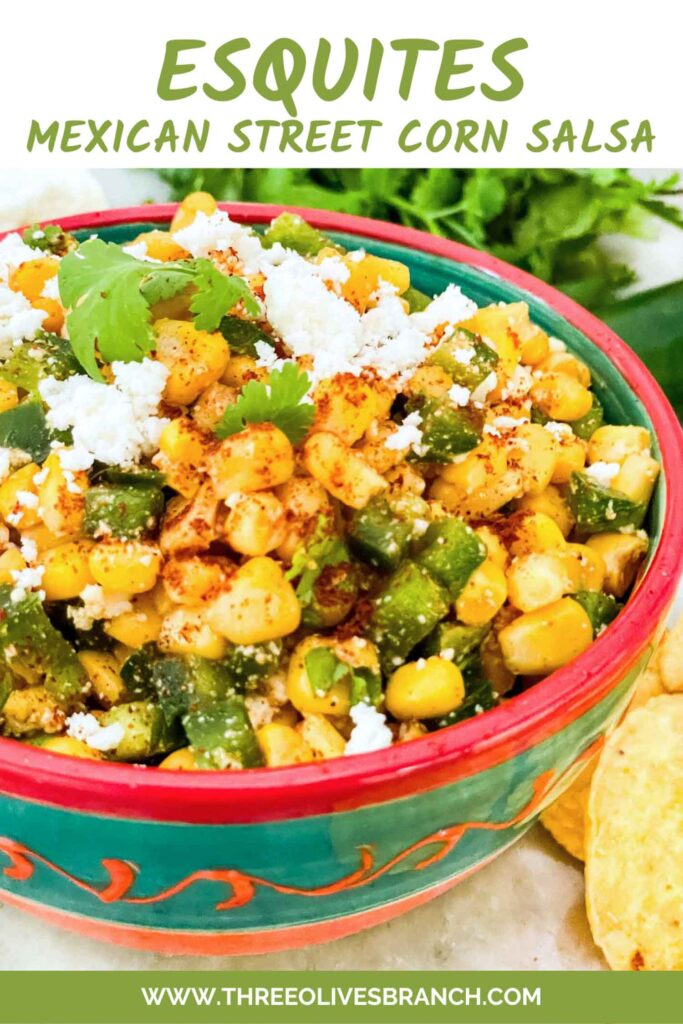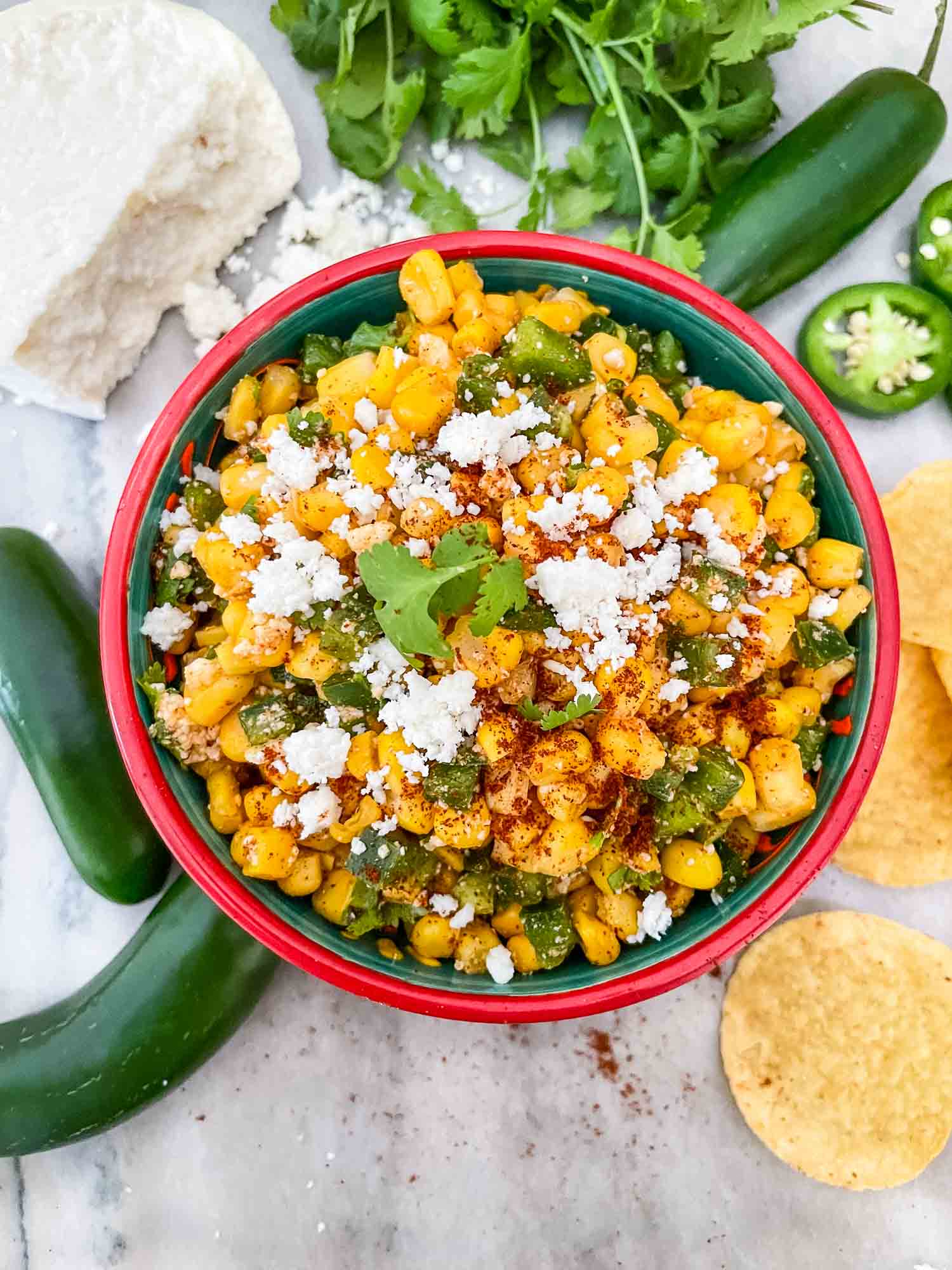 Instructions
Finely dice the jalapeno pepper. Remove the ribs and seeds for a mild heat or keep them in for more of a kick.

Add all of the ingredients to a small bowl and mix. Season to taste as needed. Refrigerate until chilled, approximately 30 minutes. This salsa is best the same day as the corn tends to dry out if made too far in advance. You can correct this by adding more lime or a little water to freshen it up again.
Nutrition
Serving:
1
cup
|
Calories:
194
kcal
|
Carbohydrates:
28
g
|
Protein:
8
g
|
Fat:
8
g
|
Saturated Fat:
4
g
|
Cholesterol:
25
mg
|
Sodium:
908
mg
|
Potassium:
252
mg
|
Fiber:
4
g
|
Sugar:
7
g
|
Vitamin A:
674
IU
|
Vitamin C:
20
mg
|
Calcium:
145
mg
|
Iron:
1
mg
More Mexican Street Corn Recipes
Mexican Street Corn Recipes
More Salsa Recipes
By