Rosemary Garlic Pork Tenderloin is a tender and delicious pork dinner recipe! Seared and roasted with an herb marinade and sauce. A great dinner idea that is versatile!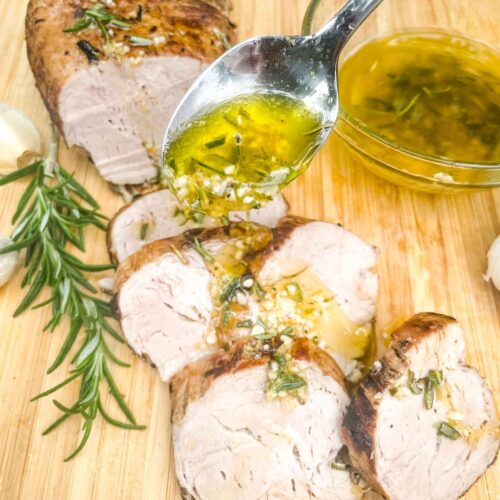 This simple Rosemary Garlic Pork Tenderloin is full of flavor and a great dinner recipe idea! A simple and easy marinade doubles as a finishing sauce for a versatile meat.
Easy Pork Tenderloin Recipe
This Rosemary Garlic Pork Tenderloin is so tender and moist! I made it for a dinner party and it was gobbled up!
Since the flavors are classic, you can use any of your favorite sides with it. See below the recipe card for some ideas!
What Ingredients Do I Need?
These are the ingredients you need for this recipe:
Pork Tenderloin
Fresh Rosemary
Garlic
Olive Oil
Lemon Juice
Lemon Zest
Salt
Black Pepper
What Can I Use Instead of Rosemary?
You could use other woody herbs such as thyme in this recipe.
And if you want to go lighter and fresher, parsley would be great as well!
Can I Use Dried Rosemary?
Yes, you could use 1.5 Tablespoons of dried rosemary instead.
Which Herbs Go Well with Pork?
So many herbs and flavors work so well with pork!
Rosemary, thyme, and basil taste great, and we capitalize on this in the recipe!
How Do I Cook Pork Tenderloin?
Here is an overview of how to make this recipe.
First make your marinade that doubles as a finishing sauce by combining those ingredients in a bowl.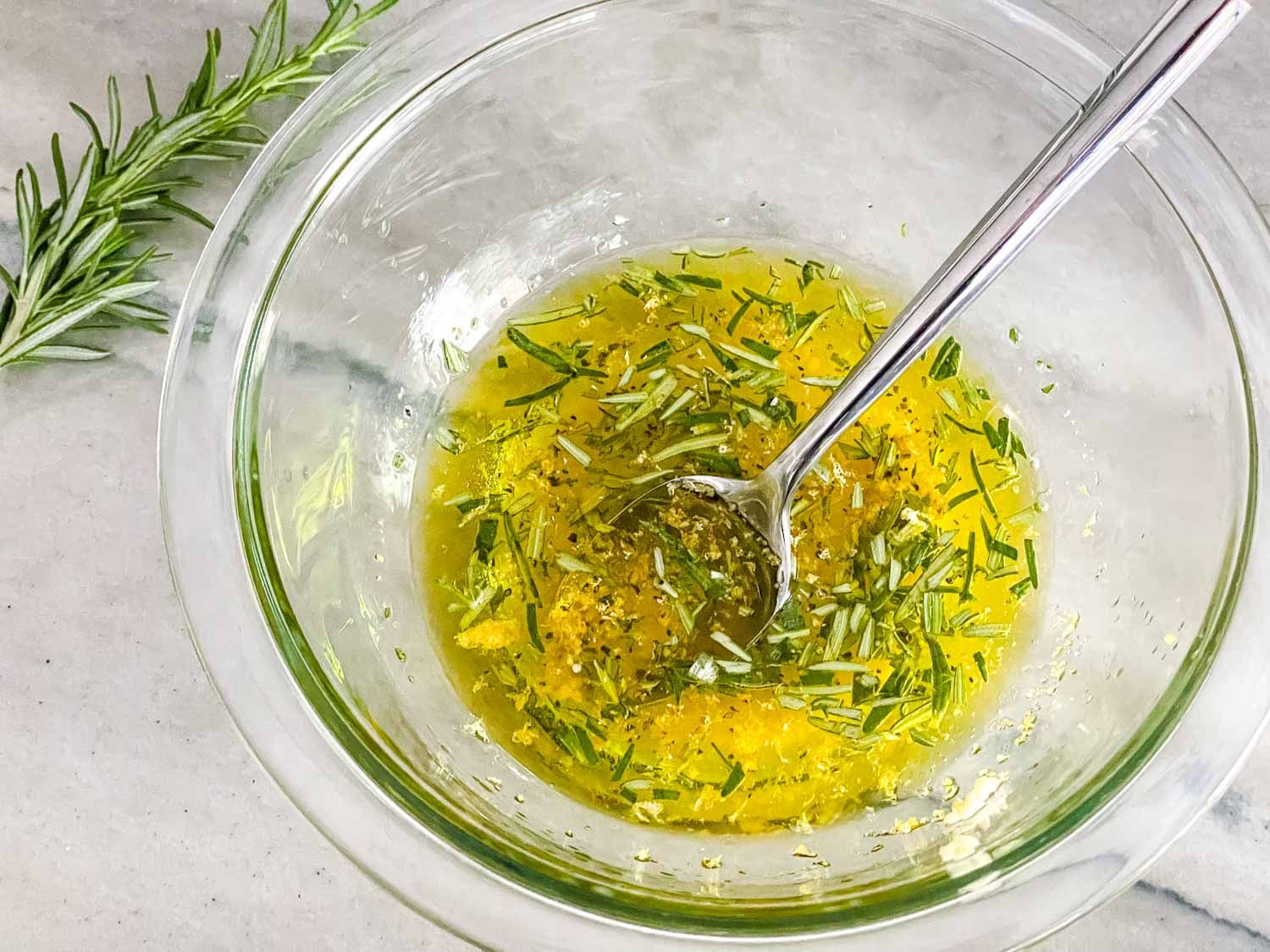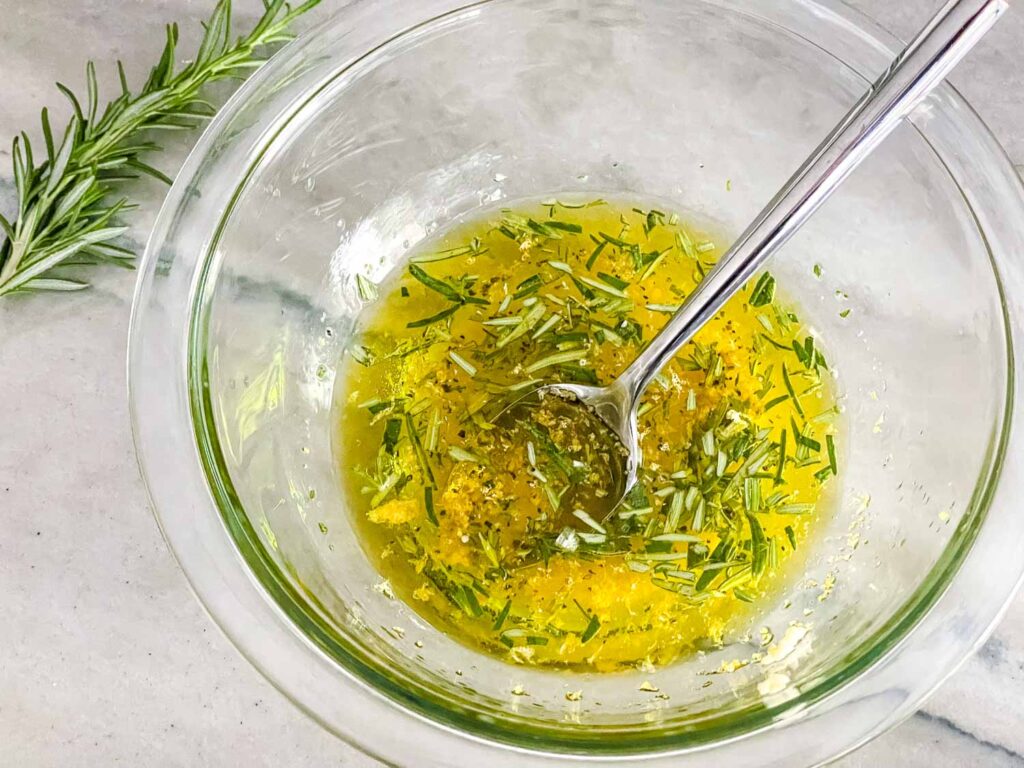 Add some of it to a resealable bag or a shallow dish with the pork tenderloins and let the meat marinate for 30-60 minutes.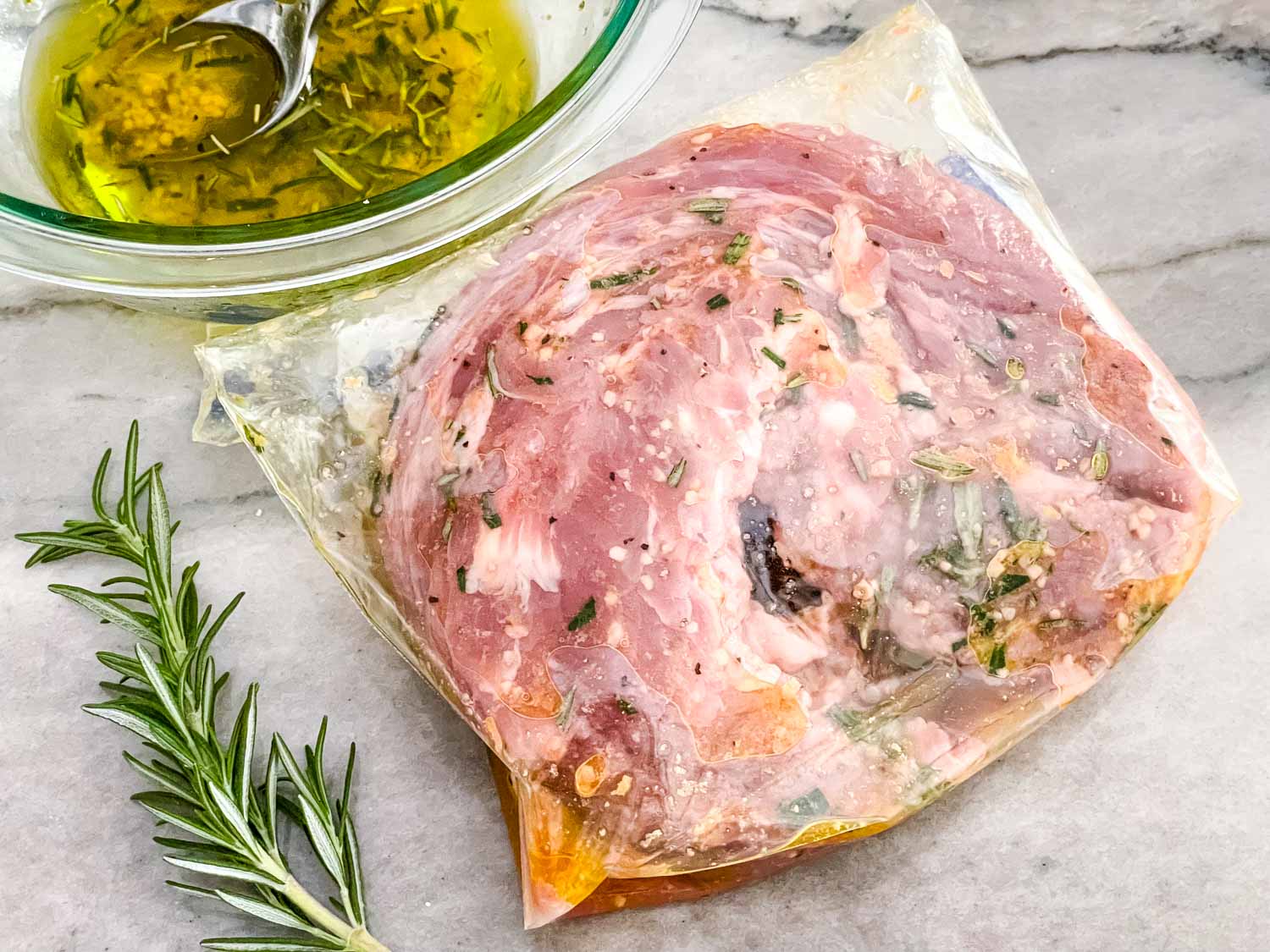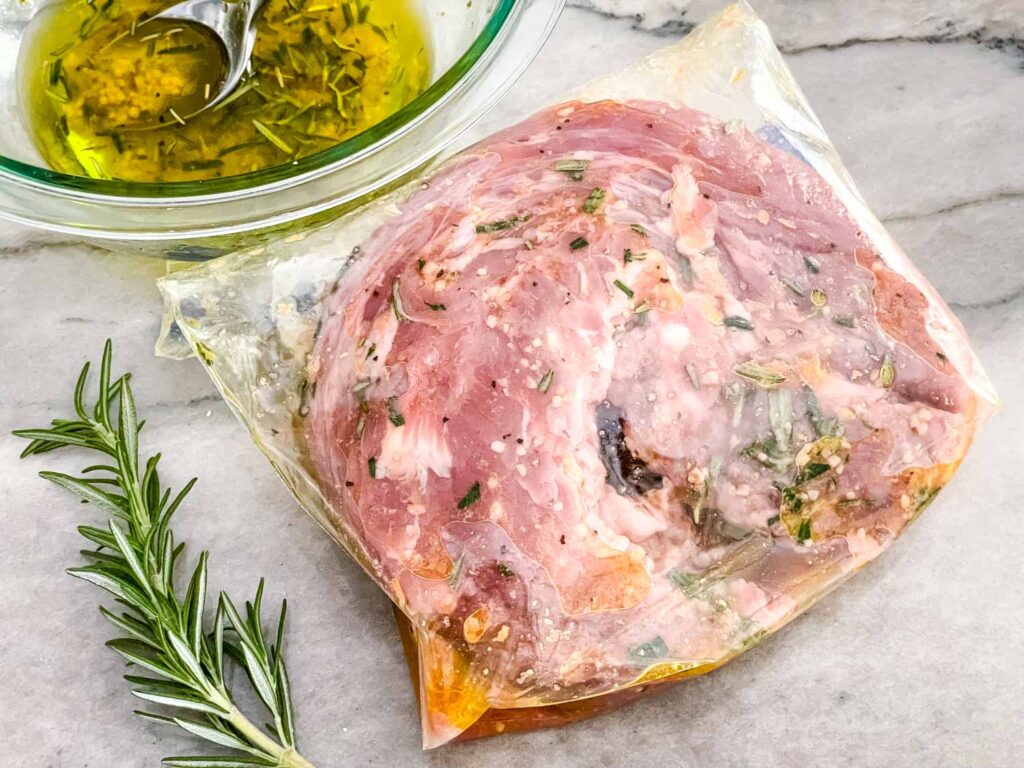 To cook, first sear the pork in a hot oven safe skillet to get great color on the outside edges.
Then pop the skillet in the oven and finish cooking through until the meat is 145F on the inside.
Let the meat rest for 10 minutes to lock in the juices before slicing.
Serve up with the remaining marinade sauce and your favorite sides!
Should I Sear Pork Tenderloin before Roasting?
I do like searing the pork because searing gives it a great color on the outside, and this color means great flavor!
You want to sear hot and quick to not overcook the pork but still get that color!
How Do You Make a Good Sear for Pork Tenderloin?
Make sure your pan is hot, and once you put the meat on the pan, do not touch it!
Let it sit there to develop the sear. If you move it, this will disrupt the browning.
Can You Bake a Pork Tenderloin without Searing it First?
Yes, you can. The baking time will increase slightly since it was not getting a jump start on cooking.
You will also be missing the crust and flavor from the outside sear, which means less flavor.
But otherwise yes, you can!
Should Pork Tenderloin be Cooked Fast or Slow?
Fast is best for this cut since it is long and skinny.
This allows us to get a great sear and color on the outside while not cooking it too long for the inside.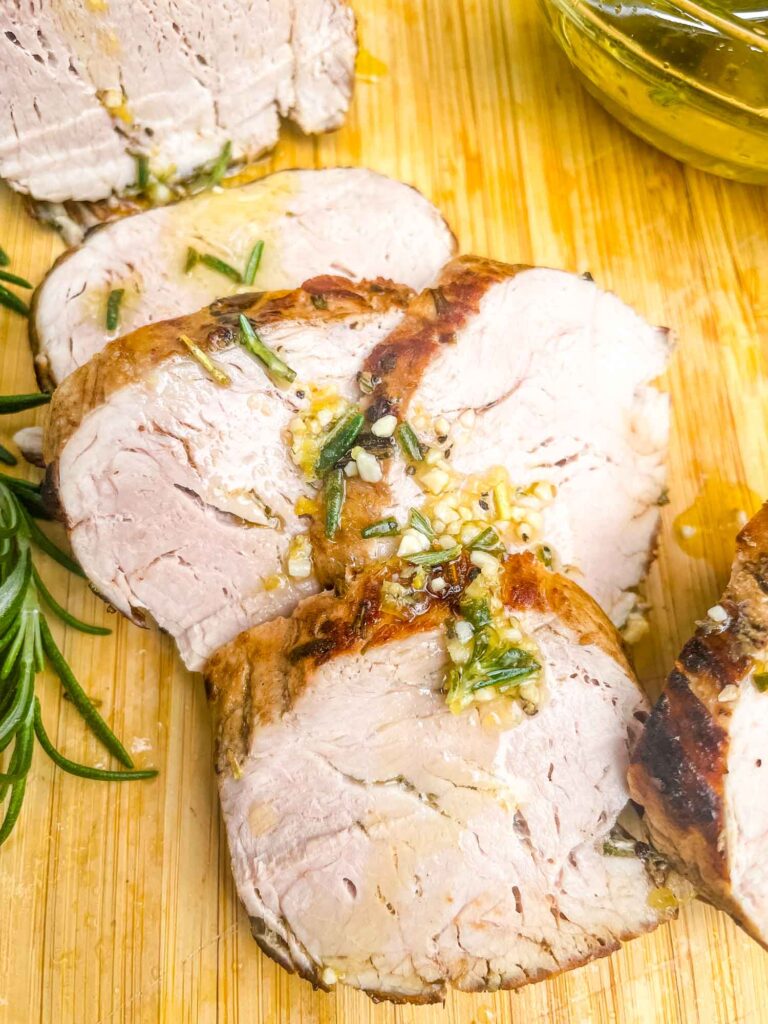 How Do You Know when Pork Tenderloin is Done?
Use a meat thermometer and when the center reads as 145F, you are ready to let it rest to serve!
How Do You Know Pork Tenderloin is Done without a Thermometer?
Medium, cooked until just done with a little pink, will feel similar when you poke it as if you put your ring finger and thumb together and press on the bump of flesh under your thumb.
If you want to cook it longer to more well done without pink, it will feel similar to when you press your pinky and thumb together and press the same flesh under your thumb.
How Do You Cook a Pork Tenderloin without Drying Out?
Using a meat thermometer is the best way to know when to pull the pork out of the oven to avoid overcooking.
You also want to remember that as the meat rests, the temperature tends to increase a few more degrees. We accommodate this rise of temperature in the recipe to avoid it being overcooked!
Can Pork Tenderloin be a Little Pink?
Yes!
This is a common misperception. Pork can actually still be a little pink on the inside as long as the meat has been brought up to the temperature of 145F.
What Happens if you Eat Undercooked Pork?
You can get foodborne illnesses, which is why it is important to get it to that 145F mark in the middle of the meat.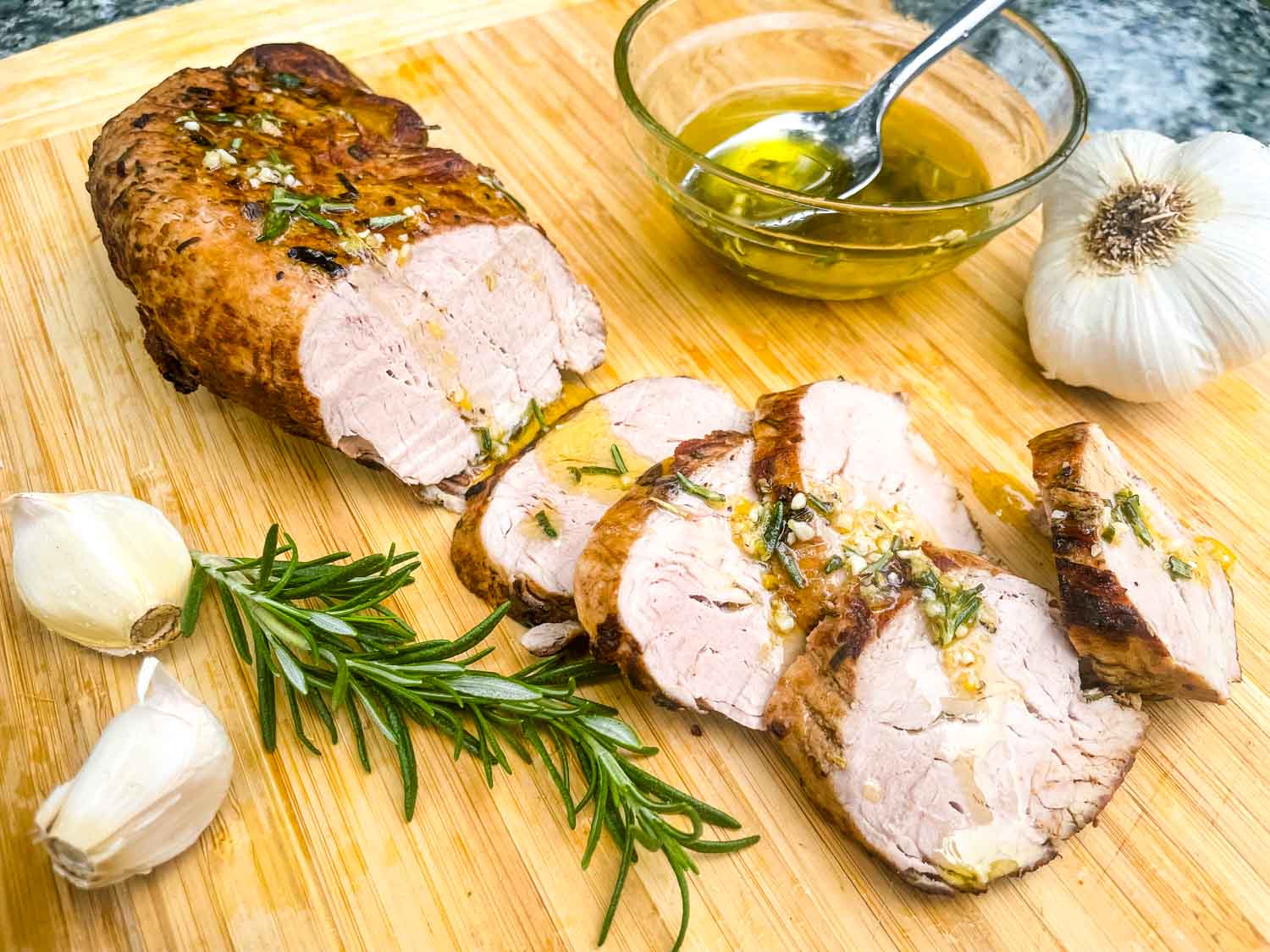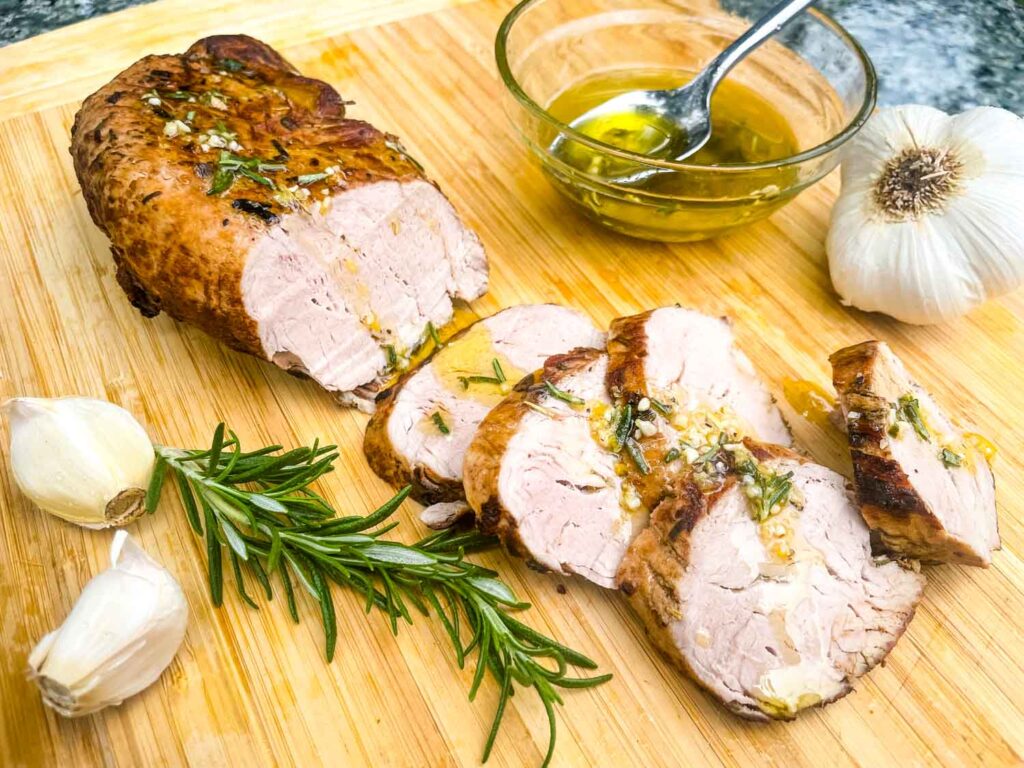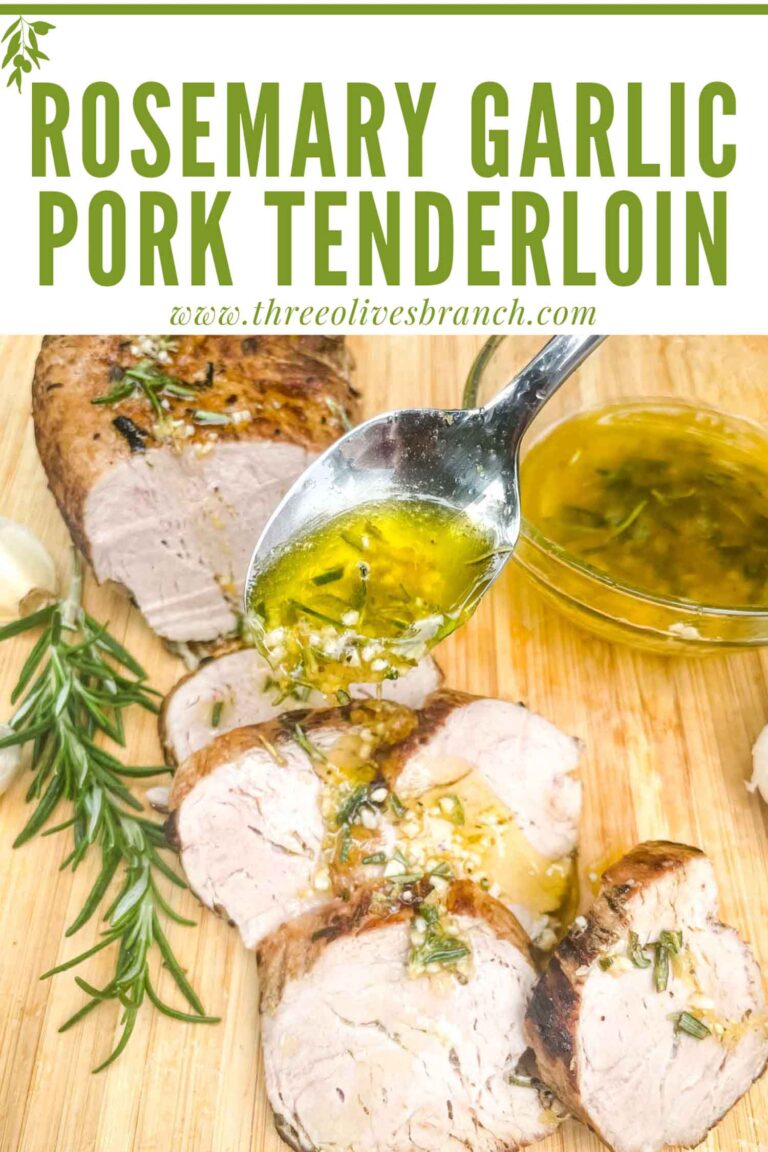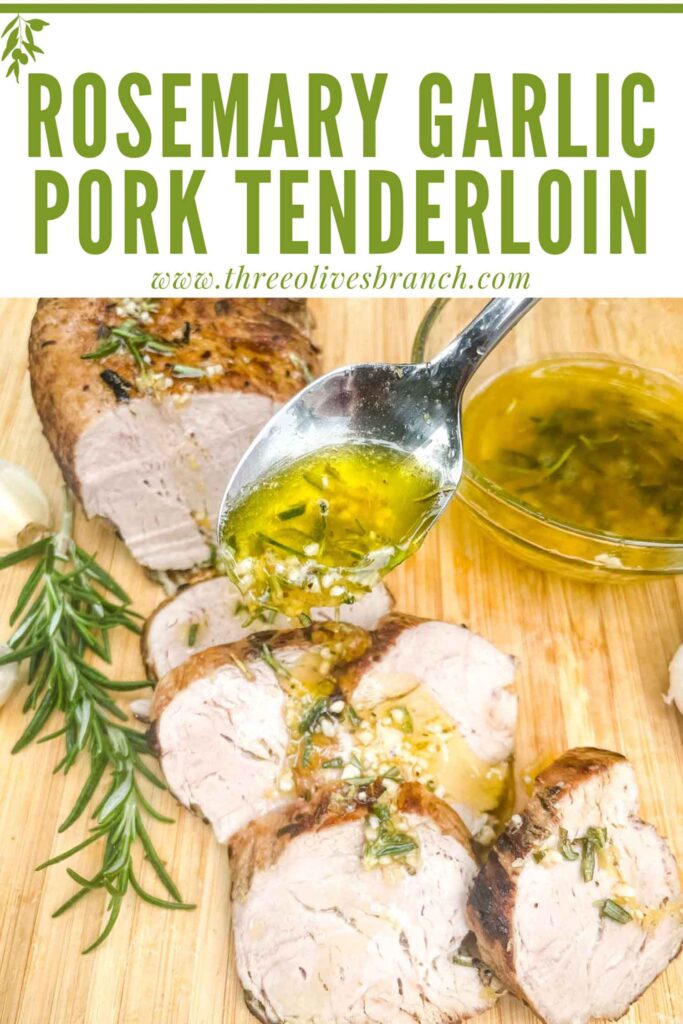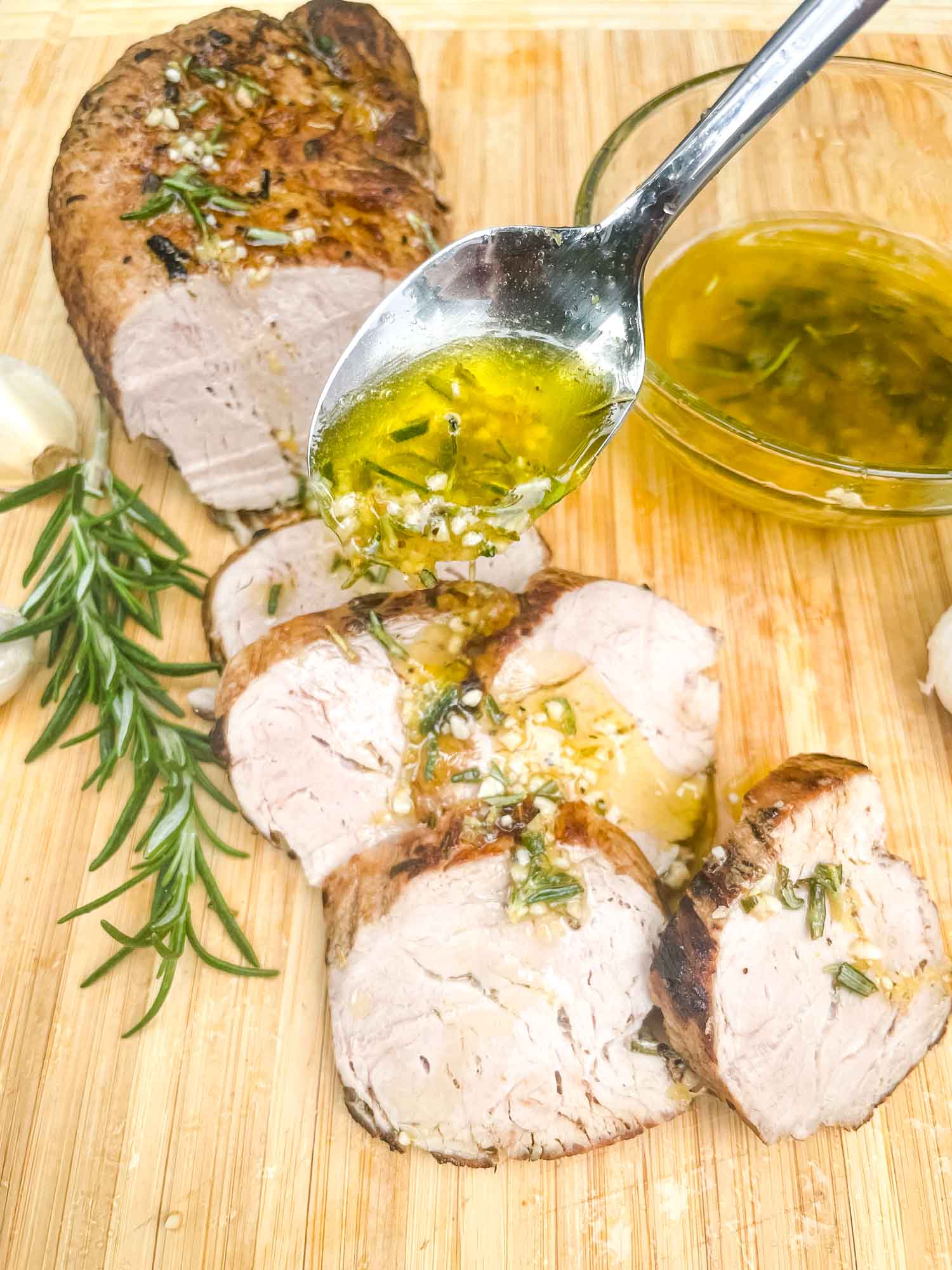 Instructions
Make the marinade by mixing together all ingredients except the pork in a small bowl.

⅓ cup minced fresh rosemary,

4 garlic cloves,

¾ cup extra virgin olive oil,

2 teaspoons lemon zest,

3 Tablespoons lemon juice,

¼ teaspoon salt,

¼ teaspoon black pepper

Put the pork and 1/4 cup of the marinade into a large resealable bag or a baking dish.

Put in the refrigerator for 30-60 minutes, flipping over half way through.

Heat a large, oven safe skillet over medium high heat on the stove.

When hot, add the pork tenderloins and brown on all sides, about 10 minutes total.

(I like to sear the sides as well, but this is optional)

Put the skillet with the pork in the oven and bake until the internal temperature reaches 145°F, about 12-15 minutes.

Remove the pork and put on a cutting board, covered in foil, to rest for 10 minutes.

Slice and serve with the remaining marinade sauce.
Nutrition
Serving:
1
serving (includes all of marinade)
|
Calories:
1457
kcal
|
Carbohydrates:
2
g
|
Protein:
188
g
|
Fat:
73
g
|
Saturated Fat:
16
g
|
Polyunsaturated Fat:
9
g
|
Monounsaturated Fat:
42
g
|
Trans Fat:
0.3
g
|
Cholesterol:
590
mg
|
Sodium:
619
mg
|
Potassium:
3607
mg
|
Fiber:
1
g
|
Sugar:
0.4
g
|
Vitamin A:
86
IU
|
Vitamin C:
7
mg
|
Calcium:
70
mg
|
Iron:
9
mg
Light and Fresh Side Dishes
By