Shortbread Snowman Cookies are a cute Christmas cookie recipe! Perfect for winter and holiday like Hanukkah. Soft vanilla shortbread cookies are decorated to make festive snowmen. A great cookie platter exchange addition.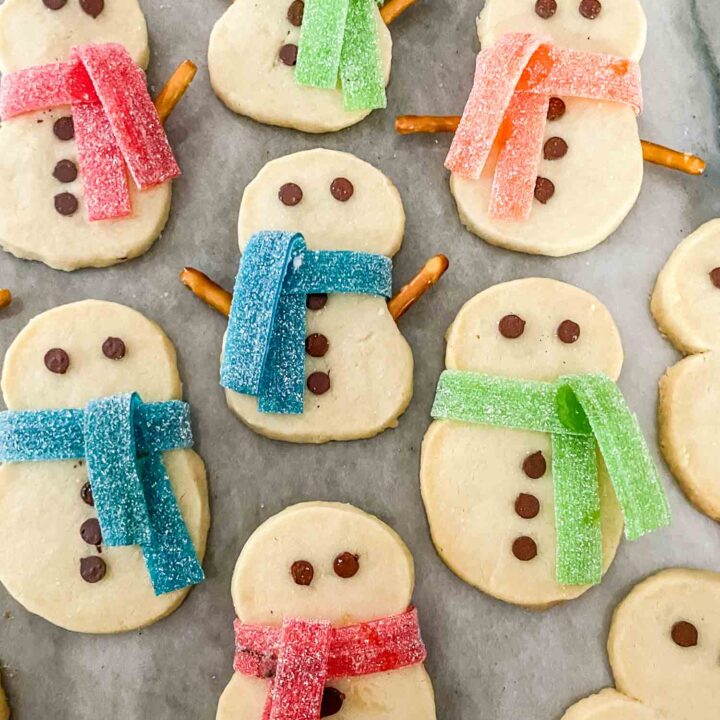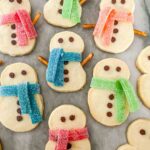 These Shortbread Snowman Cookies are an adorable festive dessert treat! Perfect for all winter holidays and celebrating the snow.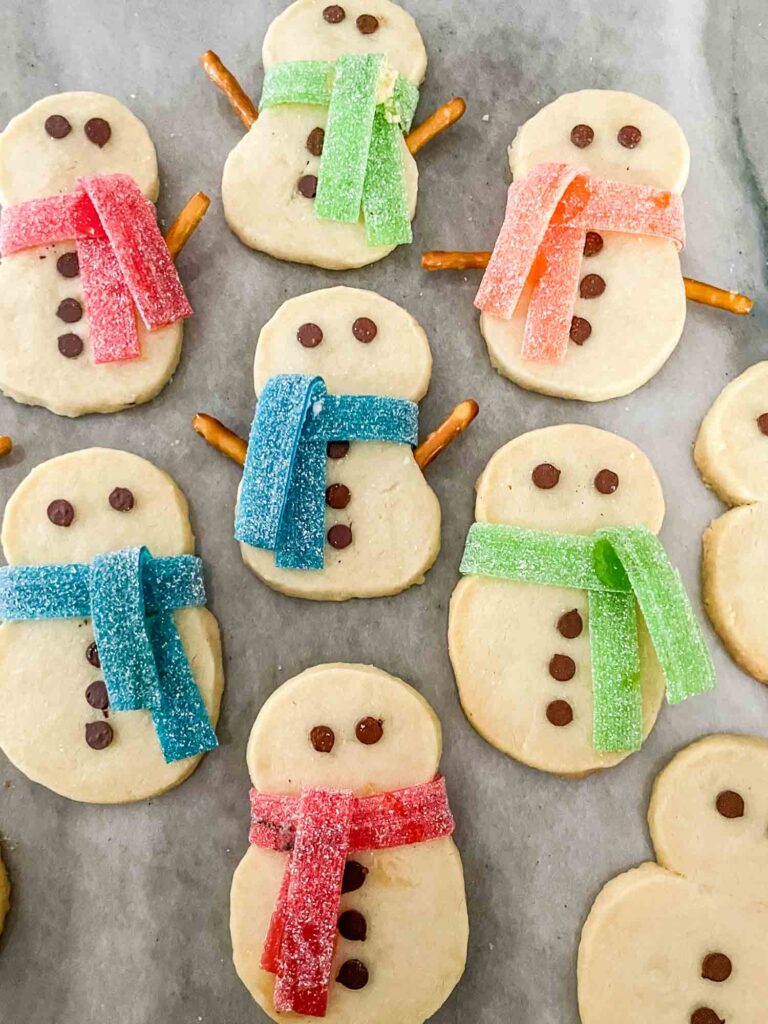 Why You Will Love This Recipe
How adorable are these Shortbread Snowman Cookies!?!
I love how soft and crumbly these shortbread cookies are, and they are all dressed up for winter as snowmen!
Perfect for Hannukah, Christmas, and winter in general.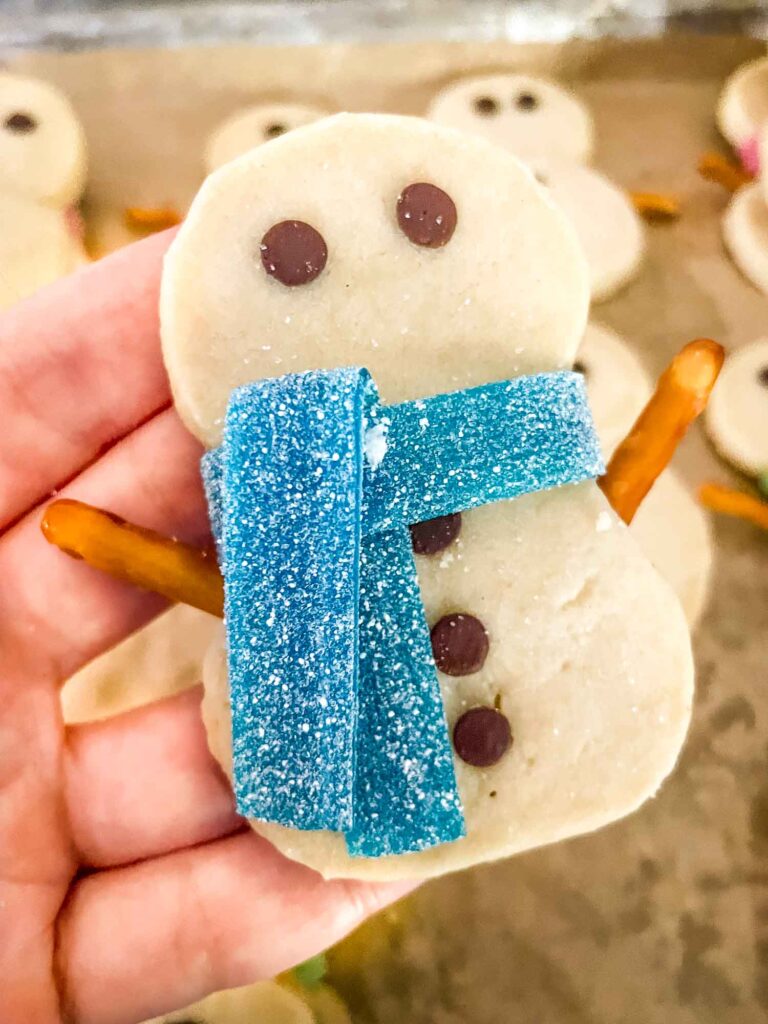 Ingredients

What's the ingredients for shortbread?
Flour
Powdered Sugar
Butter
Vanilla Extract
Water
Mini Chocolate Chips
Honey or Edible Glue
Candy Belts are long and flat, flexible pieces of candy. Similar to something like Fruit by the Foot but a little thicker. They are perfect to use as scarves! Just make sure you do not get the super short square ones! You can find all kinds of flavors and colors online, including a Christmas striped candy belt!
Honey – The honey is used to act like glue for applying the candy belt scarves. A super thick honey works great. You can also use edible glue or a thick simple syrup. Frosting can work but stick to light colors since you can see through the scarf.
Orange – Optional if you want to add a little citrus flavor to the cookies. You could also do lemon. See the Modification and Substitution section below for more on this.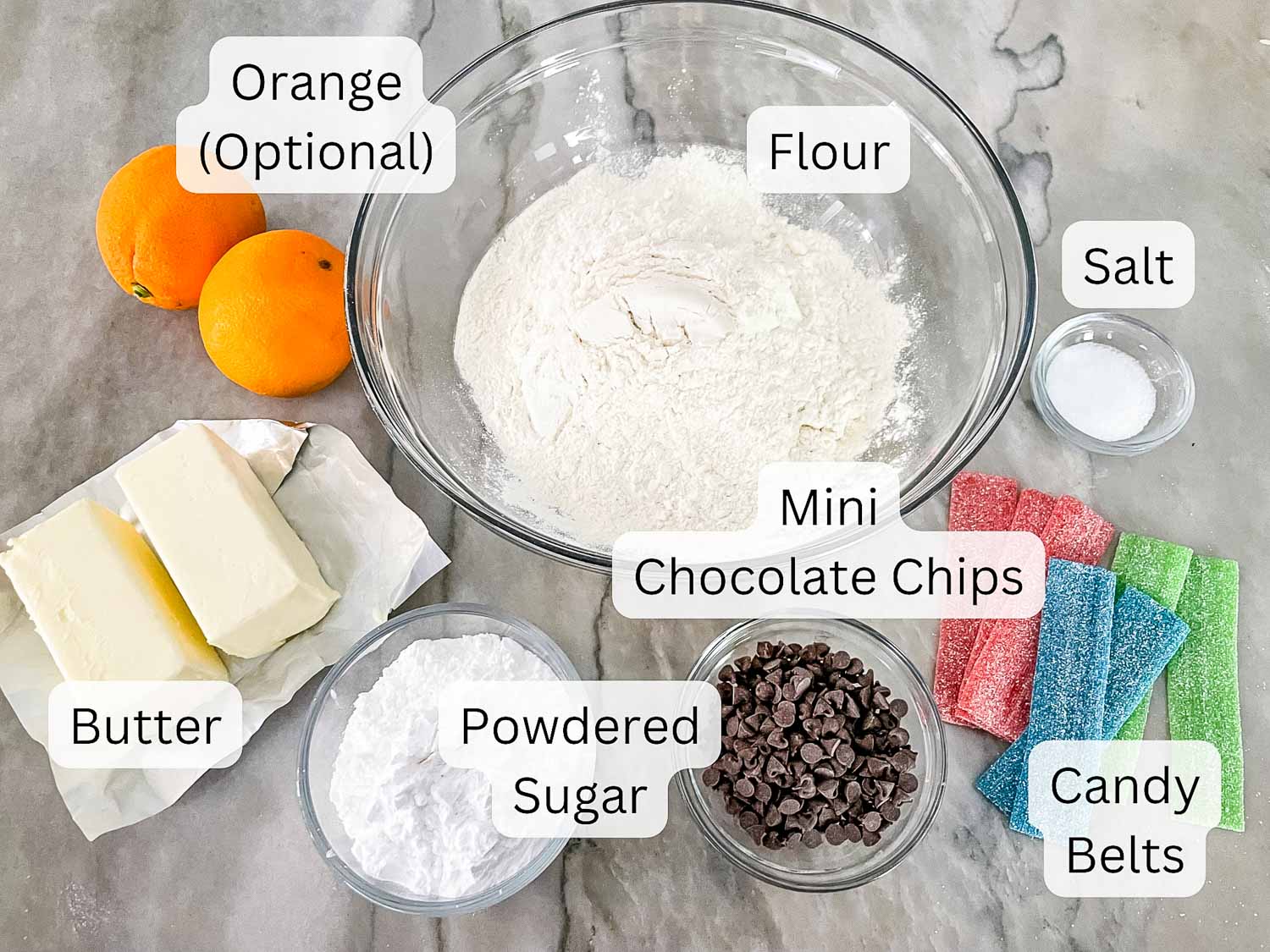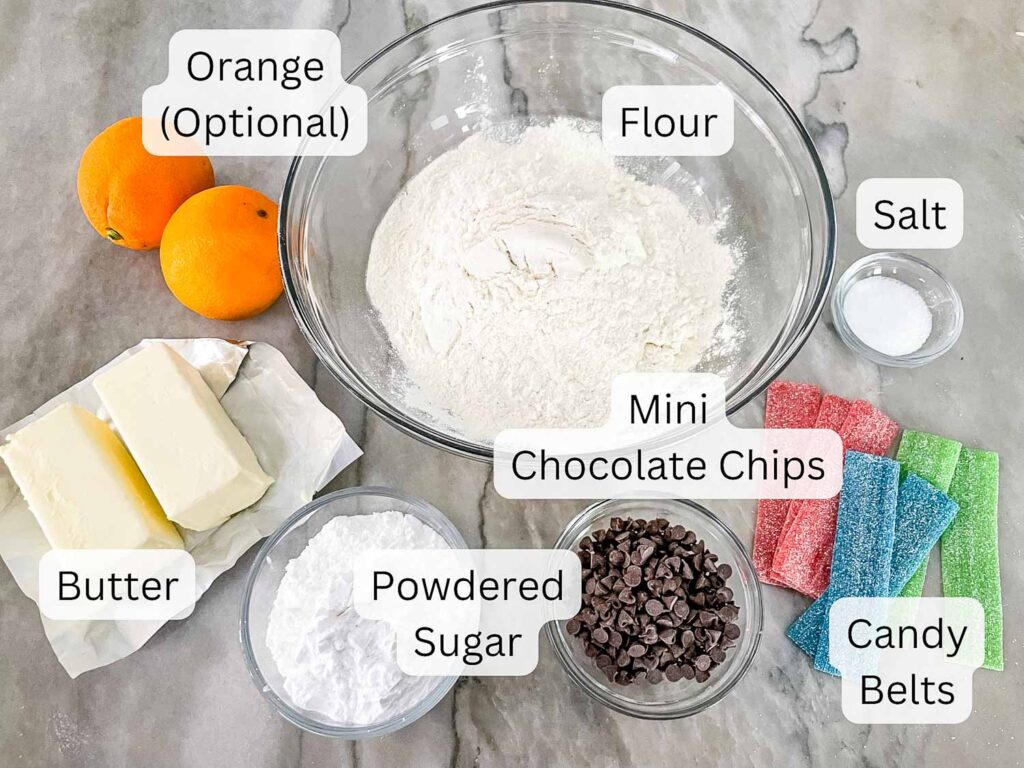 Equipment
The equipment you need to make this recipe includes:
Measuring Cups
Measuring Spoons
Food Processor
Baking Sheets
Silicone Baking Mats or Parchment
Saran Wrap or Parchment
Serrated Knife
Instruction Overview
First pulse your dry ingredients together in a food processor.
Add the butter, vanilla, and water and pulse until just combined.
The mixture should hold together when you press it together. If not, add a little more water and pulse again. It will not be as wet as pie dough and will still look crumbly until you squeeze it.
Separate the dough into 3/4 cup packed for the head log and the rest in the body log. Roll it out into 7 inch long pieces. Put them next to each other to make sure you like the ratio of the two together to make the snowman shape.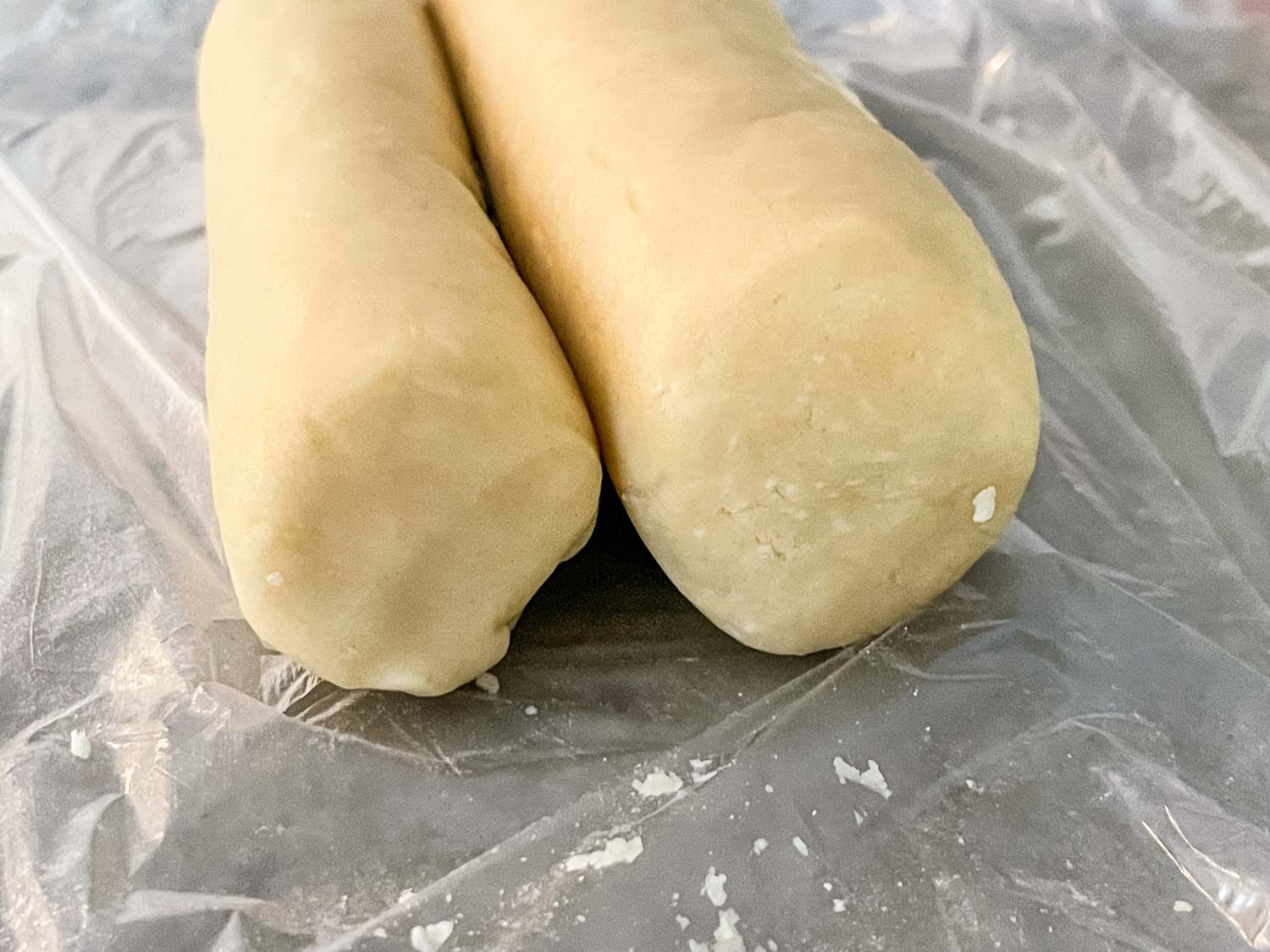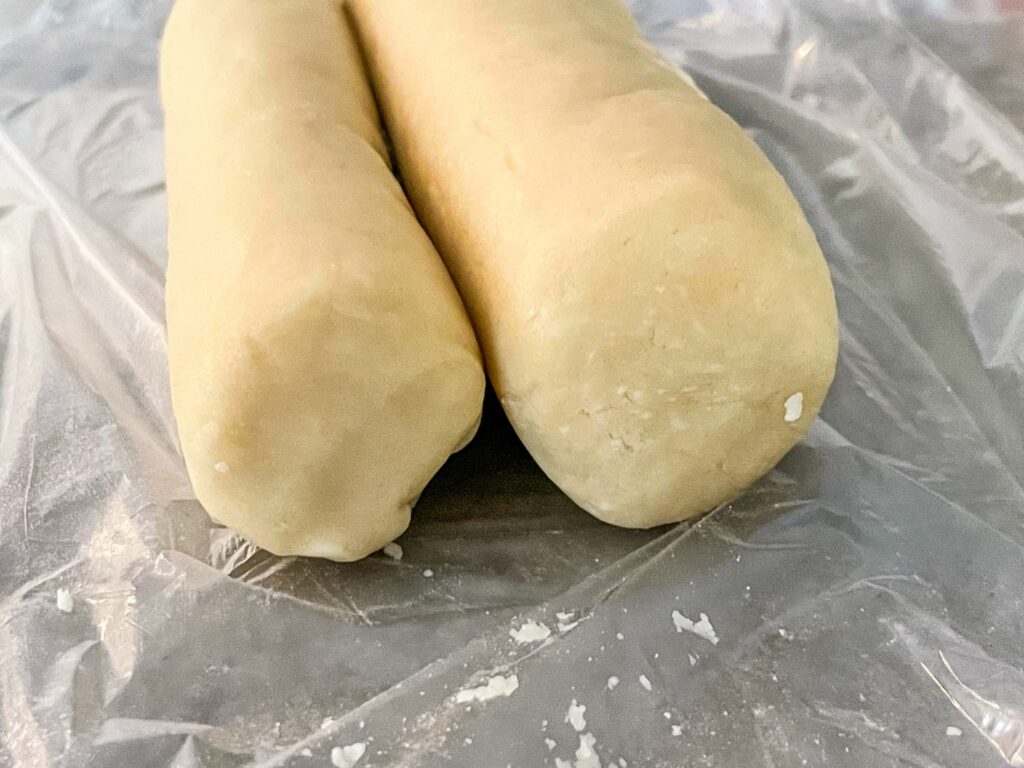 Wrap them in saran wrap or parchment and refrigerate at least 30 minutes.
Slice the dough so you have 10 pieces from each log, not including the very ends. Press a head piece onto a body piece. You can fit about 10 snowman on each sheet, two rows of 5. They spread a little but not too much.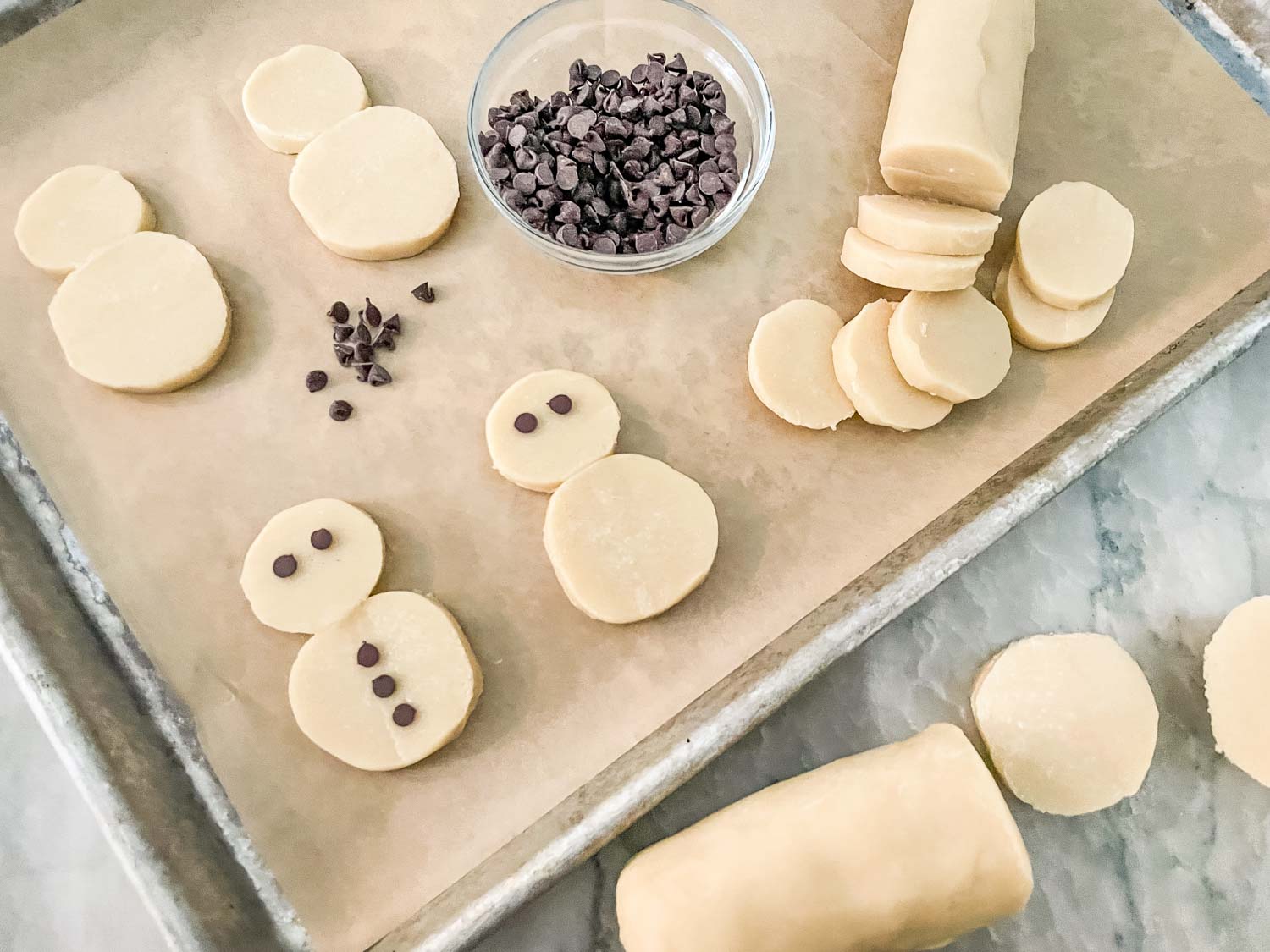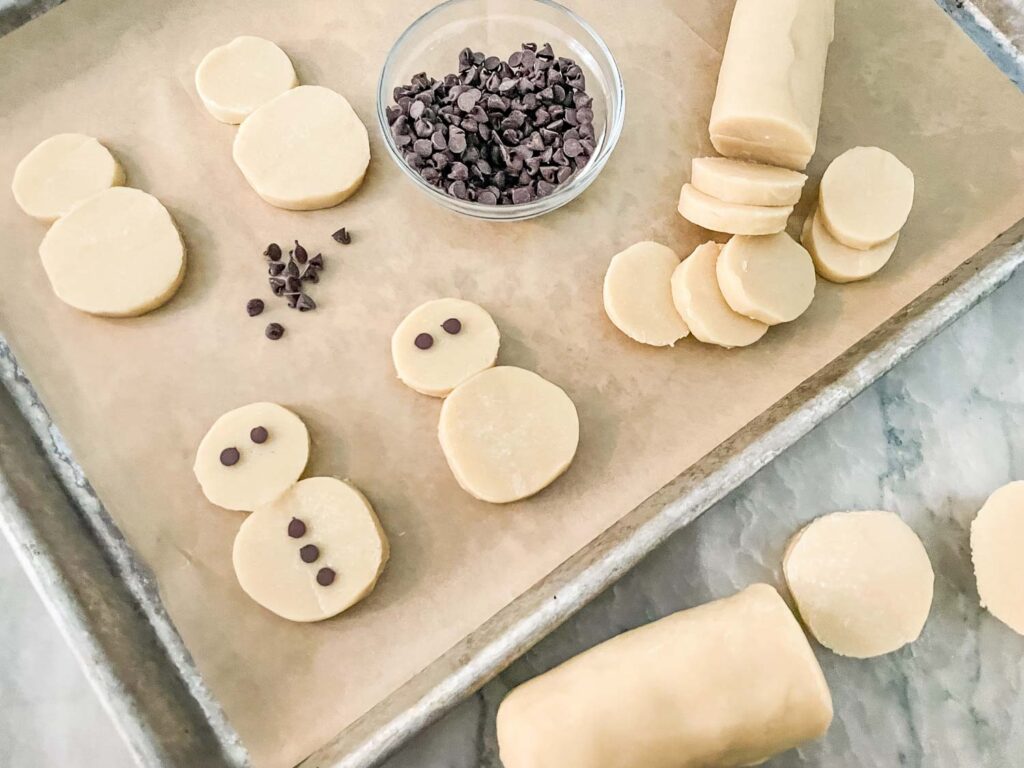 Decorate with mini chocolate chips to make the eyes and buttons as desired. Press the pointy side down for clean and flat tops!
If making arms, break a mini pretzel rod in half and press into the sides at desired angle.
Bake about 20 minutes until just starting to turn a light golden brown on the bottom edges.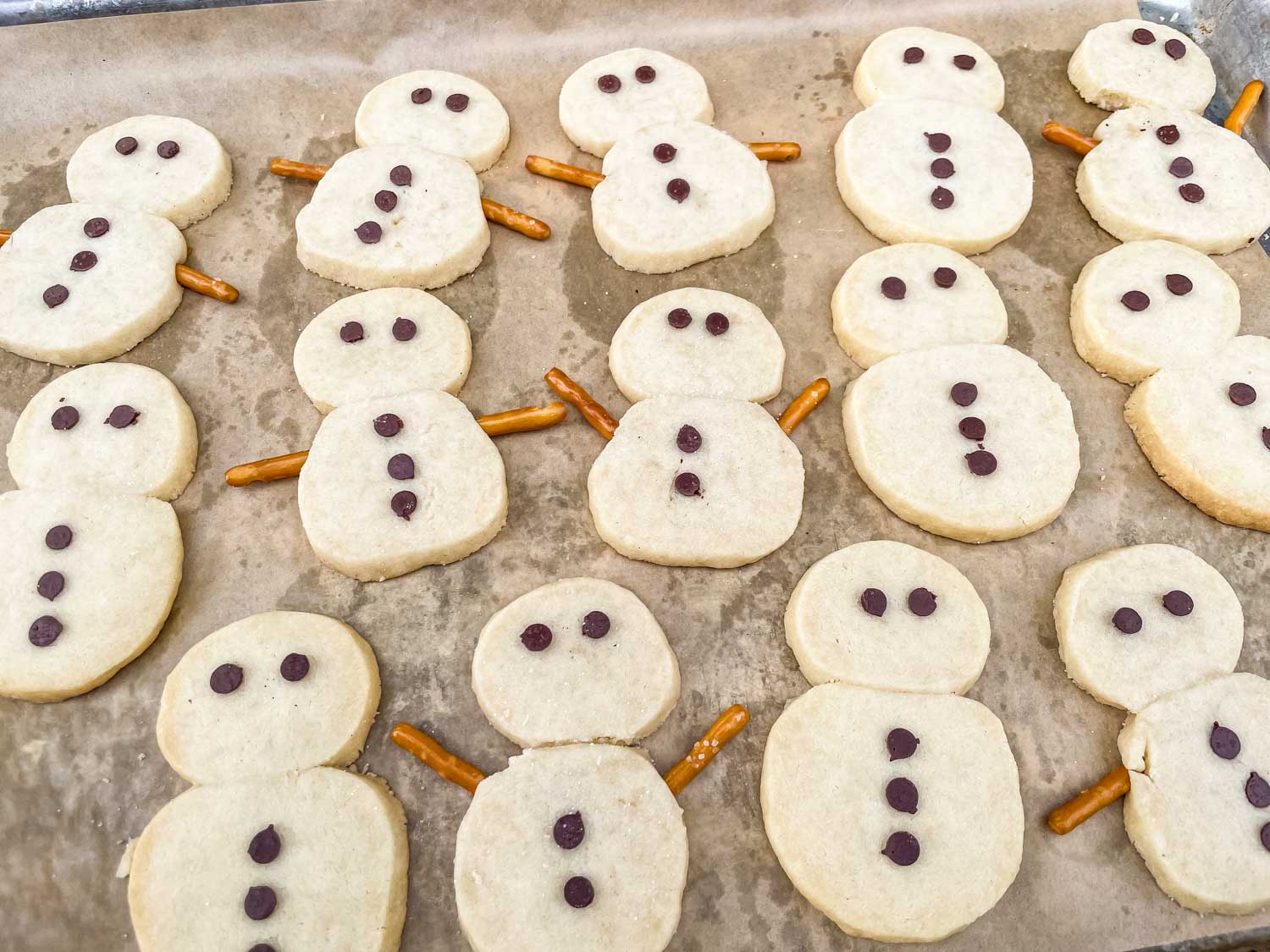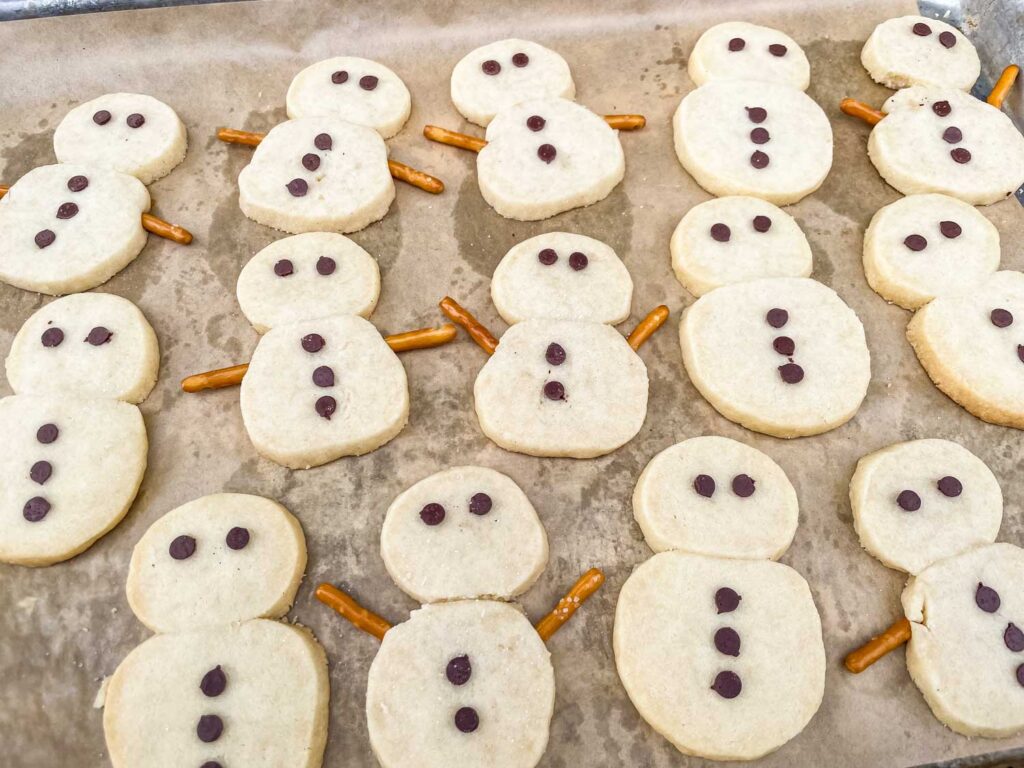 Let cool.
Cut the candy belts in half lengthwise.
Wrap one half around the neck and the other half bent over the neck band in desired location and angle.
Glue the ends in back and ends of the front piece in place with the edible glue or desired glue of choice.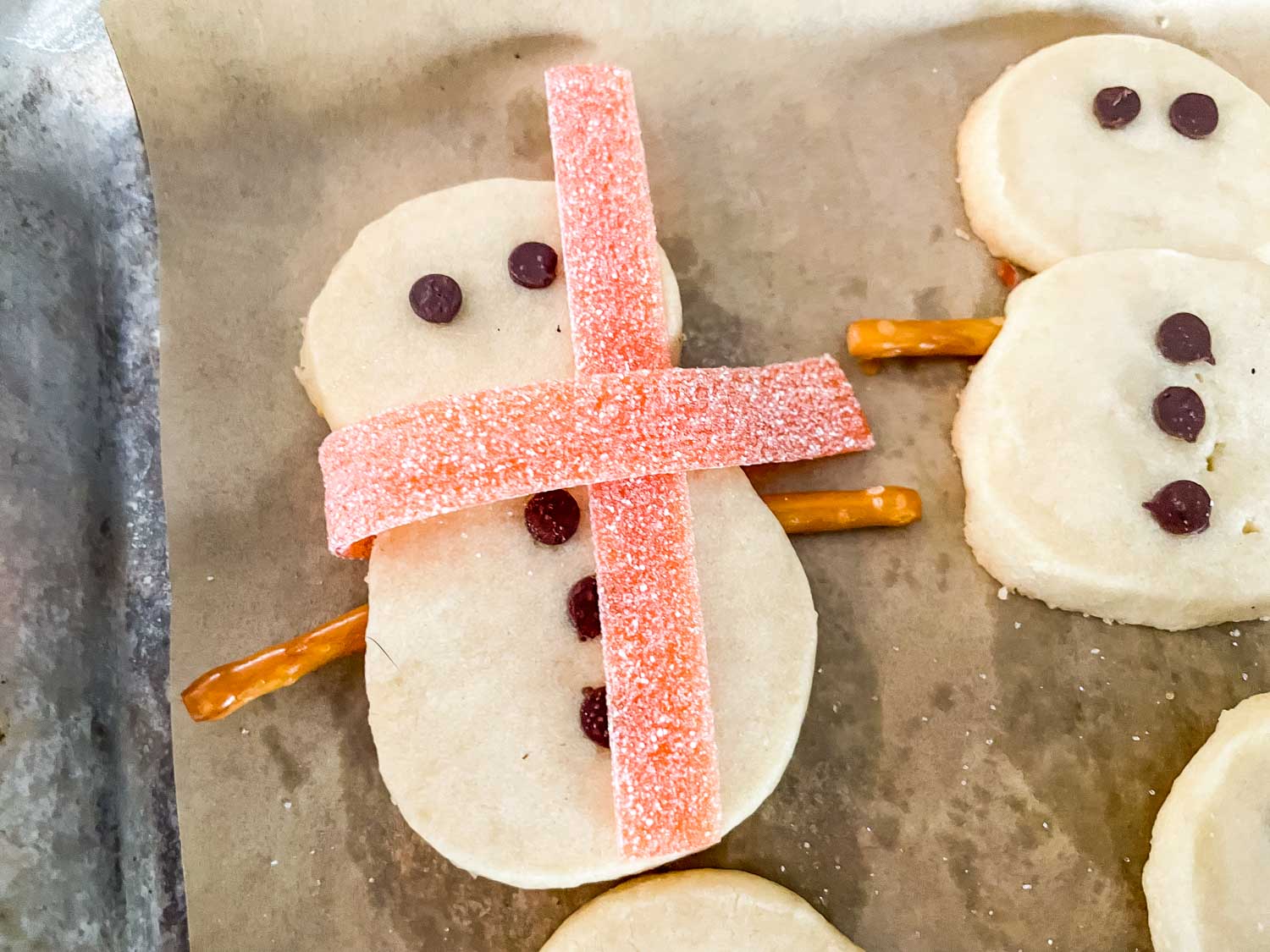 Modifications and Substitutions
Add additional flavor to your cookies by using the same amount of lemon zest and juice from our Lemon Shortbread Cookies, or swap it out for orange. This recipe results in a strong flavor. For a subtle flavor, use just 1 Tablespoon zest and 1/2 Tablespoon juice, swapped out for the same amount of water.
No food processor? You can make the dough in a large bowl using a pastry cutter or fork to combine the butter into the dry ingredients.
Want a crisper cookie? Use granulated sugar instead of powdered sugar (the same amount).
Kim's Tips
Apply the mini chocolate chips with the pointy tip down, pressed into the cookies. This will leave the flat part of the chip facing outward for a clean look!
When trying to glue down the scarves, place another cookie or something with weight on top to help hold things down while drying.
FAQs
How long are snowman cookies good for?
How is shortbread different from cookies?
Shortbread does not have any leaveners such as baking soda or baking powder. They are also very soft and crumbly in texture.
Is it better to use powdered sugar or granulated sugar for shortbread cookies?
This depends on your preference.
Powdered sugar will give you soft cookies. Granulated sugar will give you crispy cookies.
Should shortbread be hard or soft?
This will depend on the type of sugar you use.
Powdered sugar will result in soft, crumbly cookies.
Granulated sugar will result in harder, crisp cookies.
Are butter cookies and shortbread the same?
No, but they are very similar.
Butter cookies have more sugar and are cooked at a higher temperature.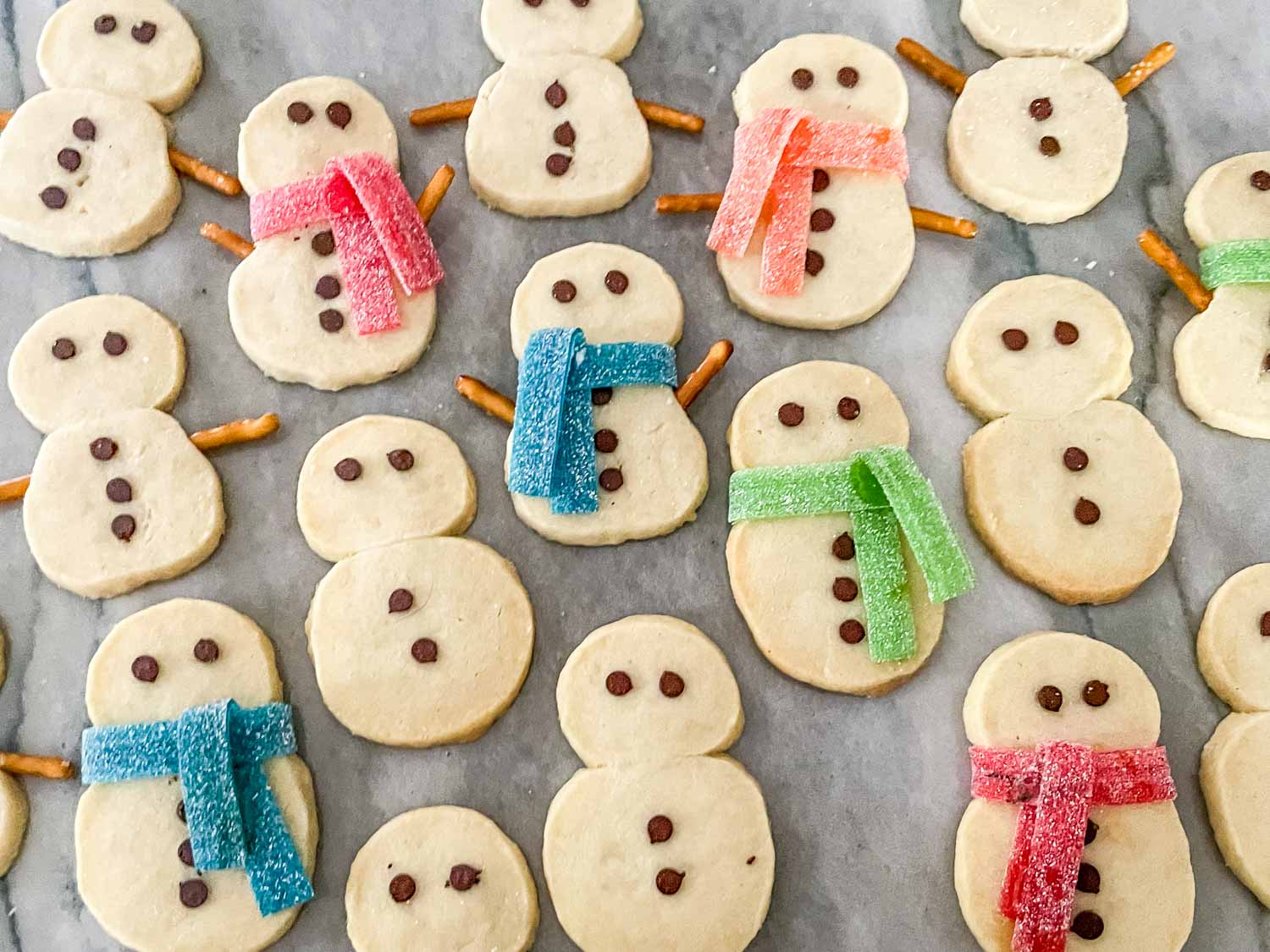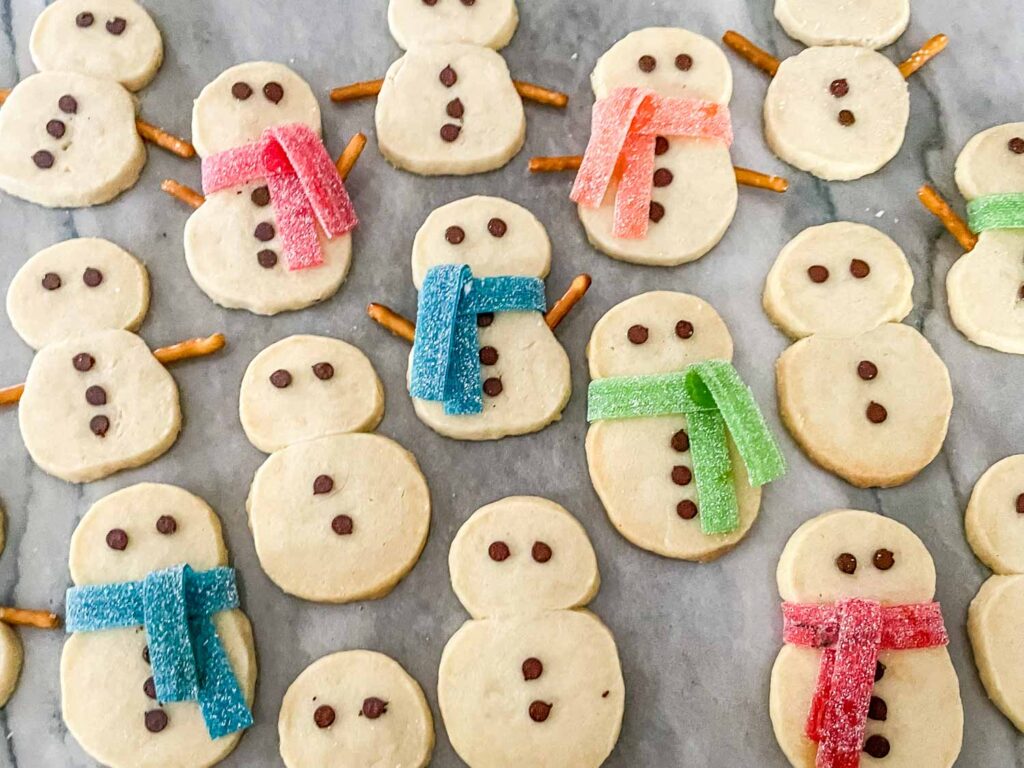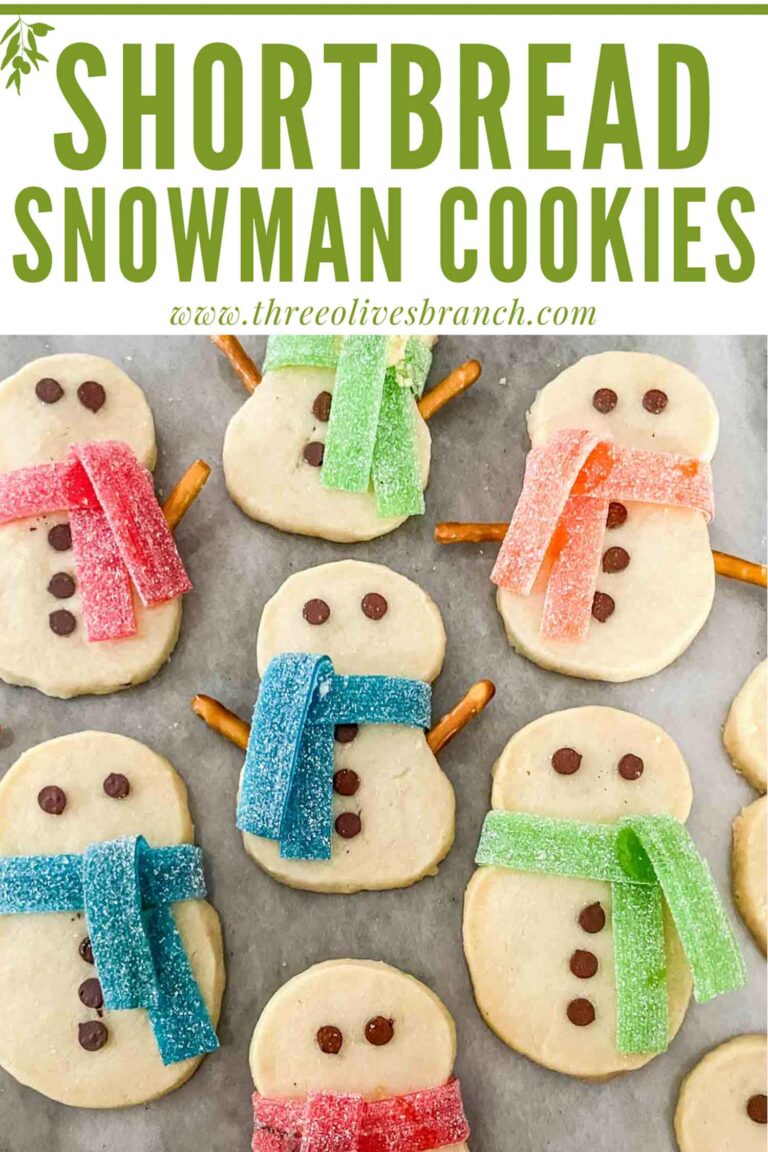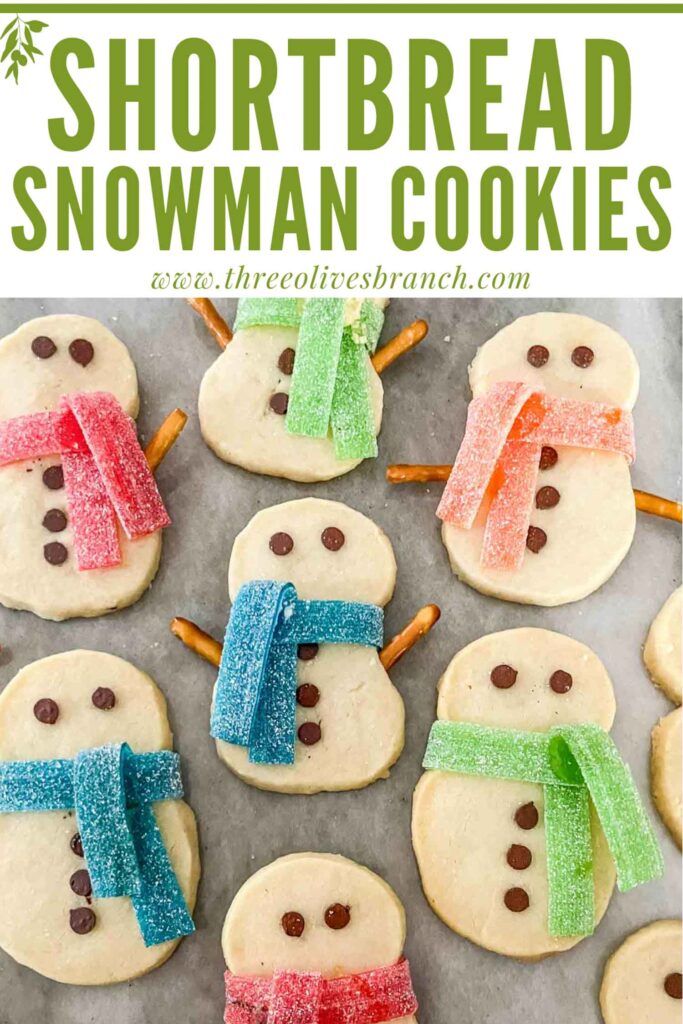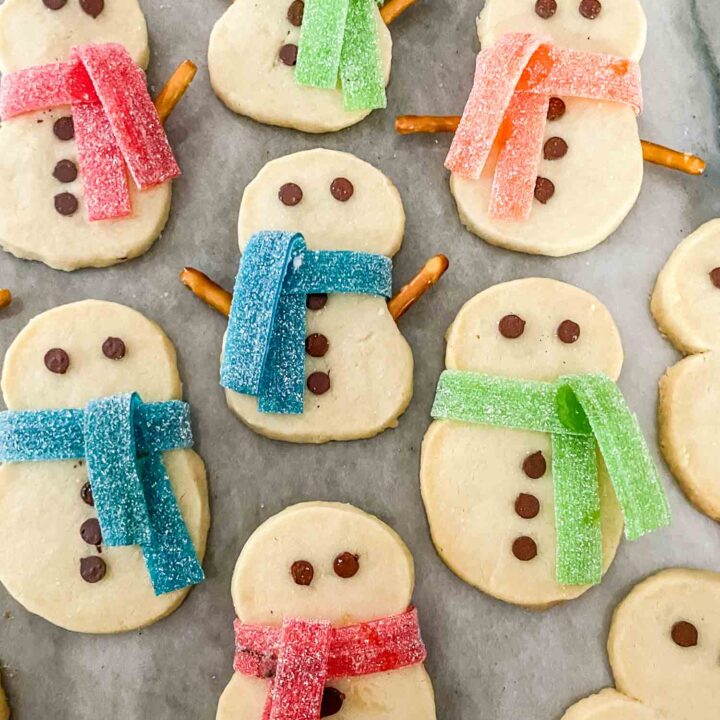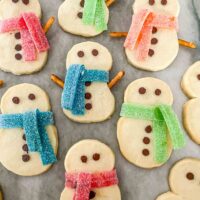 Shortbread Snowman Cookies
Shortbread Snowman Cookies are a cute Christmas cookie recipe! Perfect for winter and holiday like Hanukkah. Soft vanilla shortbread cookies are decorated to make festive snowmen. A great cookie platter exchange addition.
Print
Pin
Rate
Instructions
Preheat oven to 325°F with the rack in the middle position.

In a food processor, add the flour, sugar, salt, and orange zest. Pulse together a few times to mix.

2 cups all-purpose flour,

⅔ cup powdered sugar,

¾ teaspoon salt

Add the butter chunks around the flour along with the vanilla extract and water. Pulse again until the dough starts to come together.

Do not over process. It should still look crumbly. The dough should stick together when squeezed. If too dry, add a little more water and briefly incorporate.

1 cup unsalted butter,

½ Tablespoon vanilla extract,

1 Tablespoon water

Dump the dough onto a large sheet of parchment paper. Separate the dough into two groups: 3/4 cup (packed) for the head and the rest for the body.

Start pressing it together into a log shape, both about 7 inches long. The head will be around 1.5 inches wide and the body around 1.75 inches wide (it seems really similar but is big enough of a difference).

Roll the parchment or saran wrap around it to cover the logs. Twist the ends and place in the refrigerator to chill for at least 30 minutes.

Remove the dough log from the paper and using a serrated knife, slice the dough into 1/4 inch pieces. You should end up with 10 slices of each not counting the ends.

Arrange one small circle directly against one large circle to make the snowmen on the parchment or silicone mat lined baking sheets. Gently push them toward each other to attach.

Use the mini chocolate chips to make eyes and buttons as desired. (Push them on pointy side down for a cleaner look).

⅓ cup mini chocolate chips

If making arms, break one small pretzel stick in half and press each arm into the snowman at the desired angles.

Bake approximately 20 minutes, until the bottom edges that touch the baking sheet are just starting to turn a golden brown.

Remove the cookies from the oven. Place the cookies on a wire rack to cool.

Cut a sour belt in half lengthwise. Use one half horizontally around the neck and the other half behind it, folded in half, as the scarf ends. Secure the ends in back and the hanging ends with your honey or edible glue.

Store in an airtight container for up to two weeks.
Notes
You can also make this by hand by pinching the butter into the flour mixture, or using a pastry cutter or fork. If it gets too warm from your hands, chill for a few minutes before continuing.
If desired, make a flavored cookie such as our lemon shortbread. Use the citrus juice in place of the water. No substitution needed for including citrus zest.
Nutrition
Serving:
1
cookie (1/18)
|
Calories:
160
kcal
|
Carbohydrates:
16
g
|
Protein:
2
g
|
Fat:
10
g
|
Saturated Fat:
6
g
|
Polyunsaturated Fat:
0.4
g
|
Monounsaturated Fat:
2
g
|
Trans Fat:
0.4
g
|
Cholesterol:
25
mg
|
Sodium:
97
mg
|
Potassium:
18
mg
|
Fiber:
0.4
g
|
Sugar:
6
g
|
Vitamin A:
290
IU
|
Vitamin C:
0.03
mg
|
Calcium:
8
mg
|
Iron:
1
mg
More Christmas Cookies
By