Spumoni Sugar Cookies are a delicious homemade cookie recipe! Inspired by Italy, these Italian flavors of chocolate, cherry, and pistachio are also represented in three colors like colored Neapolitan cookies. A great soft Christmas cookie recipe.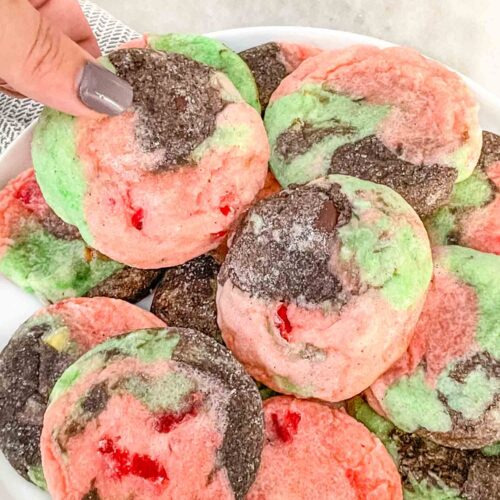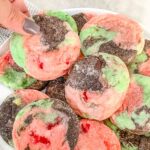 Ciao, tutti! These Spumoni Sugar Cookies are amazing Italian inspired cookies flavored with the popular combination of cherry, chocolate, and pistachio!
Three flavors in three colors makes these a beautiful addition to your cookie plate or as a gift!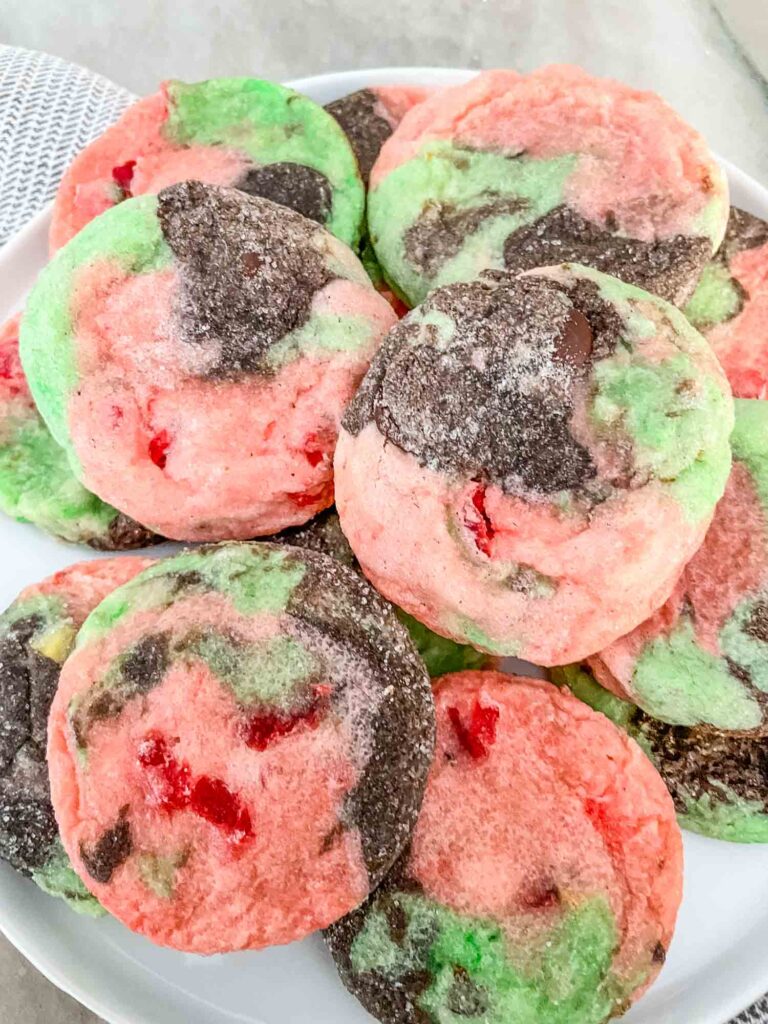 Why You Will Love This Recipe
These flavored sugar cookies highlight the three flavors of spumoni: chocolate, cherry, and pistachio!
And we have also colored each flavor for a vibrant, Neapolitan style color effect that will stand out and wow everyone.
These flavors combined together are not overly common in many parts of the world, such as the United States, which makes them even more existing when you taste how delicious they are!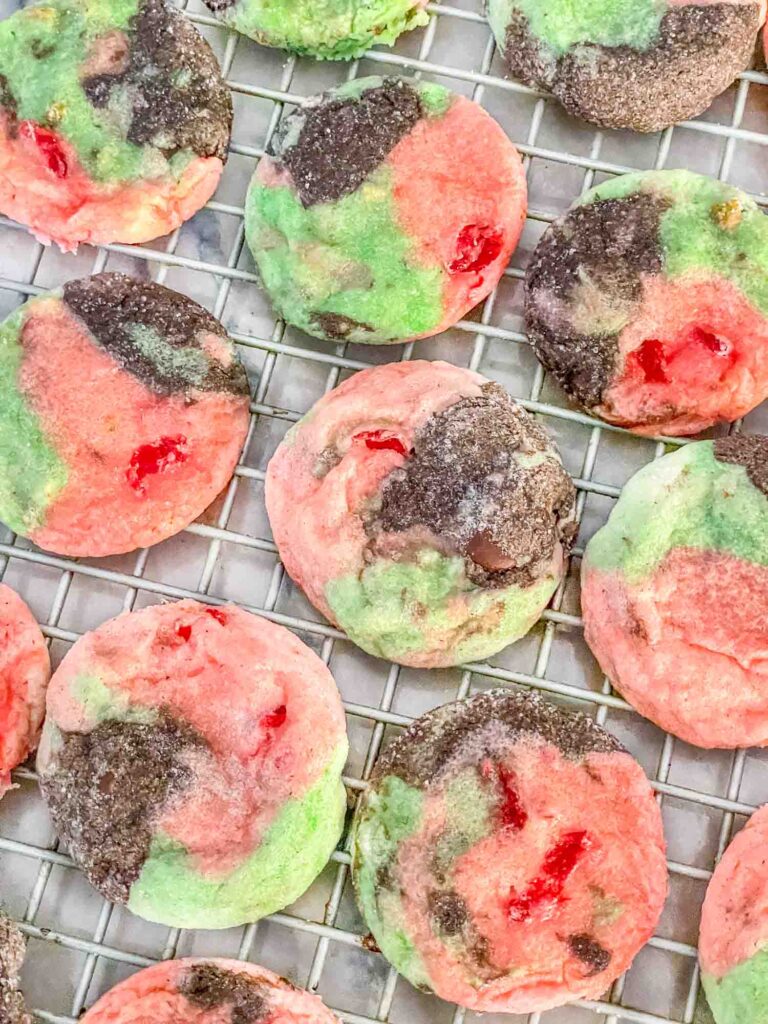 Ingredients
Here are the ingredients needed for Spumoni Sugar Cookies:
Flour
Butter
Sugar
Large Eggs
Vanilla Extract
Baking Powder
Salt
Chocolate Chips
Cocoa Powder
Red Food Dye
Maraschino Cherries
Green Food Dye
Pistachios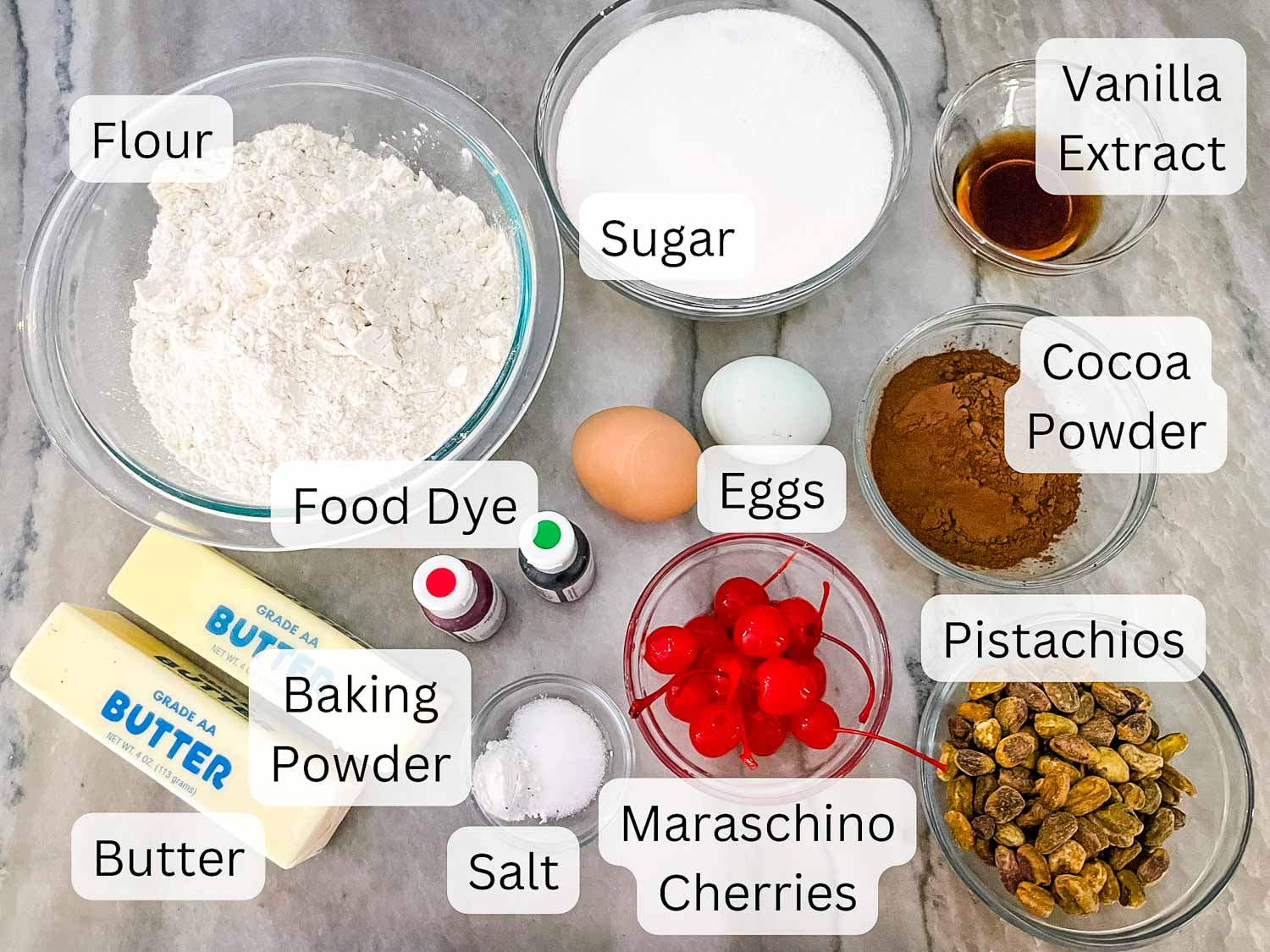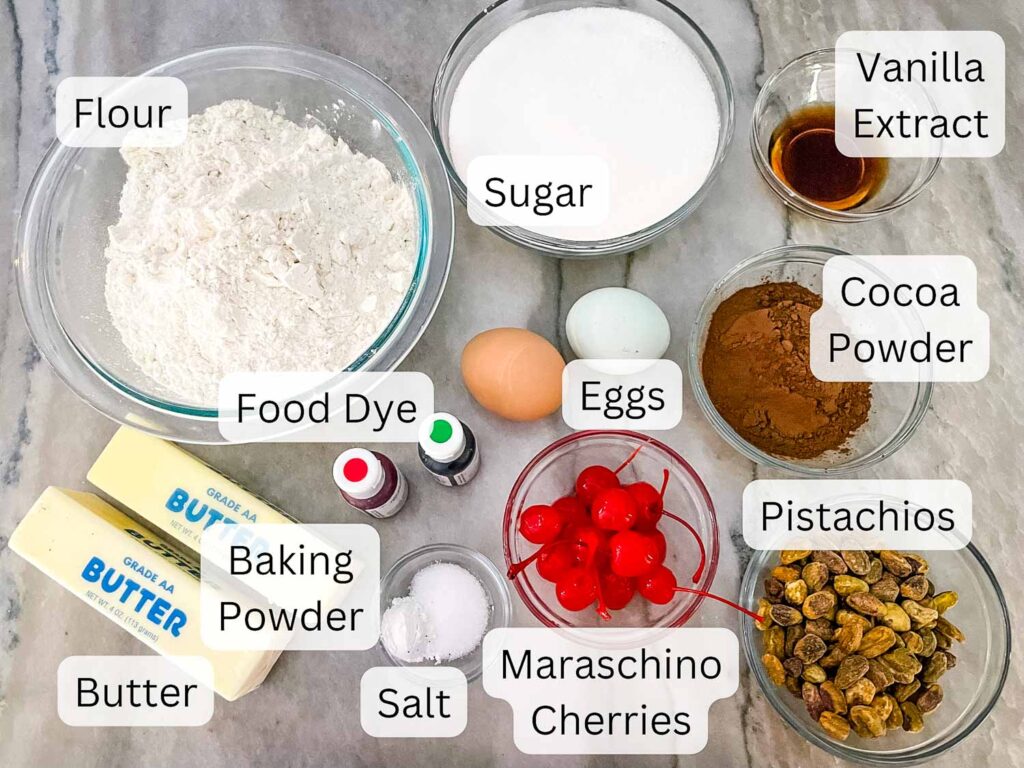 Equipment
This is the equipment you need for this recipe:
Stand Mixer (or hand mixer with large bowl)
3 Medium Bowls
Spatula
Baking Sheets
Parchment Paper or Silicone Baking Sheets
Measuring Cups
Measuring Spoons
Instruction Overview
Set some of the sugar aside for rolling later.
Beat together the sugar and butter in the stand mixer.
Add the eggs one at a time followed by the vanilla, fully incorporating them all.
Slowly add the flour mixture until just combined.
Remove the dough and separate into three medium bowls, approximately all the same.
Add the colors and flavors to each bowl:
One bowl gets the cocoa powder and chocolate chips.
The second bowl gets the pistachios and the green food dye.
The third bowl gets the cherries and red food dye.
Mix each bowl until the color and ingredients are well incorporated.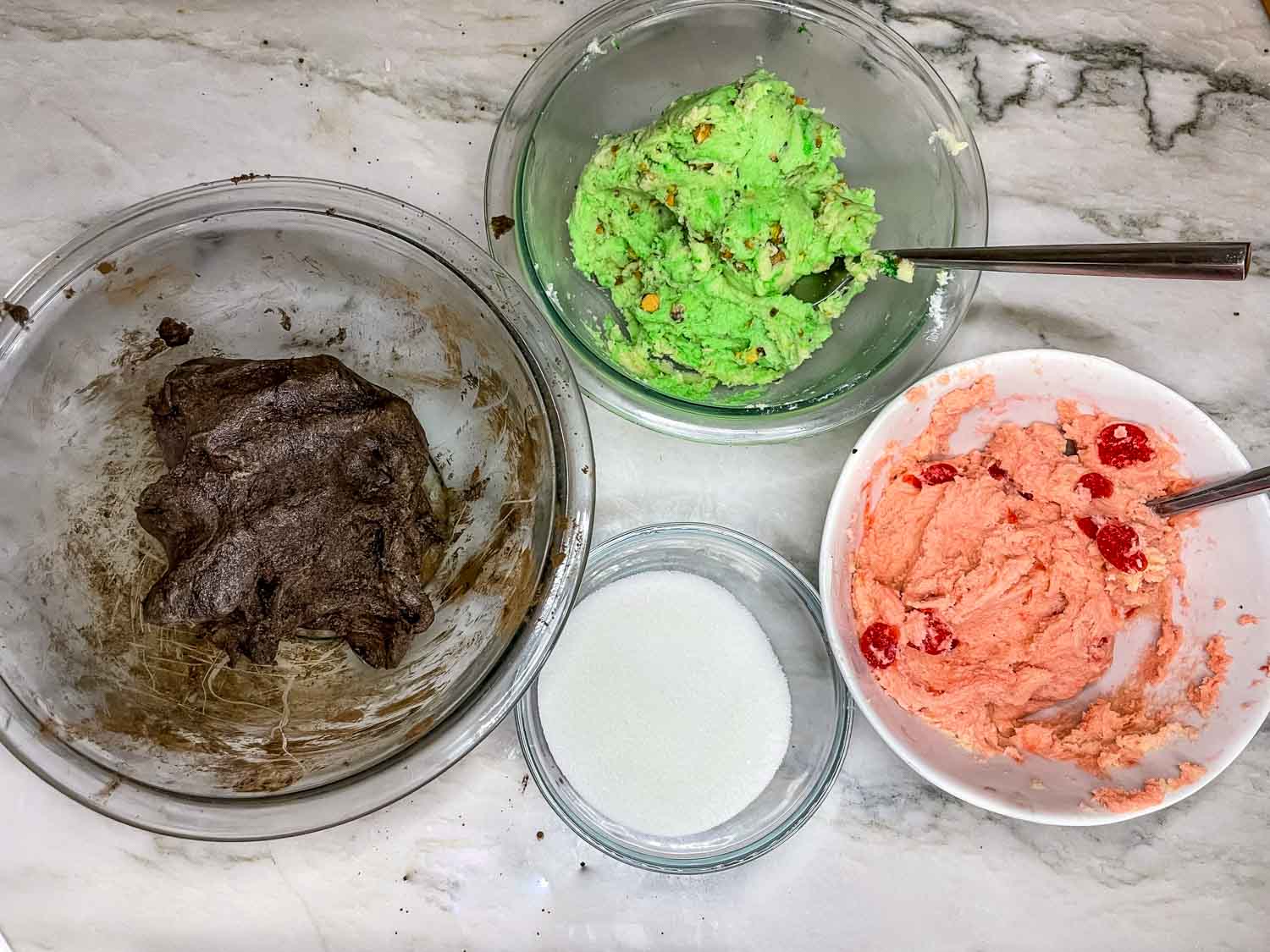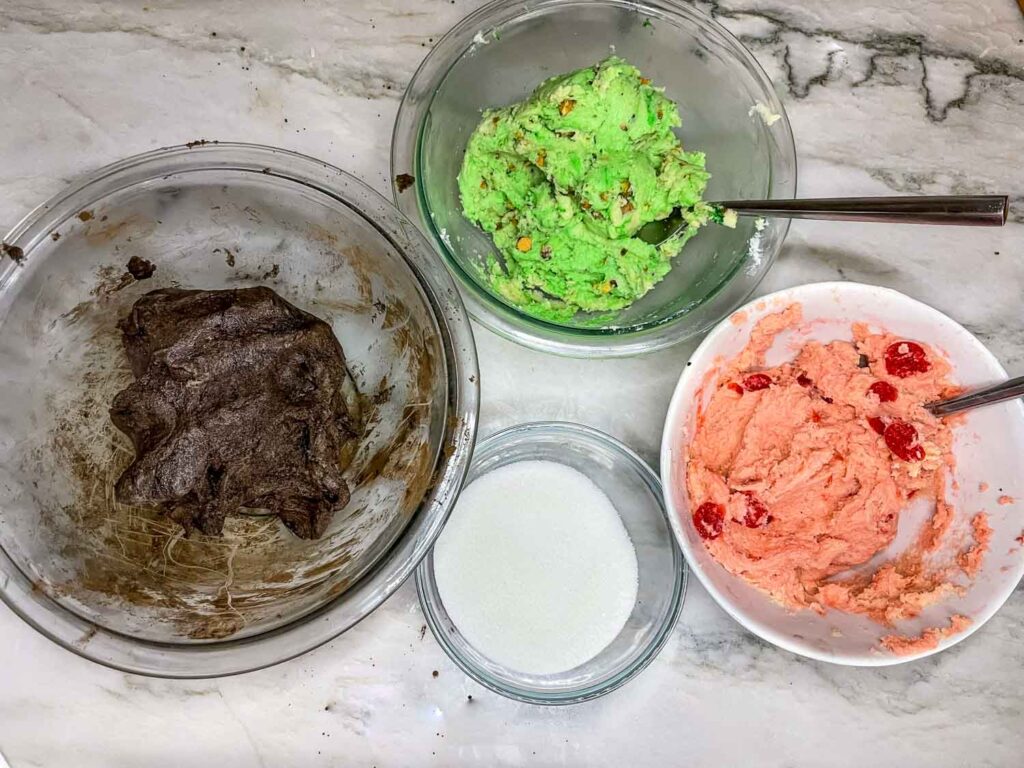 Scoop 1/2 tablespoon of each color (I use the measuring spoon itself) and put the three colors together in your hand.
Roll them together so they are combined but you still see each color.
Slightly flatten the dough, and then roll the disc into the reserved sugar to coat.
Place the cookies on a baking sheet about 2 inches apart.
Repeat with the remaining dough.
Bake for about 10-12 minutes until just cooked through.
Let the rest on the baking sheet at least 10 minutes and fully cool on a baking rack.
Store in an air tight container.
Modifications and Substitutions
Maraschino cherries can be swapped for dried cherries. Fresh cherries are also an option but are more tart and bring a lot of moisture which needs they need to be drained well after cutting before going in the dough.
Cherry or pistachio extracts are not recommended due to their tendency to taste a little fake. But if you like them, go for it, starting with 1/4 teaspoon.
Kim's Tips
Since the cherry and pistachio flavor comes from the mix ins, make sure to chop them up small so you can taste them in each bite!
Food gels are better than food coloring because they are a stronger color with minimal moisture being added to the dough.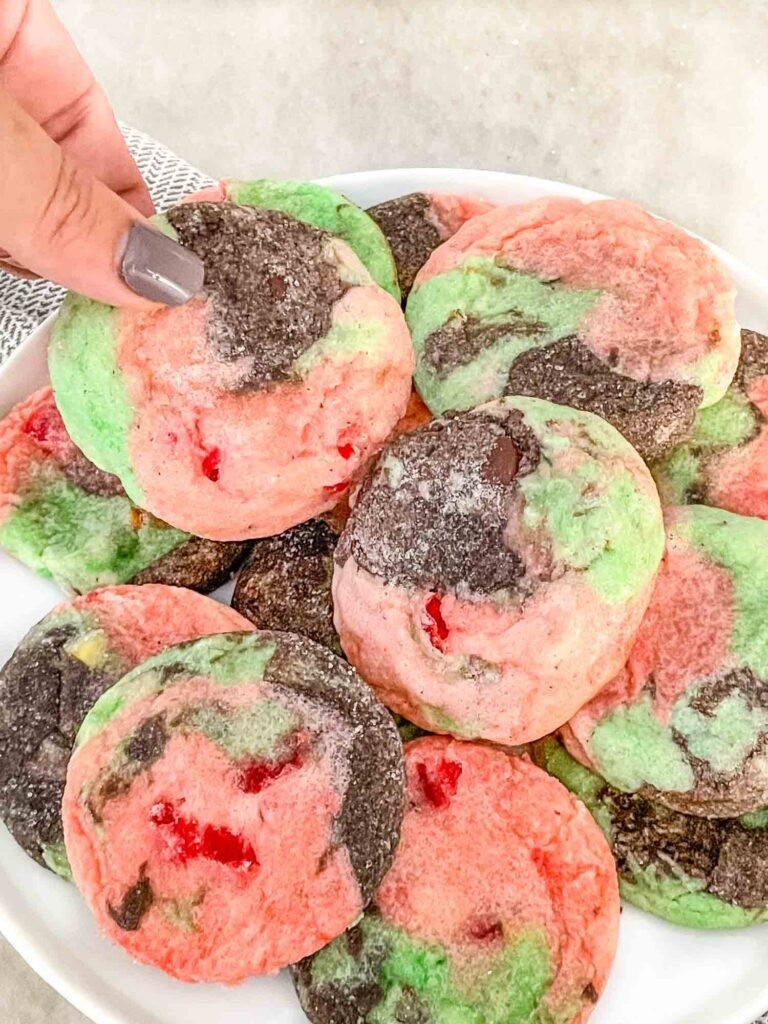 FAQs
What are the three flavors in spumoni?
Cherry, chocolate, and pistachio!
Why is it called spumoni?
It is an Italian flavor combination, most known in gelato (ice cream), and means "foamy" which is because of its light and fluffy texture.
What does chilling cookie dough do?
Chilling the dough solidifies the butter again, which helps prevent or reduce spreading. This results in a softer cookie.
I am a huge fan of chilling dough but these cookies do just fine without it since they are baked a short period of time and remain soft.
If desired, you can chill dough for 30 minutes before baking. The cookies will be a touch smaller from less spreading but will be soft.
What is the difference between food coloring and food gel?
Food coloring is a very thin, water-like consistency with colors.
Food gel is a much, much thicker gel consistency color that uses less water to get more color.
Food gel is best for baking because adding too much liquid can be bad for the baking ratios and affect the bake quality.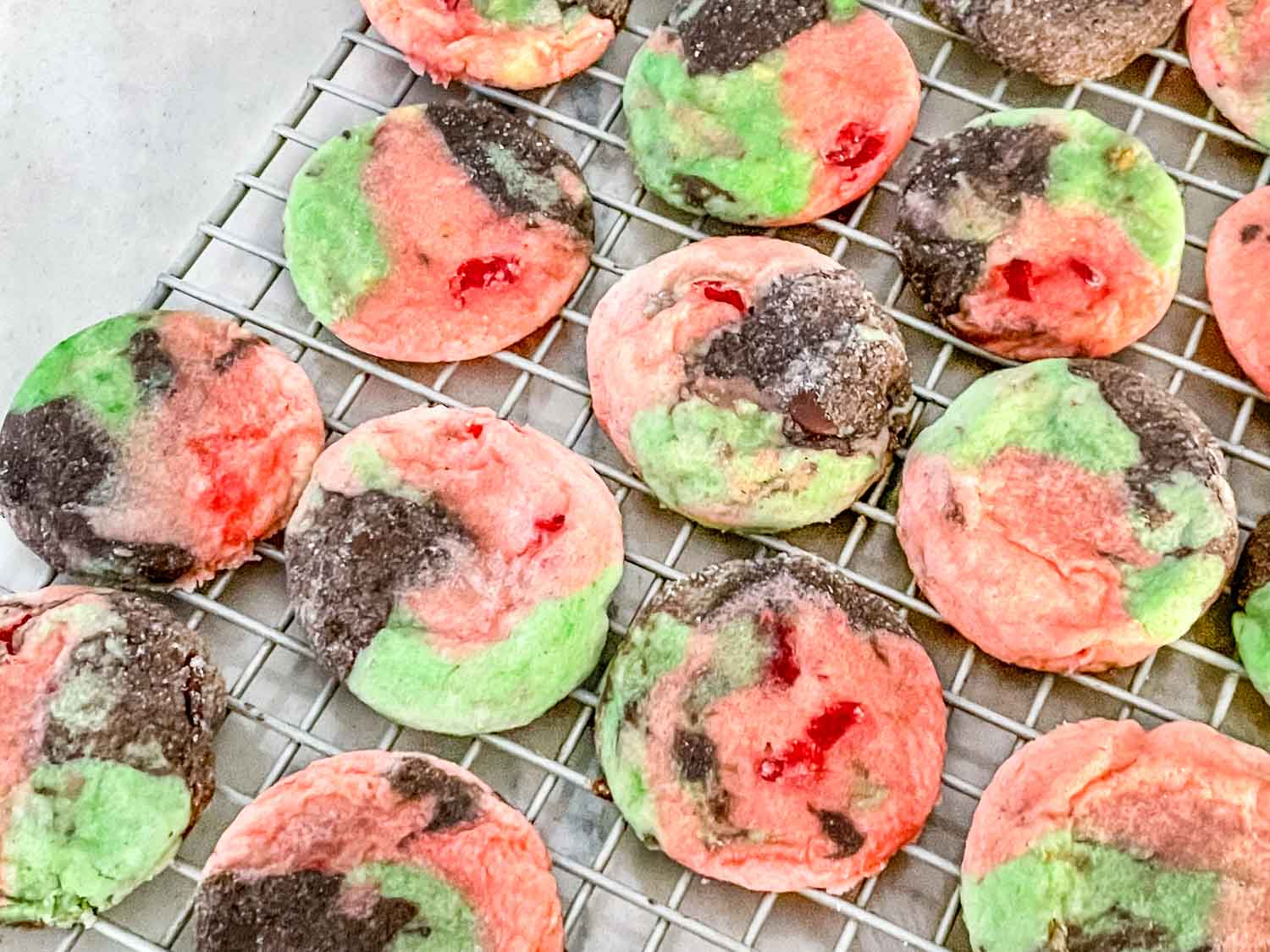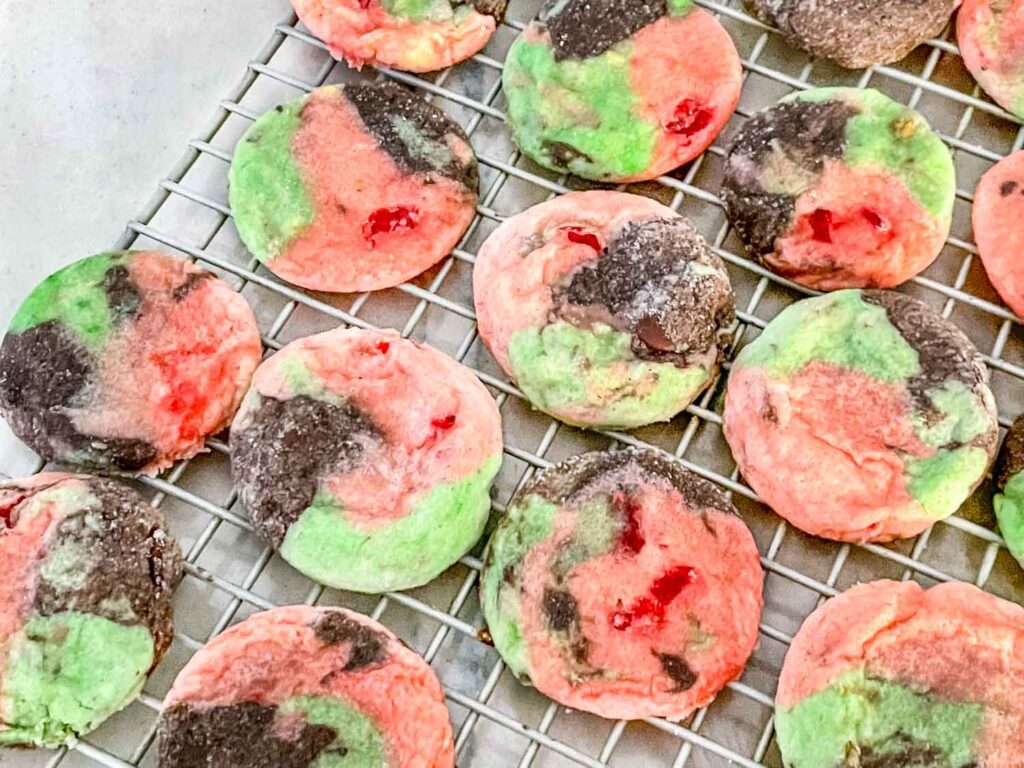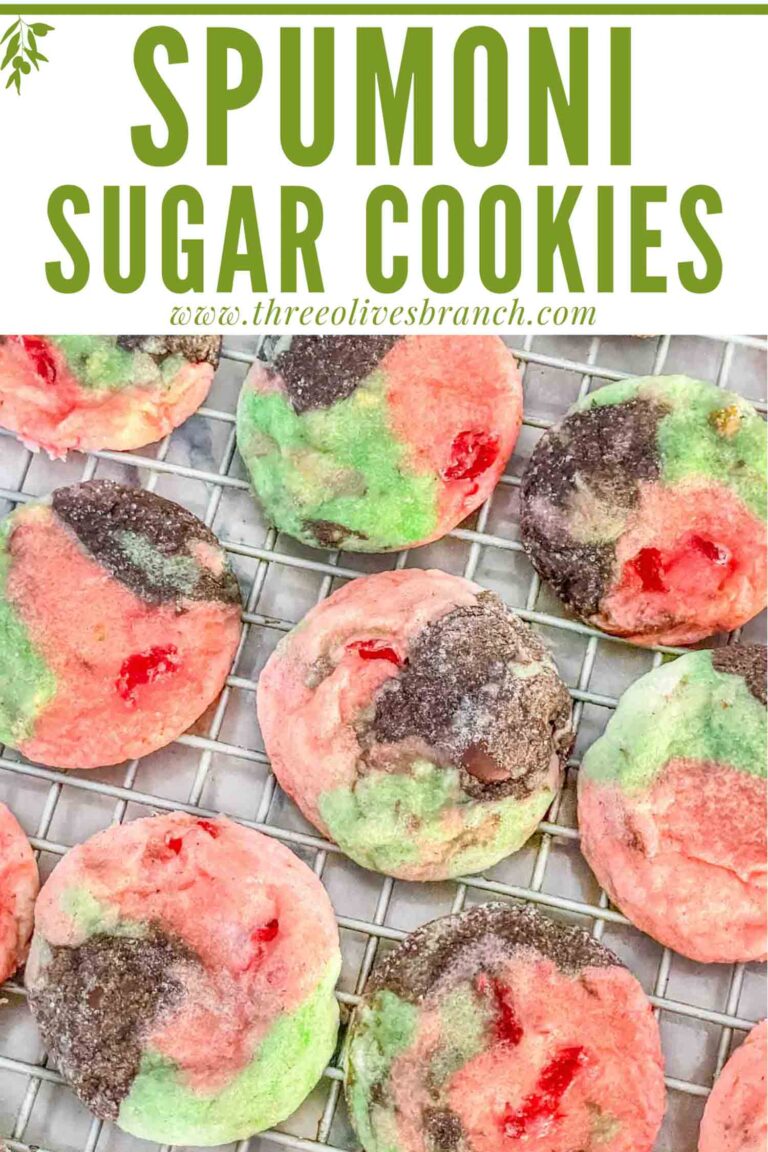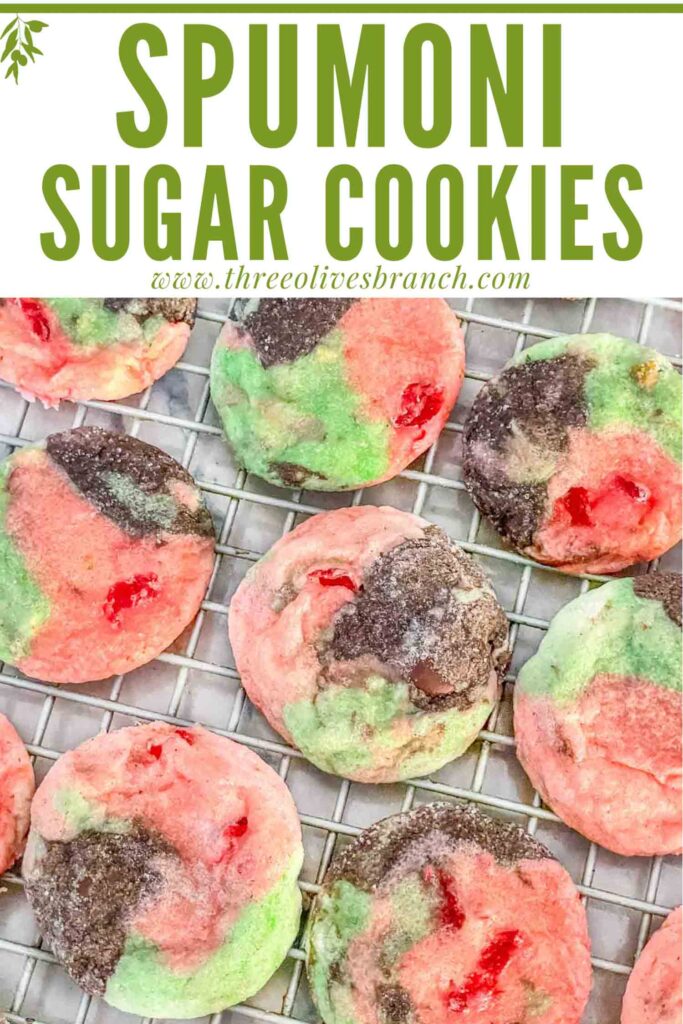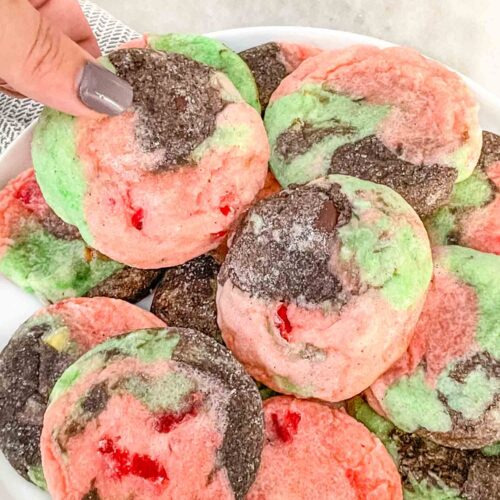 Spumoni Sugar Cookies
Spumoni Sugar Cookies are a delicious homemade cookie recipe! Inspired by Italy, these Italian flavors of chocolate, cherry, and pistachio are also represented in three colors like colored Neapolitan cookies. A great soft Christmas cookie recipe.
Print
Pin
Rate
Instructions
Preheat oven to 350°F with a rack in the middle position.

Put 1/2 cup of the sugar in a small, shallow bowl for later. Set aside.

Line two baking sheets with either silicone baking mats or parchment paper.

In a bowl, whisk together the flour, baking powder, and salt.

2 ½ cups all-purpose flour,

½ teaspoon baking powder,

½ teaspoon salt

In the bowl of a stand mixer (or large bowl with hand mixer) on medium speed beat together the softened butter and remaining 1.5 cups sugar until light and fluffy, 4-5 minutes.

14 Tablespoons unsalted butter,

2 cups sugar

Add the vanilla and eggs, one at time, to fully incorporate, about 30-60 seconds. Scrape down the sides of the bowl as needed.

2 teaspoons vanilla extract,

2 large eggs

Slowly add the flour mixture while mixing to incorporate.

Separate the dough into three different bowls. Add the cocoa powder and chocolate chips to one bowl, the chopped pistachios and one drop of green food dye to the second bowl, and the chopped cherries and one drop of red food dye to the third bowl.

Mix with a spoon to combine. Add more coloring if desired as needed. (See note 3 below about cherry dough)

2 Tablespoons cocoa powder,

⅓ cup chocolate chips,

red food dye,

⅓ cup maraschino cherries,

green food dye,

⅓ cup pistachios

Scoop 1/2 Tablespoon of each of the 3 colors, put together in your hand, and roll into a ball, gently, so you can still see each color but they are all stuck together.

Once in a ball shape, gently press to make a disk approximately 3/4 inch thick.

Roll the dough disk in the small dish of sugar from step 1 to fully coat.

Place the sugar coated dough disks on the baking sheets approximately 2 inches apart (about 12 per sheet).

When the first sheet is full, bake in the oven for approximately 10 minutes. Rotate the baking sheet half way through.

Continue making the cookies for the 2nd sheet while the 1st is baking.

(Cookies can also all be baked at the same time, but I find this to be overall faster).

Let the cookies sit on the sheet for 7-10 minutes before removing and finishing cooling on a cooling rack.

Store in an air tight container for up to a week.
Notes
Food gel is recommended over food coloring because you will get bolder colors using less moisture.
For crispy cookies, cook longer. You can also press them thinner before baking.
Cherry Dough – it is important for the cherries to be dried off in order to not get a sticky dough. If the dough does end up too sticky, add a small amount of flour at a time until it is similar to the pistachio and chocolate.
Nutrition
Serving:
1
cookie
|
Calories:
150
kcal
|
Carbohydrates:
20
g
|
Protein:
1
g
|
Fat:
7
g
|
Saturated Fat:
3
g
|
Polyunsaturated Fat:
0.3
g
|
Monounsaturated Fat:
1
g
|
Trans Fat:
0.2
g
|
Cholesterol:
22
mg
|
Sodium:
39
mg
|
Potassium:
26
mg
|
Fiber:
0.5
g
|
Sugar:
13
g
|
Vitamin A:
156
IU
|
Vitamin C:
0.01
mg
|
Calcium:
11
mg
|
Iron:
1
mg
More Cookie Recipes
Cookie Recipes
Delicious cookie recipes that you can enjoy all year long!

By