Smoked Pork Tenderloin is a delicious summer BBQ dinner idea! This pork recipe is perfect for a cookout, with tender and lean meat. Gluten free healthy meal.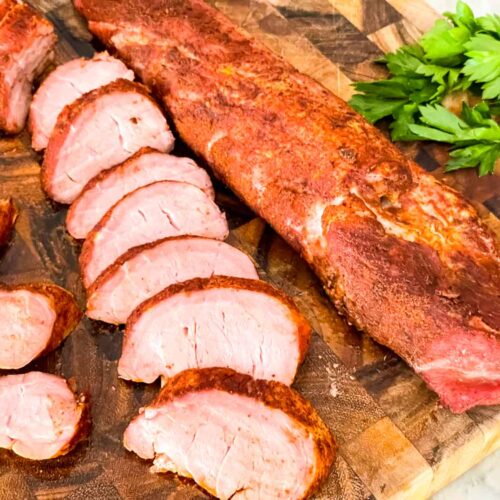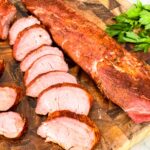 This Smoked Pork Tenderloin is a tender and juicy option for your summer BBQ party! Cooked with a simple rub for lots of smoky flavor in a lean and tender meat.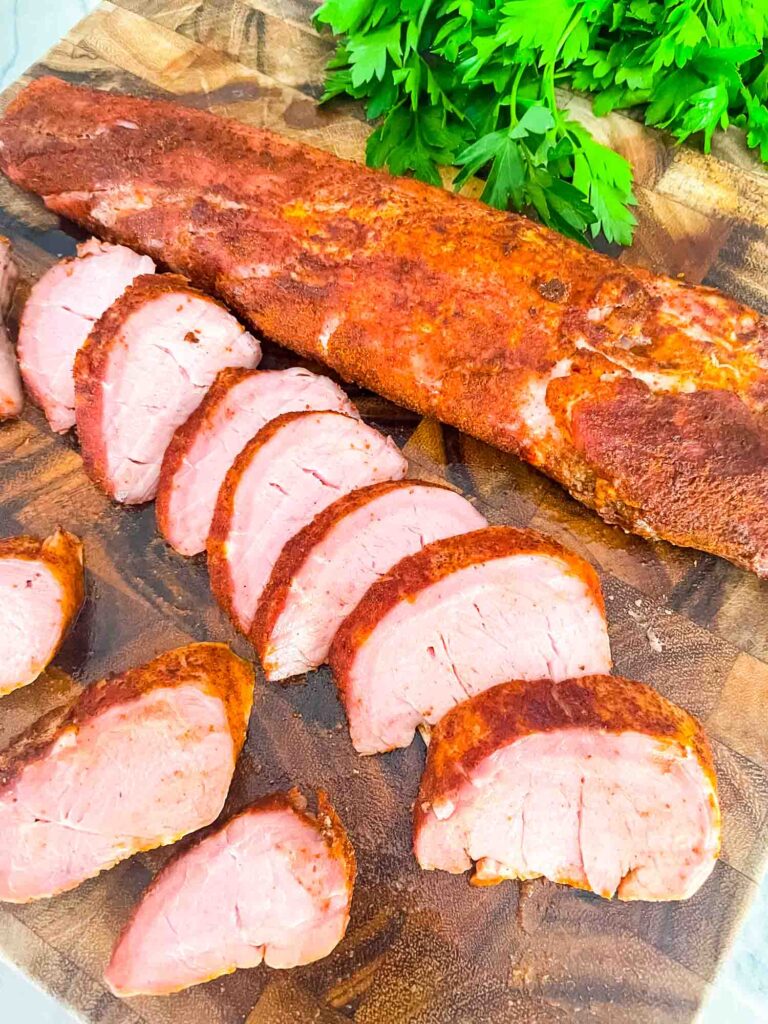 Why You Will Love This Recipe
I love smoking up lots of different meats and sides as much as I can in the summer. Find more of our smoker recipes below underneath the recipe, such as
This Smoked Pork Tenderloin is a great way to enjoy a lean and tender pork.
Since it is thin and long, you have a quicker cooking time than other meats.
This pork also makes a great BBQ sandwich option!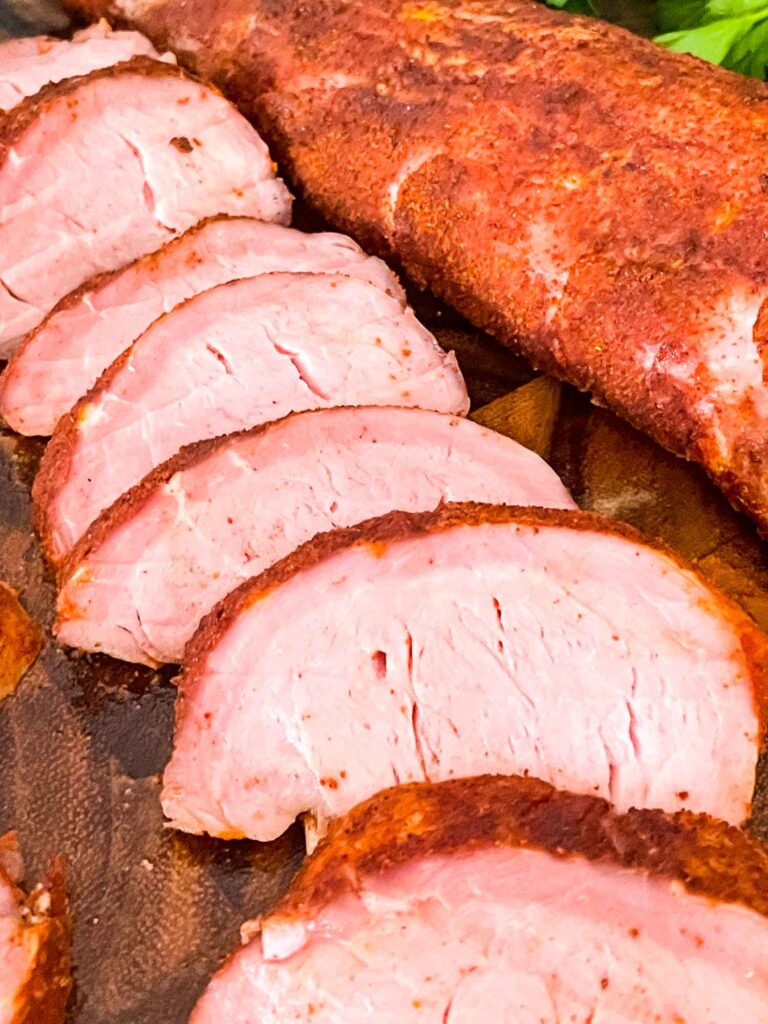 Ingredients
These are the ingredients you need to make this recipe:
Pork Tenderloin
BBQ Rub
BBQ Sauce (optional, for basting if desired)
Equipment
Smoker
Tongs
Basting Brush (if basting)
Cutting Board or pan for applying rub
Smoking Chips/Pellets – Luckily you can use just about any flavor wood that you may be using for other recipes.

Hickory pellets are our favorite go to since it has a strong and slightly sweet flavor.
Oak pellets are another great option as it is a lighter flavor.
Mesquite pellets are a popular choice that has a strong flavor like hickory but is also sweeter.
Instruction Overview
Preheat your smoker.
Apply the BBQ rub to the pork tenderloin(s), covering all sides. Pat it in really well! It should stick without having to add any liquid.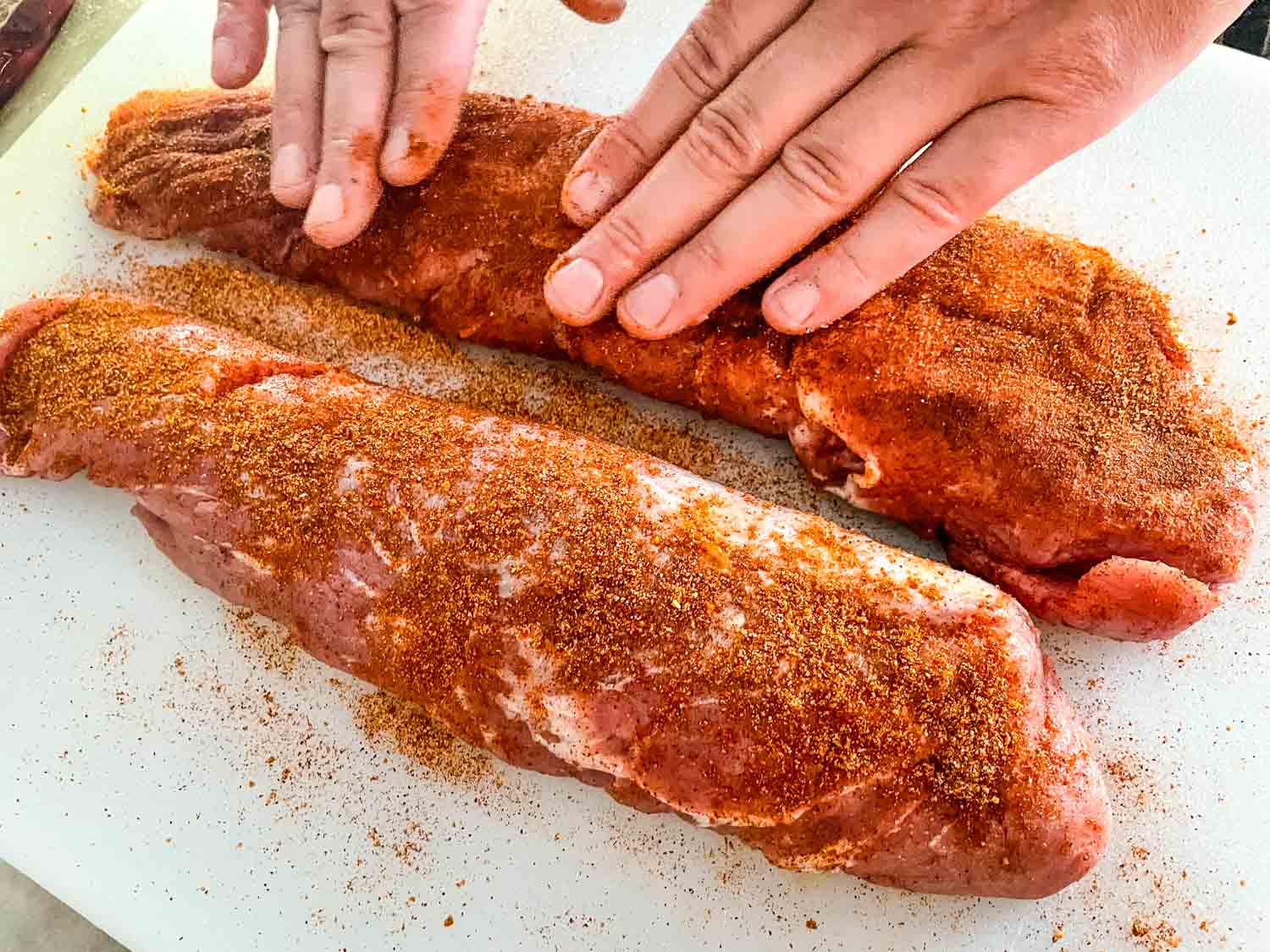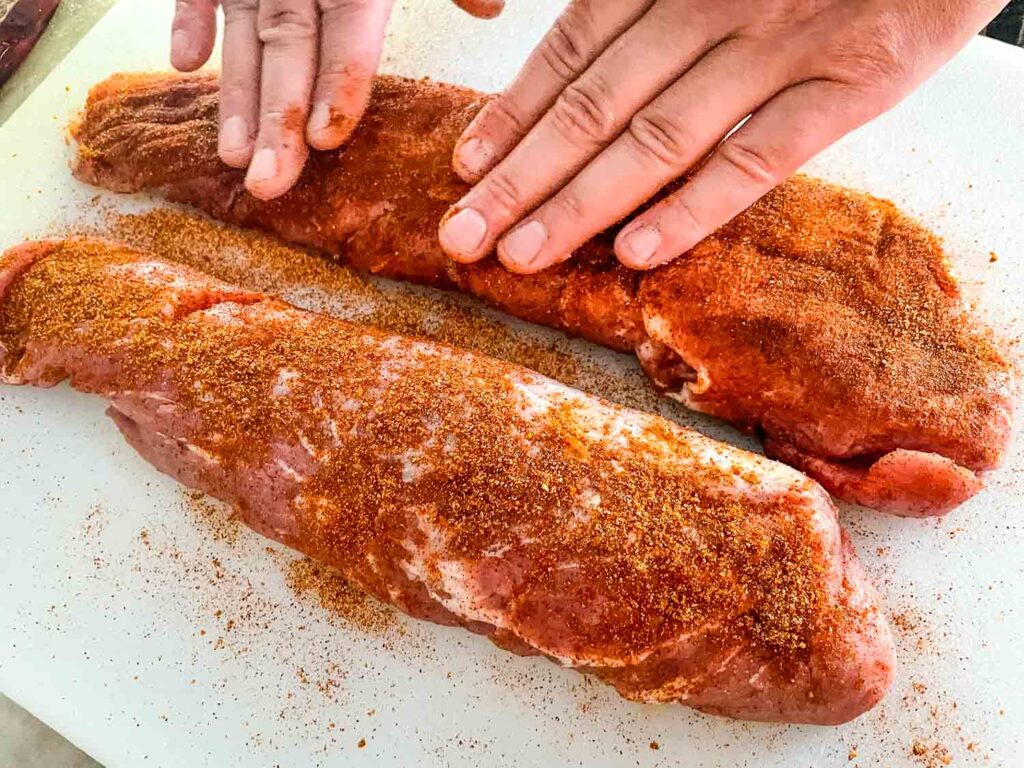 Modifications and Substitutions
Use any BBQ rub that you like!
Kim's Tips
Give yourself some extra buffer time for cooking, just in case it stalls. Stalling is when the temperature does not continue to increase inside the meat and delays the finished time to cook.
Use a meat thermometer that can be left in the chicken so you know when it is done and can check on it. We use the Meater digital wireless meat thermometer which is amazing because it has preset options, timers, and alarms.
The pink ring around the edge of the pork is the smoke ring! This is a good sign and does not mean it is undercooked.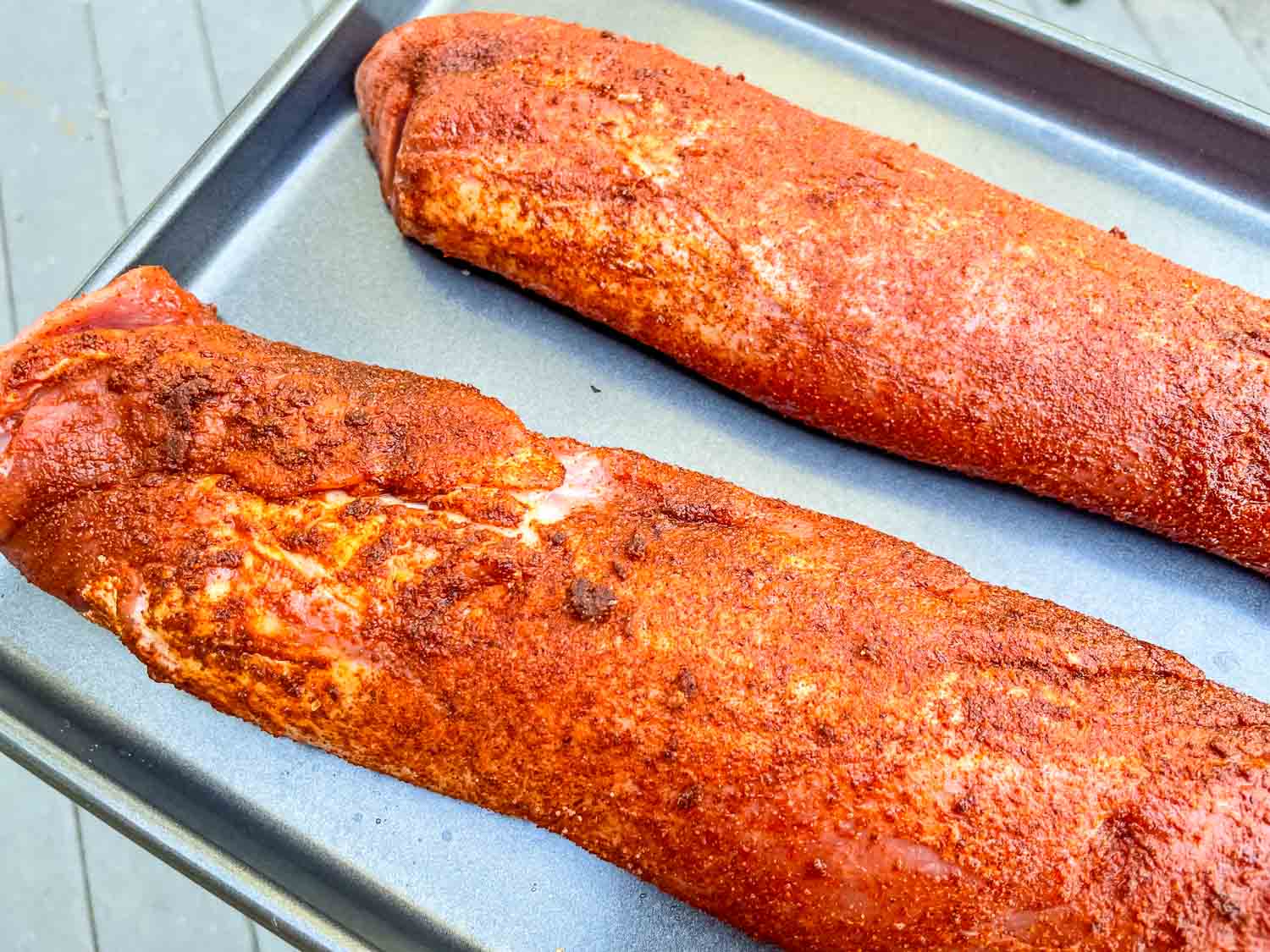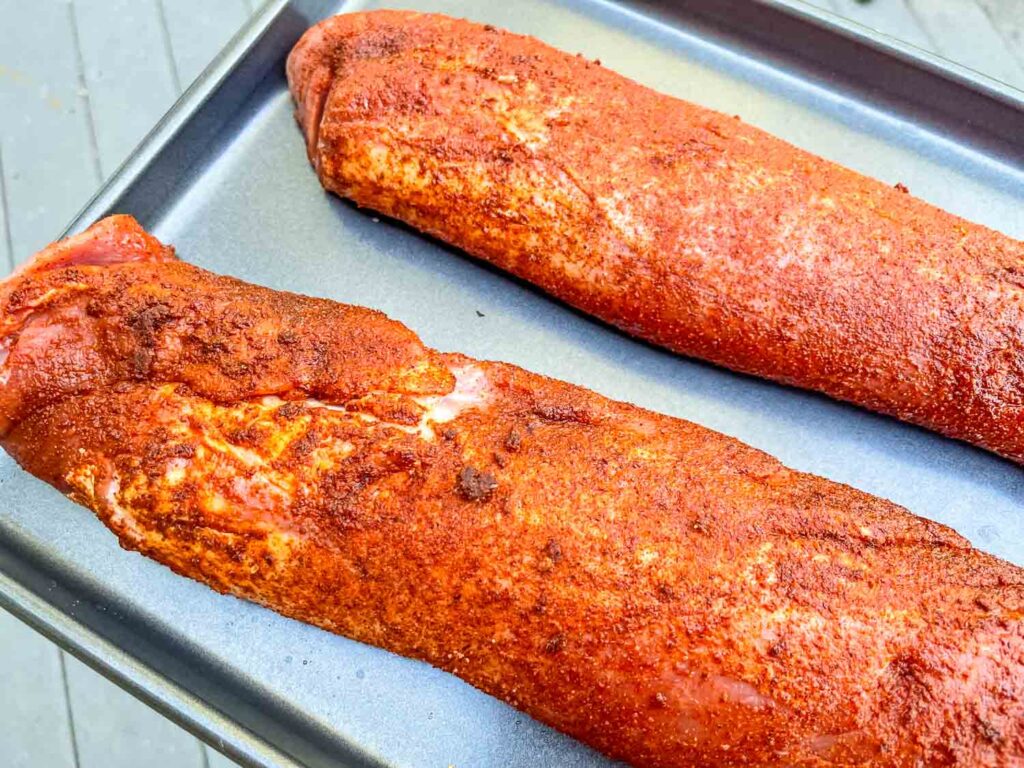 Smoking with a Pellet Smoker versus a Grill
A pellet smoker is specifically designed for smoking, typically just called a smoker. You would use pellets which are small pill-like pieces of wood that have been pressed together.
You can also smoke in a grill by using wood chips that are soaked in water and place in a covered dish with holes.
What is preferred?
We have a combo grill/pellet smoker that has both options side by side. The pellet smoker makes it super easy as things are "automated" where the temperature stays constant and you have to do little maintenance during cooking.
A grill requires more work with reloading new chips with water once they run out of steam. It is more effort but a great option if you do not want a literal smoker.
If you plan to do a lot of smoking, I recommend getting a smoker or the combo grill/smoker!
FAQs
What temp do you smoke pork tenderloin to?
The internal temperature should be 145F.
How long does it take to smoke pork tenderloin per pound?
Since pork tenderloin is skinny and long, it will not need as much time as larger meat cuts. Calculate based on the approximate weight of one tenderloin and about 2-2.5 hours per pound.
If you have 2, 3, or more tenderloins, you still want to go based on the weight of just one since they will all cook independently of each other and the quantity does not affect length of the cooking time.
Do you wrap a pork tenderloin when smoking?
No, this is not needed. Wrapping it up can prevent smoke from fully reaching the meat which could lead to a longer cook time and less smoky flavor.
Why does my smoked meat have a pink ring around it?
This pink ring around the outside is called the smoke ring. It is the result of a chemical reaction in the cooking process. It does not meat the meat is raw or undercooked.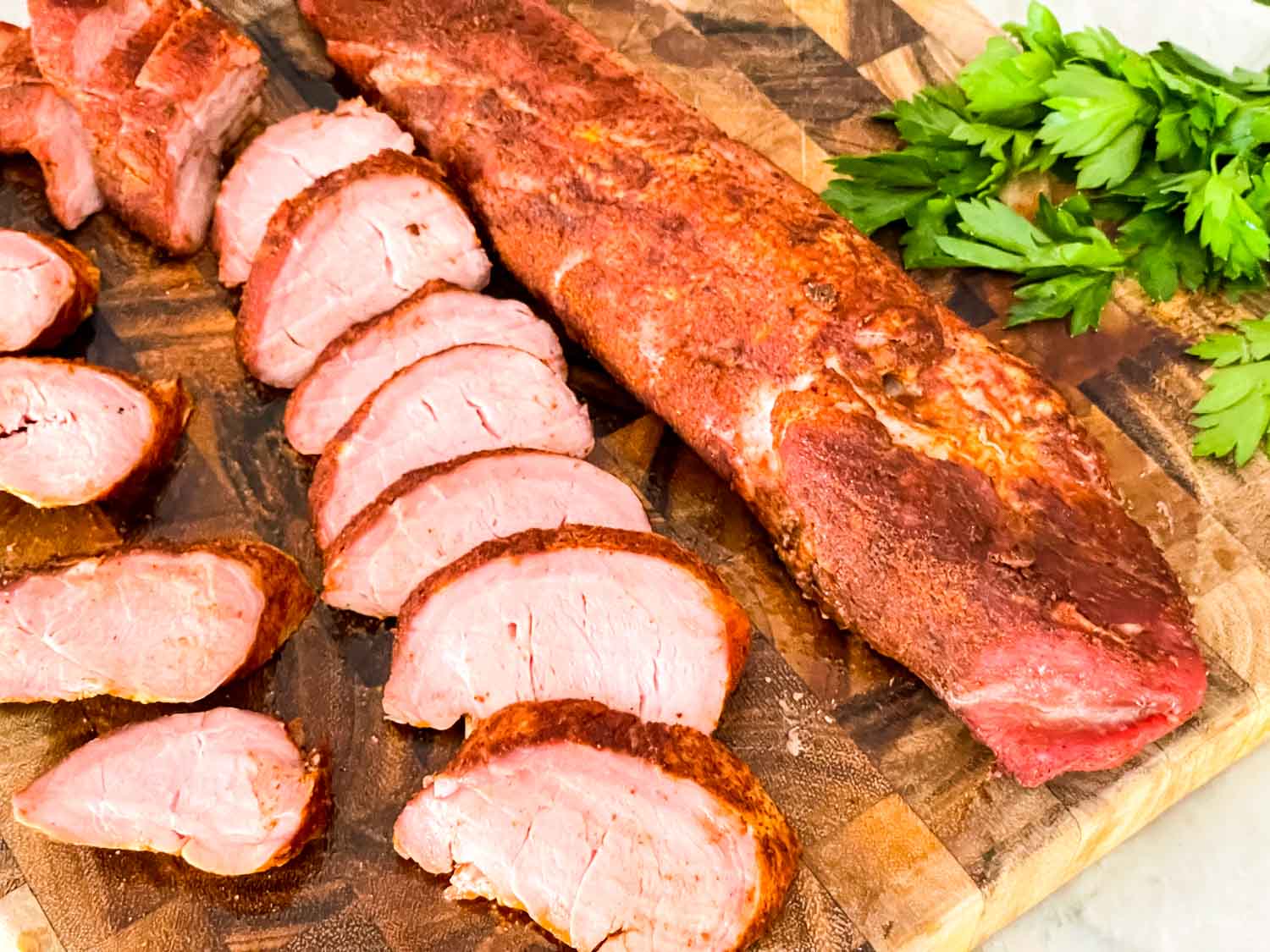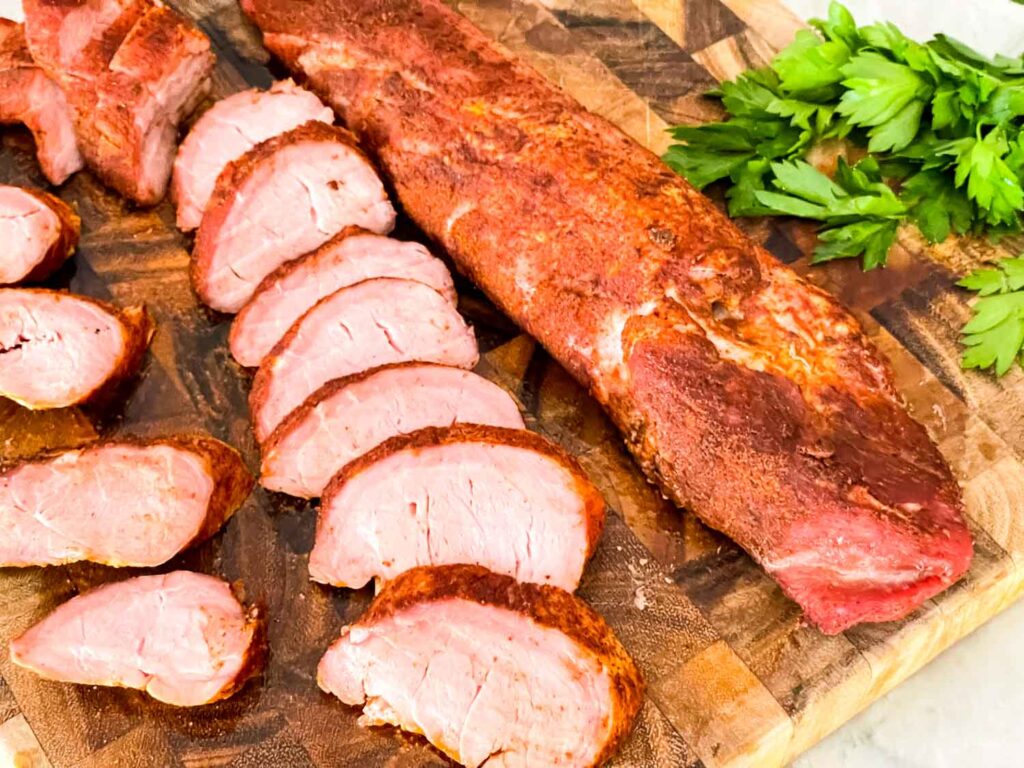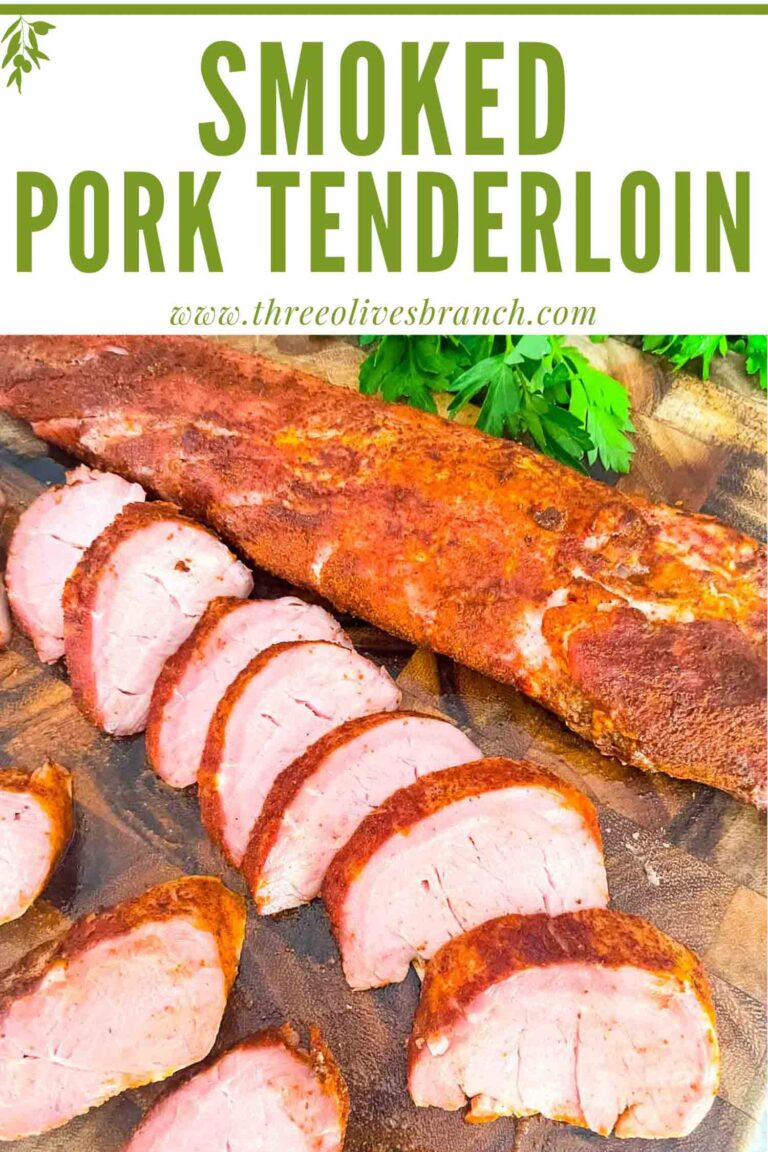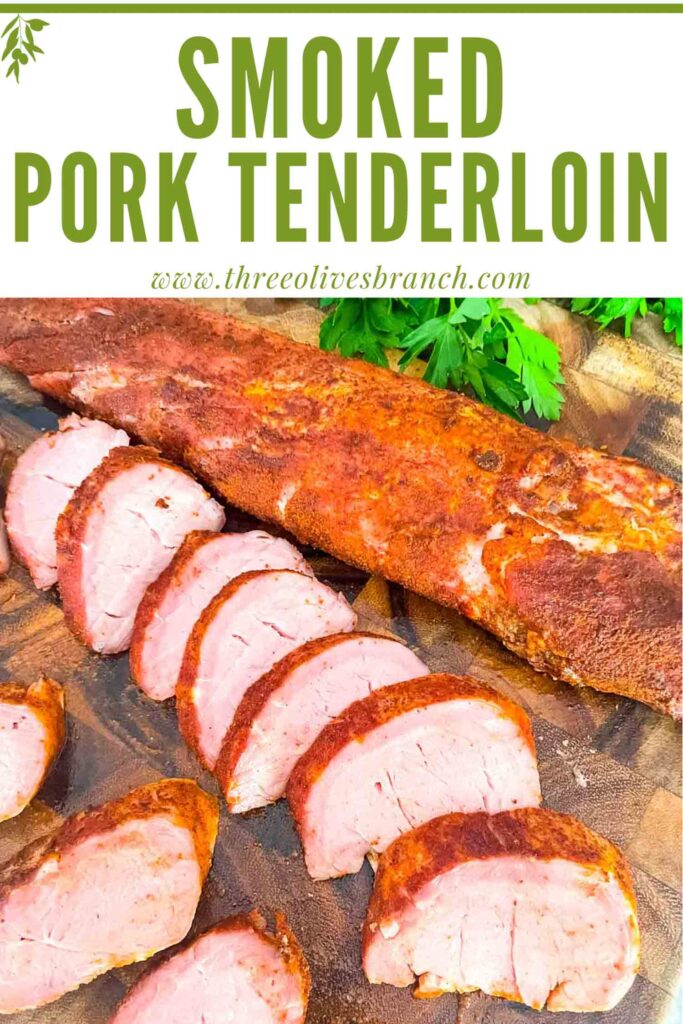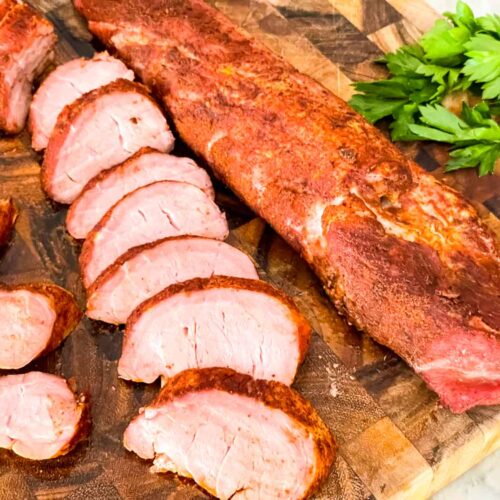 Smoked Pork Tenderloin
Smoked Pork Tenderloin is a delicious summer BBQ dinner idea! This pork recipe is perfect for a cookout, with tender and lean meat. Gluten free healthy meal.
Print
Pin
Rate
Ingredients
BBQ Rub (or use 1/2 cup of your favorite rub)
Instructions
Preheat your smoker to 225F with your wood chips or pellets (I like to use hickory, but use any flavor you like).

If using a grill, put the chips in a metal pant, covered, with venting holes on the grill.

Mix the rub ingredients together.

3 Tablespoons chili powder,

1 Tablespoon onion powder,

4 teaspoons salt,

2 teaspoon cumin,

1 teaspoon brown sugar,

1 teaspoon garlic powder,

1 teaspoon paprika,

¼ teaspoon dry mustard,

¼ teaspoon cayenne pepper

Trim fat and silverskin from the pork if needed. Pat the pork dry with paper towels.

Rub the spice rub into the pork, covering all surface areas.

If the rub will not stick, use a very small amount of vegetable or canola oil to wet the meat just enough for the rub to stick.

If desired, let the pork sit with the rub for at least 30 minutes to help the flavors absorb into the meat (not required).

Put the pork tenderloins into the smoker after it has preheated to 225°F.

Put a grilling meat thermometer into the meat in the middle of the thickest area.

Smoke until the internal temperature is 145°F, typically 2.5-3 hours.

You might need to smoke longer just depending on your smoker and if the meat stalls at all.

If desired, baste with BBQ sauce the last 30 minutes.

Let rest 15 minutes before serving.
Nutrition
Serving:
1
serving (1/6)
|
Calories:
781
kcal
|
Carbohydrates:
12
g
|
Protein:
126
g
|
Fat:
22
g
|
Saturated Fat:
7
g
|
Polyunsaturated Fat:
4
g
|
Monounsaturated Fat:
9
g
|
Trans Fat:
0.2
g
|
Cholesterol:
393
mg
|
Sodium:
2082
mg
|
Potassium:
2624
mg
|
Fiber:
2
g
|
Sugar:
8
g
|
Vitamin A:
1496
IU
|
Vitamin C:
2
mg
|
Calcium:
79
mg
|
Iron:
8
mg
More Smoker Recipes
By