Smoked Chicken Thighs are a great BBQ recipe for the summer! Slow cooked and full of flavor. Use hickory chips (or pellets) or any wood you prefer and a BBQ rub. Gluten free.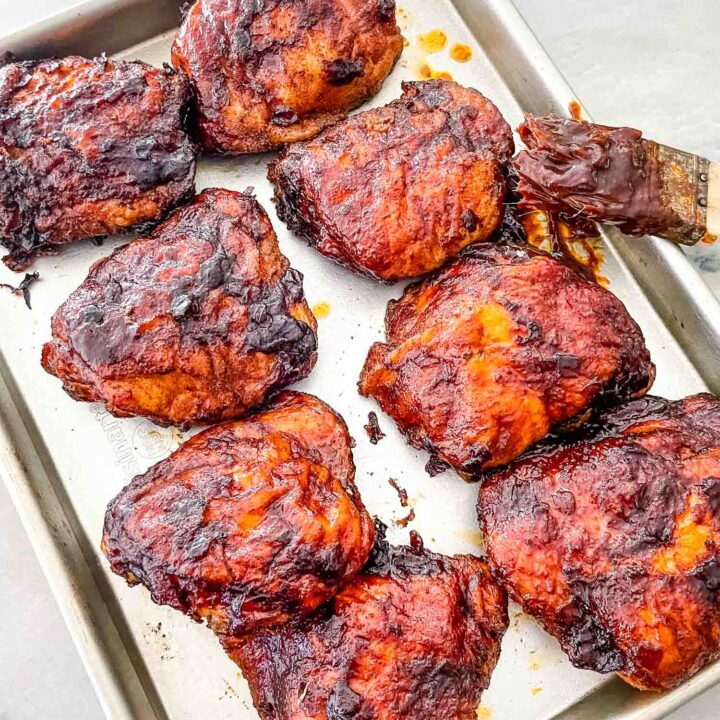 These Smoked Chicken Thighs are a wonderful summer dinner when you want to get outside and barbecue! Made with a simple rub and slow cooked with lots of flavor.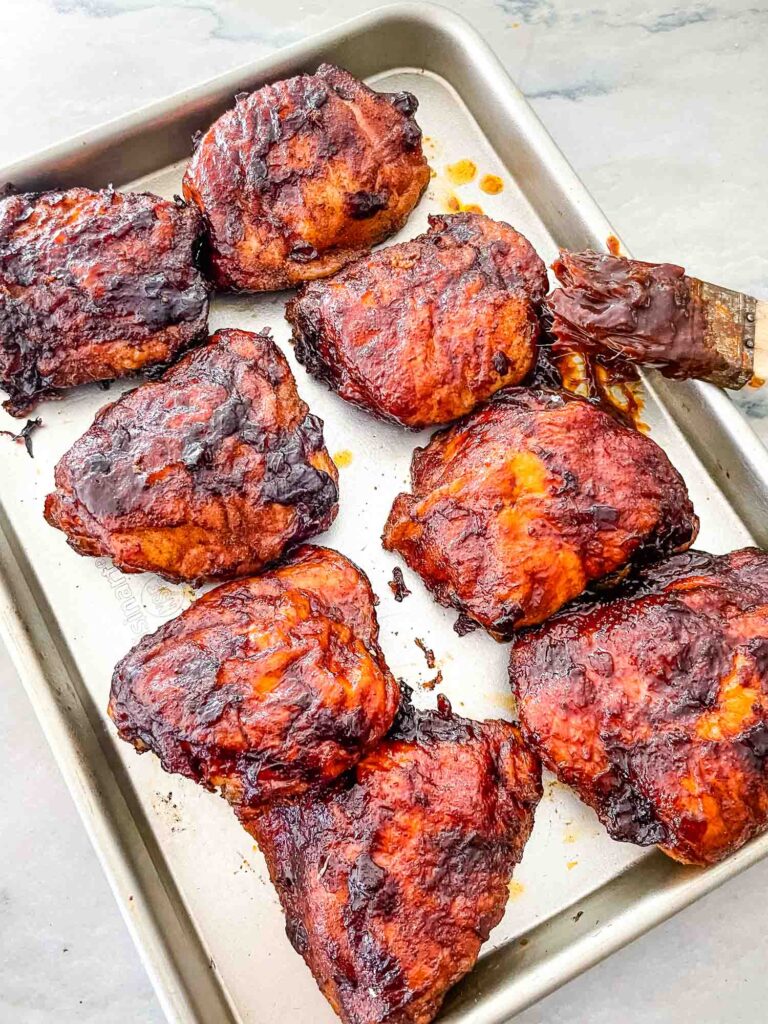 Smoked Dark Meat Chicken
As soon as the warm weather comes, I love to get outside and grill or smoke foods!
These Smoked Chicken Thighs are simple to make and slow cooked for a wonderful flavor.
And since the chicken pieces are smaller, they smoke much faster than larger meats!
The flavors I use for this chicken are classic BBQ flavors which makes it versatile for your favorite sides and sauces.
What do I Need for Smoked Chicken Thighs?
Here is what you need for this recipe:
Hickory Chips/Pellets (or flavor of choice)
8 Bone in, Skin on Chicken Thighs (about 4 pounds)
BBQ Rub of Choice. This recipe's rub has the following ingredients:

Brown Sugar
Paprika
Chili Powder
Cumin
Garlic Powder
Onion Powder
Dry Mustard
Cayenne
Salt
I love to use my classic BBQ rub for this recipe, and I have scaled it down to give you just enough. You can find more information about BBQ rubs and a larger batch recipe on that BBQ Rub post.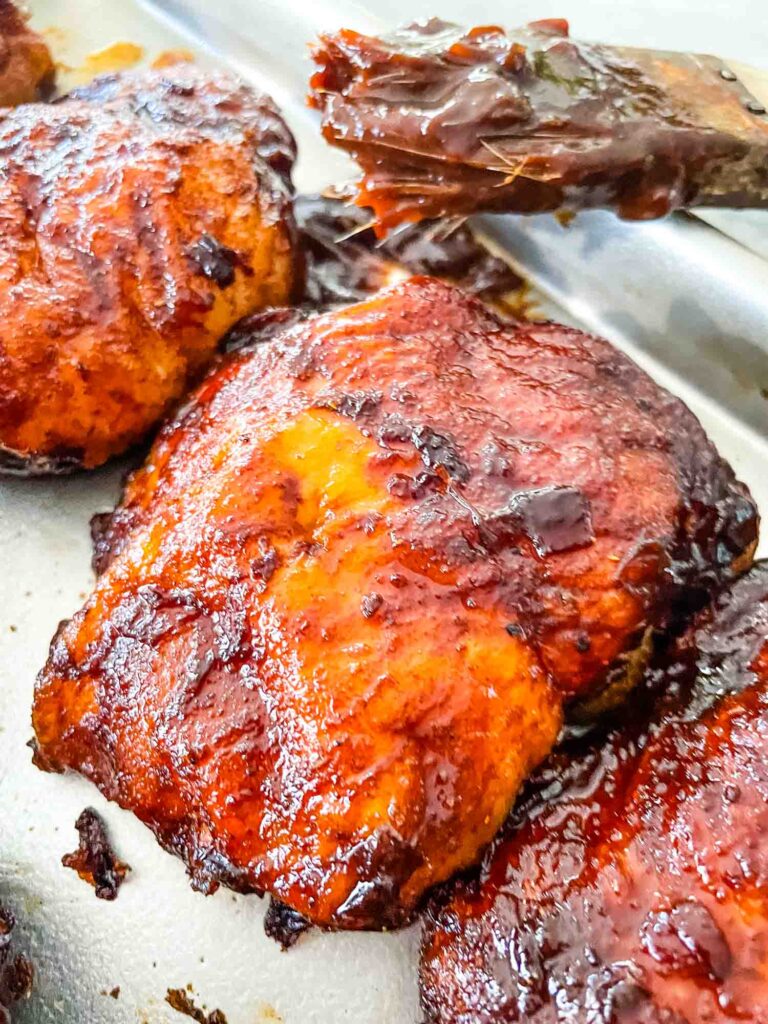 How to Make Smoked Chicken Thighs
First dry off your chicken with a paper towel to remove excess moisture.
Then spread the rub across the chicken, covering everything including bone.
Let the chicken sit with the rub on it ideally for 30 minutes or longer (but can also be cooked right away).
Preheat your smoker to 225F. I like to use Hickory pellets but use any flavor you like!
Smoke the chicken until it reaches 165F internally. This is very important and I recommend using a grill meat thermometer to do this.
If desired, baste with a BBQ Sauce for the last 30 minutes of cooking.
Let the meat rest 15 minutes before serving.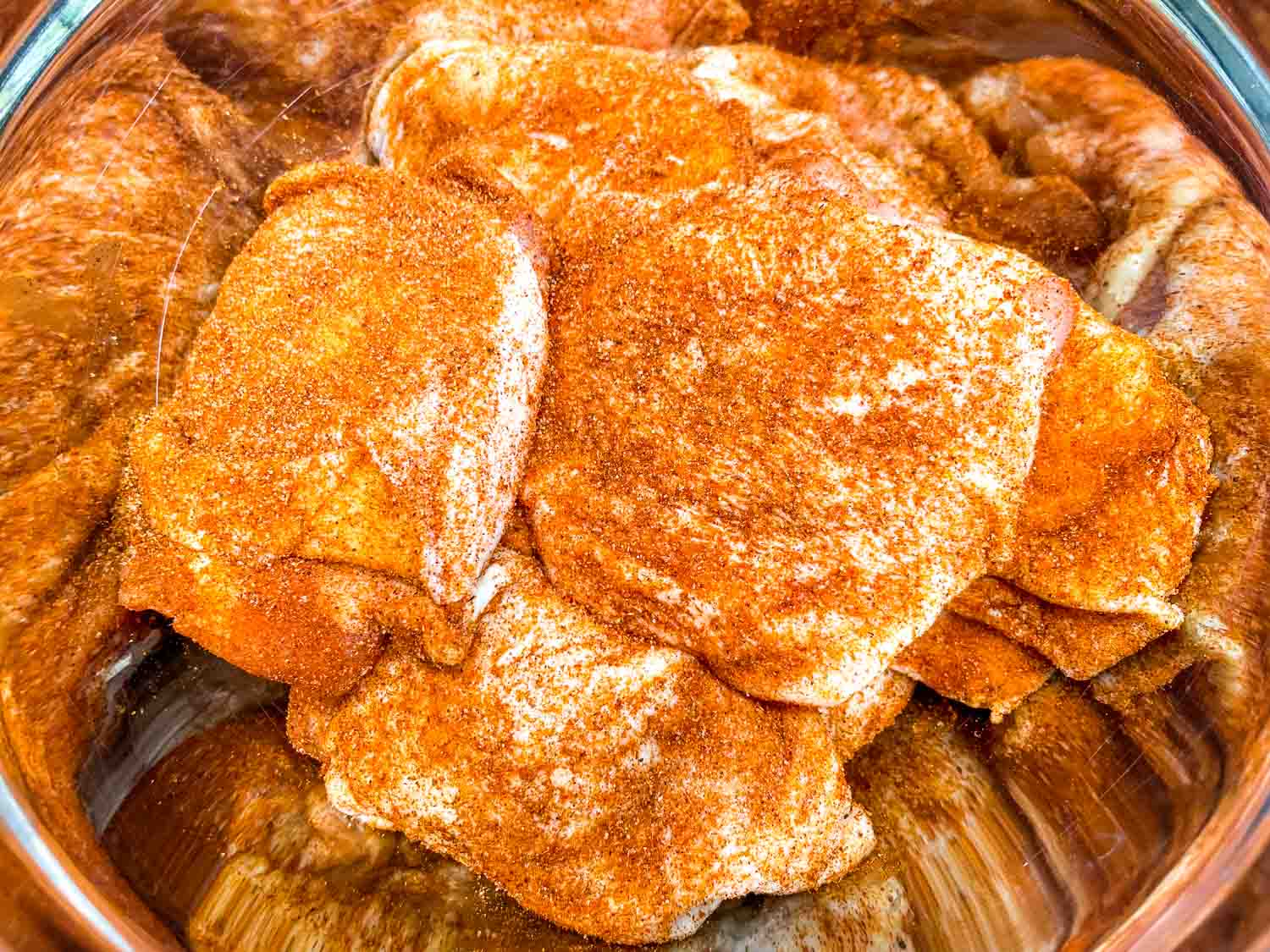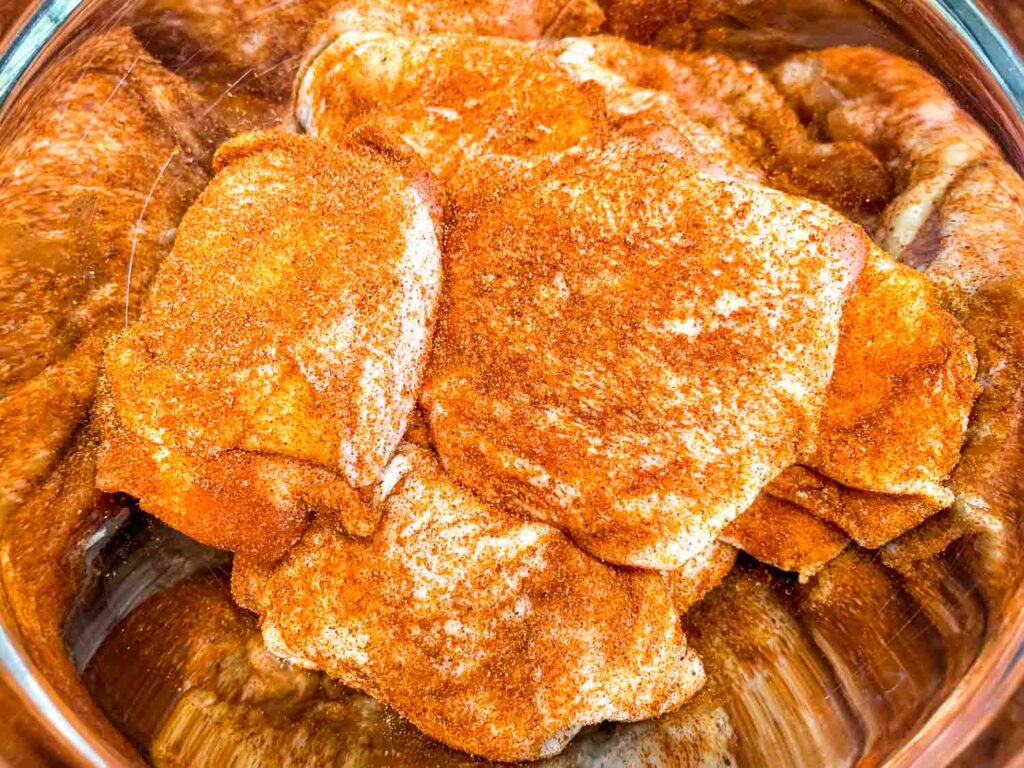 What if my Rub is Not Sticking to the Meat?
It is important to dry off the chicken to promote browning, but it should still be wet enough for the rub to stick to it.
If not, use a very small amount of vegetable oil (or another neutral flavor oil like canola) and spread across all surfaces of the meat, JUST enough to make it wet enough for the rub to stick.
How Long does it Take to Smoke Chicken Thighs at 225?
It will typically take between 1.5-2 hours for the chicken to cook and get to temperature.
I always leave additional cooking time just in case things are not progressing as fast as I would hope, or if there is any stalling where the internal temperature is just not moving for a while.
Ultimately, when smoking, it is best to take an internal temperature reading of the food to be sure it is cooked through properly.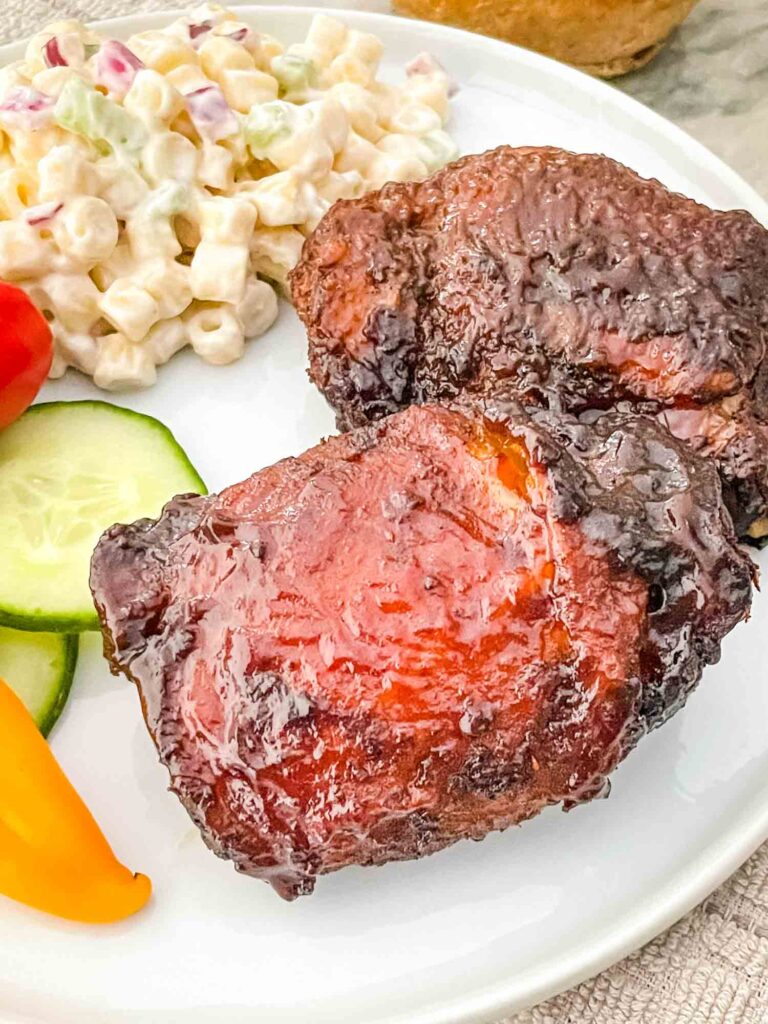 Does Smoking Meat Actually Cook It?
Yes!
The high temperature of the air surrounding the meat is what cooks it in a low and slow method.
Do you Flip Chicken Thighs when Smoking?
It is not required, but you can absolutely flip them if preferred.
If you feel like the smoker has hot spots or cold spots, you would want to flip and rotate the meat to make the cooking process as consistent as possible.
How do you Keep Chicken Moist when Smoking?
You can do what is called a dry brine, which is where you season the meat with salt and then let it sit in the refrigerator for 2-3 hours before cooking.
How do you Keep Chicken from Getting Rubbery when Smoking?
One option is you can cook the chicken at a higher temperature, such as 275F.
It will cook faster, which means possibly less smoke flavor in the meat, but the higher temperature also helps melt the fat in the skin which contributes to the rubbery texture.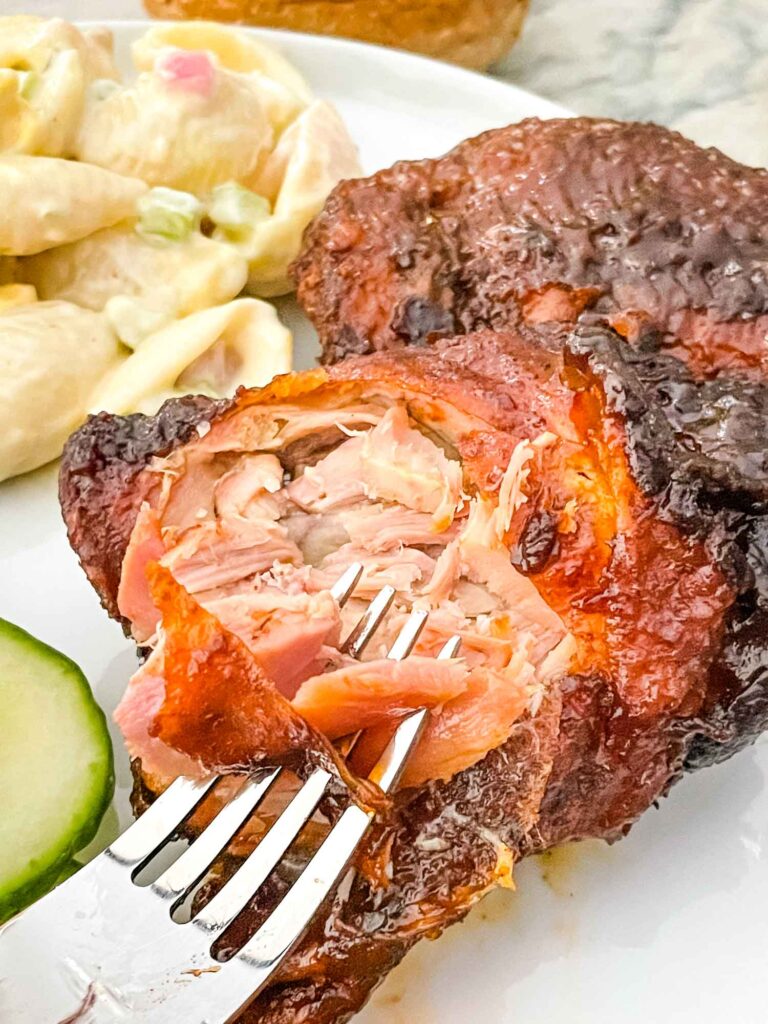 Do you Wrap Chicken in Foil when Smoking?
Since we are using small cuts of meat and cooking for a relatively short time, it is not necessary.
If desired, you can wrap the chicken with foil which might speed up cooking and can help keep juices inside the meat.
Should I Baste Chicken While Smoking?
If desired, you can baste chicken when cooking but only with something very thin and without sugar, such as a combination of apple cider vinegar and water.
Barbecue sauces or anything with sugar should be saved for the last 30 minutes or so because sugars will burn if cooked too long.
Why is Smoked Meat Still Pink?
It is completely okay if there is a pink ring around the edges of the meat after smoking. Just make sure the internal temperature is 165F!
This pink hue appears because myoglobin, a red protein in the meat, does not fully break down from the lower temperatures and leaves the pink hue.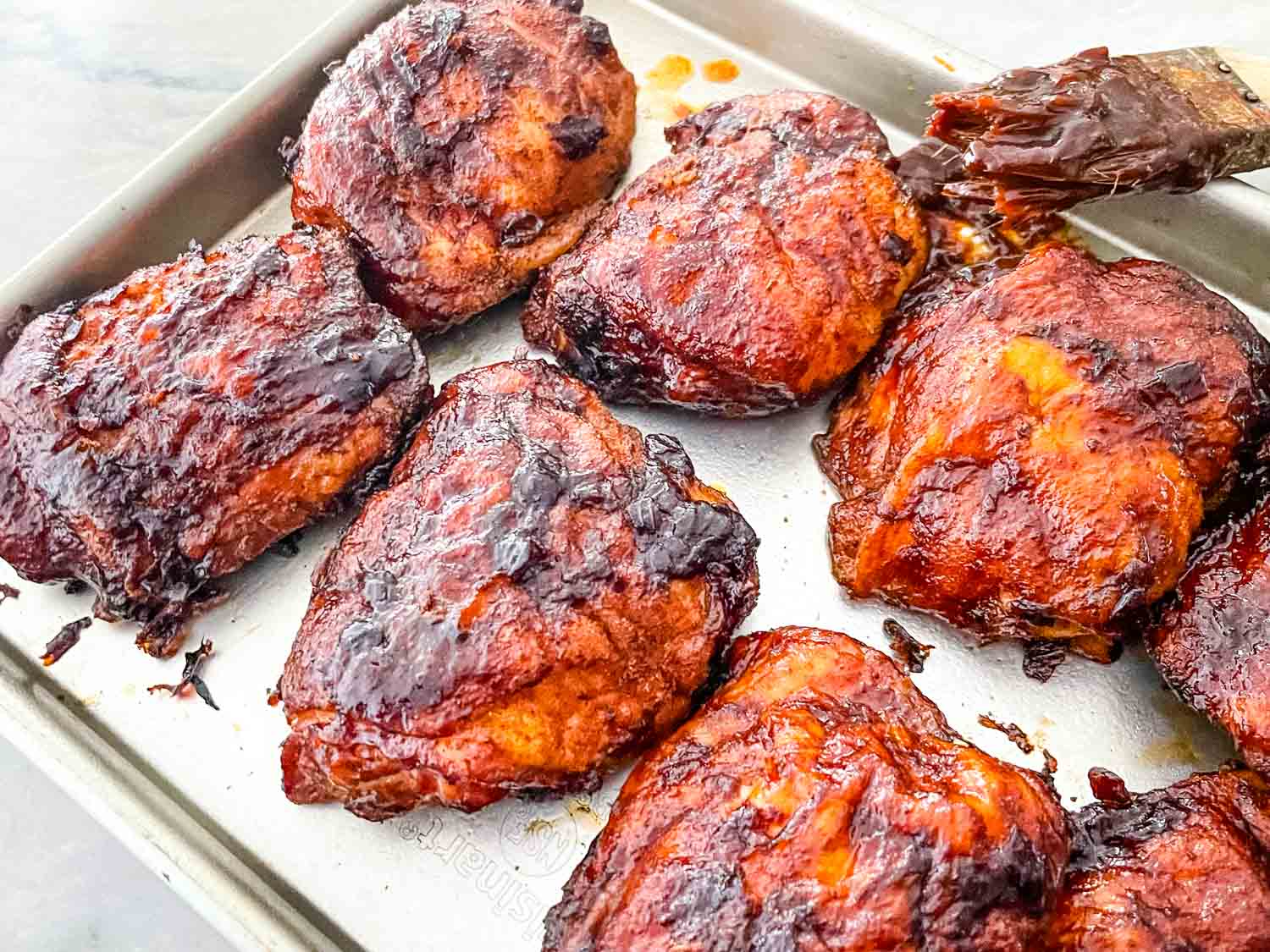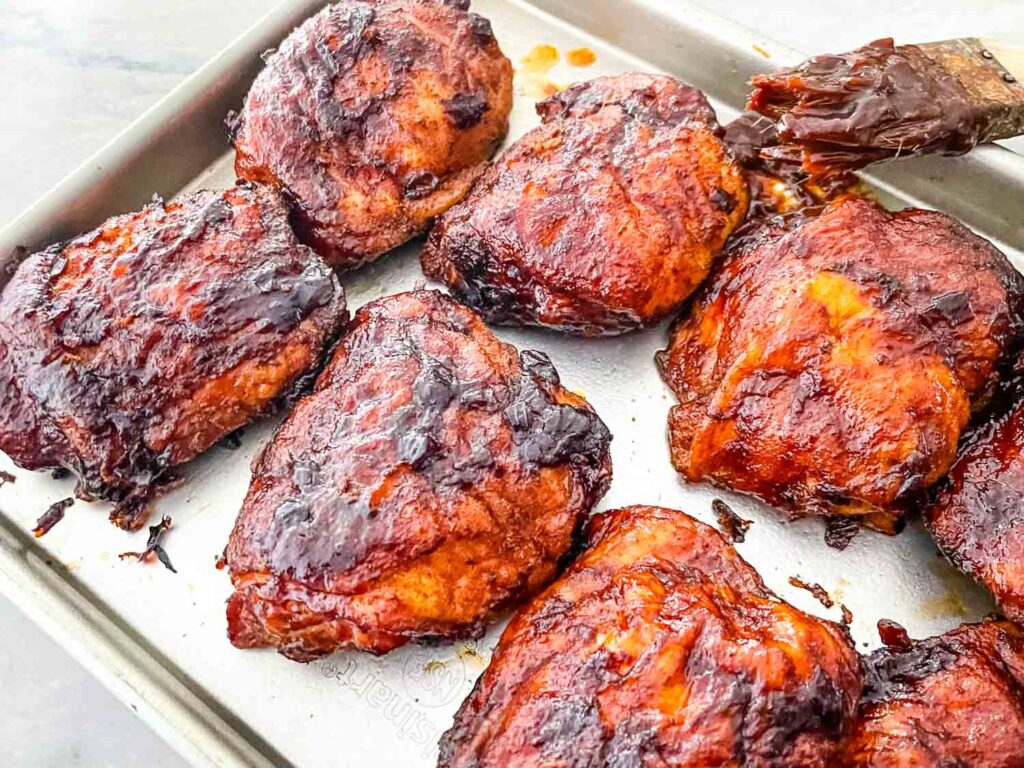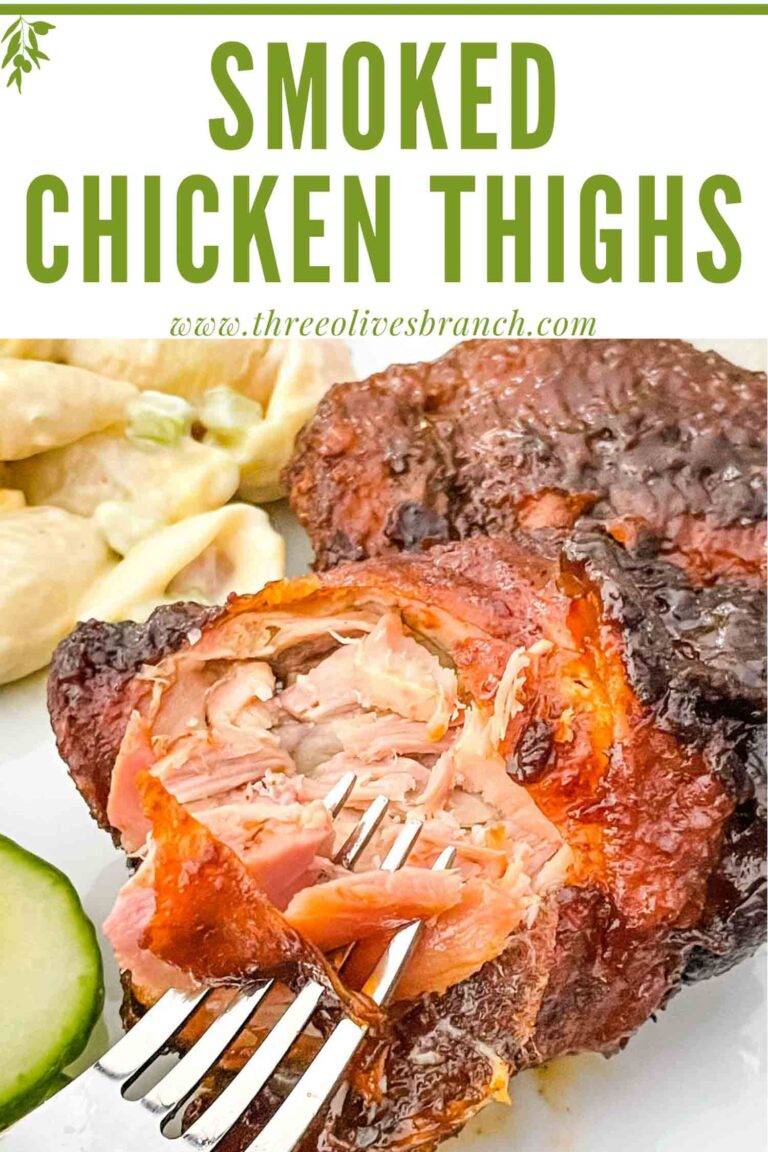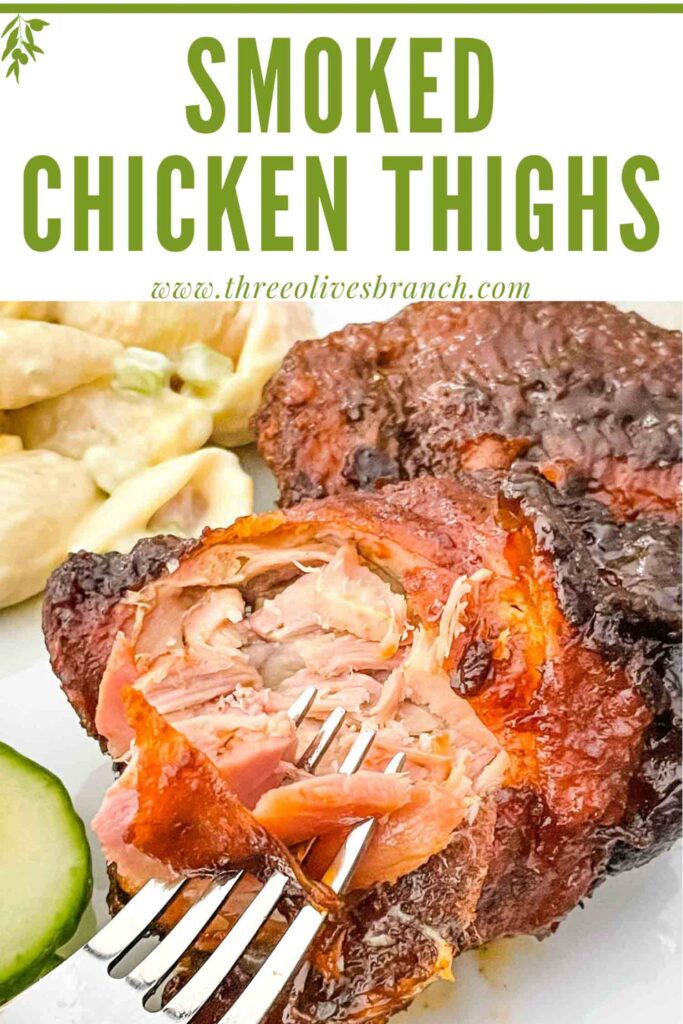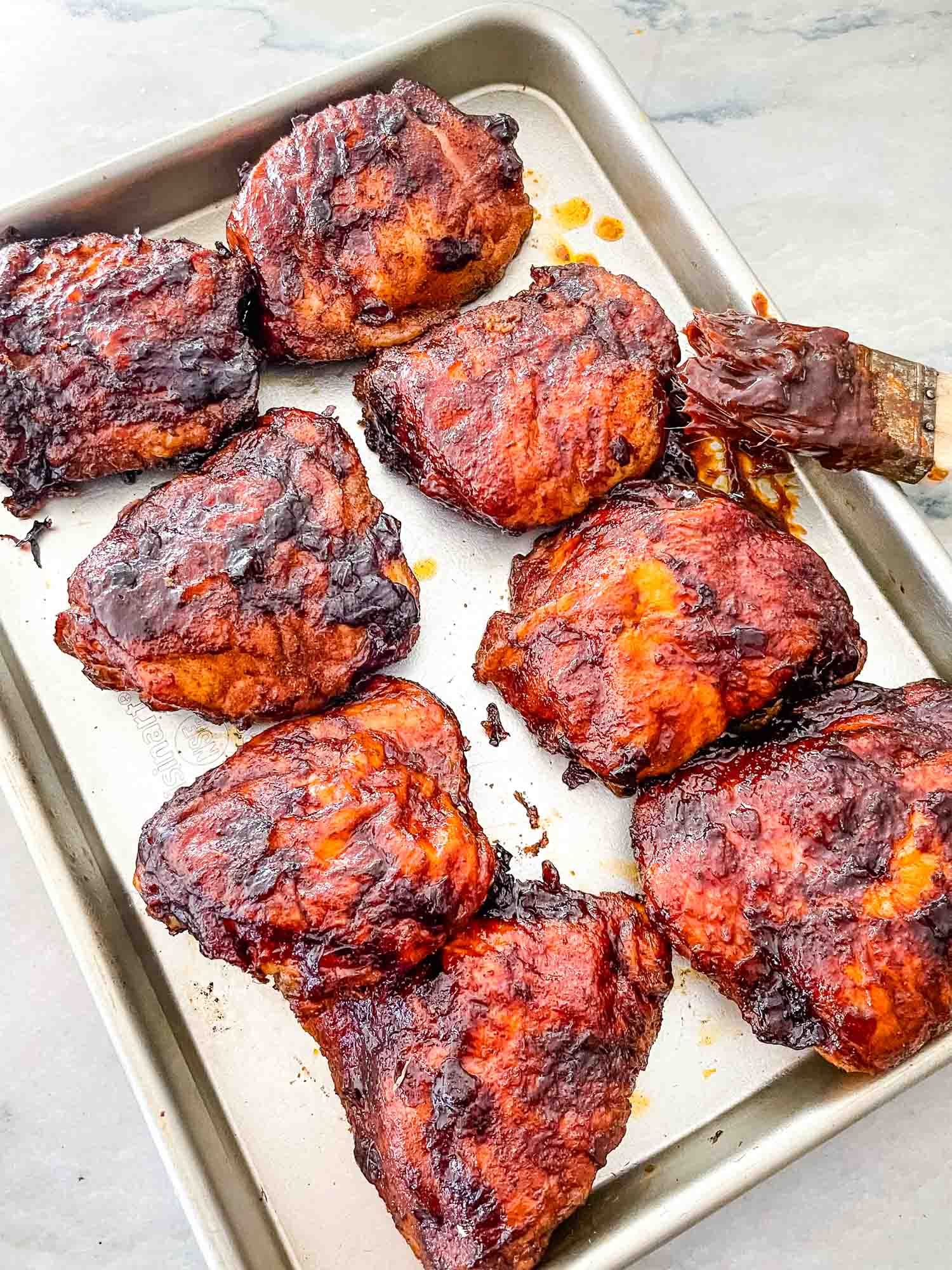 Ingredients
BBQ Rub (or use 3 Tablespoons of your favorite rub)
Instructions
Preheat your smoker to 225F with your wood chips or pellets (I like to use hickory, but use any flavor you like).

If using a grill, put the chips in a metal pant, covered, with venting holes on the grill.

Mix the rub ingredients together.

Pat the chicken thighs dry with paper towels.

Rub the spice rub into the thighs, covering all surface areas including bones.

If the rub will not stick, use a very small amount of vegetable or canola oil to wet the chicken just enough for the rub to stick.

If desired, let the chicken sit with the rub for at least 30 minutes to help the flavors absorb into the meat (not required).

Put the chicken thighs into the smoker after it has preheated to 225°F.

Put a grilling meat thermometer into a thigh at the thickest part, not against any bones. This is easiest for thighs with the probe being sideways.

Smoke until the internal temperature is 165°F, typically 1.5-2 hours.

Check the meat after one hour. You might need to smoke longer just depending on your smoker and if the meat stalls at all.

If desired, baste with BBQ sauce the last 30 minutes.

Let rest 15 minutes before serving.
Nutrition
Serving:

1

thigh

|

Calories:

269

kcal

|

Carbohydrates:

4

g

|

Protein:

19

g

|

Fat:

19

g

|

Saturated Fat:

5

g

|

Polyunsaturated Fat:

4

g

|

Monounsaturated Fat:

8

g

|

Trans Fat:

1

g

|

Cholesterol:

111

mg

|

Sodium:

834

mg

|

Potassium:

280

mg

|

Fiber:

1

g

|

Sugar:

2

g

|

Vitamin A:

611

IU

|

Vitamin C:

1

mg

|

Calcium:

19

mg

|

Iron:

1

mg

By