This Alfredo Linguine is a creamy, cheese filled Italian pasta recipe. Long noodles with a white sauce makes it a great side dish or main course. Add vegetables, chicken, or shrimp if desired. Fast and ready in just 30 minutes!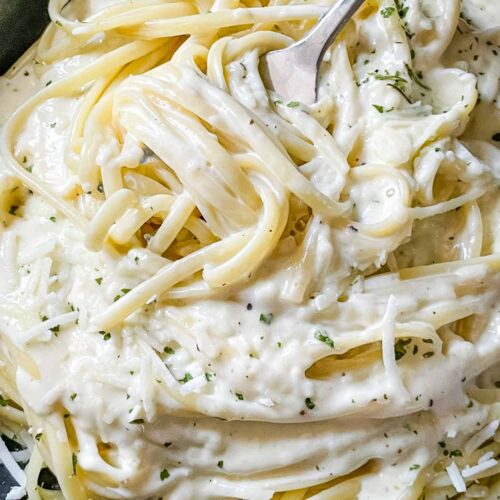 This creamy and rich sauce is perfect with linguine pasta noodles. A great main course base or as a side dish for a meal.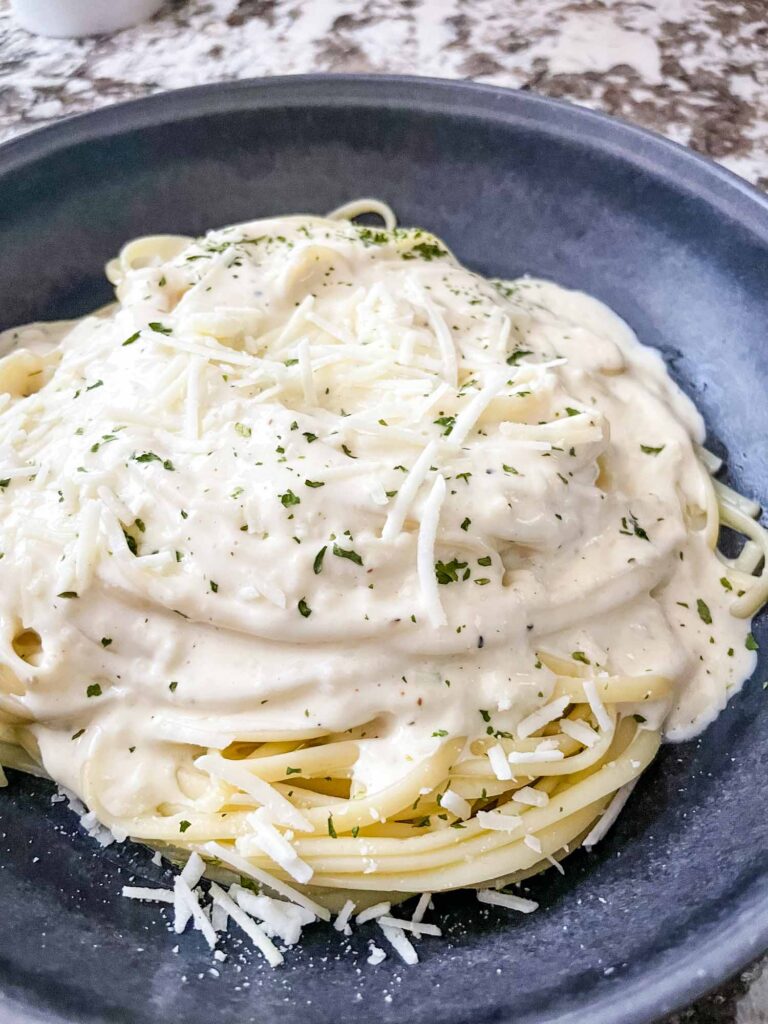 Homemade Alfredo Pasta
If you are looking for a creamy, cheesy pasta, this recipe is for you!
This noodle recipe is great as a main course or as a side dish.
Easily add vegetables or meat of choice if desired.
Can Linguine be Used in Alfredo?
Can I use linguine instead of fettuccine? Absolutely!
They are both long noodles that will hold onto the sauce well.
You could honestly use any shape of pasta that you like or have! Pastas with more surface area such as angel hair need more sauce to coat them thoroughly, but there is not much of a difference here when using linguine.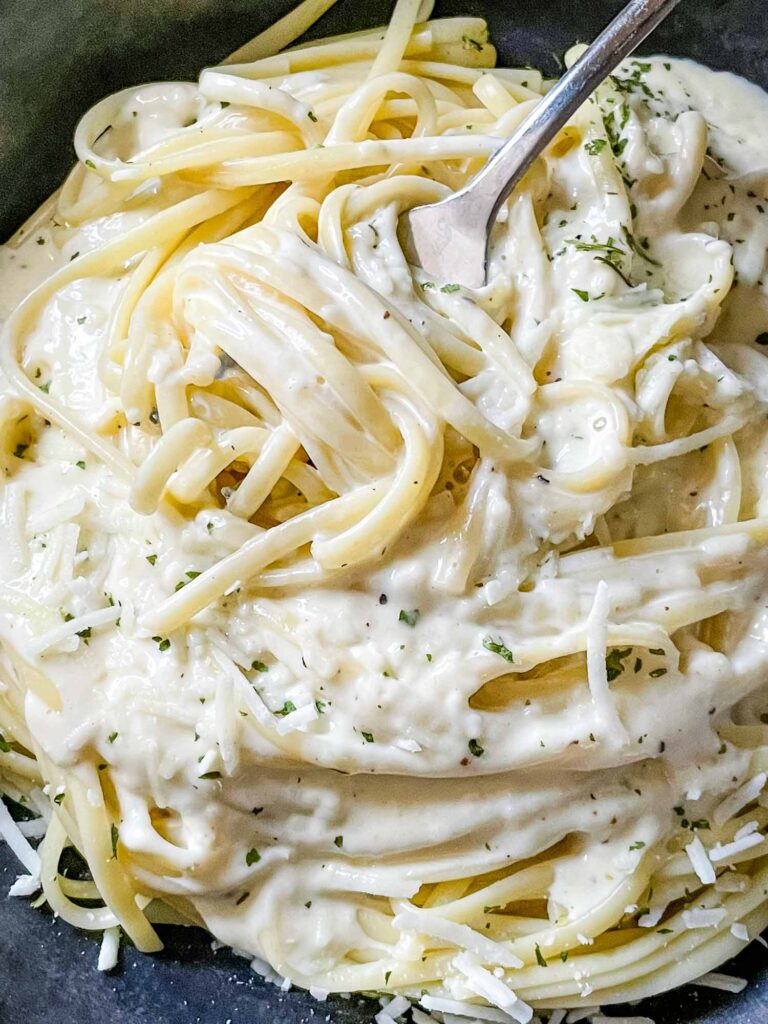 Are Fettuccine Noodles and Linguine the Same?
No, they are similar but different.
They are both long and flat, but linguine noodles are not as wide as fettuccine.
What is the Difference Between Fettuccine and Alfredo?
Fettuccine is the pasta shape – the wide, flat noodles.
Alfredo is the creamy, cheesy sauce.
So if you want to change the pasta, you change the word "fettuccine" such as with this Linguine Alfredo.
What Pasta is Closest to Linguine?
If you do not have linguine, you could go with the classic Fettuccine (a wider noodle) or even spaghetti, a thinner noodle but rounder instead of flat.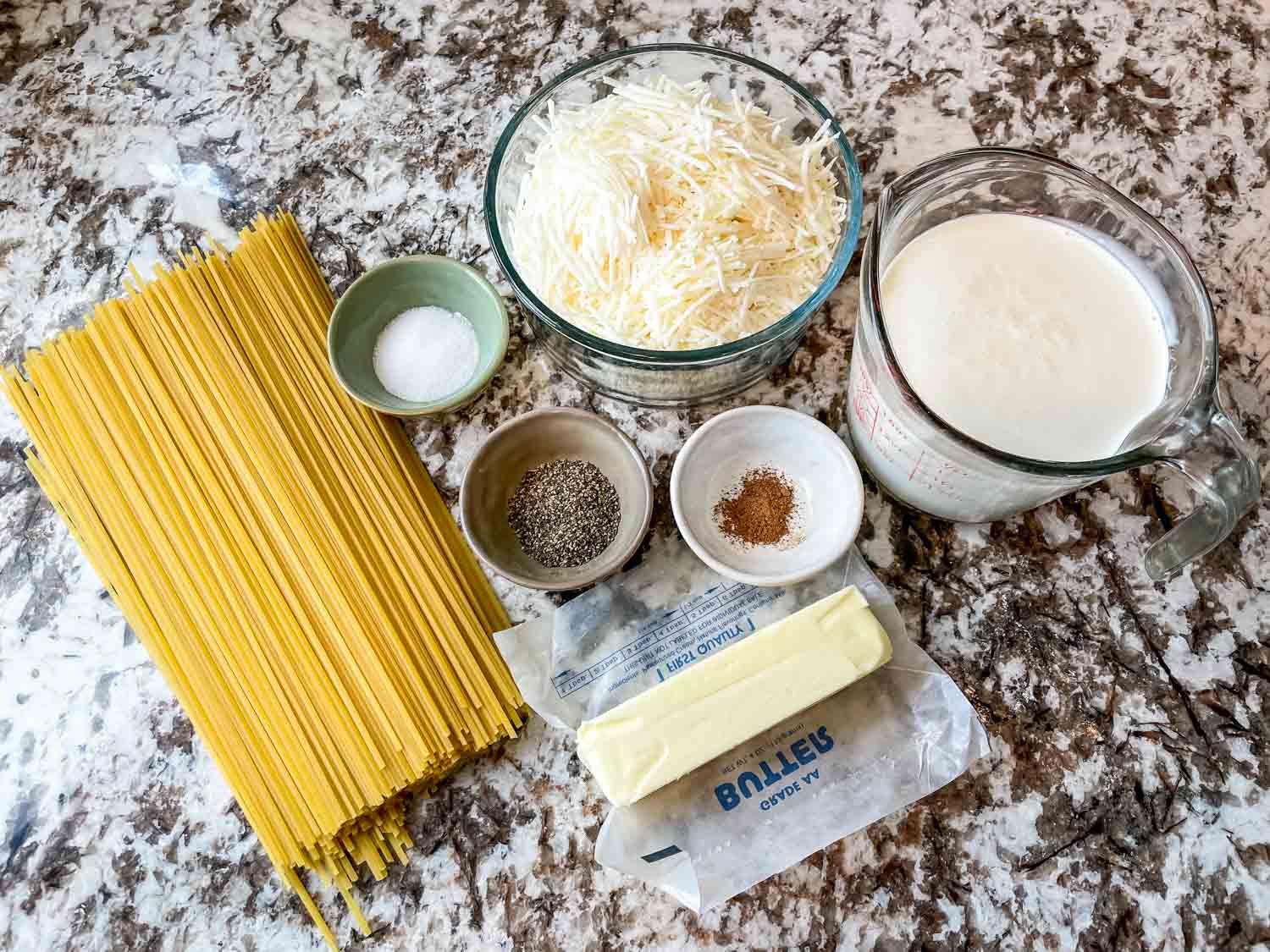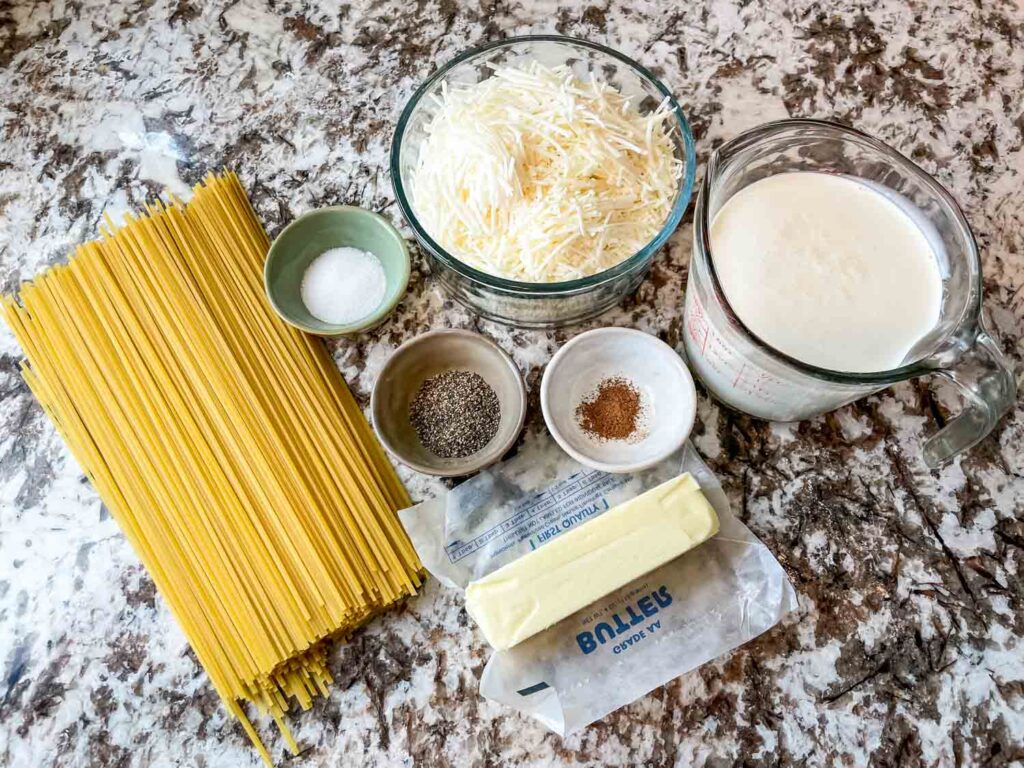 What is in Linguine Alfredo?
Here is what you need to make this recipe
Linguine Pasta
Heavy Cream
Butter
Parmesan Cheese (fresh grated is best)
Salt
Black Pepper
Ground Nutmeg
Is Alfredo Actually Italian?
Technically, no. You will not find what we call Fettuccine Alfredo in Italy.
They have something similar which is likely the inspiration. A long flat pasta made with a butter creamy sauce.
What is the Italian Version of Alfredo?
The buttery noodle version that inspired alfredo is called Fettuccine al Burro (Butter Fettuccine).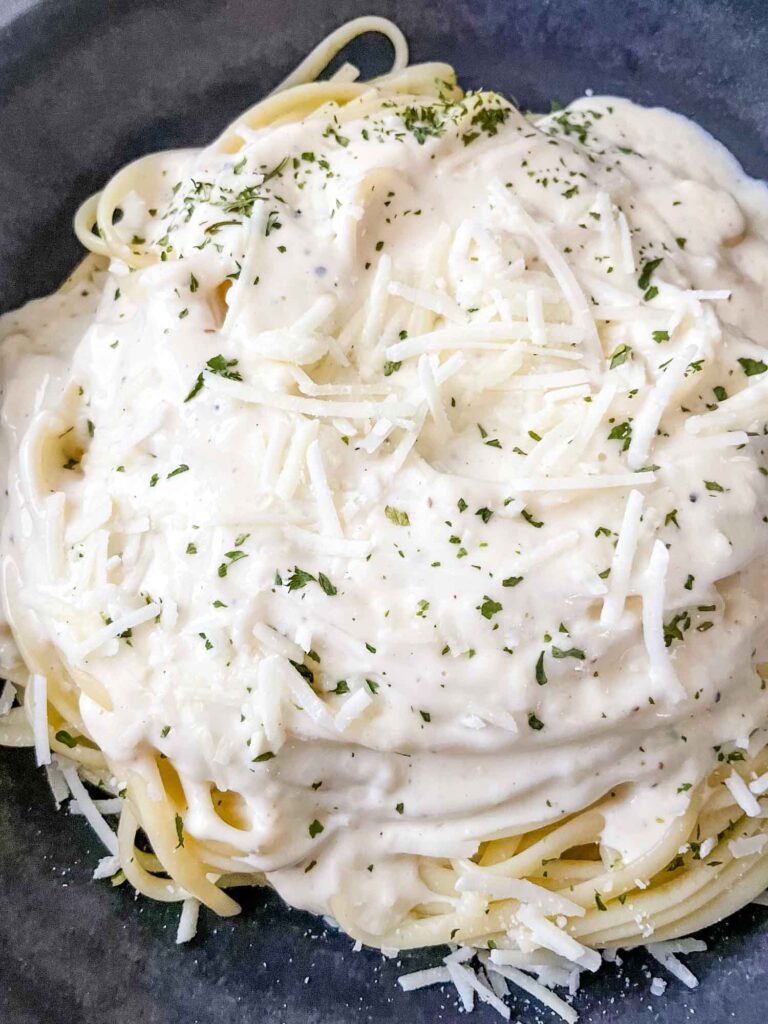 Can I Make the Alfredo Lighter?
Yes!
Alfredo is very rich and heavy, and has the calories to prove it.
If you want a thinner or lighter sauce, use whole milk instead of heavy cream.
I have found that even with it being very rich, I do not eat nearly as much as if it was a lighter sauced pasta. So in my book it is a trade off!
How do I Make Linguine Alfredo?
First get your pasta cooking as per package directions. You want it to be al dente, which means not too soft but not crunchy. It will have a firm texture.
Meanwhile, make the sauce by melting the butter with the heavy cream.
Add the seasonings of nutmeg and black pepper, and then turn the heat very low.
Add the cheese and stir until it is melted into the sauce.
At this point, taste and add salt if needed, or more black pepper. Or more cheese!
We do not add salt until this point because cheese can be salty and we can always add more salt, but it is difficult to make it less salty.
When ready to serve, toss the pasta with the sauce (or serve the sauce on top).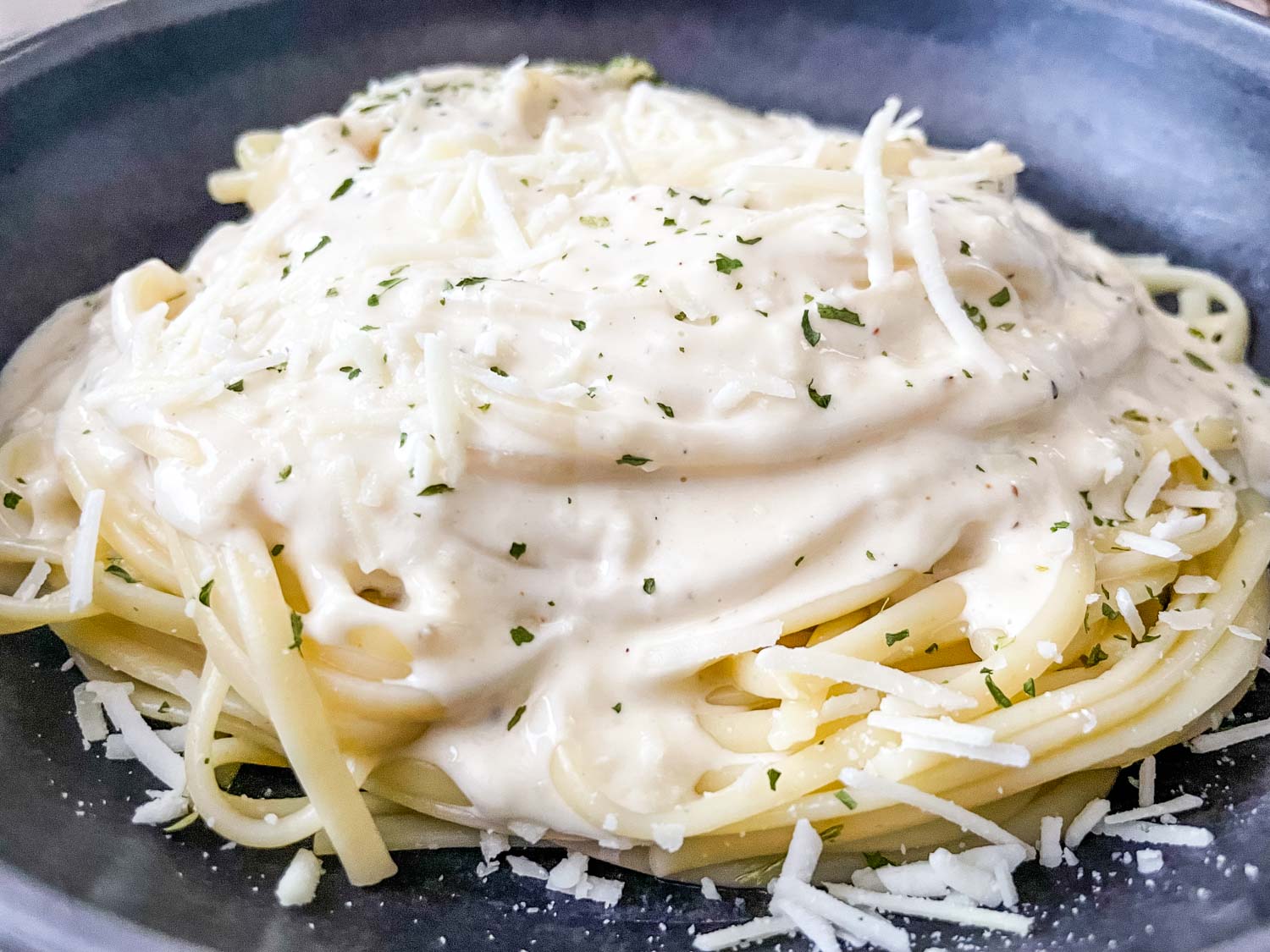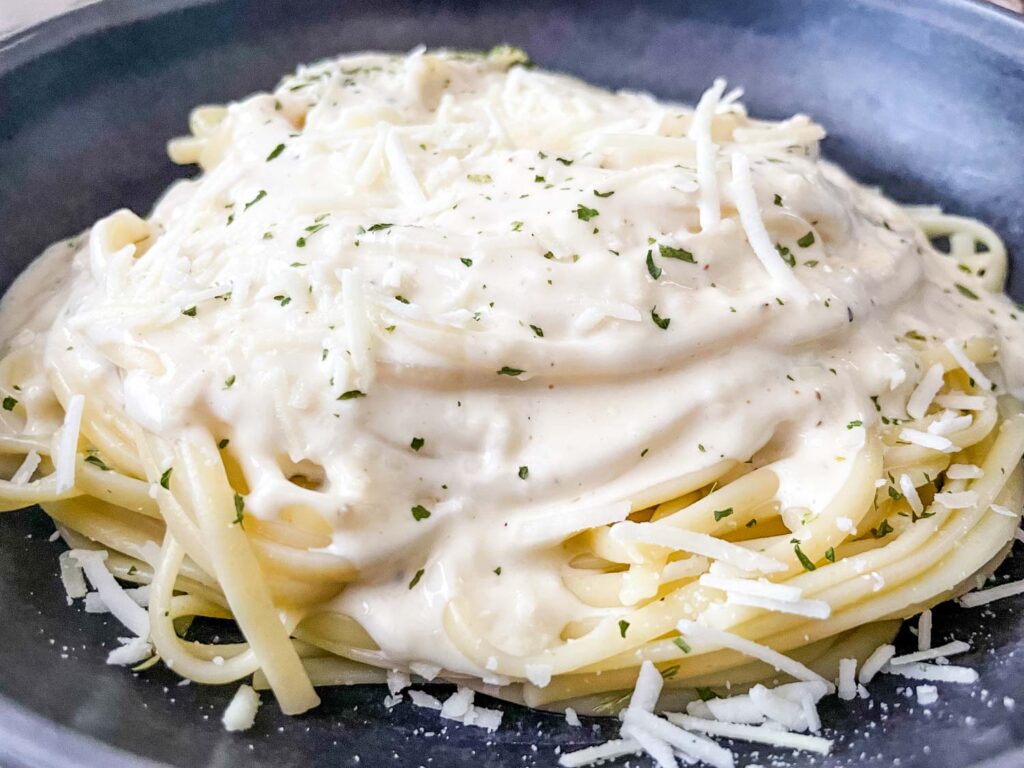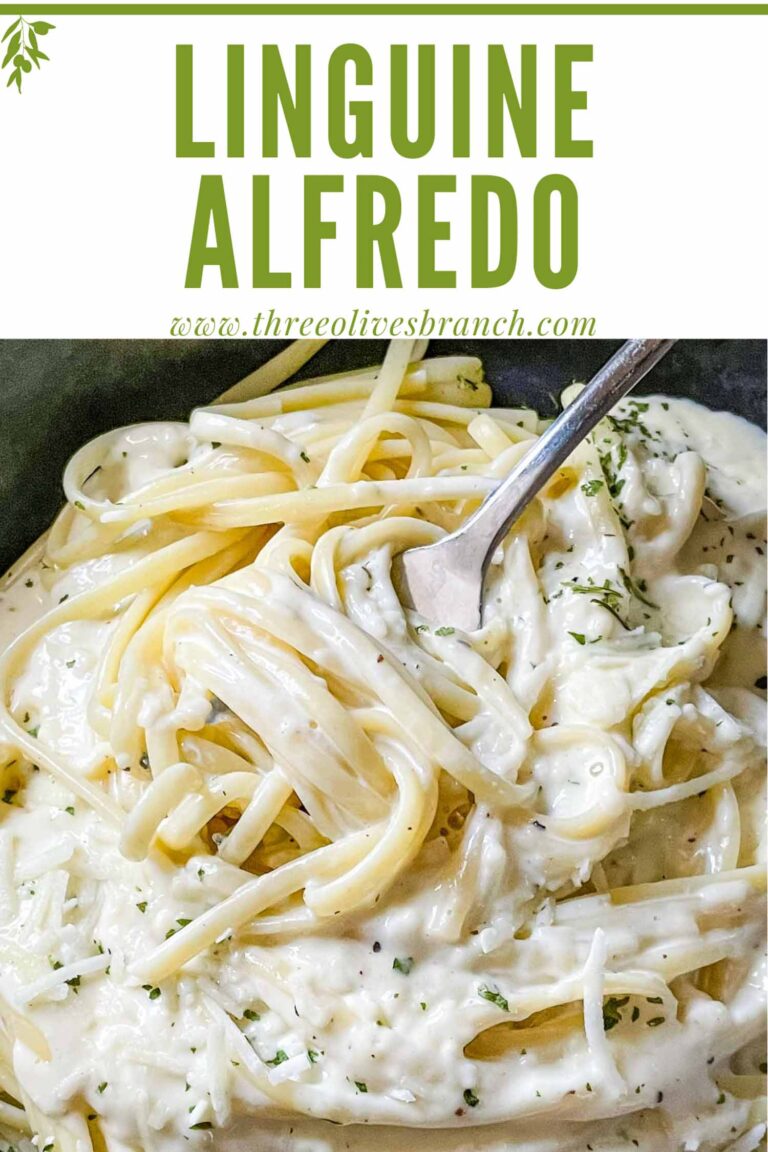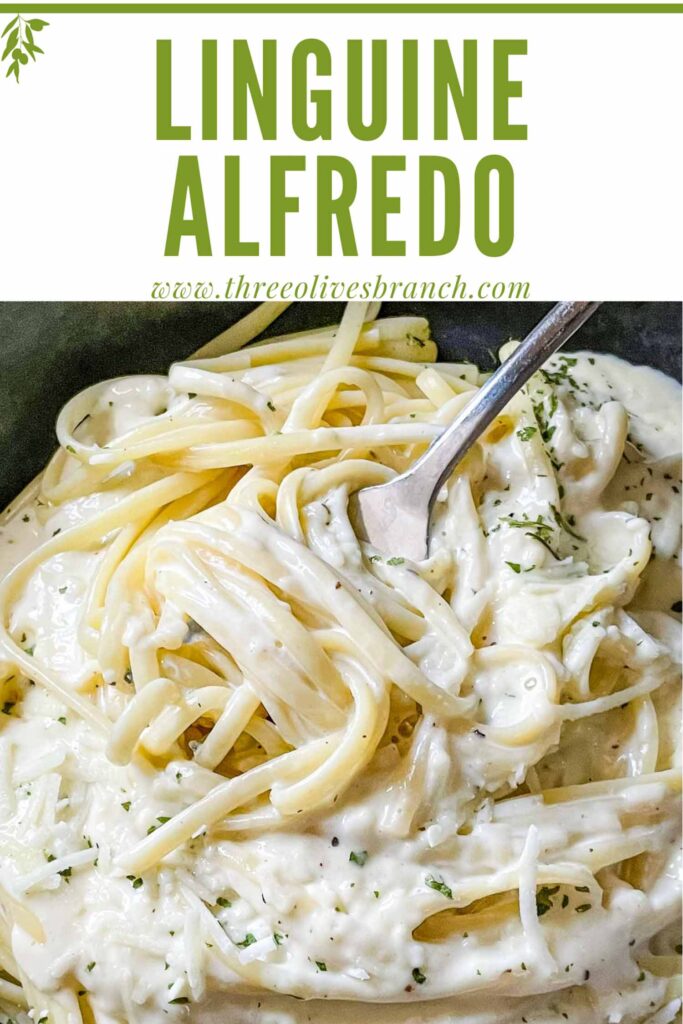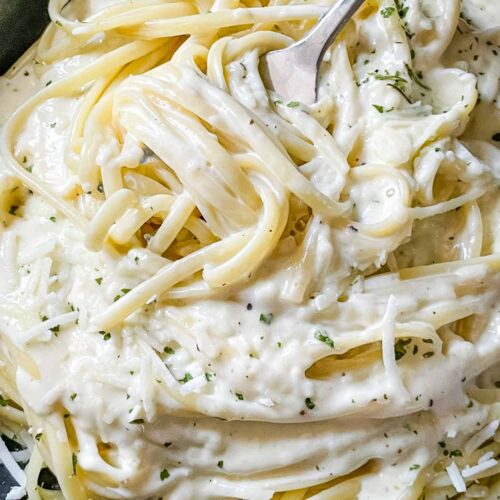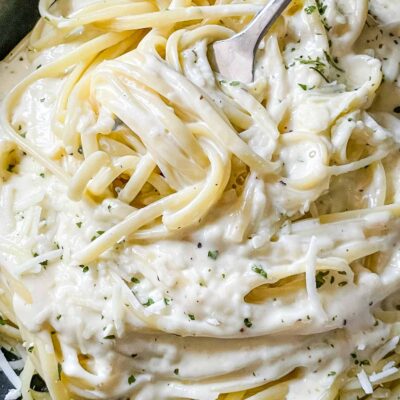 Alfredo Linguine Recipe
This Alfredo Linguine is a creamy, cheese filled Italian pasta recipe. Long noodles with a white sauce makes it a great side dish or main course. Add vegetables, chicken, or shrimp if desired. Fast and ready in just 30 minutes!
Print
Pin
Rate
Ingredients
1

pound

linguine

1/4

pound

unsalted butter

(1 stick)

2

cups

heavy cream

(see note)

1/4

teaspoon

nutmeg

1 1/2

cups

freshly grated Parmesan

(see note)

salt

black pepper
Instructions
Start the water for the pasta. Cook as per package directions until just shy of al dente (it will be added to the sauce later and will continue to cook).

If the pasta is done too early, drain and set aside while reserving 1 cup of the cooking liquid just in case the sauce is too thick.

As the water is starting for the pasta, combine the butter and cream in a large pot or a wide skillet with tall edges (like the one in my picture). Heat over medium until the butter is melted into the cream.

Turn heat down to medium low. Add the nutmeg to the cream and butter mixture. Whisk to combine.

Add the Parmesan cheese. Season with salt and pepper to taste (cheese is salty, so make sure you do not salt until after the Parmesan is added).

Add the pasta to the sauce and toss to coat. Let it cook for 2-3 minutes to combine the flavors. If the sauce is too thick, add a little pasta water at a time to loosen the sauce (or cream). If too thin, let it cook a little longer.

Mix in steamed vegetables or serve with chicken or sausage if desired. Serve immediately.
Notes
The quality of the cheese is very important since it is the star of the dish.  Use any freshly grated Parmesan cheese.
Lighten the dish with adding steamed vegetables, such as peas or broccoli.  Add some chicken or sausage for the meat lovers.
To ensure a truly vegetarian dish, make sure the cheese is vegetarian.
Want a thinner sauce? Use whole milk instead of heavy cream.
Nutrition
Serving:

1

serving

|

Calories:

1176

kcal

|

Carbohydrates:

89

g

|

Protein:

32

g

|

Fat:

77

g

|

Saturated Fat:

48

g

|

Polyunsaturated Fat:

4

g

|

Monounsaturated Fat:

20

g

|

Trans Fat:

1

g

|

Cholesterol:

221

mg

|

Sodium:

643

mg

|

Potassium:

408

mg

|

Fiber:

4

g

|

Sugar:

7

g

|

Vitamin A:

2751

IU

|

Vitamin C:

1

mg

|

Calcium:

553

mg

|

Iron:

2

mg

By