Make the restaurant favorite Copycat Olive Garden Steak Gorgonzola Alfredo at home! Creamy Parmesan alfredo fettuccine noodles with blue cheese, spinach, tomatoes, and balsamic steak. A delicious Italian beef pasta dinner! #copycatrecipes #olivegardenrecipes #alfredorecipes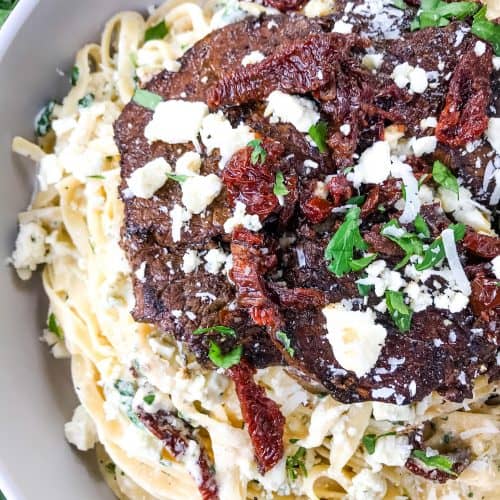 This Copycat Olive Garden Steak Gorgonzola Alfredo recipe is just like the restaurant favorite! Enjoy restaurant take out at home.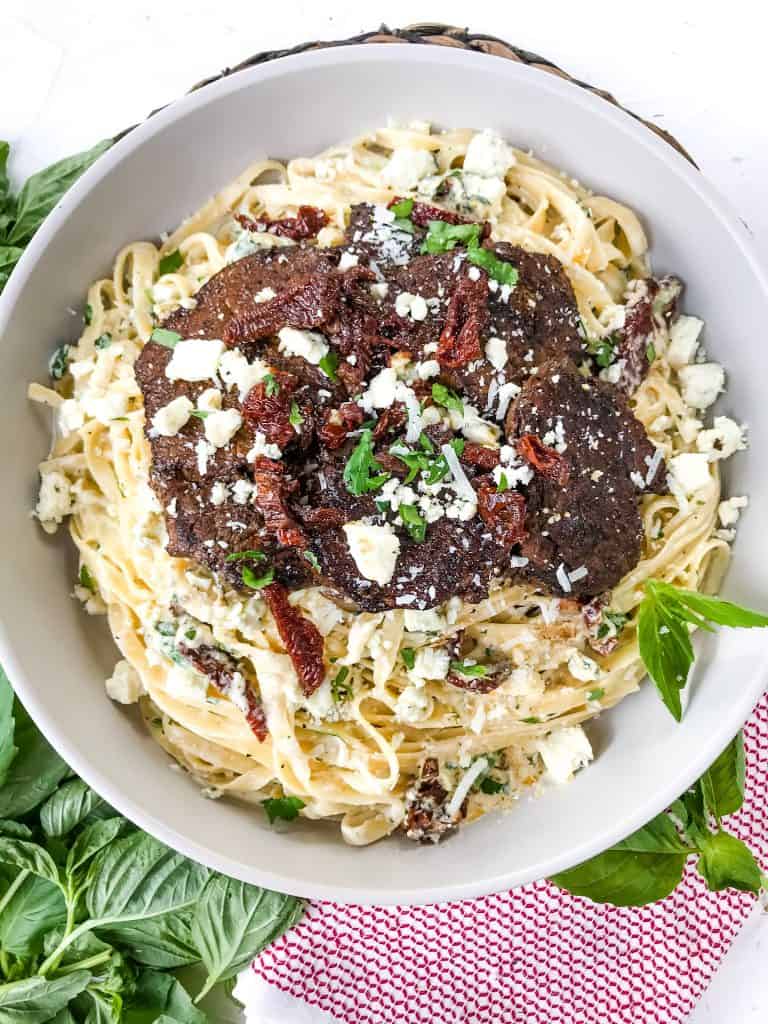 I love alfredo, but it is so incredibly rich and heavy that it is very difficult to eat a lot of it (although there are times that it seems so easy).
After I had the Steak Gorgonzola Alfredo at Olive Garden, I knew I had to make my own copycat version.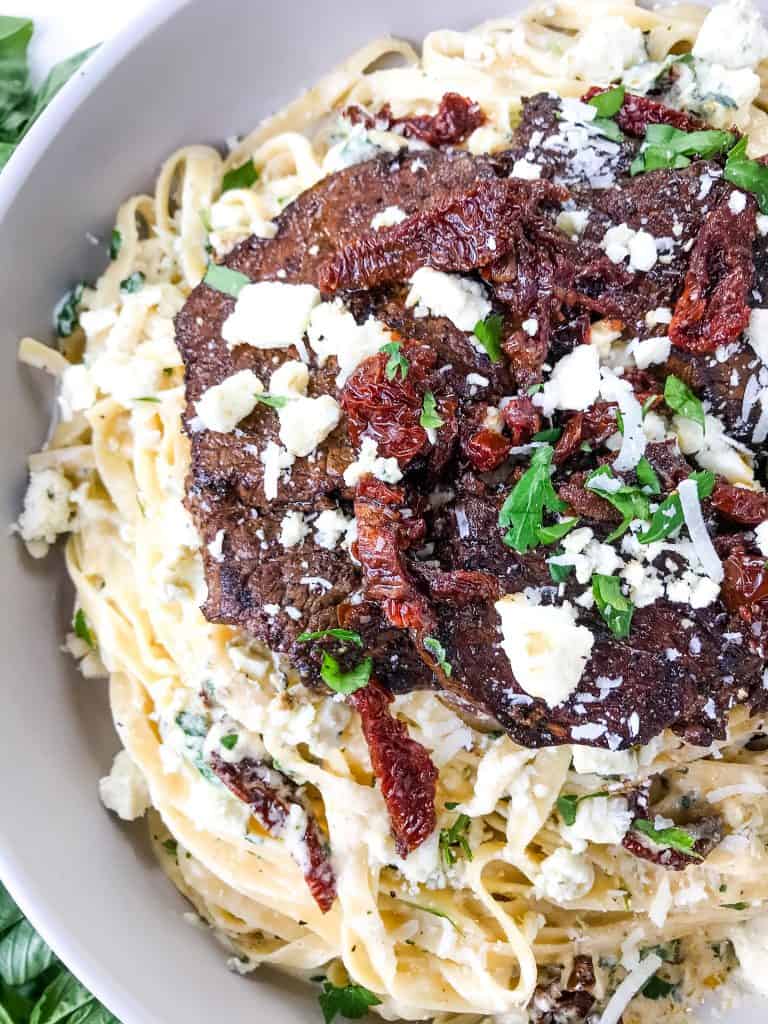 This post contains affiliate links.
My standard creamy alfredo sauce is pretty amazing, if I may say so myself. I had a hard time finding an alfredo recipe that was "worth it" and finally, I figured it out!
So I took the base of my alfredo sauce and turned it into my version of a Copycat Olive Garden Steak Gorgonzola Alfredo and then other variations like the classic Copycat Olive Garden Fettuccine Alfredo.
I love my Copycat Olive Garden recipes including Olive Garden soups!
I personally think it is better than Olive Garden, so you will have to check it out!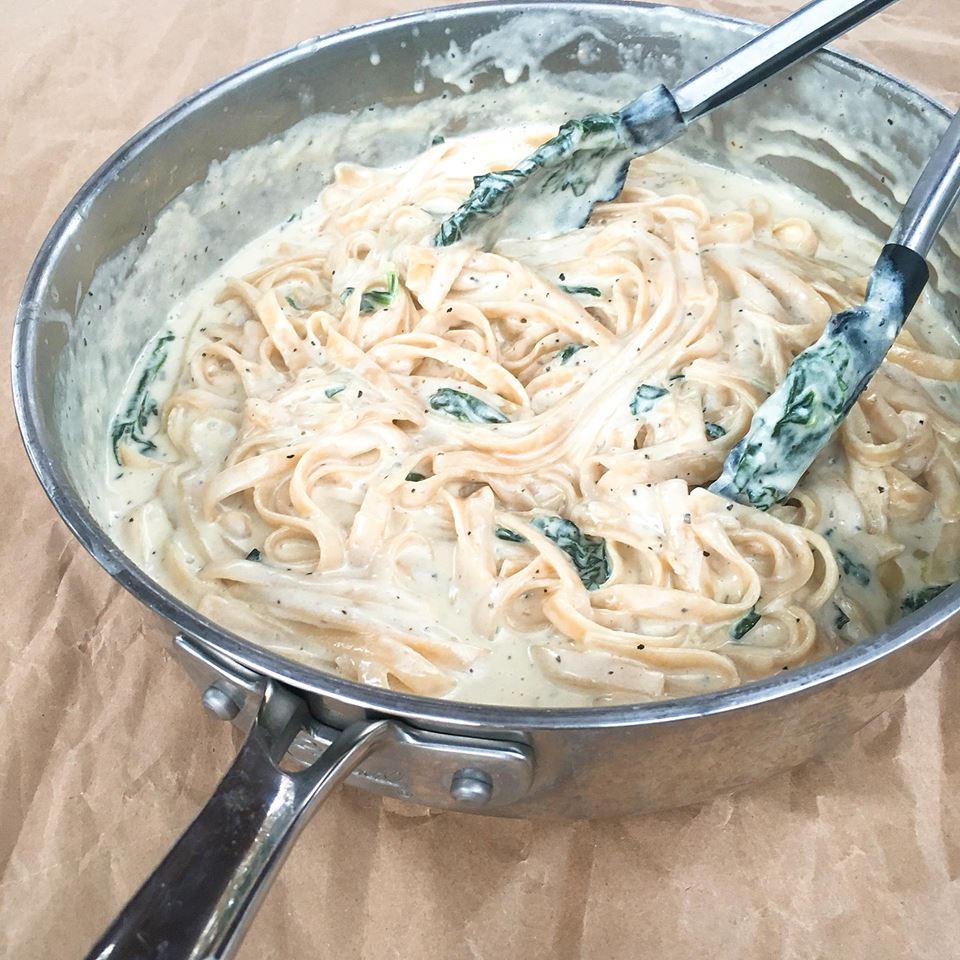 Selecting your Cheeses for the Alfredo
Cheese is definitely the star here, so ideally you want to get good quality cheese, especially the Parmesan. None of that ground, canned stuff!
I love to buy wedges of Parmesan Reggiano cheese and use one of my favorite tools, a food processor, to shred the brick and then I keep it in my refrigerator in plastic bags so that I always have fresh, quality cheese shredded on hand.
The cheese makes a difference here, so I strongly recommend buying the fresh cheese.
True Parmesan cheese can be expensive, but there are variations that taste very similar.
I tend to get Romano or Parmesan Romano (which is actually what Olive Garden serves!) for the same taste with a lower price tag.
And while the recipe calls for Gorgonzola cheese, any type of blue cheese works great!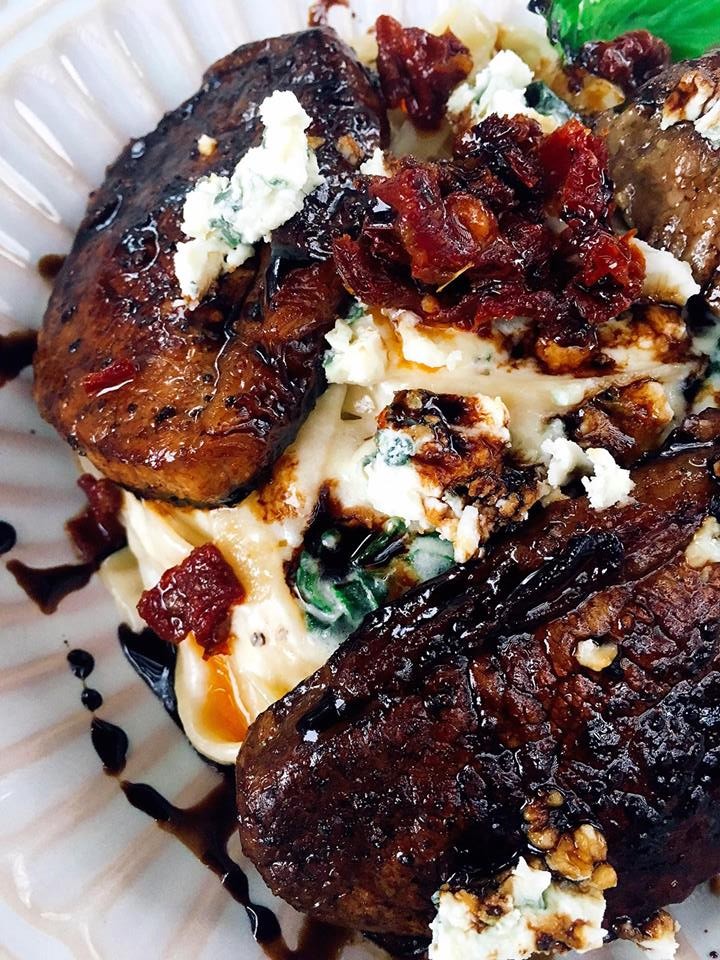 What makes this dish so amazing is truly the balsamic.
The acidity cuts through all of the richness, plus balsamic is just amazing in general. On everything. So good.
And yes, this dish is quite rich, being made from cream and all.
But I find that because it is heavy, I eat a lot less of it so it is not all that bad, right??!?
Plus, the tomatoes, spinach, and steak make it stretch pretty far as well
I also love to use this quick and easy balsamic glaze on top to help cut through the richness of the sauce.
My husband is so in love with this balsamic glaze, he will not eat this any other way now!
I hope you enjoy this Copycat Olive Garden Steak Gorgonzola Alfredo!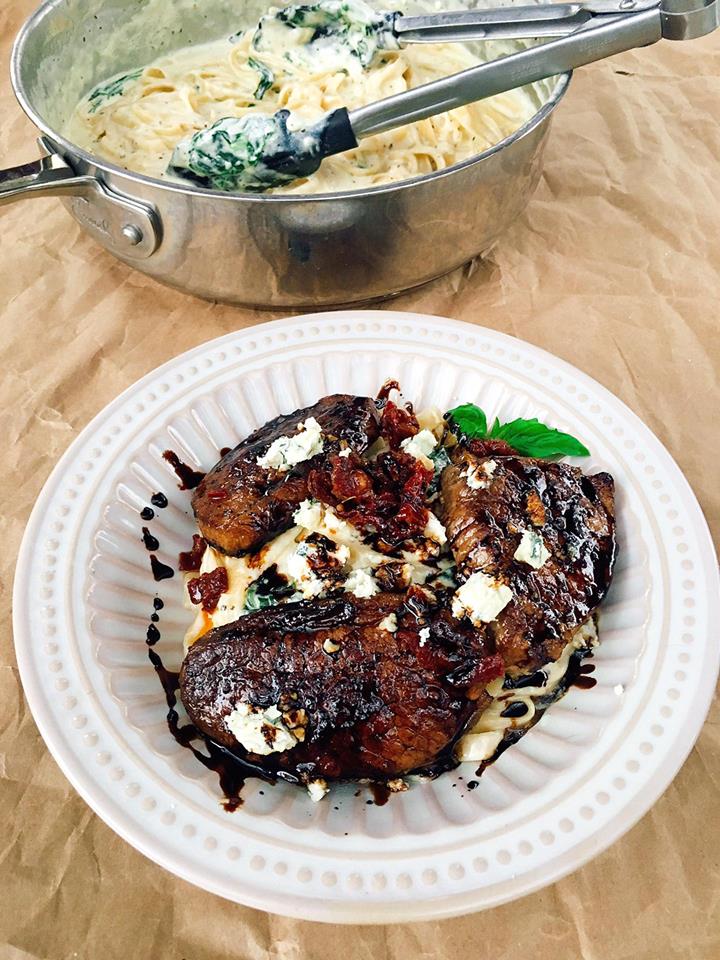 Copycat Olive Garden
Copycat recipes from Olive Garden to enjoy at home!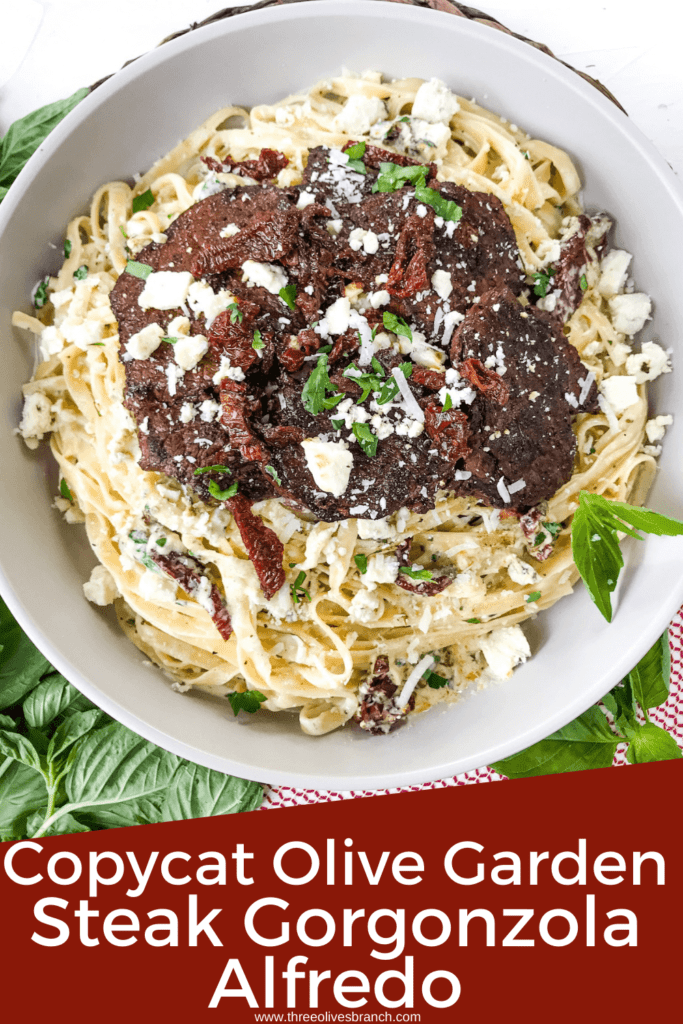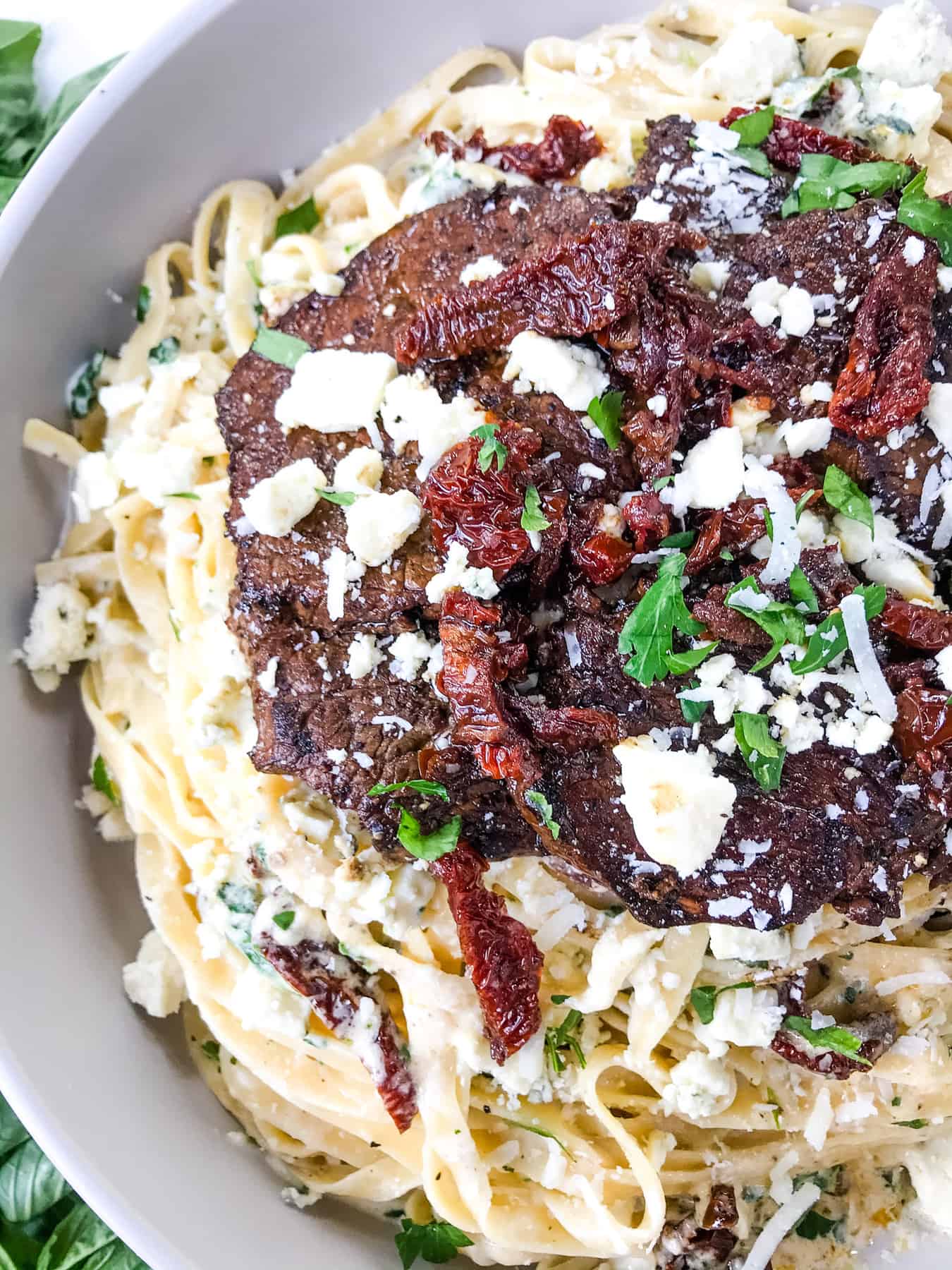 Ingredients
Steak
1

pound

steak medallions

(I used eye of round)

1

Tablespoon

balsamic vinegar

pepper
Instructions
Salt and pepper both sides of the steak medallions. Place the steak in a ziploc bag and add the balsamic. Seal and let the steak marinade for at least 30 minutes or up to 4 hours.

Heat a large nonstick skillet over medium heat. When hot, add the steak medallions. Cook until you reach your desired doneness. The time this takes will vary with how thick the steak pieces are. They will continue to cook as they are resting so stop just shy of how you want them. Place the steak pieces on a plate and cover with aluminum foil to rest as you cook the remaining elements.

Start the water for the fettuccine pasta. Cook as per package directions until just shy of al dente (it will be added to the sauce later and will continue to cook). If the pasta is done too early, drain and set aside while reserving 1 cup of the cooking liquid just in case the sauce is too thick.

As the water is starting for the pasta, combine the butter and cream in a large saucepan or a wide skillet with tall edges (like the one in my picture). Heat over medium until the butter is melted into the cream.

Turn heat down to medium low. Add the nutmeg and spinach to the cream and butter mixture. Cook until the spinach has wilted, approximately 5 minutes.

Add the Parmesan cheese. Season with salt and pepper to taste (cheese is salty, so make sure you do not salt until after the Parmesan is added).

Add the pasta to the sauce and toss to coat. Let it cook for 2-3 minutes to combine the flavors. If the sauce is too thick, add a little pasta water at a time to loosen the sauce. If too thin, let it cook a little longer.

Take the pasta off the heat. Add the gorgonzola cheese and toss to combine. Adding it at this stage will leave the cheese in chunks instead of melting in.

Separate the pasta into bowls or plates. Top each with the steak medallions, balsamic glaze, sundried tomatoes, and gorgonzola crumbles for garnish.
Notes
Nutrition
Serving:

1

serving

|

Calories:

1584

kcal

|

Carbohydrates:

98

g

|

Protein:

61

g

|

Fat:

107

g

|

Saturated Fat:

63

g

|

Trans Fat:

1

g

|

Cholesterol:

437

mg

|

Sodium:

1155

mg

|

Potassium:

1133

mg

|

Fiber:

5

g

|

Sugar:

9

g

|

Vitamin A:

4532

IU

|

Vitamin C:

8

mg

|

Calcium:

676

mg

|

Iron:

6

mg

By