A delicious Southern dessert made with banana bread, banana slices, and walnuts.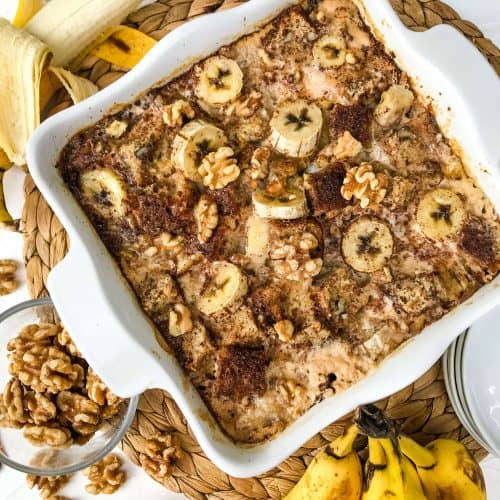 This easy Banana Bread Pudding is a perfect dessert packed with banana and nut flavors!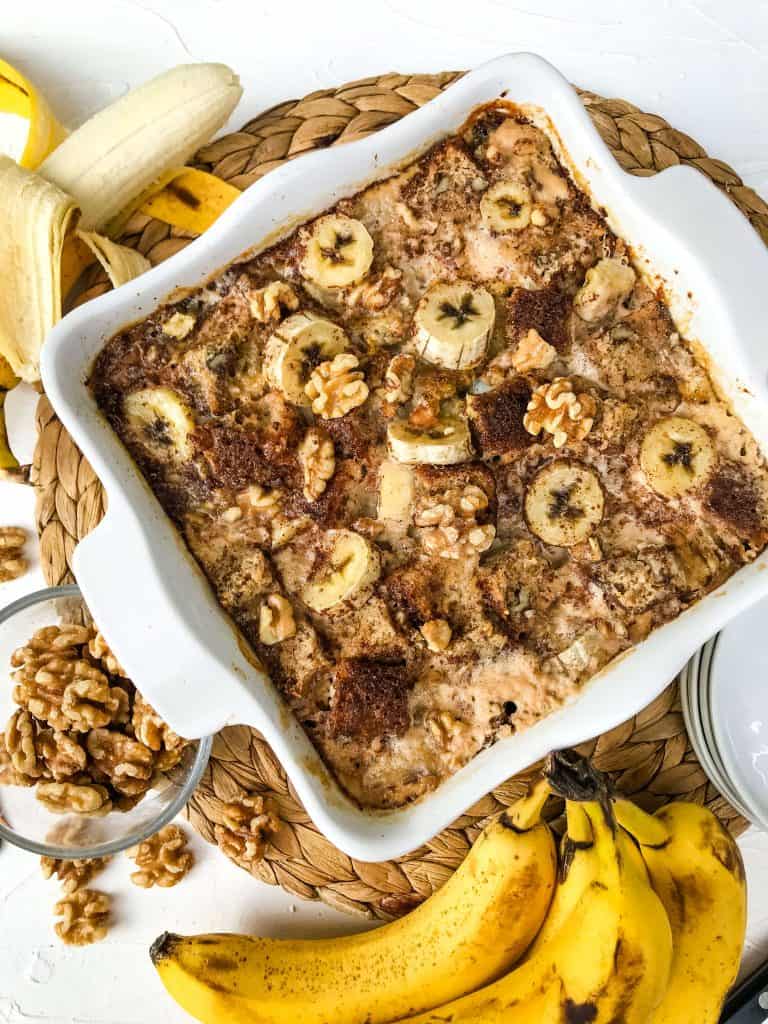 This post contains affiliate links.
So I have been making a lot of bread pudding recipes lately due to the large amount of homemade bread I have been making. And then feeding them to a bread pudding lover in the family.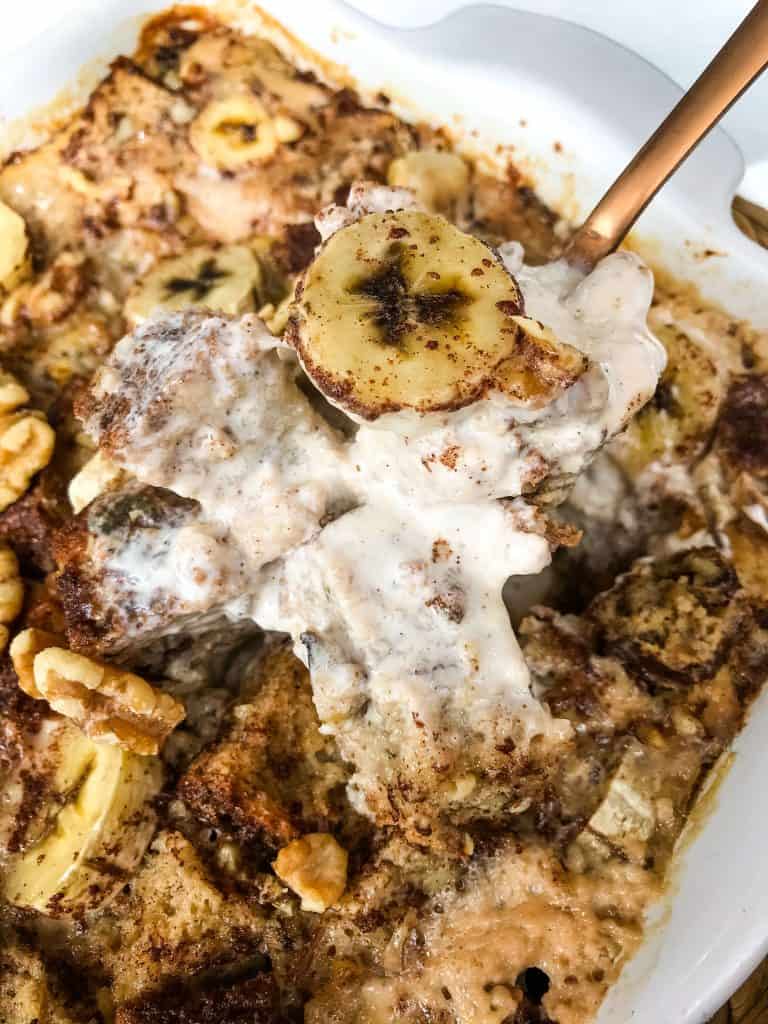 I did not think I would EVER make a bread pudding that he liked more than my Cranberry Orange Bread Pudding, but this one is now his favorite! I was absolutely shocked that there was now a new number one, so I know it is GOOD!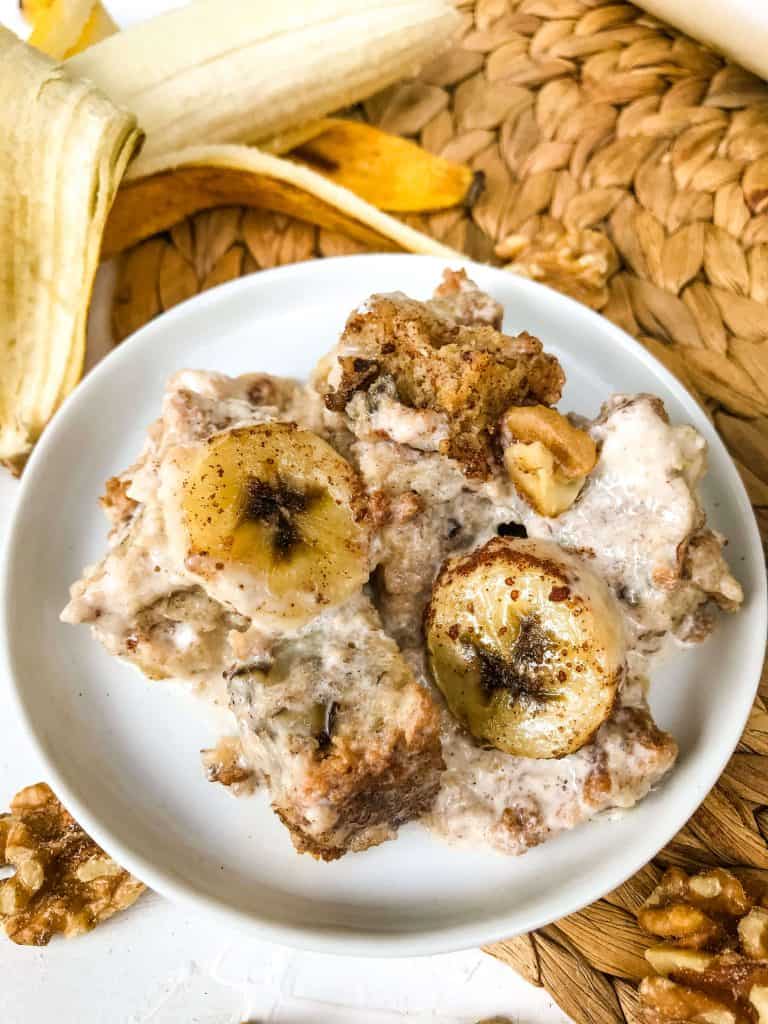 What bread is best for Banana Bread Pudding?
I recommend using our Banana Nut Bread recipe for the bread in this pudding. Other banana breads such as Coconut Banana Bread are great alternatives! You can also use any plain bread, but I would suggest a dense bread, like a rustic bread, not French bread.
The lighter French breads will work, but they puff up a LOT in the oven and then completely collapse since they are mainly air. So to keep the volume and great texture, a dense bread for any bread pudding is best. I believe that the flavors and quality of the bread you use in this recipe is going to be one of the most important factors in how well it turns out.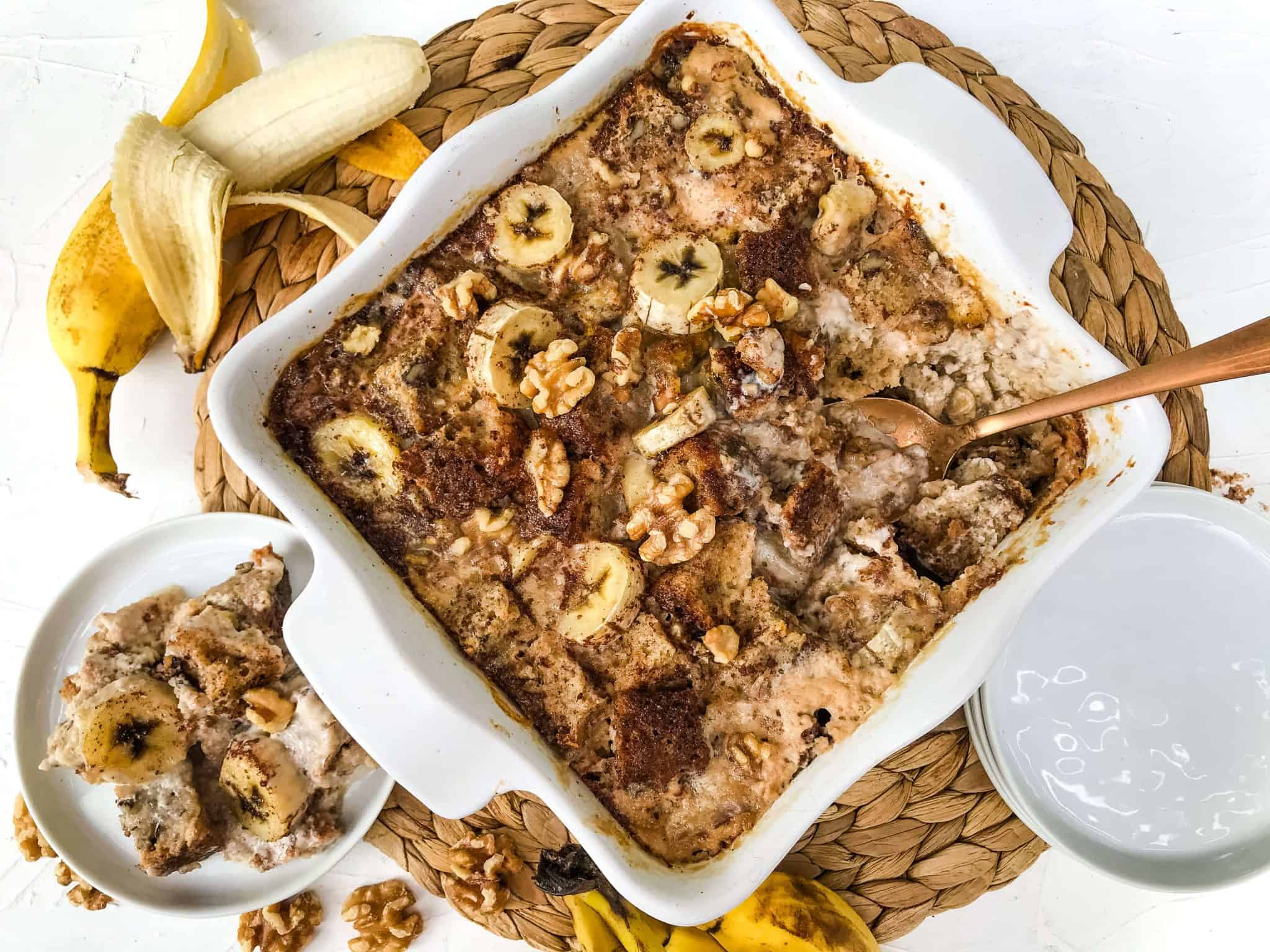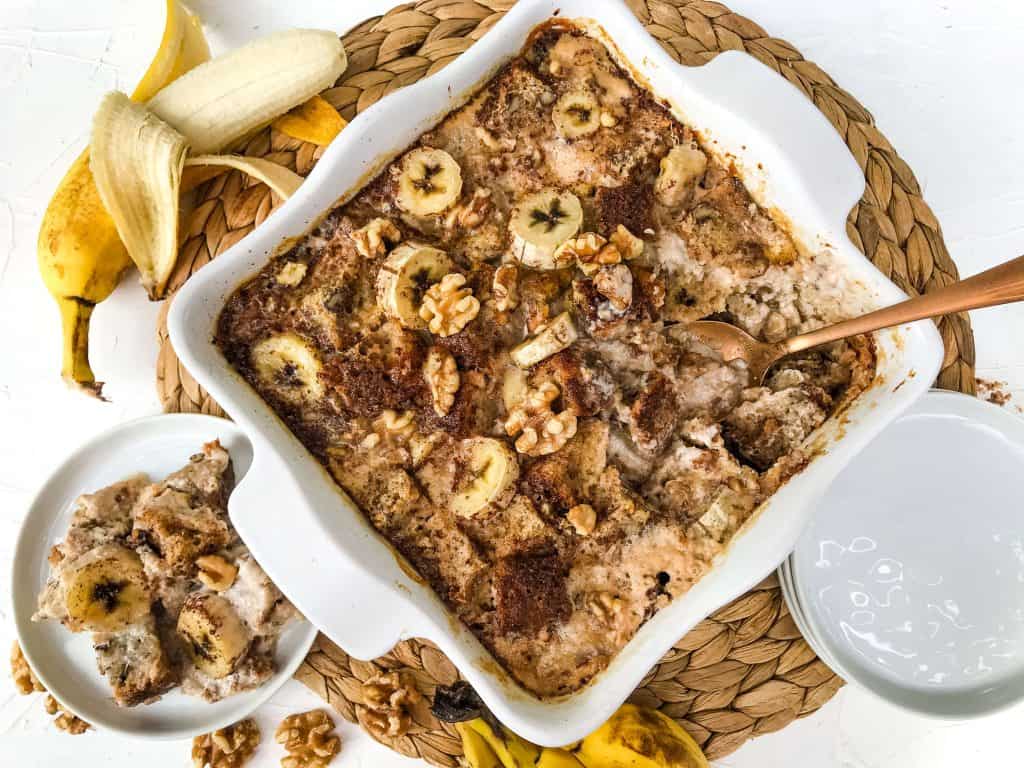 If you do choose to use a lighter, airy bread like a French bread, you will want to plan to serve it right away when it still has a little volume to it and before it completely collapses. But even if it does collapse, it will still taste great, you will just get fewer servings since the volume and density is lower.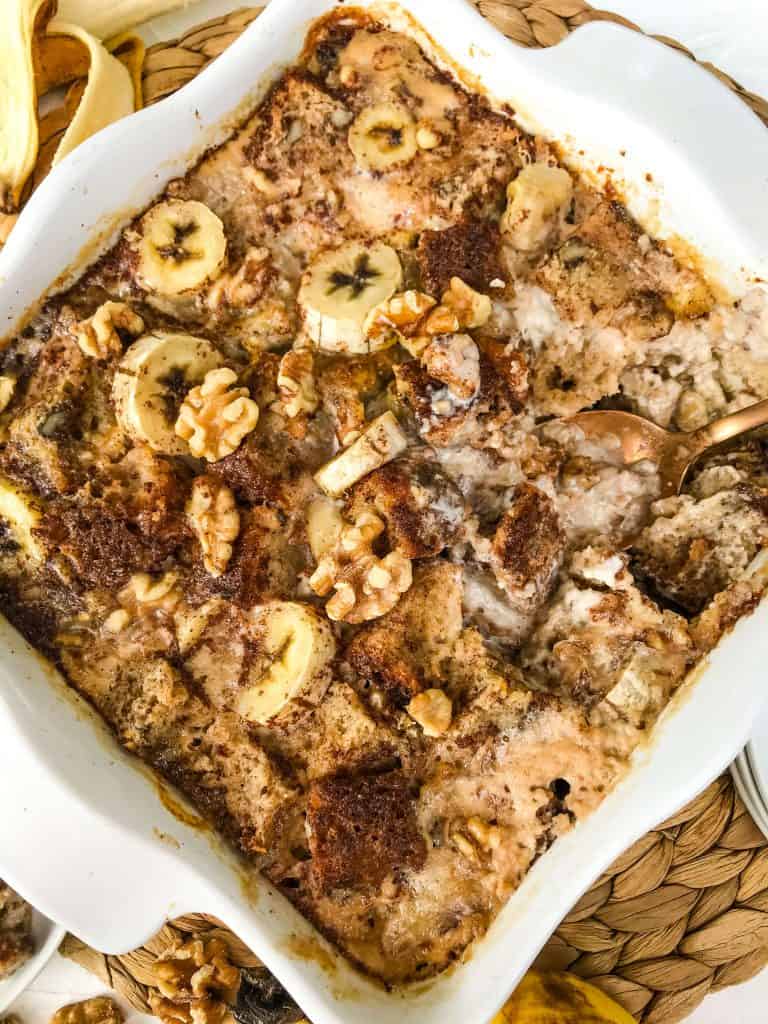 Serve up the bread pudding with some ice cream, caramel, or whipped cream. But I find that just the pudding itself is perfect.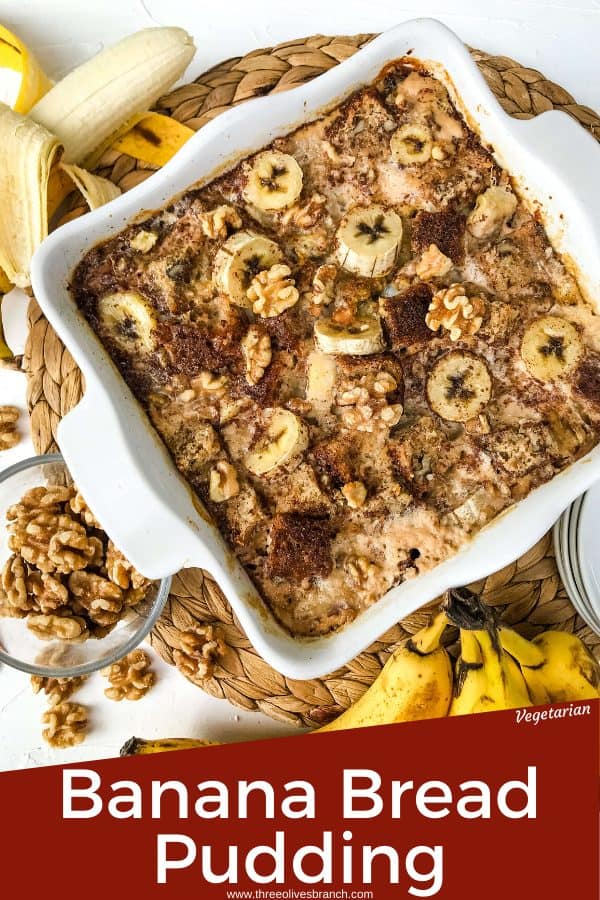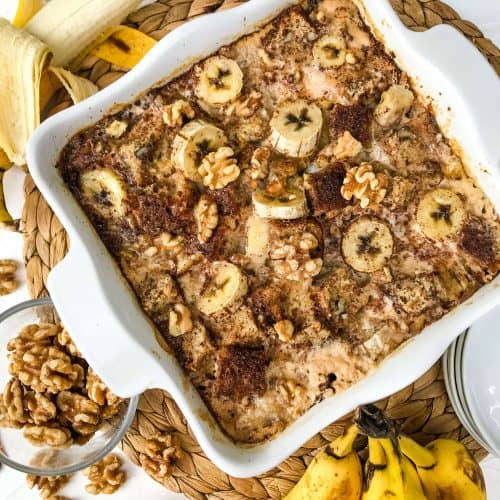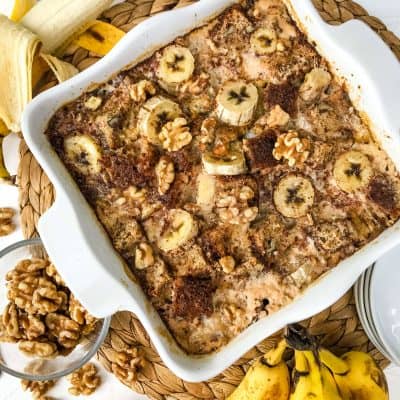 Banana Bread Pudding
A delicious Southern dessert made with banana bread, banana slices, and walnuts.
Print
Pin
Rate
Instructions
Cut the bread into 1.5 inch cubes. Place in a 9x12 baking dish.

Slice the bananas into 1/2 inch slices. Add the banana slices and chopped walnuts across the bread chunks in the dish.

Whisk together the remaining ingredients in a large bowl. Pour over the bread into the baking dish. Cover and let sit at room temperature for 20 minutes.

Preheat oven to 325F.

Bake the pudding on the lower middle rack until it is golden brown and puffing up around the edges, with a slight jiggle in the middle, approximately 45-50 minutes.

Let cool for 30 minutes before serving warm. Top with additional nuts, bananas, or caramel if desired. This pudding is great served with whipped cream or ice cream.
Notes
Our banana nut bread is best for this recipe because it brings extra flavor, but any type of bread will work, especially a crusty bread like rustic bread.  A 9.5 inch loaf of dense bread was the perfect amount to get 8 cups.
You can let the bread soak in the refrigerator for up to 24 hours if needed.
Nutrition
Calories:

698

kcal

|

Carbohydrates:

64

g

|

Protein:

11

g

|

Fat:

44

g

|

Saturated Fat:

21

g

|

Cholesterol:

250

mg

|

Sodium:

414

mg

|

Potassium:

404

mg

|

Fiber:

2

g

|

Sugar:

27

g

|

Vitamin A:

1679

IU

|

Vitamin C:

4

mg

|

Calcium:

174

mg

|

Iron:

2

mg

By